Preparing for Guests: Ideas on How to get a Bedroom and Bathroom Guest Ready
I have had many requests to share how I get my guest bedrooms and bathroom ready for when we have company so I put together this post sharing all the things I like to do to make our guests who come to stay with us feel warm and welcome when they are coming to visit. Keep scrolling for my tips on how to prepare your home for guests.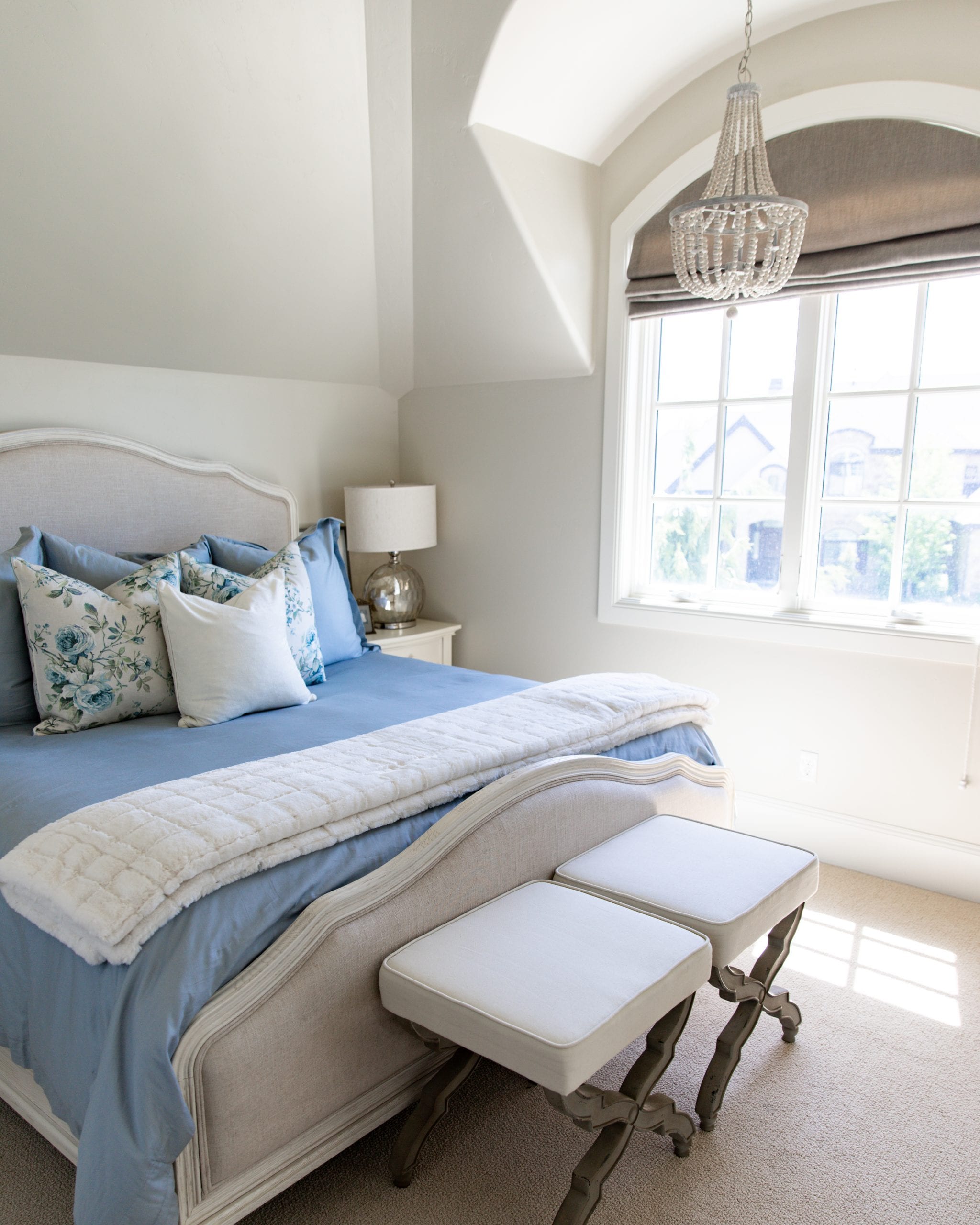 The Guest Bedrooms
I have two guest rooms at our home in Utah and I recently did a little refresh of both bedrooms. I updated the bedding in both rooms and figured this was the perfect time to share the things I do to get the guest bedrooms and bathroom ready for company.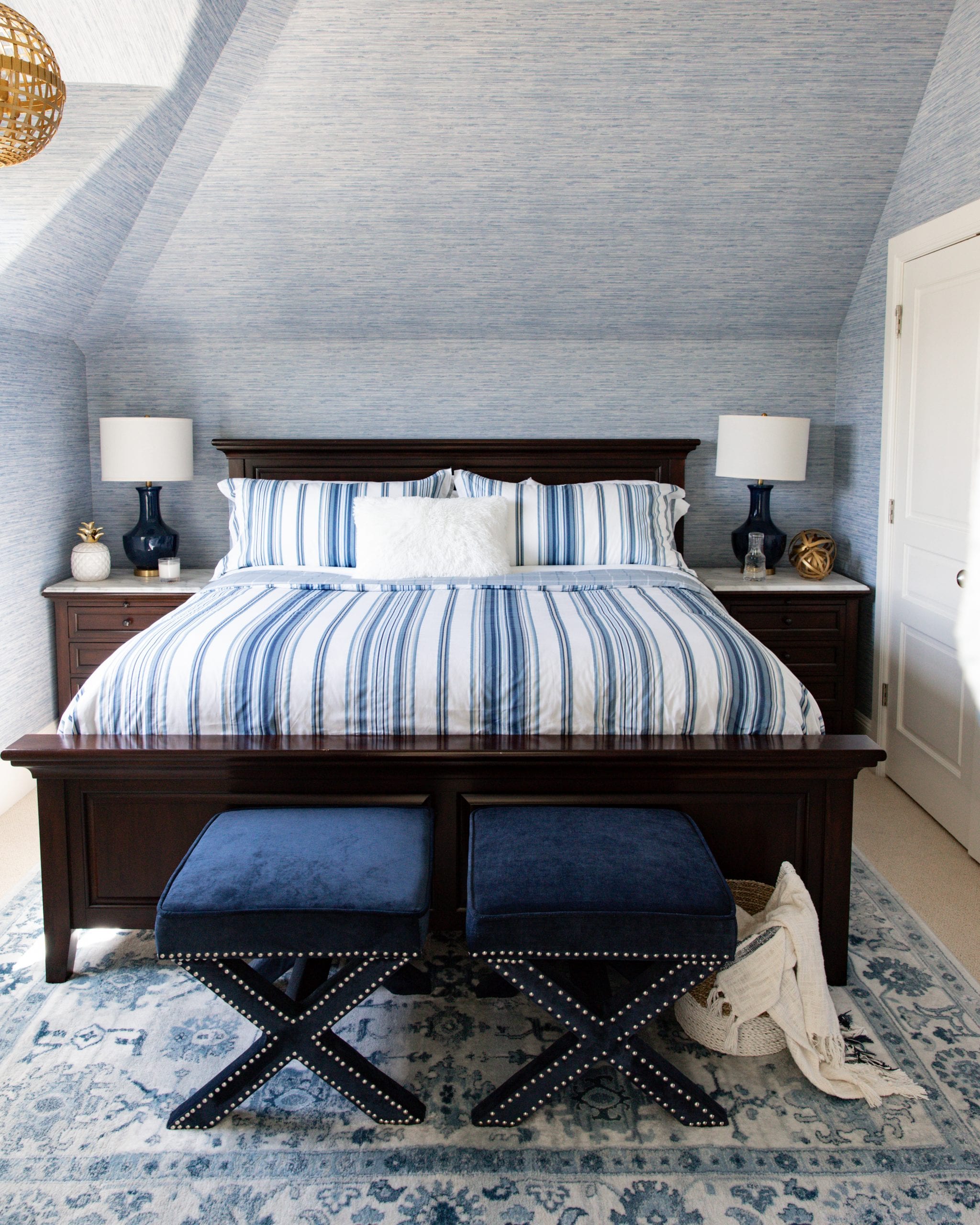 Did you notice the pineapple on the left side of the bed? I learned from a friend of mine who is from the south, that pineapples are the sign of hospitality so I put a pineapple on the nightstand!
Navy Blue Guest Room
To refresh the blue guest room I switched out the bedding with this new comforter and sham set from the Martha Stewart Collection at Macy's.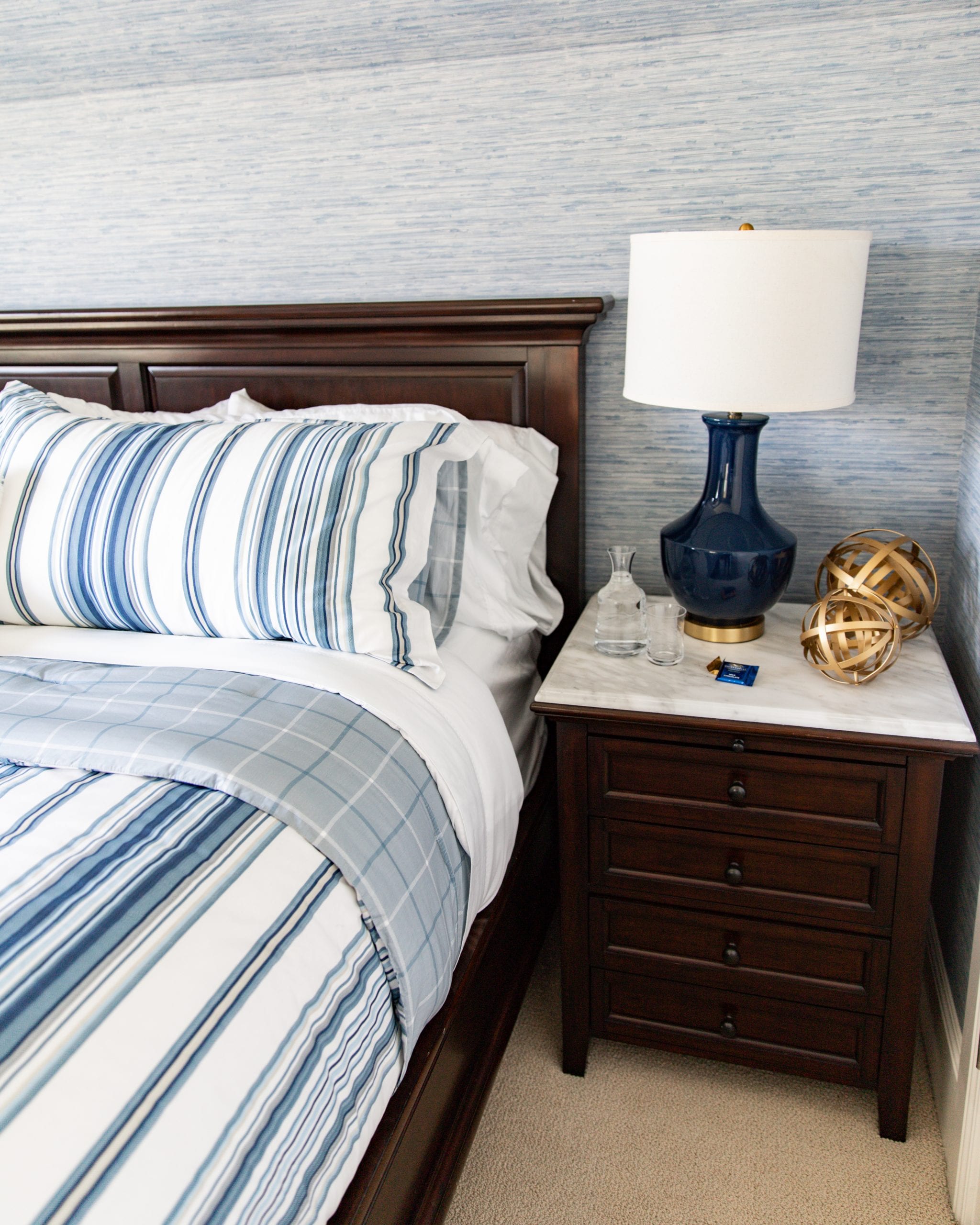 I added new white sheets and they have the prettiest stitching detail.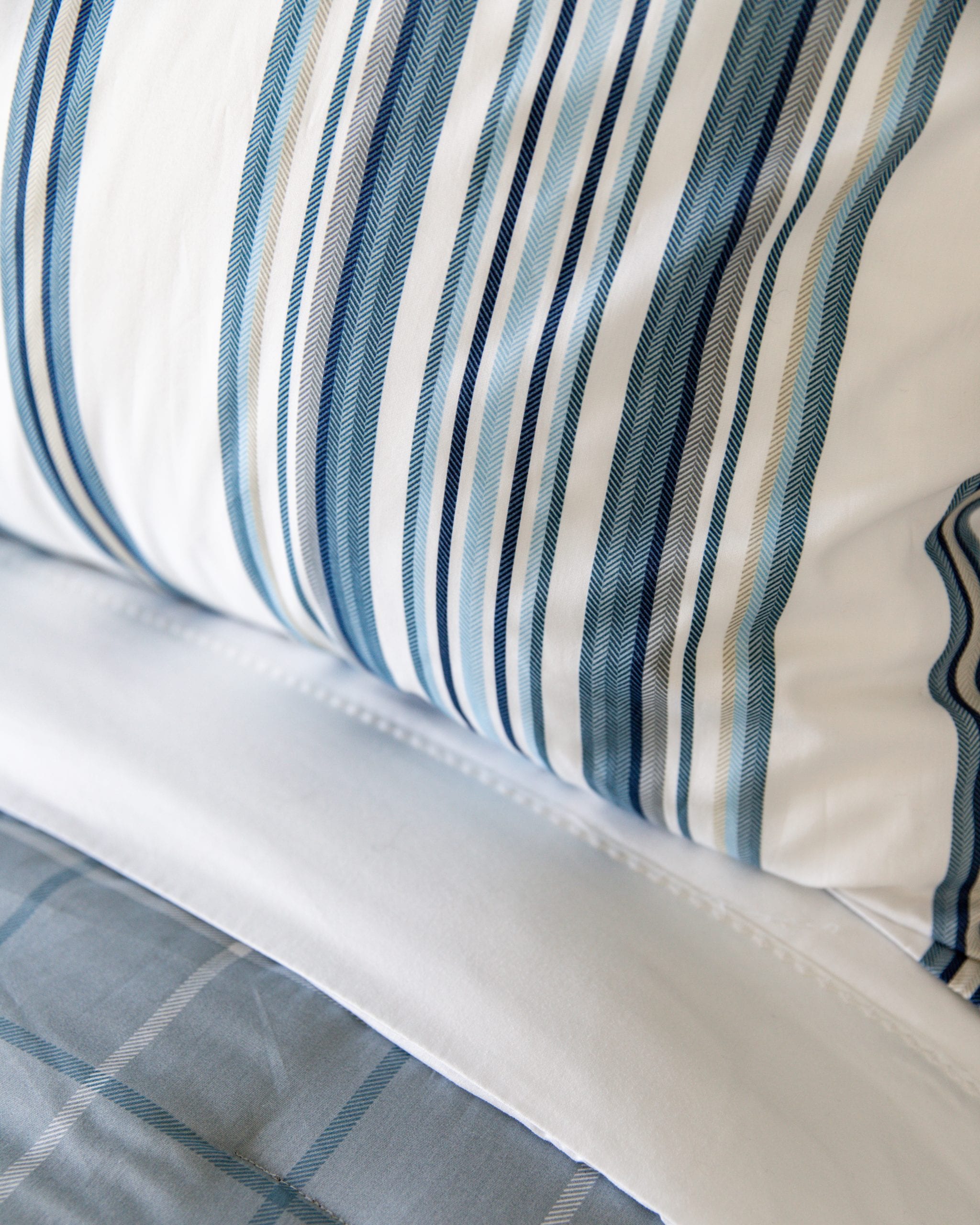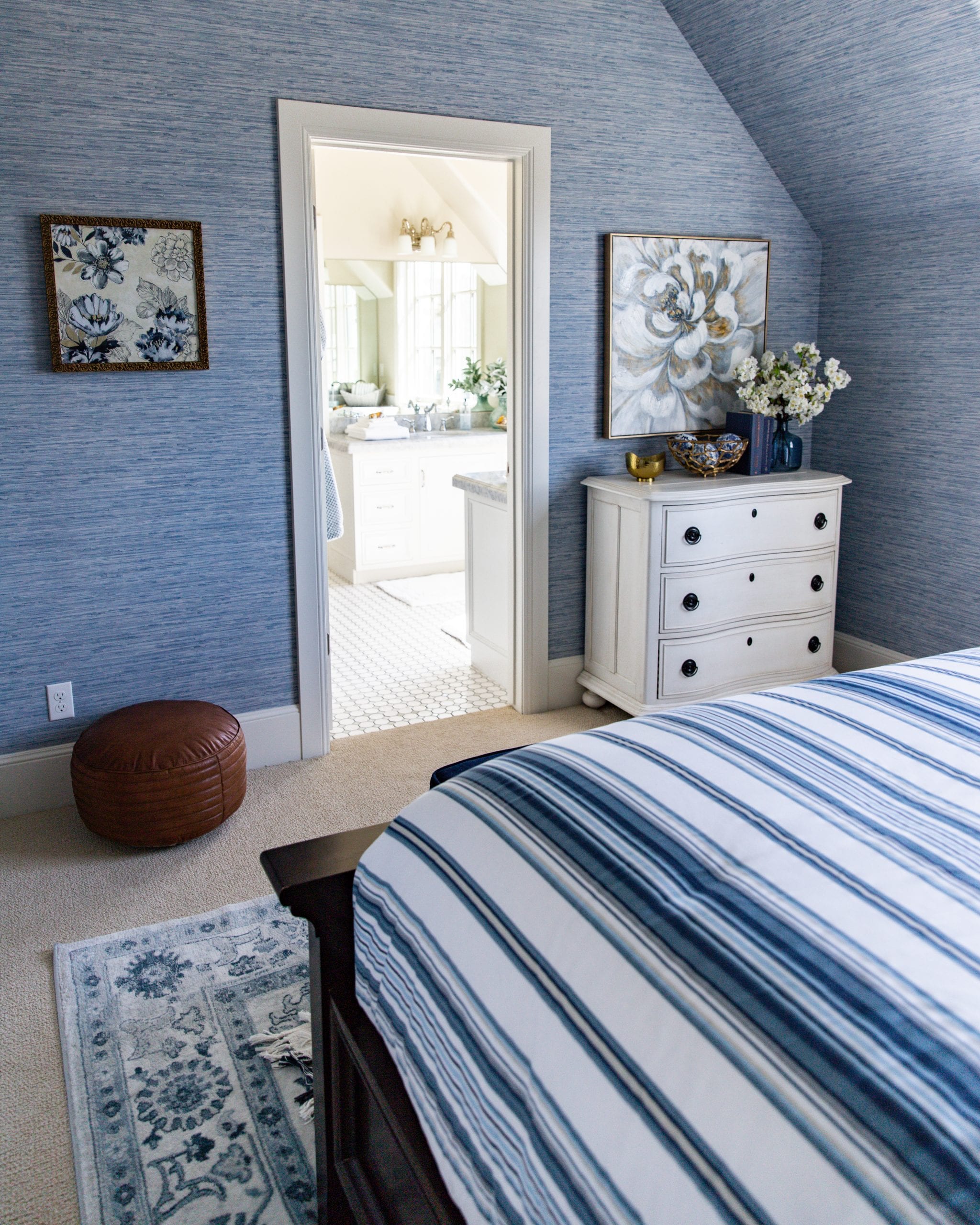 I added the new pillow shams on top of the sleeping pillows then added a throw pillow. I usually add a light or heavy blanket under the comforter depending on what season it is.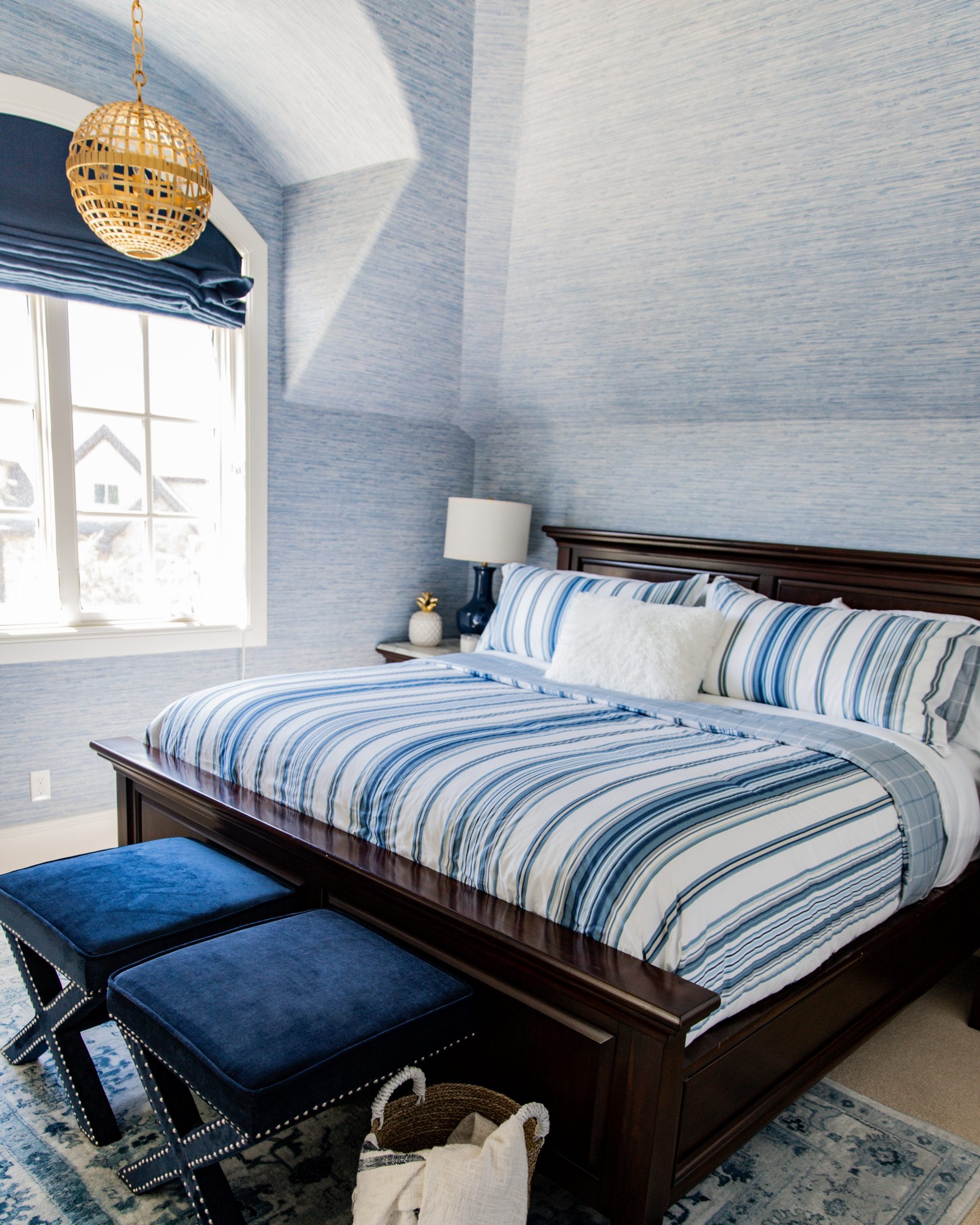 Light Blue Guest Room
To refresh the light blue guest room, I also added new bedding from Boll & Brach as well as some new throw pillows and this gorgeous blanket from Minky Couture.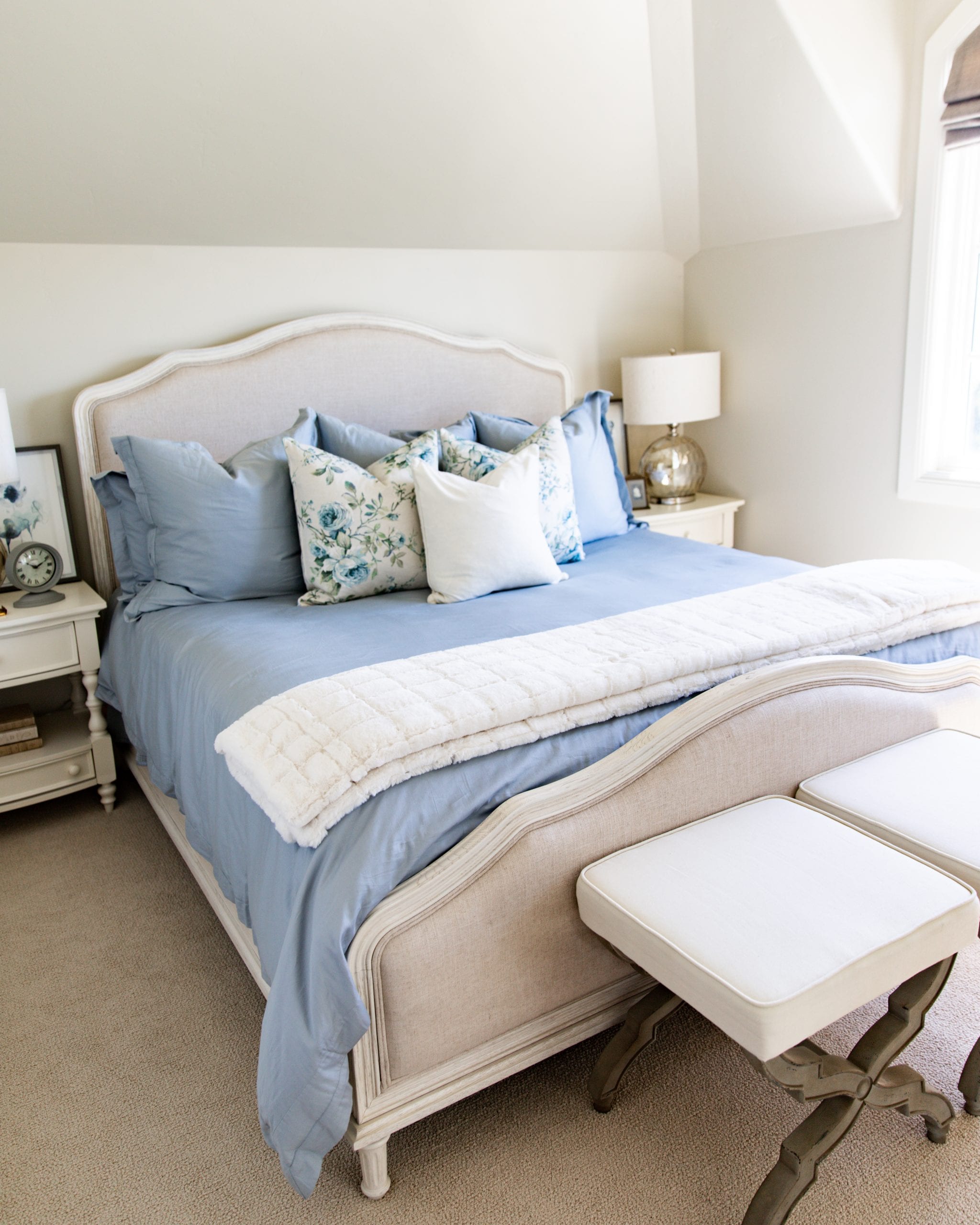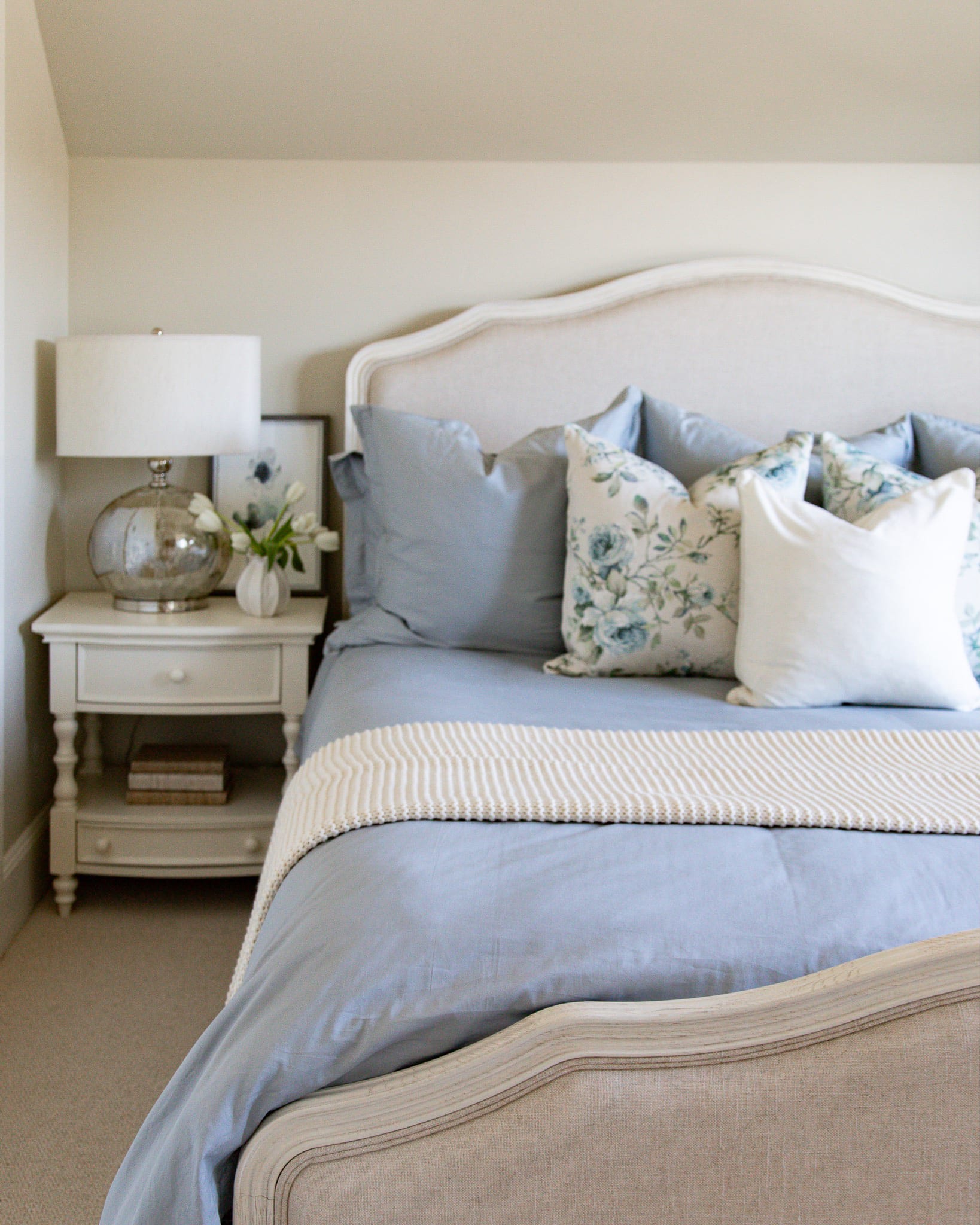 Jack and Jill Bathroom
The two guest rooms share a jack and jill bathroom so I refreshed that as well. There are two vanities and a separate area for the shower and toilet. There is also a linen closet to store fresh towels, bedding, and toiletries.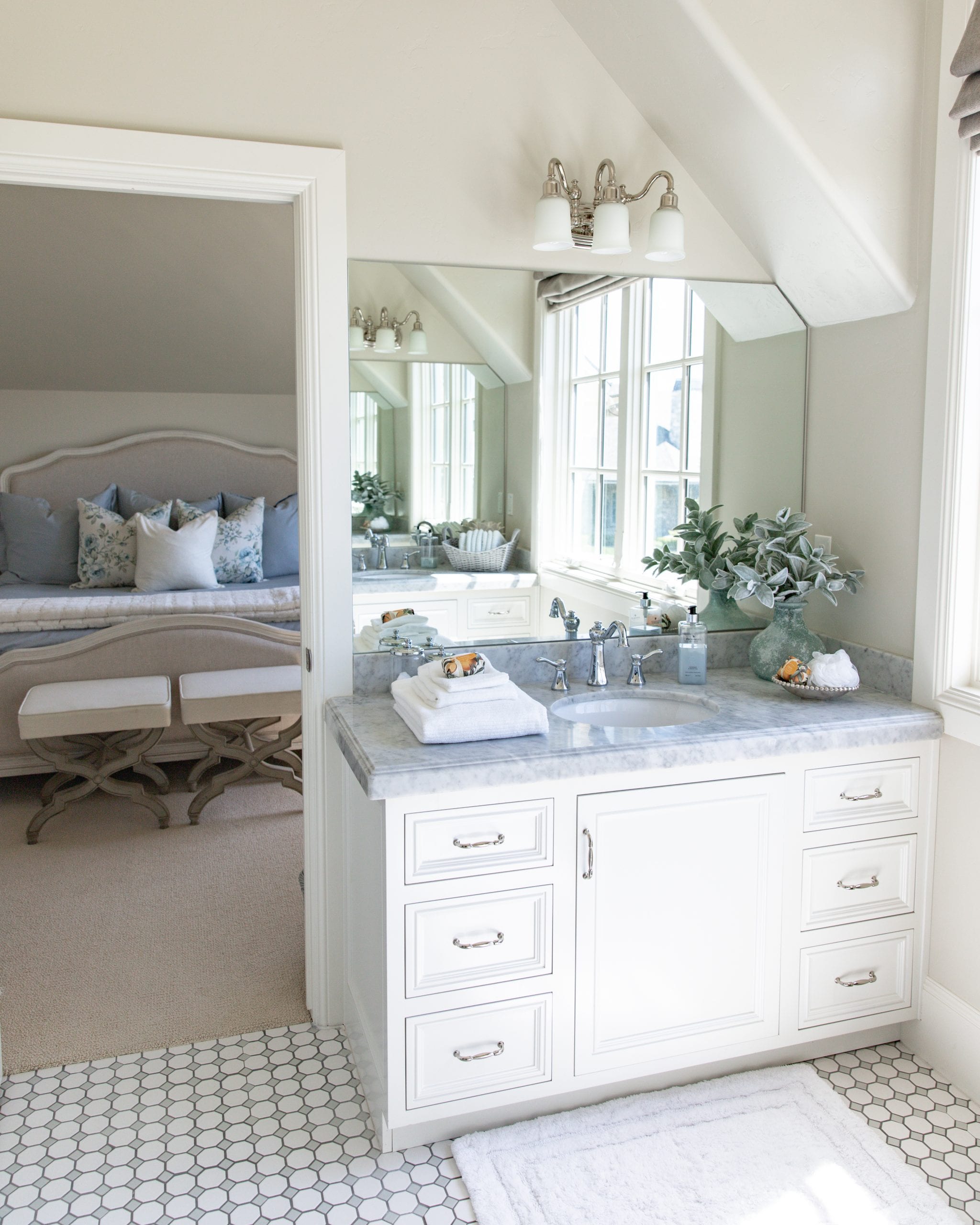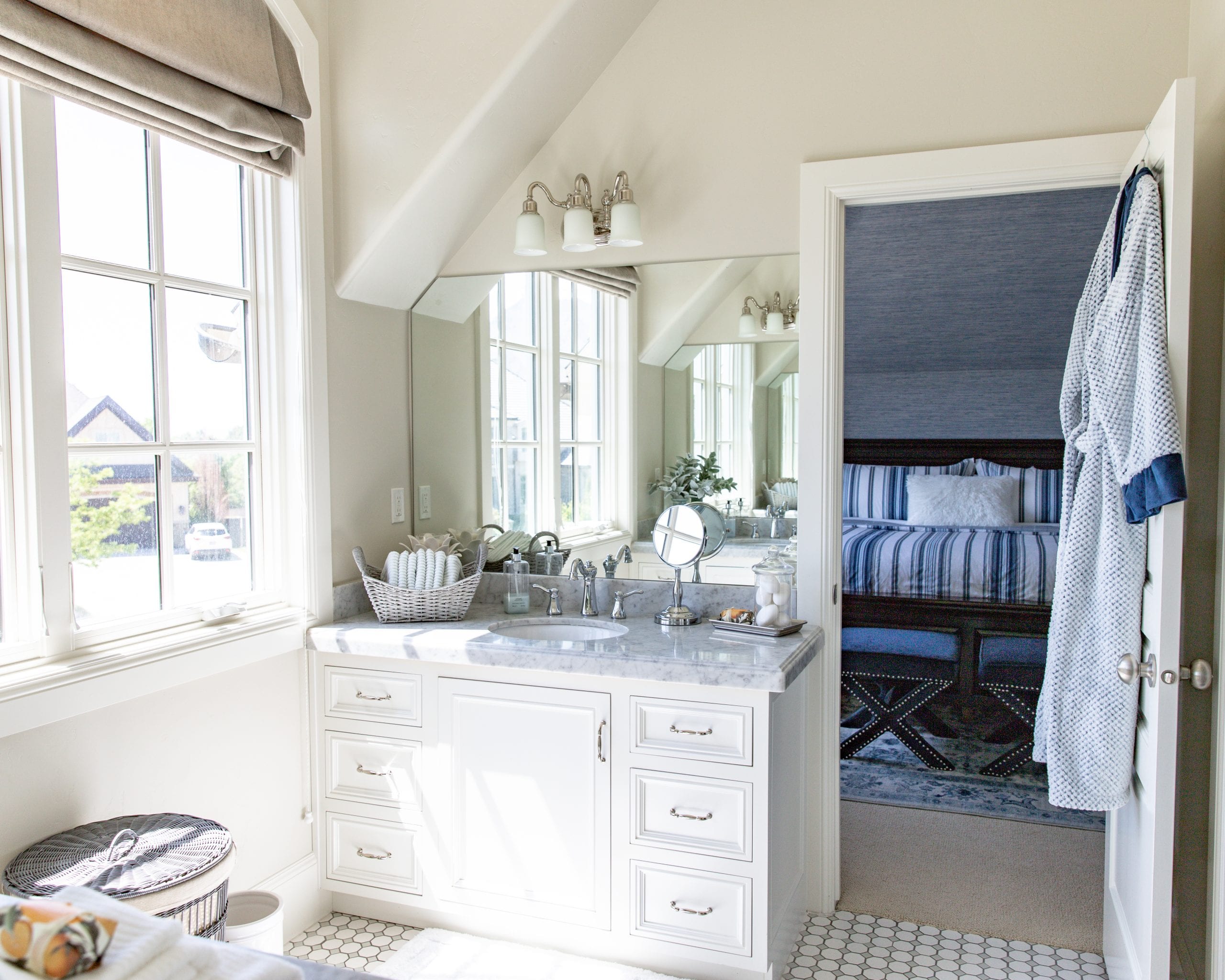 Special Touches to Make your Guests Feel Welcome
I like to add special touches to each bedroom and bathroom.
Launder the Bedding
I always launder all the bedding and make sure everything is fresh and clean. I like to make the bed with lots of pillows and I usually add a pretty throw blanket at the end of the bed or in a basket.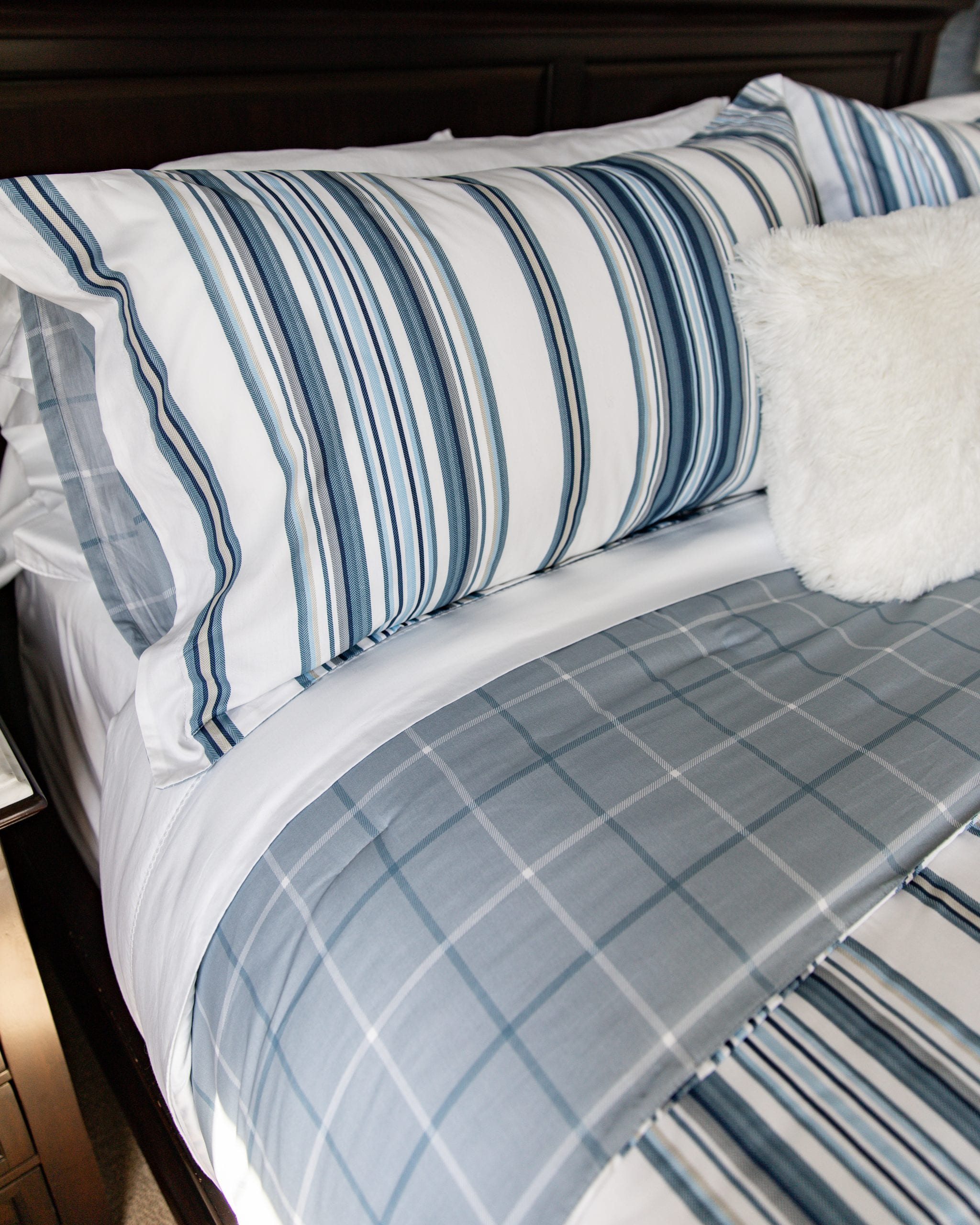 I always have a mattress cover on my beds to protect the mattress and I put pillow case covers on the pillows too.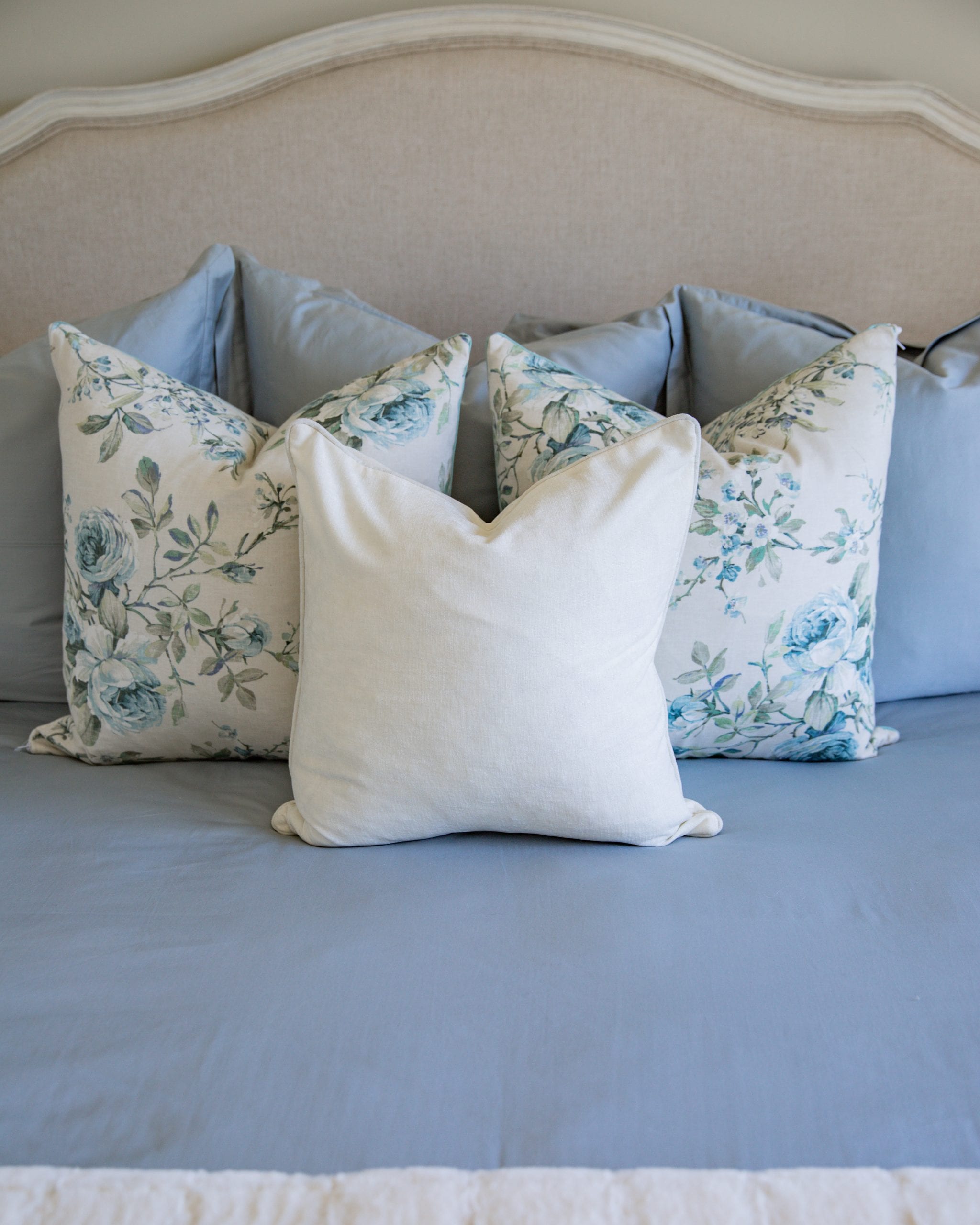 Clean, Dust, and Vacuum
I give the room a good cleaning which includes dusting, and if needed, (if you have a pet) I use a lint roller on the comforter to make sure there's no lint or hair of any kind on the bedding. The last thing I do is to vacuum.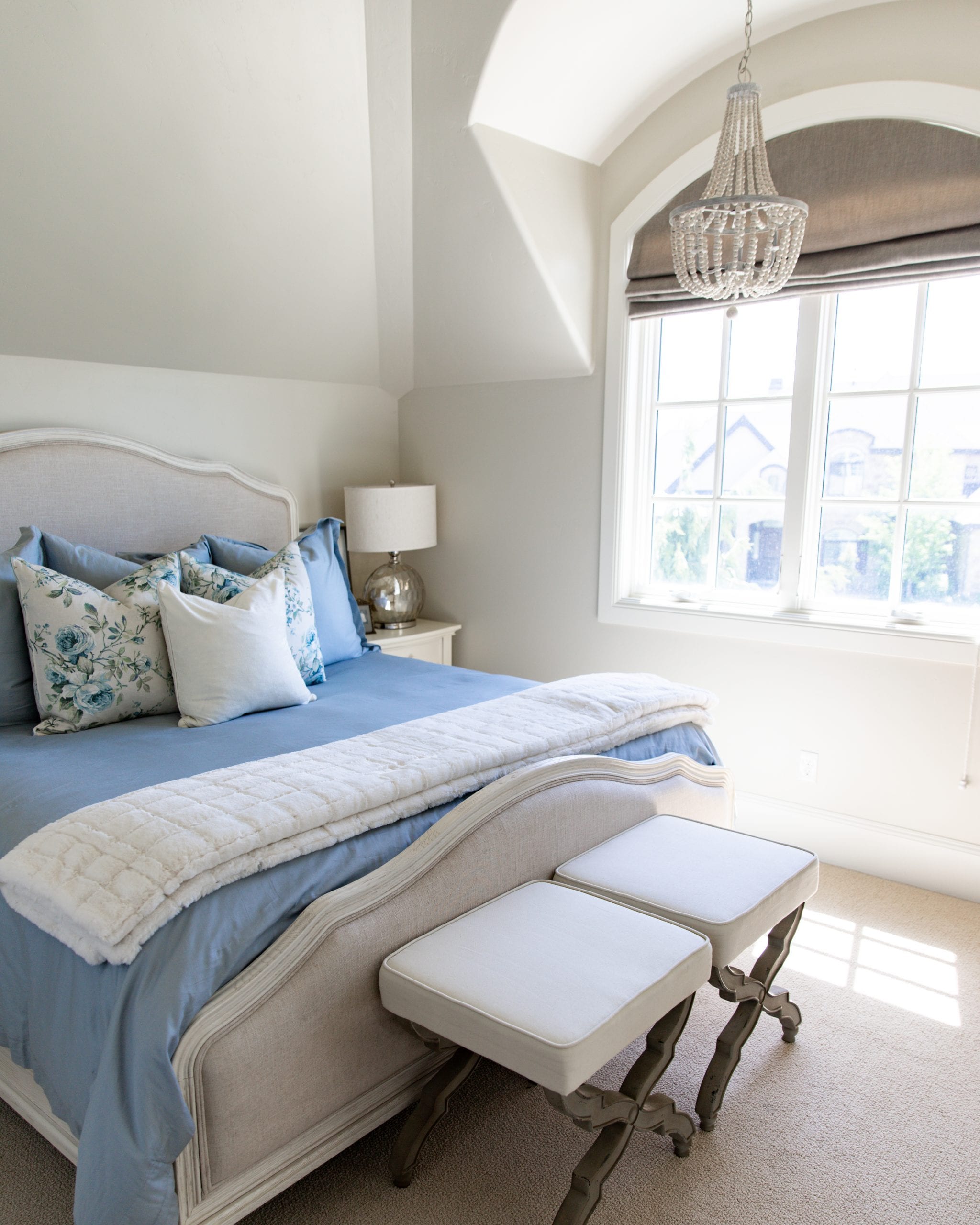 Add Flowers to the Dresser or Nightstand
I like to add fresh or faux flowers to the room. What says "welcome to my home" more than a vase full of flowers?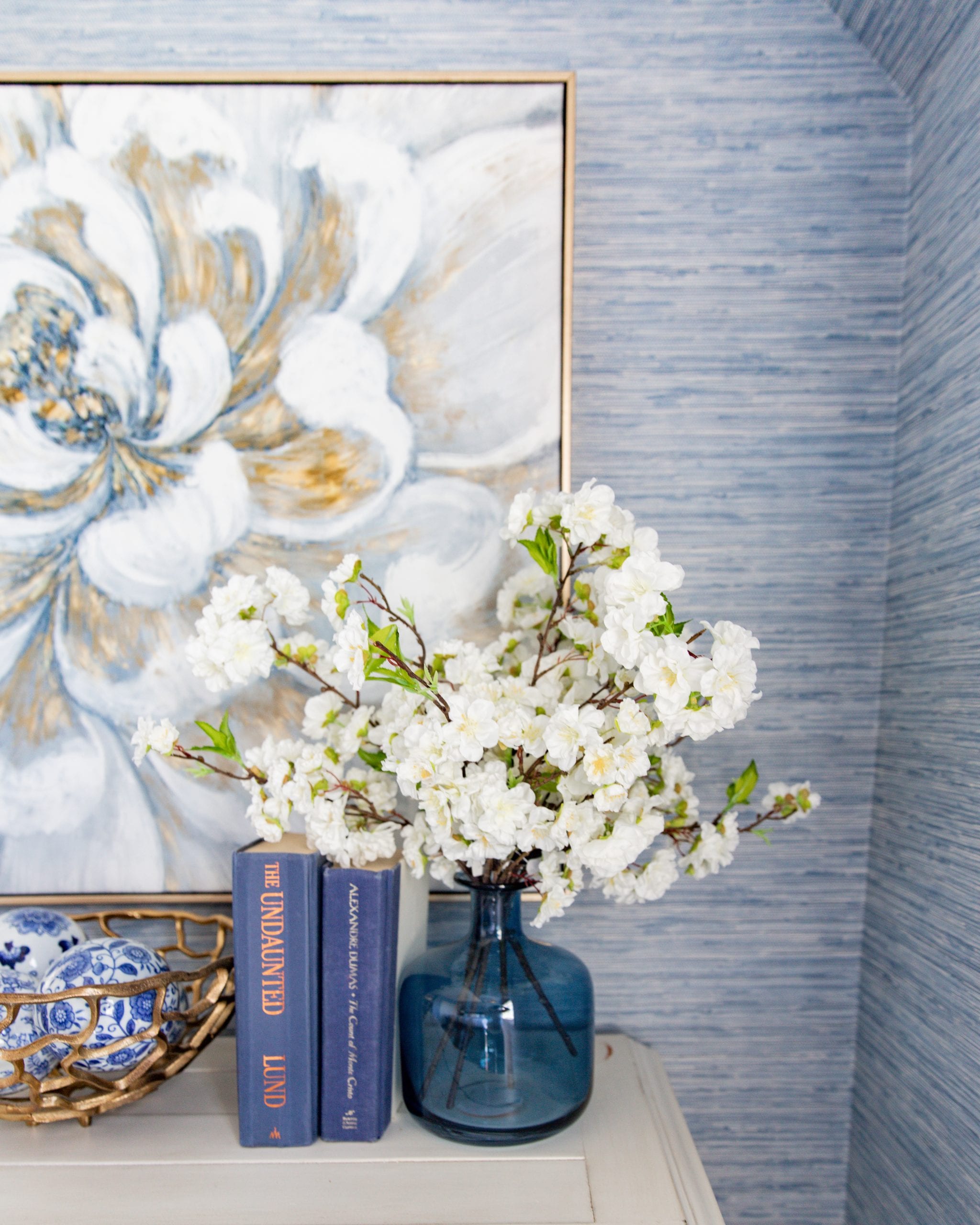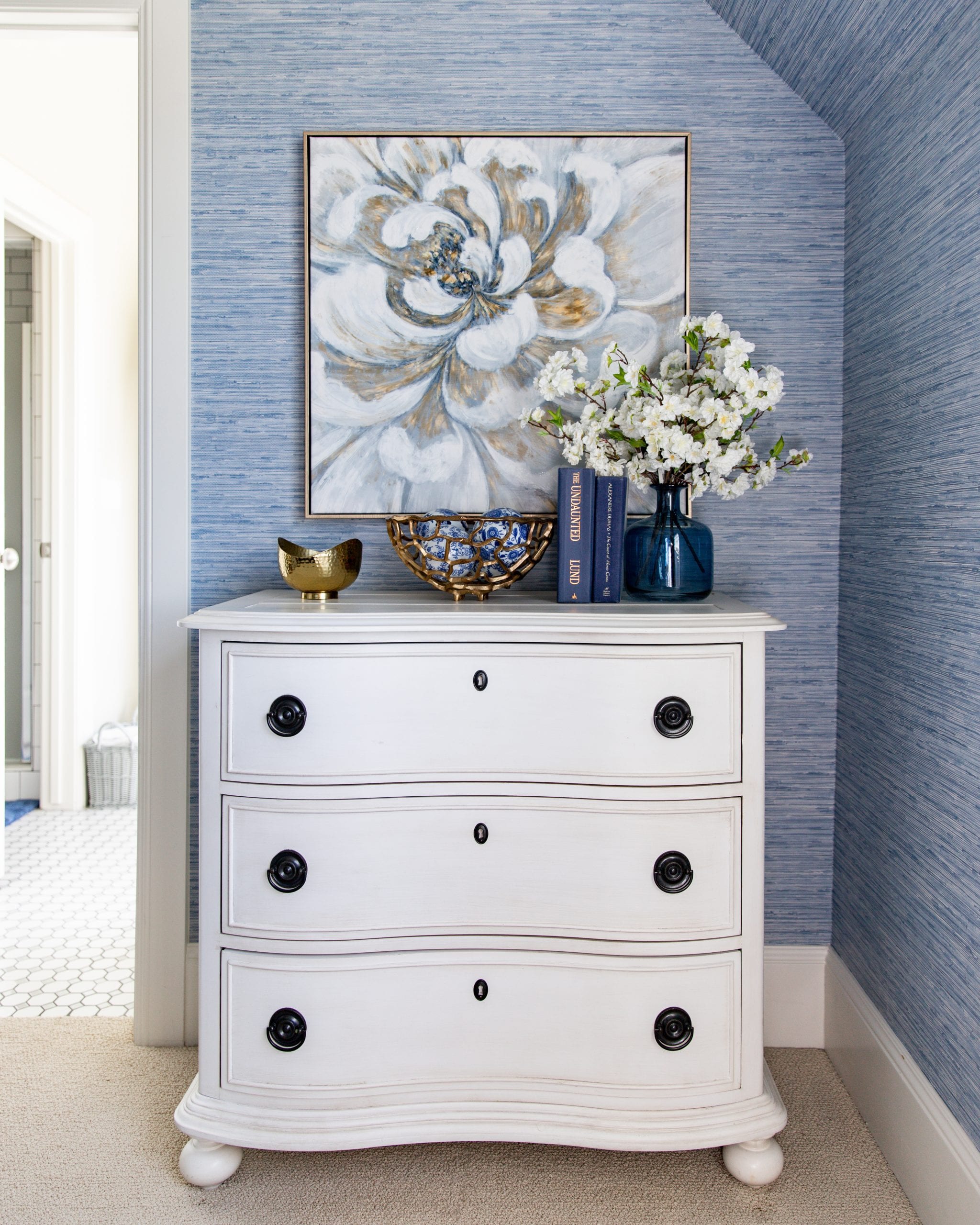 I arranged some faux apple blossom stems in a vase for the blue room and for the other guest room I added some faux hydrangeas to a glass vase.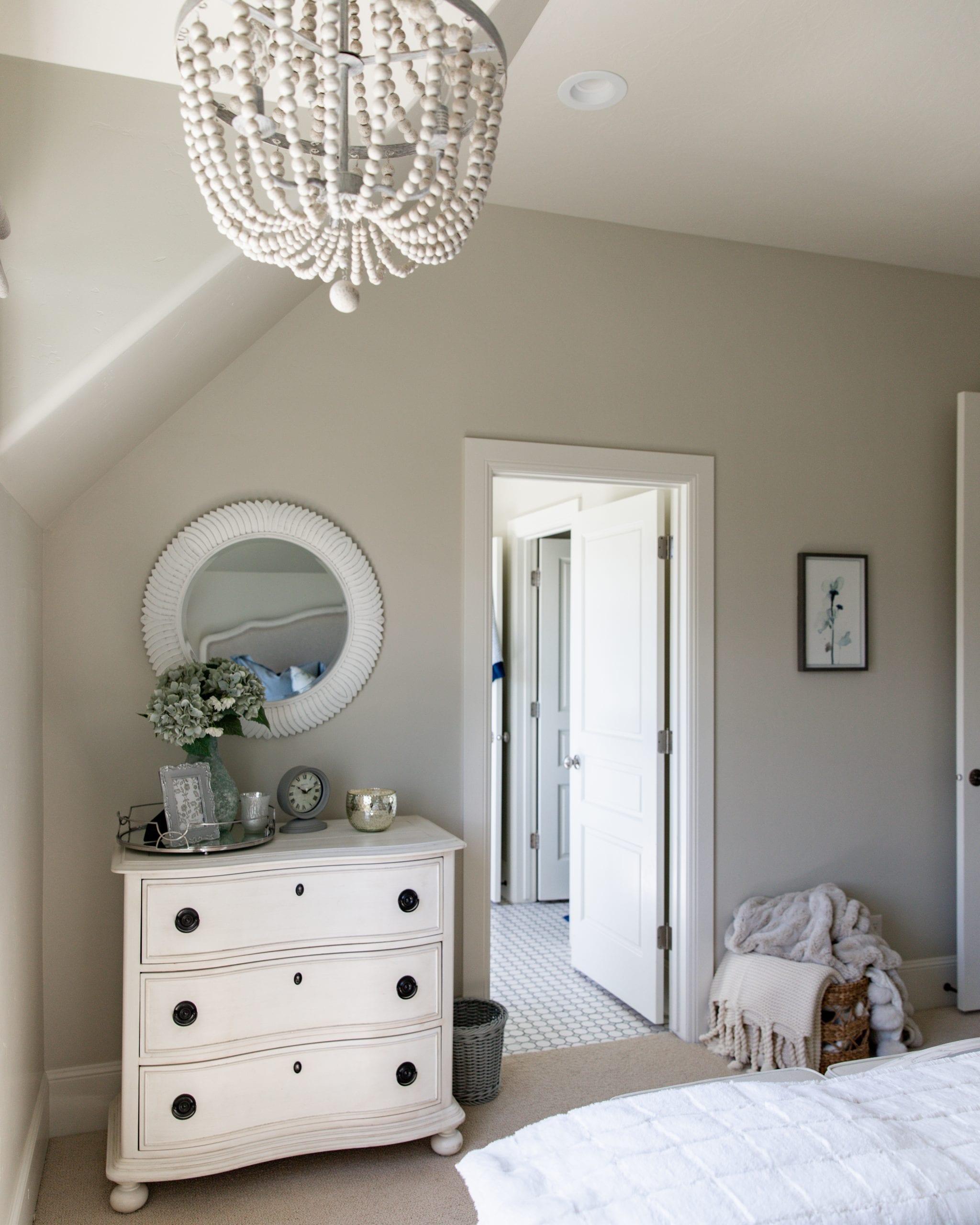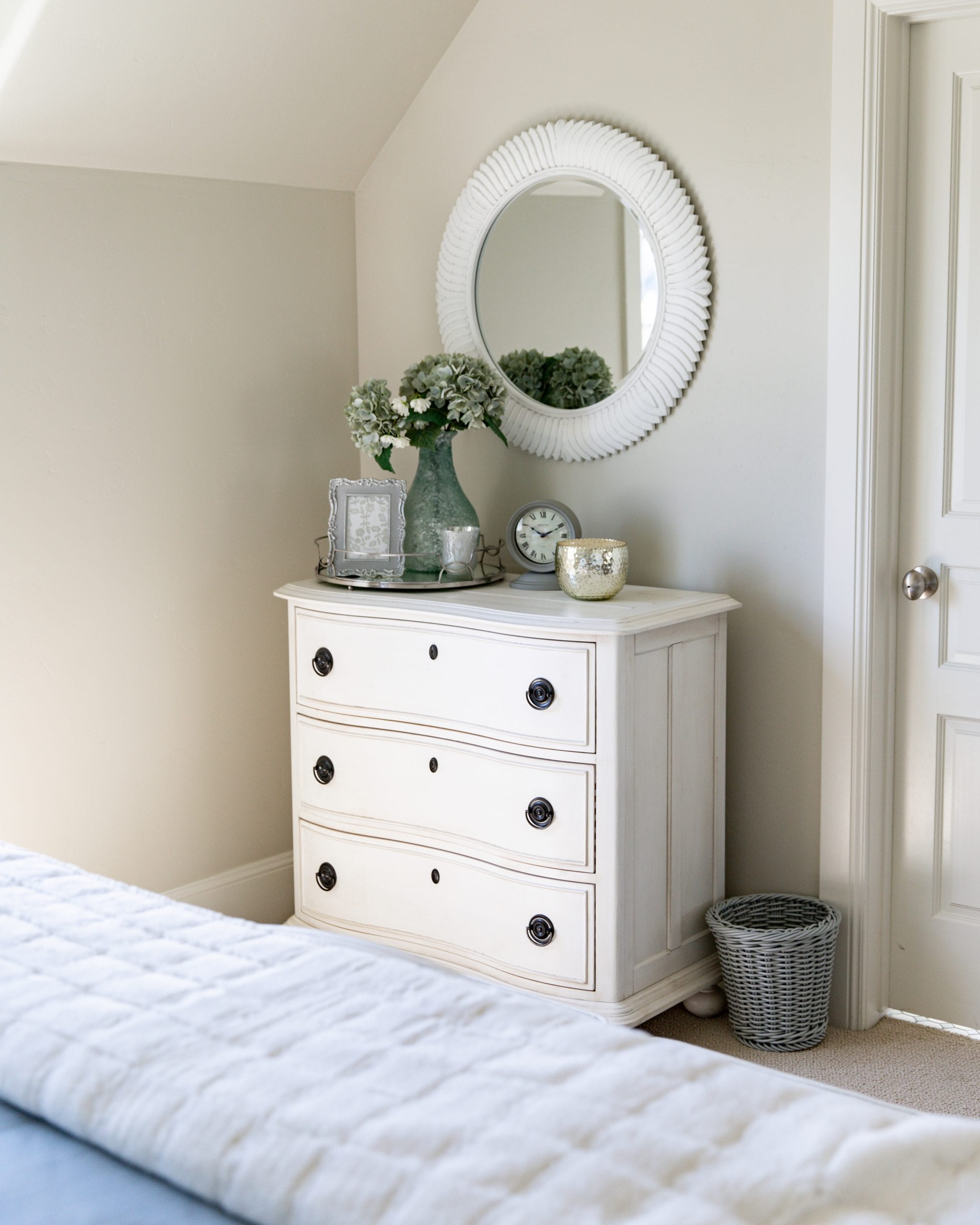 Put Water on the Nightstand
I put a glass and carafe full of water on the nightstand in case my guest get thirsty in the night.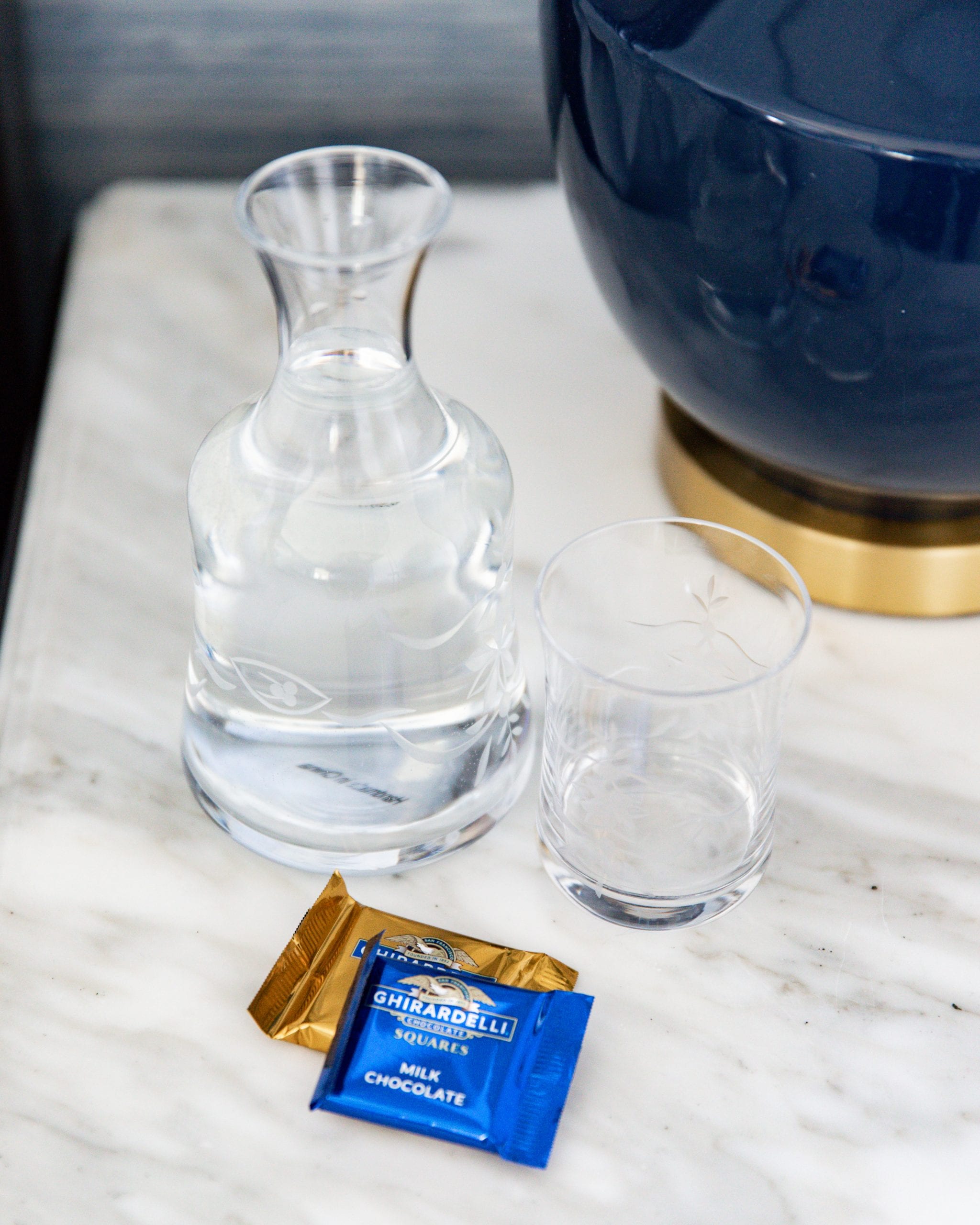 Sometimes I leave chocolates on the nightstand if I remember to do this!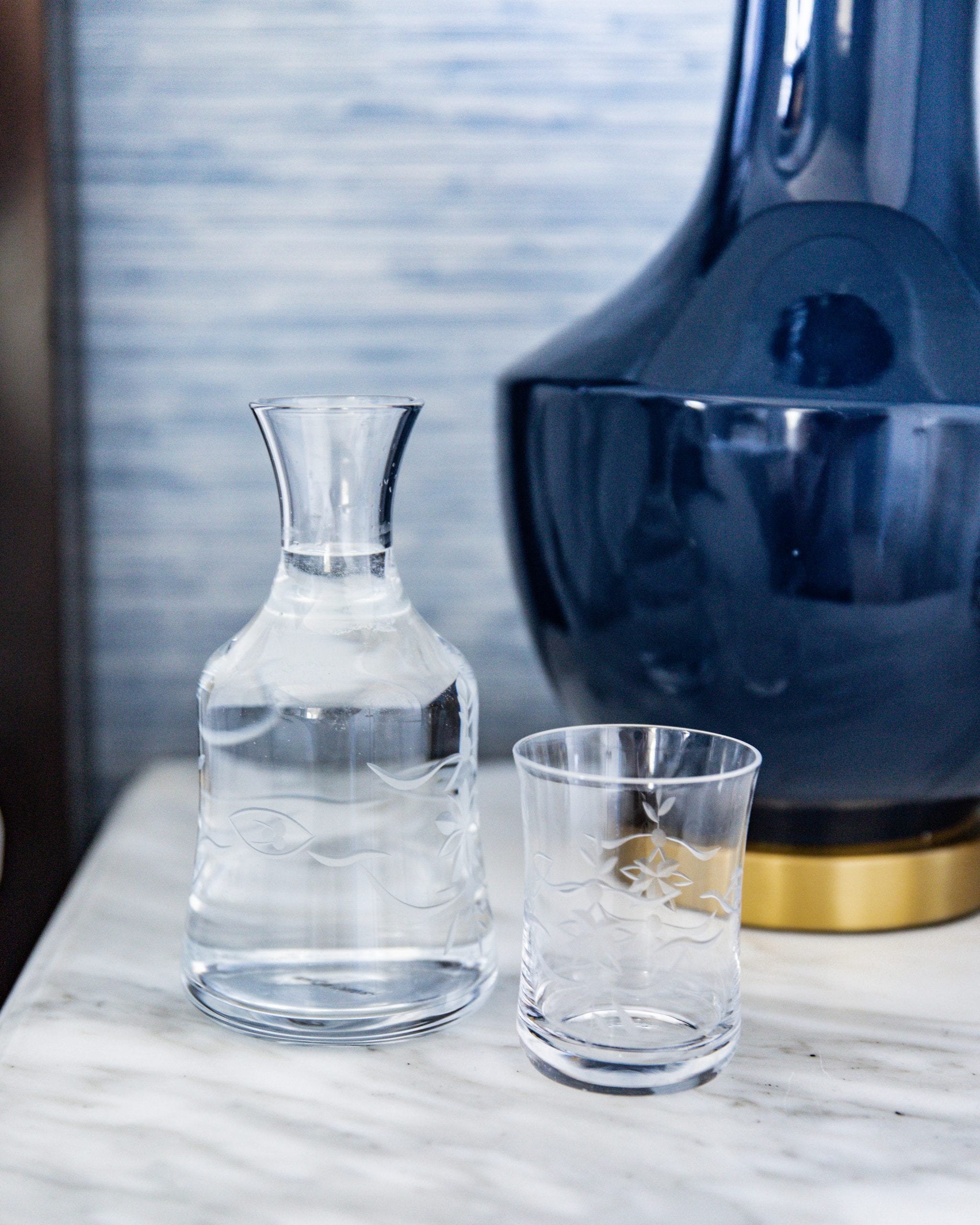 I love this little carafe and the glass that goes on top of it. It's perfect for a guest room.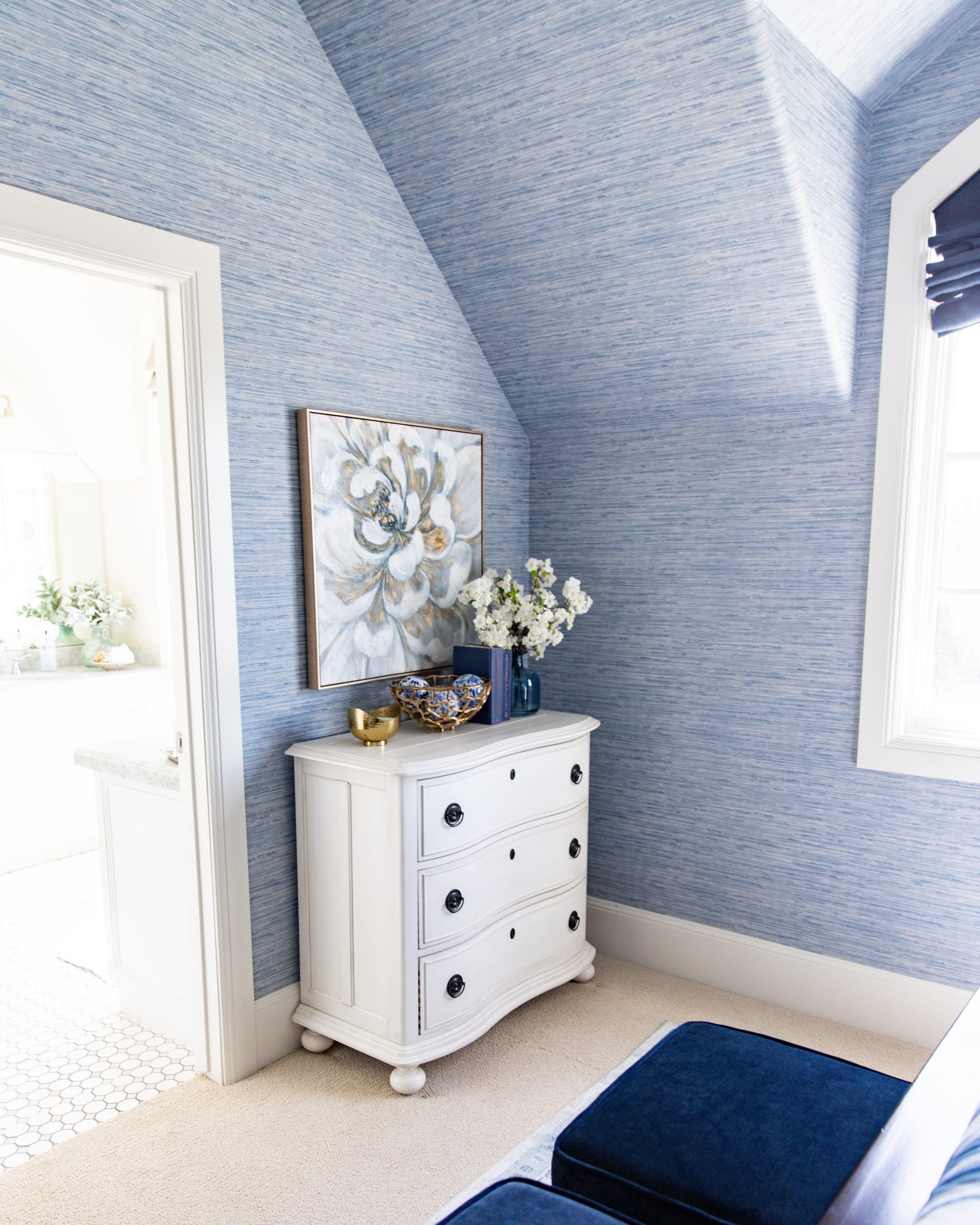 I like to add candles to each room too. They are both decorative and smell nice too. You can also add a decorative reed diffused to your guest room or bathroom.
Special Touches in the Guest Bathroom
I like to add some items to the bathroom for my guests to use when they are here visiting. These extra things also make your guests feel welcome. The first thing I do is clean the bathroom.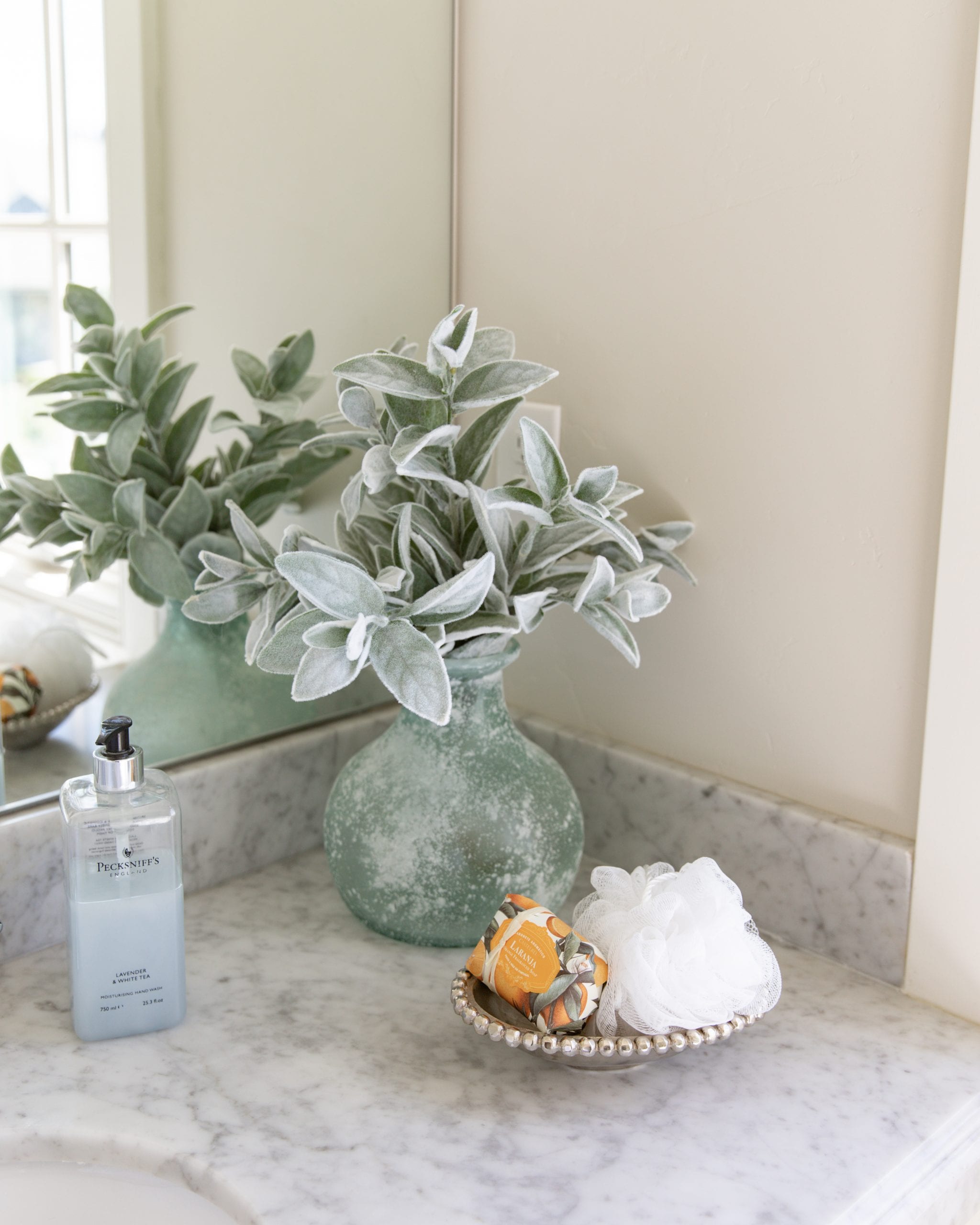 Once clean, I lay out a pretty bar or soap or some body wash and a new bath scrunchy for my guests to use. I also add fresh or faux flowers. Here I used faux lambs ear in a sea glass vase and set it in the corner.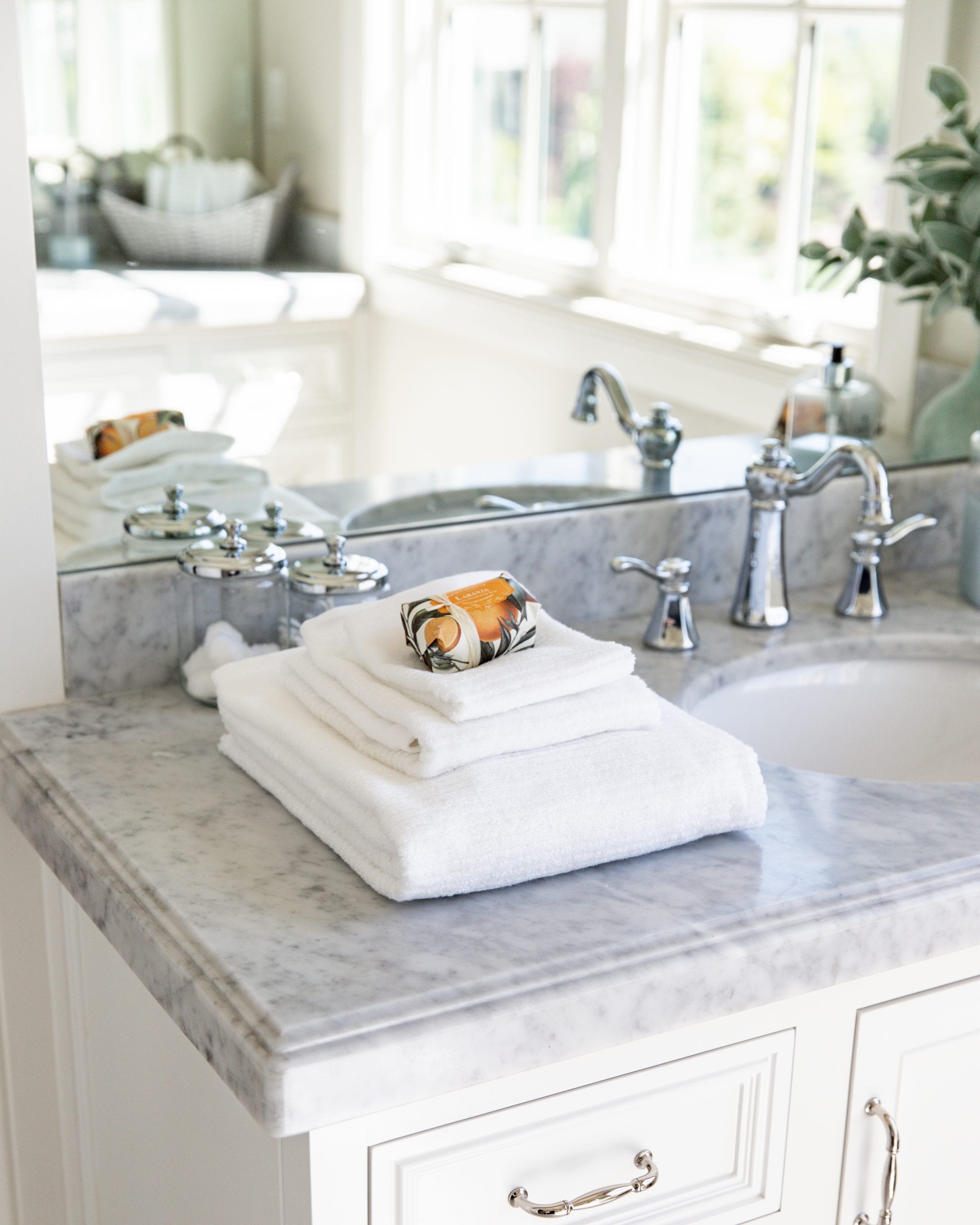 I only use white towels in my home. I like to bleach my towels to keep them fresh and germ free. Adding bleach to the washer with your white towels ensures that they are clean and smell good. I also use fabric softer to keep them fluffy and soft. I promise you'll never have smelly towels if you bleach them.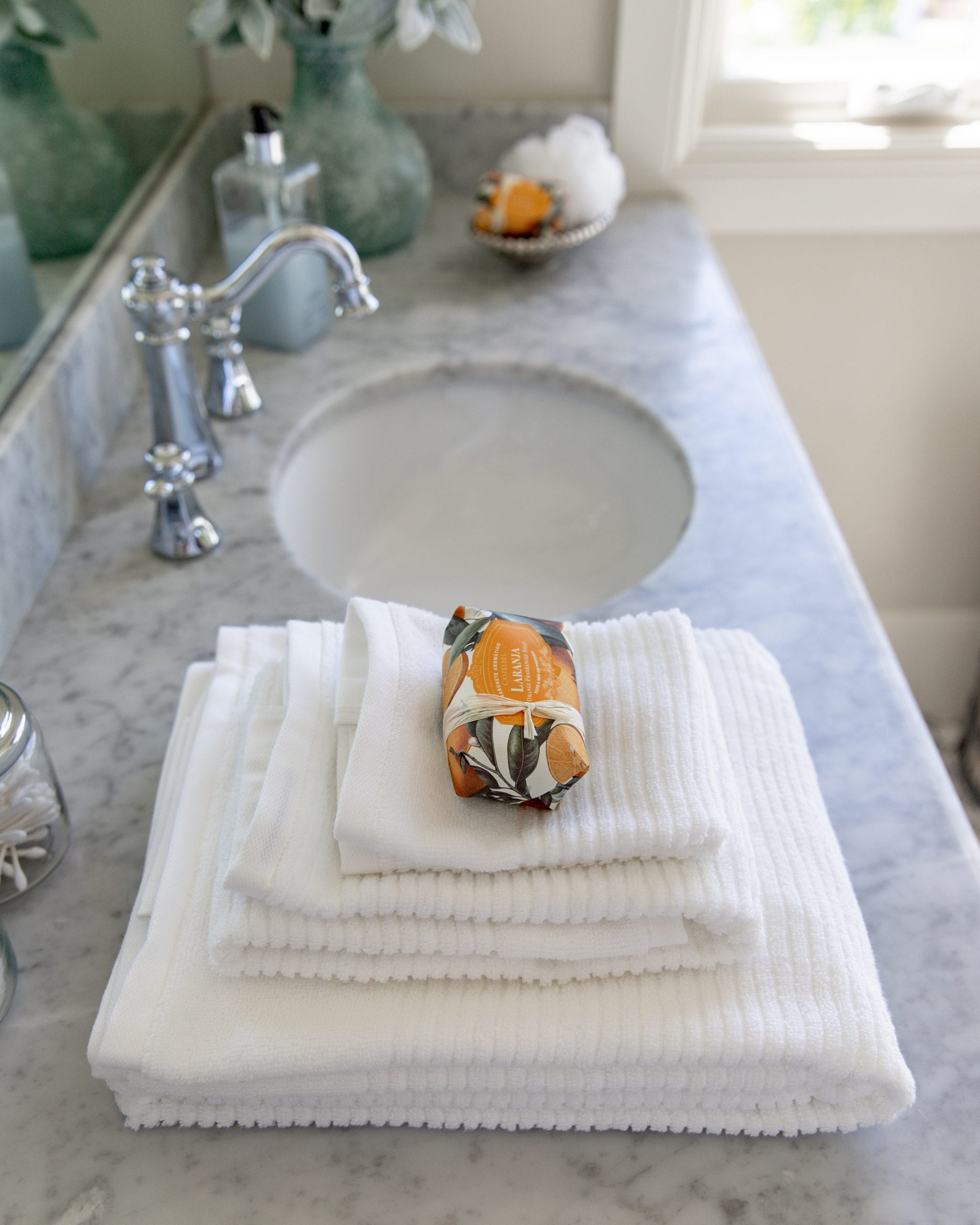 I love these towels from the Martha Stewart Collection at Macy's and I like to leave them out on the counter for my guests or in their bedroom on the stools at the end of the bed.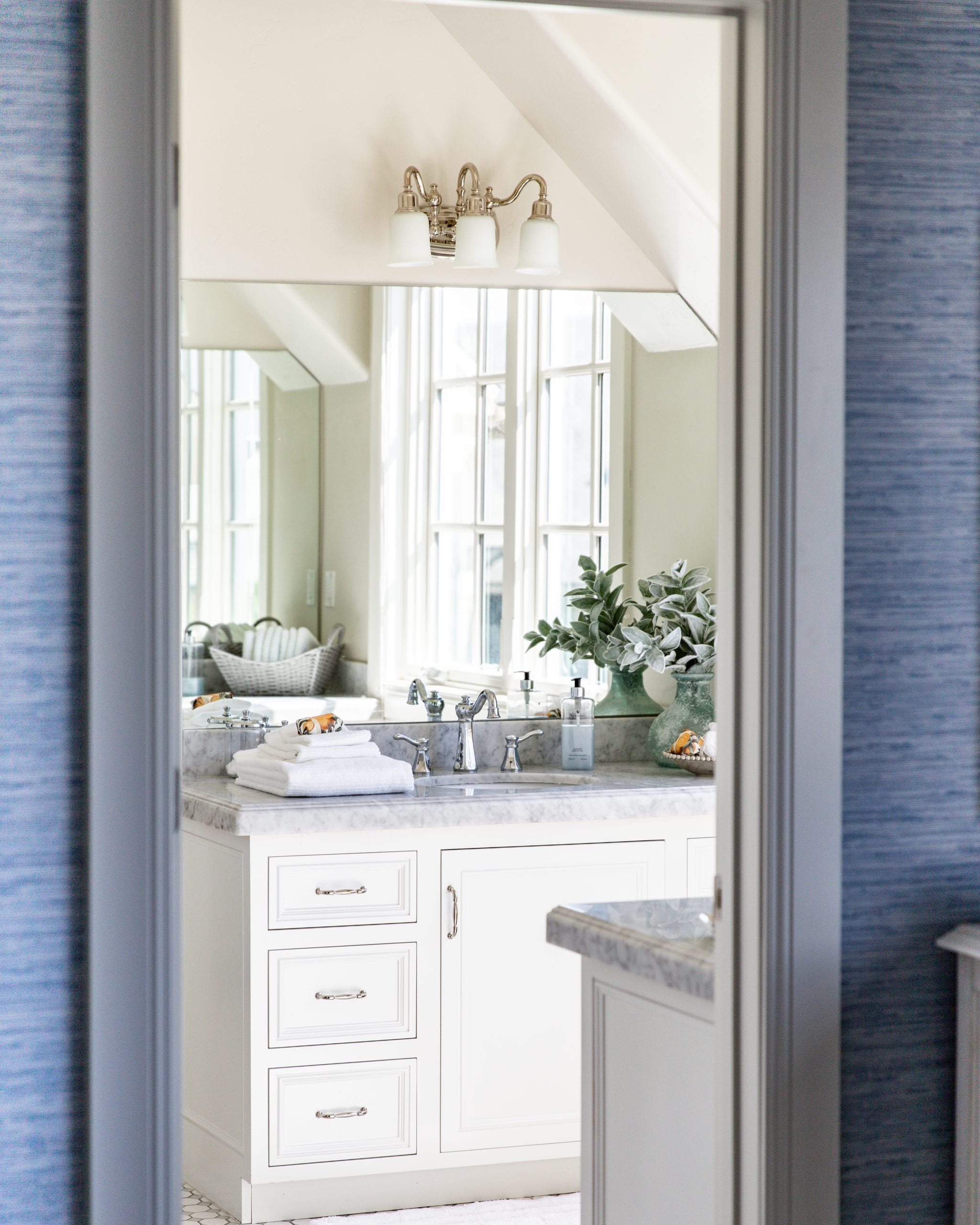 Another special thing I like to do is leave a bathrobe out in the bathroom or hanging in the bedroom. This is another added touch that reminds me of going to a hotel. We jokingly call our home the "Holly Hotel" because we have a lot of visitors so this is fitting!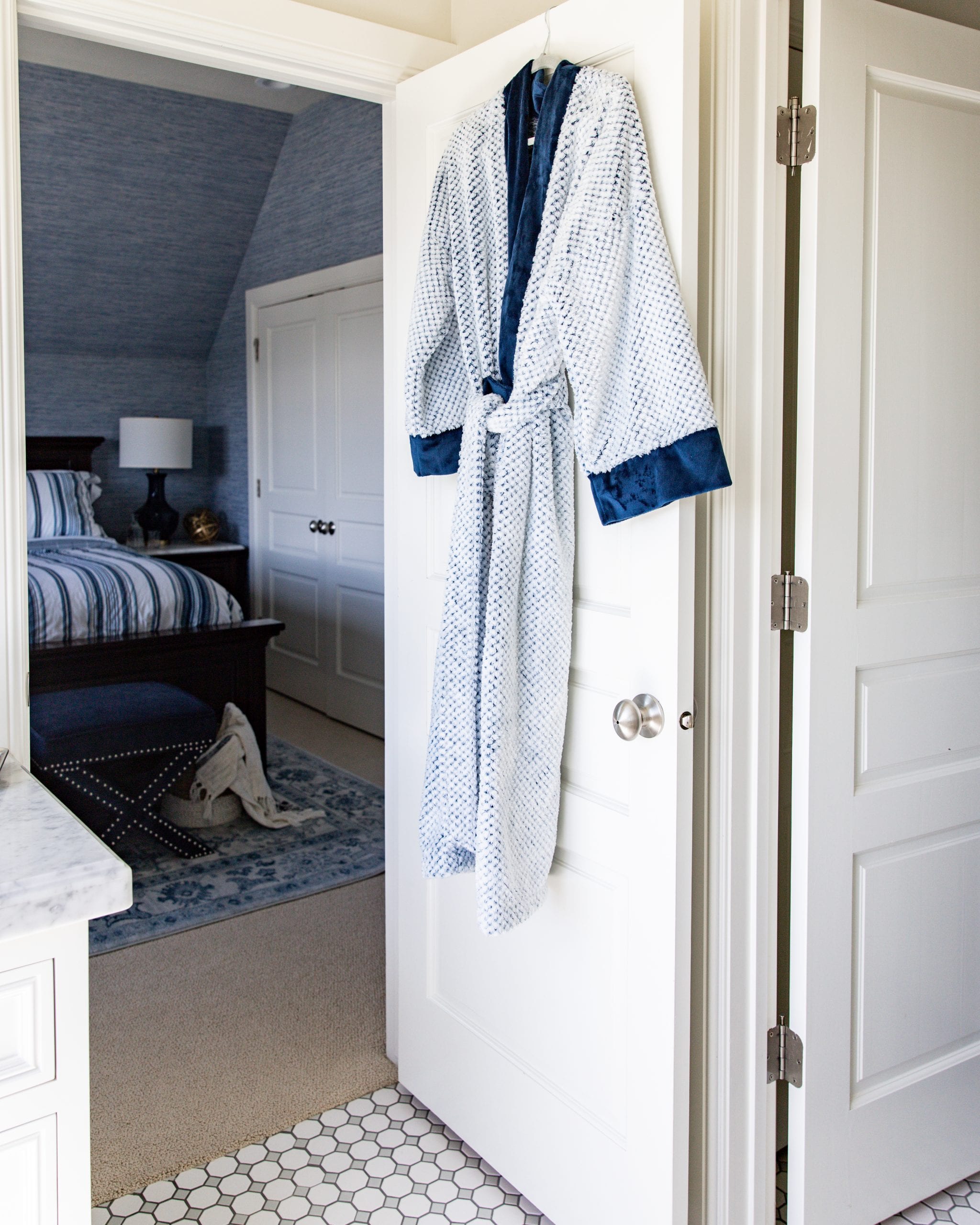 My favorite place to buy soft and fluffy bathrobes is Keiki Co.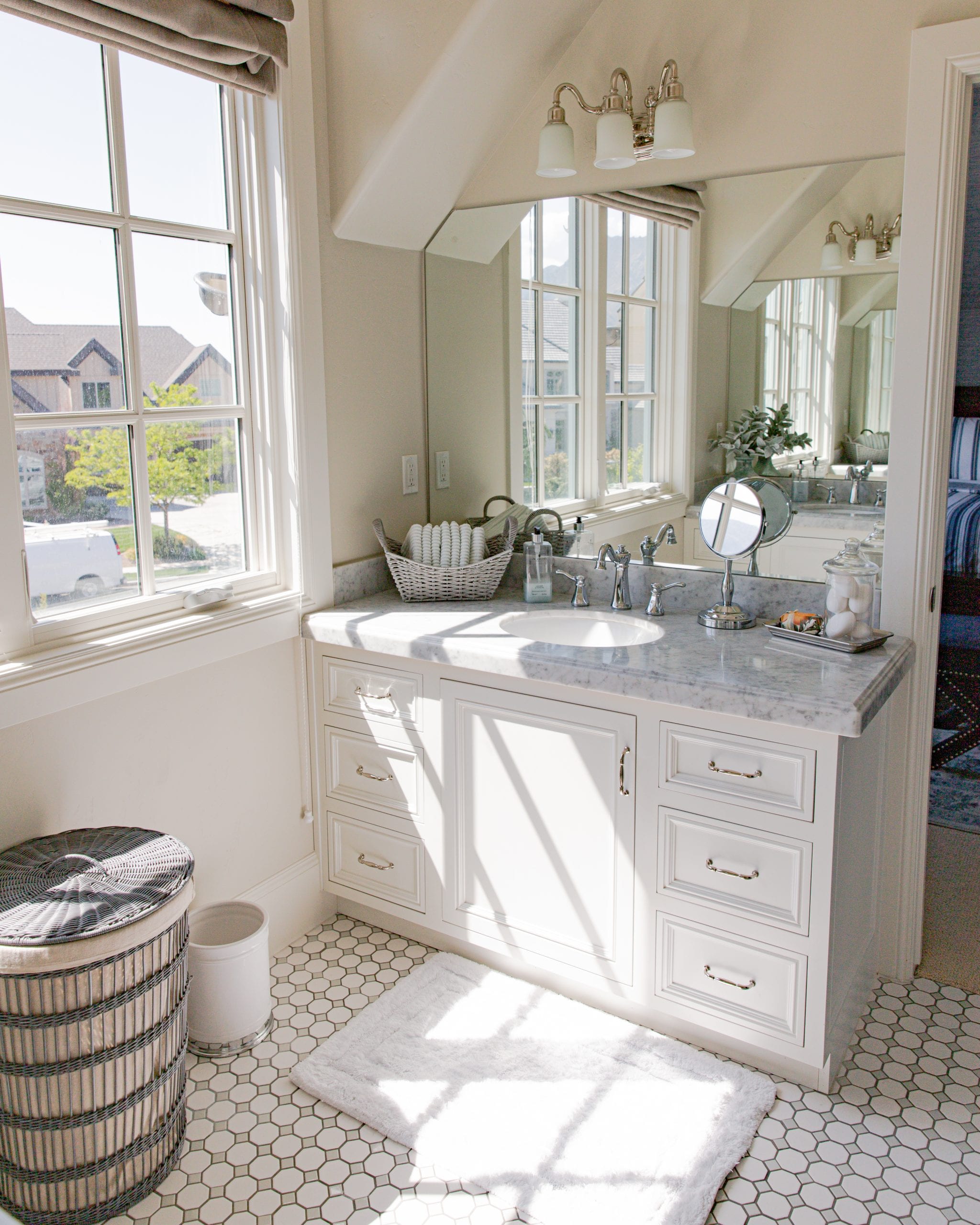 I also leave a magnification mirror (for those of us that are blind!), a basket of hand towels, hand soap, and cotton balls and Q-Tips. I leave extra toothpaste and new toothbrushes, (my husband is a dentist so we always have a lot of them) and razors in the drawer.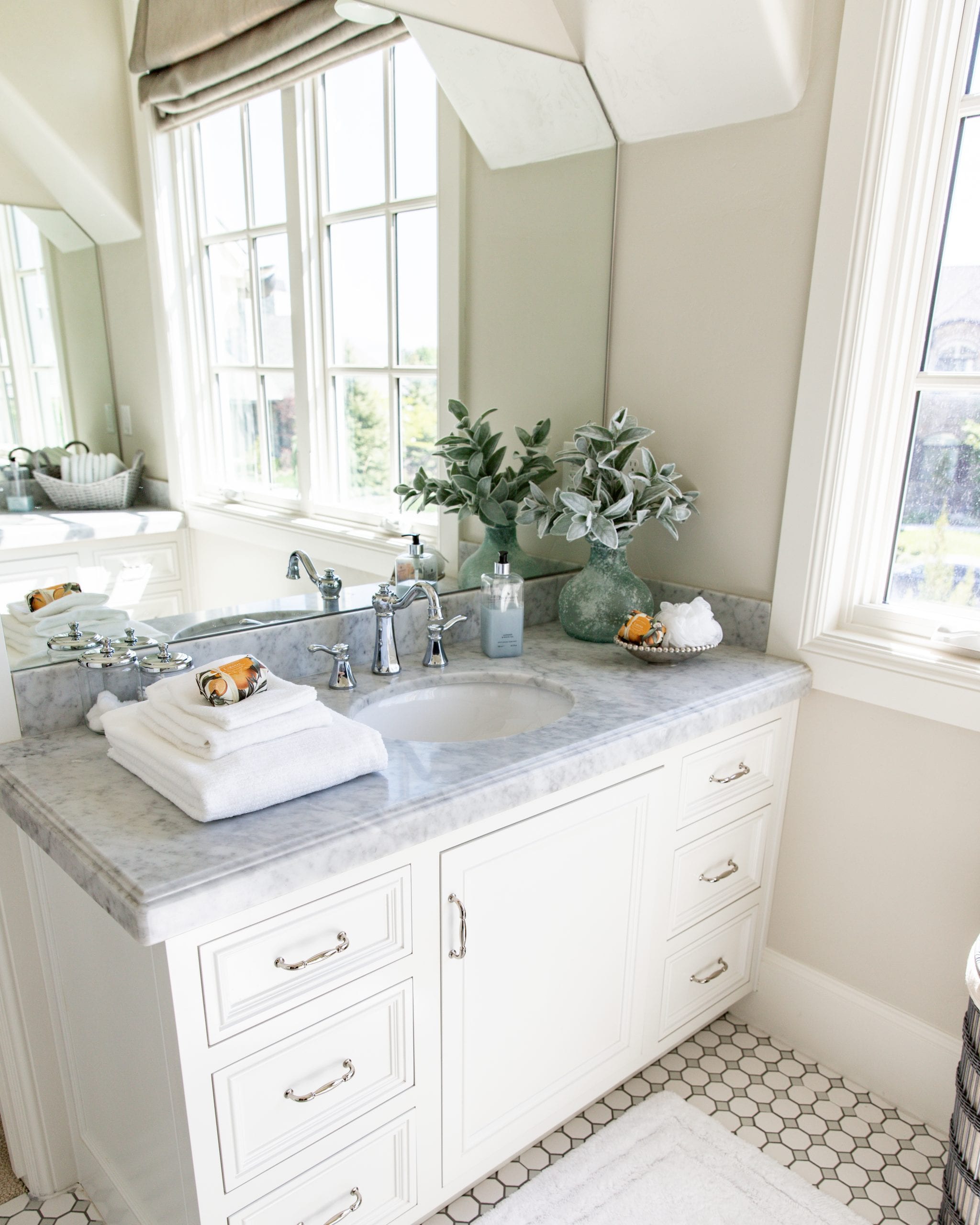 I also leave bathroom spray or poo-pourri and flushable wipes on the back of the toilet. I leave extra toilet paper and sanitary items just in case someone needs them. Sometimes I fold over the last square of toilet paper into a triangle and then press it into the bottom of a wet faucet. This imprints the toilet paper like you see in hotels.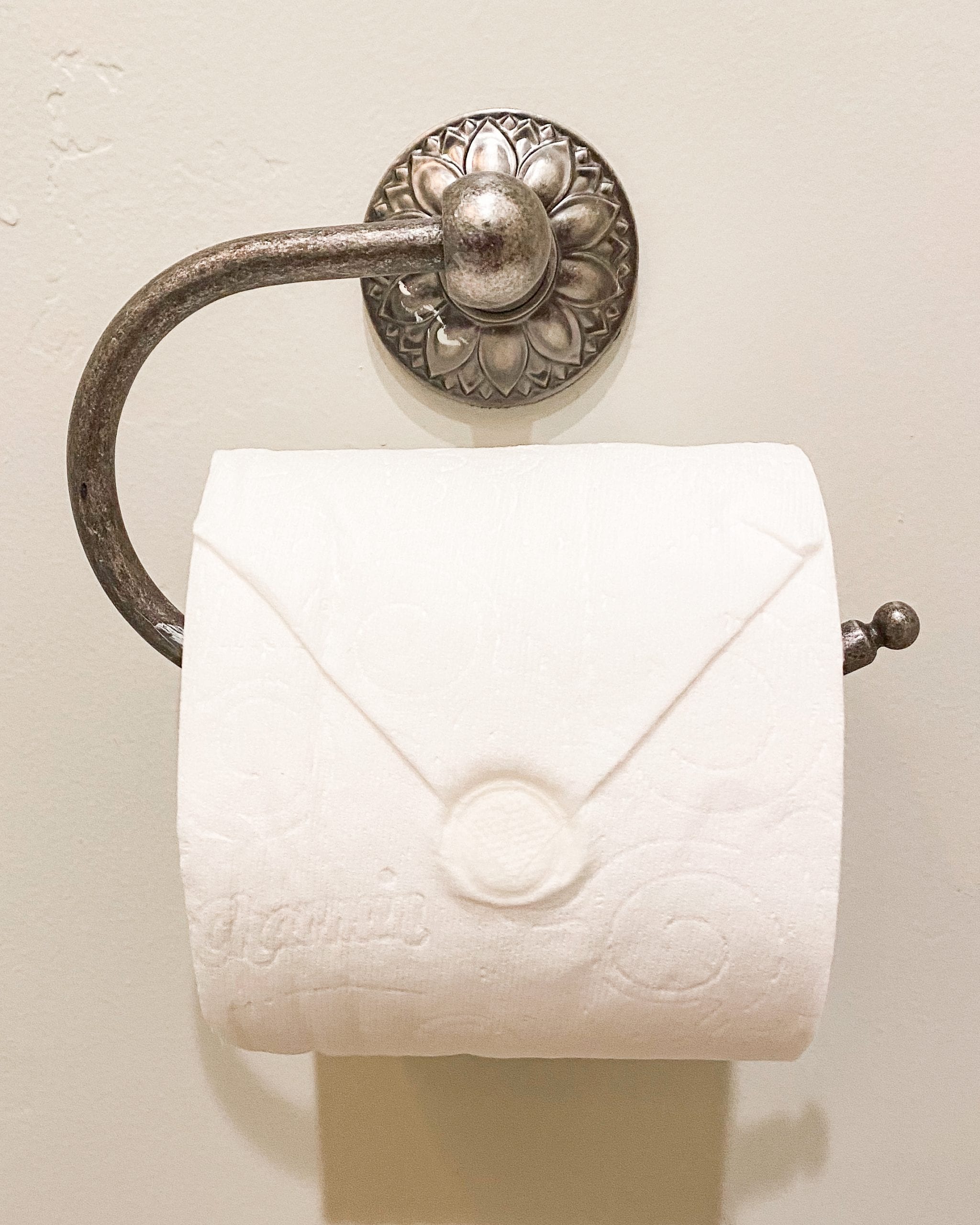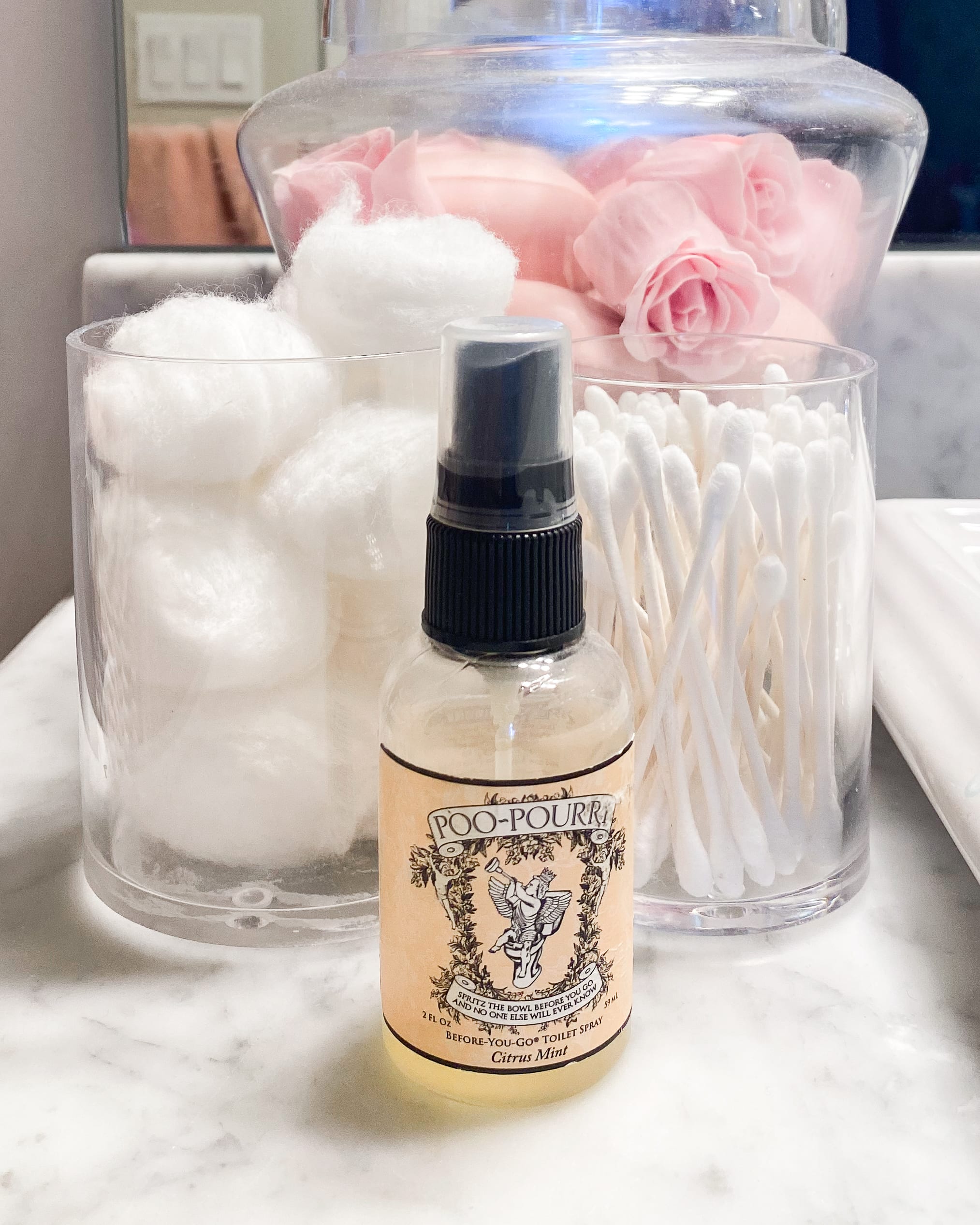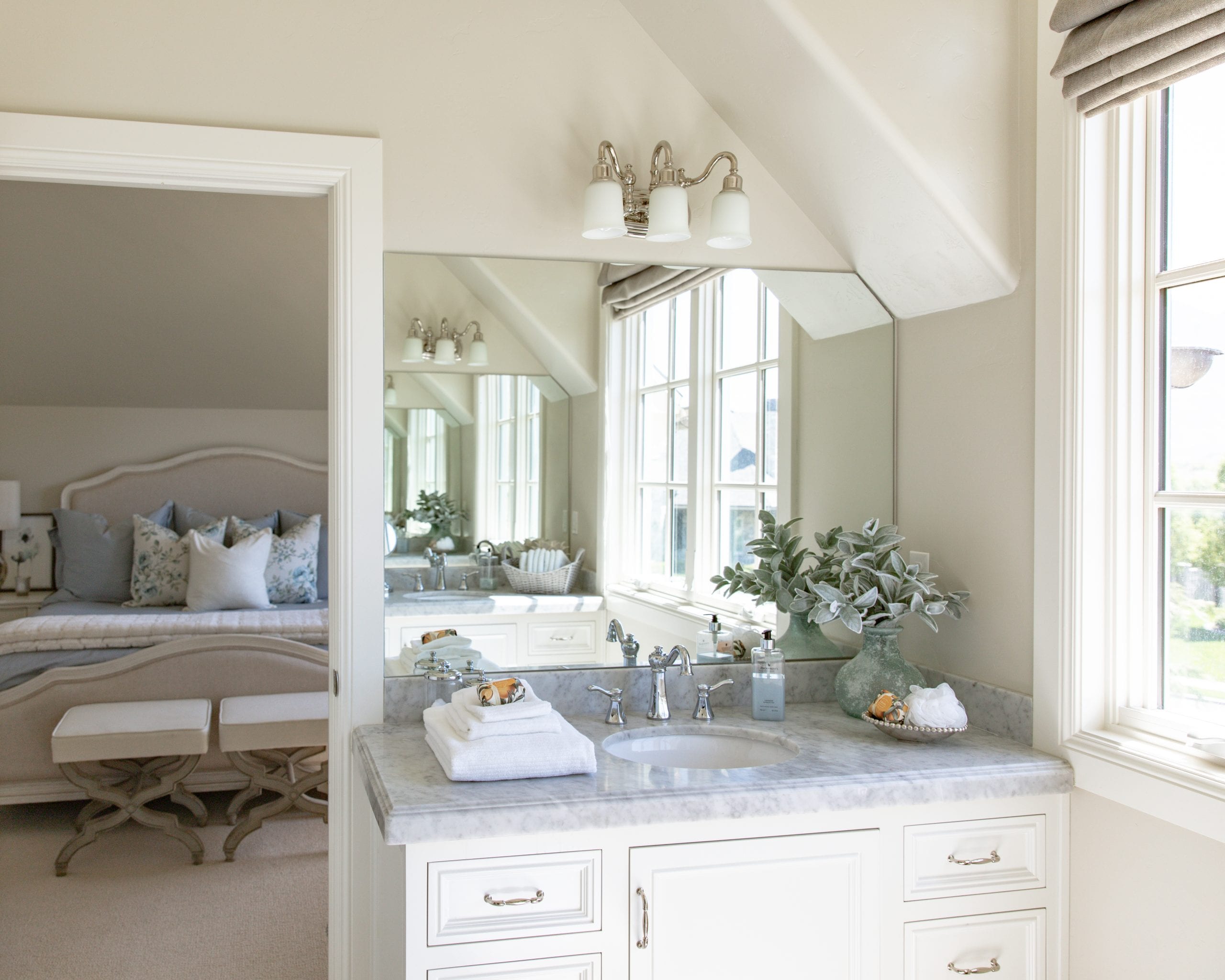 Here's a few more photos of each of the guest bedrooms and the bathroom.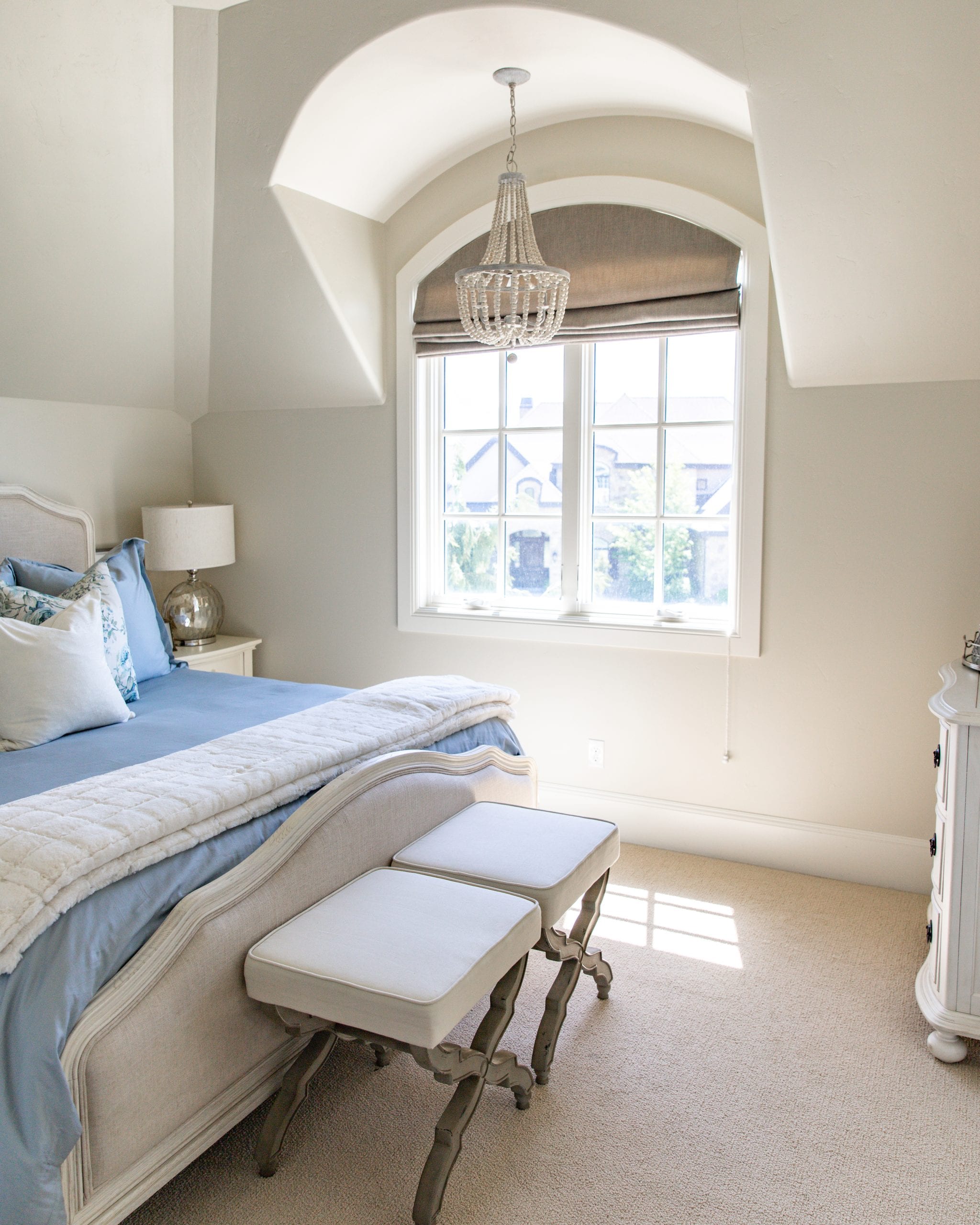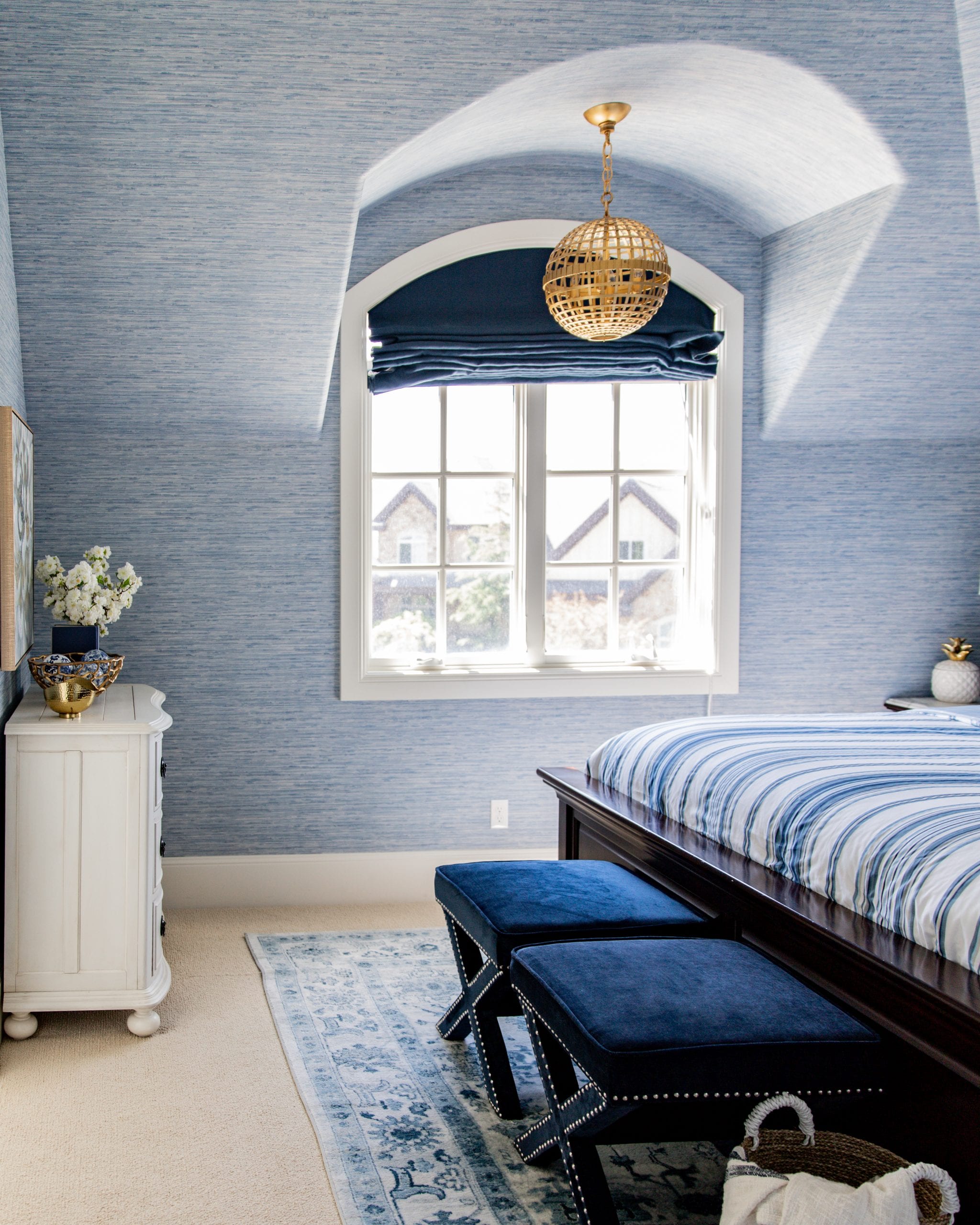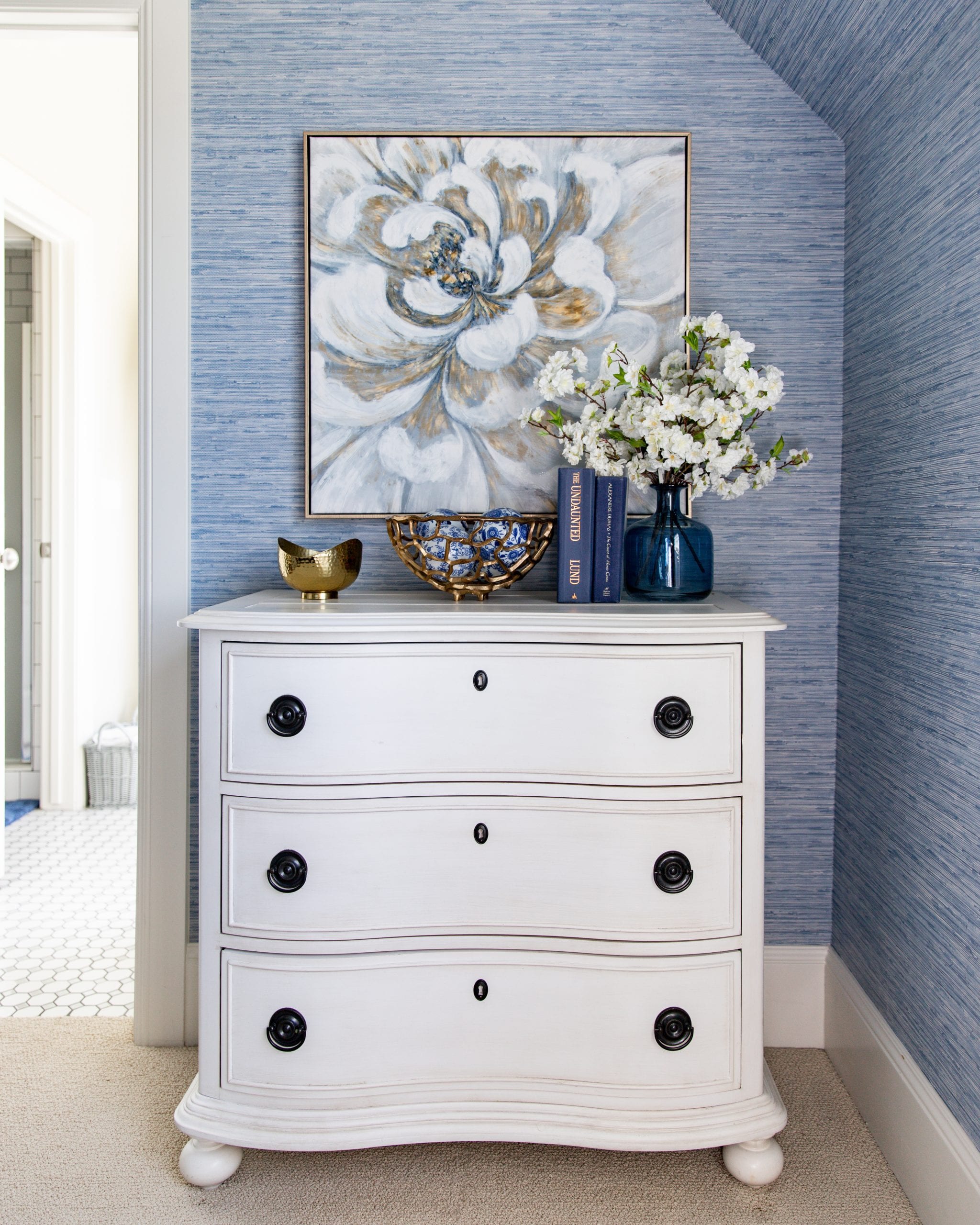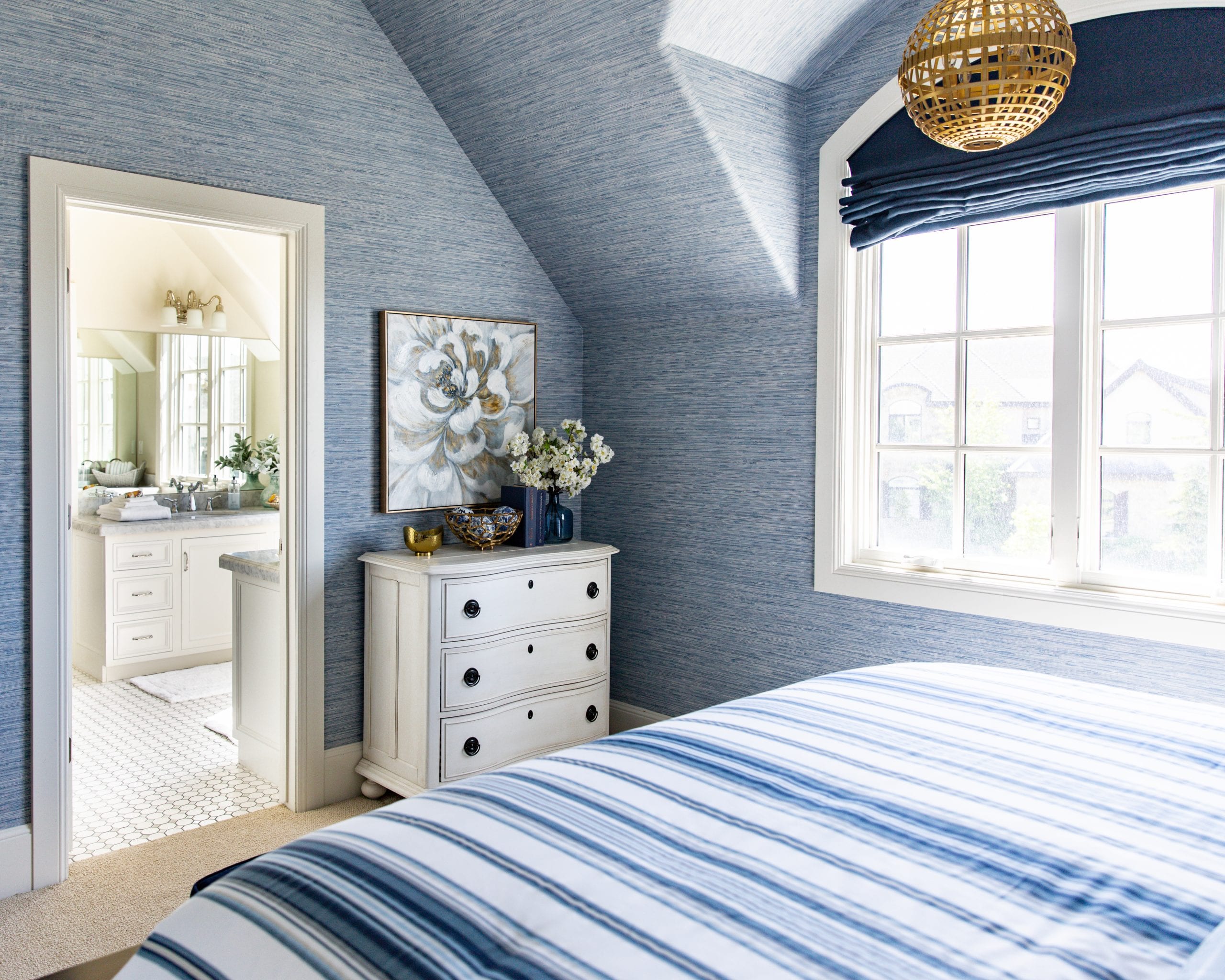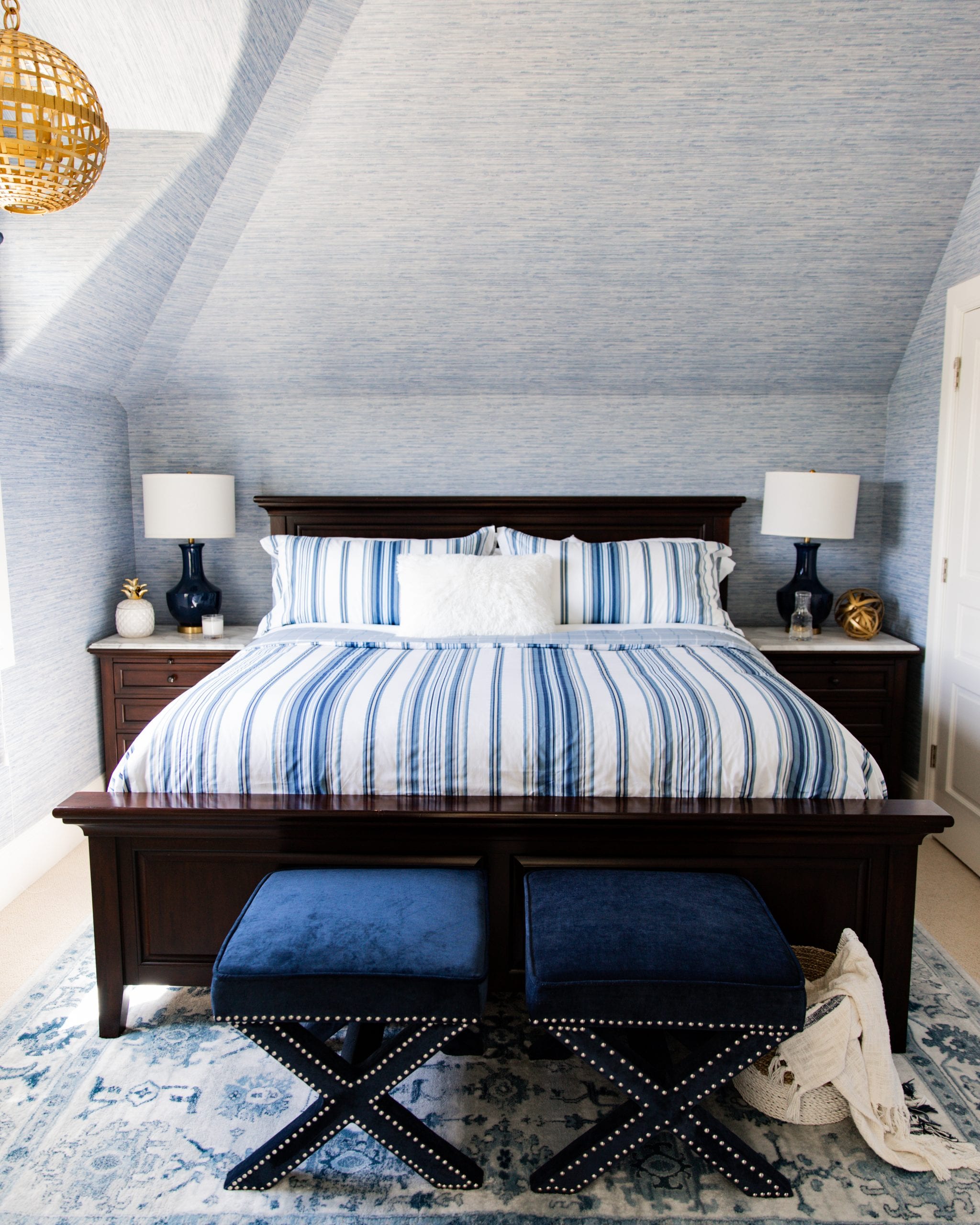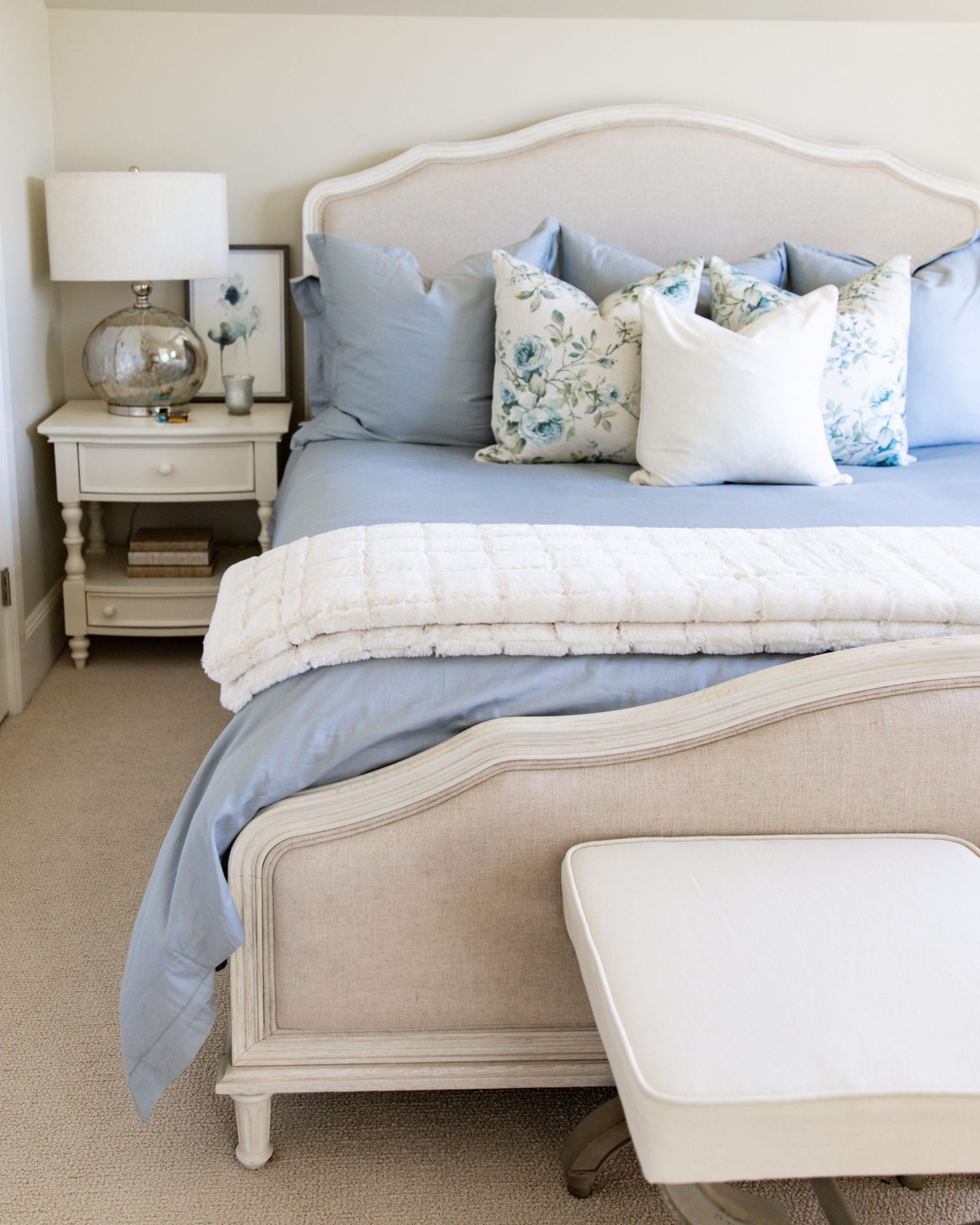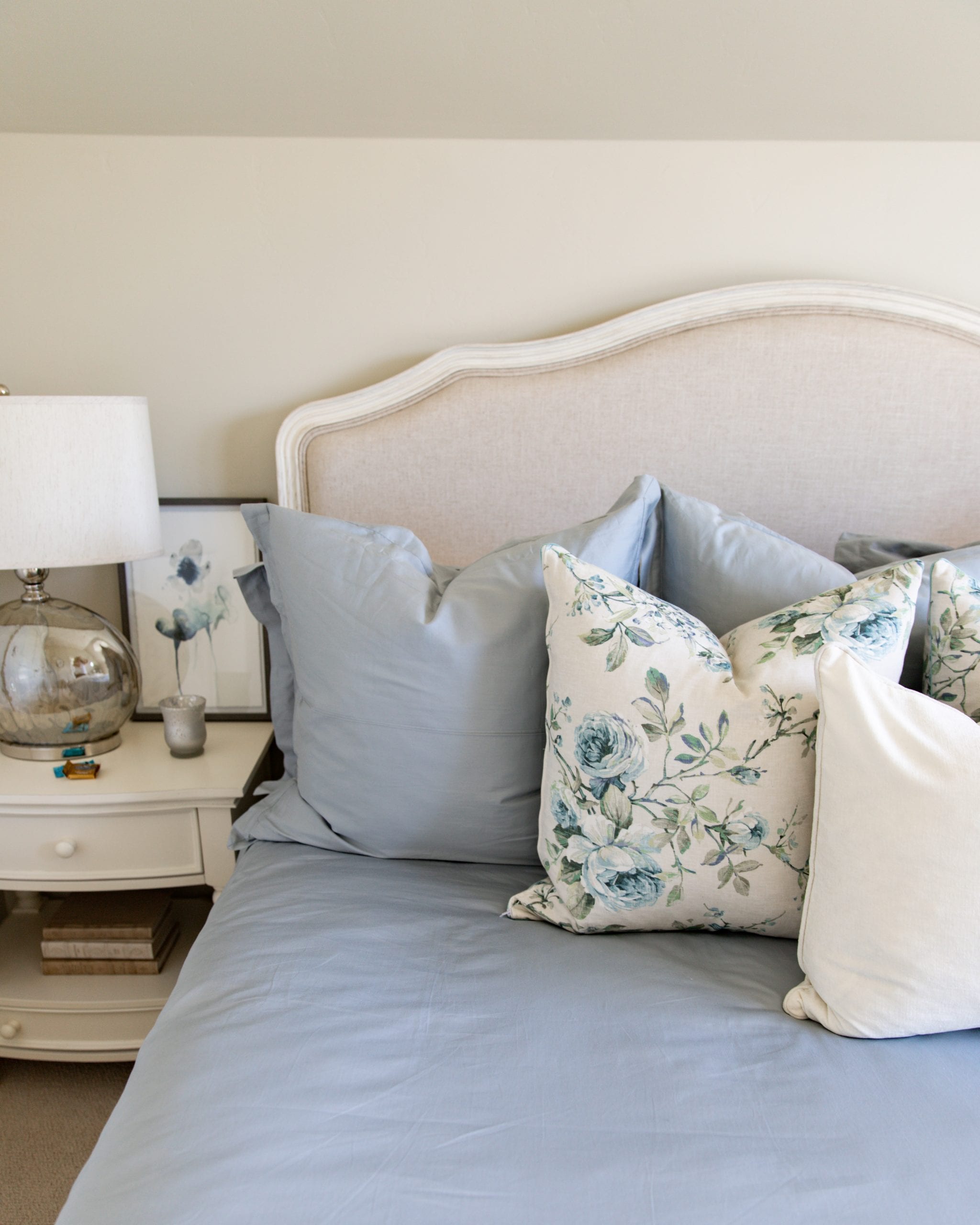 Thanks so much for stopping by! I hope you enjoyed reading this post and that you found it helpful in preparing for guests. If you don't want to miss a post from me, make sure to subscribe to my blog and follow along with me on Instagram @homewithhollyj.
xoxo,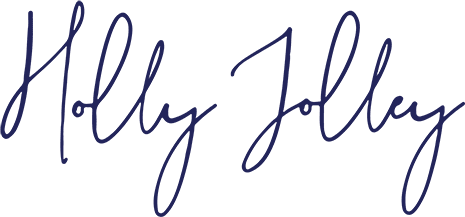 I've linked all the sources I have below. Affiliate links are used in some of the links.


PIN THIS FOR LATER: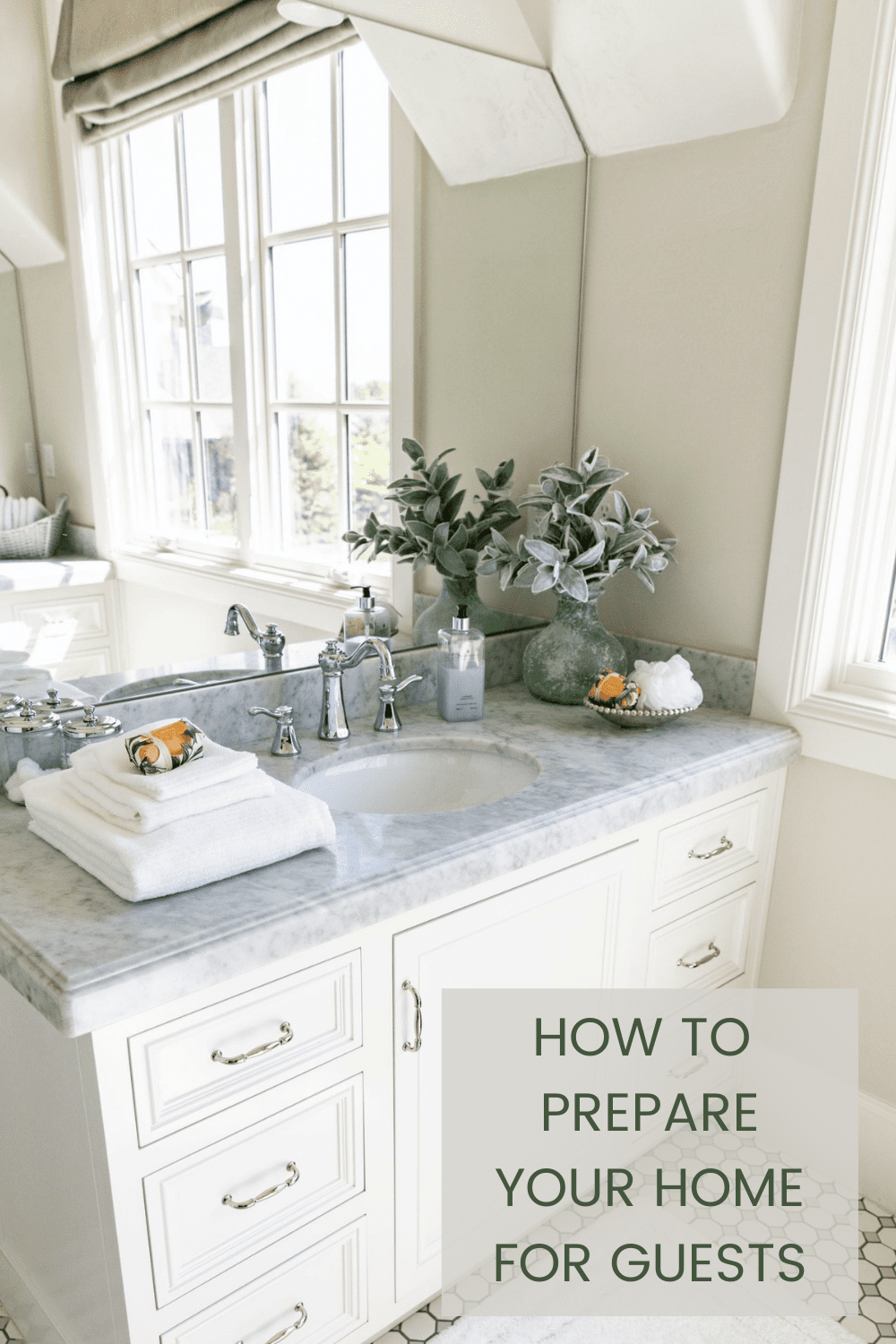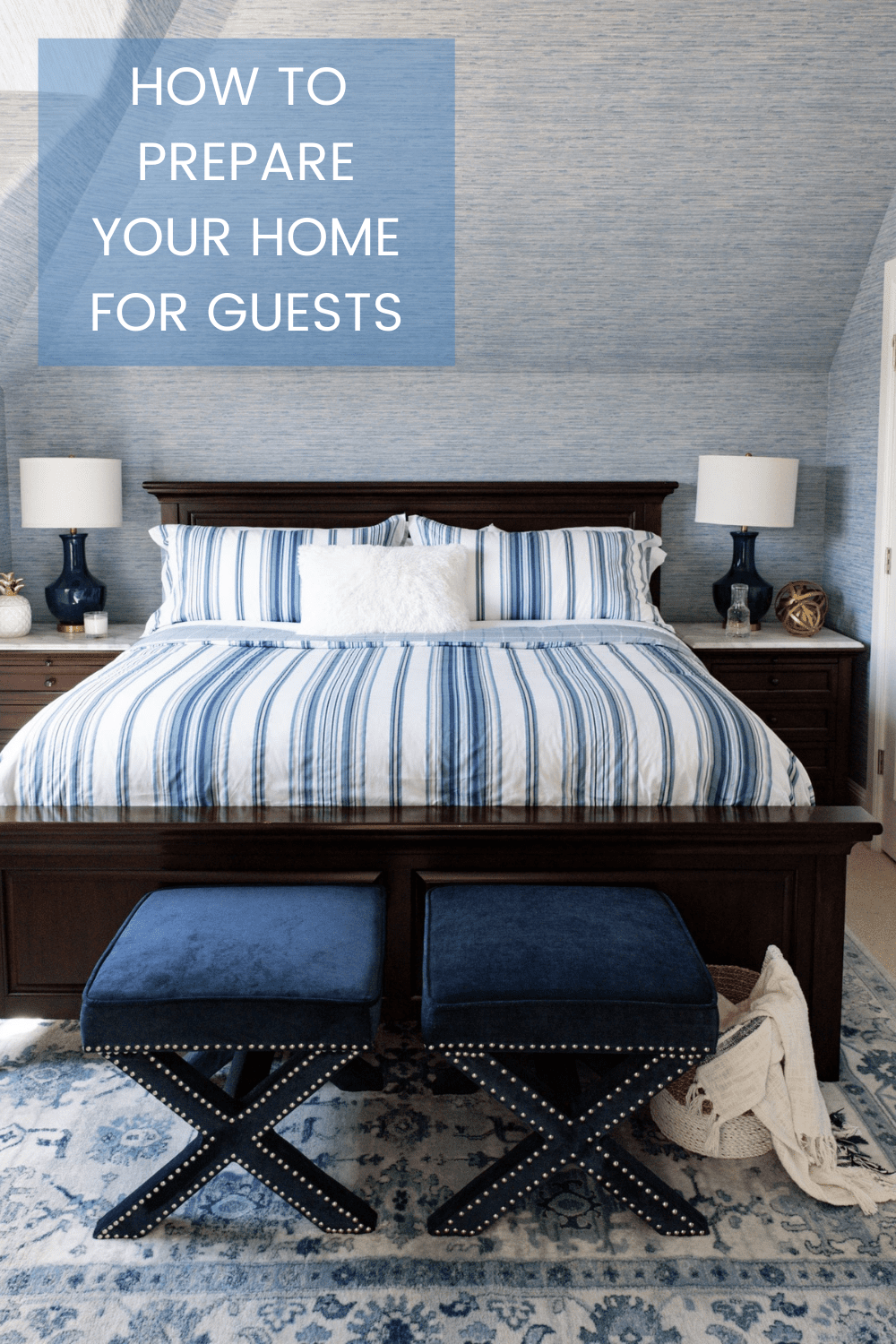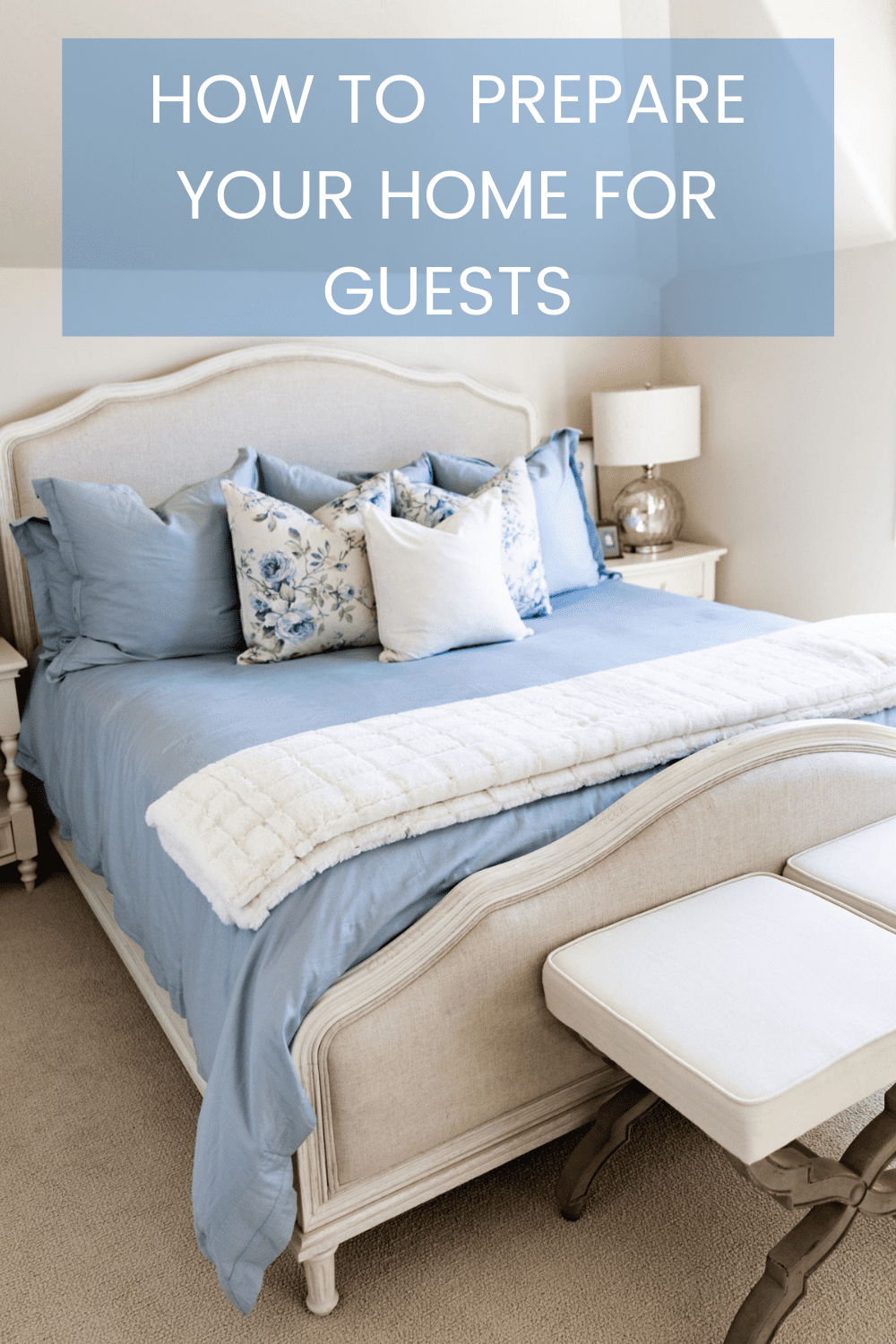 HOW TO PREPARE YOUR HOME FOR GUESTS