Elegant Winter Themed Tablescape
If you've been following me for awhile, you'll know that I have a slight obsession with dishes and setting beautiful tables that are warm and inviting. I always set a winter themed table during the winter months and this year I went back to my favorite color combination, blue and white.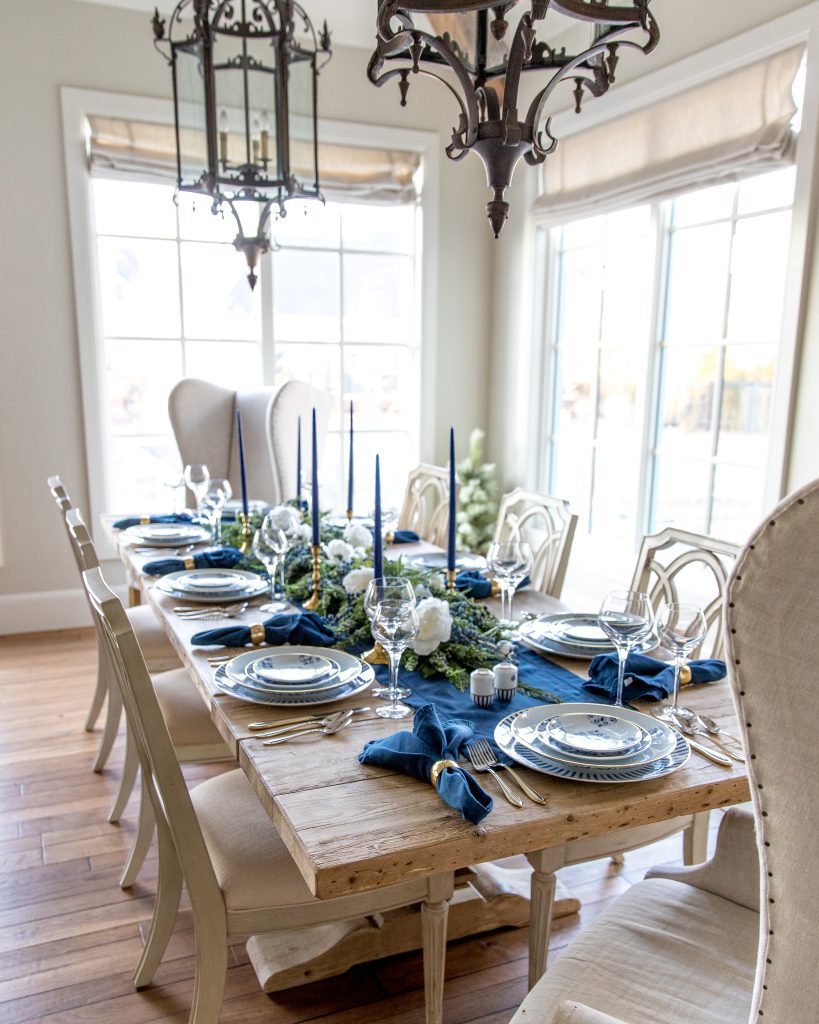 Partnering With Vista Alegre
I was thrilled to partner with Vista Alegre to create this Elegant Winter Themed Tablescape. Since 1824, Vista Alegre has been a timeless piece of Portuguese heritage and strikes a balance between tradition and modernity with core values rooted in artistry, sophistication, and versatility.
This blue and white tableware from Vista Alegre is called Transatlântica. I love the artistry, sophistication, and versatility of this collection. Every piece is stunning and unique and can be used alone or all together. The Lybra water and wine goblets are also stunning and pair perfectly with any Vista Alegre tableware collections.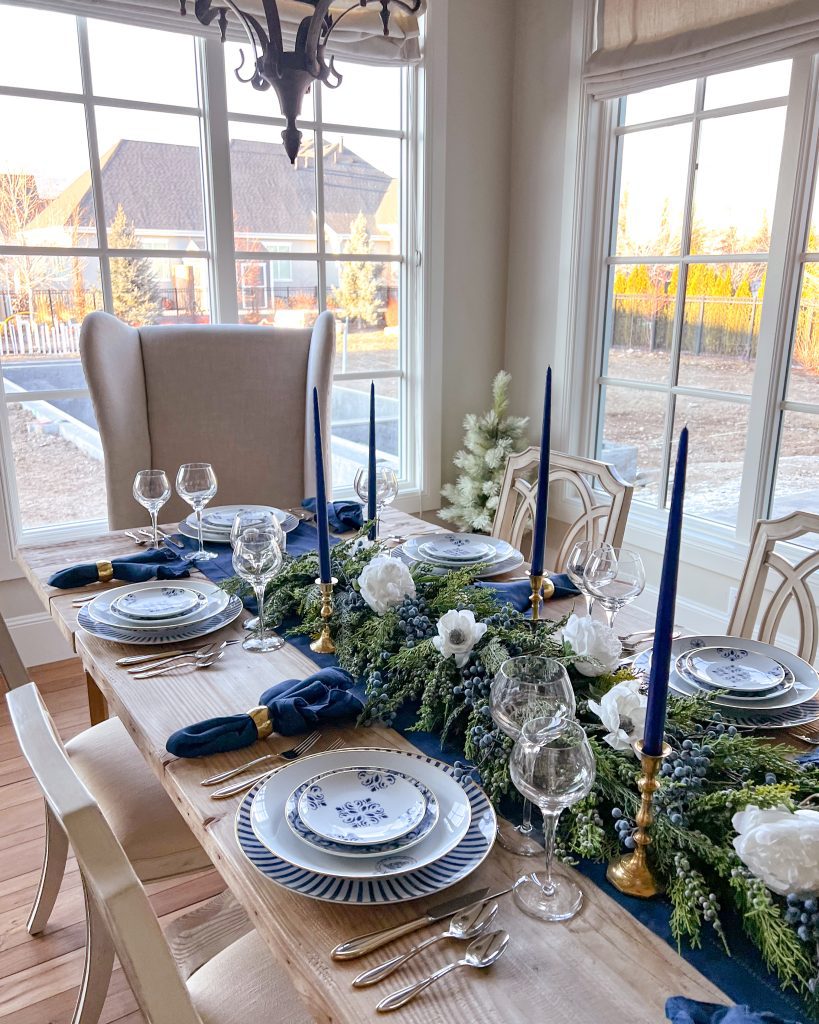 While Vista Alegre has adapted over the decades to reflect artistic and cultural change, the brand's collections have stood the test of time and have been passed down from generation to generation.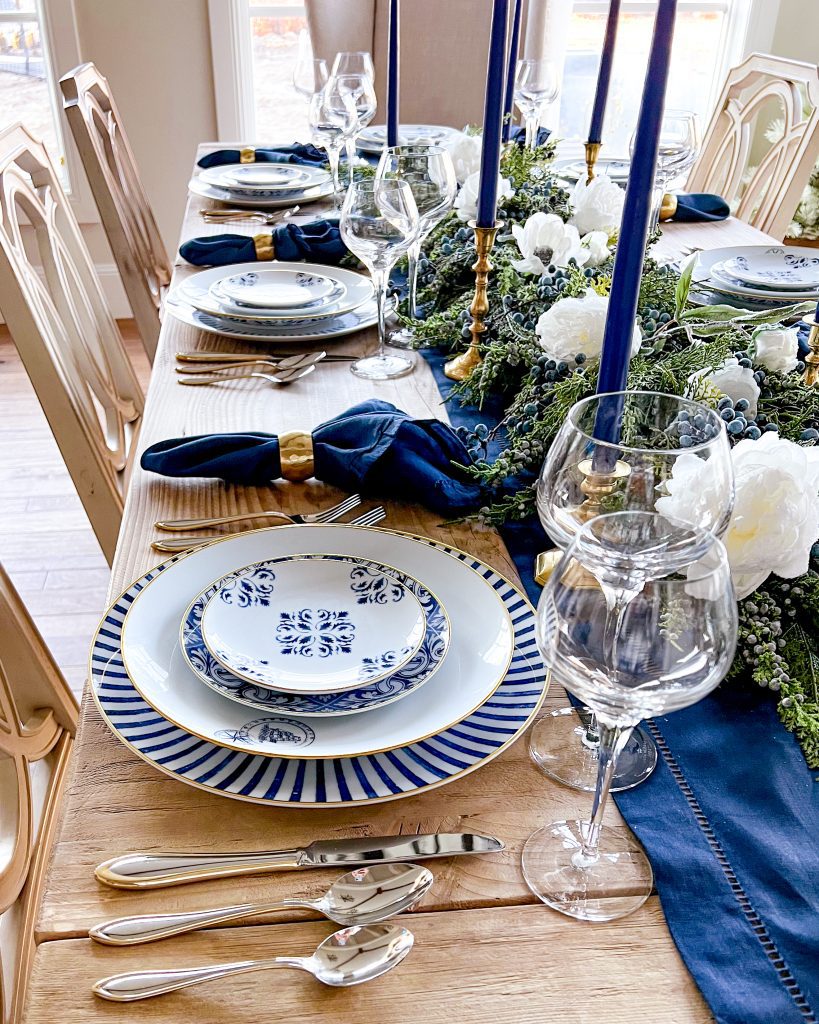 The Place-Setting
This collection from Vista Alegre is called Transatlântica and each piece is exquisitely designed and unique. The different designs on each piece are unique but also pair beautifully together.
You can see the unique details on each piece below.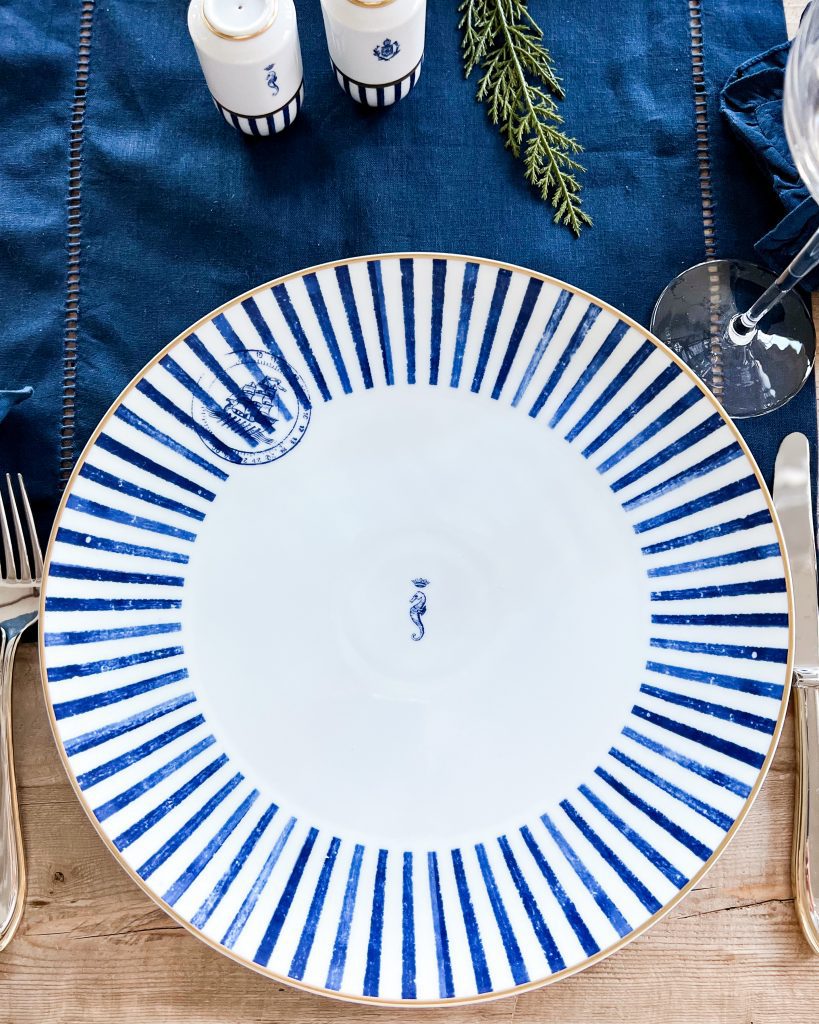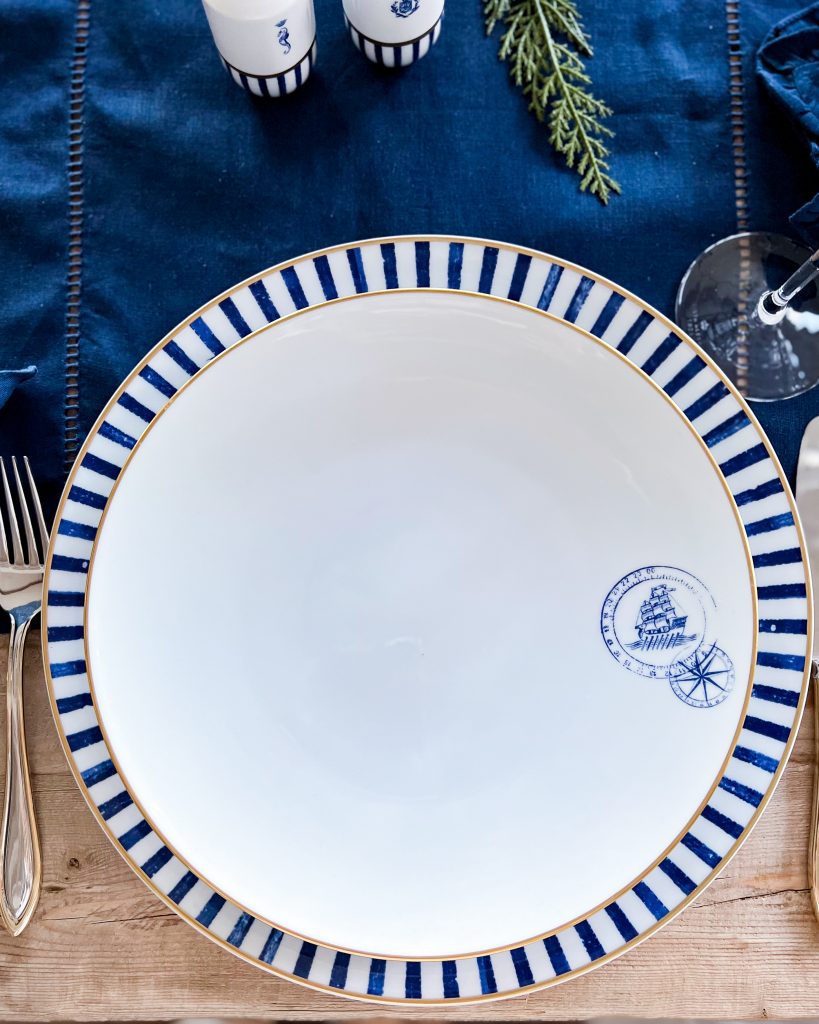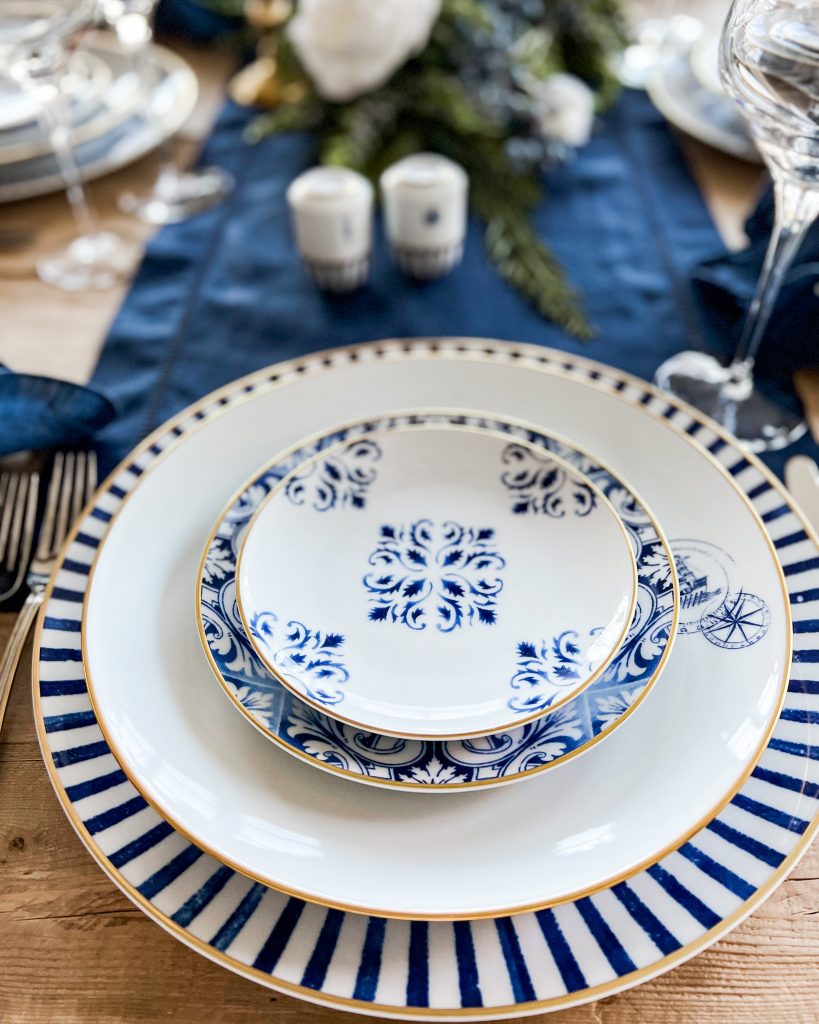 Transatlântica Bread and Butter Plate
The gold rim on each piece ties the individual plates together and adds a layer of elegance and sophistication to the Transatlântica Collection.
The Lybra water goblet and wine goblet are also a perfect pairing with the Vista Alegre Transatlântica Collection.
I used two-toned silver and gold flatware and a blue scalloped cloth napkin to complete the place-setting. I took a small piece of fresh cedar greenery that I cut from the trees in our yard, and added it to the top of the napkin. This helps tie the centerpiece garland and the place-setting together.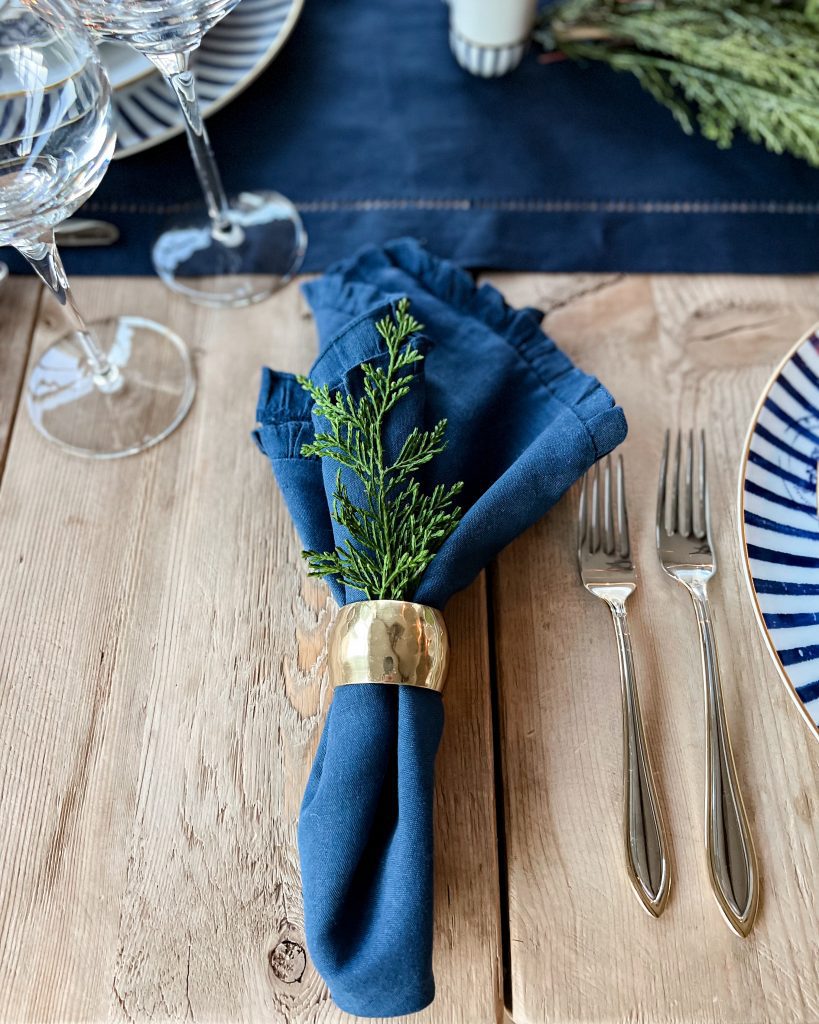 I also placed two sets of the Transatlântica salt and pepper shakers to each end of the table.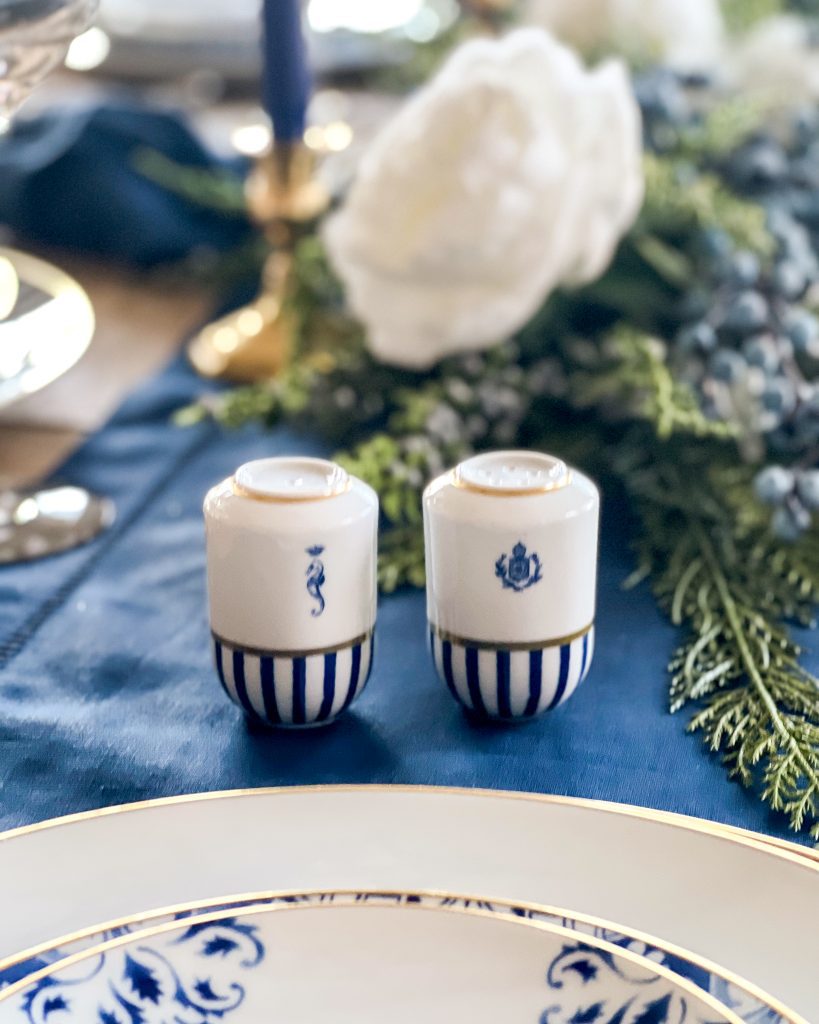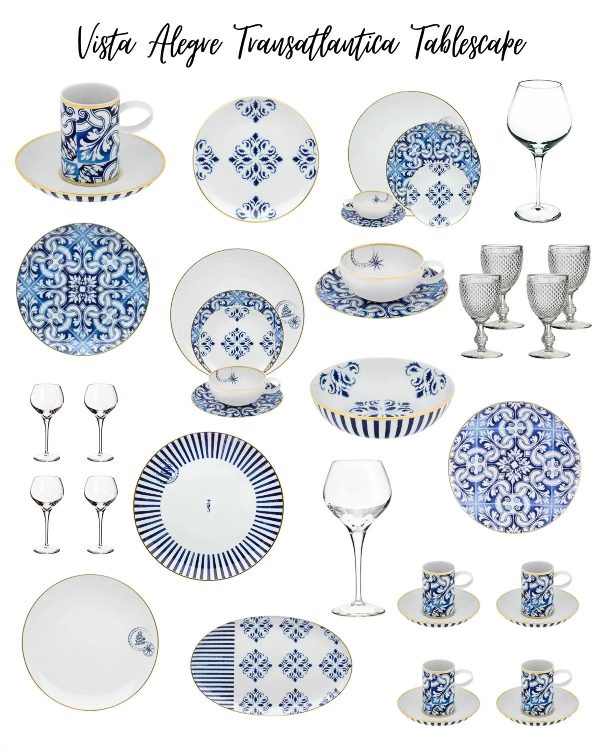 Here are the links to each of the Transatlântica Collection from Vista Alegre that I used to set this table.
My Signature Centerpiece Garland
When I think about what I want to use as a centerpiece for any of my tablescapes, I consider a handful of things. I have a very large table and there's a lot of space to fill up in the center of the table, especially if I decide to not serve the food on the table. I typically like to serve buffet style because my table is made of reclaimed wood and doesn't have a protective finish. Everything, including water, stains the table. This is the main reason I create these longer garland centerpieces.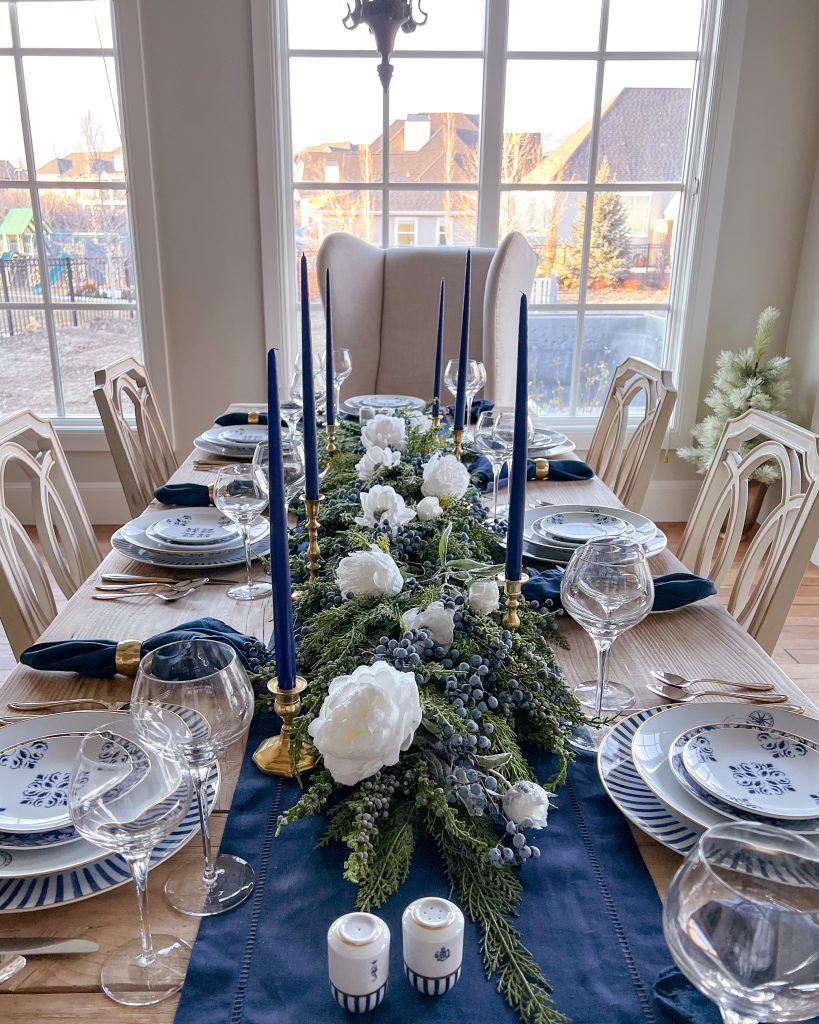 Another thing to consider when choosing your centerpiece is height. I want my guests or whoever is sitting at the table to be able to see each other and not have to look around vases or tall flowers to speak to the person across from them. These garland centerpieces are perfect for that.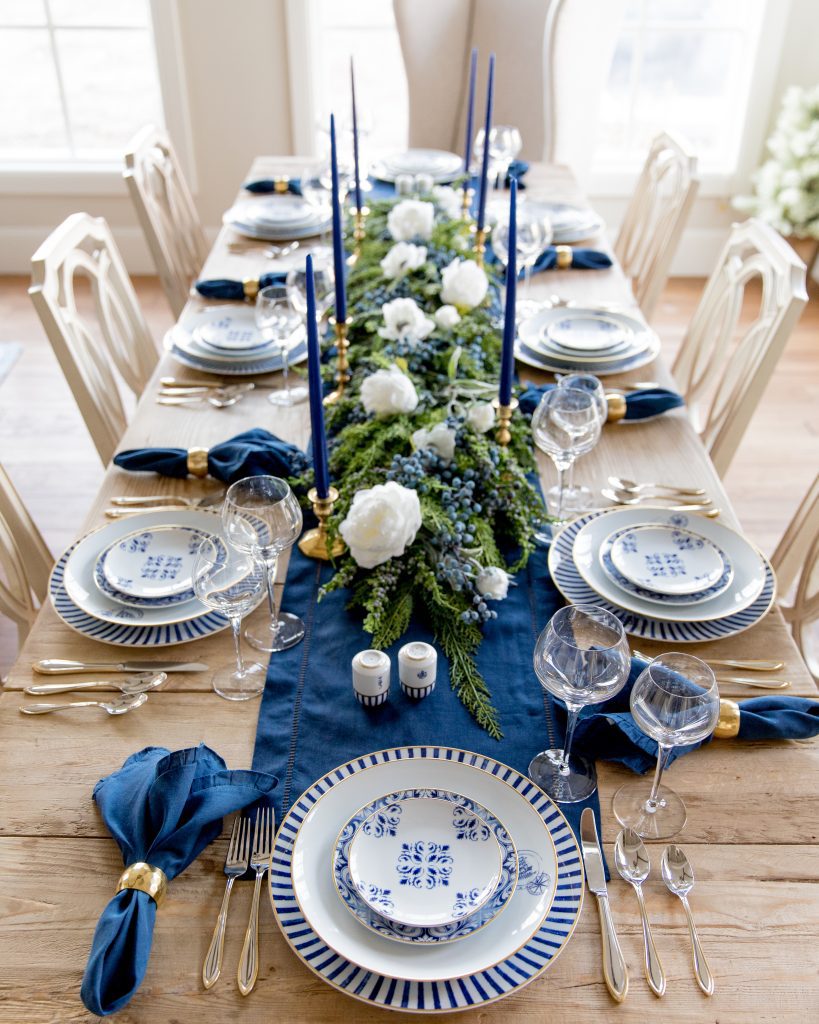 I like to layer a table runner under the centerpiece to add color and texture to the table and then layer the centerpiece on top of it. I used a navy blue table runner that matched the dinnerware and napkins.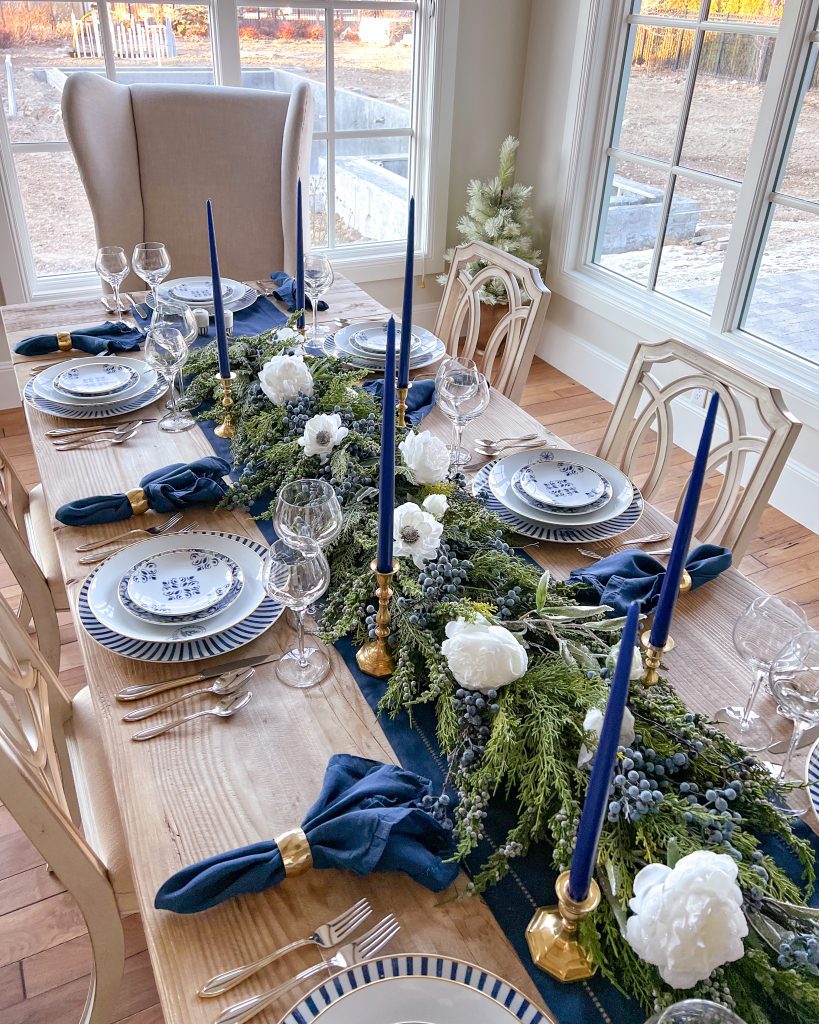 To create this garland centerpiece, I layered a faux, cedar garland, then I added in some faux juniper mini branches. On top of that, I layered more faux cedar branches to fill in any gaps or holes. Lastly, I added white frosted faux peonies and blueberry stems. Using the cedar branches and greenery and the frosted peonies adds that wintery touch to the table I was wanting to create.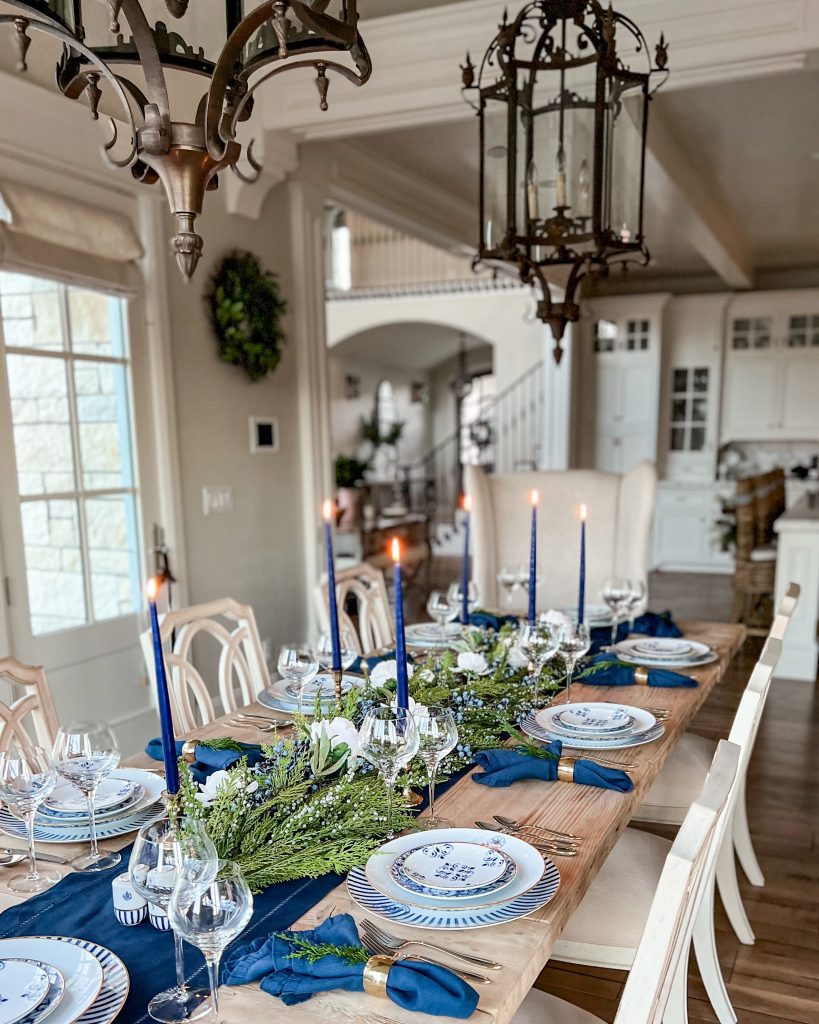 Once the table was complete, I added in gold candlesticks with navy blue taper candles. The candles add warmth and ambiance to the table when you sit down to enjoy dinner.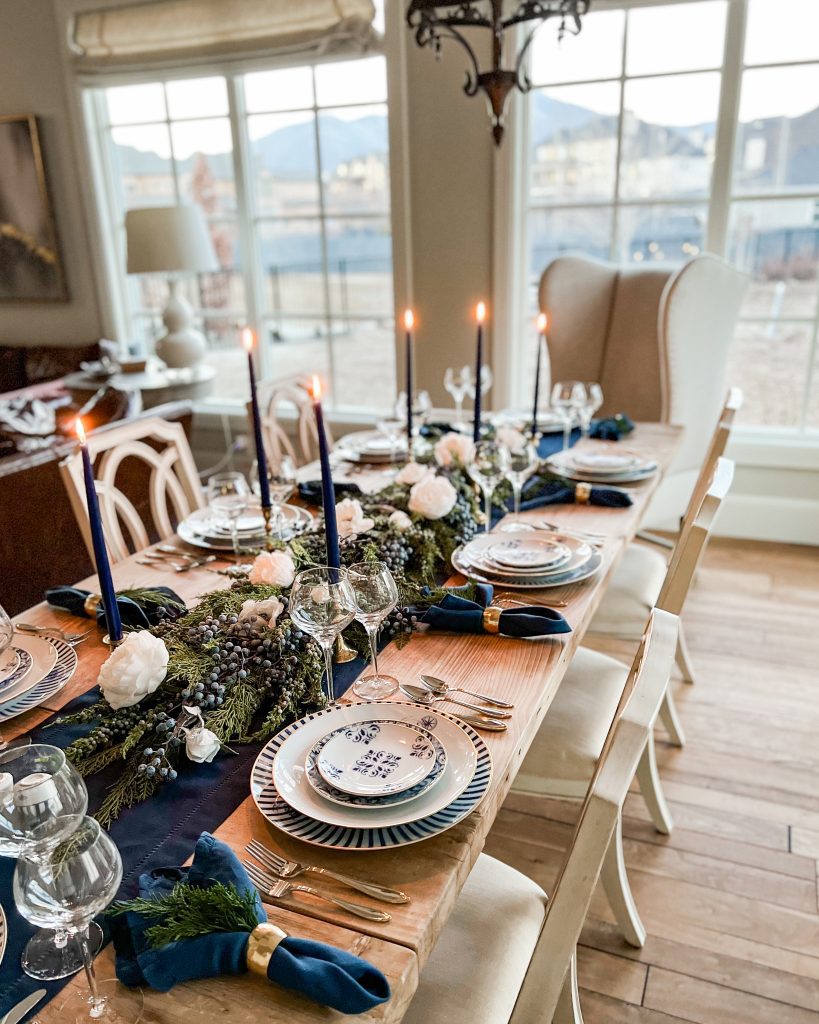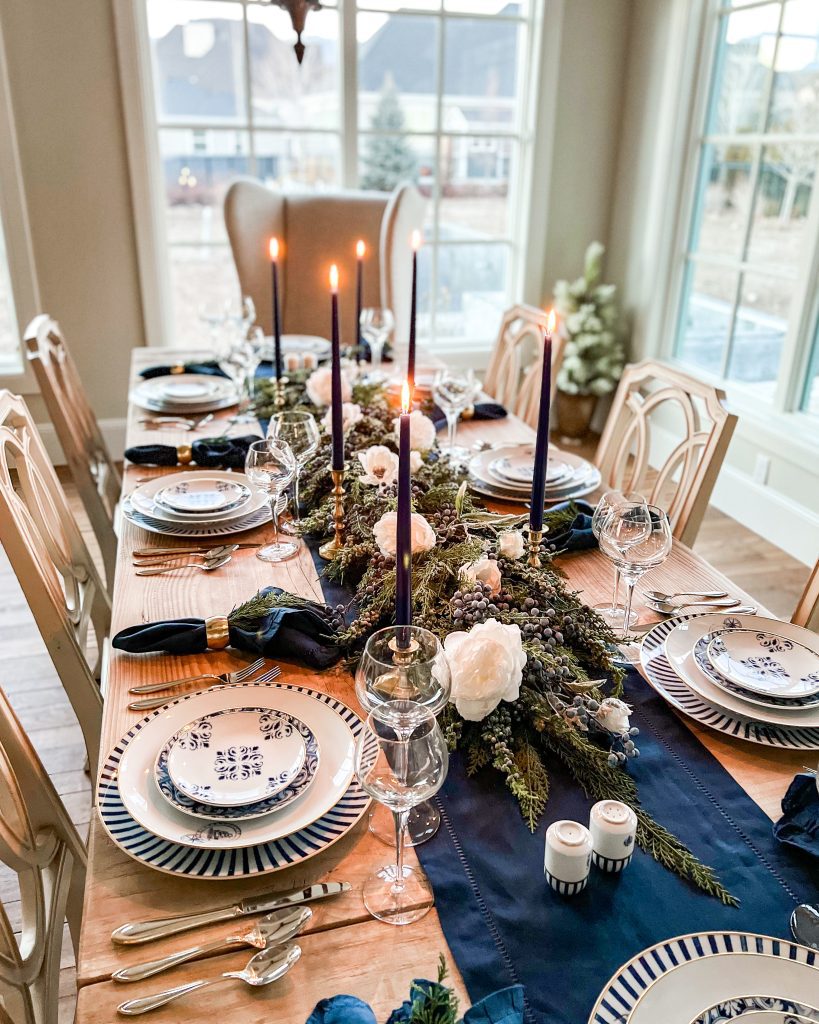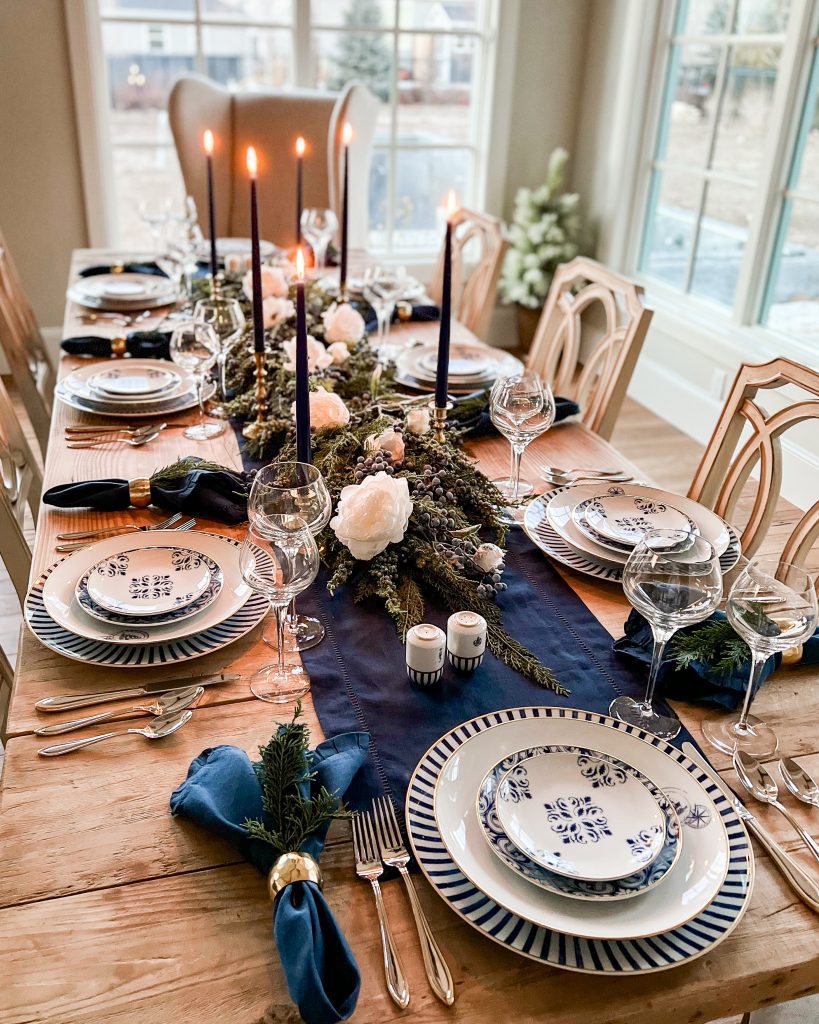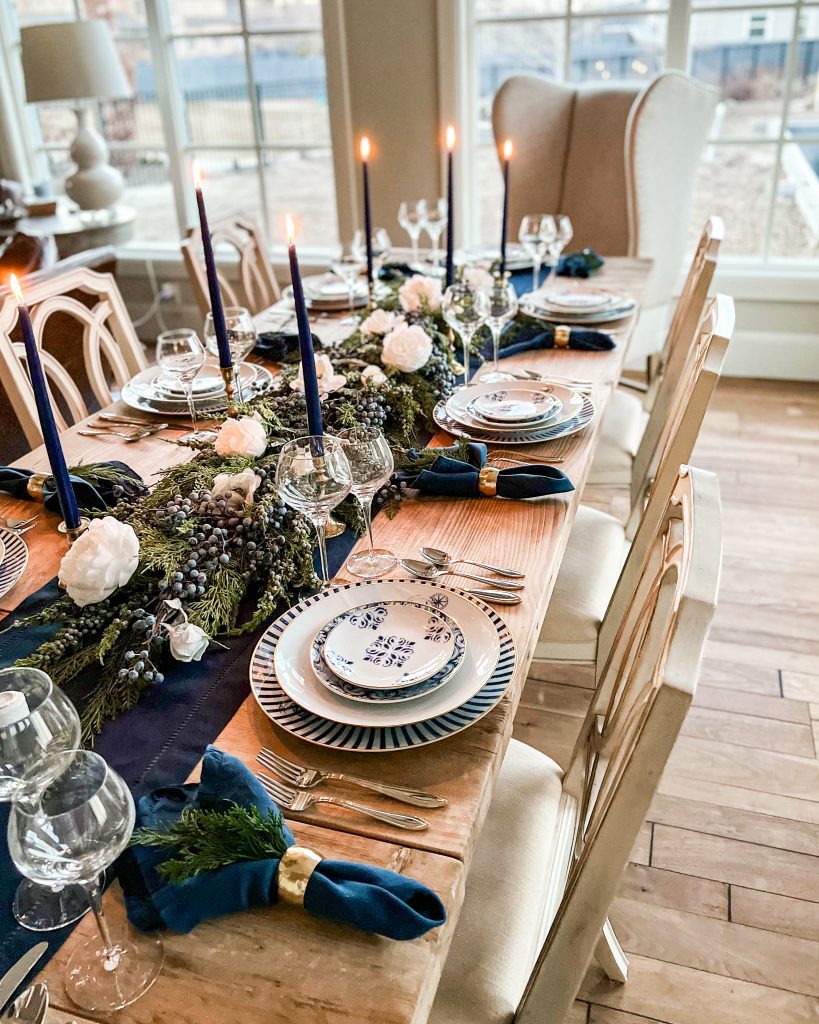 Thanks so much for stopping by! I hope you enjoyed seeing all the details and layers of this beautiful tablescape I created with Vista Alegre's Transatlântica Tableware Collection. These beautiful dishes are works of art! I will always treasure them because they are not only beautiful, but the memories and family dinners we will enjoy while using them will make them extra special!
Gather those you love, set a beautiful table, and enjoy a home cooked meal together. The memories and traditions you create around the dinner table will be something everyone will treasure.
xoxo,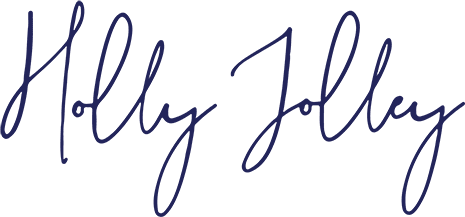 I've linked all the items throughout the post and some of the other items will be linked below. Please feel free to send me a message or subscribe to my blog so you never miss a post! This is not a sponsored post with Vista Alegre and some items have been gifted to me and there are affiliate links in this post.
Sources:
The Vista Alegre Transatlântica Collection is linked throughout the post. Other items I used to create this tablescpe are linked below.

Pin This For Later