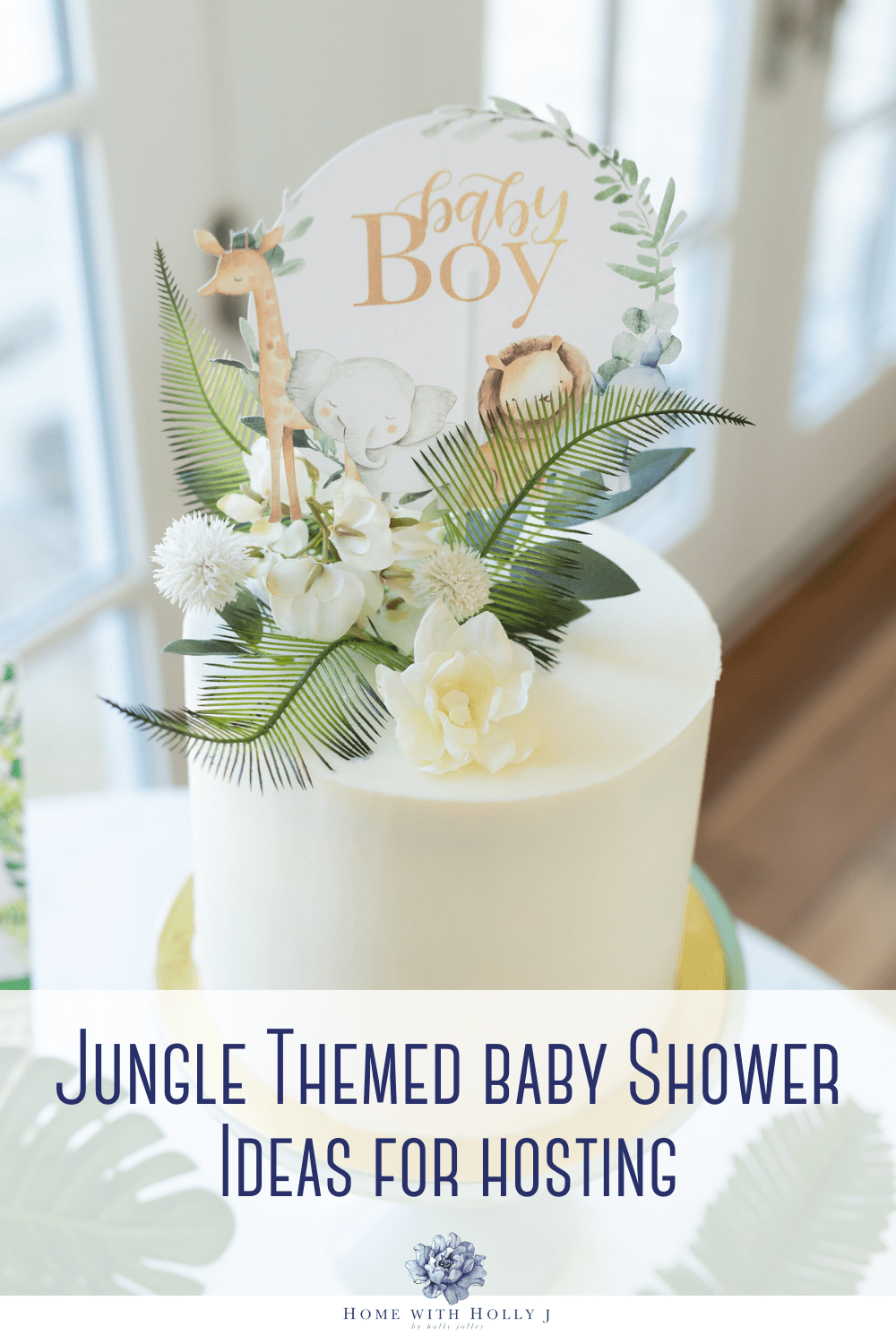 Host a memorable jungle theme baby shower with these easy tips and ideas to make the mom to be feel special! Read more here.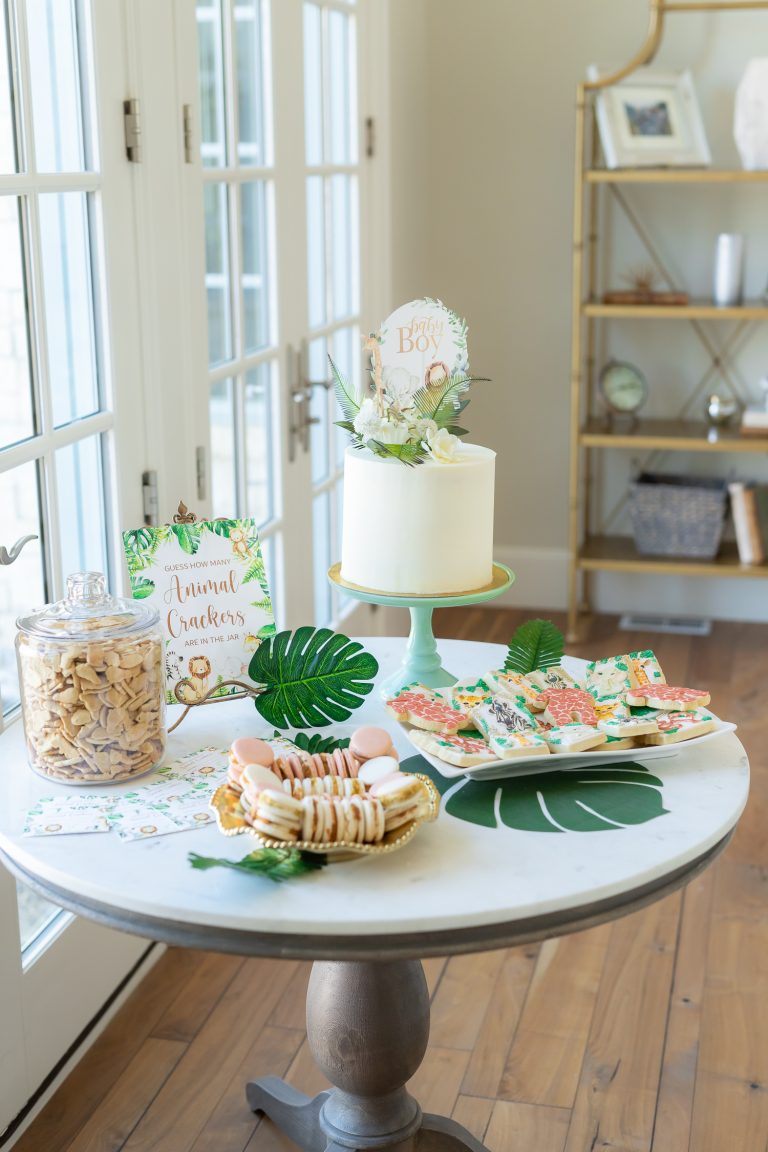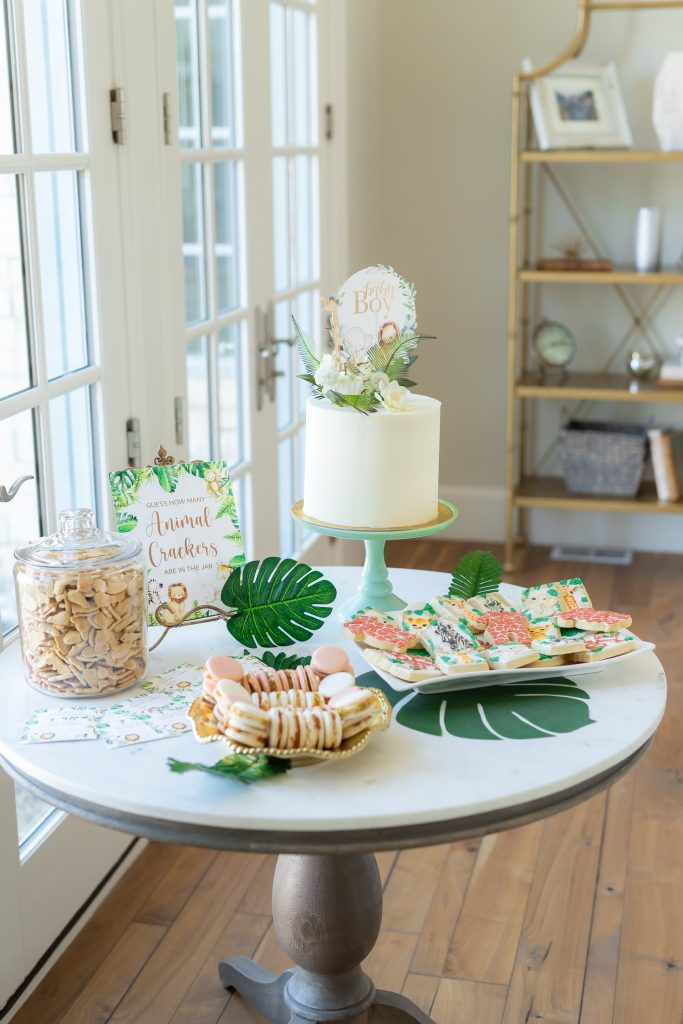 Table of contents
I hosted this Jungle Themed Baby Shower for one of my friends who was having her first baby. It was so much fun celebrating her and her new baby.
Theme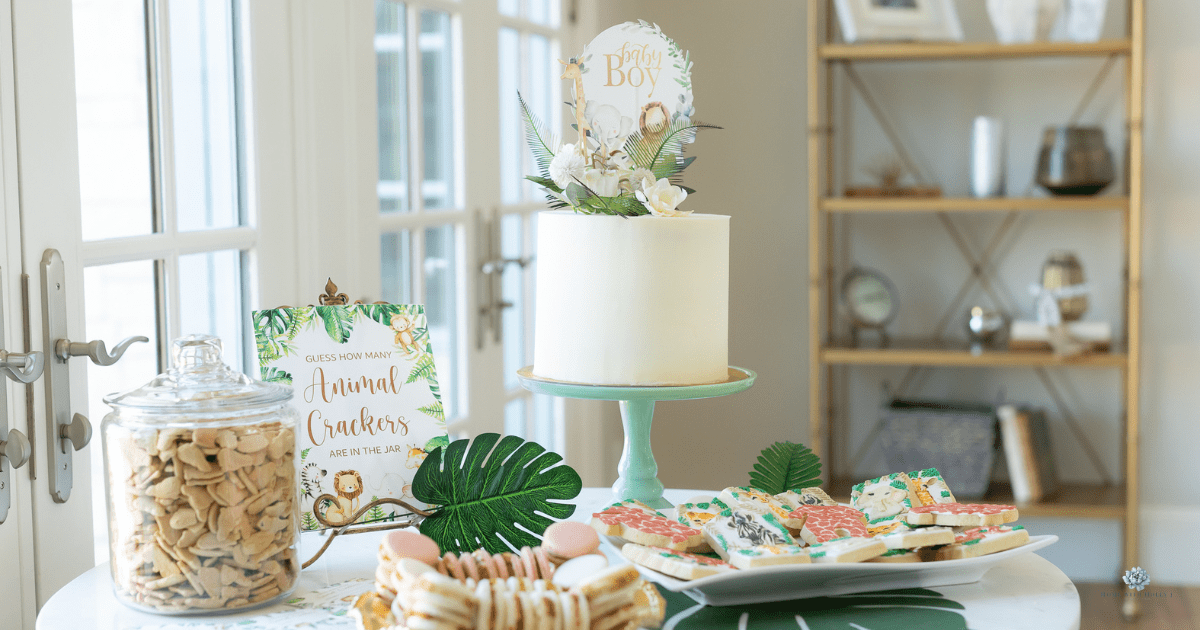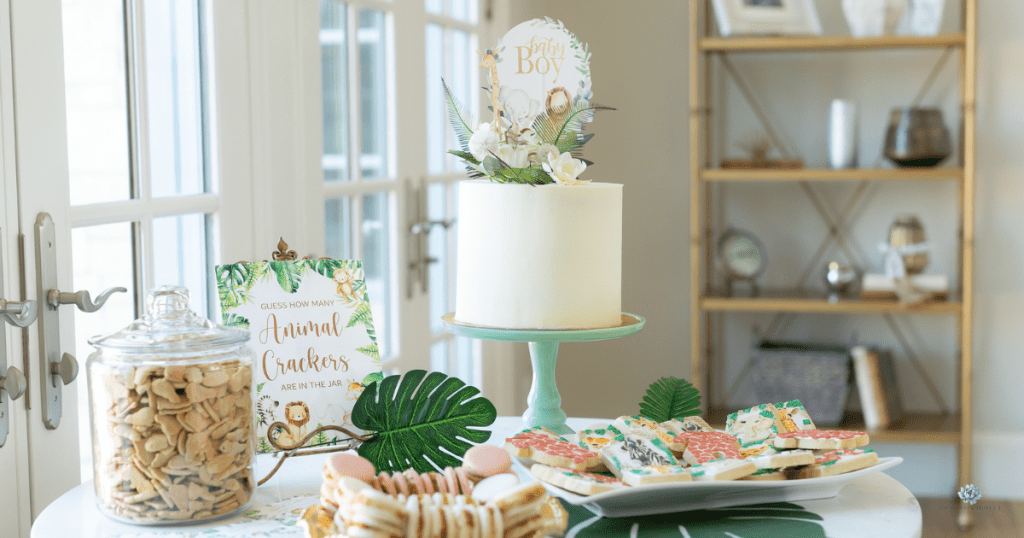 First things first, pick your Theme, colors and then choose your invitations. Get the guest list from the mother to be and contact info for everyone.
I used some printables that I found on Etsy that made the decor, invitations, and everything related easy as well as so adorable. There are so many great ways to make or buy customizable invitations nowadays.
Decorations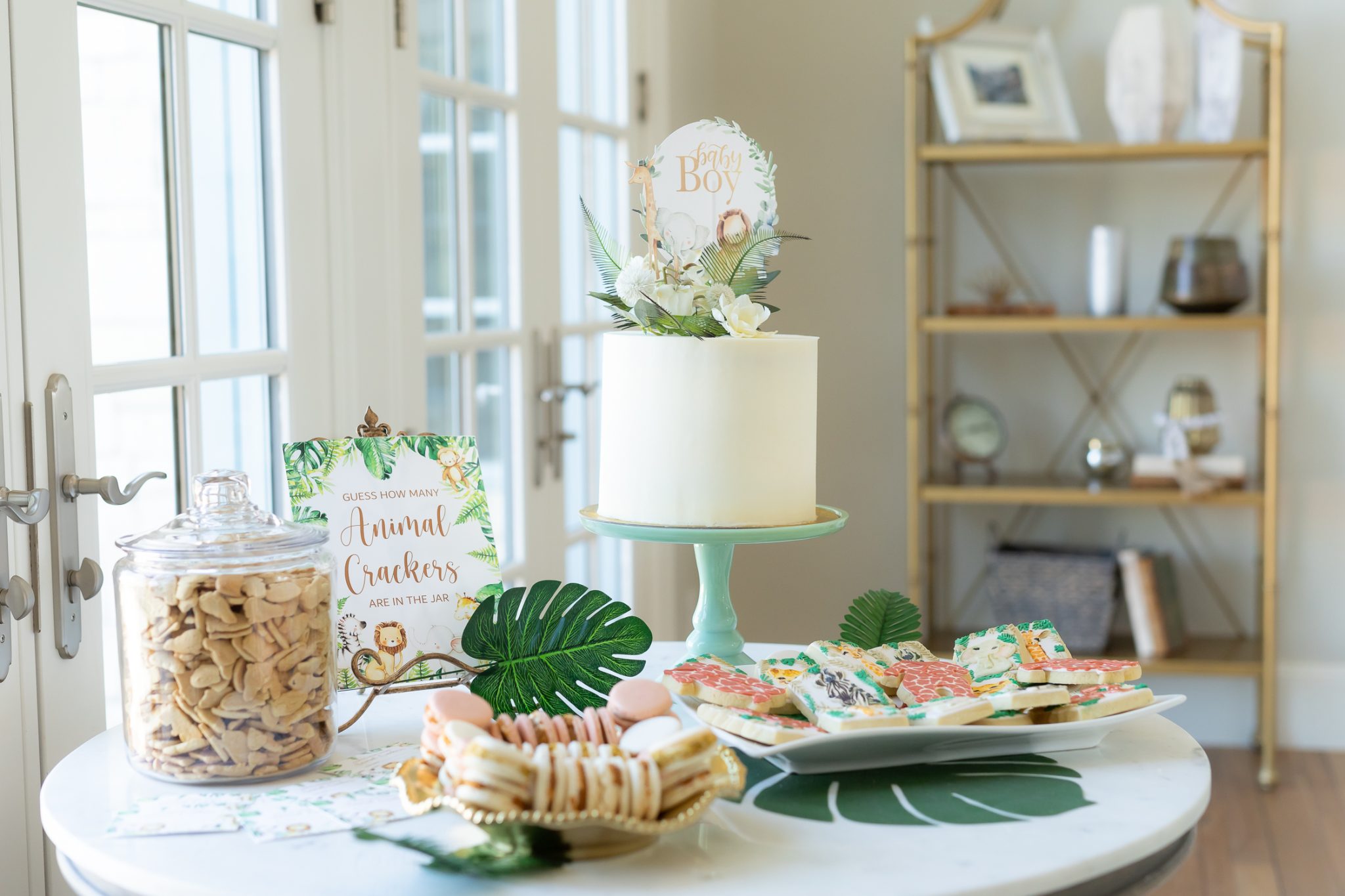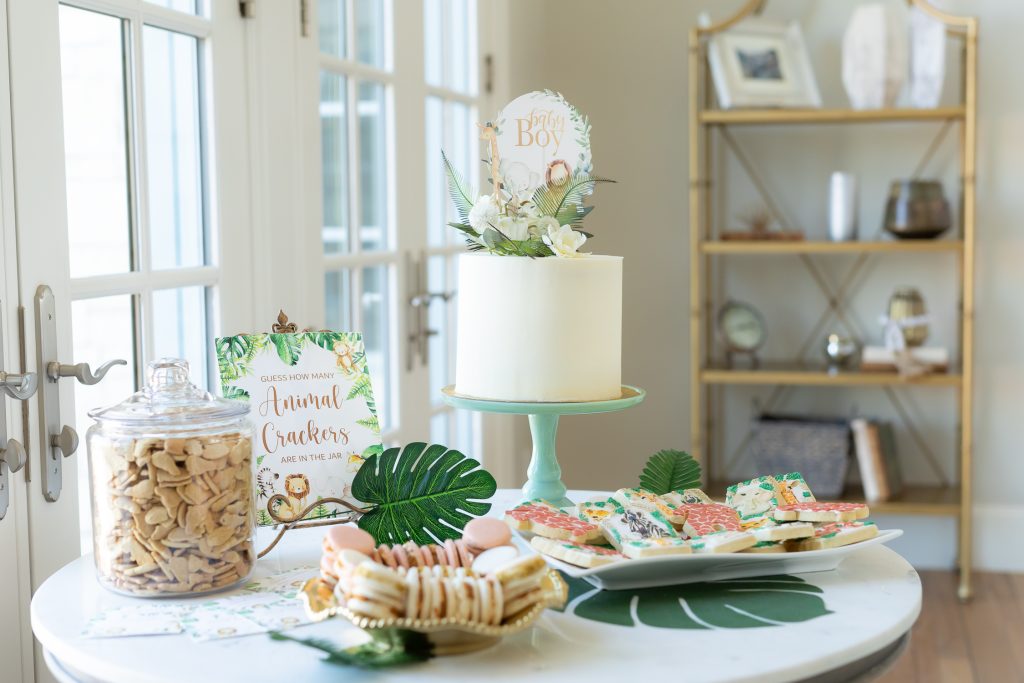 I loved that these printables were easy to customize. Here are the items I ordered and then took them to the UPS store and had them printed out on card stock and other papers.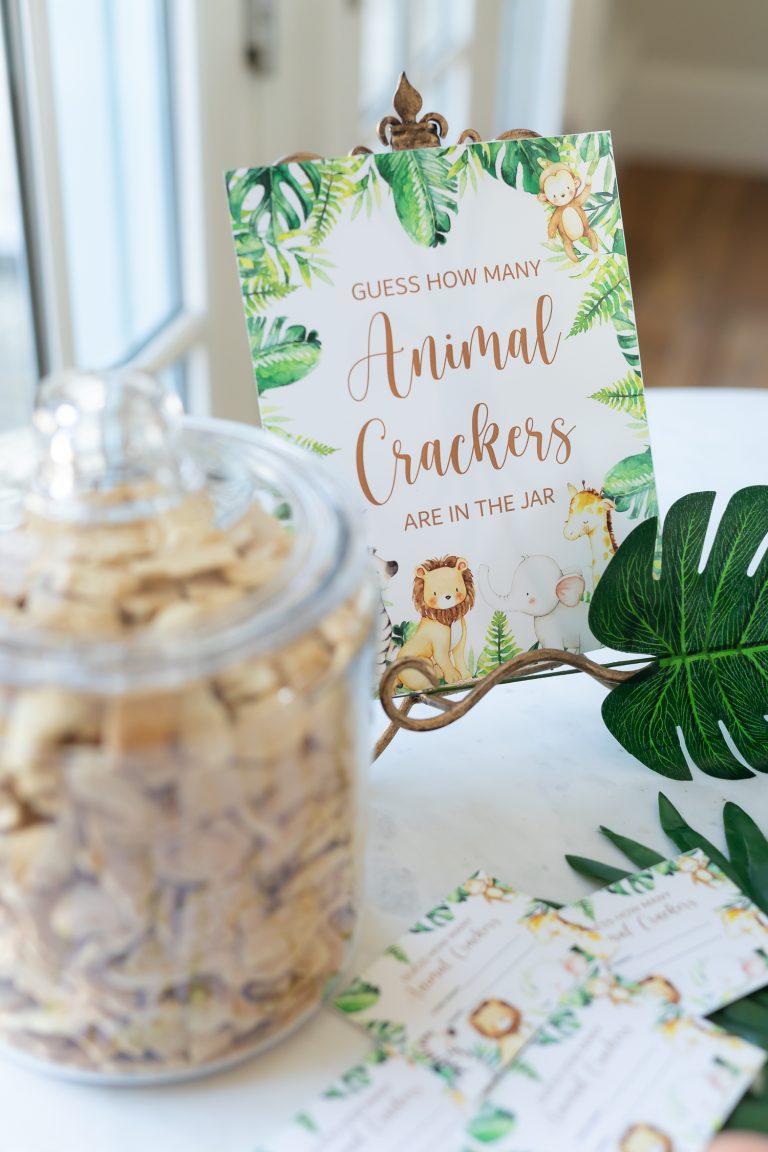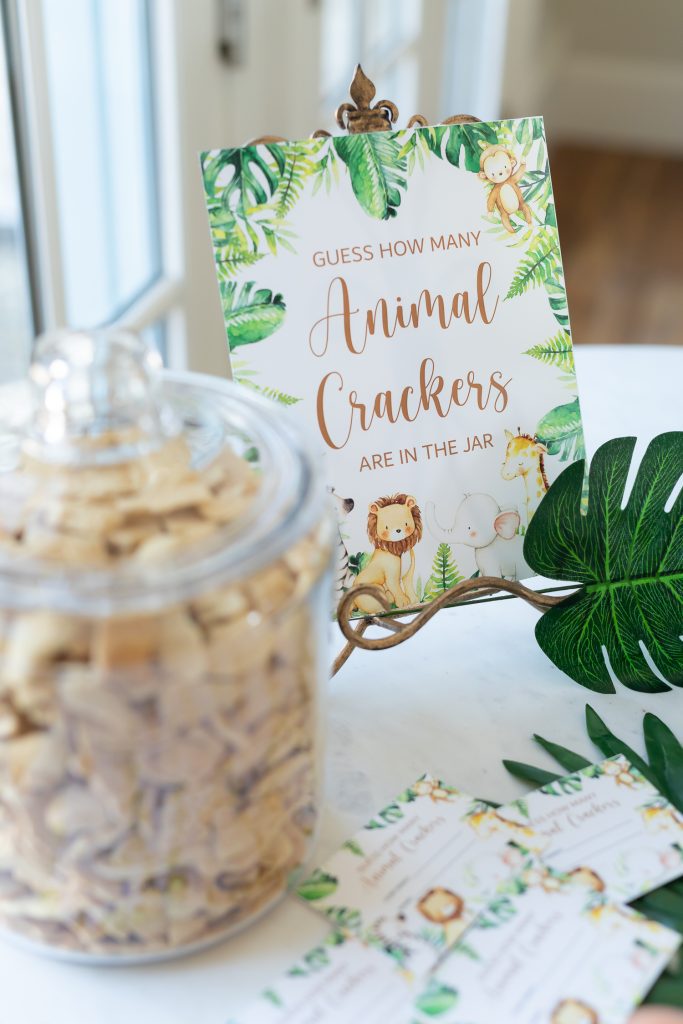 Water Bottle Labels
Welcome Sign
Cake Topper
Centerpiece
Cupcake Toppers
Baby Banner
Animal Cracker Game Sign/Cards them on Etsy

For the decorations, I used jungle leaves that I bought from the party store (you can get them on amazon too) and layered them under the desserts on the serving table and on my island where I served the food.

Food and Drinks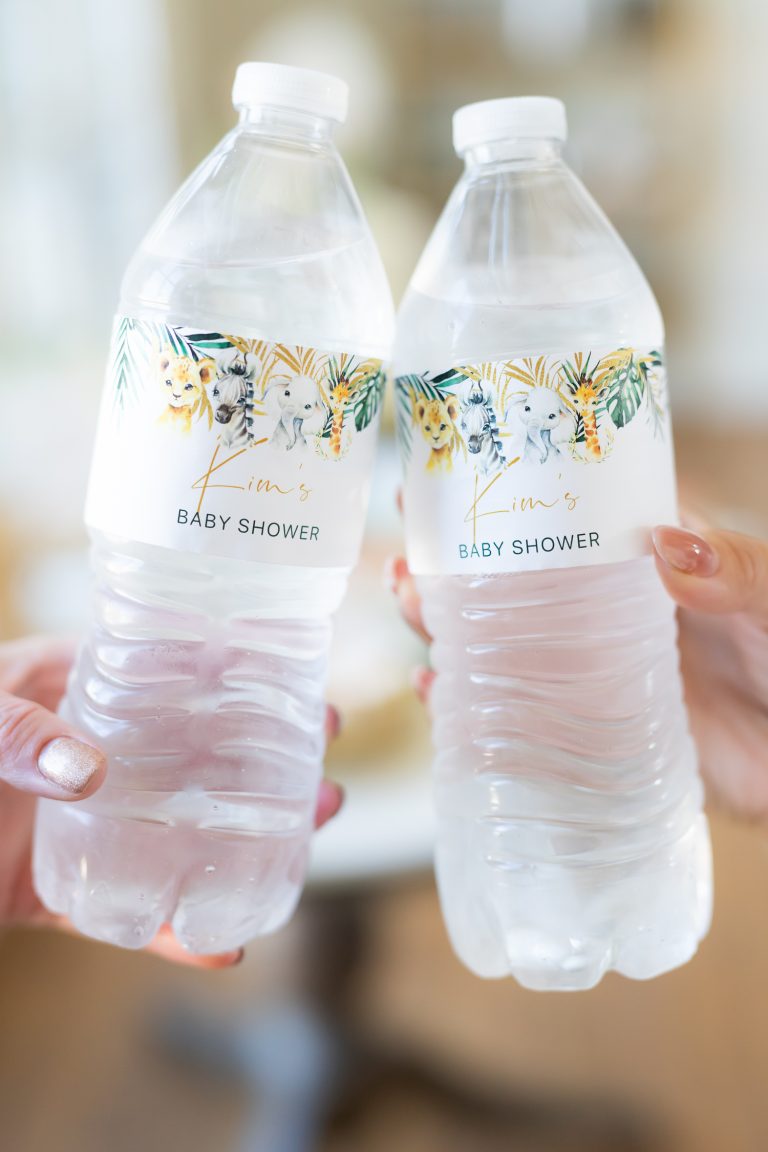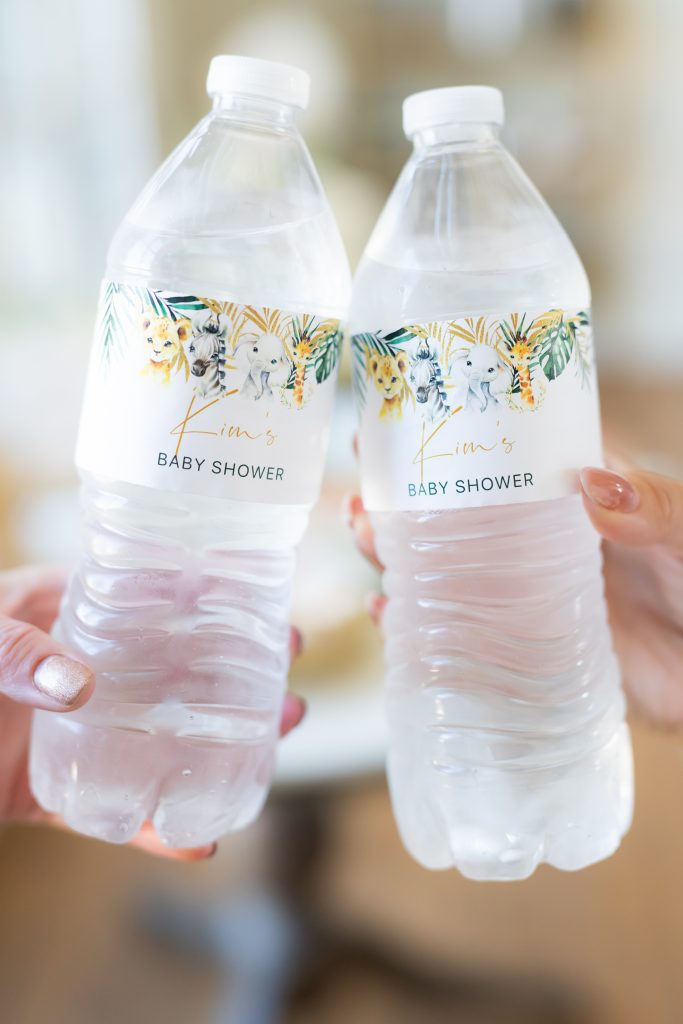 I catered sandwiches and soup from a local grocery store which made hosting so much easier.
I have made all the food for other showers I've hosted in the past but this one I decided to order the food ahead of time since I was short on time to prepare.
Make sure if you do this, you give plenty of notice to whoever or wherever you cater it from.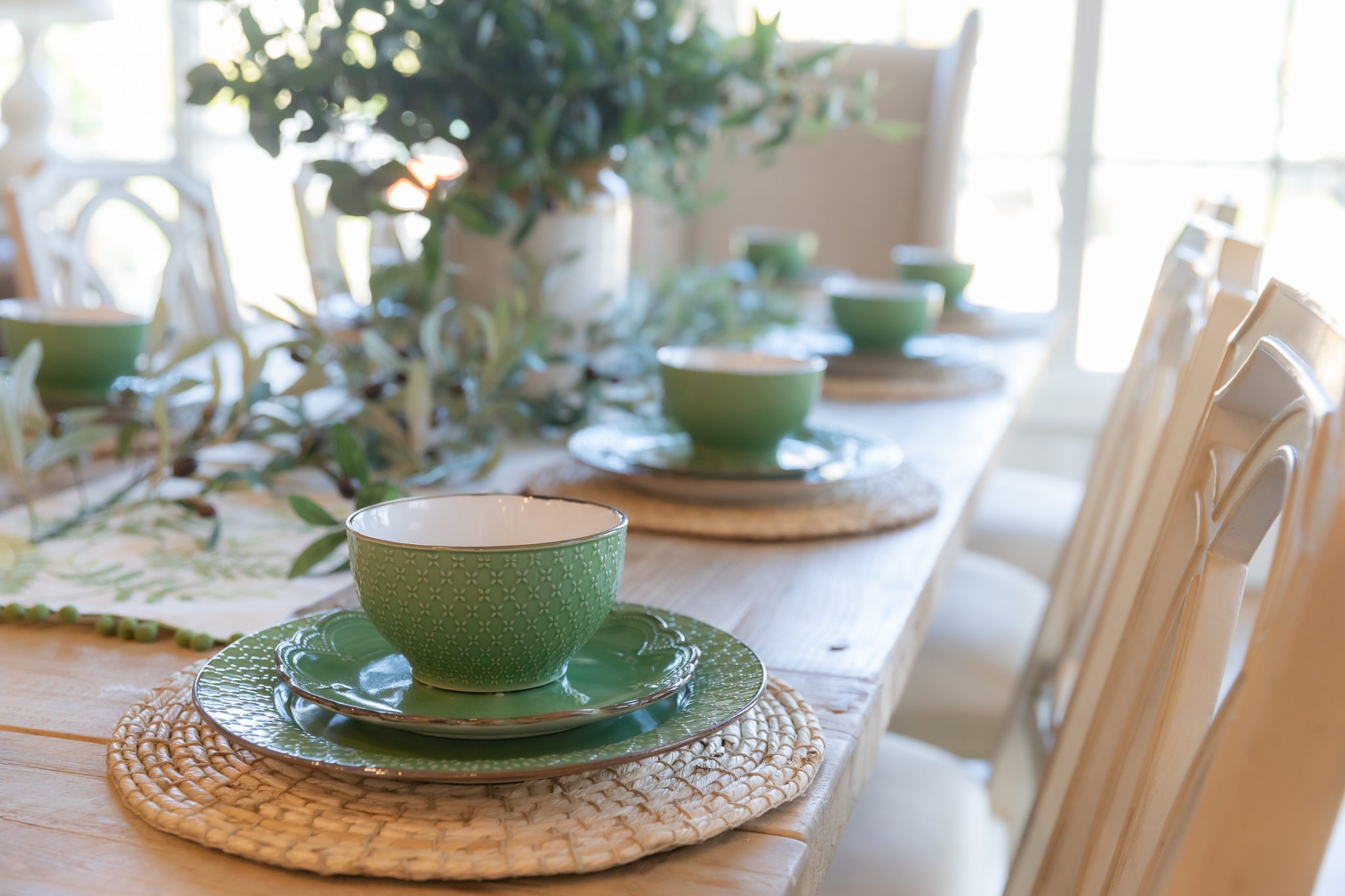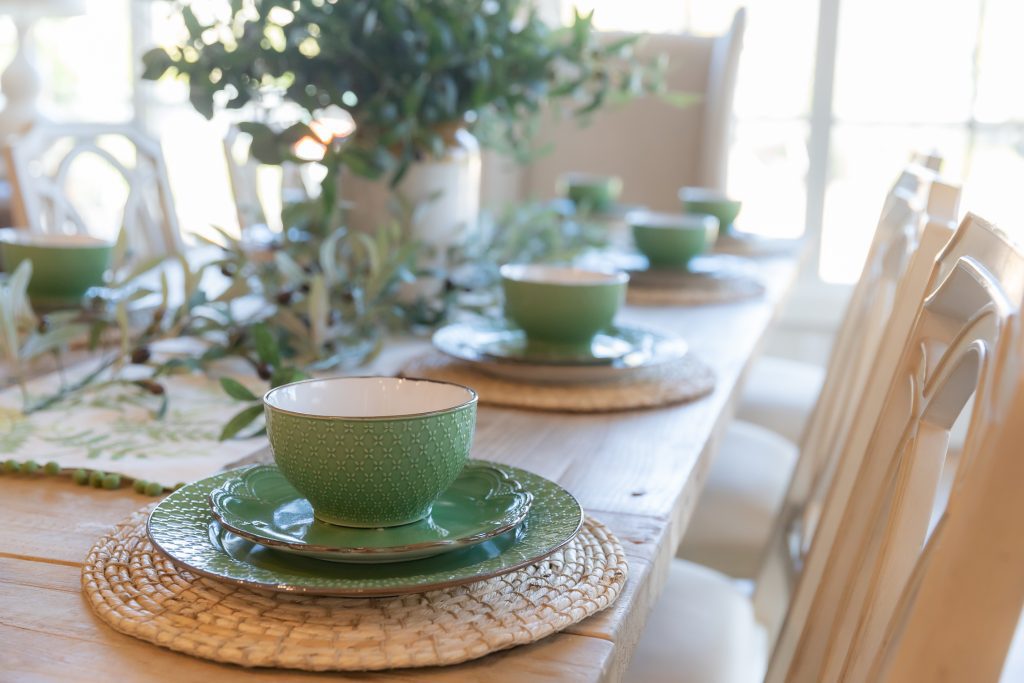 Because this was on a Saturday and mid day, I decided to do soup and sandwiches.
I also had fruit and veggie trays, and fresh rustic bread from the bakery.
I served water in the water bottles and then also made my Pink Party Punch which is always a hit.
Dessert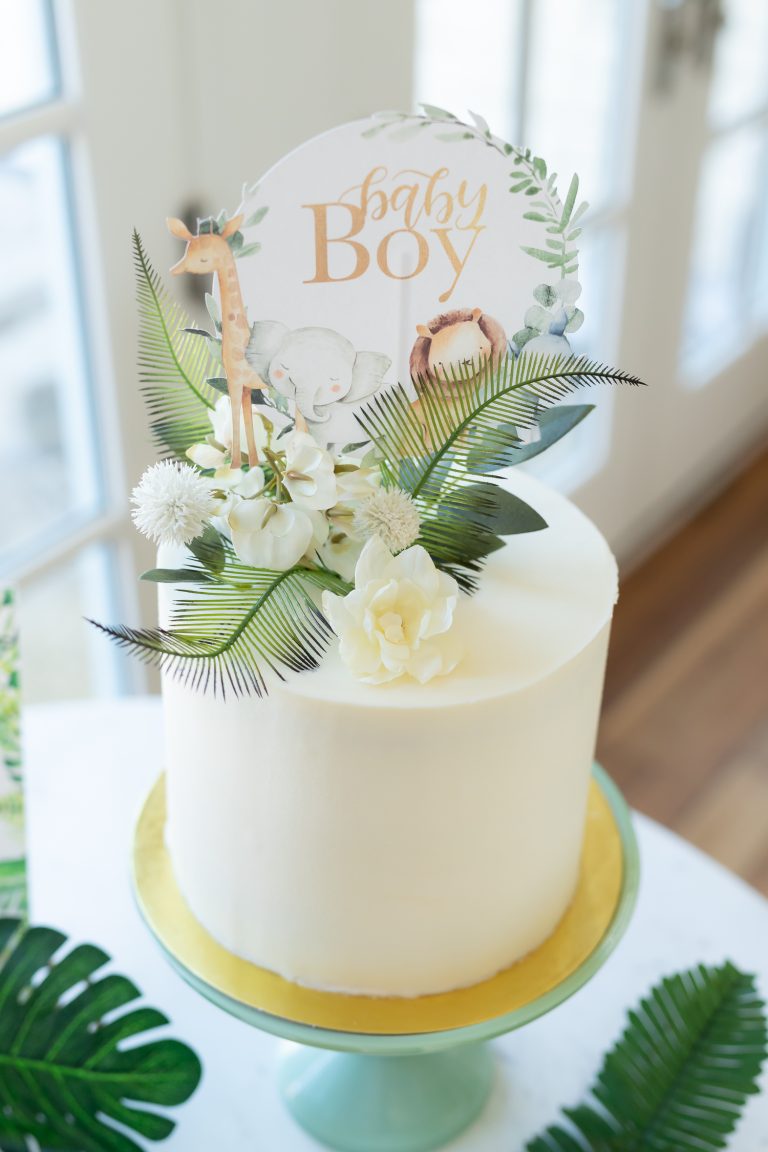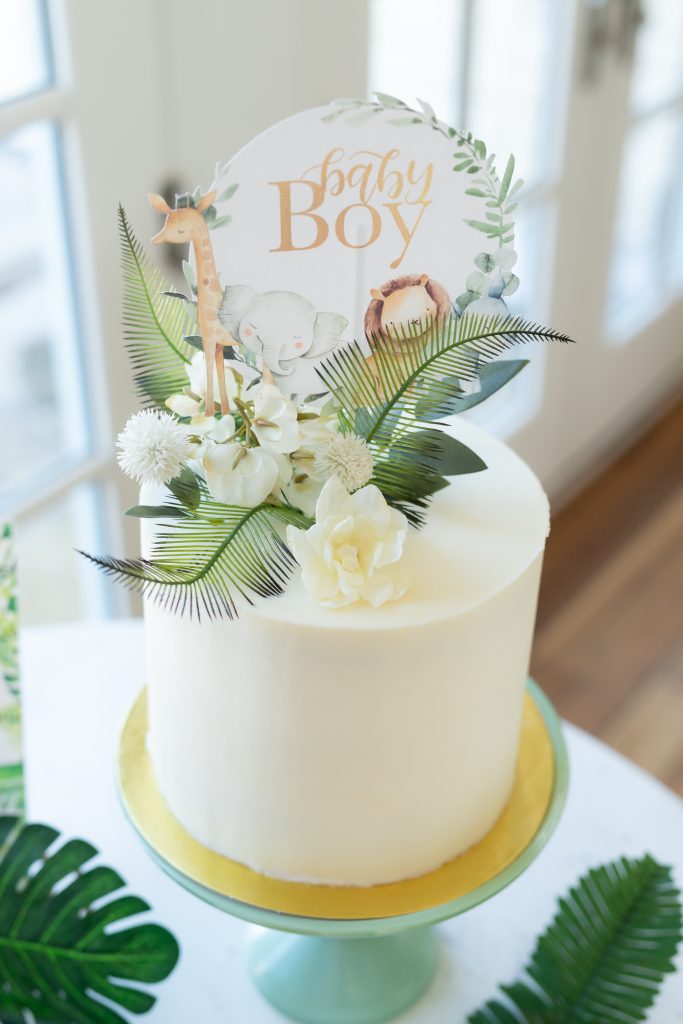 For dessert, I had cupcakes and used the cupcake toppers on those and I had my friend, The Blonde Who Bakes, make a jungle themed cake and macarons in the color of the baby shower theme colors. I also had some custom sugar cookies made by a local cookie artist. Are these not the cutest jungle themed cookies? Everyone loved them!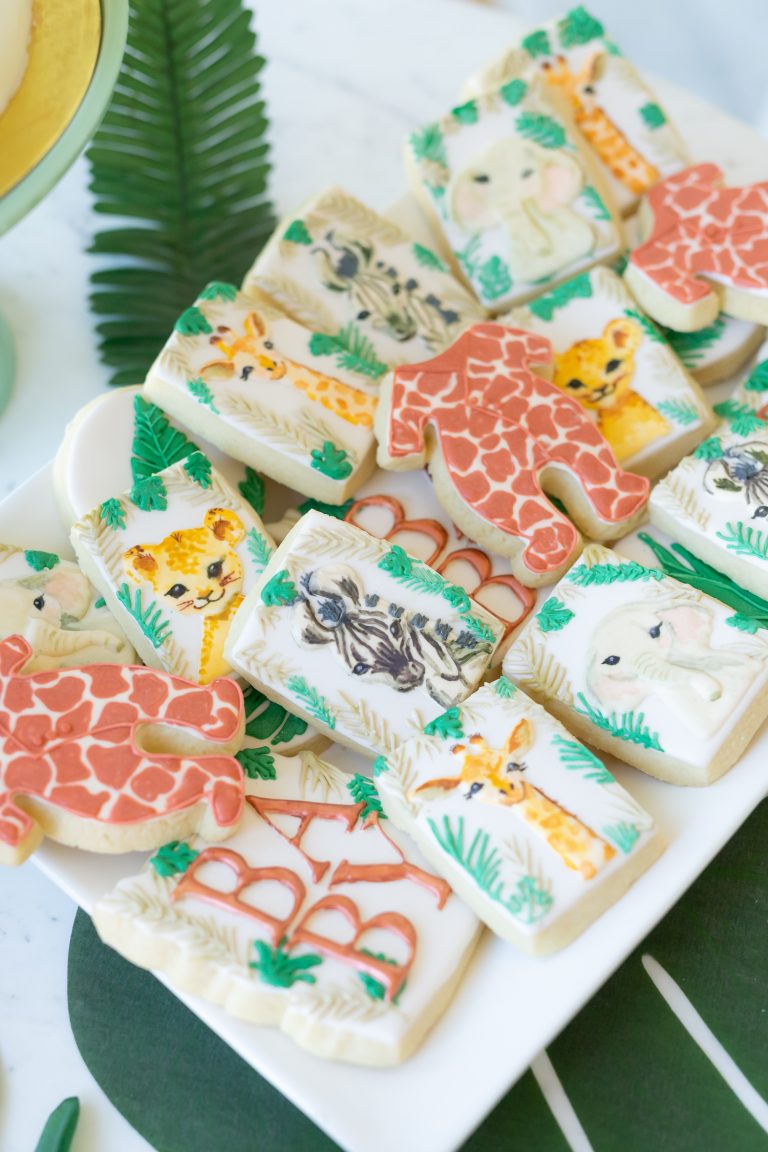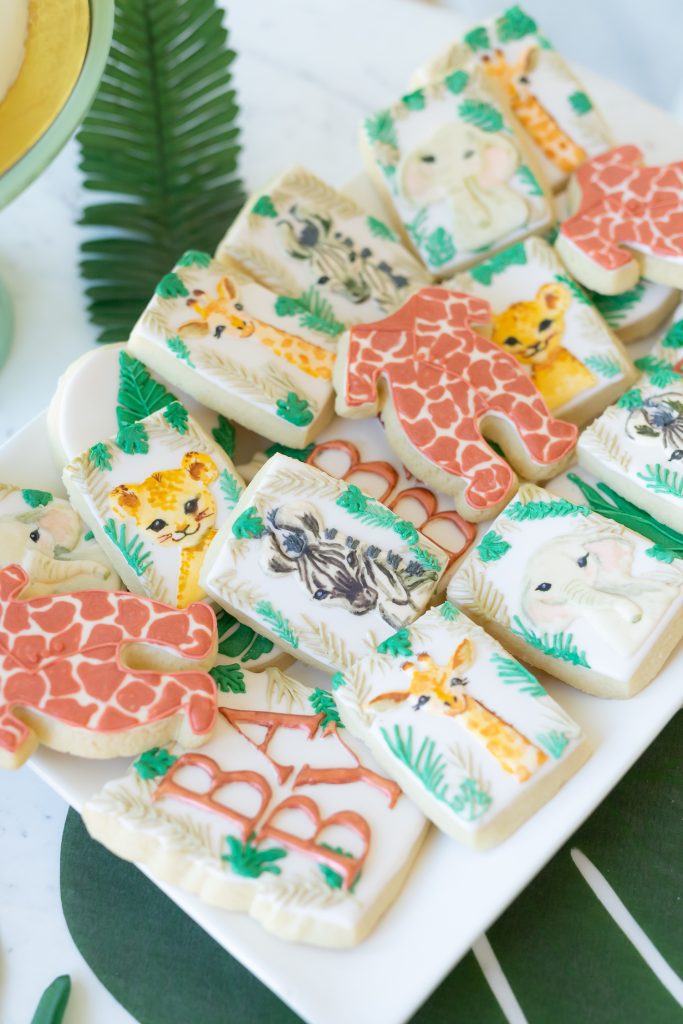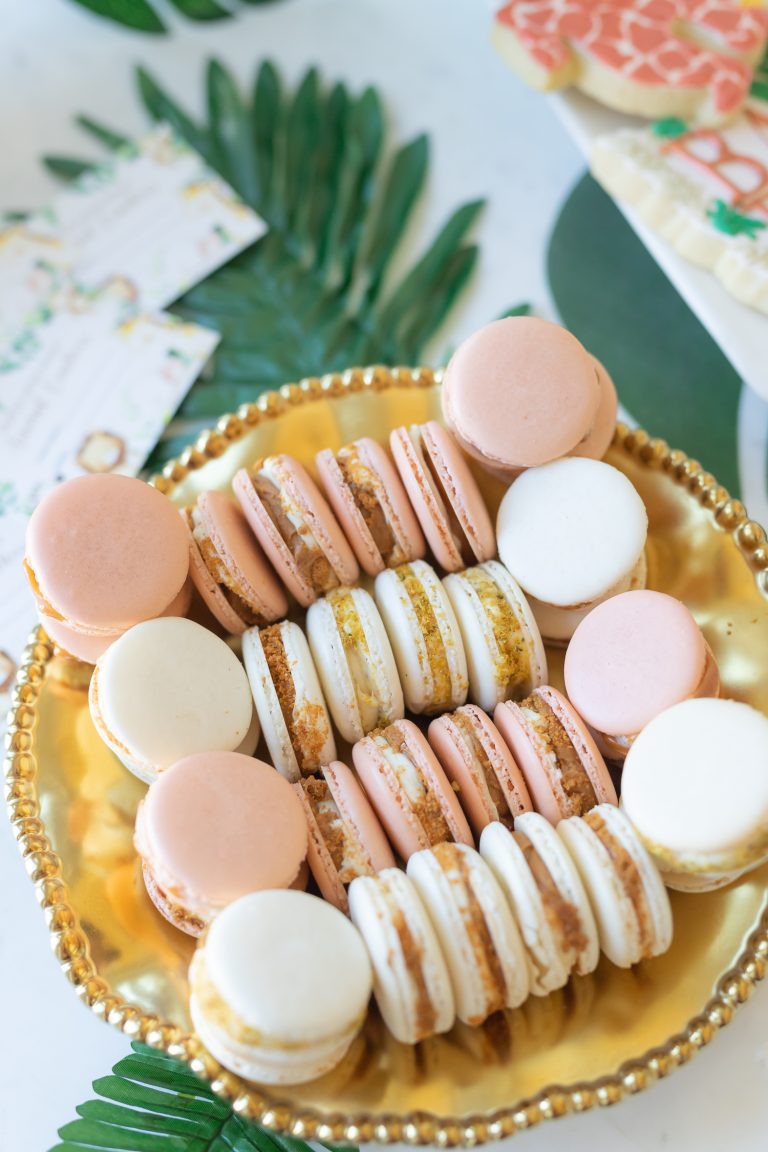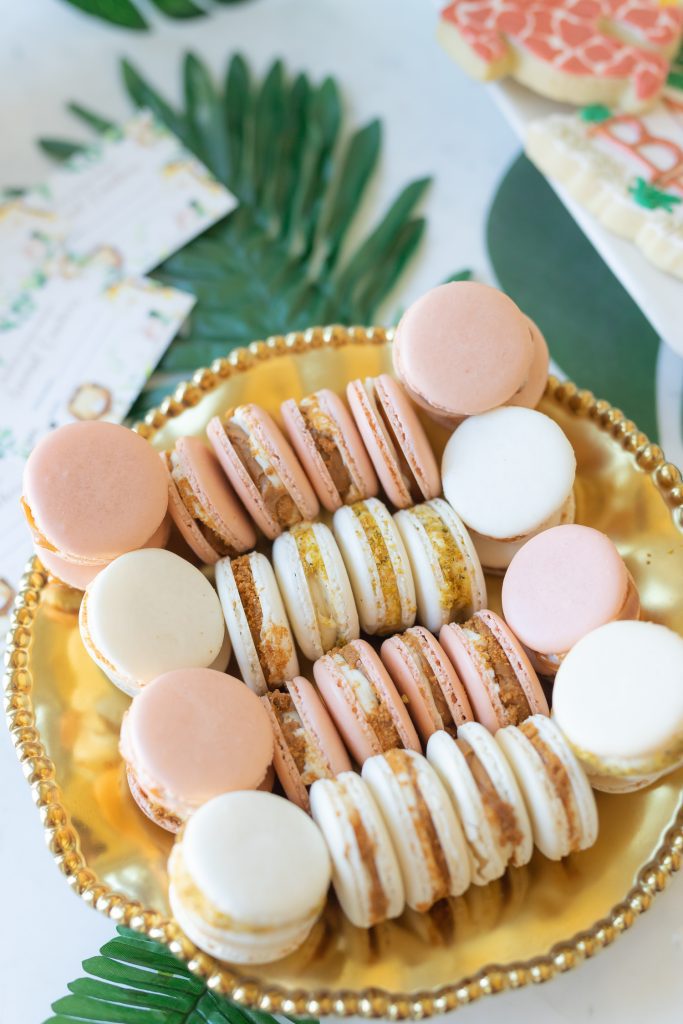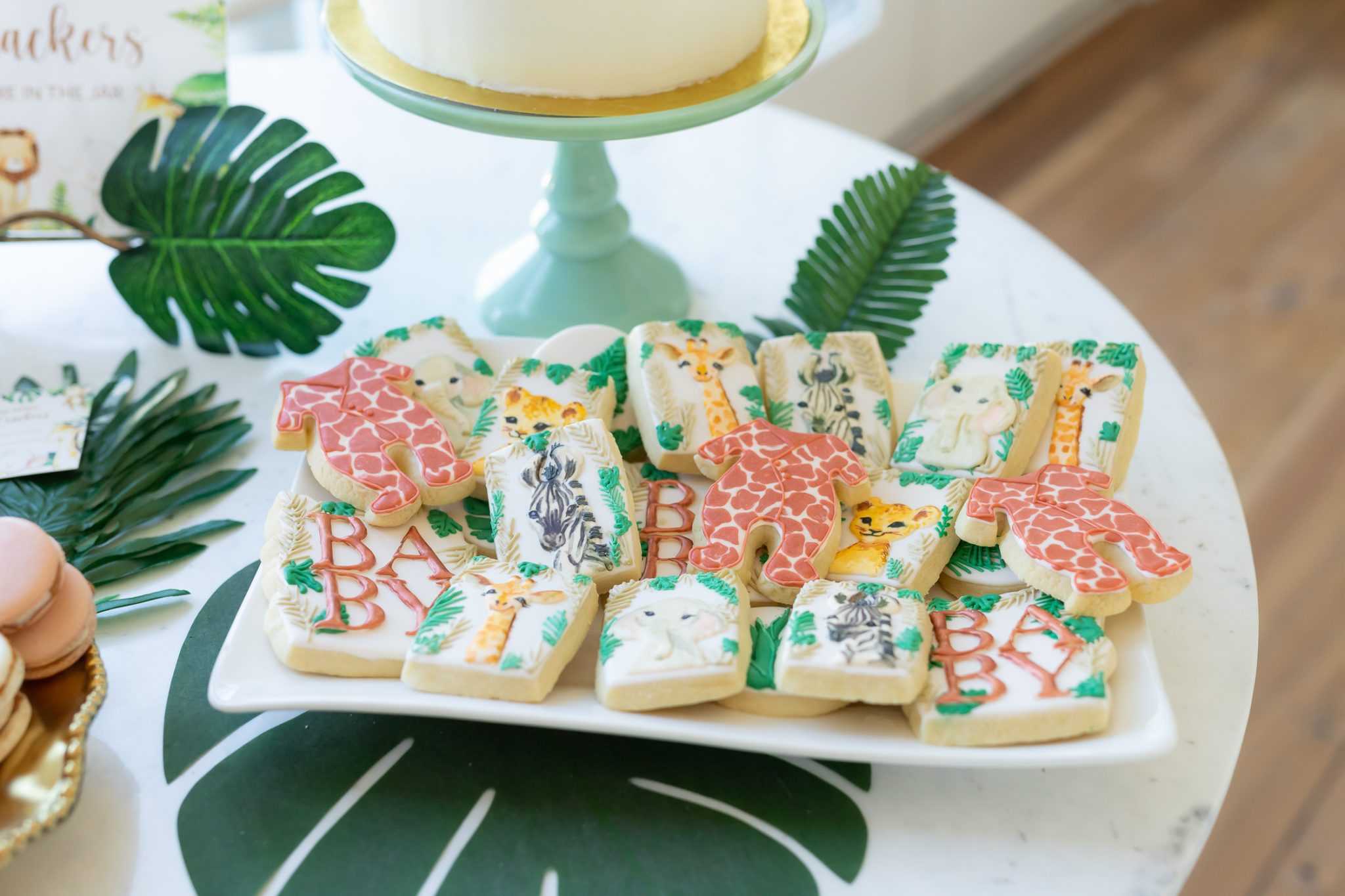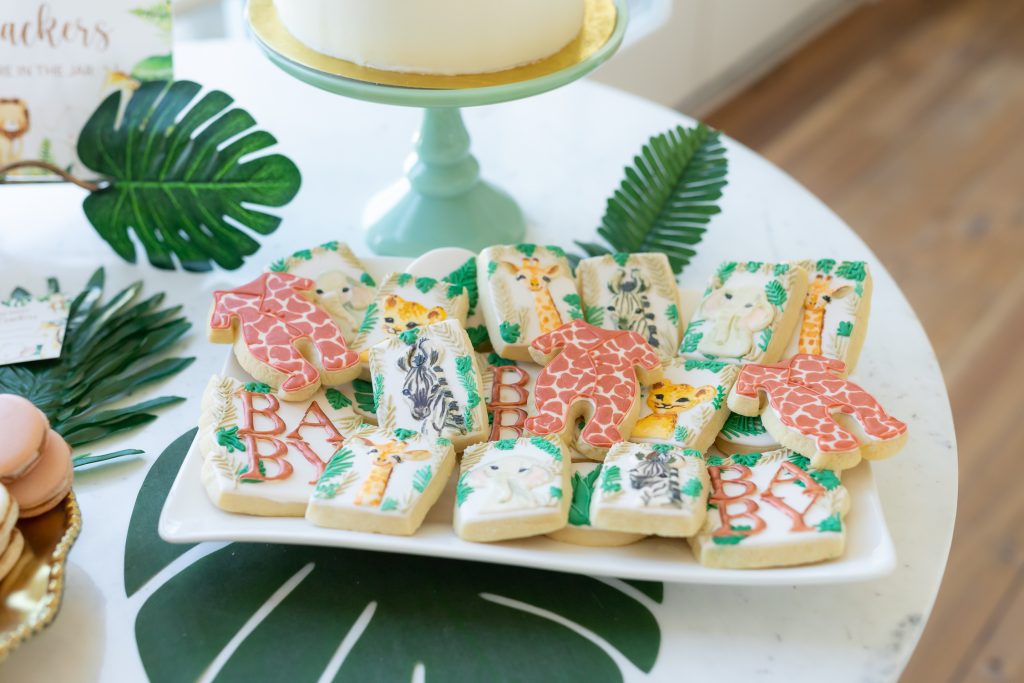 I asked the Mom to be what her favorite cake and macaron flavors were and those were what I had my friend make!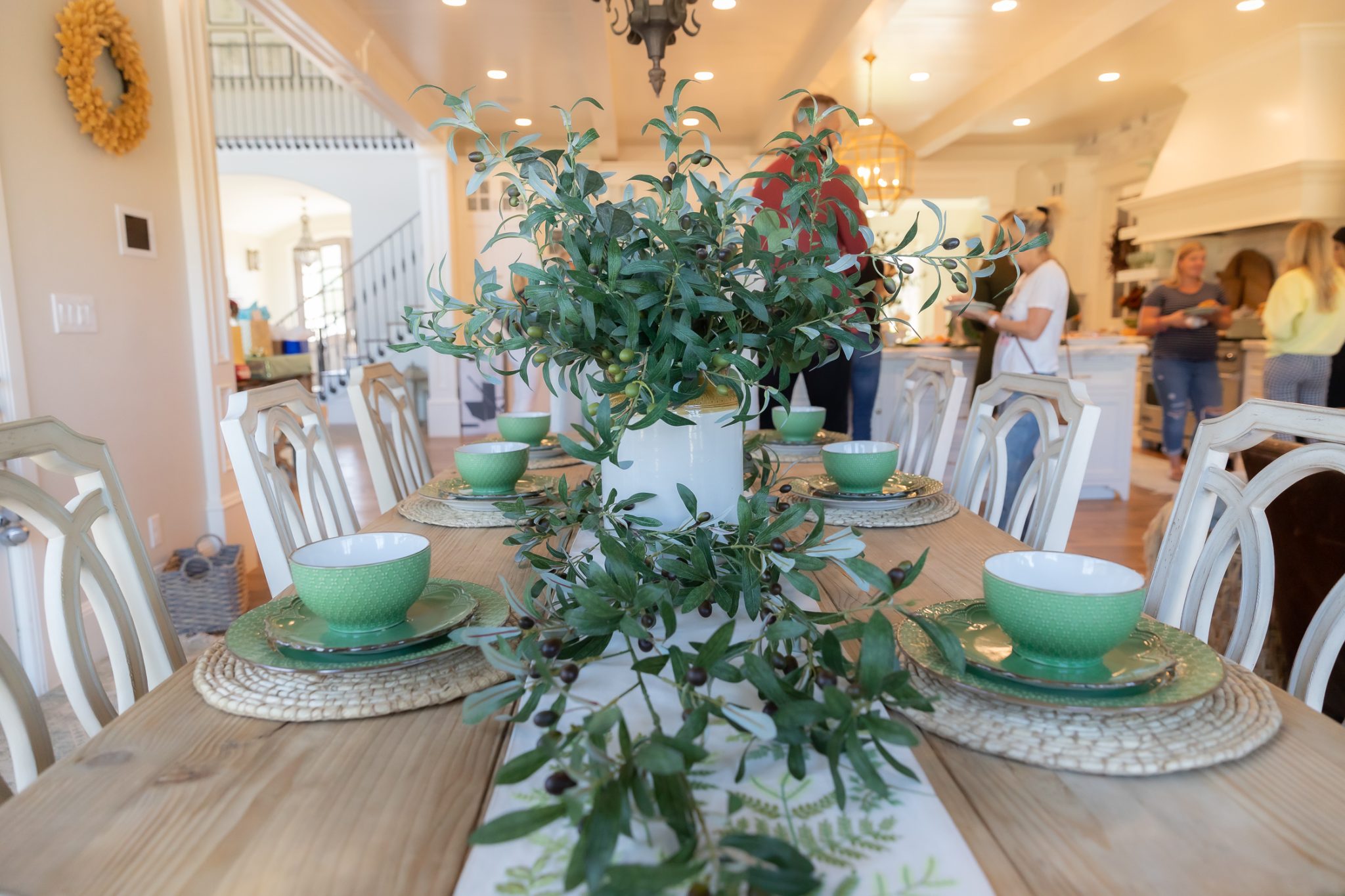 I served lunch on my kitchen island buffet style and this works great so everyone can serve themselves and it's more informal which is what I prefer! I want everyone to feel welcome in my home!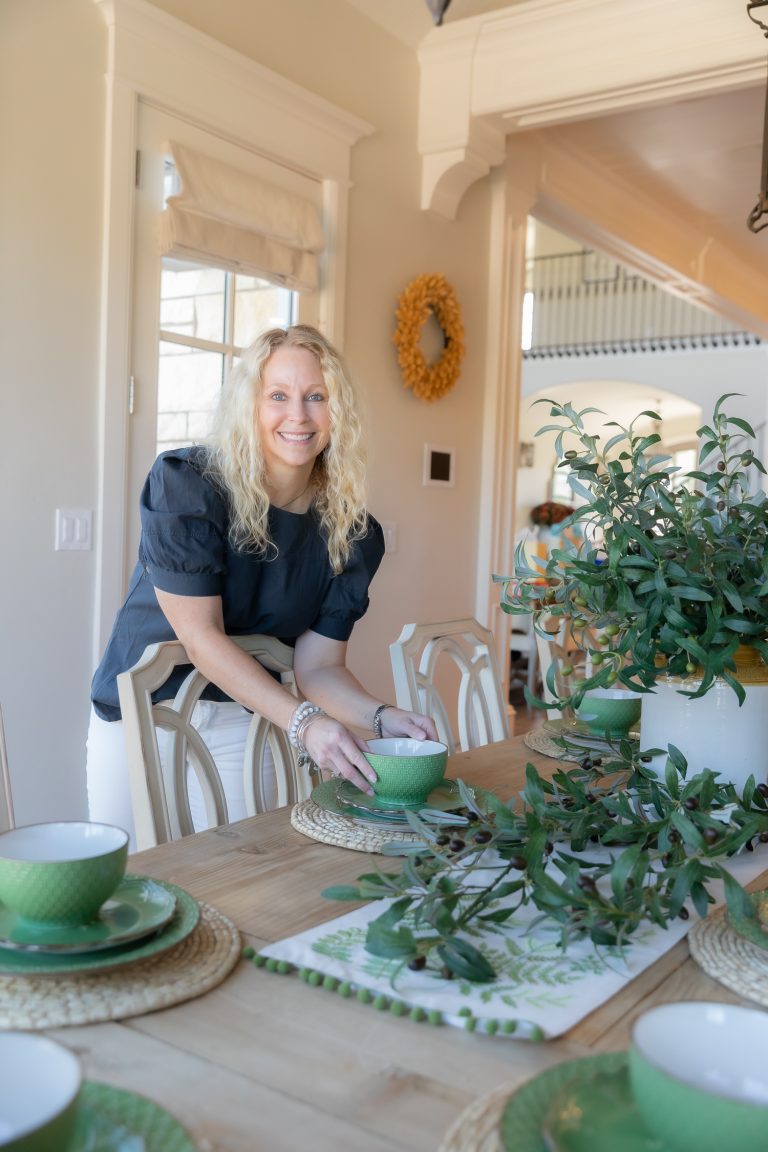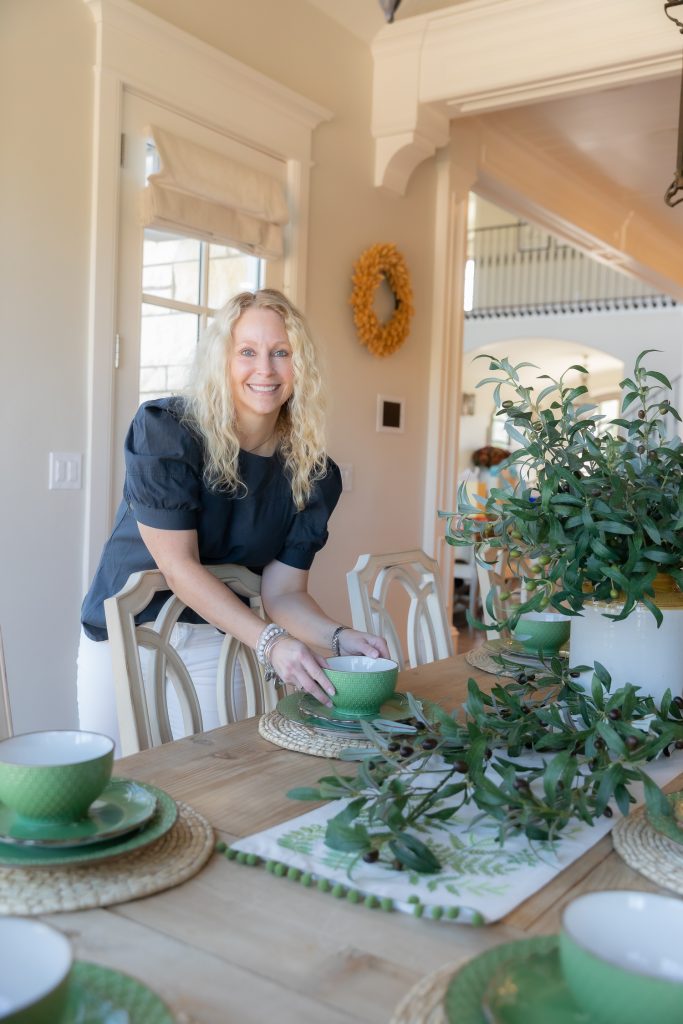 I set a simple jungle themed tablescape using some faux olive branches and garlands and set the table with some green dinnerware.
For the games we played the Animal Cracker game and a few others I can't recall. It's been a year since I hosted this and am finally getting this up on the blog! Forgive me for not remembering the other games. (I'm pretty sure I delegated that to the mom to be's other friends so that's why I can't remember)
Speaking of delegating, I highly recommend delegating to others that offer to help or want to be involved in celebrating the arrival of a new baby!
I always find that everyone wants to help so include everyone that offers if you want help! It makes people feel a part of the celebration and who doesn't love celebrating a new baby and mother to be!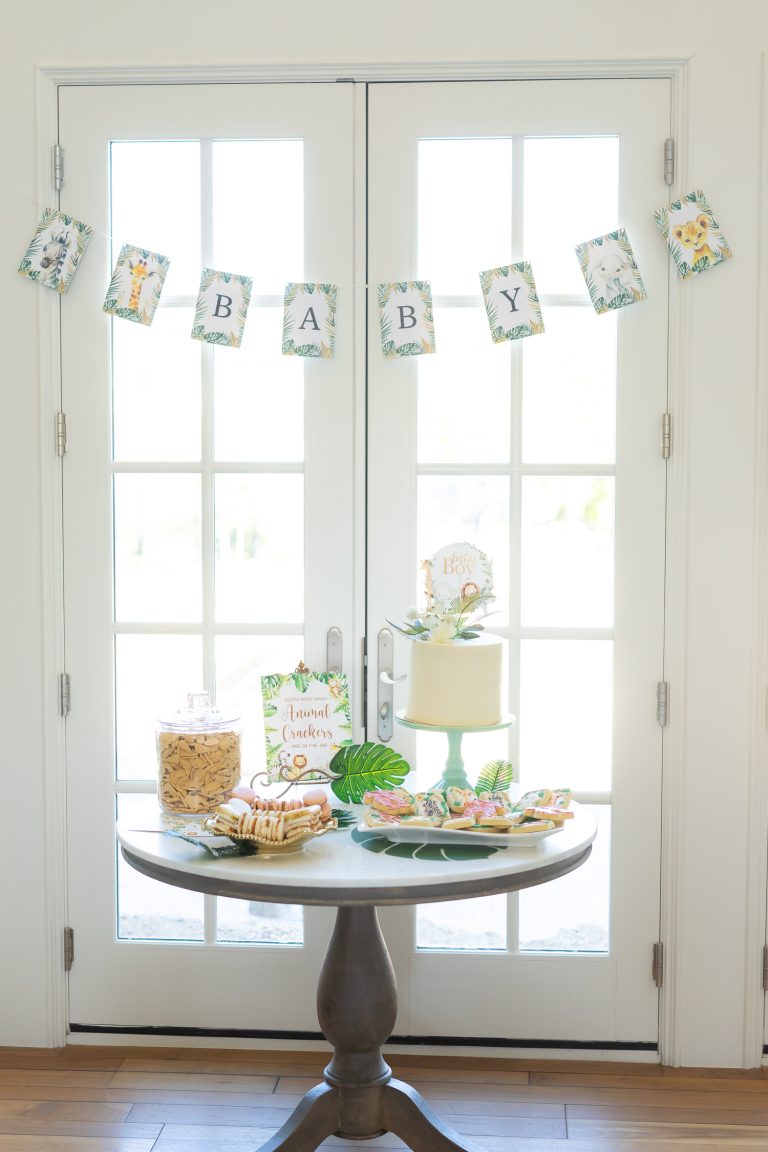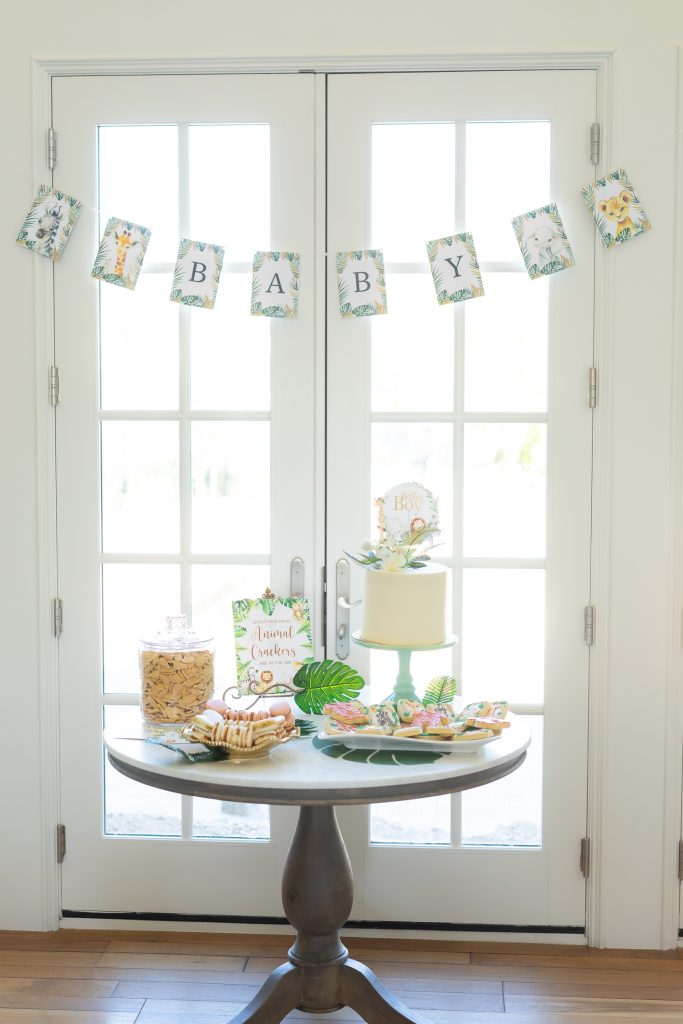 You can also set up a table with a sign that says "gifts" so everyone knows where to set their gifts down.
I also included a note in the invitation on where the mom to be was registered and also offered an option to contribute to a group gift so we could purchase some larger items that would be helpful for the first time parents.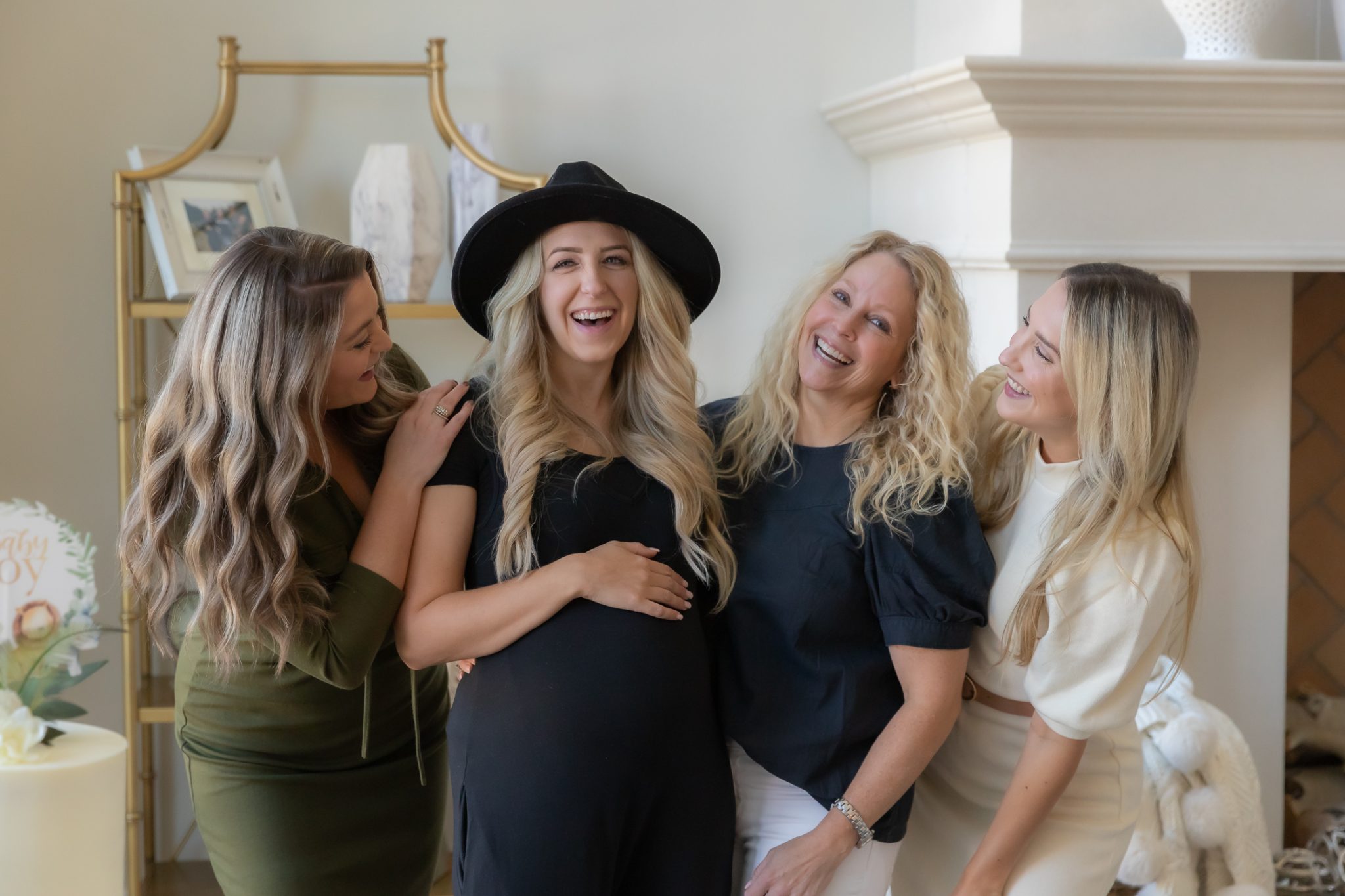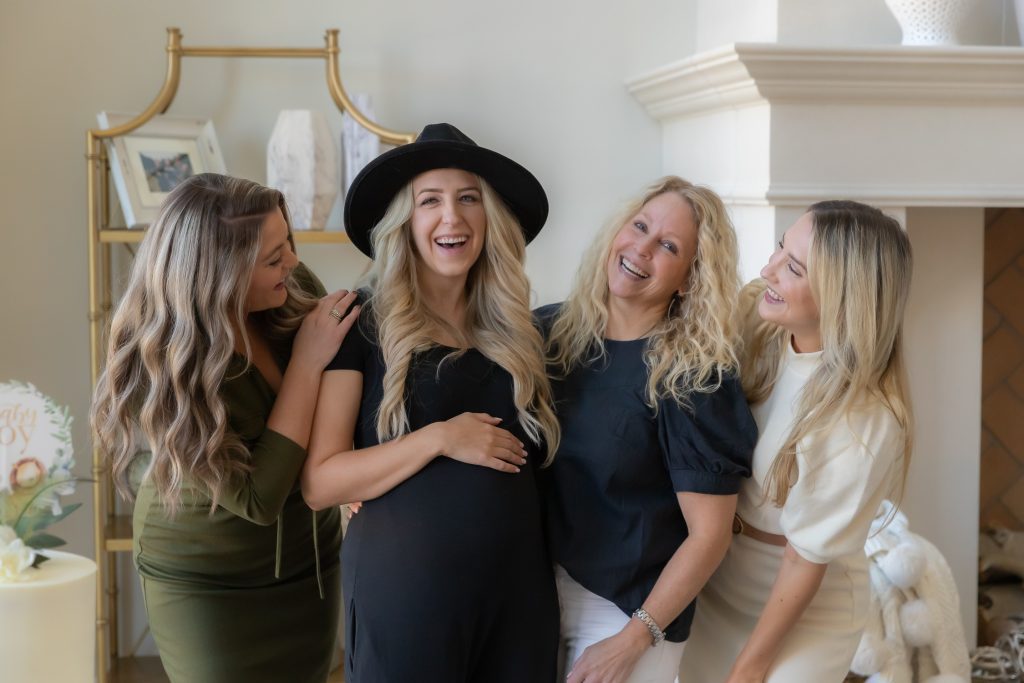 Overall this was a wonderful celebration of my sweet friend Kim, (I call her Kimmy) and she's like another daughter to me. I love celebrating every baby and mother and this one was extra special to be a part of!
Shop the Look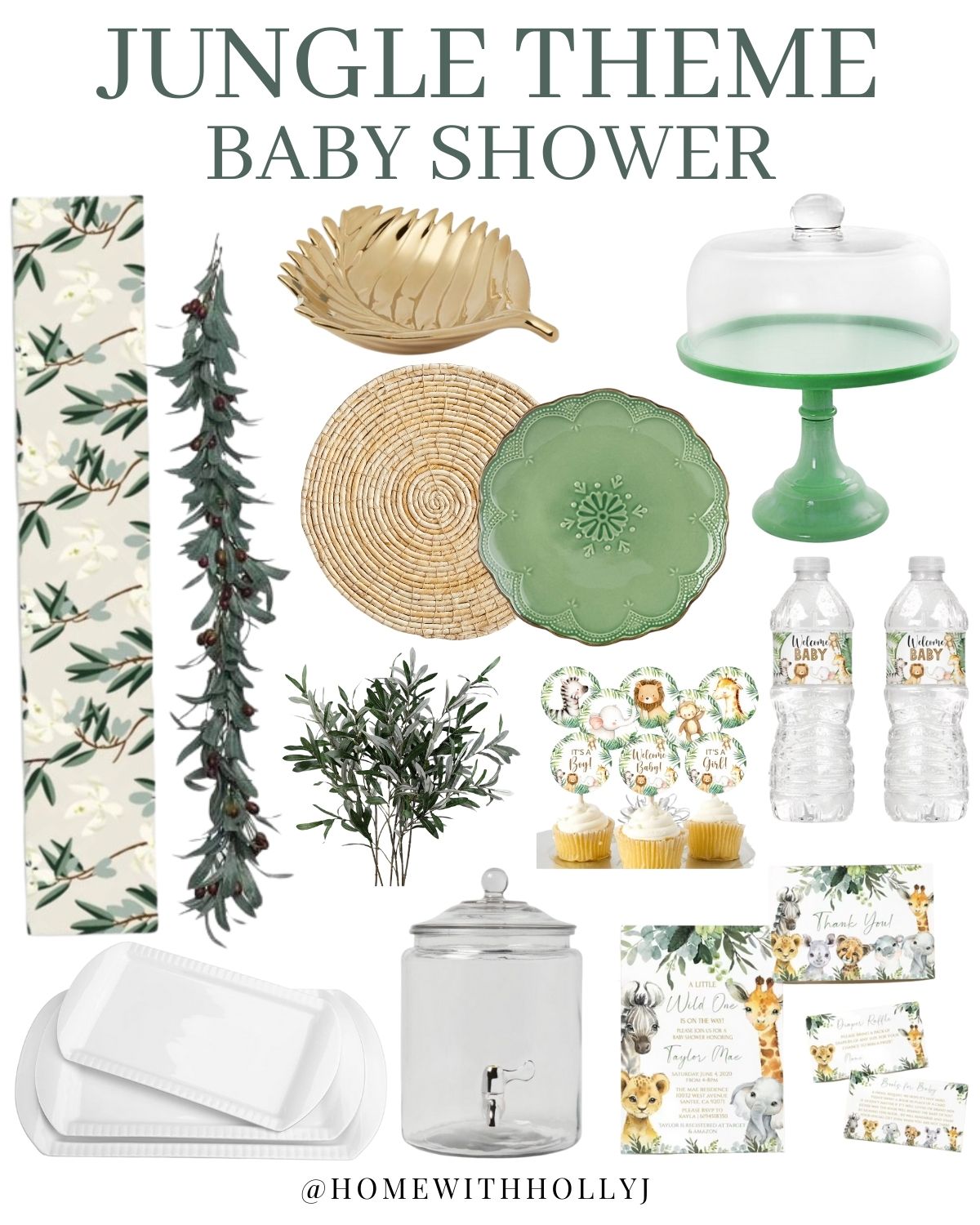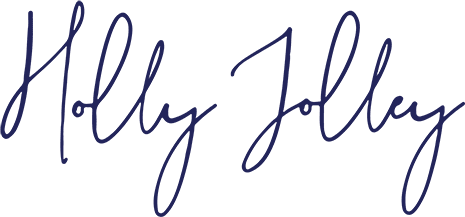 Pin this Post for Later