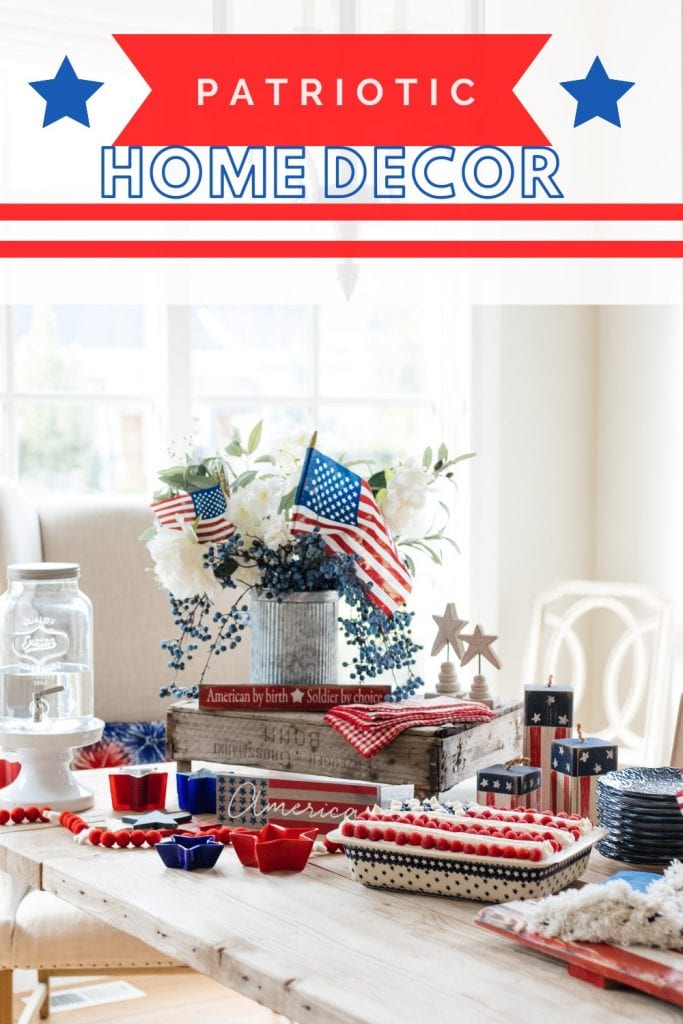 Sharing my favorite patriotic home decor ideas today to celebrate our country and those who fight for it with a tablescape and cake.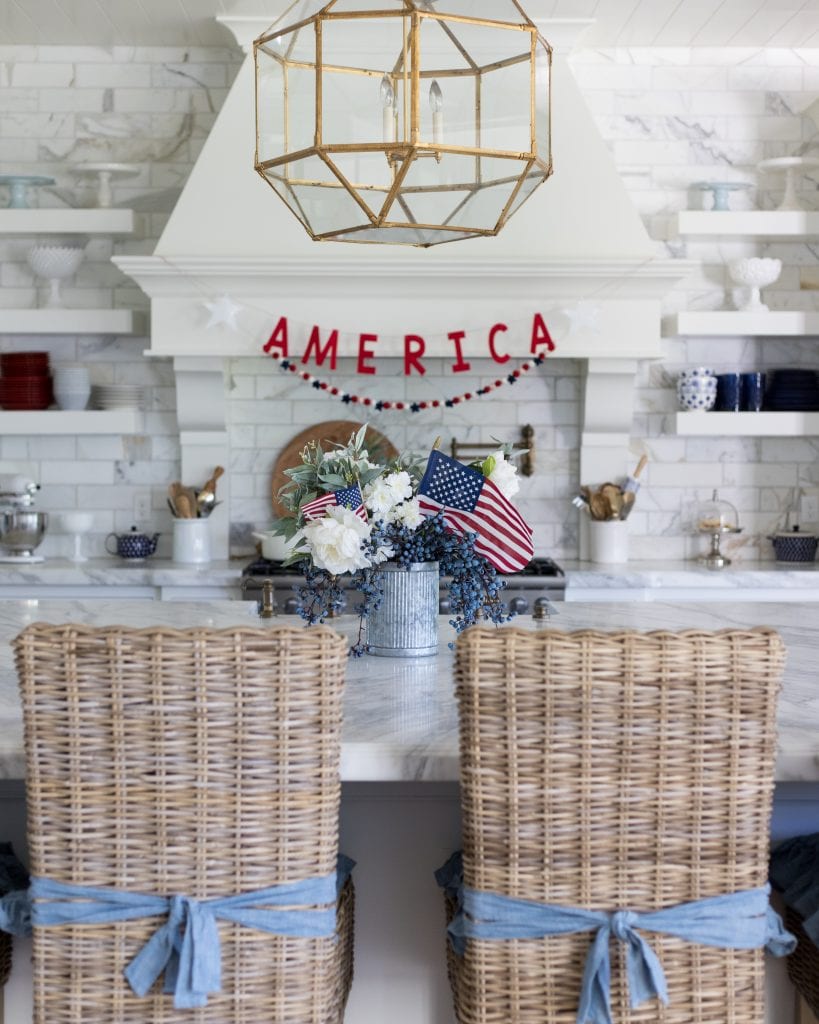 Disclaimer: This post does include affiliate links for your convenience. This is at NO additional cost to you but earns me a small commission. To read more, check out our disclosure policy.
Patriotic Home Decor Ideas
With Memorial Day just behind us and the Fourth of July coming soon I wanted to share some of my favorite Patriotic Home Decor Ideas. I prefer to keep my decorations simple and this year I tried to use all the things I had from the past few years. Once you invest in a few items, it's easy to use the same things year after year. It just takes a little creativity and thinking outside the box.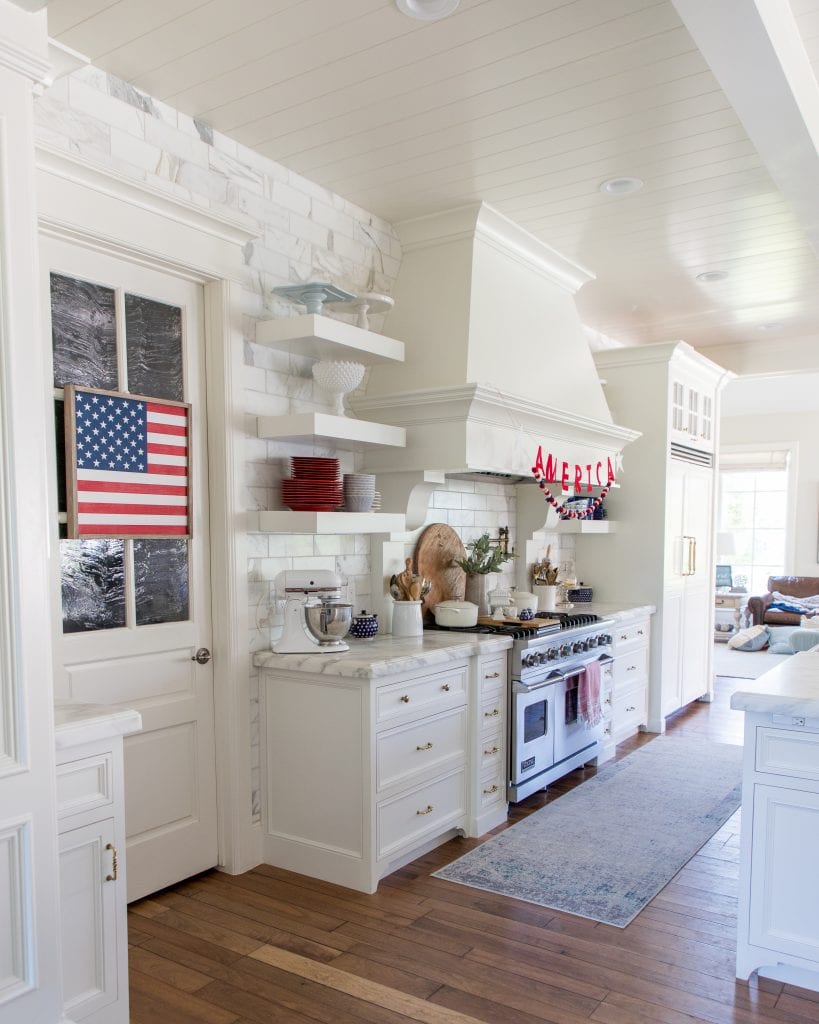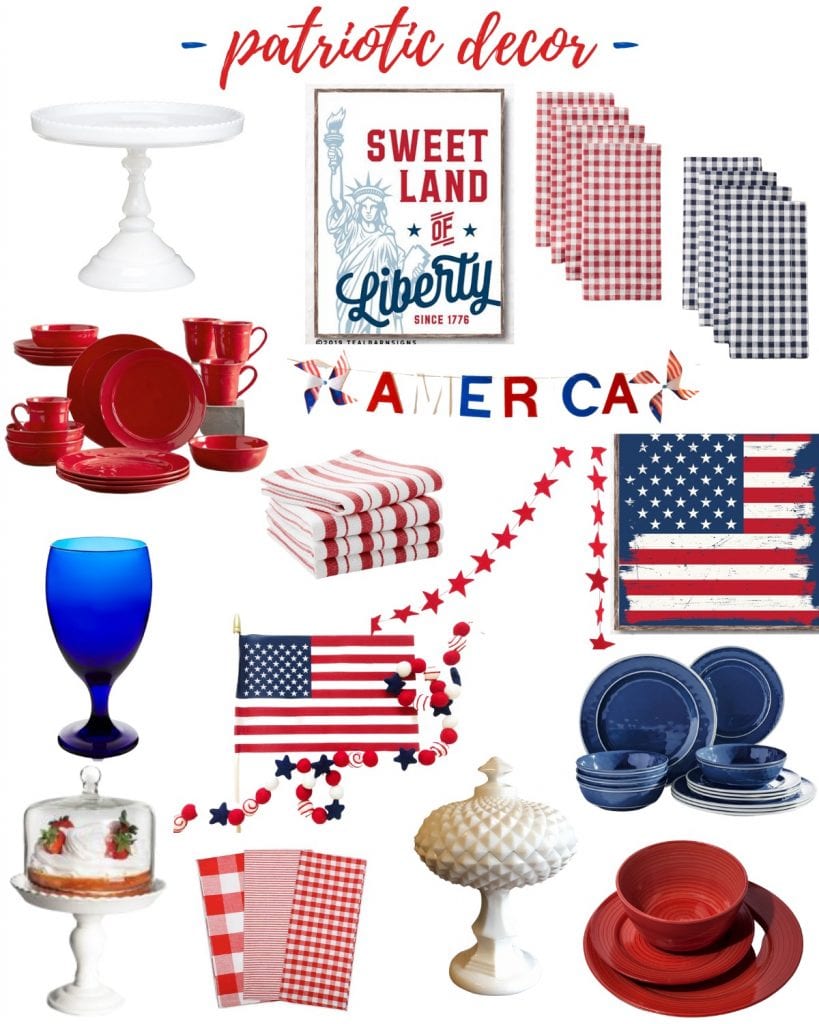 The links and sources will all be at the bottom of the post so scroll down!
The Kitchen Decor
With my kitchen being so white and bright, it makes the red and blue patriotic decorations really stand out. If your kitchen is darker in colors, mix some rustic wood decorations along with red, white, and blue colors. I do this at my other home in Washington as my kitchen is much darker that the Utah house.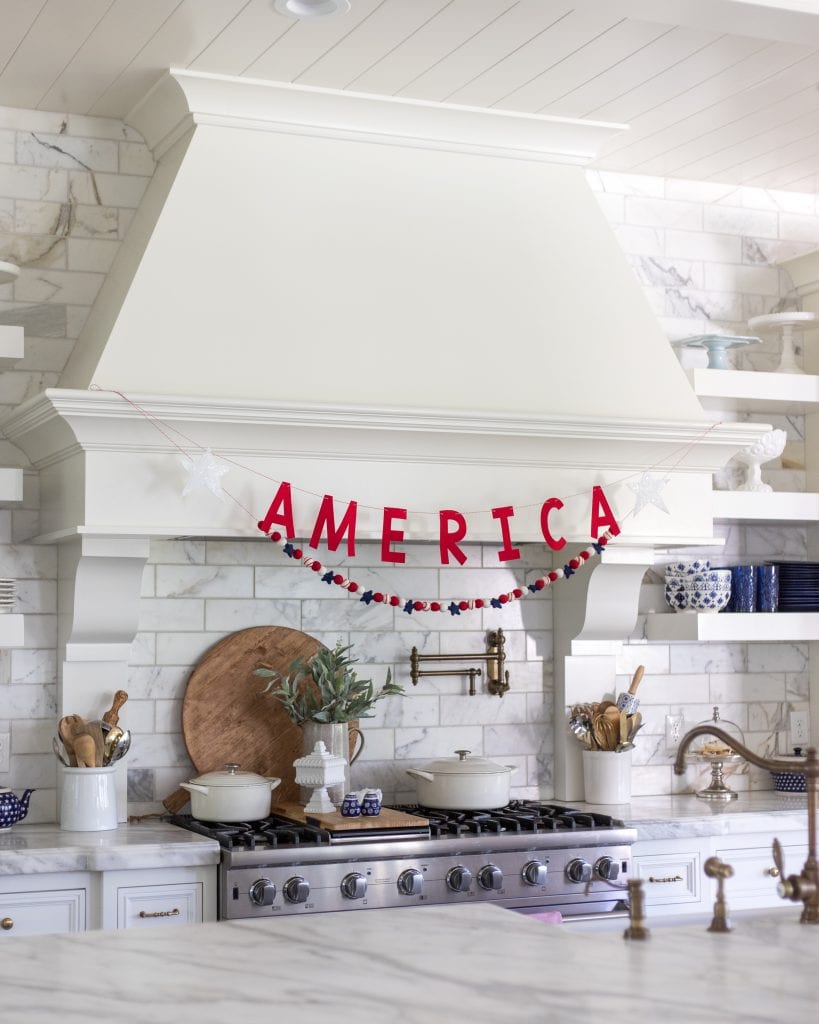 I found this cute AMERICA banner and the red, white, and blue star felt ball garland on one of my favorite etsy shops, Pearl and Jane. Using scotch tape, I just taped it up on the range hood.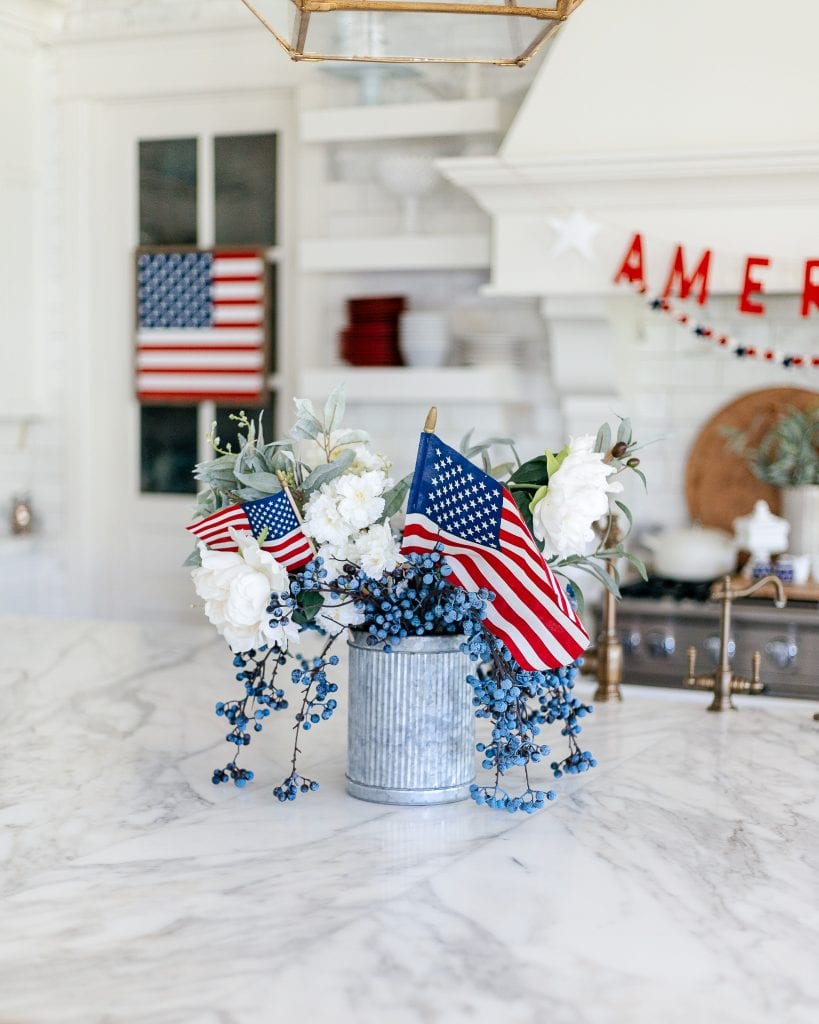 I created a really simple flower arrangement in a french flower market can. Faux flowers, greenery, and blueberry stems are what I used. These came out of my Christmas decor bin! Lastly, I added two American flags that I found at the grocery store. This took me ten minutes max to create!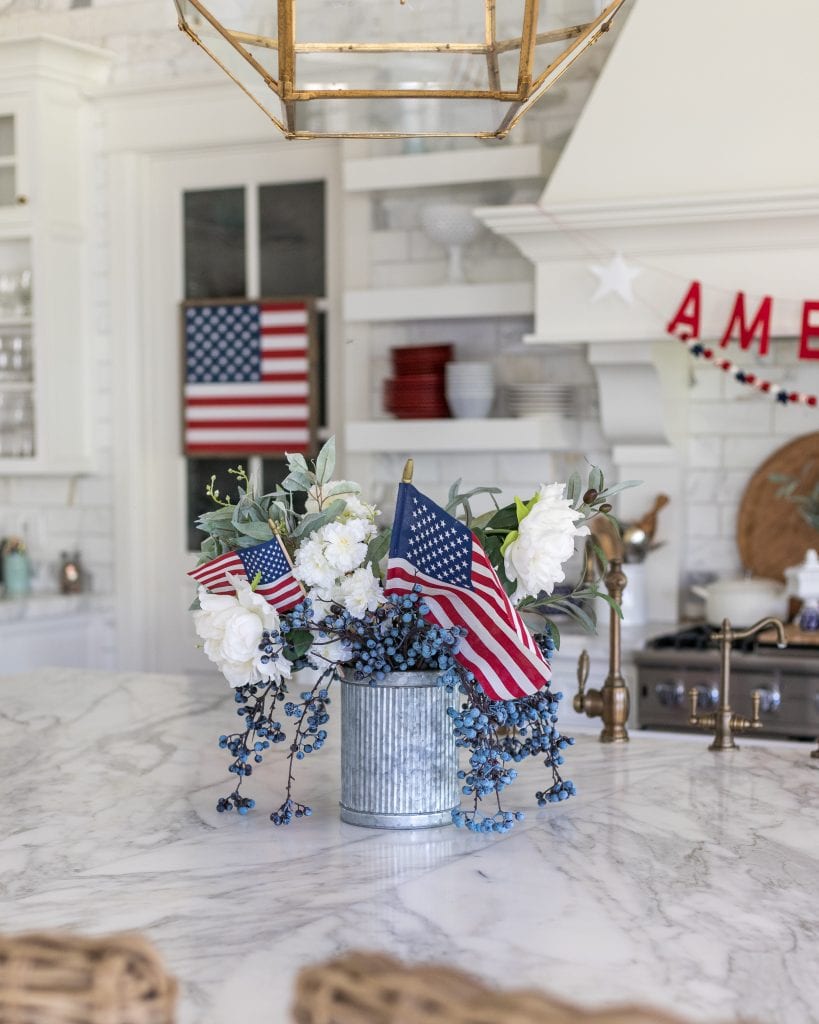 Next, I hung a square flag sign on the pantry door from my favorite sign company Teal Barns Signs. I used a command strip hook which worked great!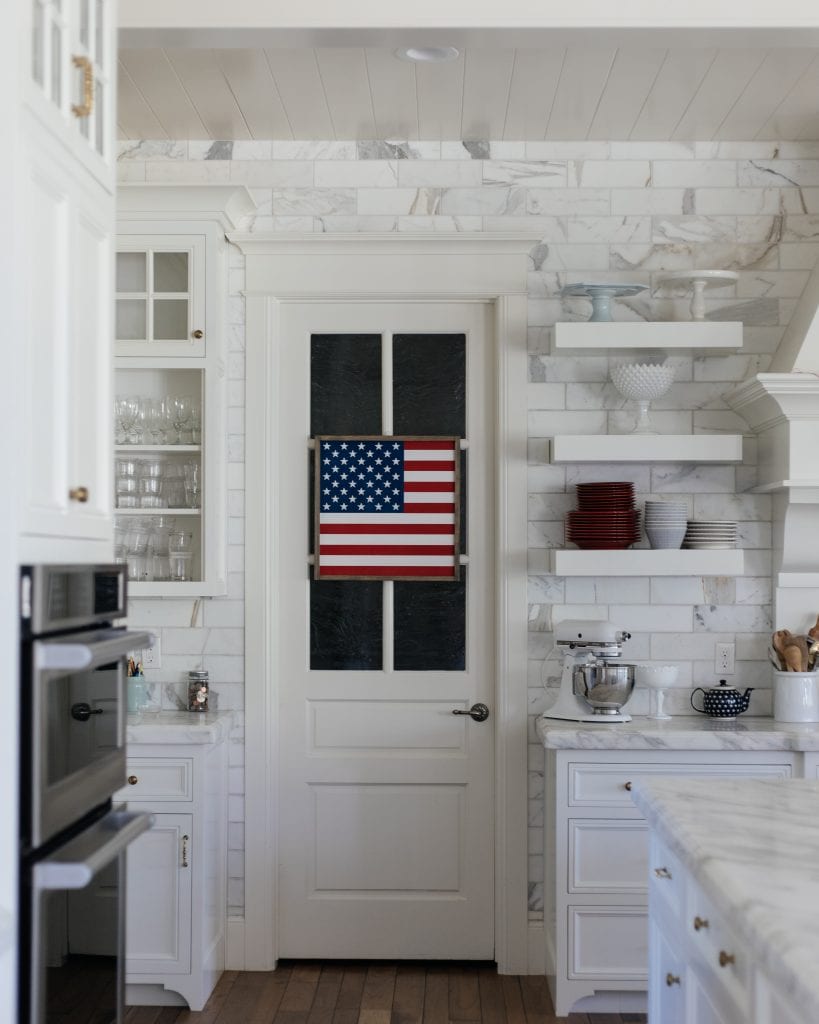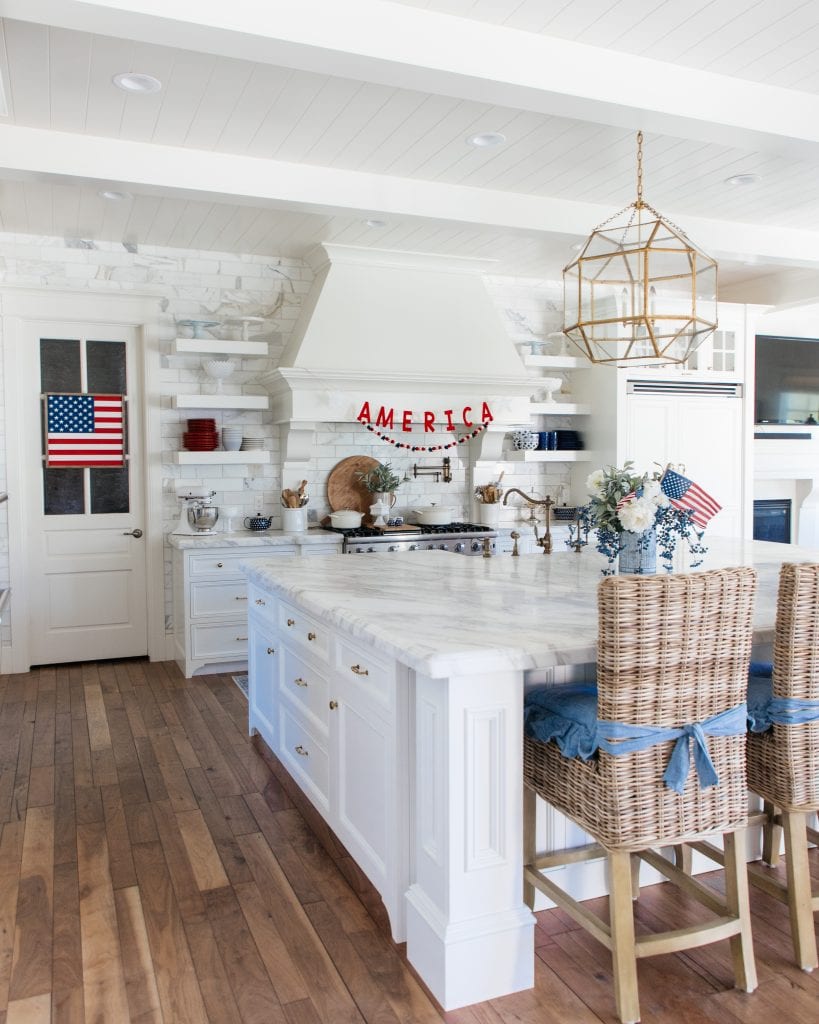 I swapped out the linen chair cushions for these blue cushions and tied them on. I'm loving the lighter shade of blue and I think its so nice to have some contrasting shades of blue mixed in with the darker navy blue.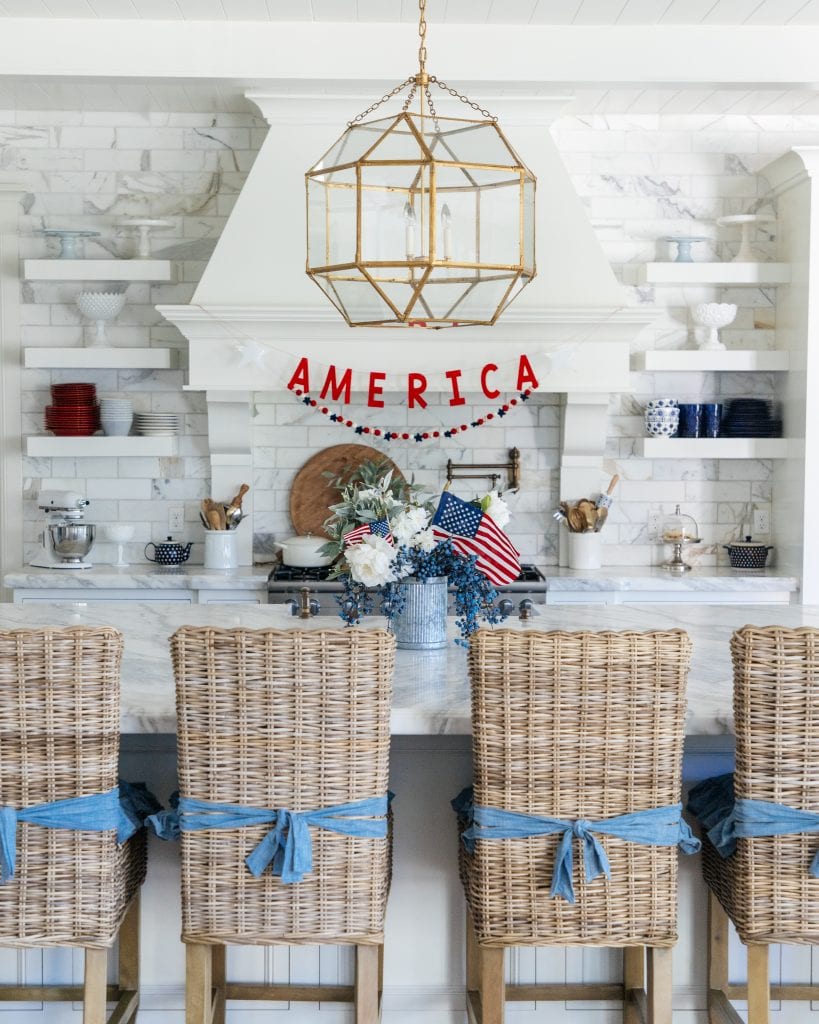 The cushions were really inexpensive and from Homegoods.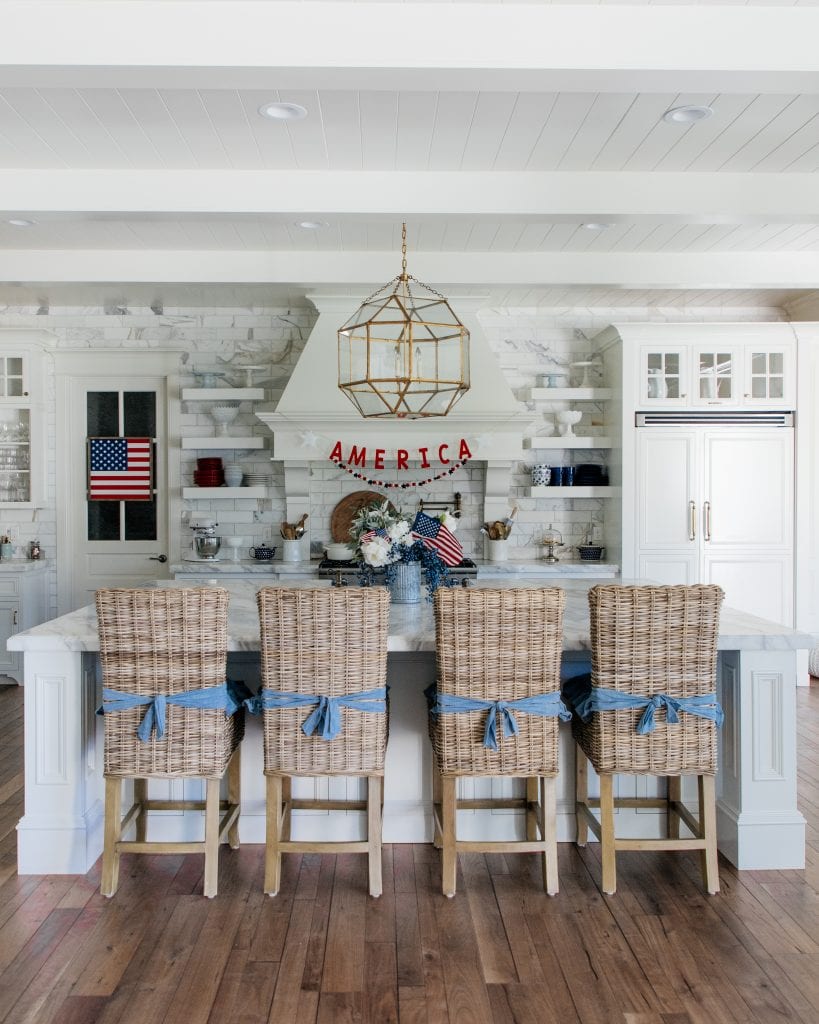 Because I have a lot of open shelving and A LOT of dishes in every color, (see some my collection here) I pulled out the red and blue dishes and stacked them on the shelves. We use all the dishes in my collection for the most part.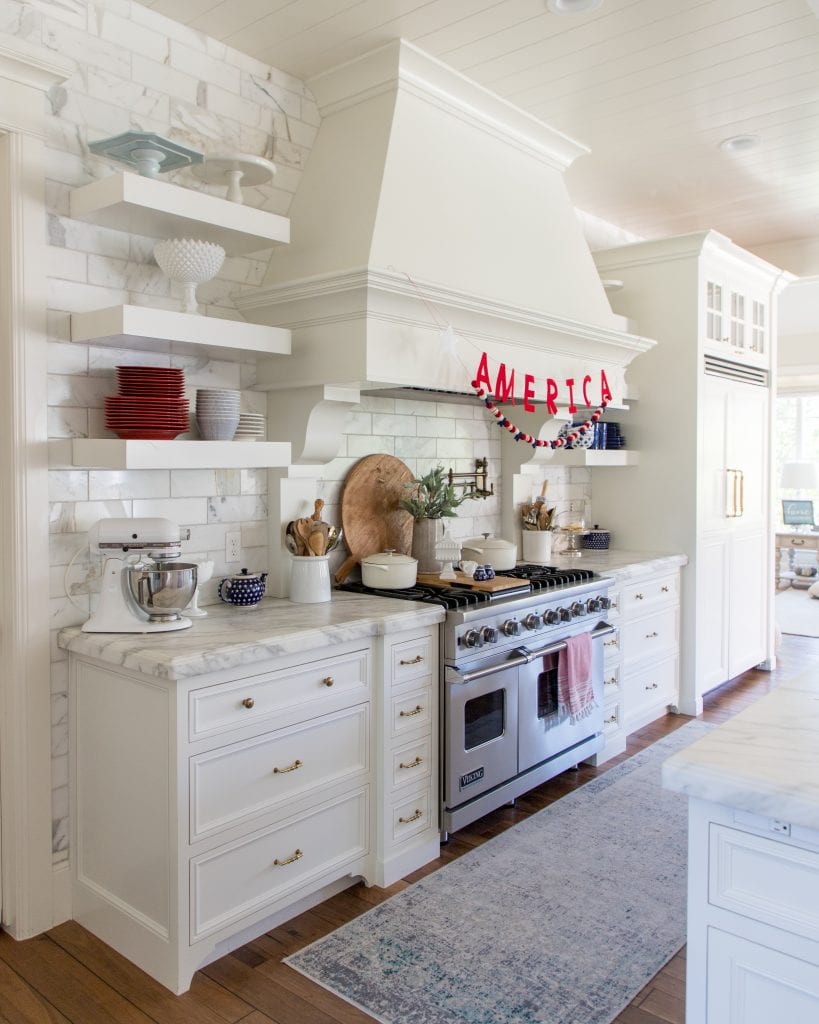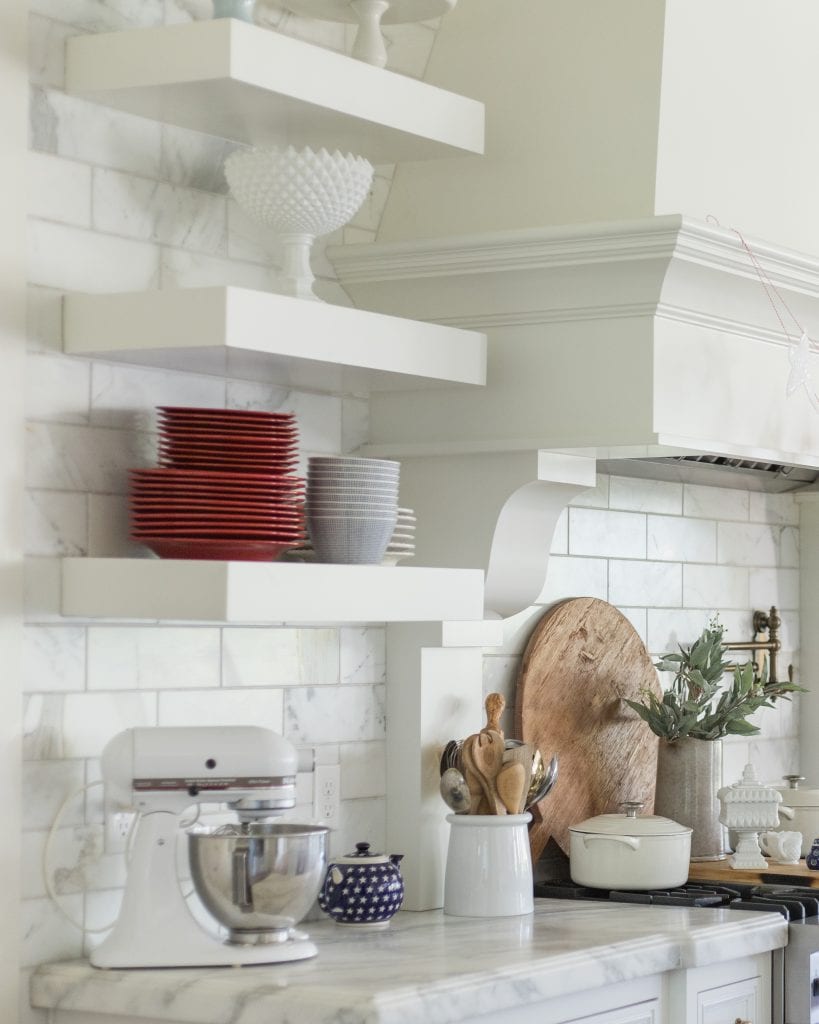 I have a handful of blue polish pottery pieces that I collected twenty years ago when my husband was in the military. The star pattern with the cobalt blue is one of my favorites and fits perfectly with my patriotic theme.
I adore this star polish pottery tea pot!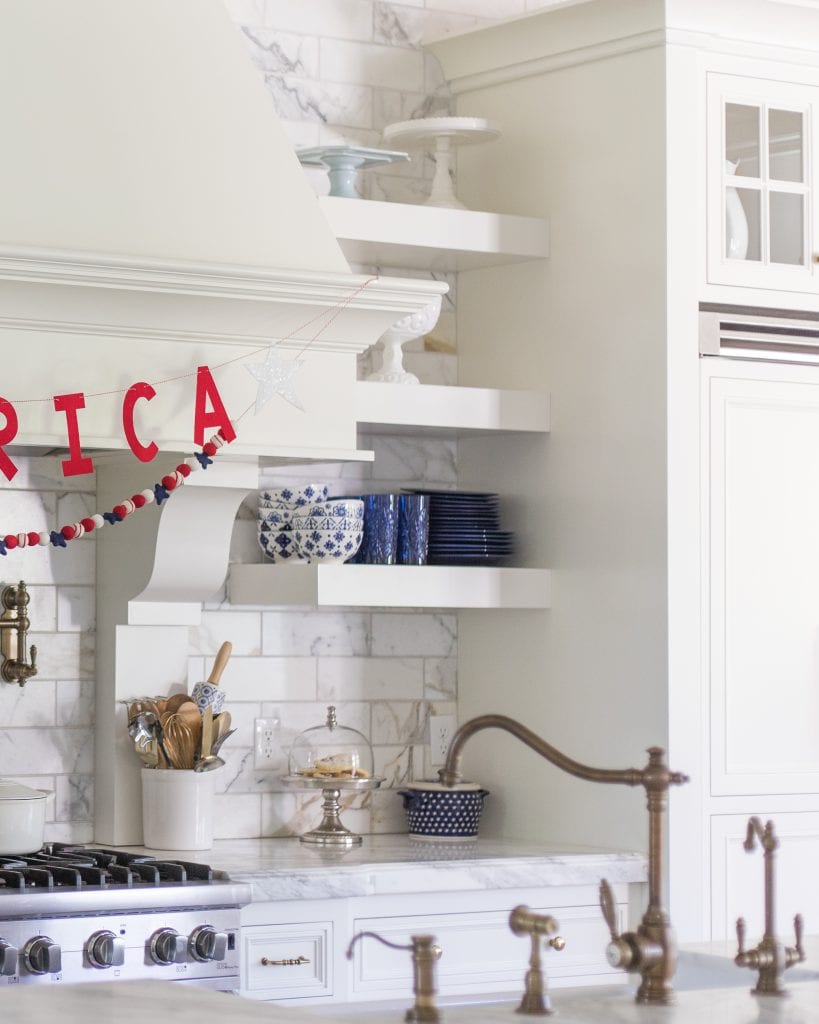 Here's a view of the blue dishes and another piece from my polish pottery collection.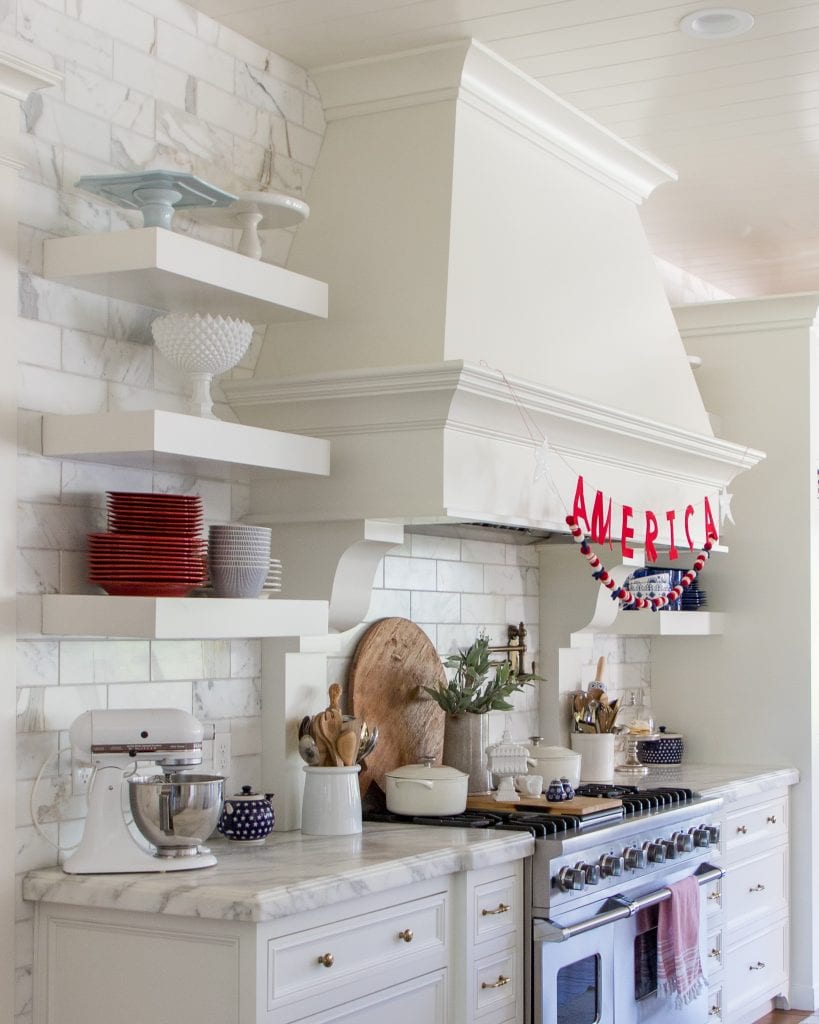 On the upper shelves, I displayed some of my white and lighter blue cake stands and milk glass compotes.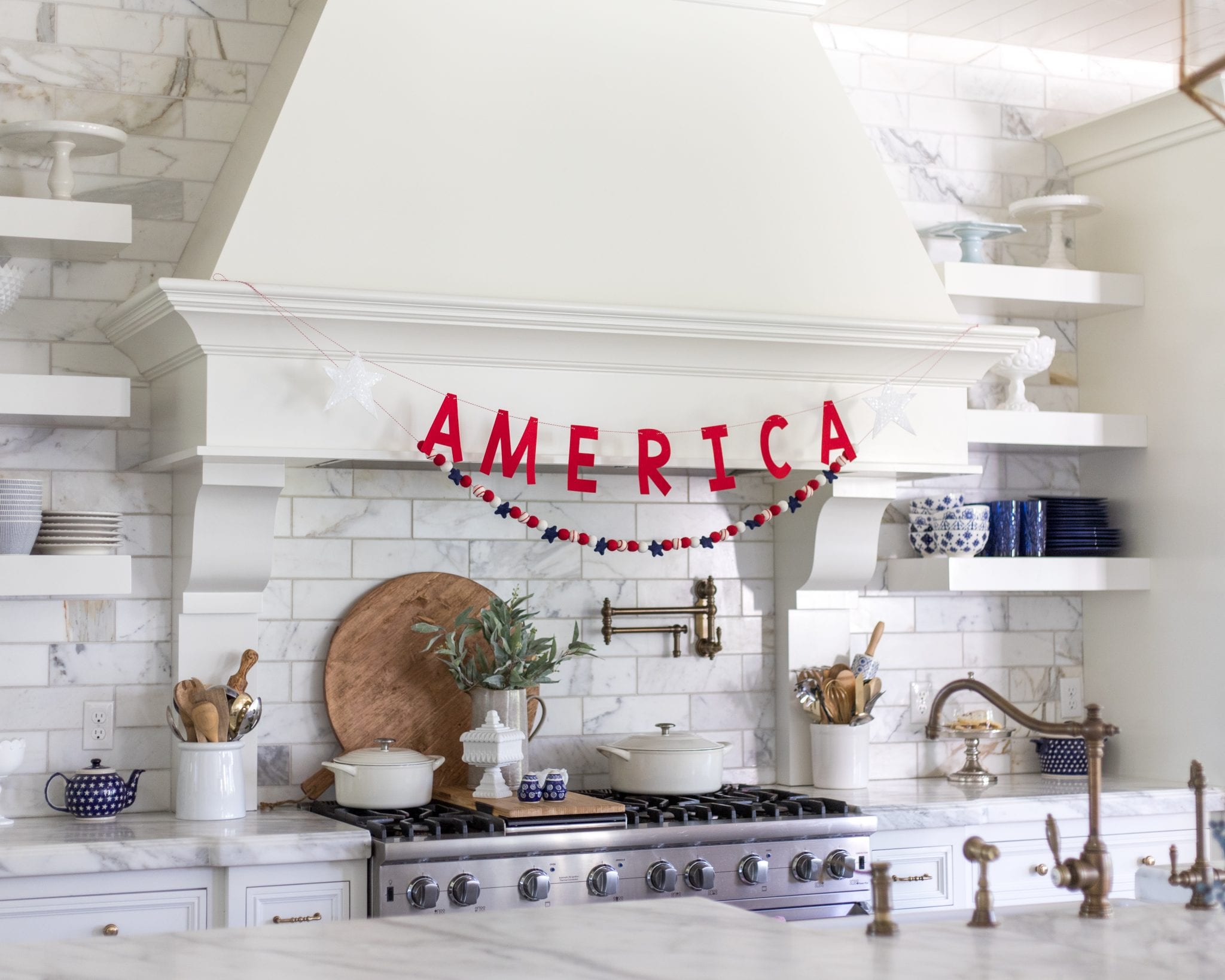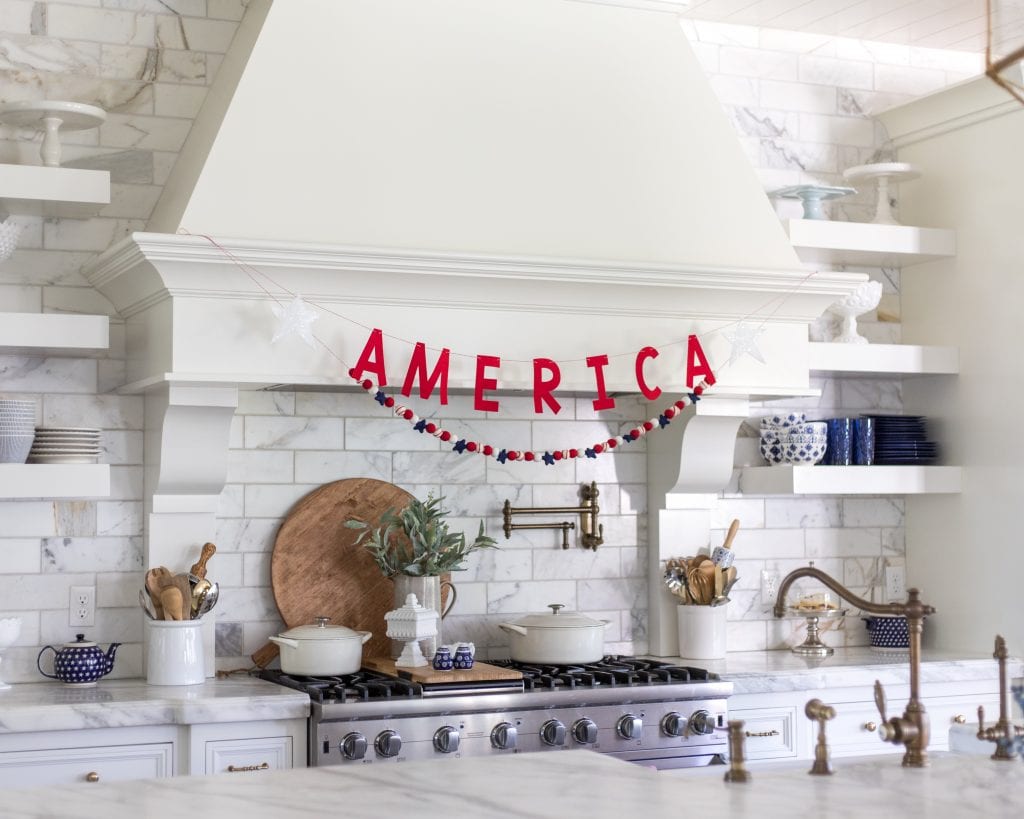 The Dining Room
I added some flag pillows into the end chairs and hung up a sign that is also from Teal Barn Signs. I love this sign so much!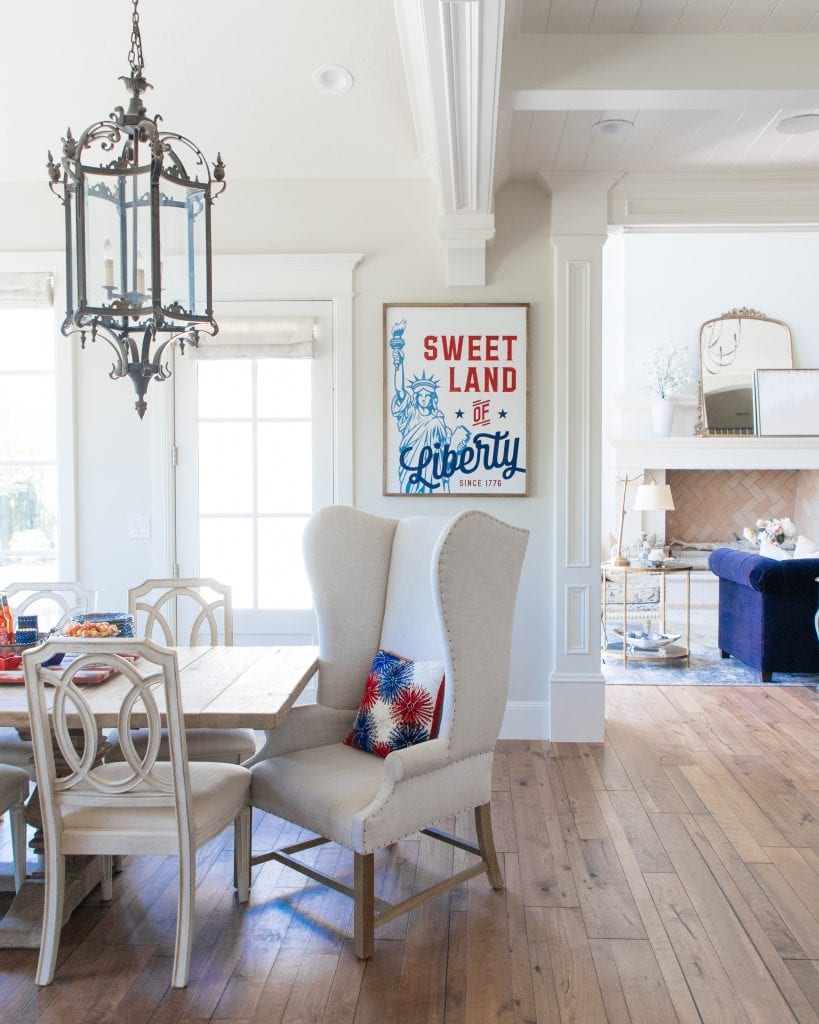 For my centerpiece on my dining table I laid a large wooden sign that I bought from a dear friend of mine's etsy shop, CharaWorks. Here you can see how I used the flag as a base and then decorated on top of it for our Fourth of July bbq.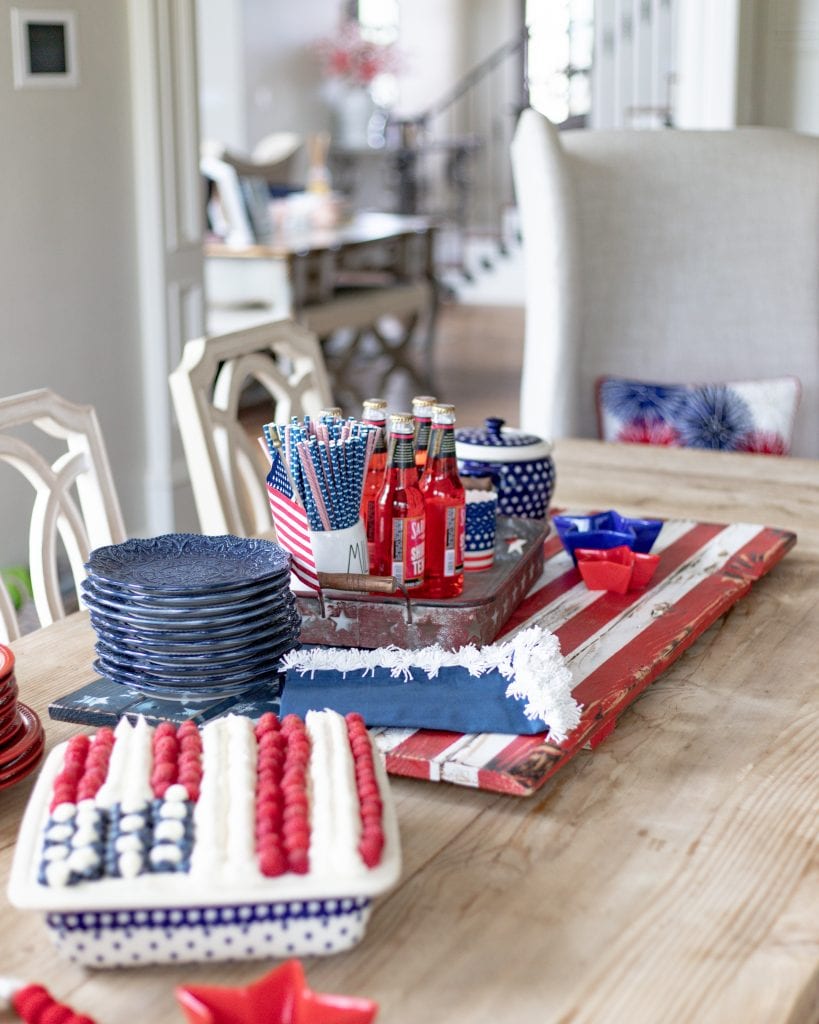 I'll be sharing more details of this tablescape and set up soon so make sure you subscribe to my blog so you don't miss it. I'll also be sharing the recipe and instructions for this cake I made!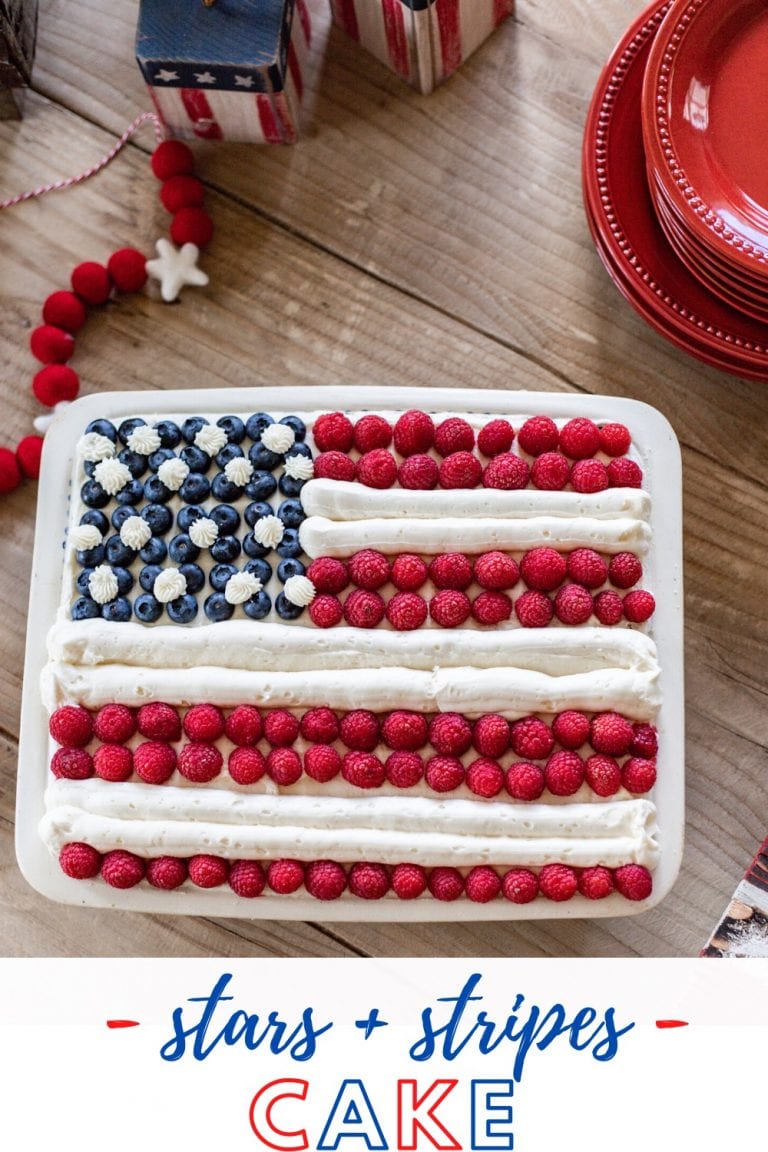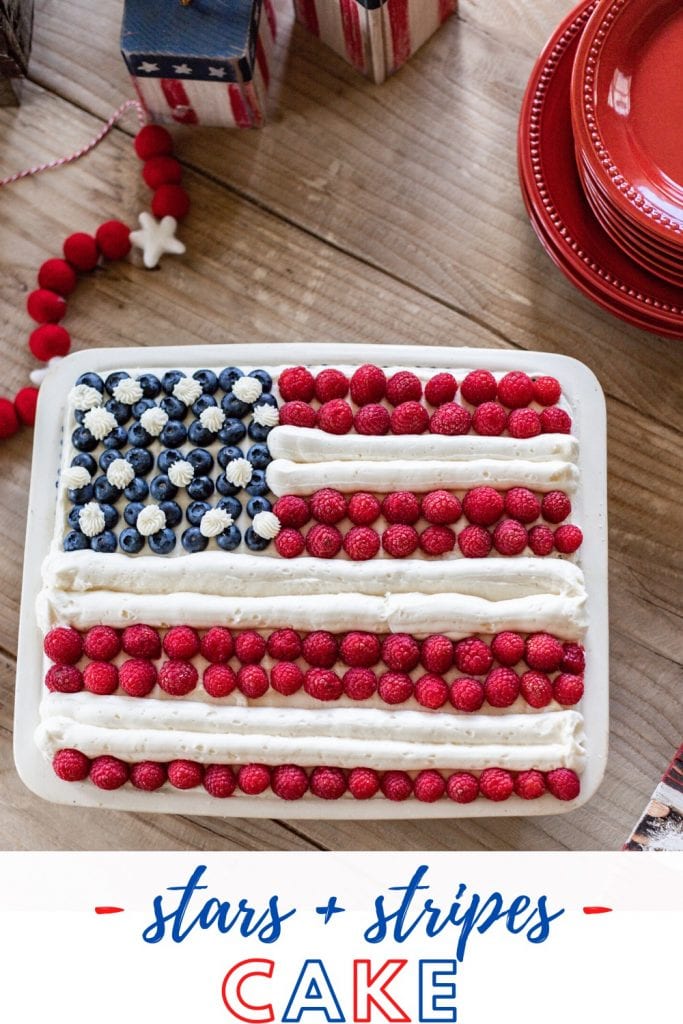 Is this not the cutest cake?!! It's made in a polish pottery baking dish with the same stars pattern. I love this so much!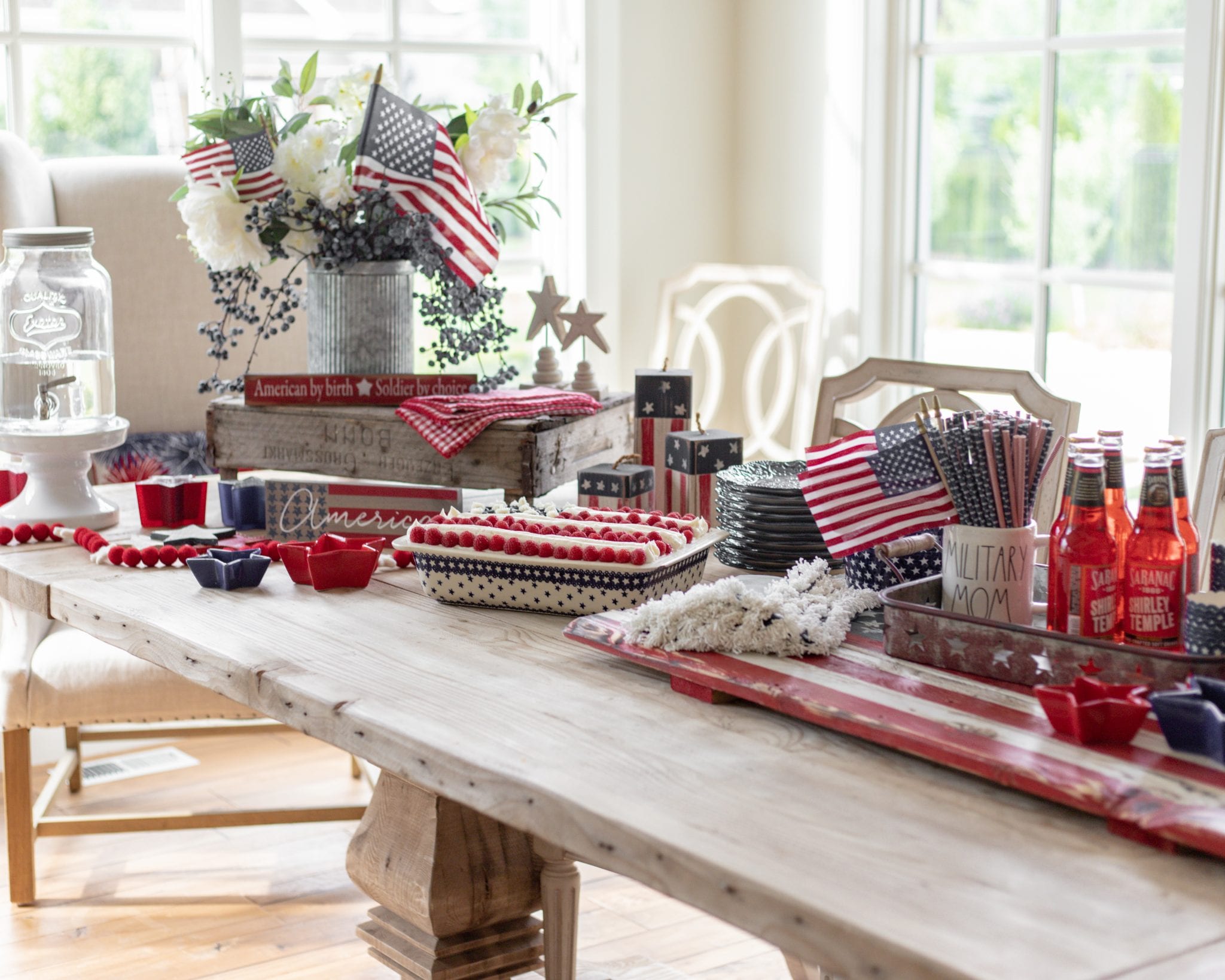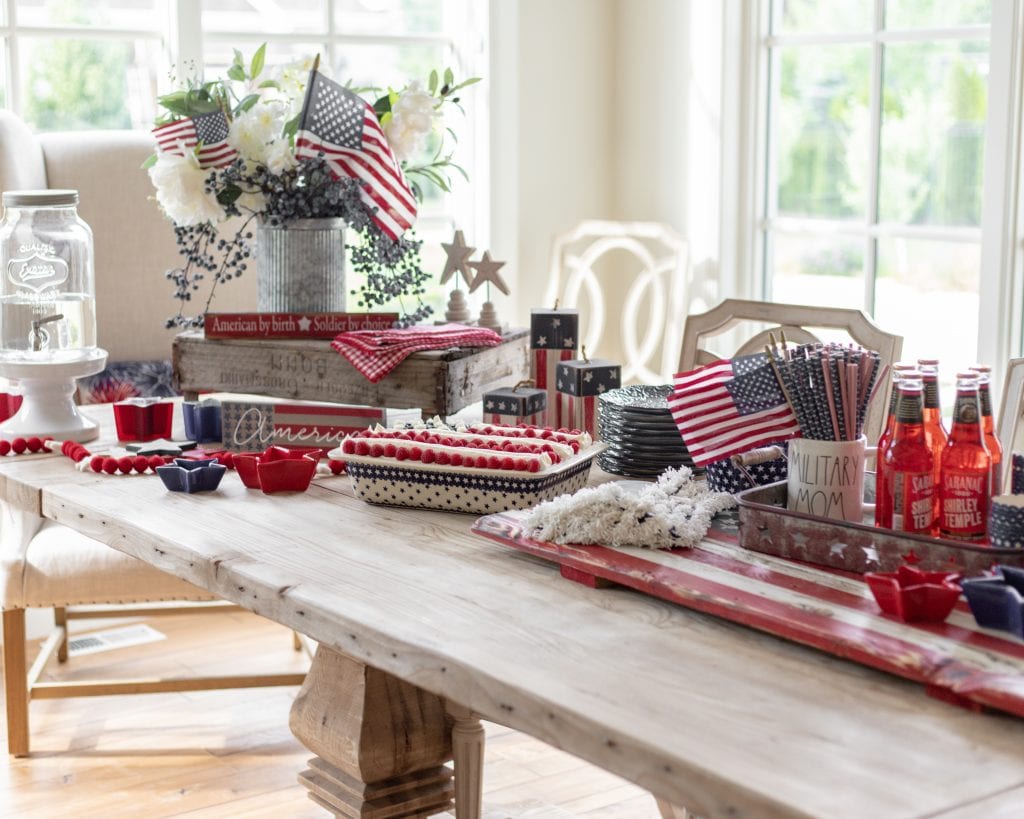 I"ll share more of this in the coming weeks!
The Family Room
Well, I forgot to take any photos of the family room area but if you look in the distance of this photo you can see I added some flag pillows to the couch and some white and blue throws. I also had another sign from Teal Barn Signs. I don't know why in the heck I didn't snap photos of this?!!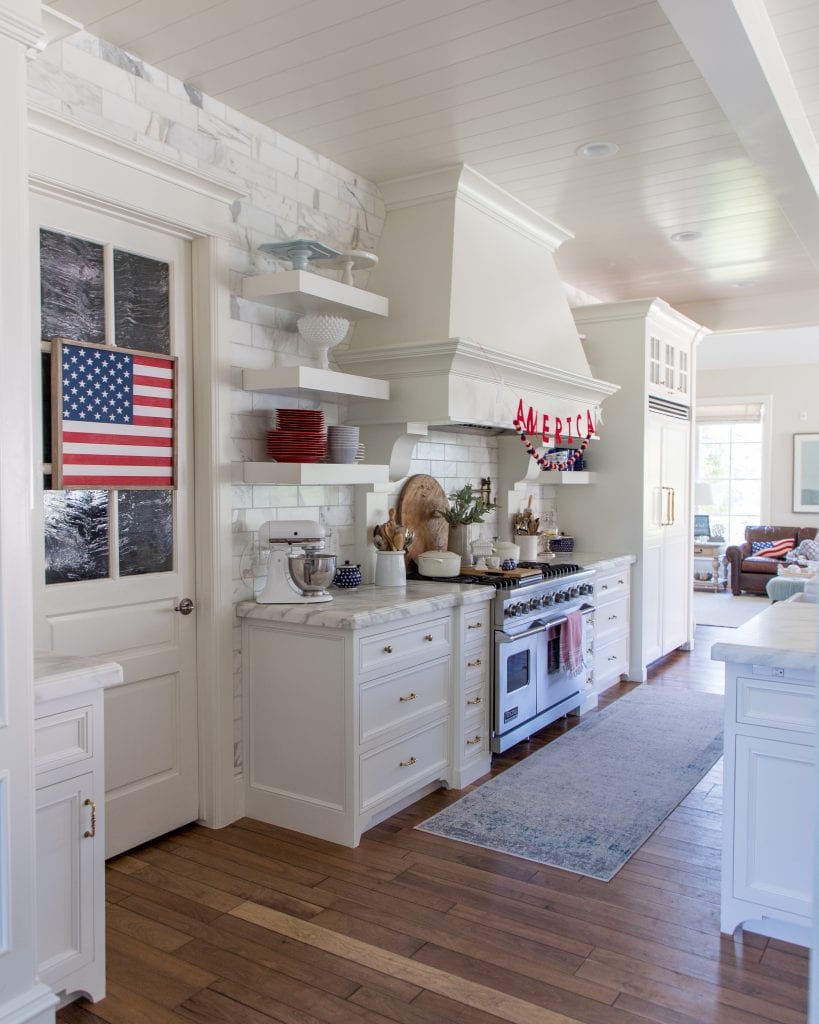 Here's my Patriotic Tablescape from last year. I love the flags in the napkin rings.
Last but not least, I added some blue bows and a flag to each of these wreaths and hung them on my front door. We also had our American Flag out as well as our flags for the US Marine Corp, and Air Force. We have two sons in the military. I guess we need an army flag too! My husband spent six years in the Army.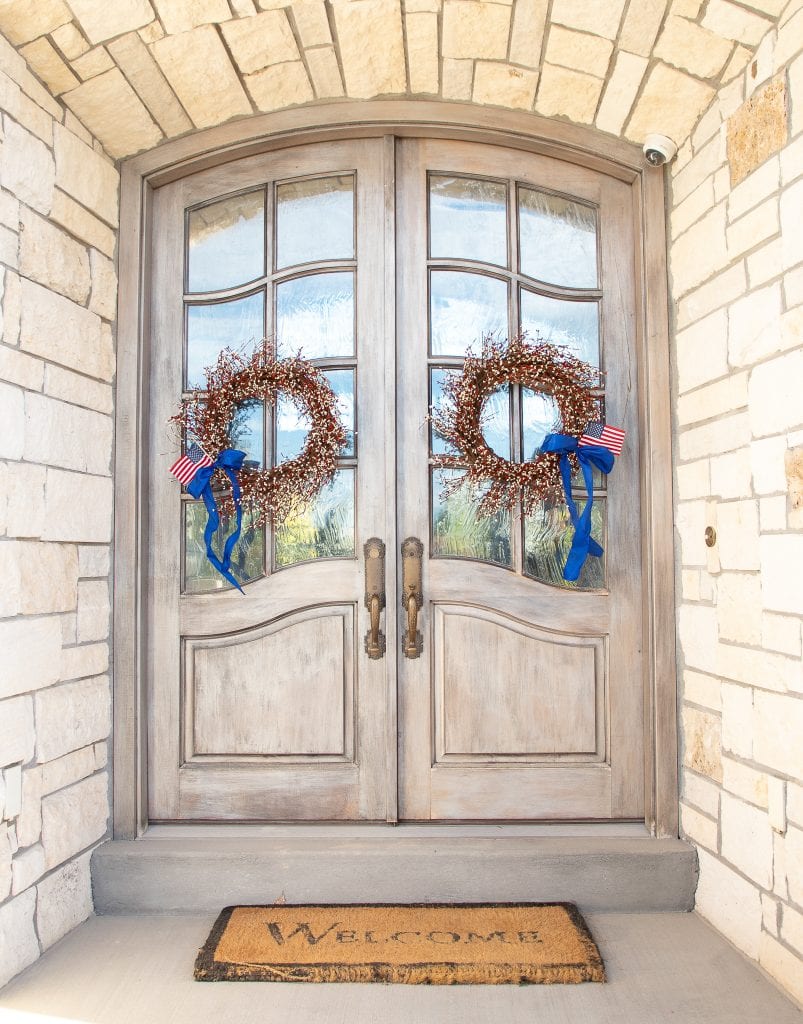 I hope this post gives you some fun ideas for decorating your home for the Patriotic holidays. I like to start my decorating around Memorial Day so I can enjoy it all the way through July.
Pin This Post for Later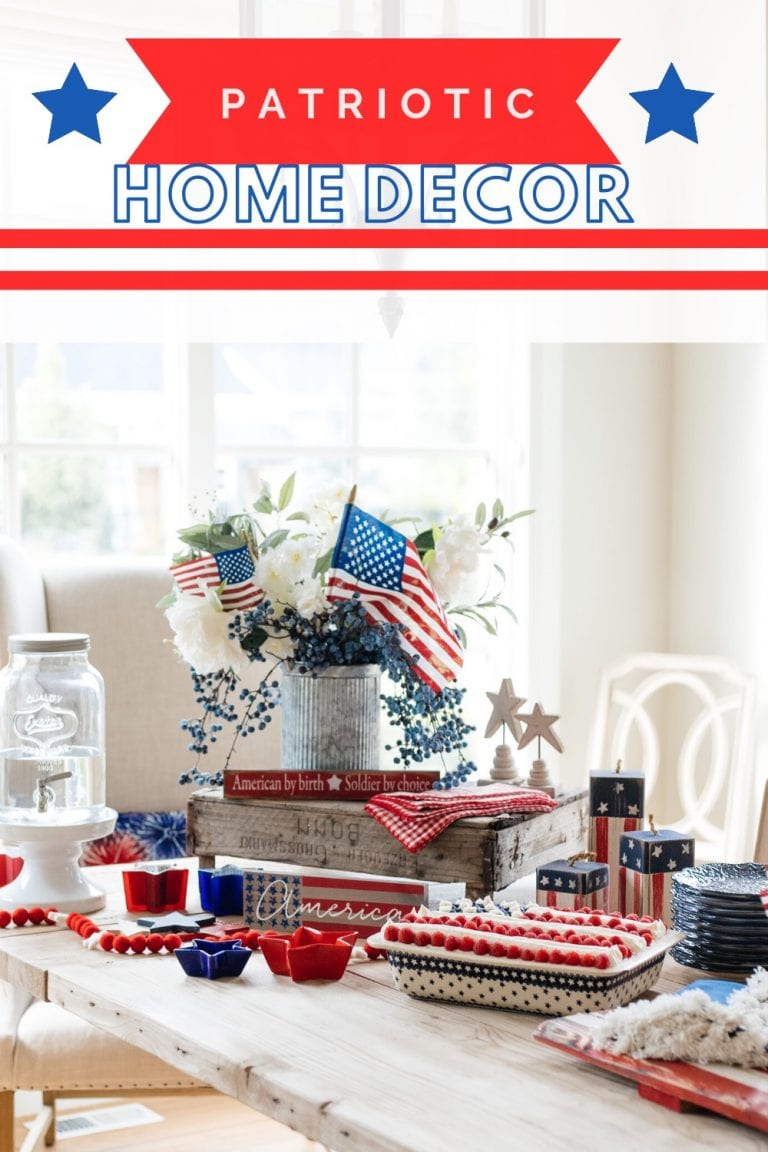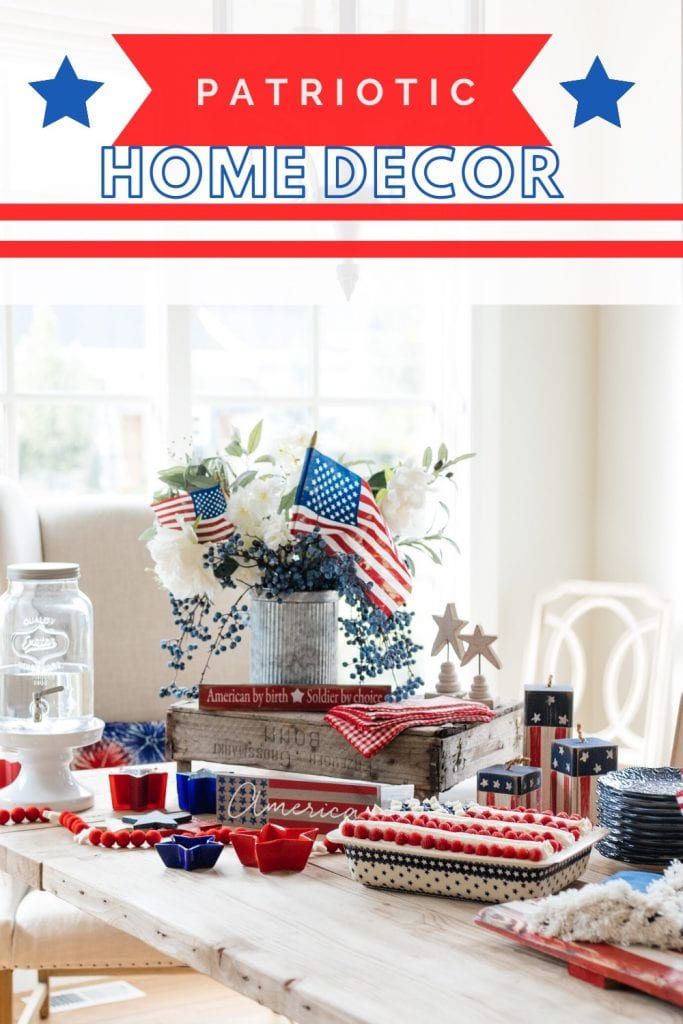 SHOP THE POST HERE

XOXO