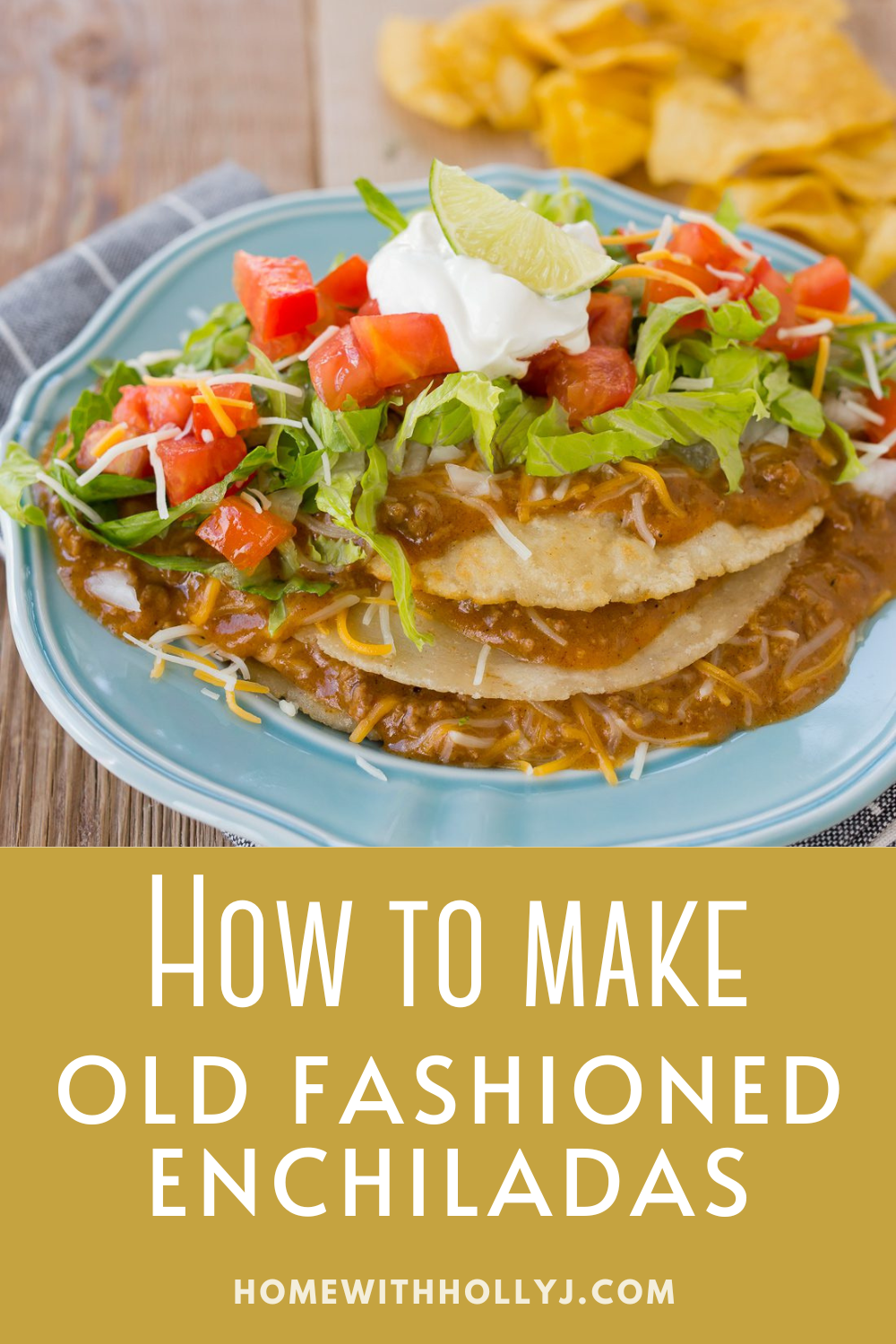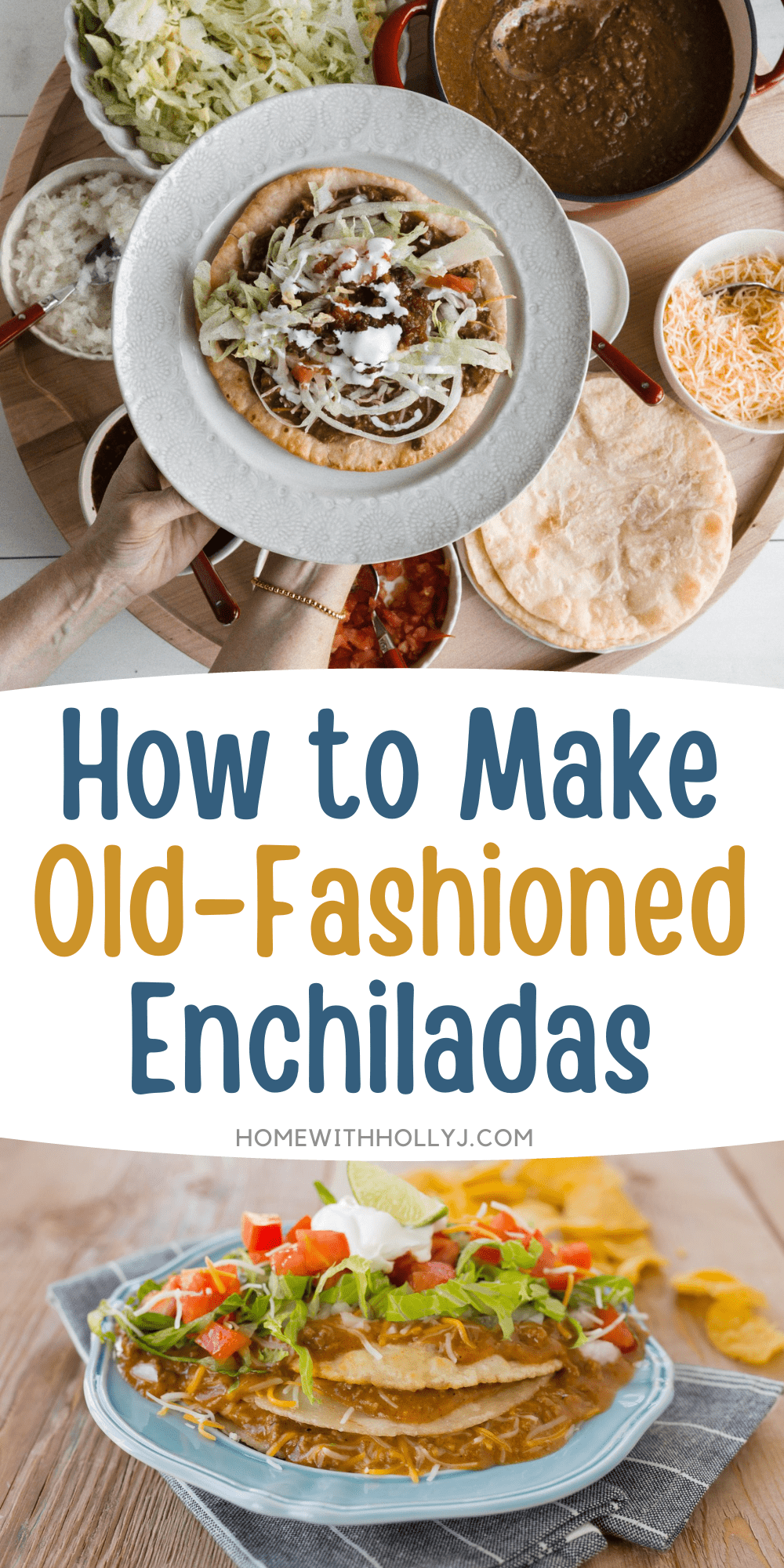 Learn how to make this easy and delicious New Mexican version. Get the family recipe for old fashioned enchiladas!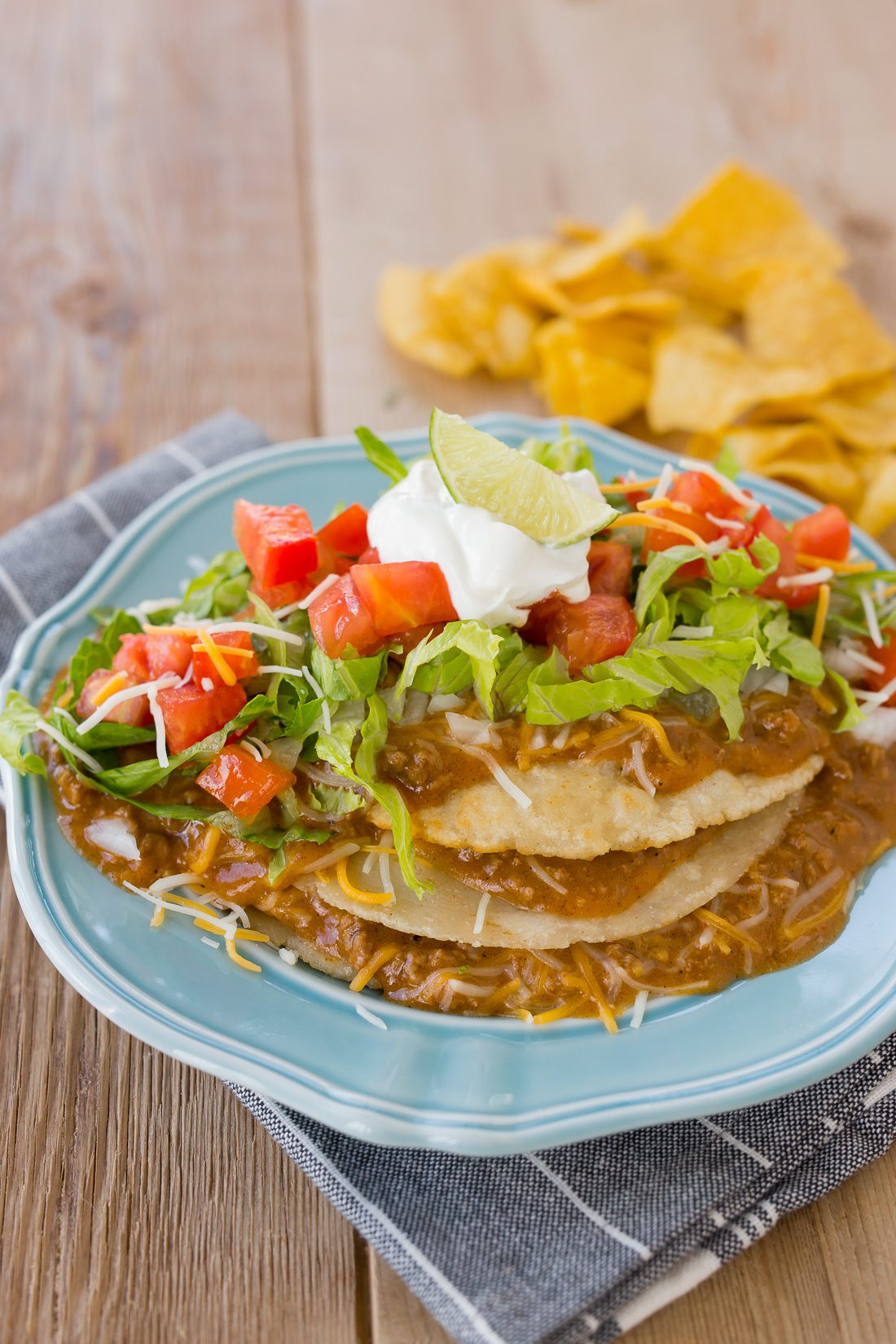 Old Fashioned Enchiladas
This recipe is another family favorite recipe that was passed down to me from my husbands Grandma Jolley. I've shared a handful of her recipes here and this one is probably her most loved and always served along with her Strawberry Cream Cheese Pie Recipe.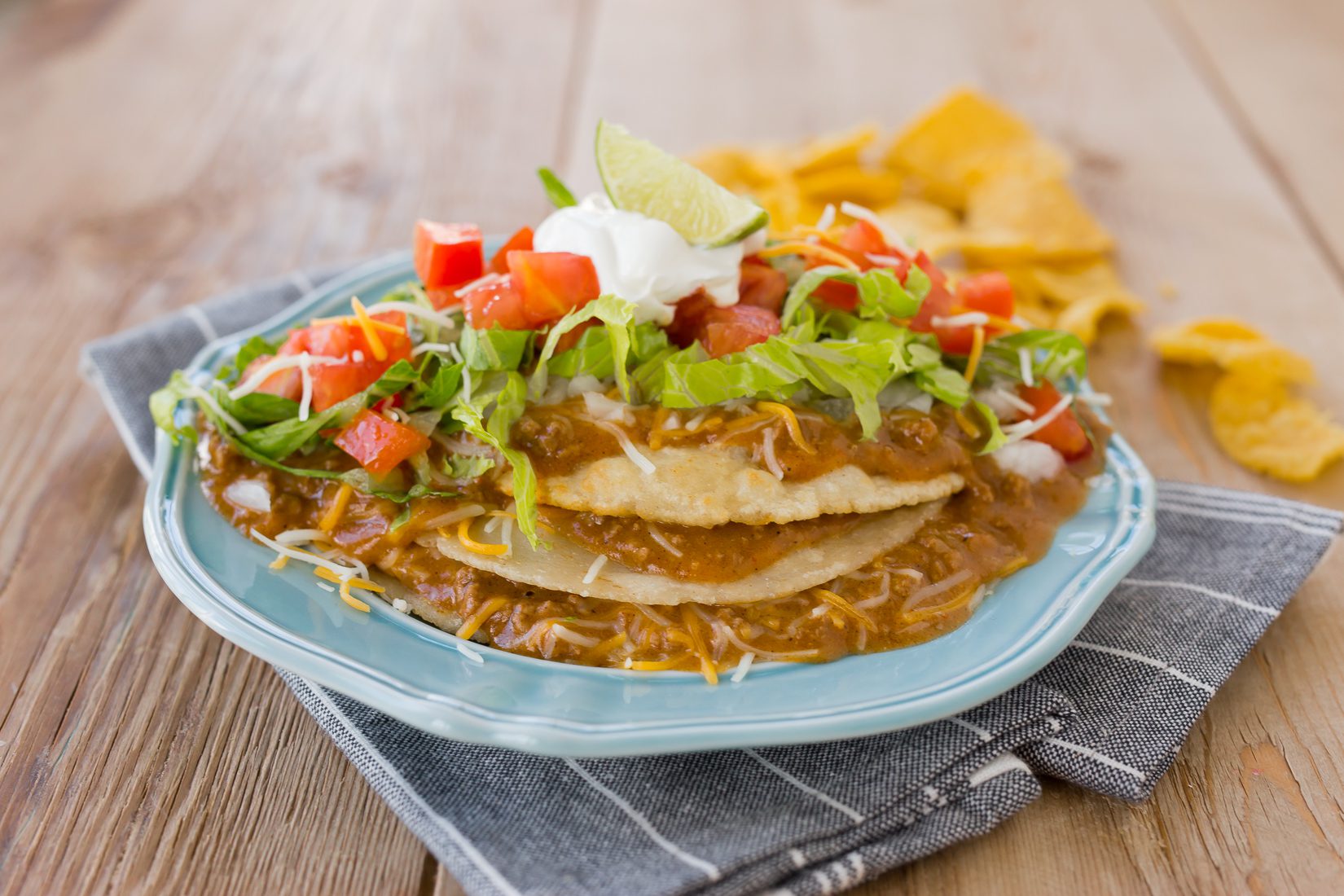 This enchilada recipe is not your traditional enchilada recipe. I'm not sure where Grandma Jolley got this recipe or if she just made it up but she lived in New Mexico her entire life and this must be some variation of a New Mexican Enchilada. I don't know where the Old Fashioned Enchilada name came from but this is what Granda Jolley called it.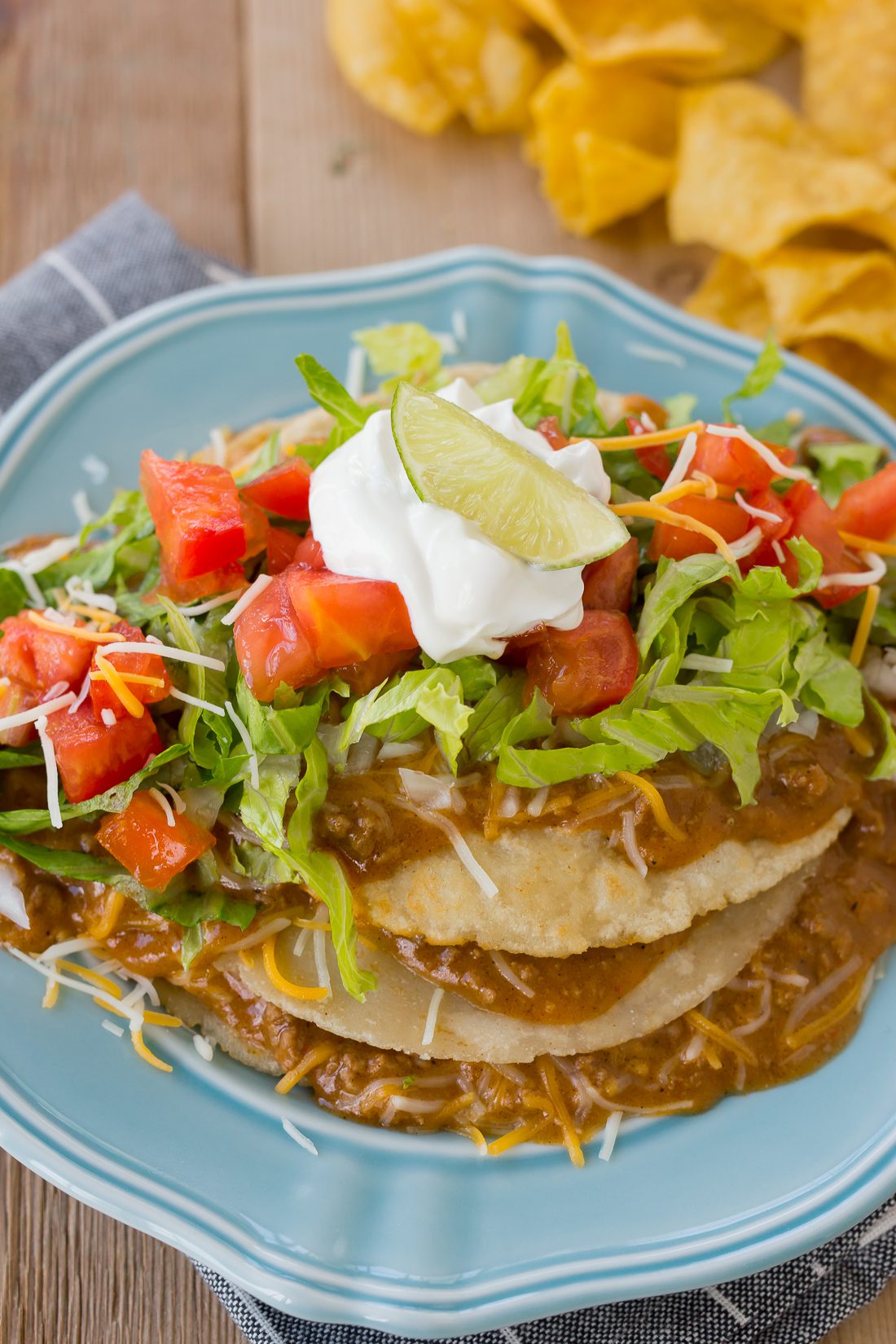 For this recipe, you first make the meat sauce and then you layer that onto corn or flour tortillas and then add all your toppings, almost like a tostada. My son lived in northern Mexico for two years and he told me that this is how they make enchiladas in the region he lived in. They layer them with meat, sauce, and cheese. In this recipe, we do that and then add whatever toppings you like on top.
Here's the ingredients for the Old Fashioned Enchiladas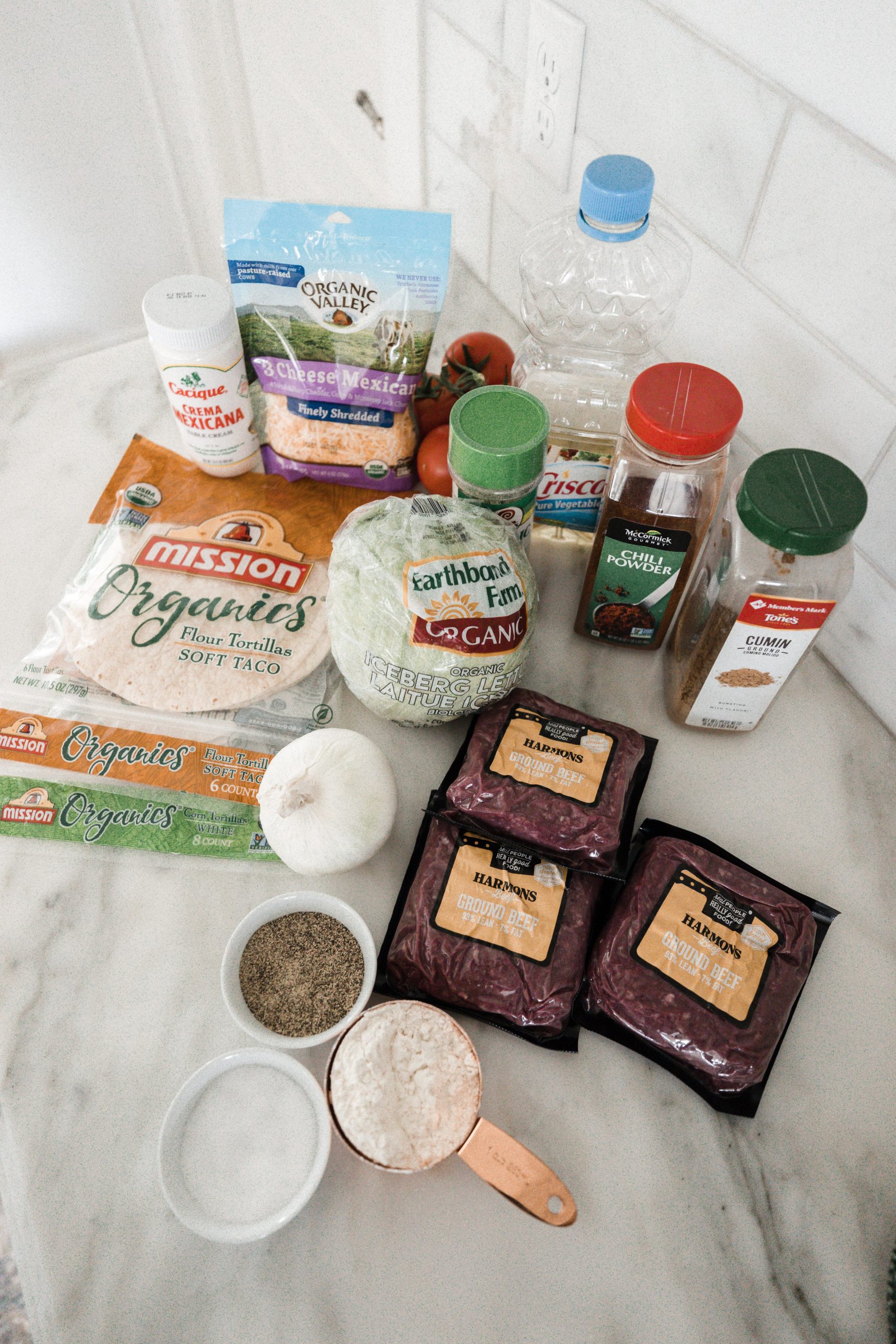 Grandma Jolley's Old Fashioned Enchilada Recipe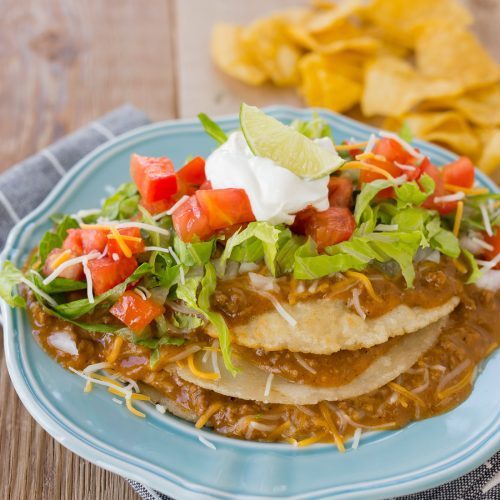 Old Fashioned Enchilada Recipe
Old Fashioned Enchiladas are another family favorite passed down from Grandma Jolley. This is her New Mexican version of enchiladas that are layered with a delicious meat sauce, tortillas, cheese, then topped with a variation of toppings.
Ingredients
2

pounds

Ground Beef

4

tbsp

Ground Chili Powder or Mild Bueno Red Chili

4

tbsp

Ground cumin

2

tbsp

Garlic Seasoning Salt

1

tsp

Oregano

2-3

tsp

Salt

1

tsp

Pepper

1

cup

Vegetable Oil

1

cup

Flour

3½

cups

Water

(You can add a little more water if it gets to thick)

1

pkg

Flour Tortillas

1

pkg

Corn Tortillas

1

cup

Vegetable Oil

(For frying the tortillas)

1

head

Iceberg or Romaine Lettuce

1

pkg

Shredded Mexican Cheese

1

small

Onion (chopped)

1

large

Tomato

1

container

Sour Cream or Mexican Crema
Instructions
Take a large pan and heat up to medium high and add the ground beef. Brown the ground beef and use a potato masher to help chop up the ground beef into small pieces. Add the salt, pepper, and garlic seasoning .

When the ground beef is browned, add the chili powder (or mild bueno red chili), cumin, and oregano. Brown for a minute or two longer and stir into the beef.

Add one cup of vegetable oil and the flour. Stir in well and brown for a few more minutes until the flour has had a chance to cook a bit. Then add in the water and stir on medium to medium high heat until it thickens up. You may need to add in a little more water if it becomes too thick.

Give it a taste at this point and if it needs a little more salt, you can add more to taste. I also tend to add a little more cumin and chili powder too if it isn't as seasoned as I like so feel free to experiment with the flavor to make it a bit richer.

Turn the heat down to low and let it simmer a bit while you fry up the tortillas.

Add one cup of oil to a separate frying pan and heat up the oil to medium high. Fry the tortillas up and set each one on a paper towel and layer them to remove excess oil. We do both corn and and flour and some like them crispy and some like them soft. I prefer soft corn so I dip them in the hot oil and fry each side for 10-15 seconds and then drain. My husband prefers the flour tortillas and he likes his crispy so try experimenting to see what you prefer. Either way, they are so good!

You will also want to chop up the lettuce, tomatoes, and onions, grate the cheese or use pre-shredded cheese and set those out in bowls so everyone can make their own enchilada. We also put out salsa and sour cream.

Start with the tortilla of choice on the bottom then add the enchilada meat sauce, cheese, onions, lettuce, tomatoes and top with sour cream. (You can leave off anyone of these items if you don't like them too! It's all up to you! It's made almost like a tostada!

This is a super easy and fast recipe that feeds a large crowd and one that we have often with my husbands family.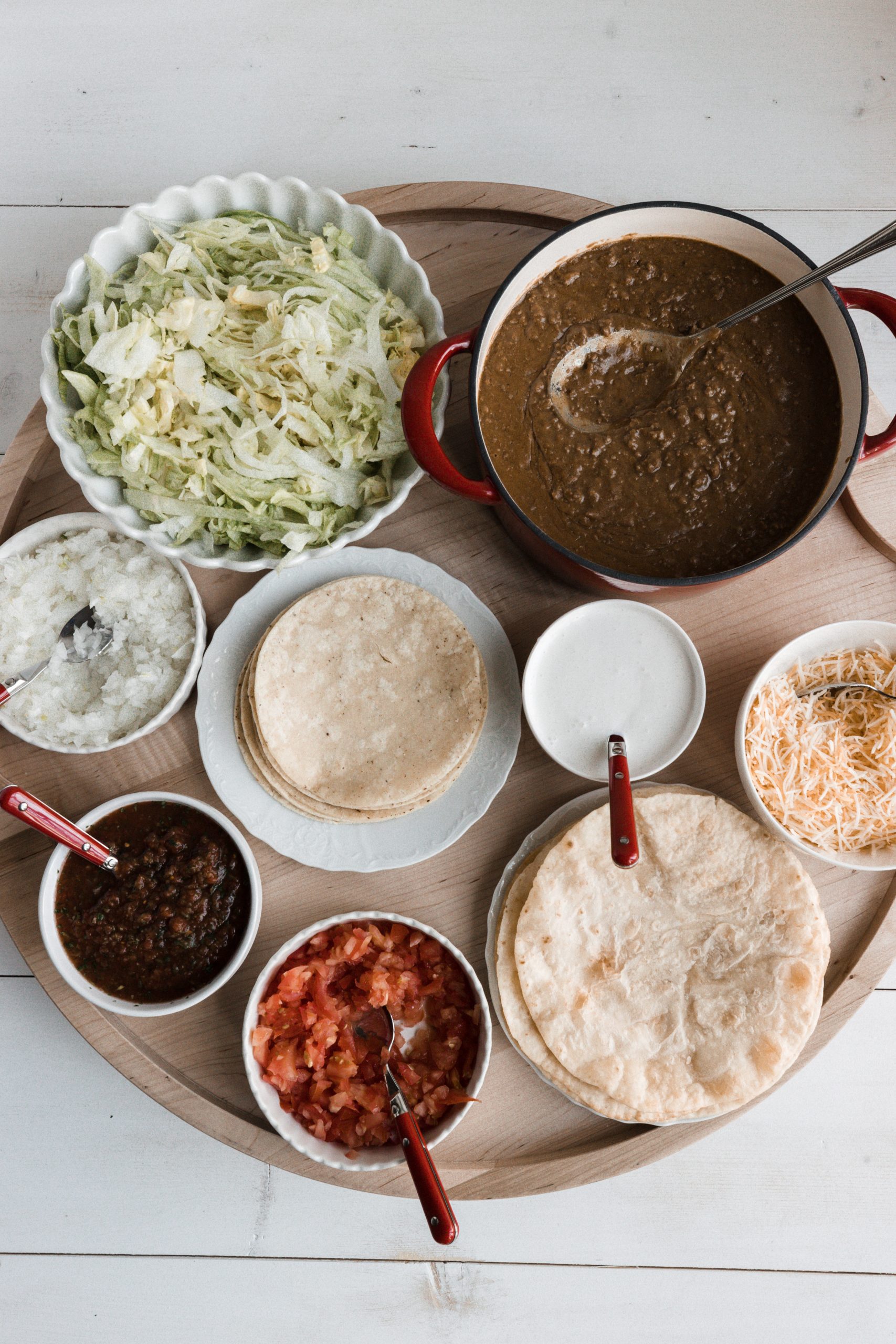 I like to set all the toppings on a serving board so everyone can make their own! Make sure to try both flour and corn tortillas to see what you like best! When I make this recipe, I ask everyone flour or corn and soft or crispy! Every way is so good so try them all!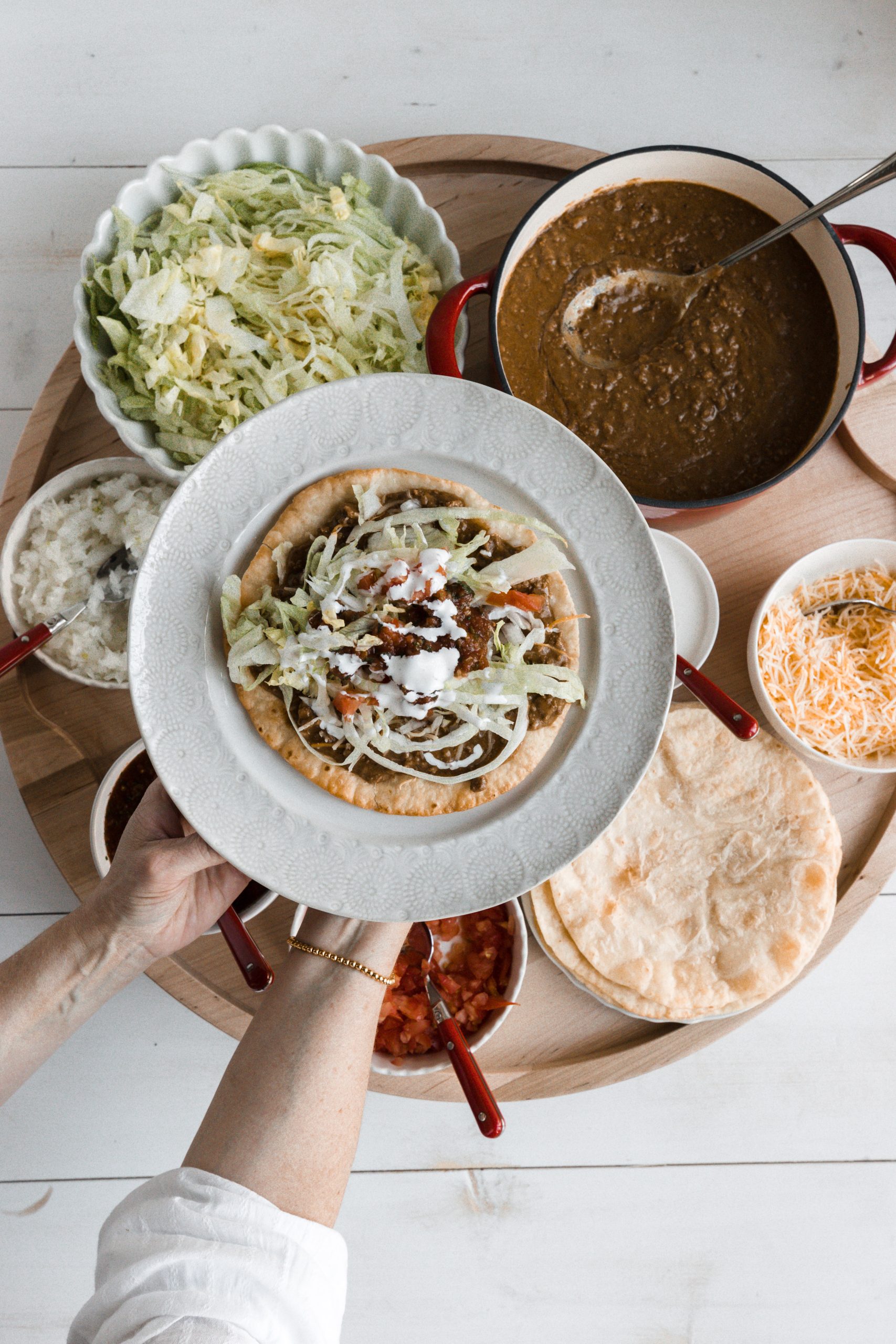 There you have it! Old Fashioned Enchiladas! I hope you give this family favorite recipe from my husbands Grandma Jolley a try! It's so easy to make and so yummy! It also feeds a large crowd so it's perfect for a family dinner or gathering! I hope you love it as much as we do! Enjoy!
xoxo,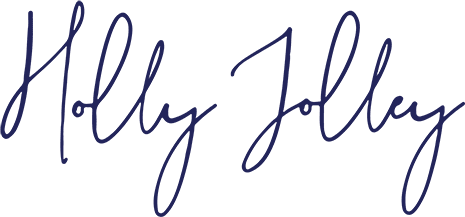 Pin This Post For Later