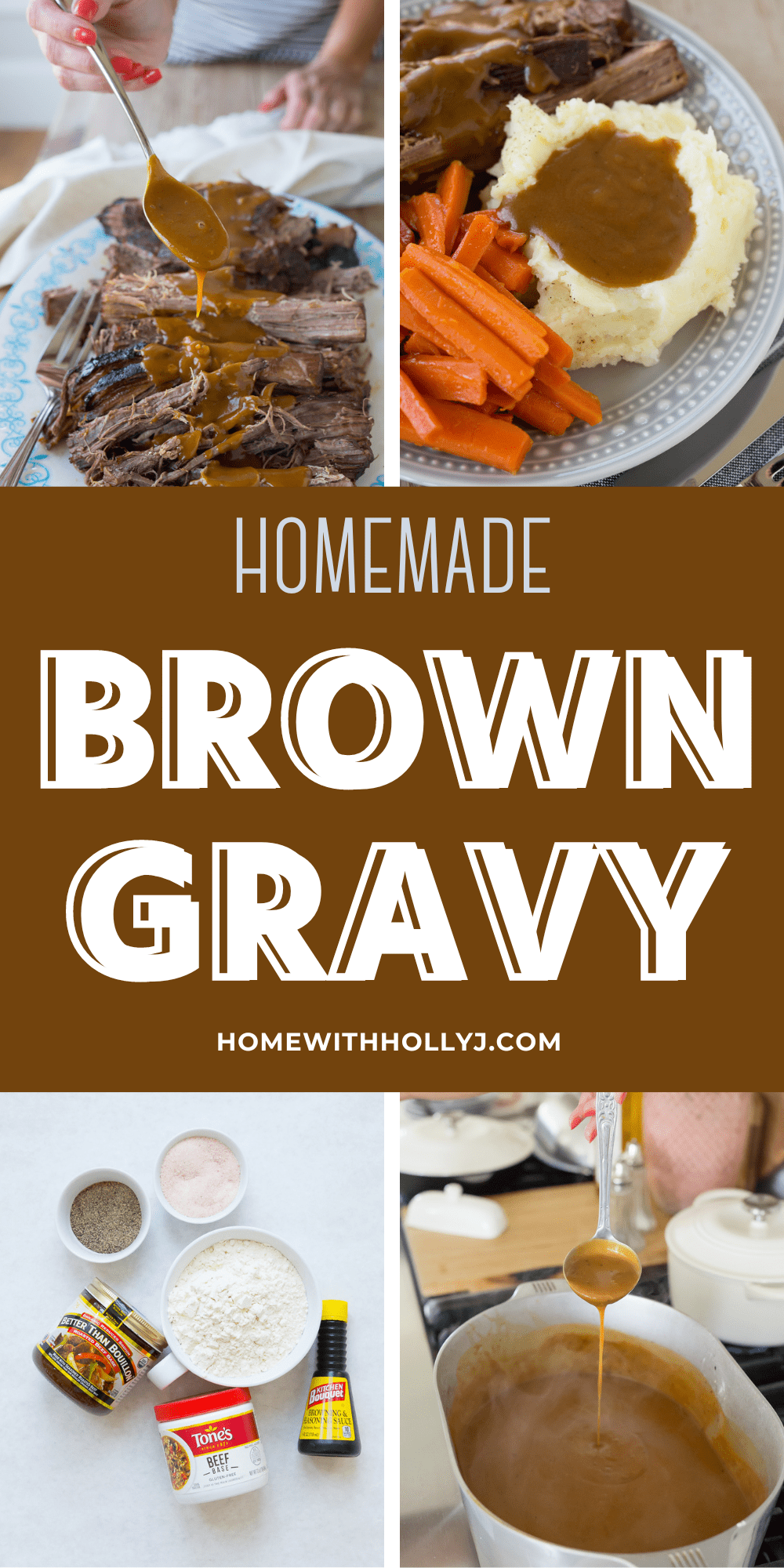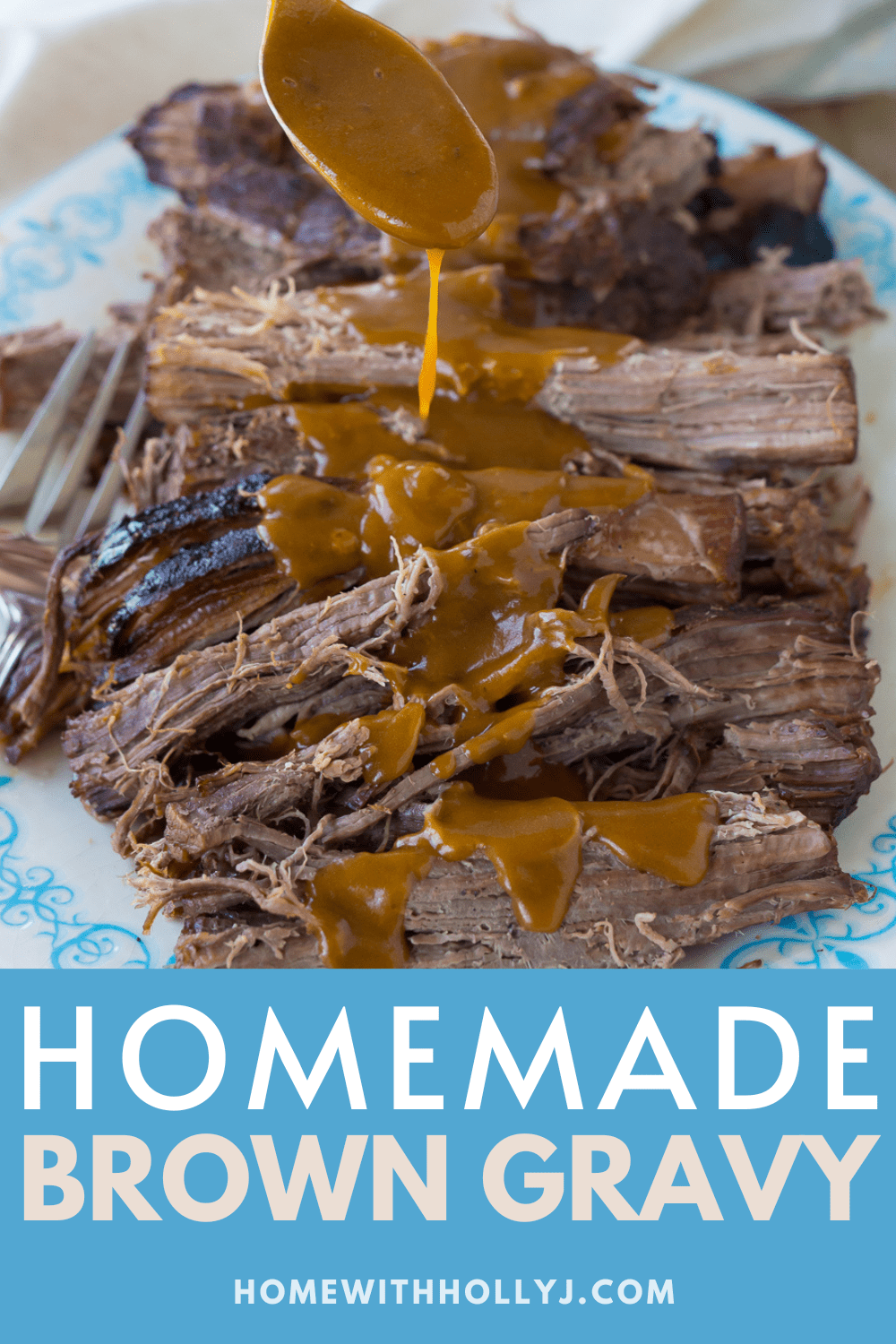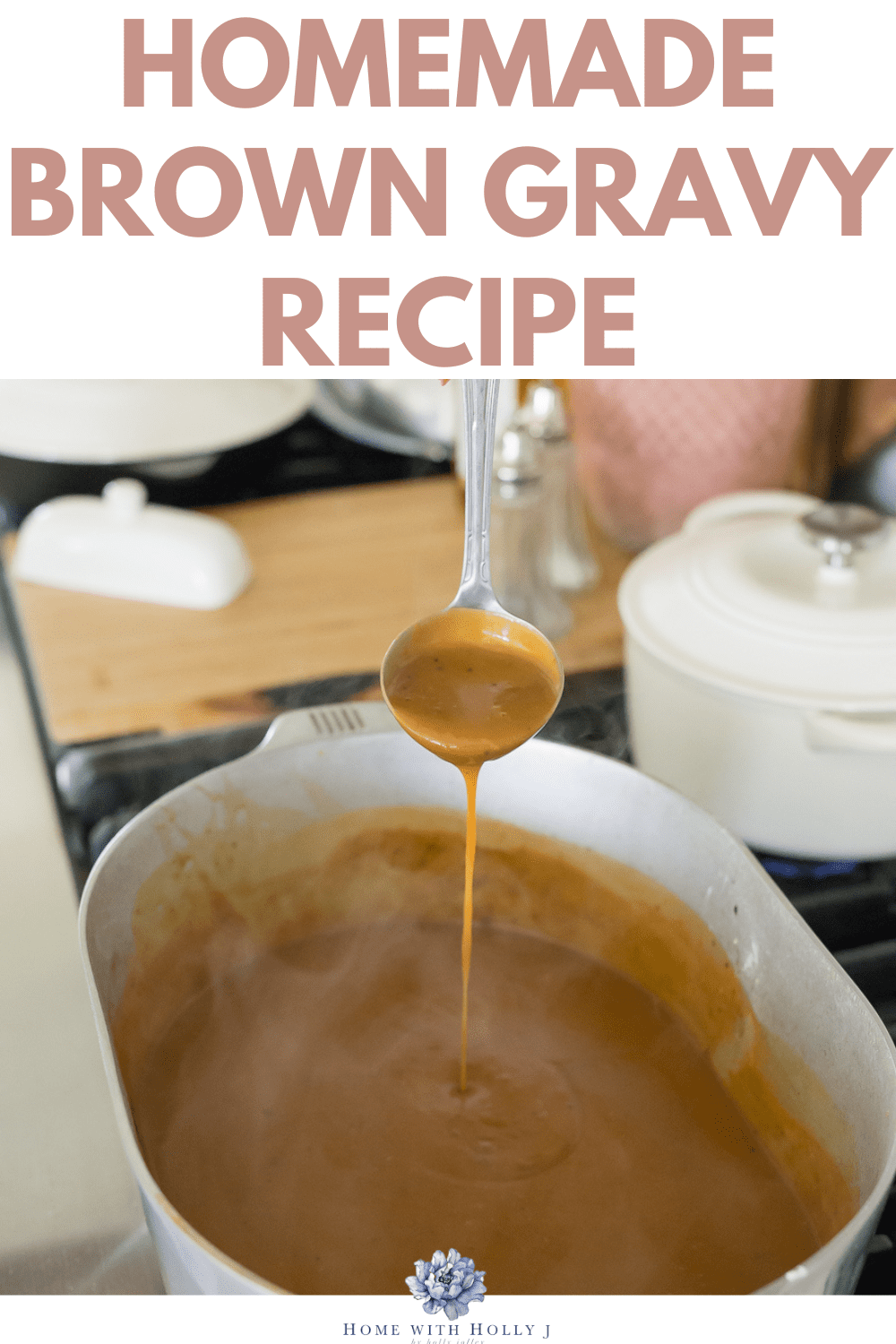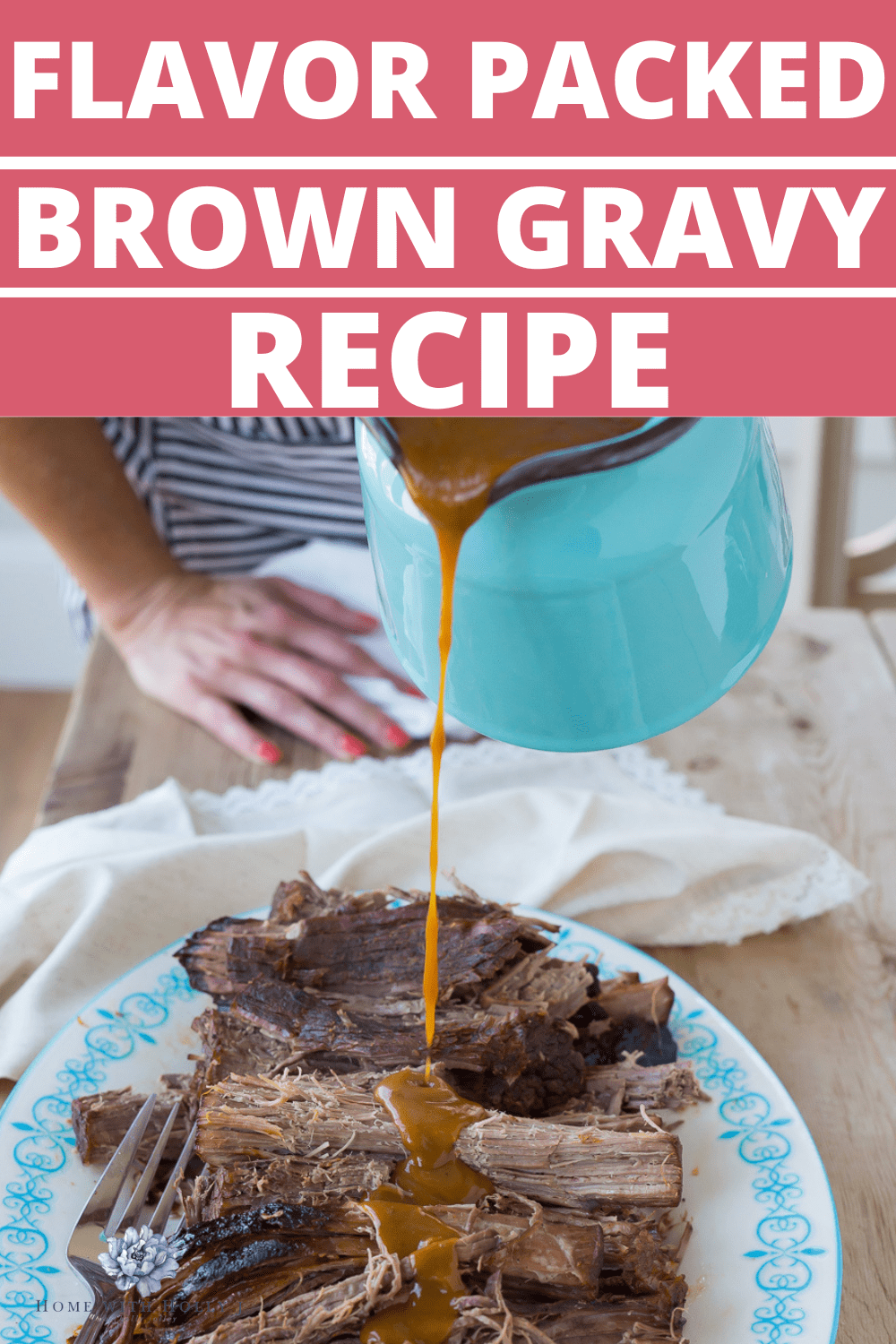 Looking for an easy homemade brown gravy recipe that's packed with flavor? Look no further! Follow these step-by-step instructions.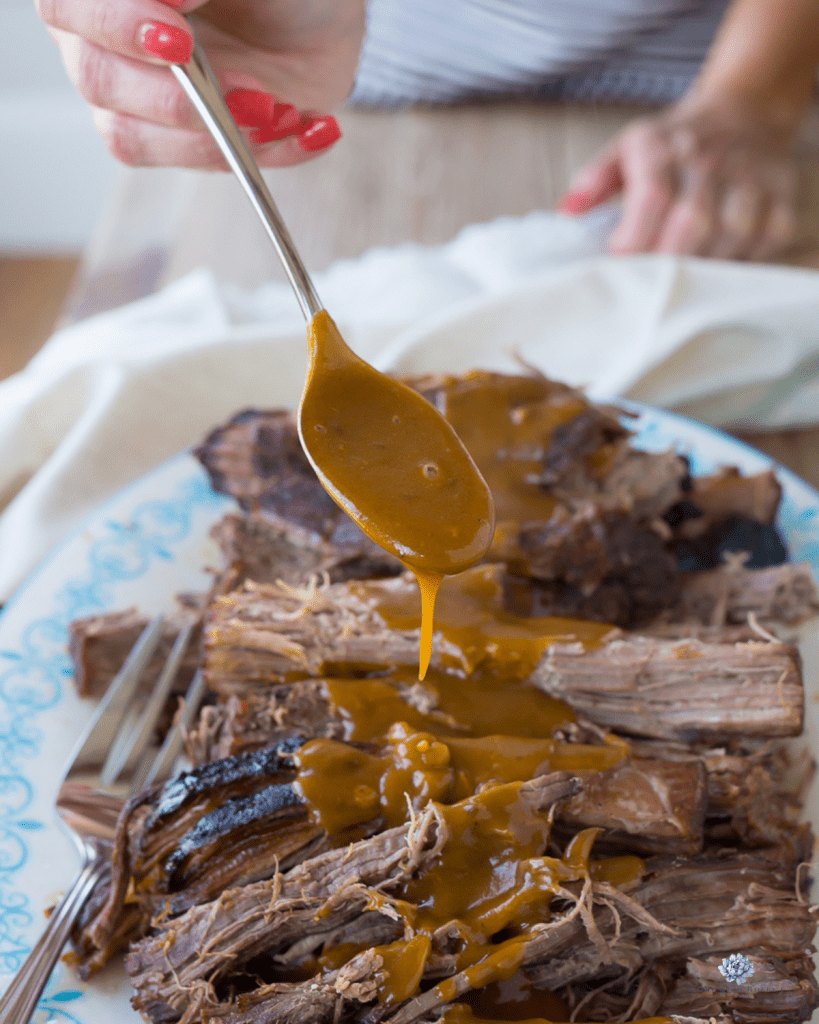 Disclaimer: This post does include affiliate links for your convenience. This is at NO additional cost to you but earns me a small commission. To read more, check out our disclosure policy.
Homemade Brown Gravy Recipe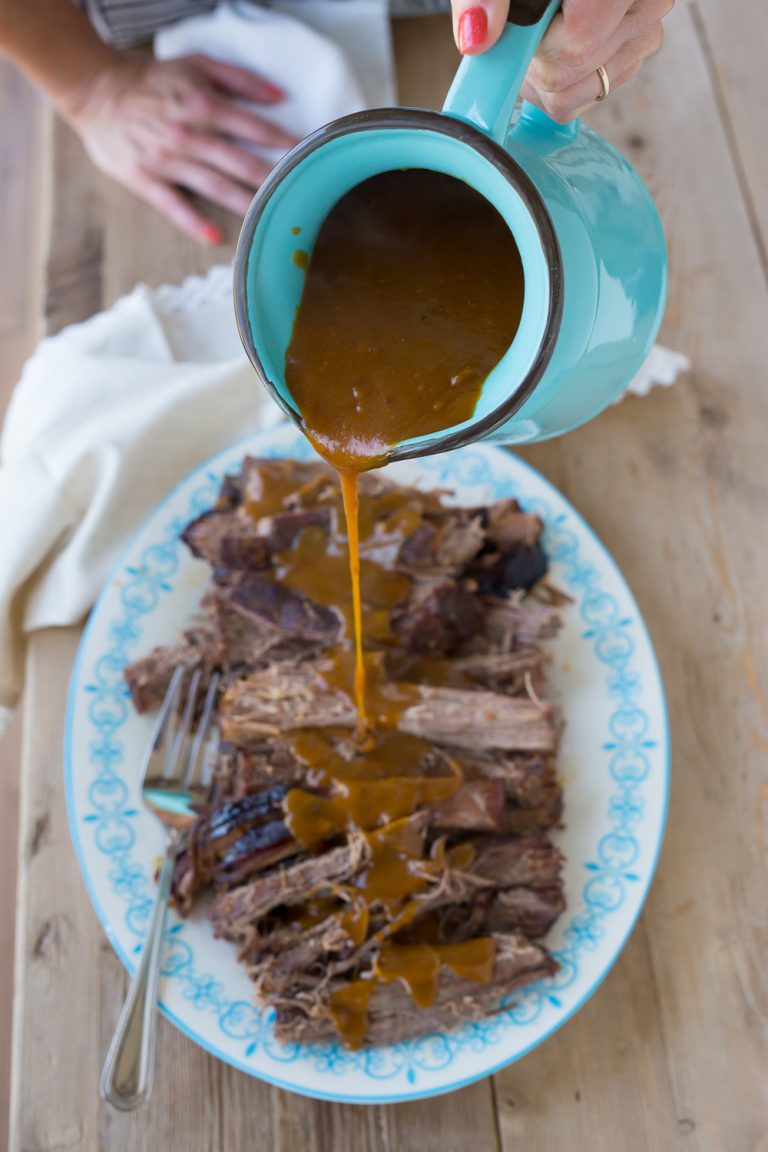 Sunday dinners are special occasions where families and friends gather around the table to enjoy a delicious meal. Roast Beef is a classic dish for our Sunday dinner, but it's not complete without a rich, flavorful brown gravy and homemade mashed potatoes. You're going to love my roast beef and homemade brown gravy recipe!
Making homemade brown gravy from a roast beef may seem intimidating, but it's actually quite simple. In this blog post I"ll show you how to make this delicious brown gravy. This recipe will elevate your Sunday dinner to the next level!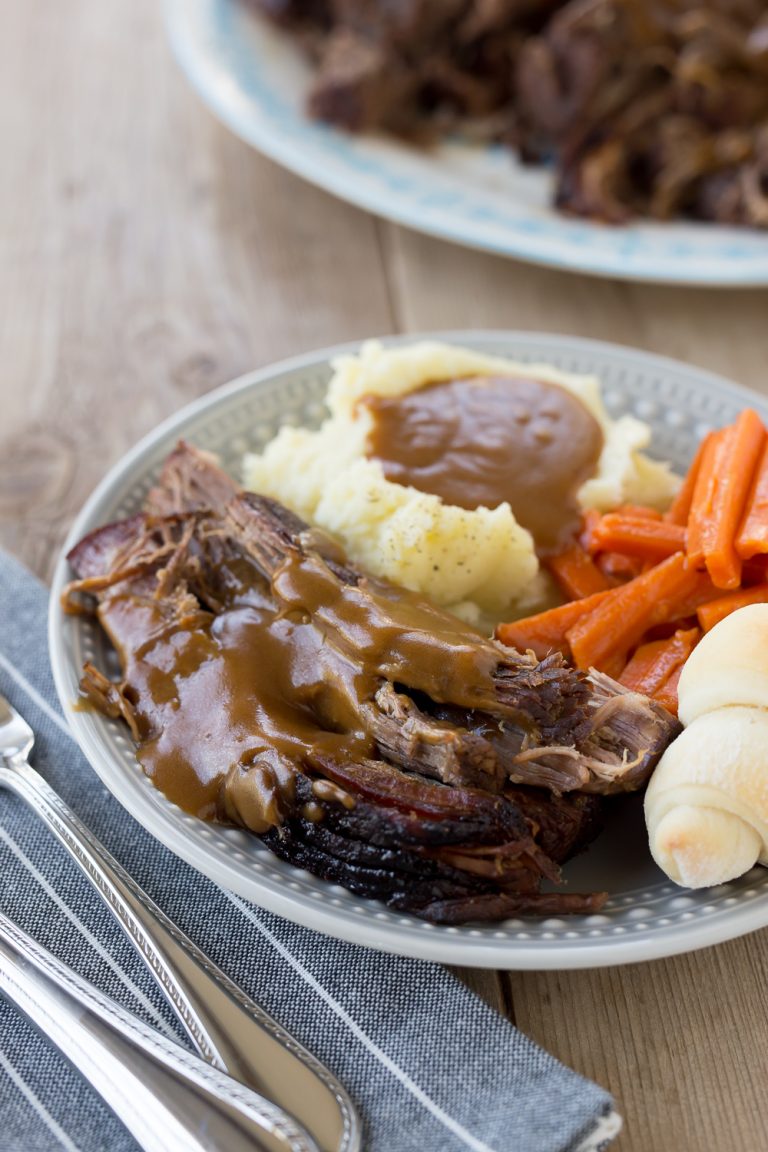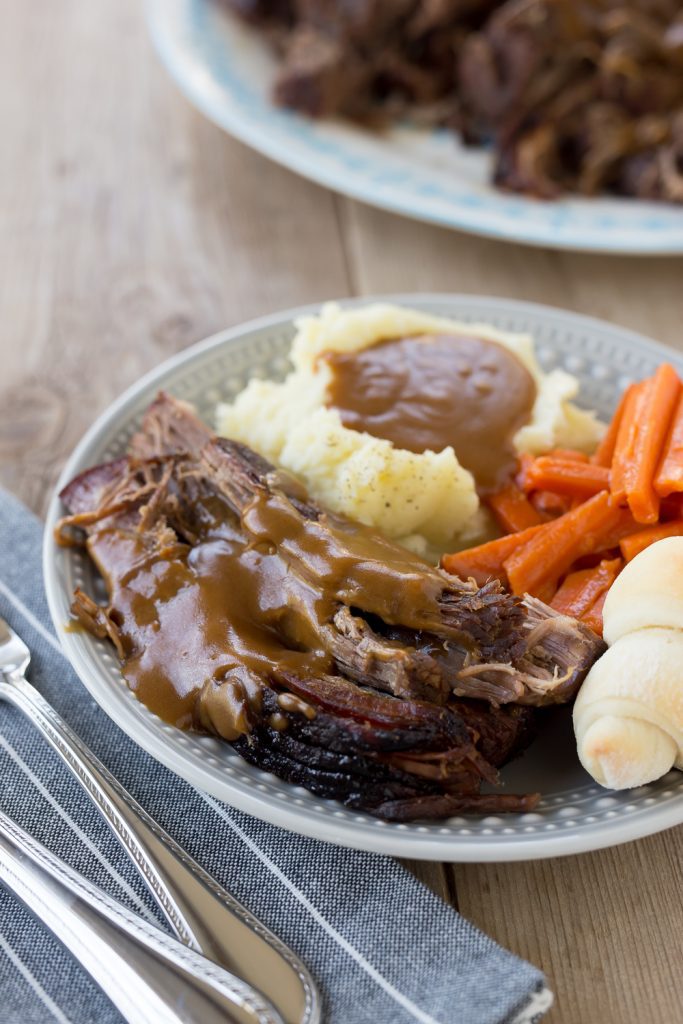 As I said above, gravy can be intimidating to make but don't be nervous if you're one of those people. It's actually very simple. To make good beef gravy to go with your roast beef, you'll need to have drippings from the meat you've roasted and then you make a roux.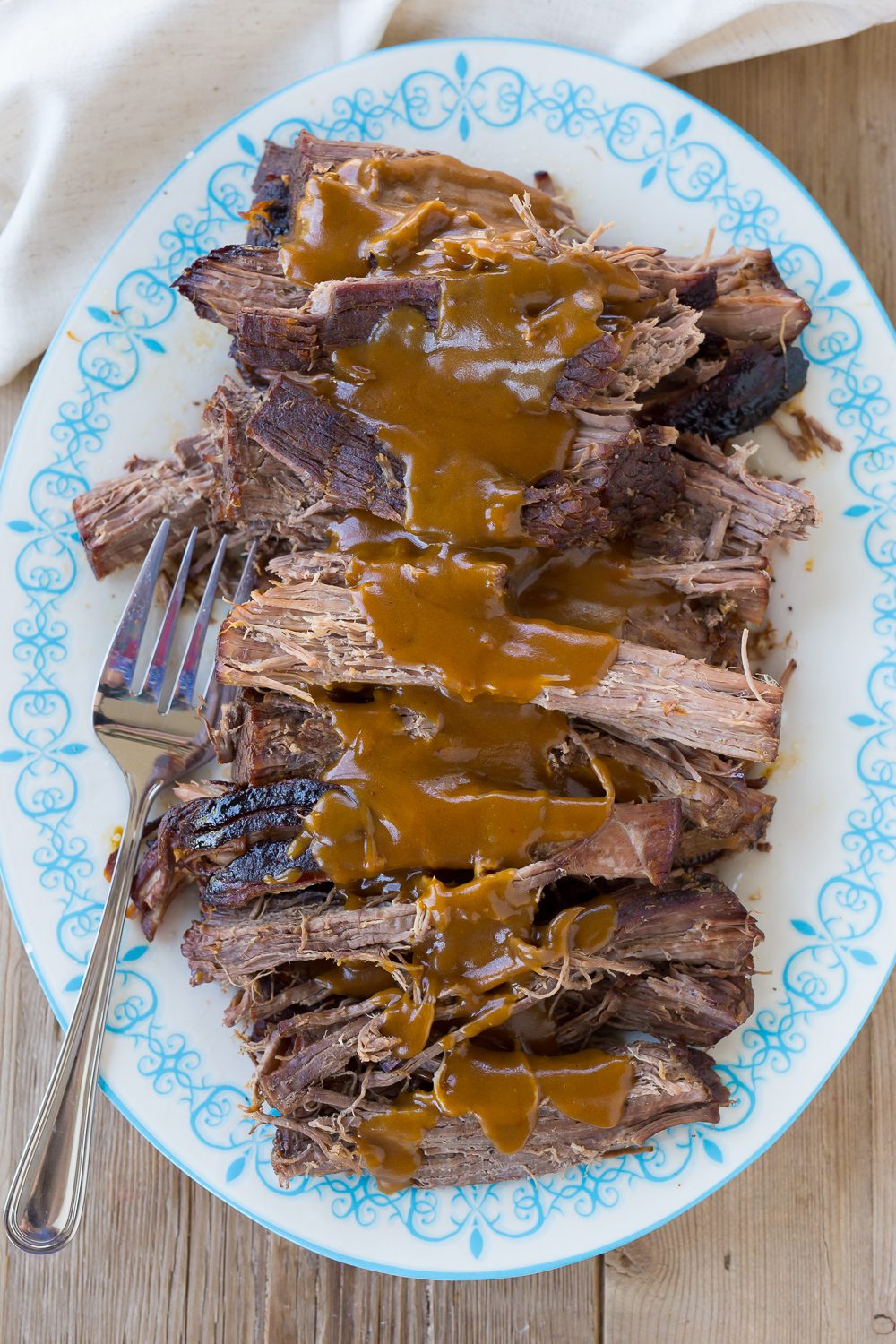 Making the Roast Beef
This brown gravy recipe is made from the drippings of roast beef so you'll need to make this Roast Beef recipe to make this gravy. You have to sear and brown all sides of the roast beef. When the beef is roasting in the oven, it creates these caramelized drippings that gives your gravy the richest flavor. Here is the Classic Roast Beef Recipe that goes with this gravy.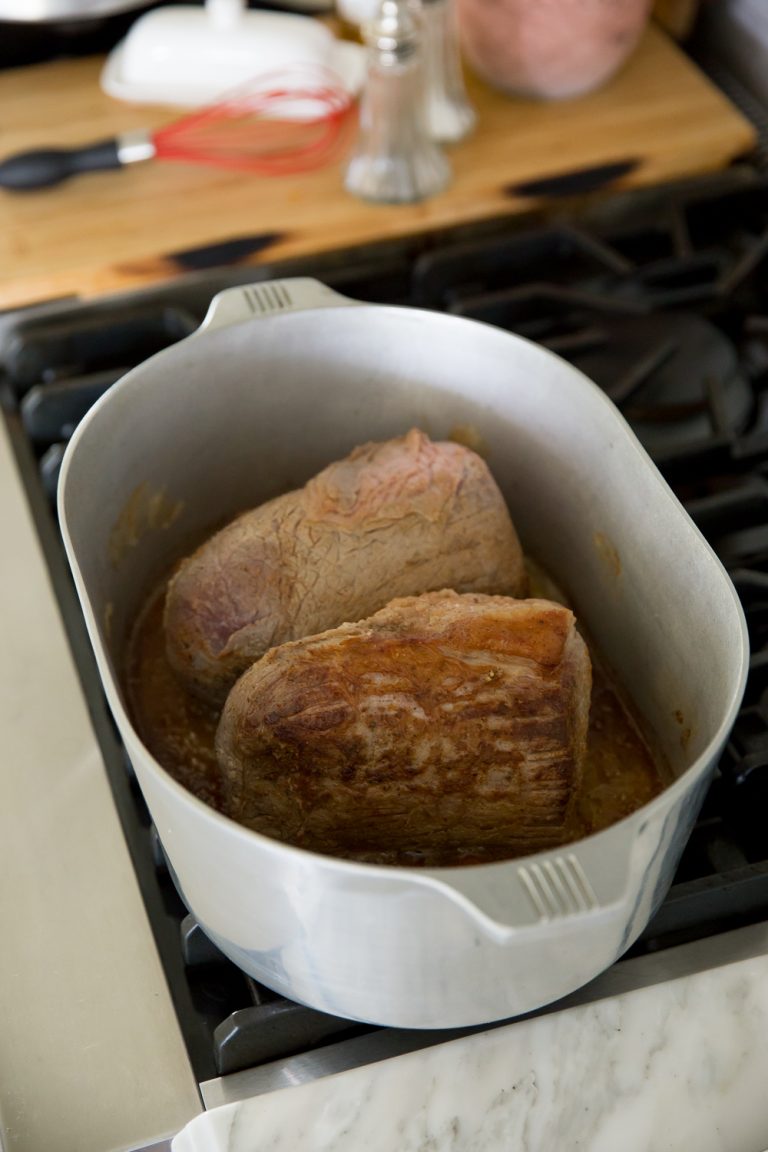 Making a Roux
When your roast beef is done you will take the meat out of the pan and make a roux. What is a roux? It's equal parts fat (meat drippings, butter, or oil) to equal parts flour. You cook it over medium heat and whisk it together until it starts to bubble. This is your thickening base for the gravy. Once you add the water and bring to a low simmer, the mixture will start to thicken up and that's your gravy. You'll then add in your seasonings.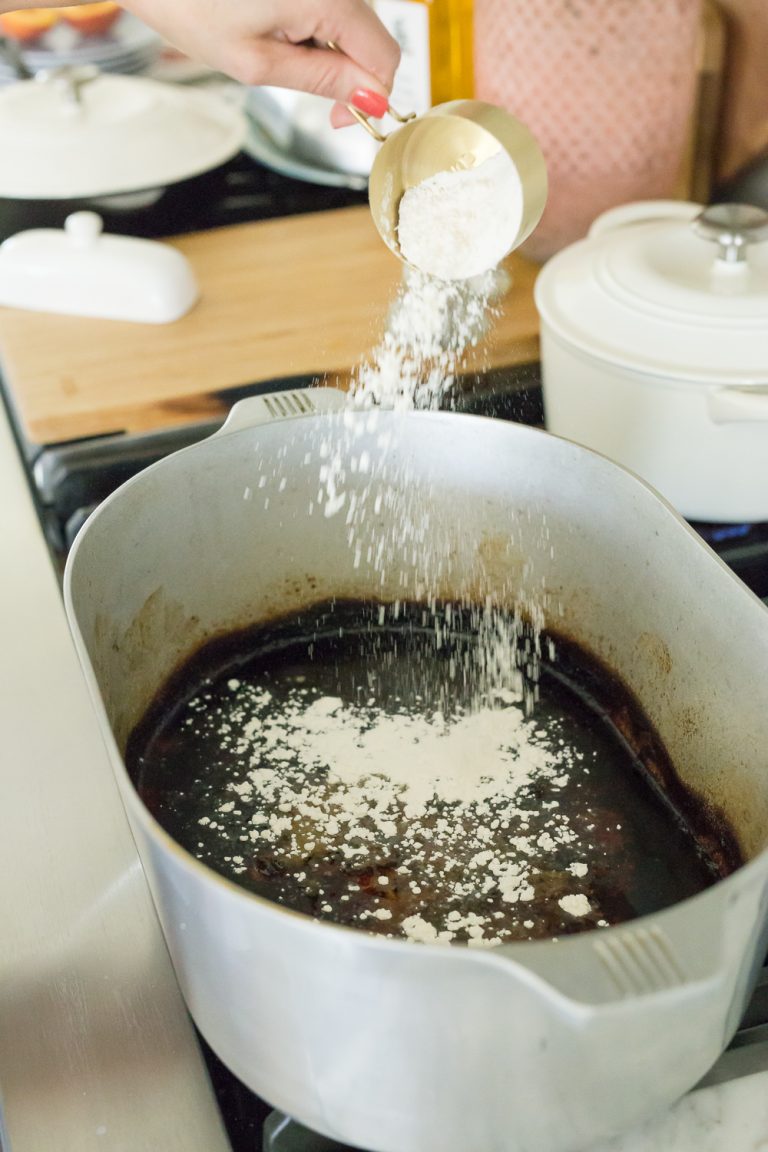 These dark drippings in the bottom of the pan are what give the gravy it's amazing flavor!
Whisk the roast beef drippings and flour over medium heat. Keep whisking the drippings and flour until it starts to bubble. The next step is to add water to the roux. Doing it this way also prevents lumps from happening to your gravy. No one wants lumpy gravy! Add your water and continue to whisk it until it comes to a low simmer.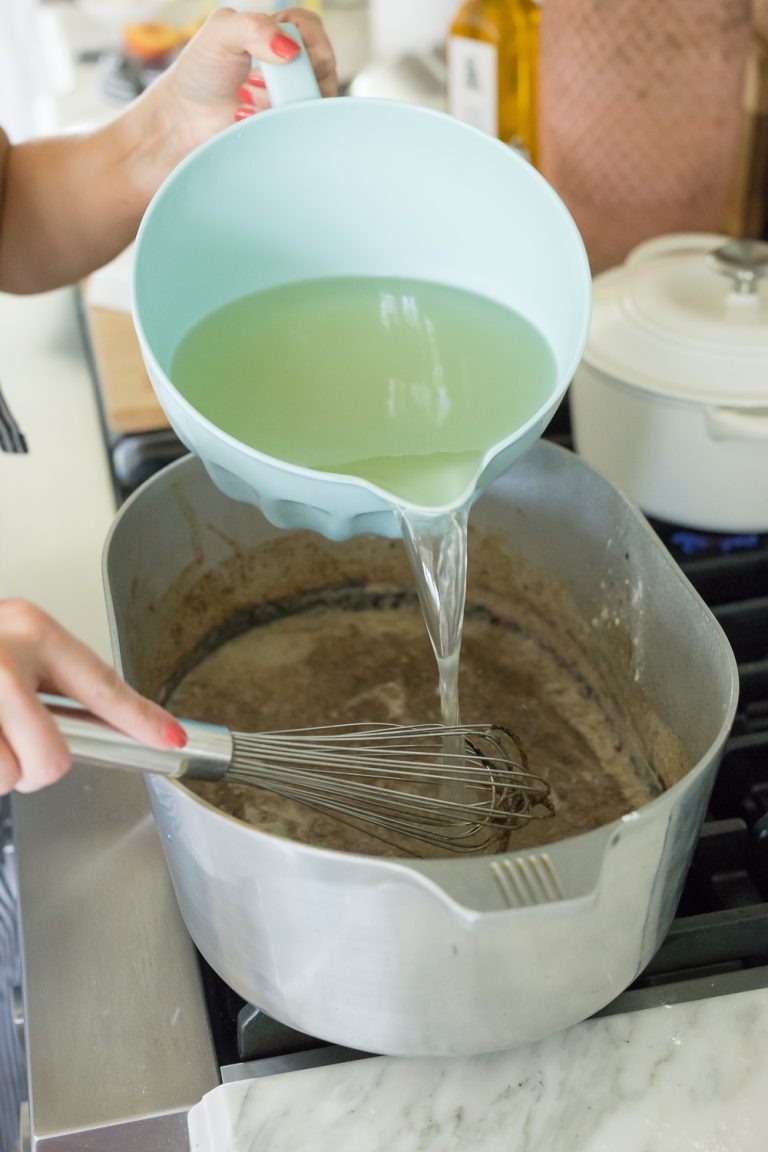 One trick my mom taught me was to save the potato water from the mashed potatoes. It's already super hot and has some of the starch from the potatoes (and salt from salting the potato water) and this helps the gravy to simmer faster so it can thicken up and adds a little more flavor to it.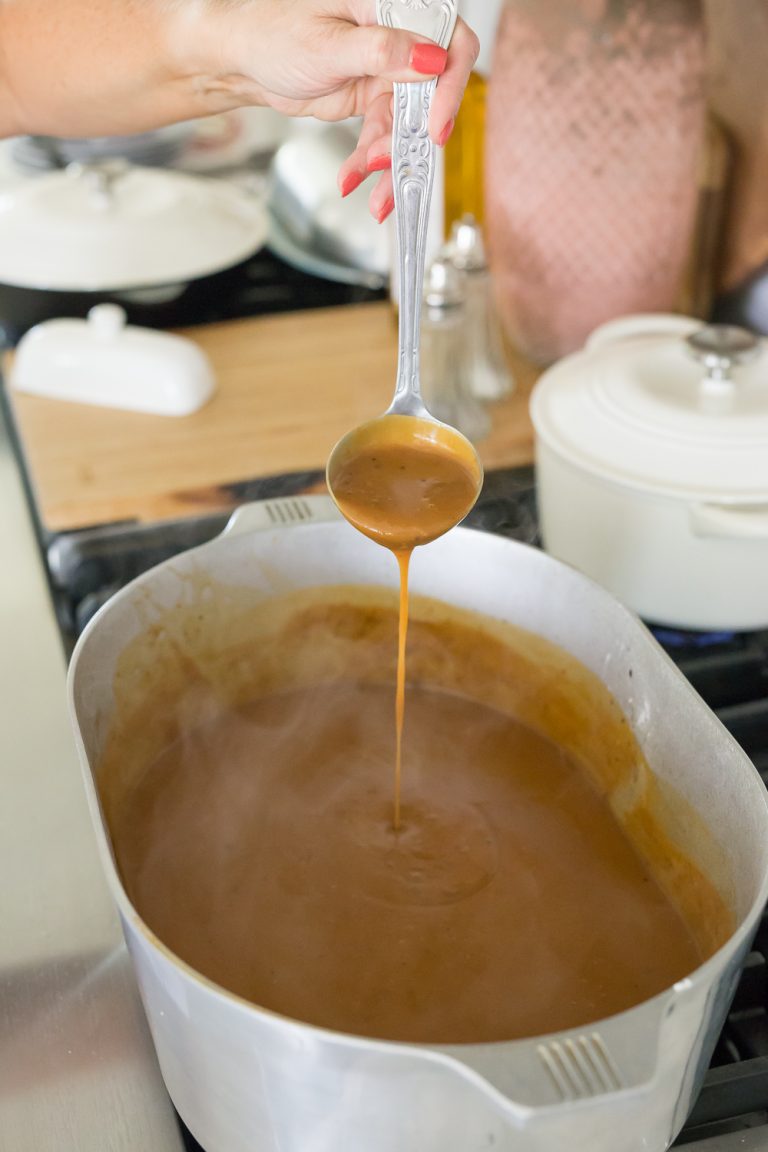 Cook on medium heat until it starts to thicken up. If the gravy is too thick, add a little more water too thin it out a bit. Gravy shouldn't be too thick or too thin. You have to hit that middle ground for it to be good! Add in some salt and pepper to taste, beef bouillon or beef base, and kitchen bouquet browning sauce to season the gravy and stir. Let it simmer a bit while stirring and let the flavors meld. Add in more salt and pepper if needed or beef base or bouillon if needed.
What is Kitchen Bouquet?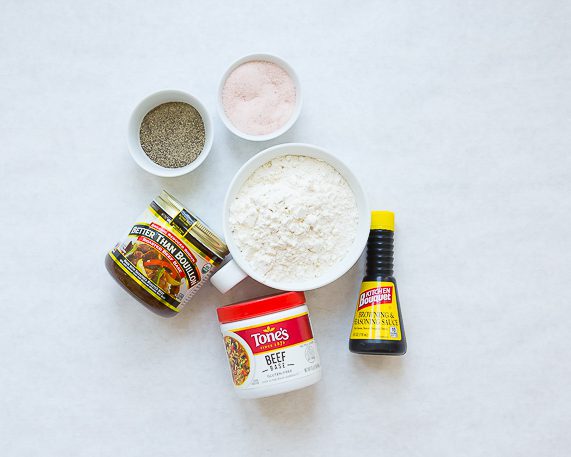 This is a beef browning sauce that my mom and grandma always used. It adds a lot of rich, beef flavoring to the gravy. It doesn't take much but it adds and extra rich flavor to the gravy.
If you don't have enough drippings, add in some oil or butter so you have enough to make a roux. This can be a bit of a guessing game but as long as your roux has equal parts fat and flour, you'll be okay! This will help you have enough gravy for the roast beef and mashed potatoes.
NOTES
When I make gravy from a roast, the drippings from the fat on the meat can vary. We love gravy in our family so if I Cana get at least a 1/2 cup of drippings or more, I am happy! (Some of the drippings come from the leftover oil in the pan from browning the roast.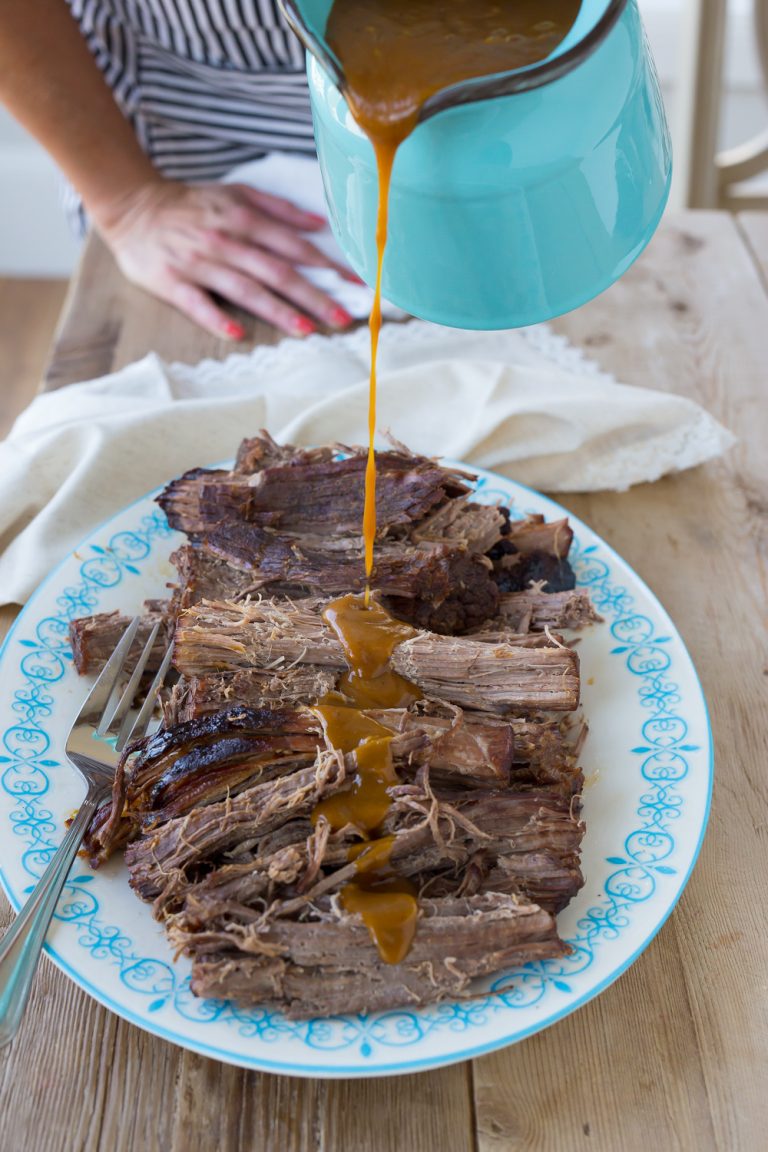 What do you do if you get lumps in your gravy?
Use a hand immersion blender to get there lumps out. Here is the one I have. This comes in handy!
Now for the Recipe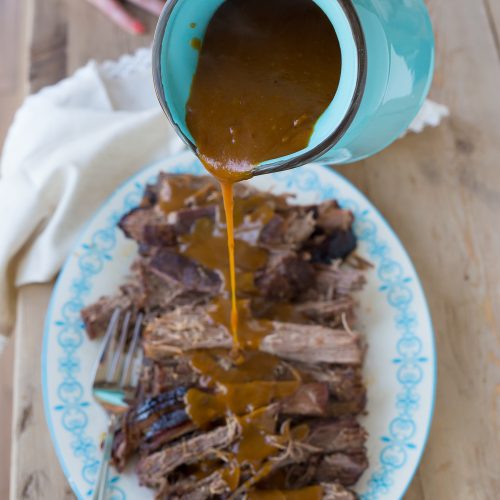 Homemade Brown Gravy Recipe
Sunday dinners are special occasions where families and friends gather around the table to enjoy a delicious meal. Roast beef is a classic dish for our Sunday dinner, but it's not complete without a rich, flavorful brown gravy and homemade mashed potatoes.
Ingredients
Drippings from a roasted beef + 3 tablespoons of oil (vegetable, avocado, or canola)

½

cup

flour

6-8

cups

water

(add in 6, if too thick, thin out with more water)

salt and pepper to taste

1

tbsp

Kitchen Bouquet Beef Seasoning

1

tbsp

beef base or beef bouillon.
Instructions
After removing the roasted beef from the oven, remove the roast from the pan and let rest while you make the gravy.

Place the roast pan back on the stove and turn the heat to medium high and add in the flour.

Stir the flour into the oil and drippings with a whisk and keep stirring until the flour mixture starts to bubble up. Let cook for a minute or so until everything is smooth and there are no lumps of flour.

Slowly pour in the water while stirring constantly to prevent lumps from forming. If I'm making mashed potatoes, I drain the potatoes after boiling them and save the potato water for the gravy. See my notes in the blog post for more about this little trick I use. You can use cold tap water or try my potato water trick.

Continue to stir the mixture until it thickens and comes to a simmer.

Reduce the heat to low and let the gravy simmer for a few minutes until it reaches the desired consistency.

Season the gravy with salt and pepper to taste and add in kitchen bouquet and the beef boullion and stir. I like mine salty so don't be afraid to add more salt and pepper to your liking. Be sure to taste it first!

Serve the gravy hot with the roasted beef and mashed potatoes.
Homemade brown gravy from a roast beef is the perfect accompaniment to your Sunday dinner.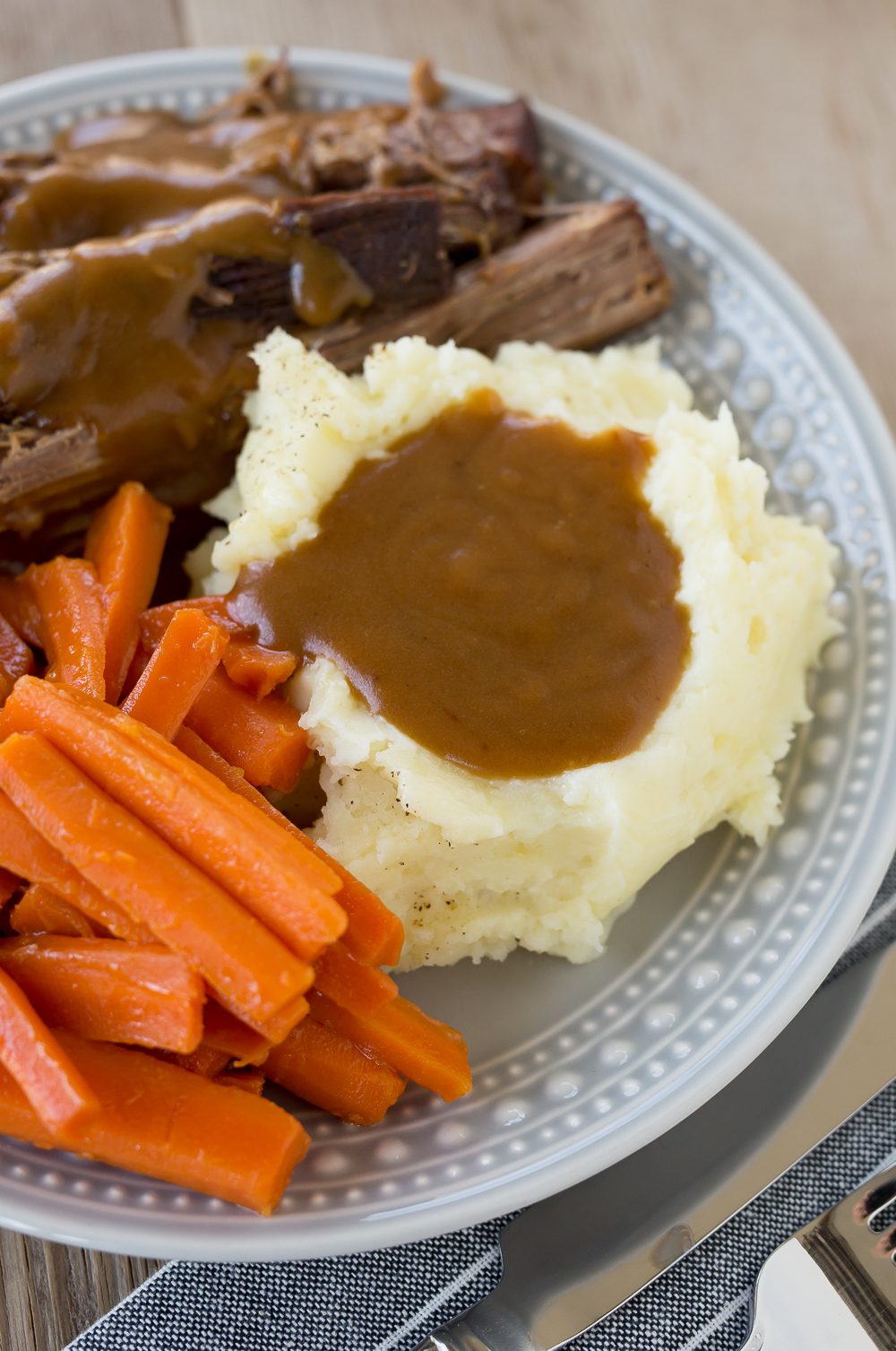 With just a few simple ingredients and easy steps, you can make a rich and flavorful gravy that will impress your family and friends.
So next time you make roast beef, be sure to save the drippings and try this recipe for homemade brown gravy. Your taste buds will thank you!
Enjoy!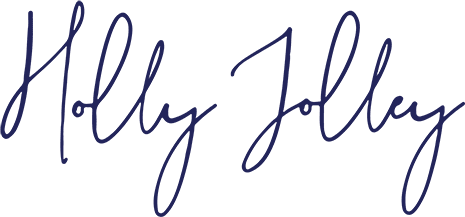 Shop Sources Here:

If you like this recipe, you'll want to check out these:
Pin this Post for Later