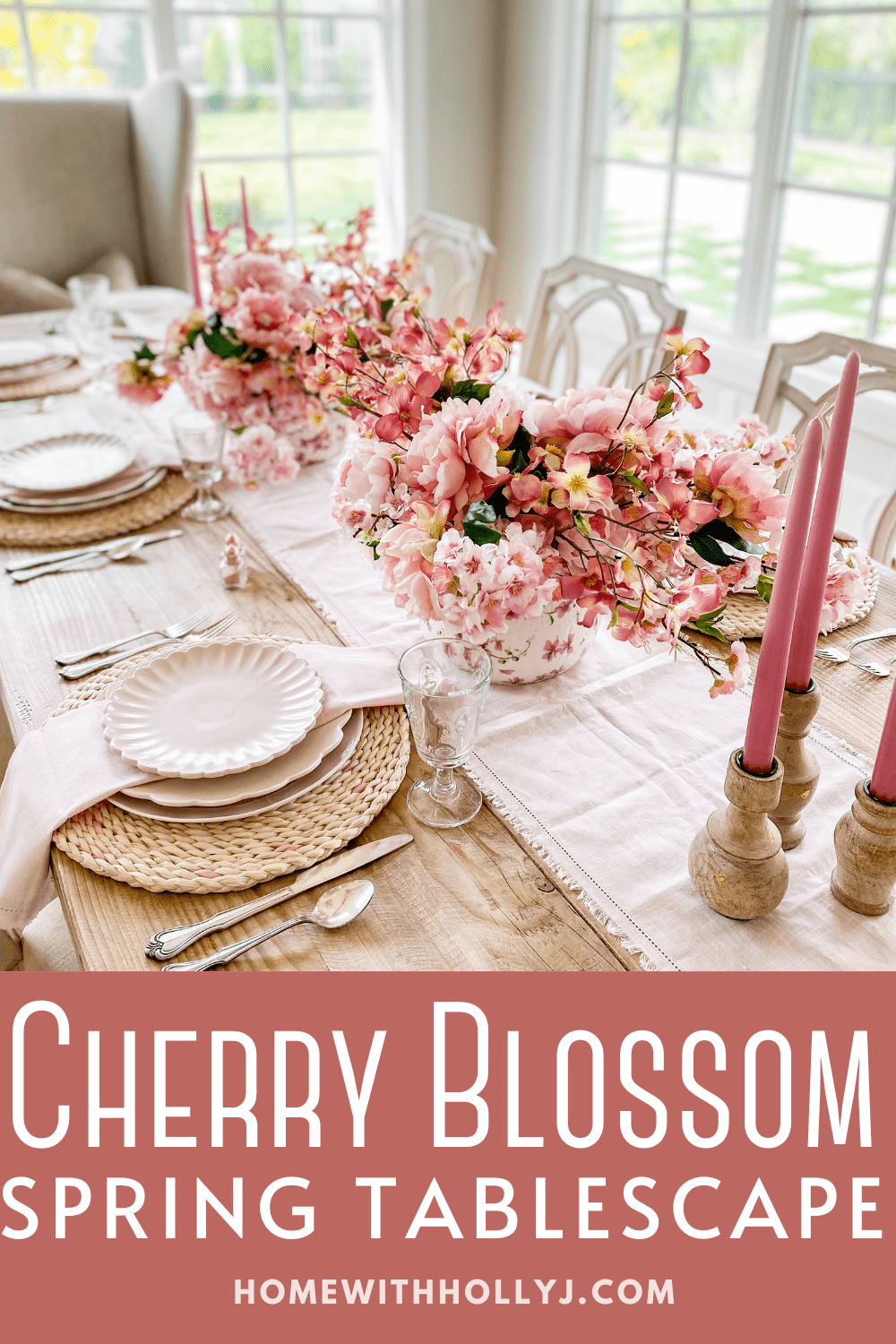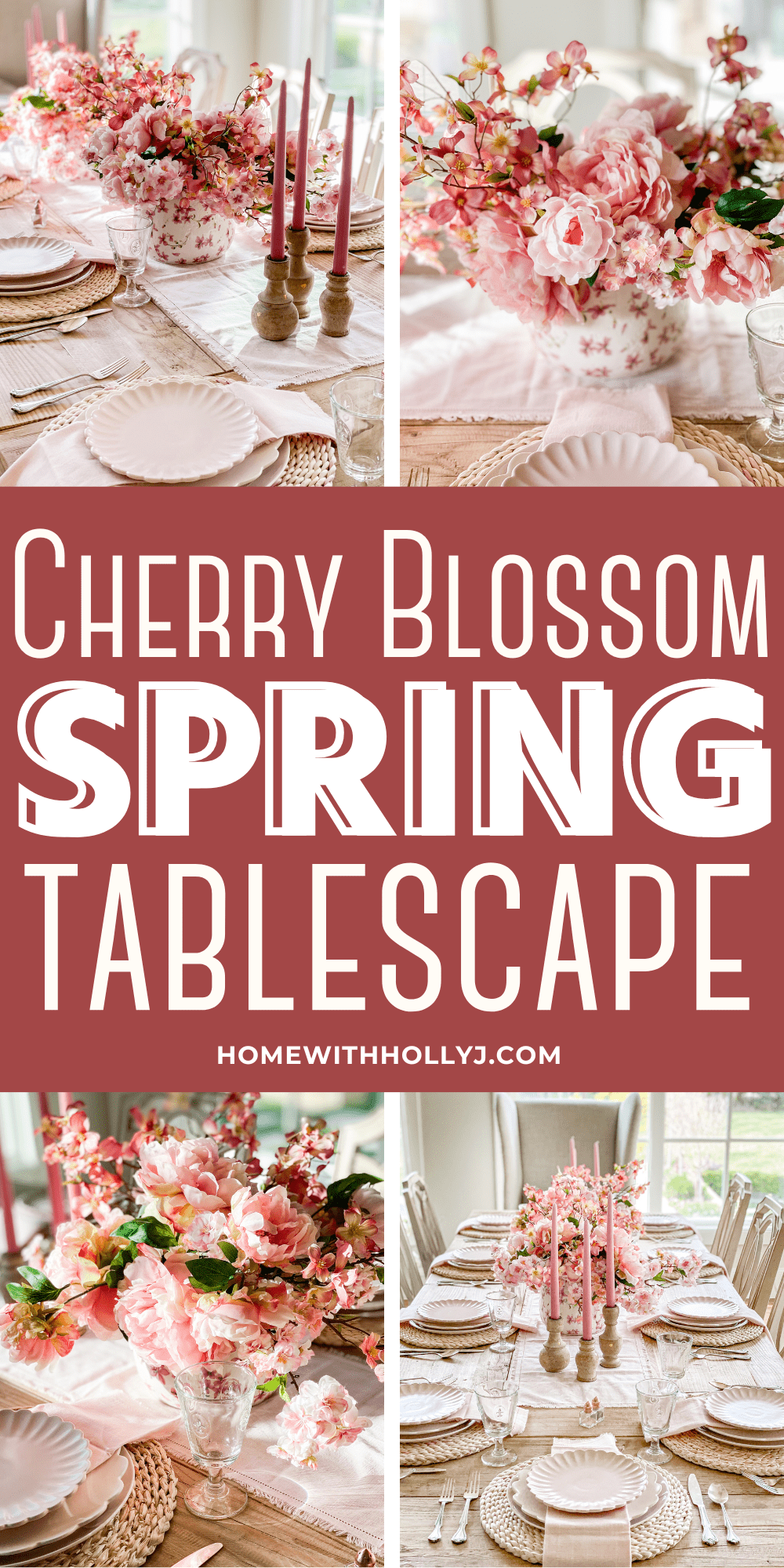 Celebrate the beauty of spring with a stunning cherry blossom themed pink tablescape! Incorporate faux or fresh cherry blossoms and create a memorable experience for your guests.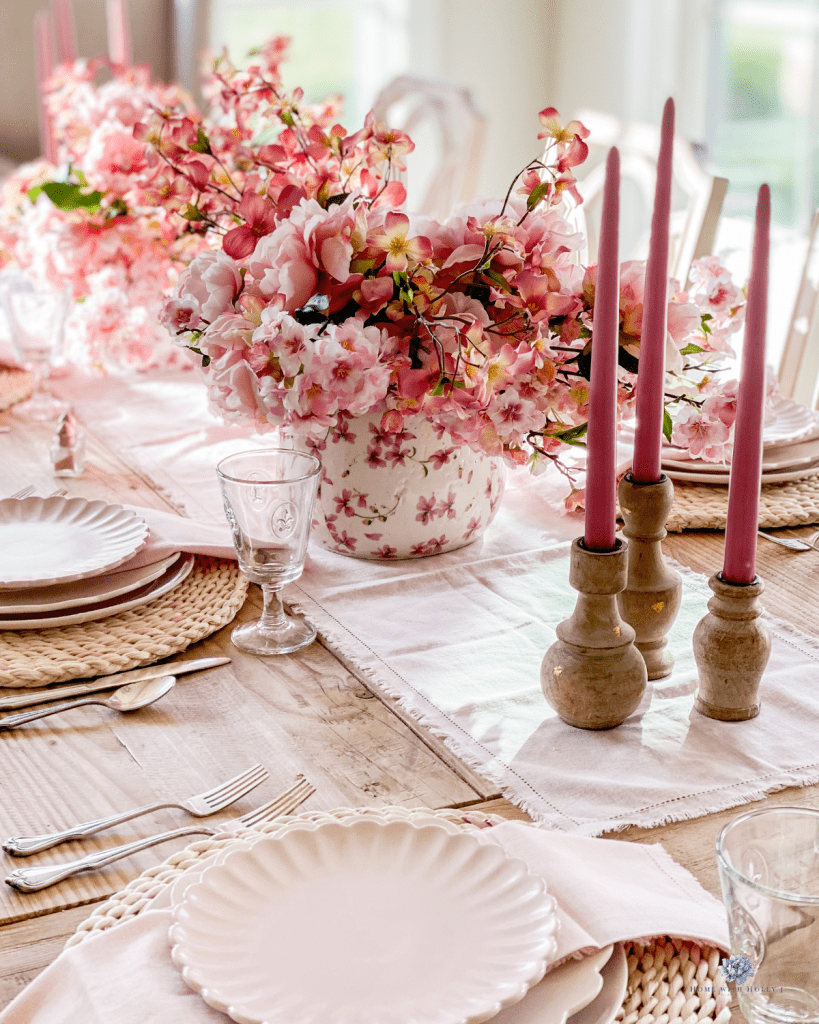 Cherry Blossom Themed Pink Tablescape
Cherry blossoms are one of the most beautiful and iconic symbols of spring. With their delicate pink petals, they are a favorite among flower lovers and designers alike. So why not bring this stunning floral display to your table with a cherry blossom themed pink tablescape? I'm sharing all the details of this cherry blossom themed pink tablescape in this post.
Here's a video reel of this tablescape that I shared on instagram:
Cherry Blossom Themed Pink Tablescape
Disclaimer: This post does include affiliate links for your convenience. This is at NO additional cost to you but earns me a small commission. To read more, check out our disclosure policy.
Choose a color scheme with shades of pink.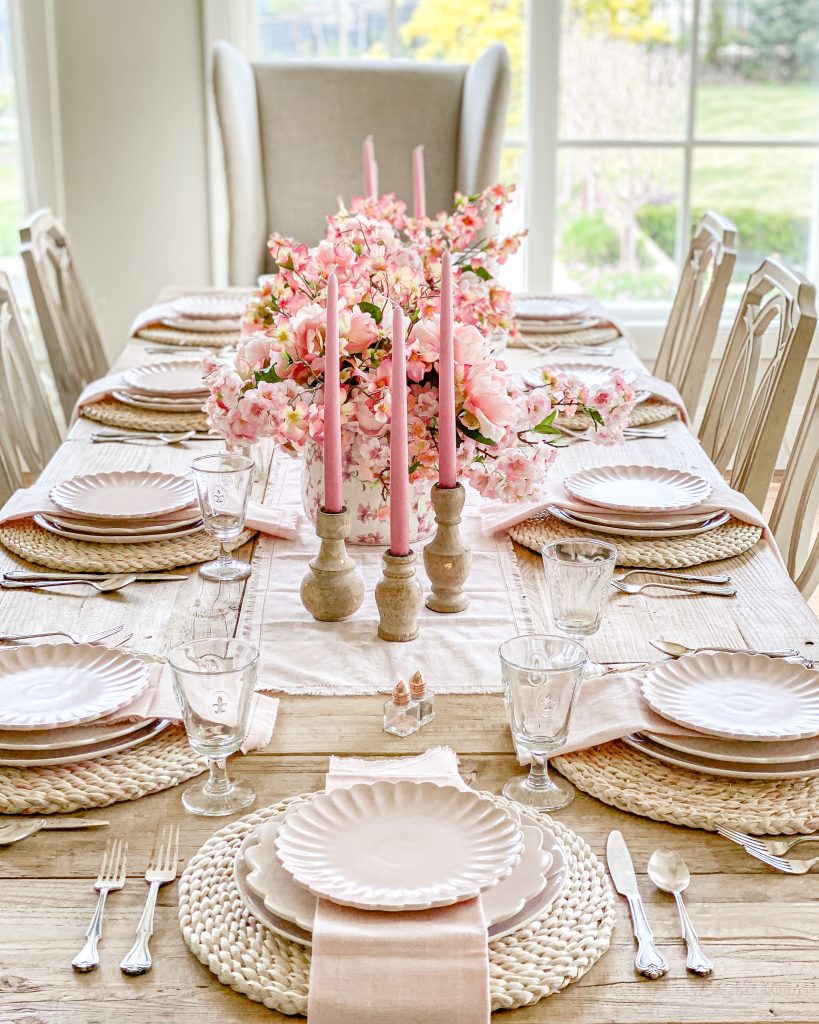 To start, choose a color scheme that incorporates shades of pink, white, and green to mimic the colors of cherry blossoms. Begin by covering your table with a light pink tablecloth or runner. This will serve as the foundation for your tablescape.
Add layers of texture and dimension.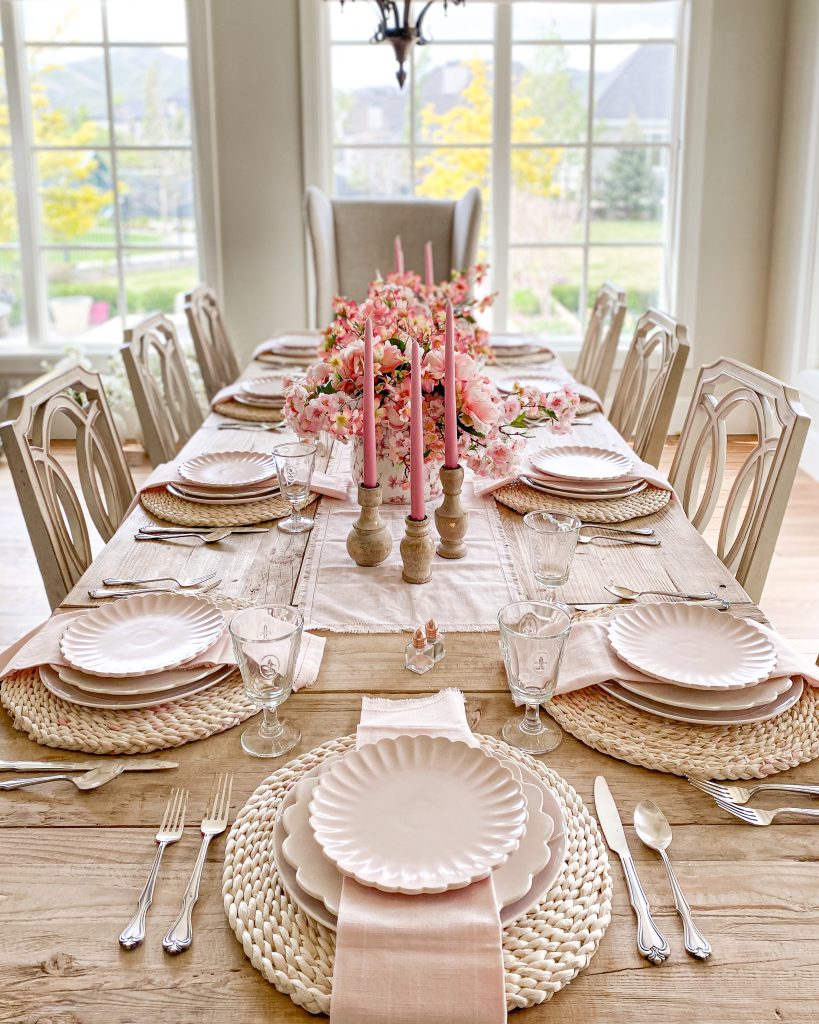 Next, add layers of texture and dimension to your table. Use neutral place mats and white or light pink dinner plates as your base, then layer on pink salad plates to add interest and variety. I love these scalloped plates that I paired with some a larger sized pink dinner plate. It's always fun to mix and match dinnerware.
I used rustic flatware and clear bee goblets for the water glasses. One of my favorite details to add to a table is adding mini salt and pepper shakers. I used my rose gold set and added pink himilayan sea salt to the salt shakers.
Add in cherry blossom accents.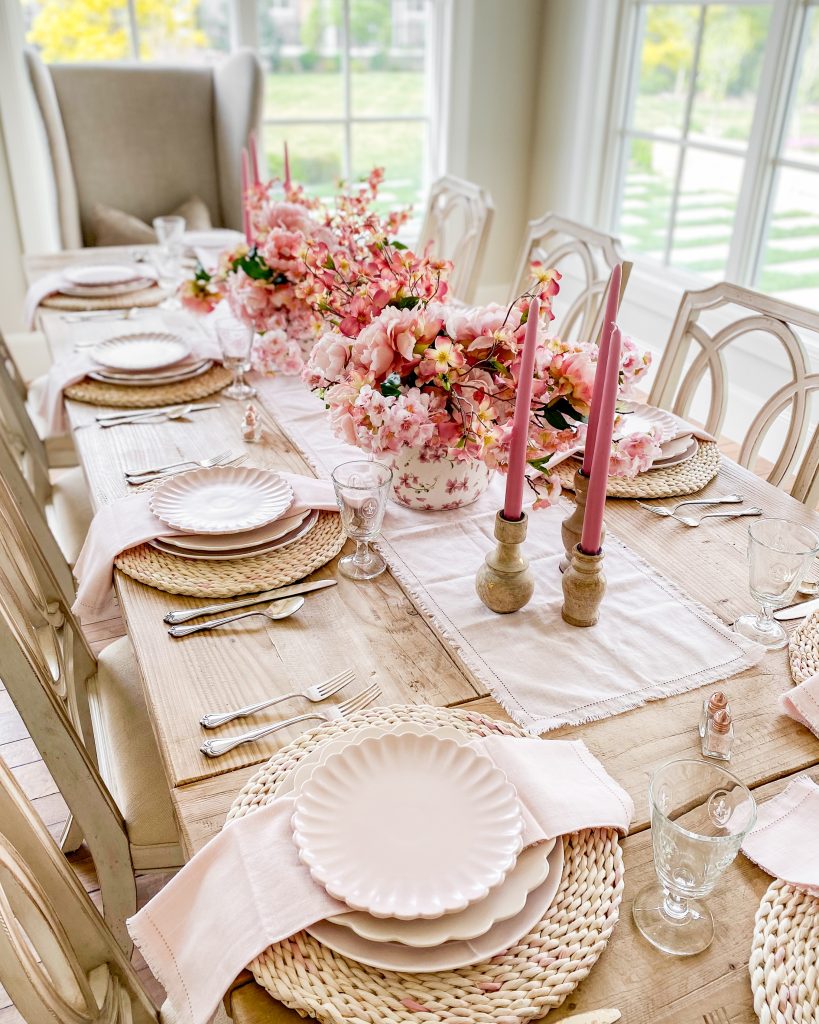 Now for the cherry blossom accents. Use faux cherry blossom branches as the main flower to create a dramatic centerpiece. Arrange them in a vase or planter and mix in other pink flowers for contrast. In these two centerpiece arrangements, I used faux cherry blossoms, pink dogwood, real-touch pink roses, and pink peonies.
Add in the little details to complete the theme.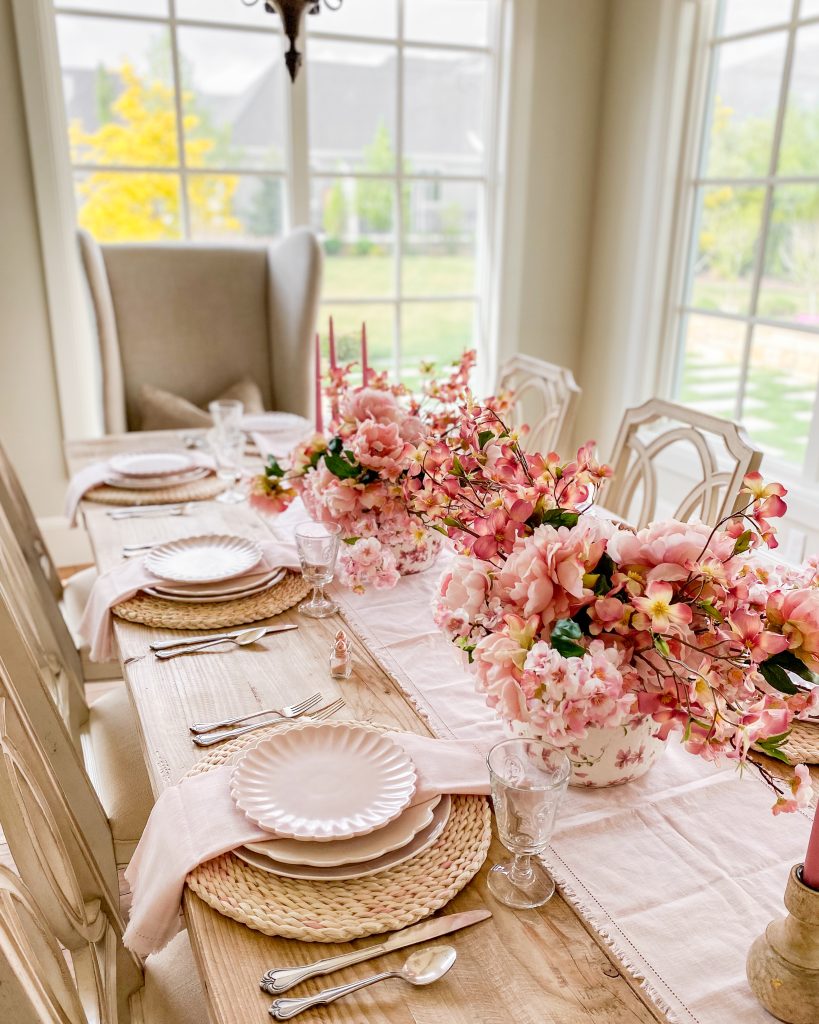 Finally, complete your tablescape with small details that tie the theme together. Use pink napkins, place cards, or menu cards to add a personalized touch to each setting if you have the time.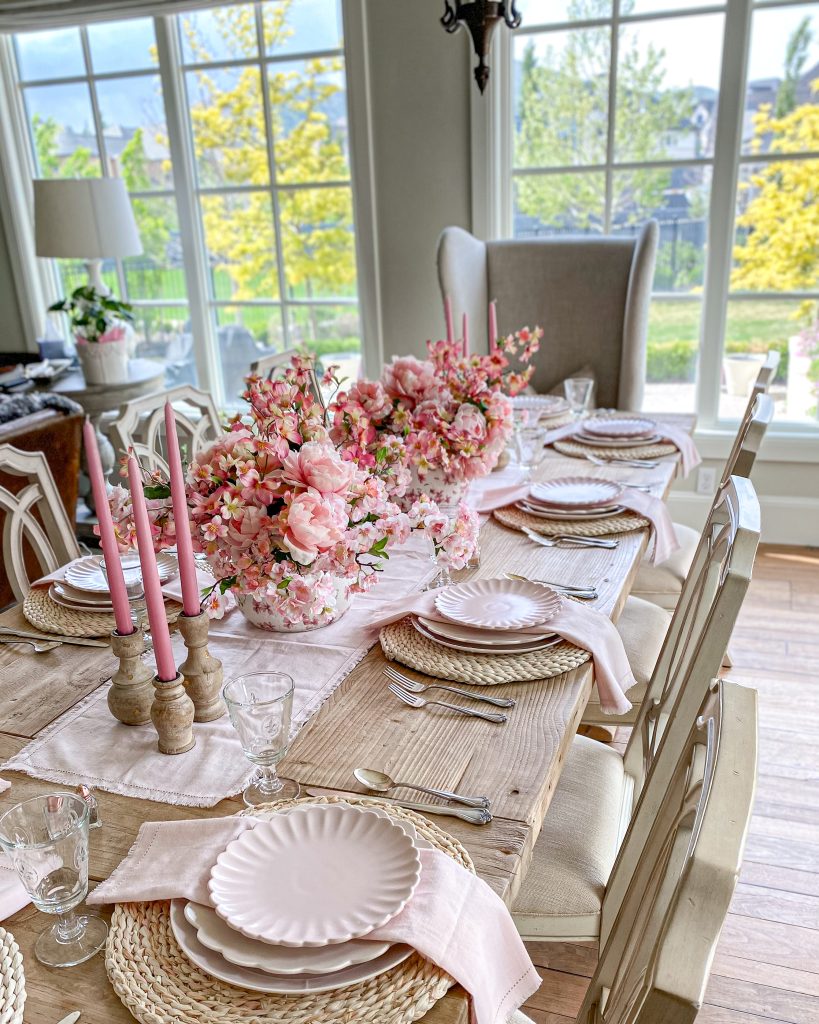 Another detail I added to complete the theme is the cherry blossom vases I used for the centerpieces. I used a tape grid across the top of the vase to create a support structure to support the faux florals and then arranged them in the vases. I added some pink candles and rustic wood candle holders at each end of the table. Don't forget to light the candles when dinner is served!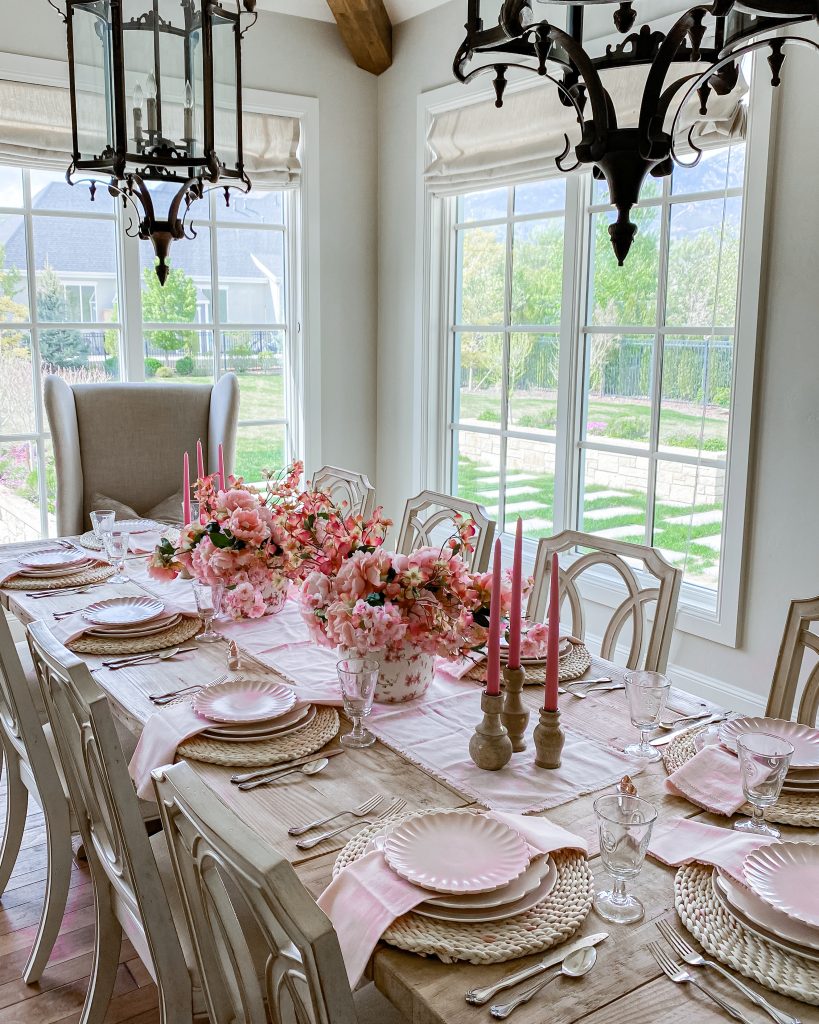 A cherry blossom themed pink tablescape is the perfect way to celebrate the beauty of spring and create a stunning tablescape for your next gathering. Whether you're hosting a formal dinner party or a casual brunch, this tablescape is sure to impress your guests and create a memorable experience.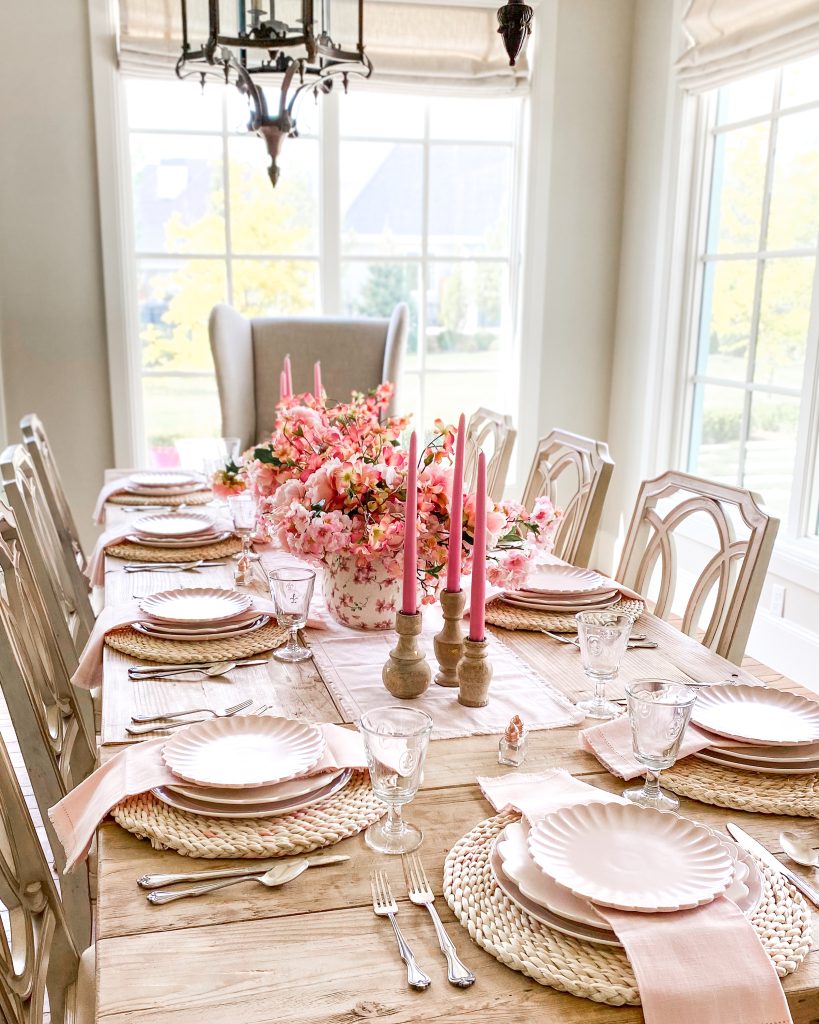 Can you use faux cherry blossoms?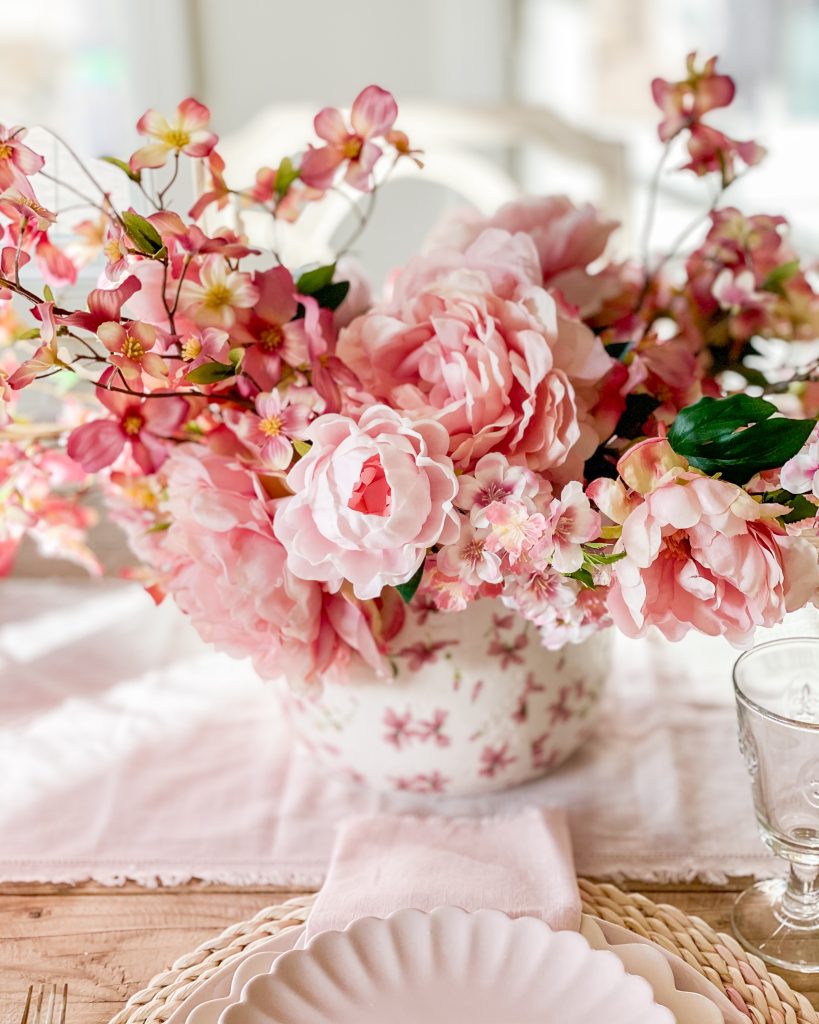 Absolutely! Using faux or artificial cherry blossoms can be a great way to create the centerpiece for your cherry blossom themed pink tablescape. Not only are they more affordable and accessible than fresh cherry blossoms, but they also last much longer and require minimal maintenance and, they don't require any water! You can use them year after year.
How do you get the faux centerpiece to look real?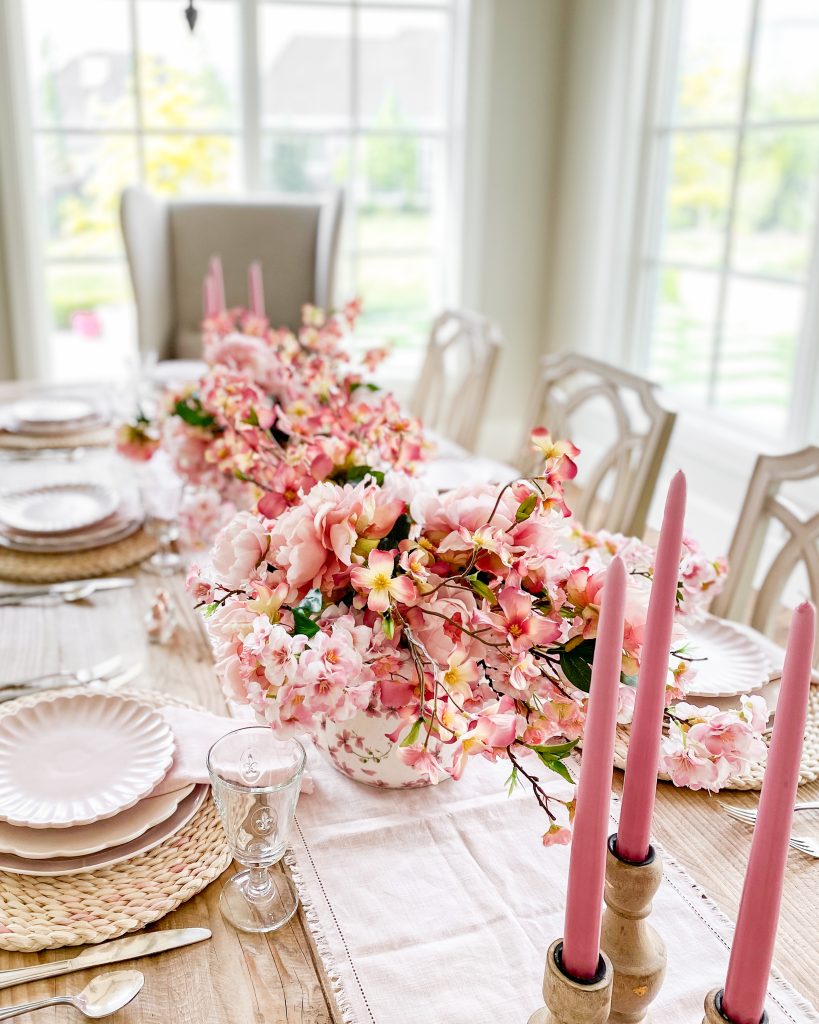 To create a beautiful centerpiece using faux cherry blossom branches, simply arrange them in a vase or container. For an added touch of elegance, you can also incorporate greenery or other blooms that complement the pink and white color scheme.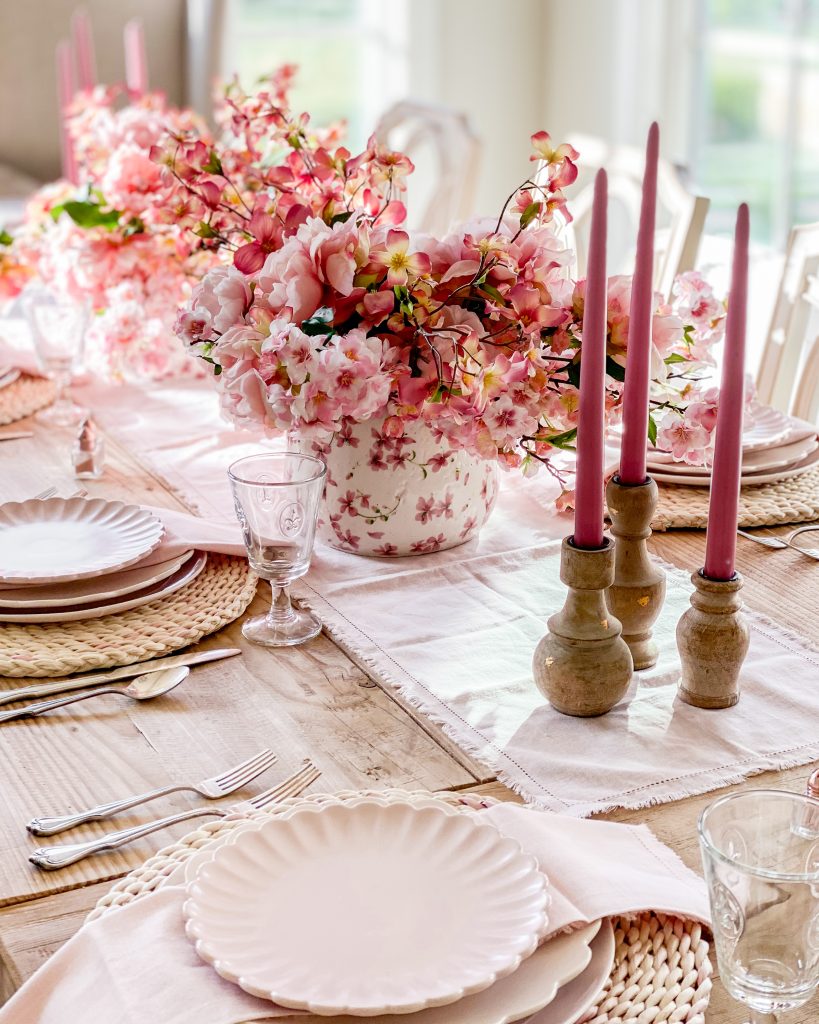 One advantage of using artificial cherry blossoms is the ability to use them year-round. Whether you're hosting a springtime event or a winter gathering, you can always incorporate cherry blossoms into your decor and because they are not affected by seasonal changes, you can enjoy their beauty and charm anytime you desire.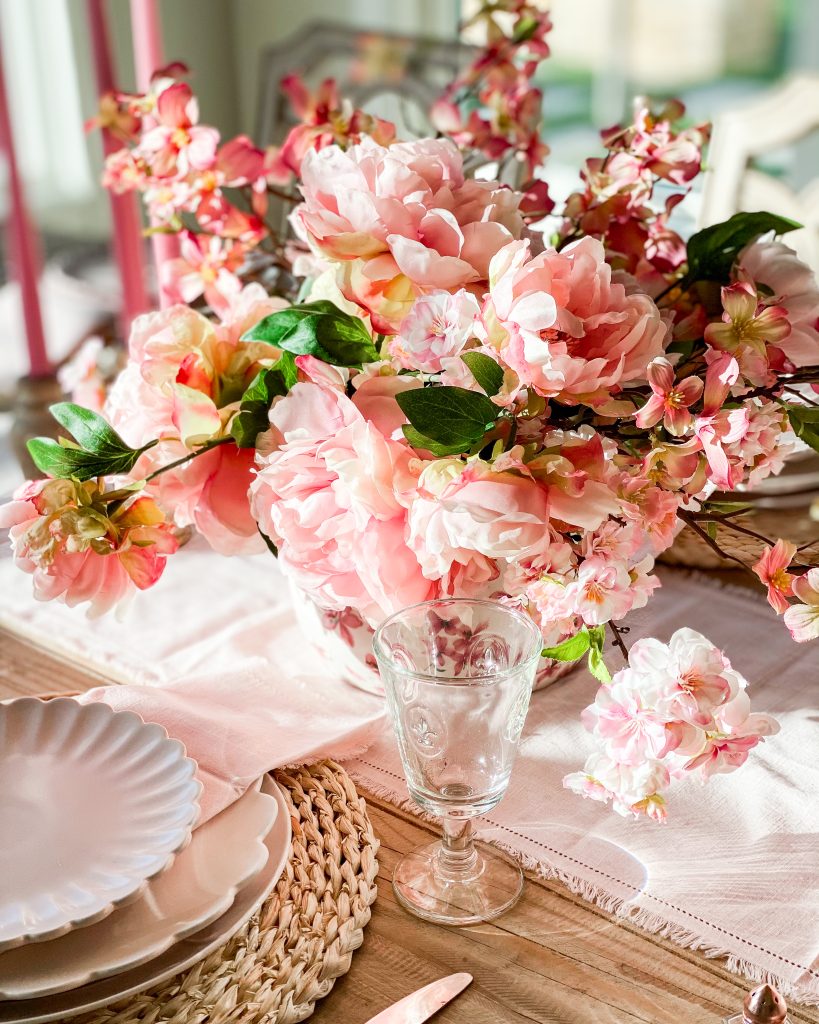 So whether you choose to use fresh or faux cherry blossoms, incorporating them into your tablescape is a beautiful way to celebrate the beauty of spring and create a stunning display that will leave a lasting impression on your guests.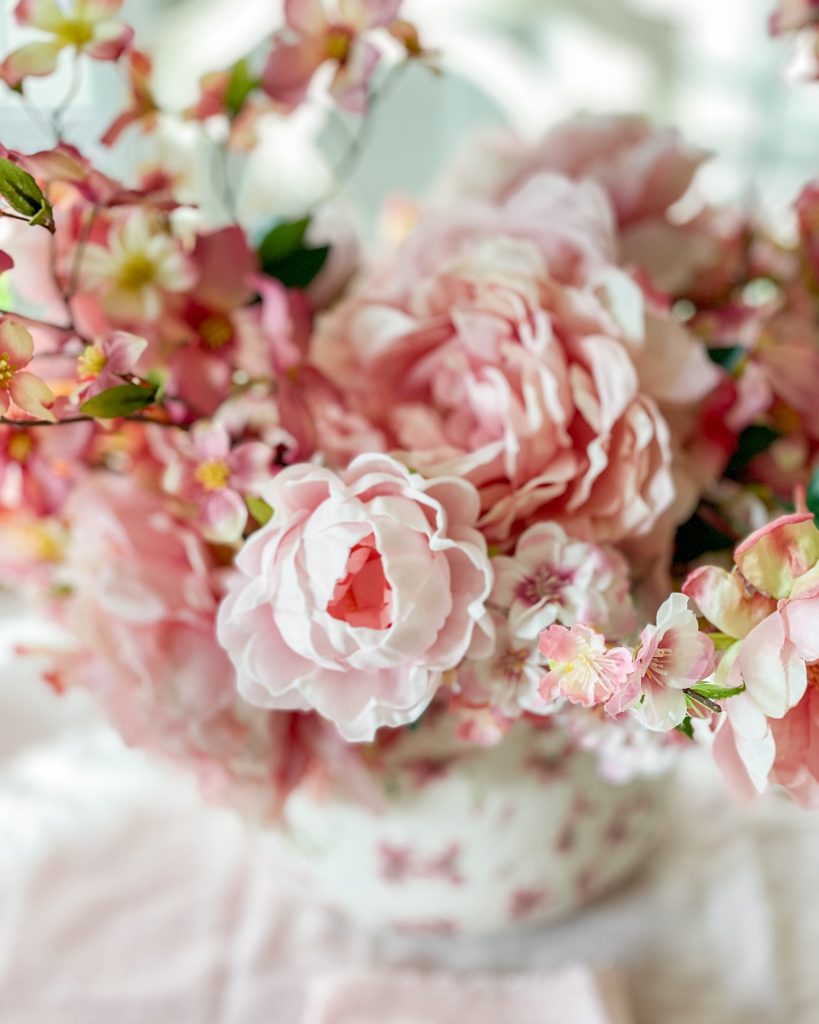 Shop the Look for the Cherry Blossom Themed Pink Tablescape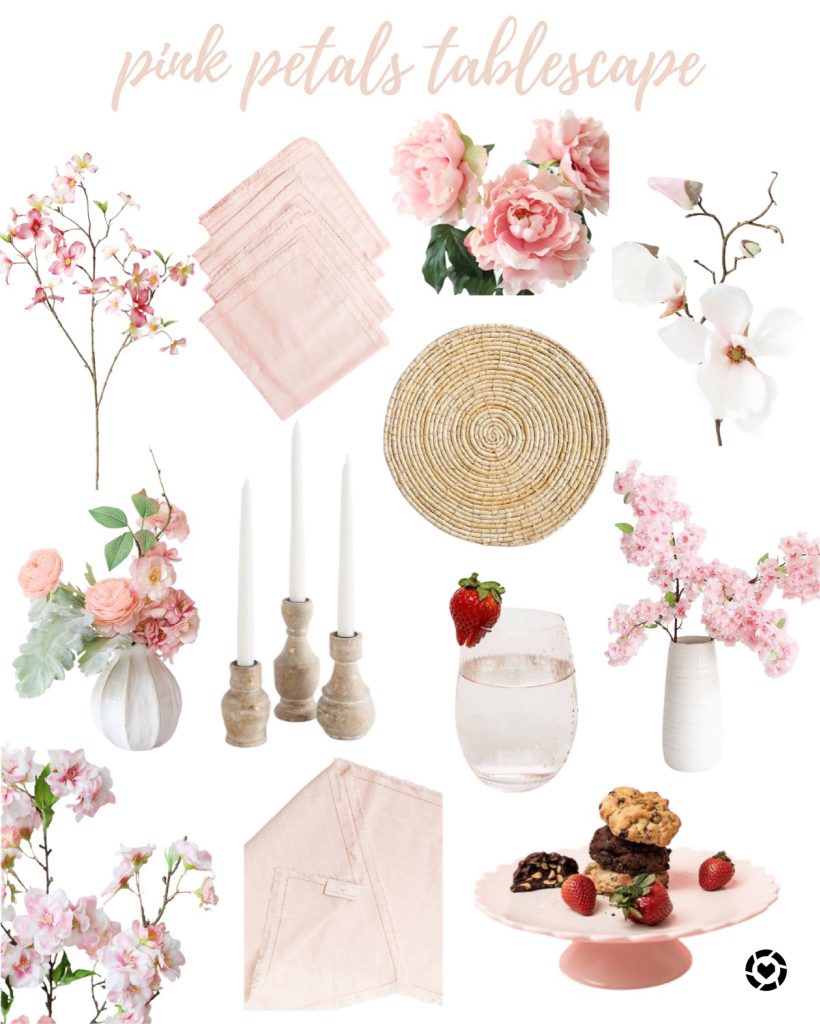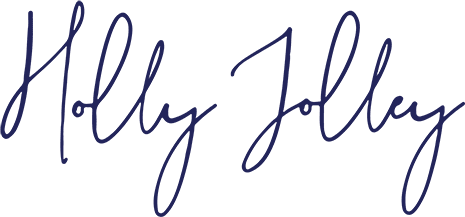 Here are some other posts you might like:
Create a Stylish Pink and Gray Spring Tablescape
Pink Peony Summertime Tablescape
Pin this Post for Later