Elegant Silver and Gold Christmas Tablescape
I've been so excited to share the Elegant Silver and Gold Christmas Tablescape with you! I'm sharing all the details of how I put this together below. Creating Christmas/Holiday tablescapes are always so much fun for me and I look forward to the special memories our family will create sitting around this table.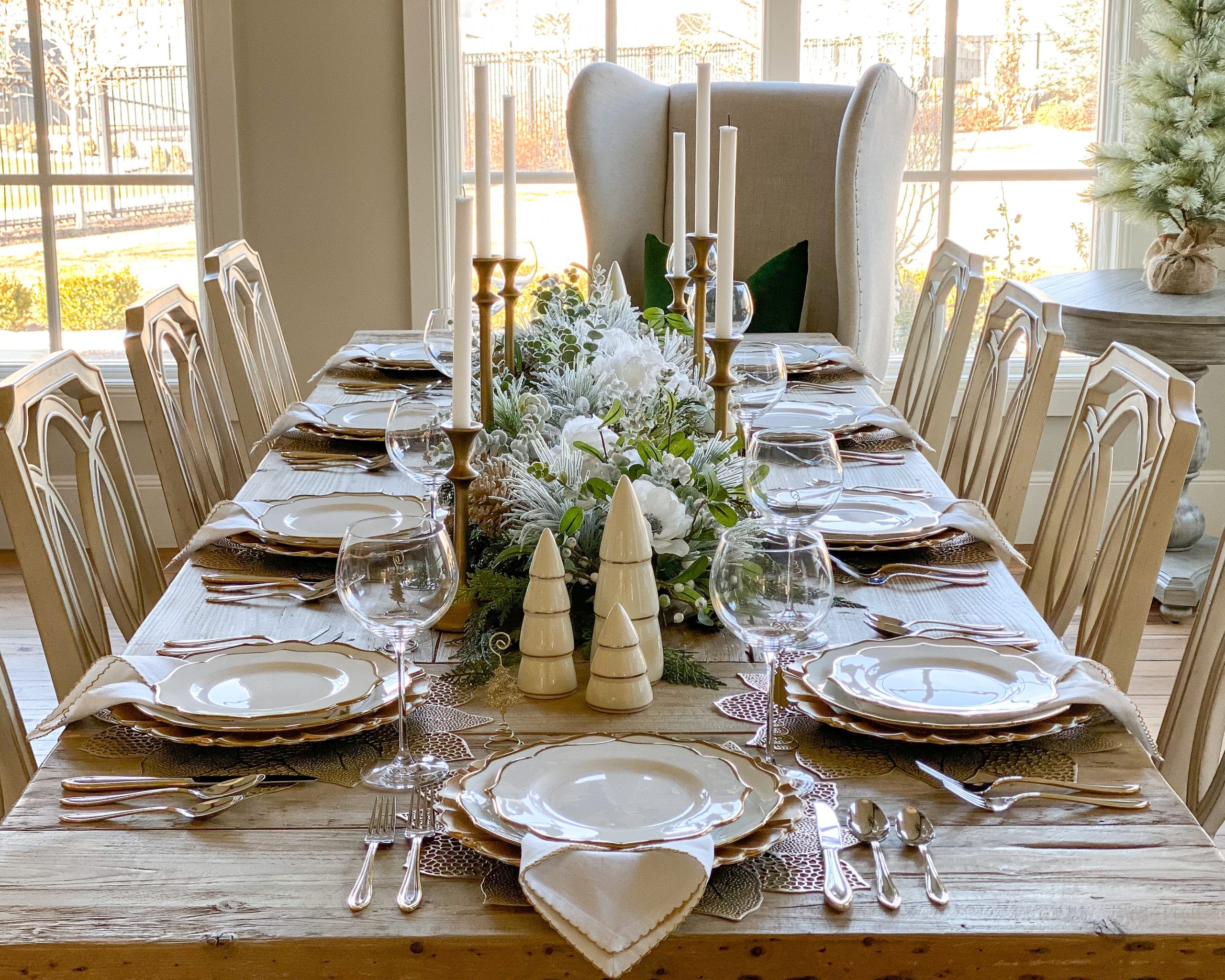 The Details of the Tablescape
I have always loved Lenox dinnerware, from the fine bone china, to the everyday dishes. I feel like I hit the jackpot when Lenox reached out to me a few months ago and asked me if I wanted to style a table for them using their beautiful dinnerware. Uummmm, pinch me please! YESSSSS! I had been eying the Contempo Luxe Dinnerware for awhile so I chose that pattern, along with a few other items to create this gorgeous table!
The Wintery Garland Centerpiece
As I've said before in earlier posts, the beauty lies in the details. I started with creating this wintery garland centerpiece.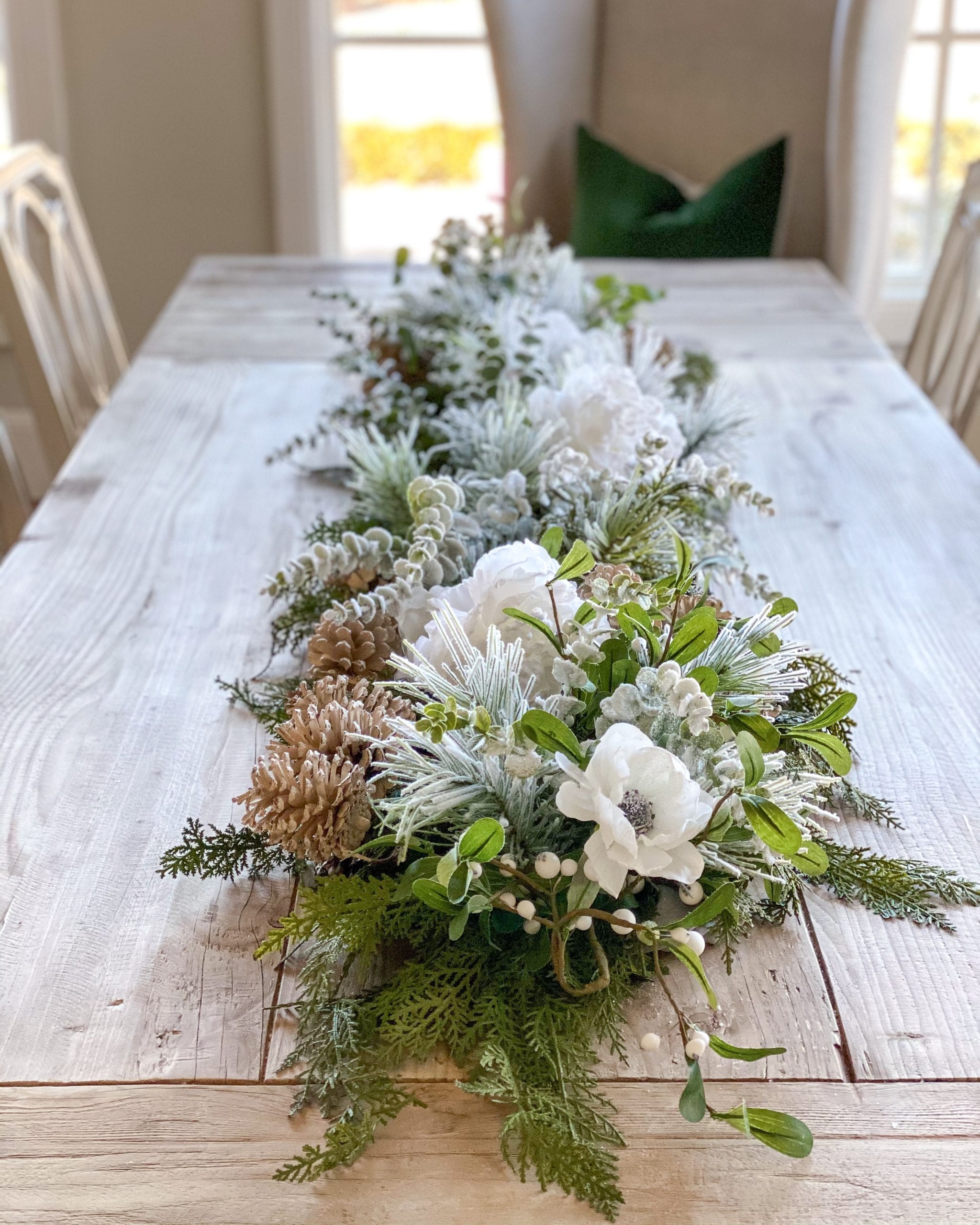 To create this, I started with a layer of artificial cedar branches. I layered them by laying three branches going one way with the stem/branch part pointing towards the middle, and then repeating that on the other side until they overlapped each other and interlocked in the middle.
It should look something like this shape:
>>><<<
You can see this (sort of) here below. My apolgies for not taking photos of this before I finished it. Sometimes I get so involved in a project, I forget to take photos!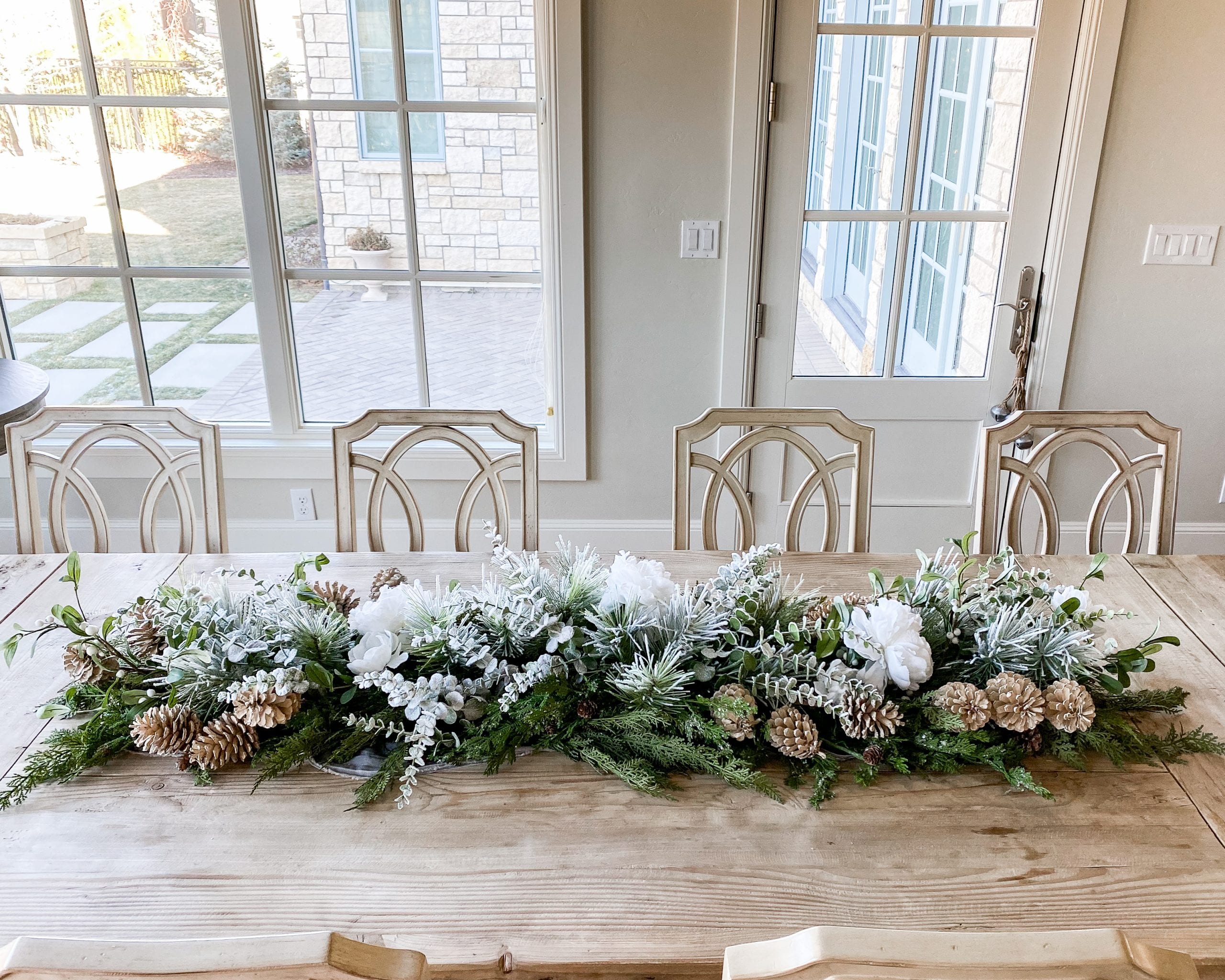 Next, I repeated the same idea as above with frosted pine branches, frosted eucalyptus, mistletoe stems with white berries, and painted pine cones picks. Lastly, I added in some frosted white peonies to fill in any holes. This was done entirely with artificial flowers and greenery.
(I've linked the items I could find below at the bottom of the post)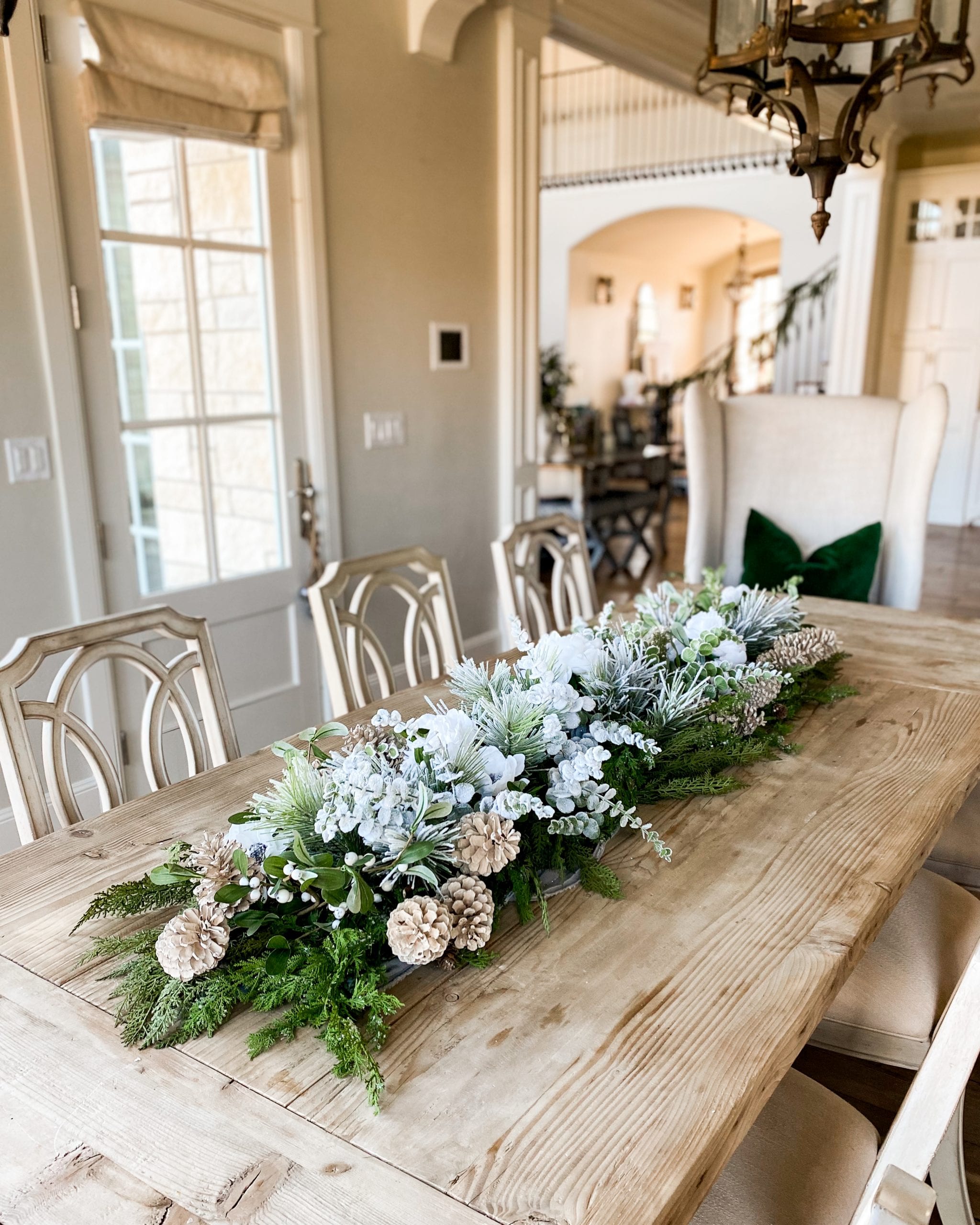 Next, I added in these beautiful Lenox Wintery Woods Tree Figurines. I used three sets of these, one on each end and the others I nestled into the garland in the middle. Then I added some gold candlesticks.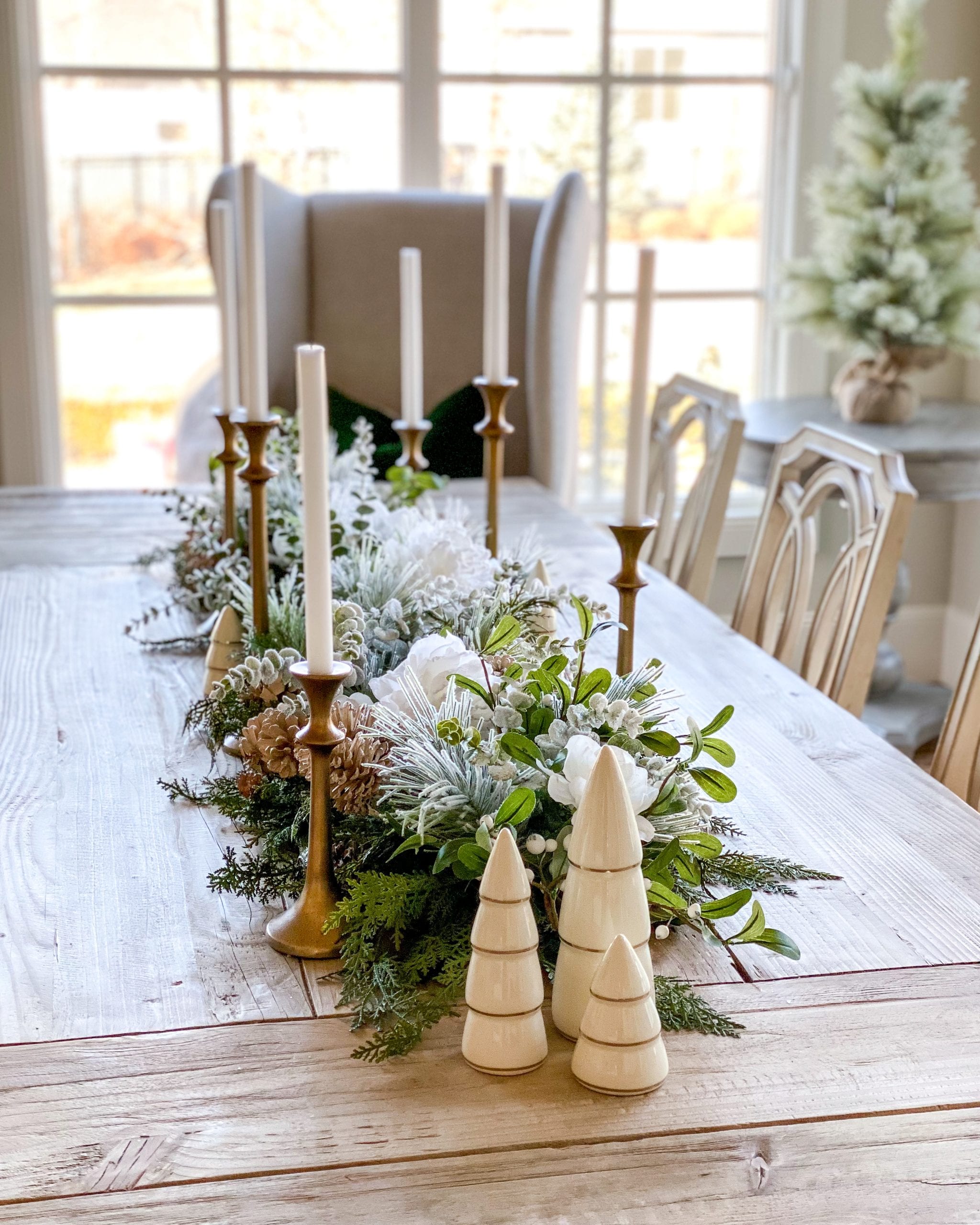 The Place-Setting
Layering in the place-setting is also important and what I find adds so much beauty to a table. I laid out all the dinnerware and other items I planned to use and organized them on my island to make setting the table easier.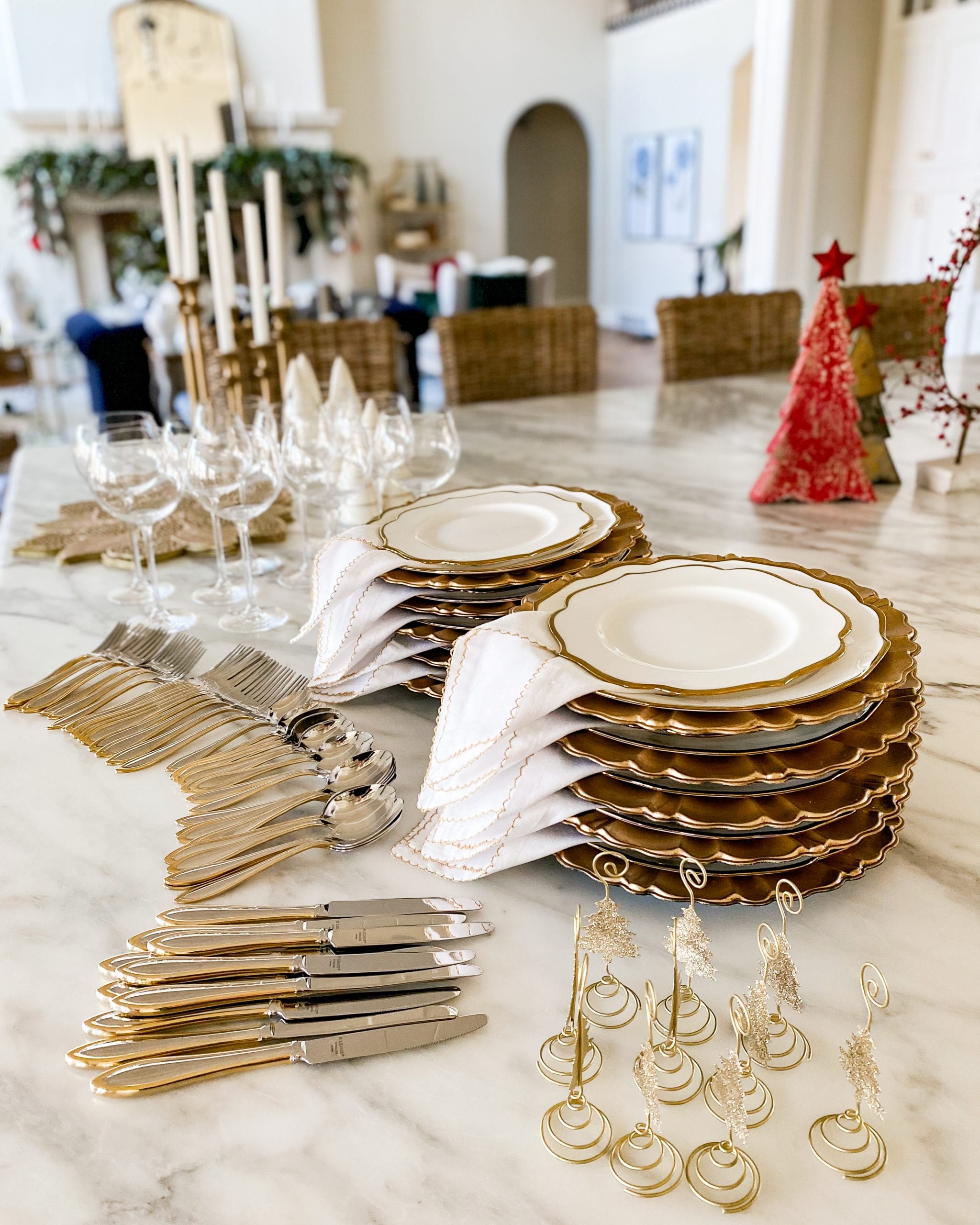 If you want to see the video of how I folded these napkins, click here: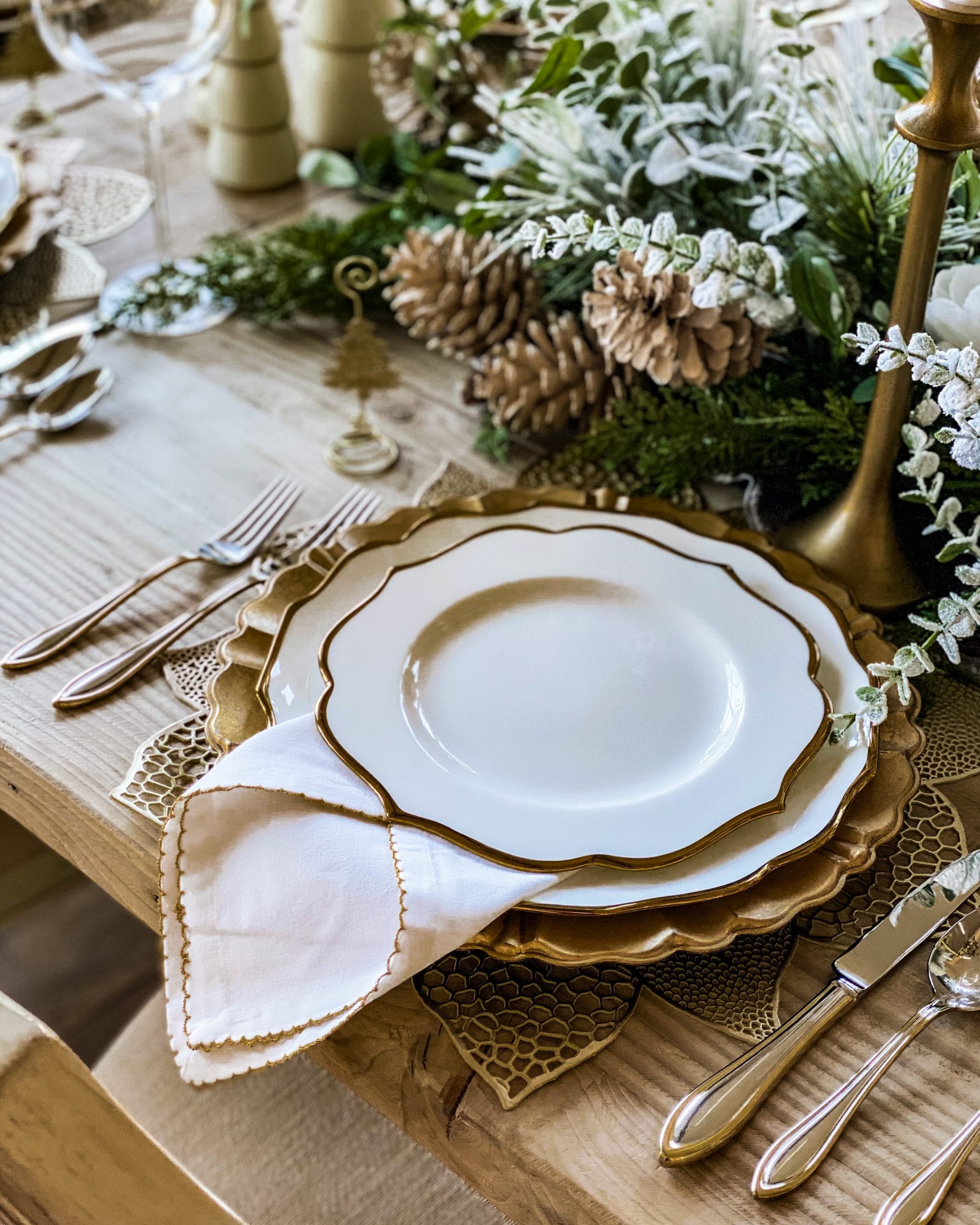 Next I set the placemats out on the table.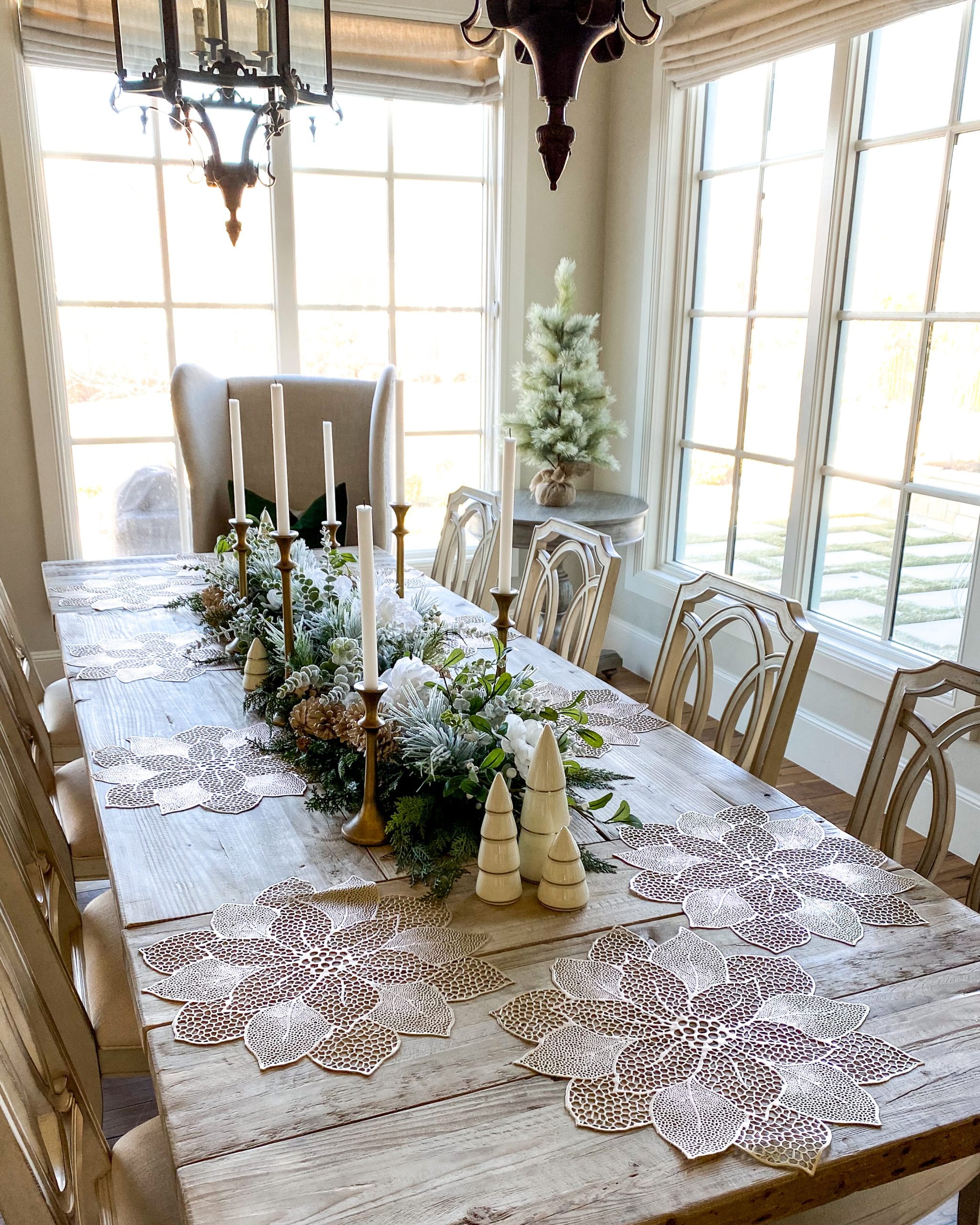 I like these placemats because they are so versatile as well as inexpensive. They mix well with so many different sets of dishes too.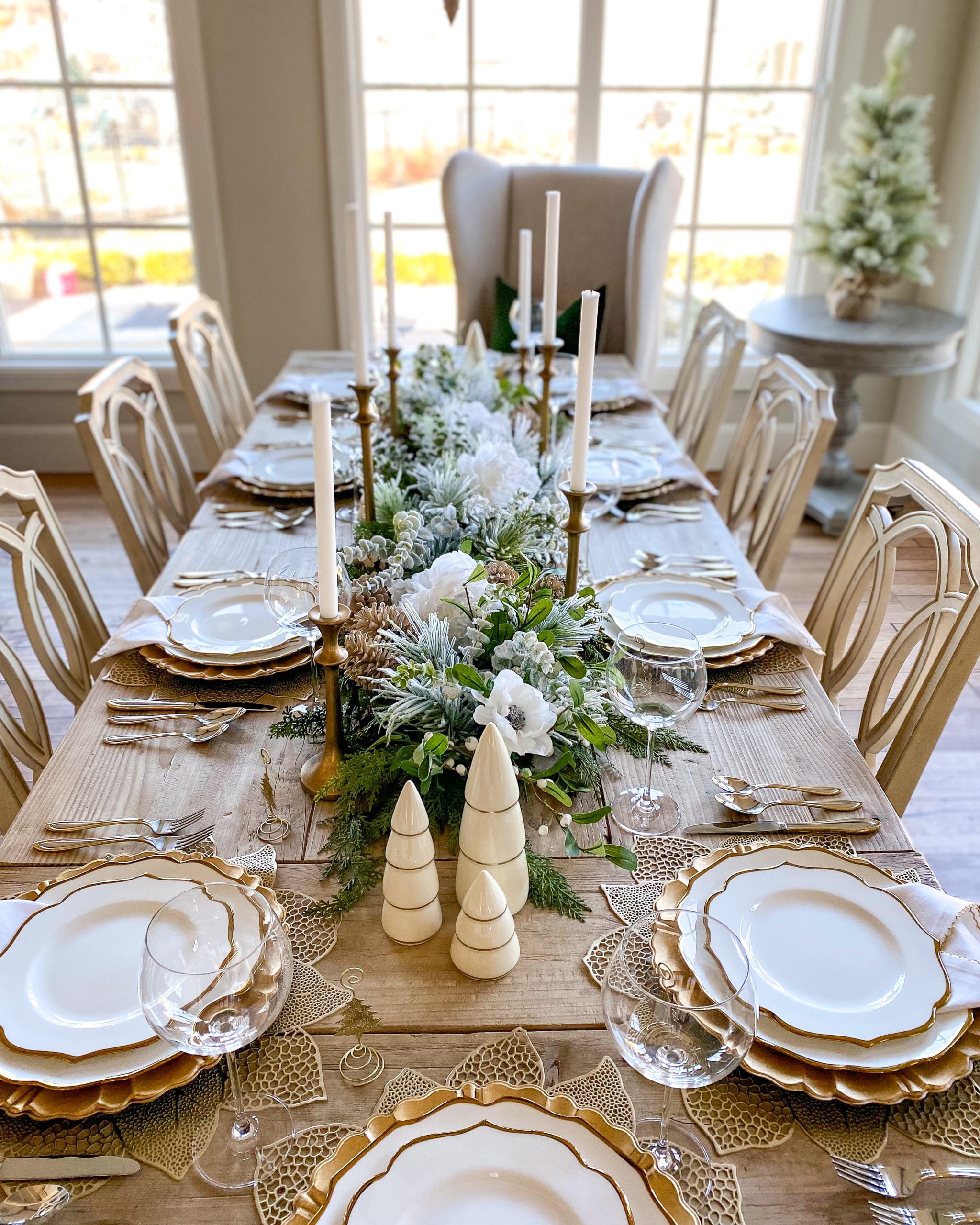 After I set the placemats on, I layered a gold charger, then the Contempo Luxe dinner and salad plate. In between the plates I layered the gold and white napkin.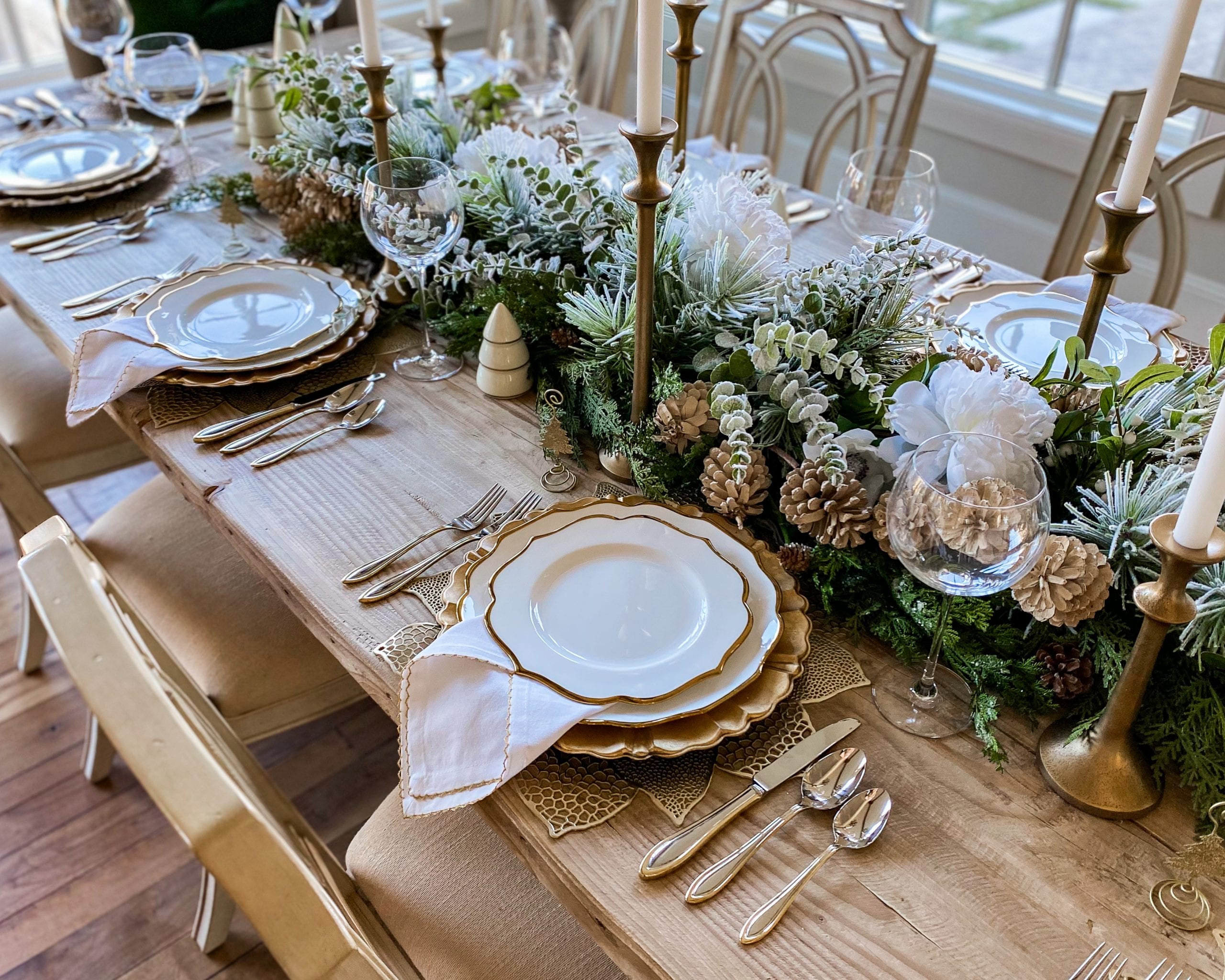 The flatware is also from Lenox and is two toned gold and silver. It's called the Vintage Jewel Gold 5-Piece Place Setting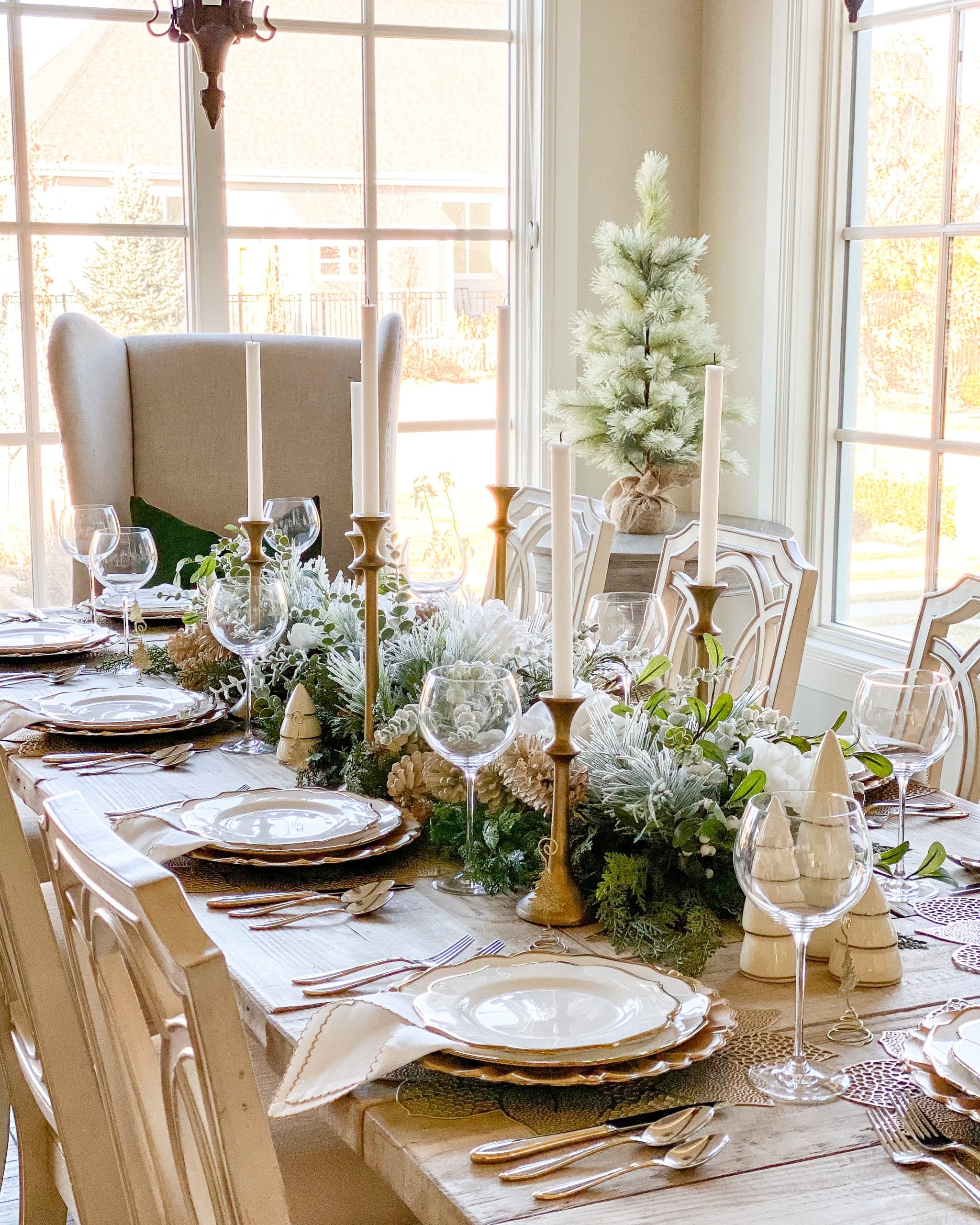 Last but not least, I added this gorgeous Stemware called Tuscany Classics Grand Beaujolais also from Lenox.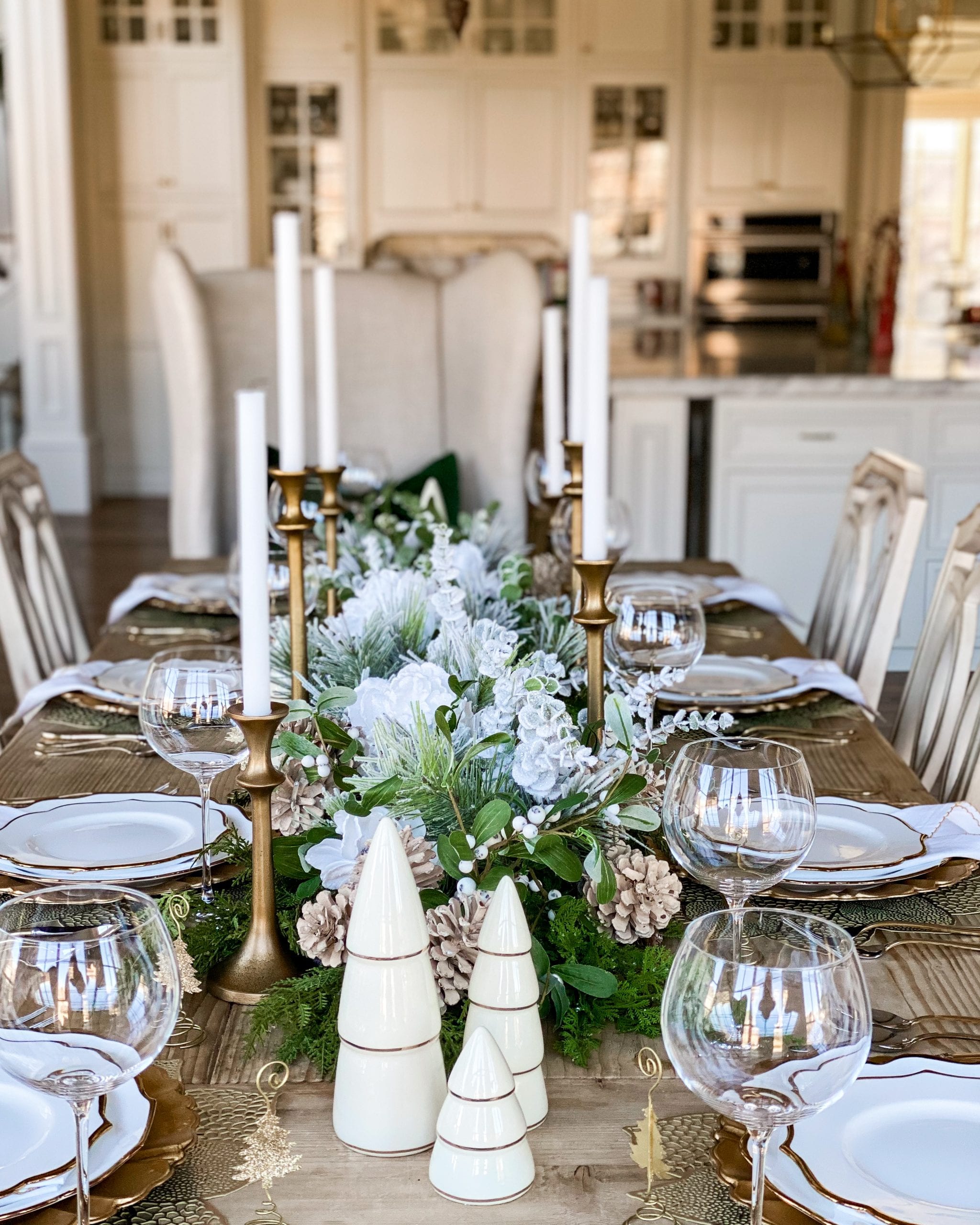 Oh, and I almost forgot, I added the cute christmas tree place-card holders too!
Versatility of this Tablescape
One of the things I like about setting a table in this manner is that it's versatile. I can use this wintery centerpiece garland all winter long. Once the Christmas/Holiday season is over, I can remove the Christmas trees, change the salad plate, and change out the napkin to create a new look for the table. This table will last for the entire winter season. Click here to see how I've used this same garland centerpiece for multiple tablescapes!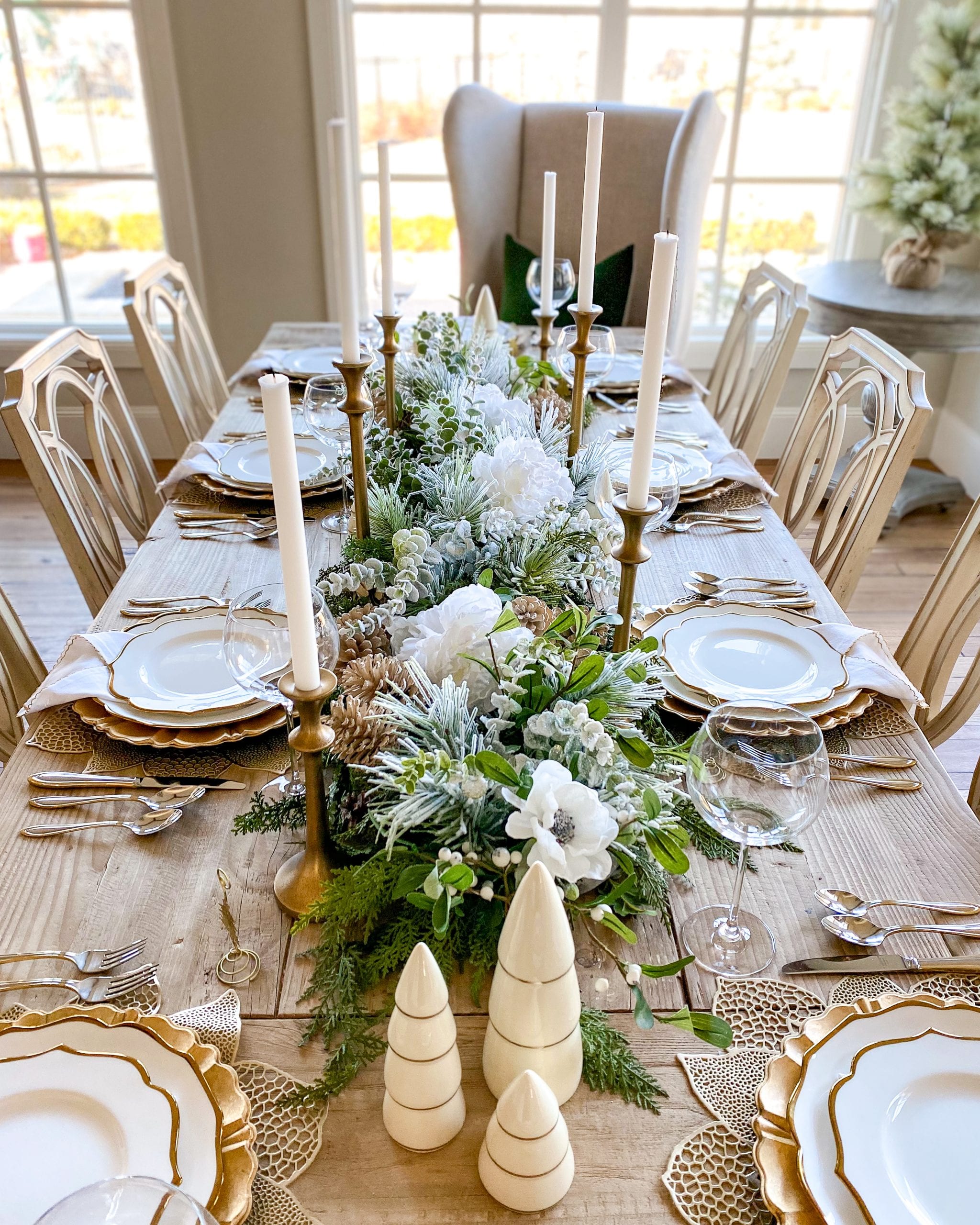 Here you can see more of an overhead detail shot! Each of the layers in the garland centerpiece and the place-setting are what makes this so appealing and beautiful.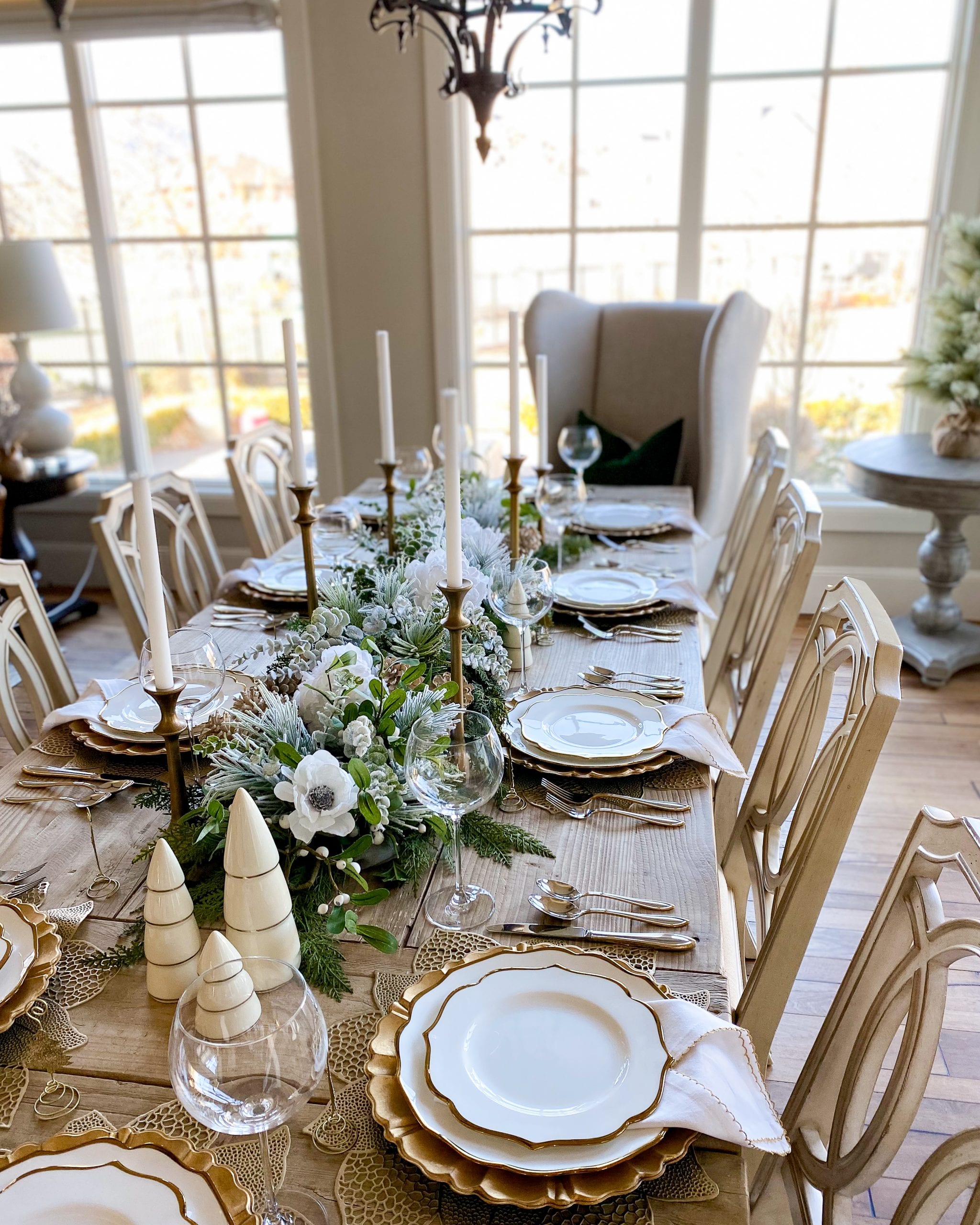 I also added some green throw pillows into the the end chairs to add a pop of emerald green to the dining room.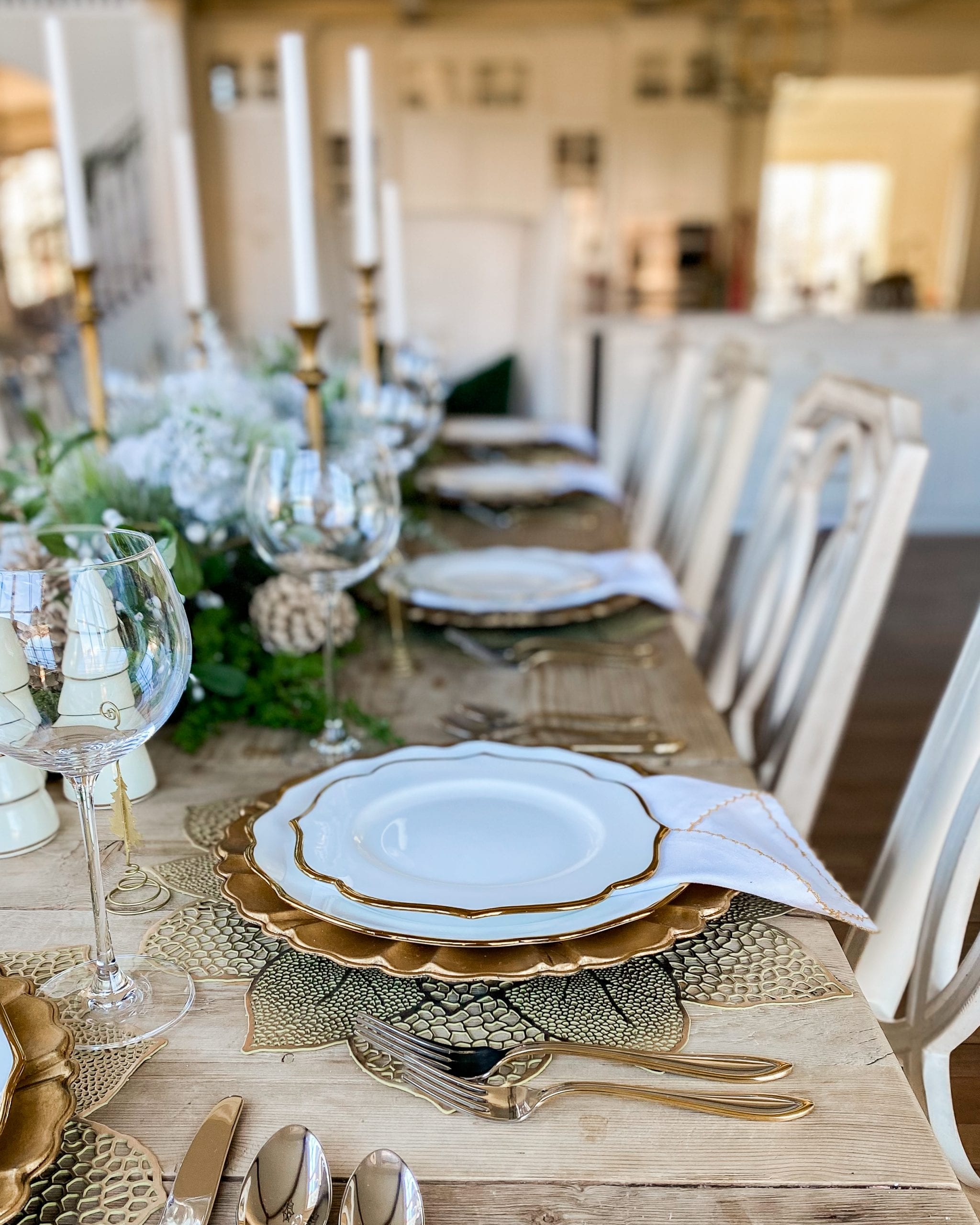 Can you see why I'm obsessed with these dishes? The gold scalloped edge of this Lenox dinnerware is beautiful. It reminds me of the antique Limoges Haviland Ranson China Pattern that I have been collecting for years.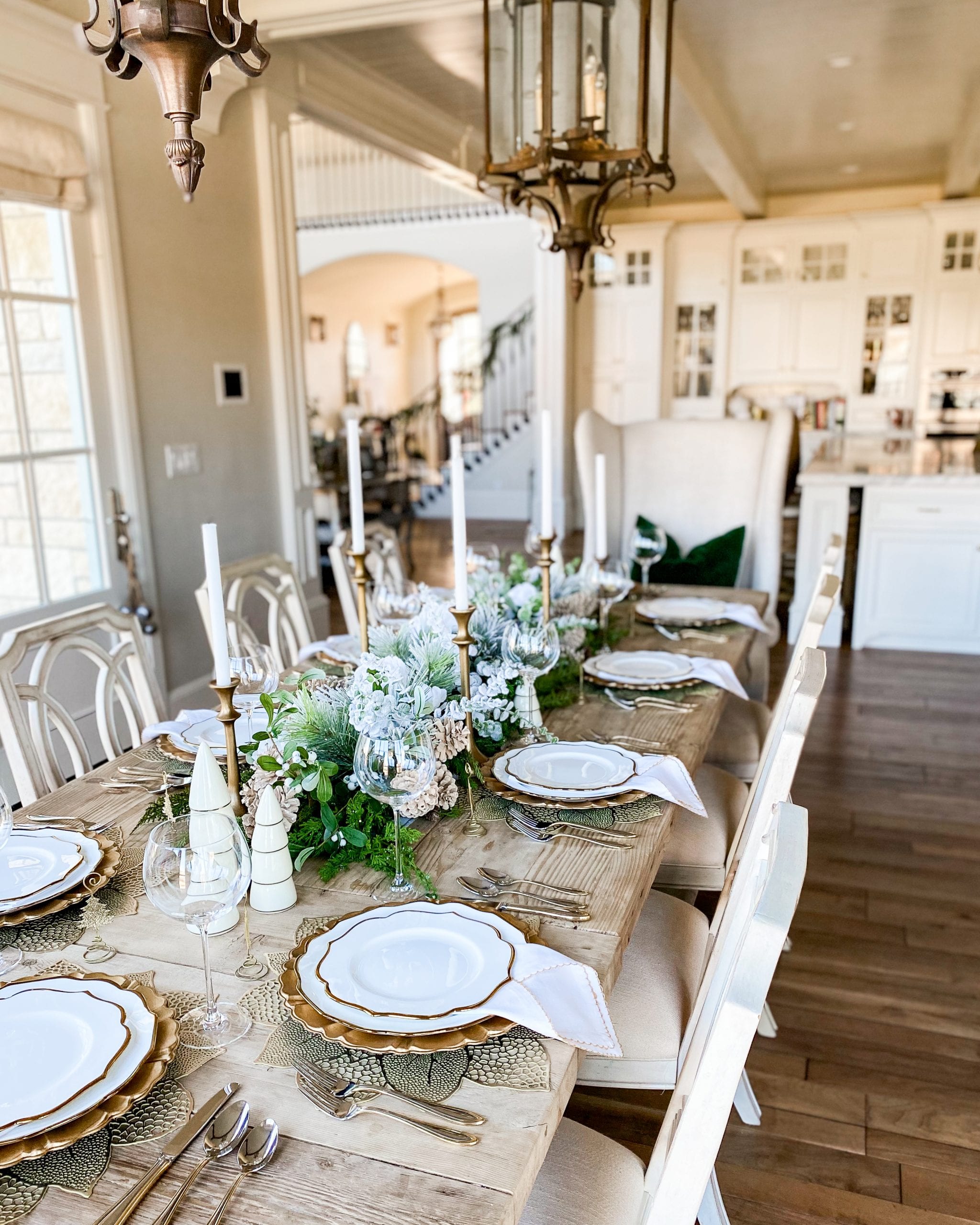 I love how this tablescape has a mix of silver, gold, and white. These colors always mix well together.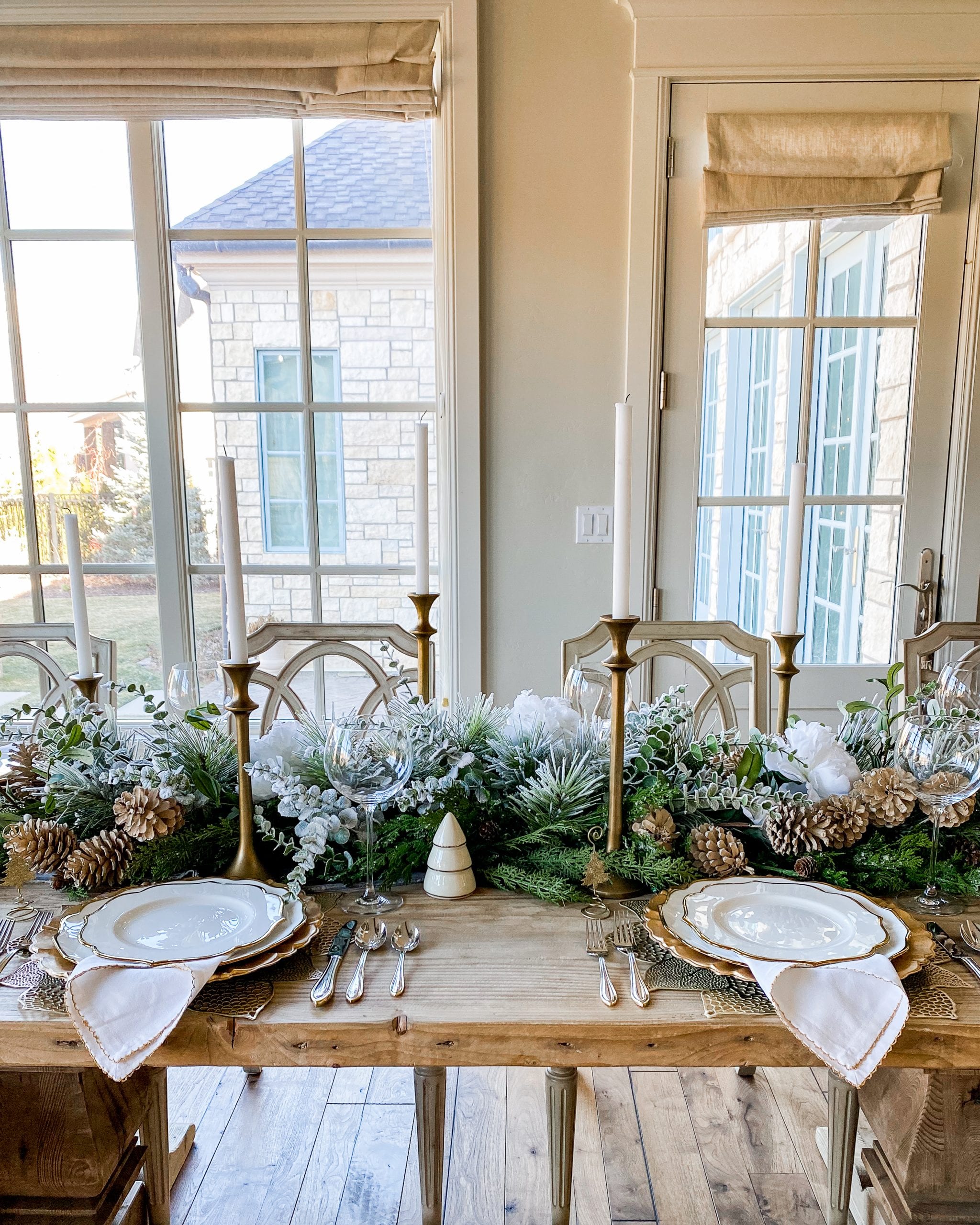 Here's a few more photos so you can see all the details. Items I used are all linked below!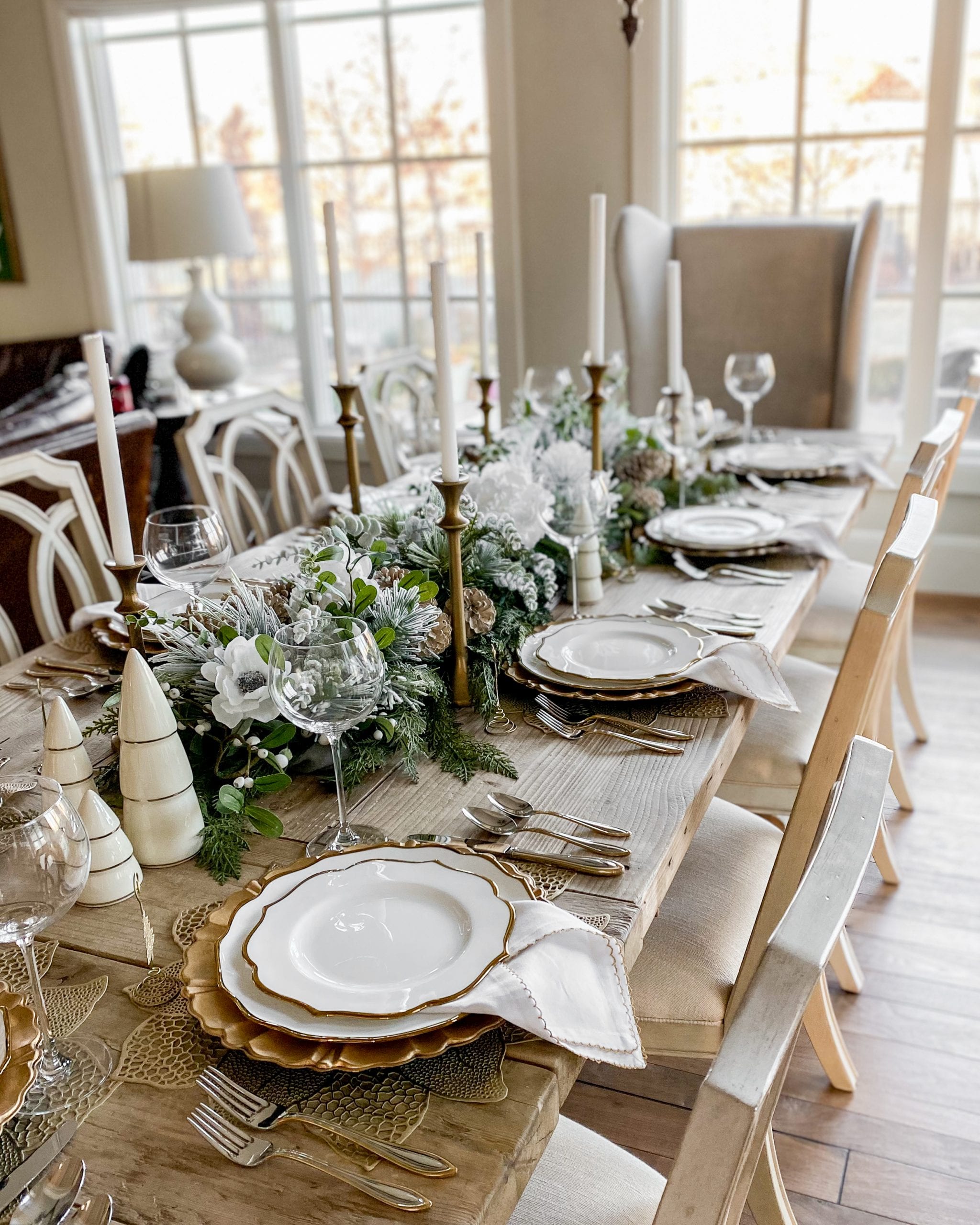 I love this side view!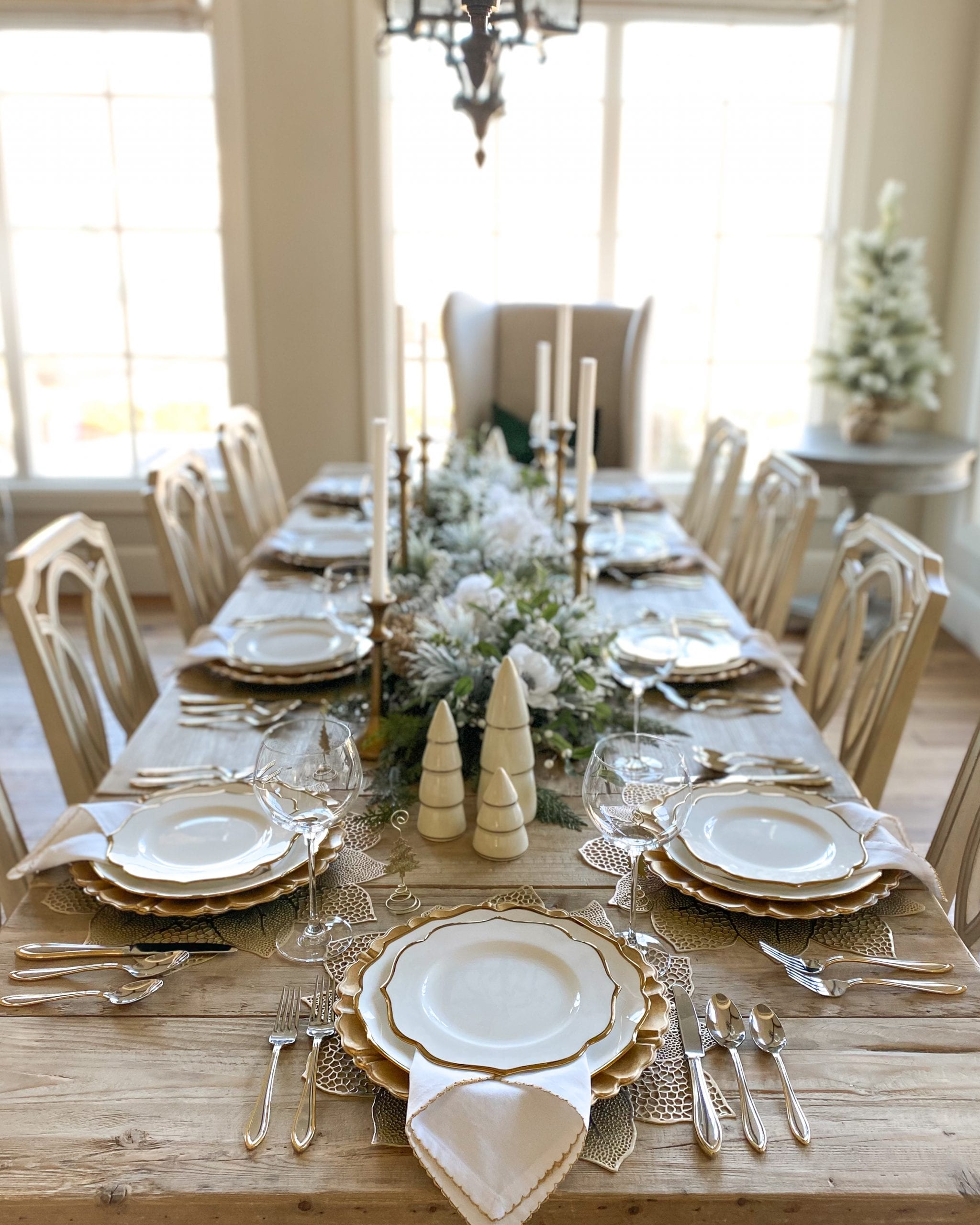 I usually use napkin rings but I decided to switch things up this time and folded the napkin in this uniqued shape and layered it under the salad plate.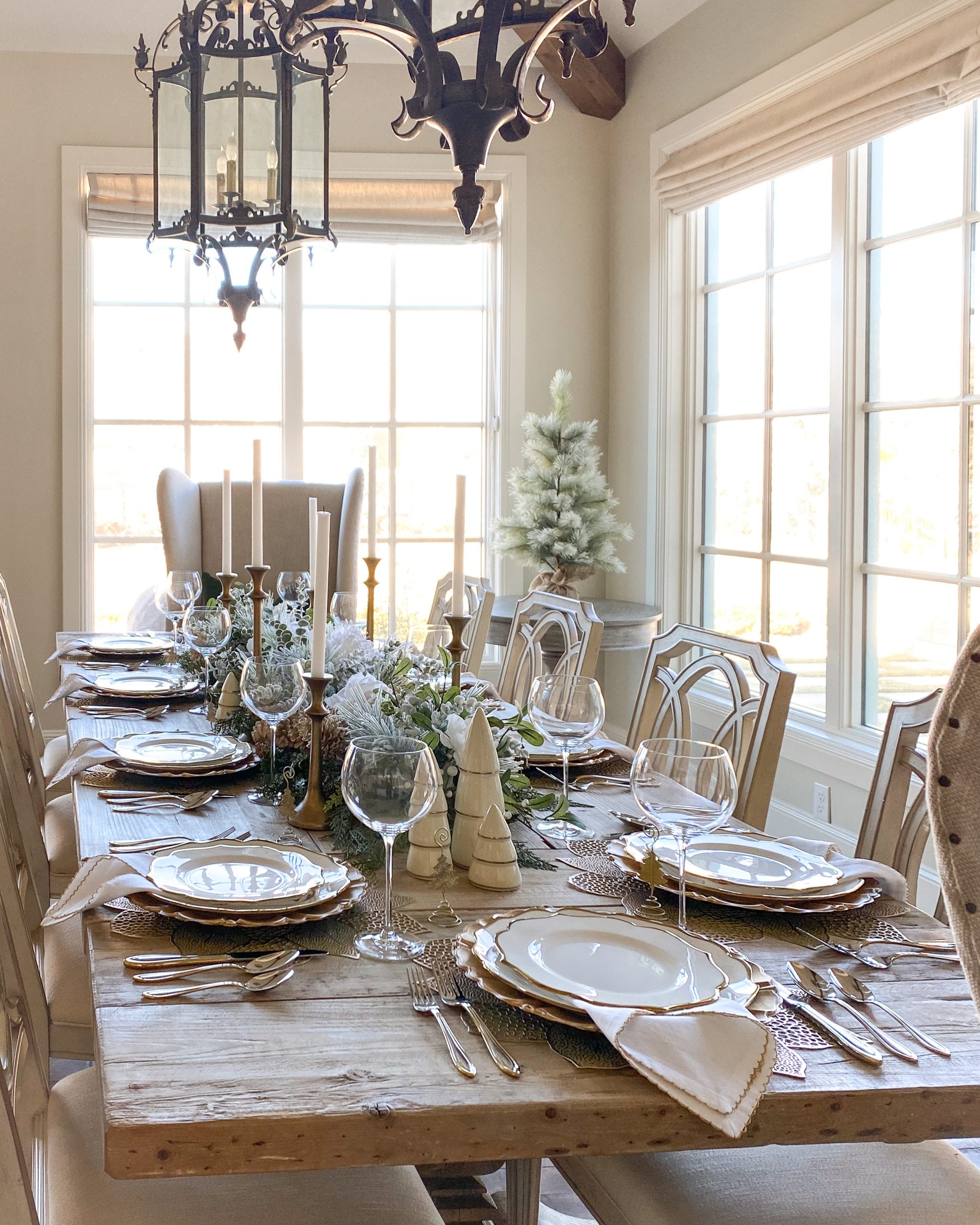 I also added a little frosted tree onto a side table in the corner of the dining room.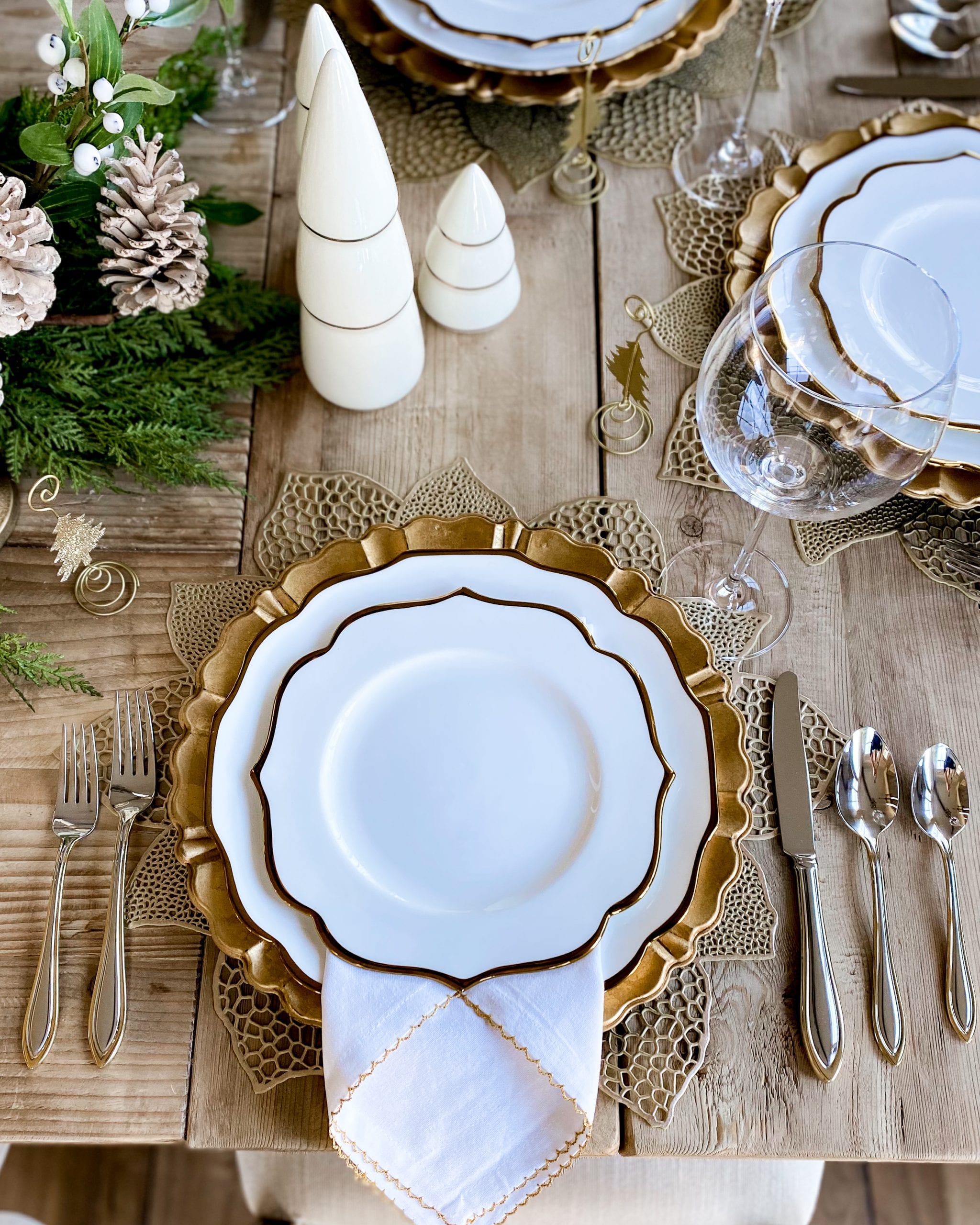 I love this two toned flatware!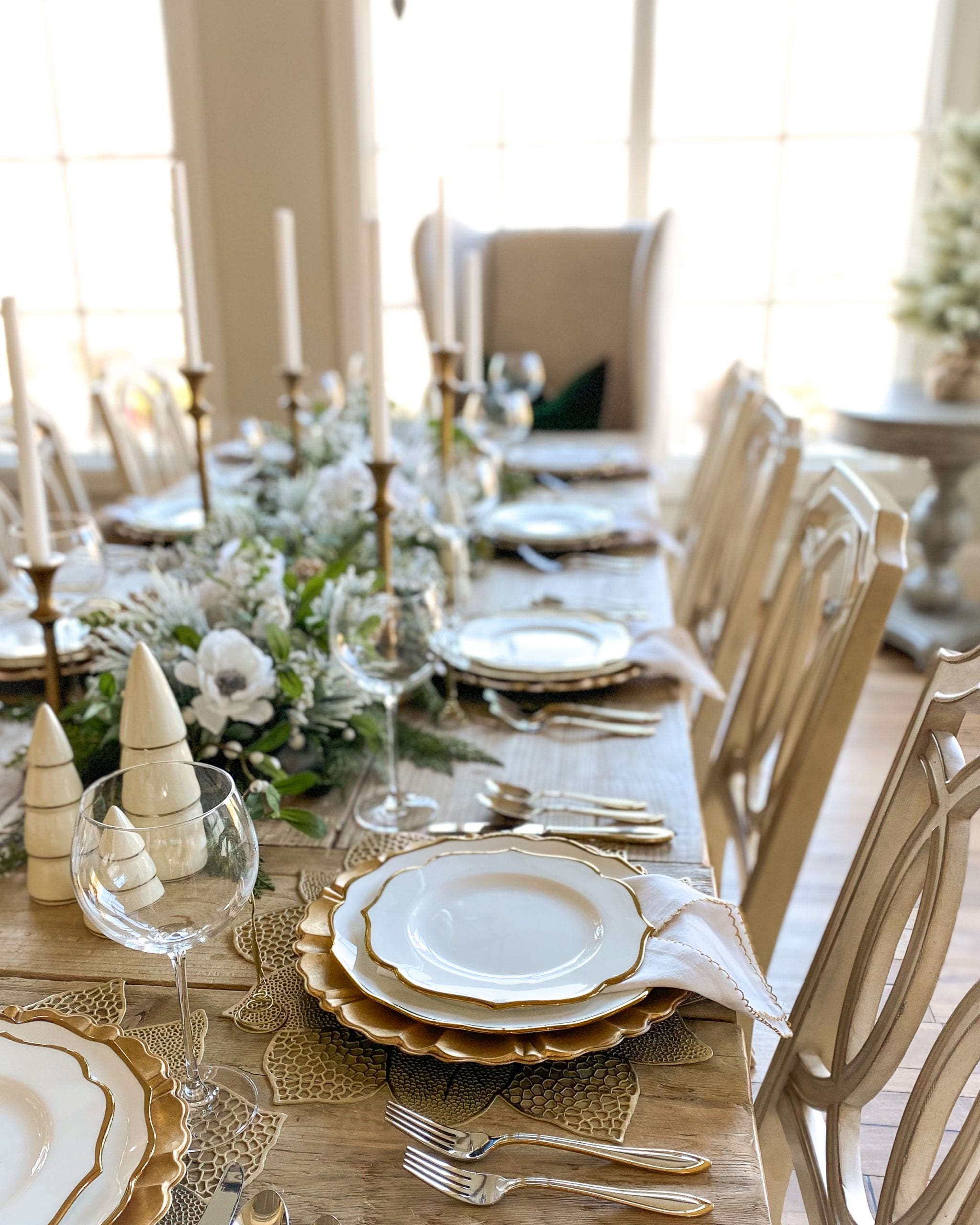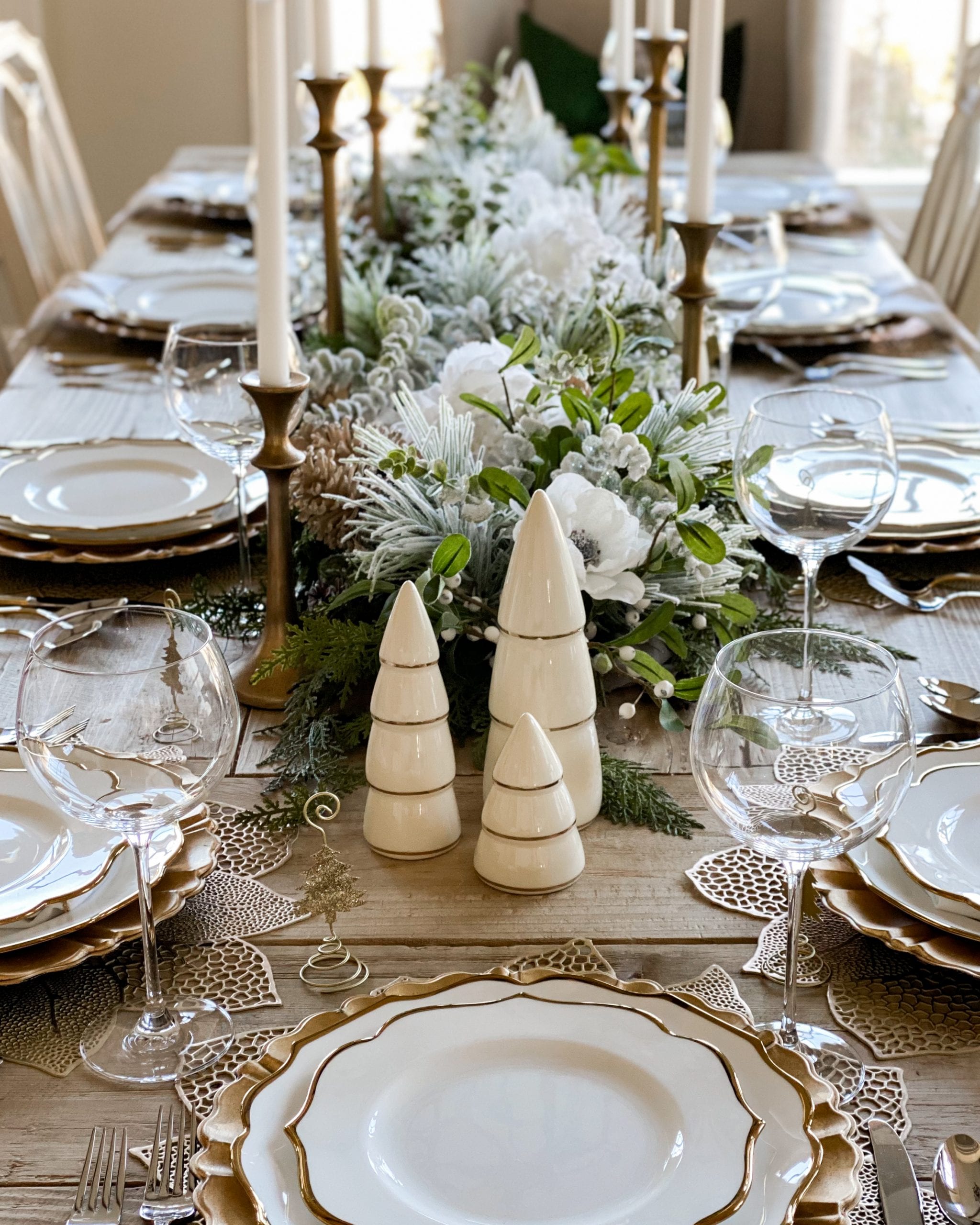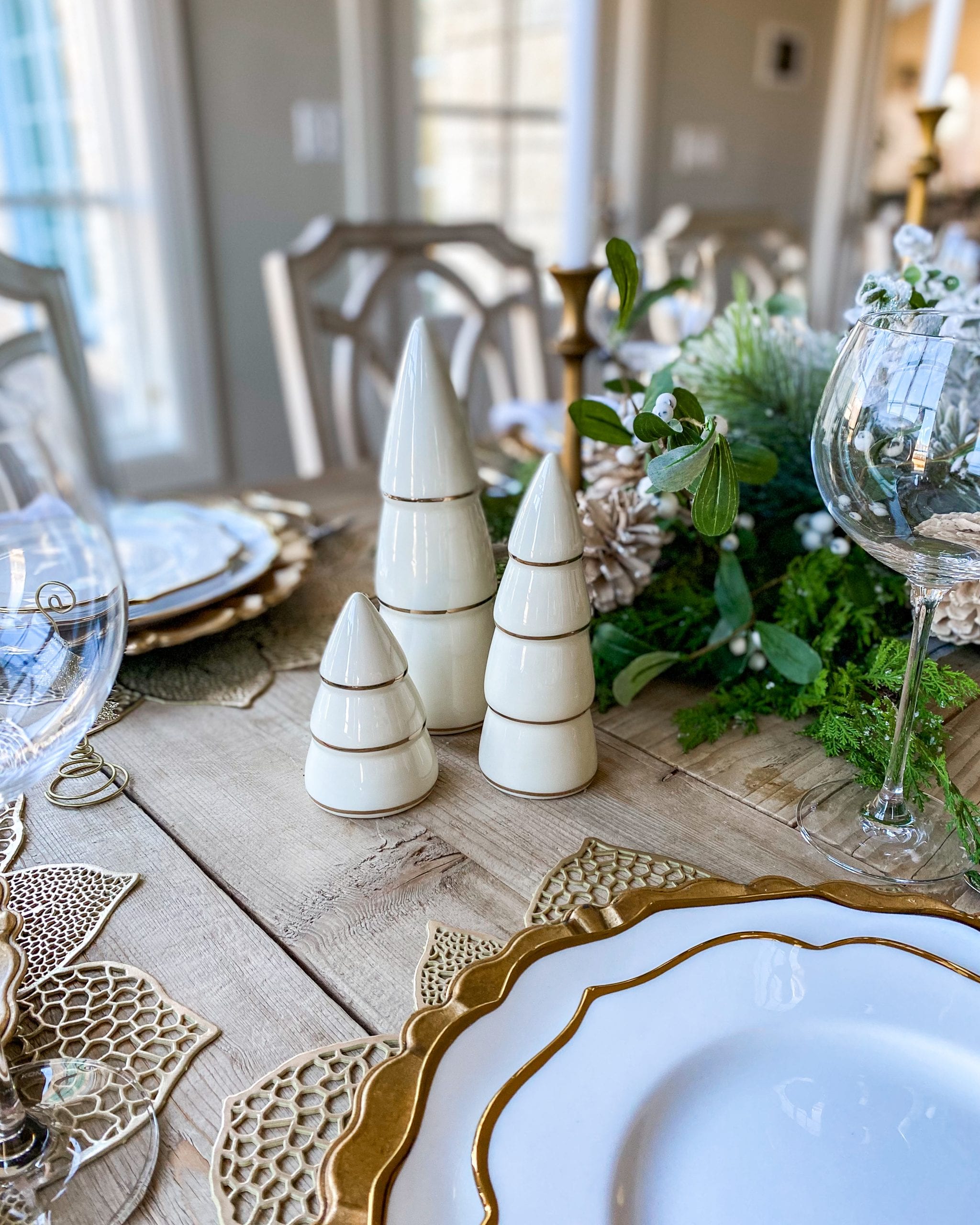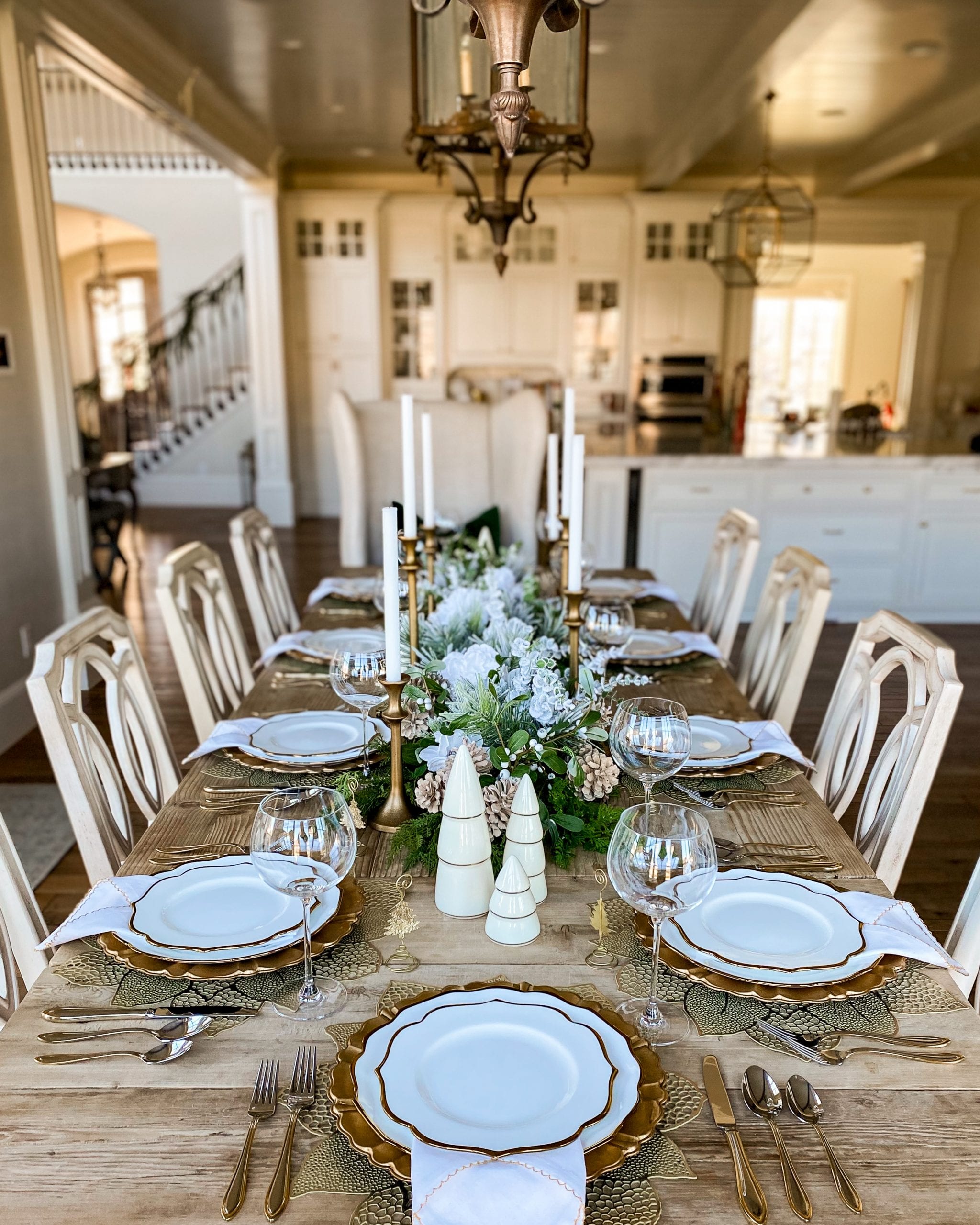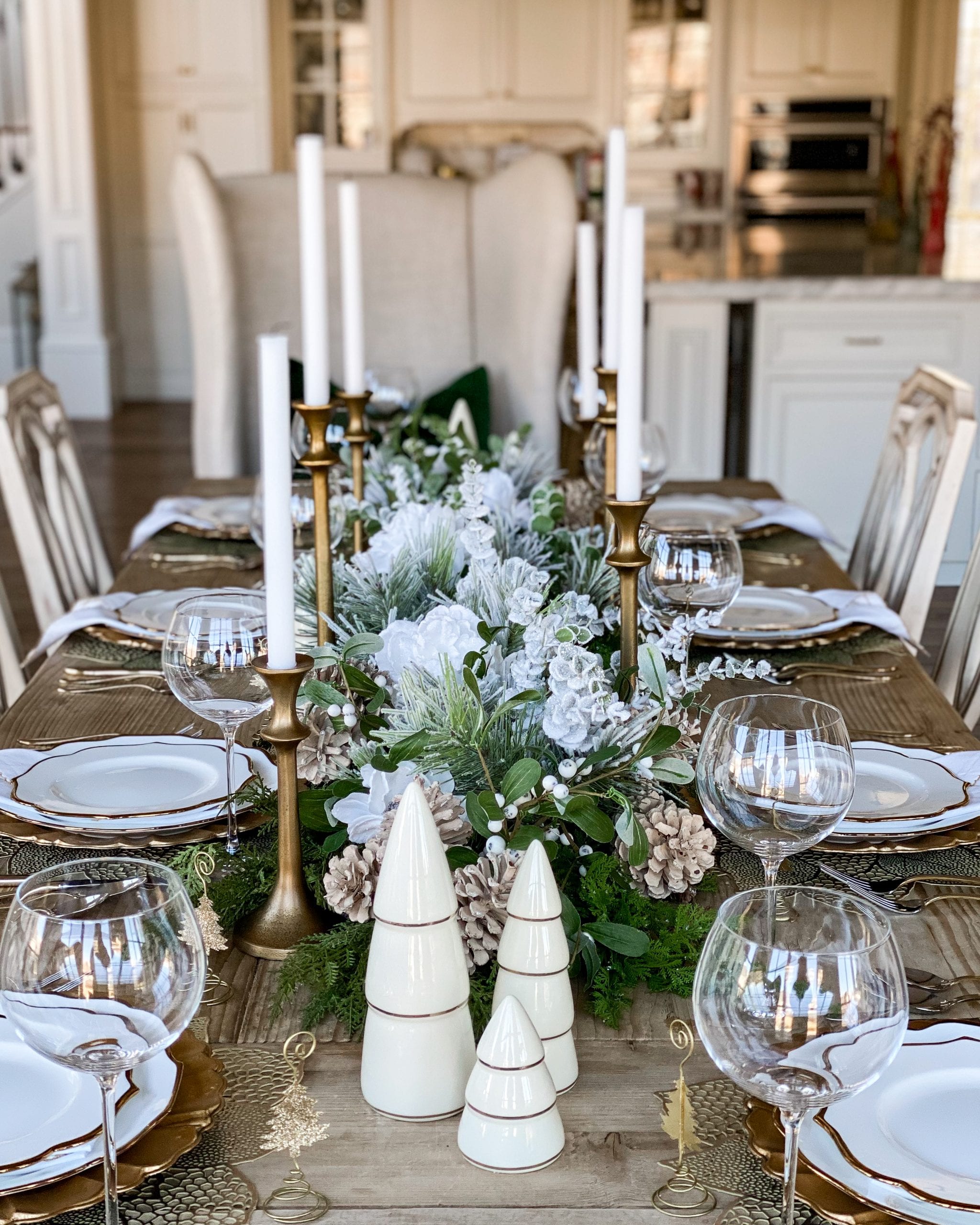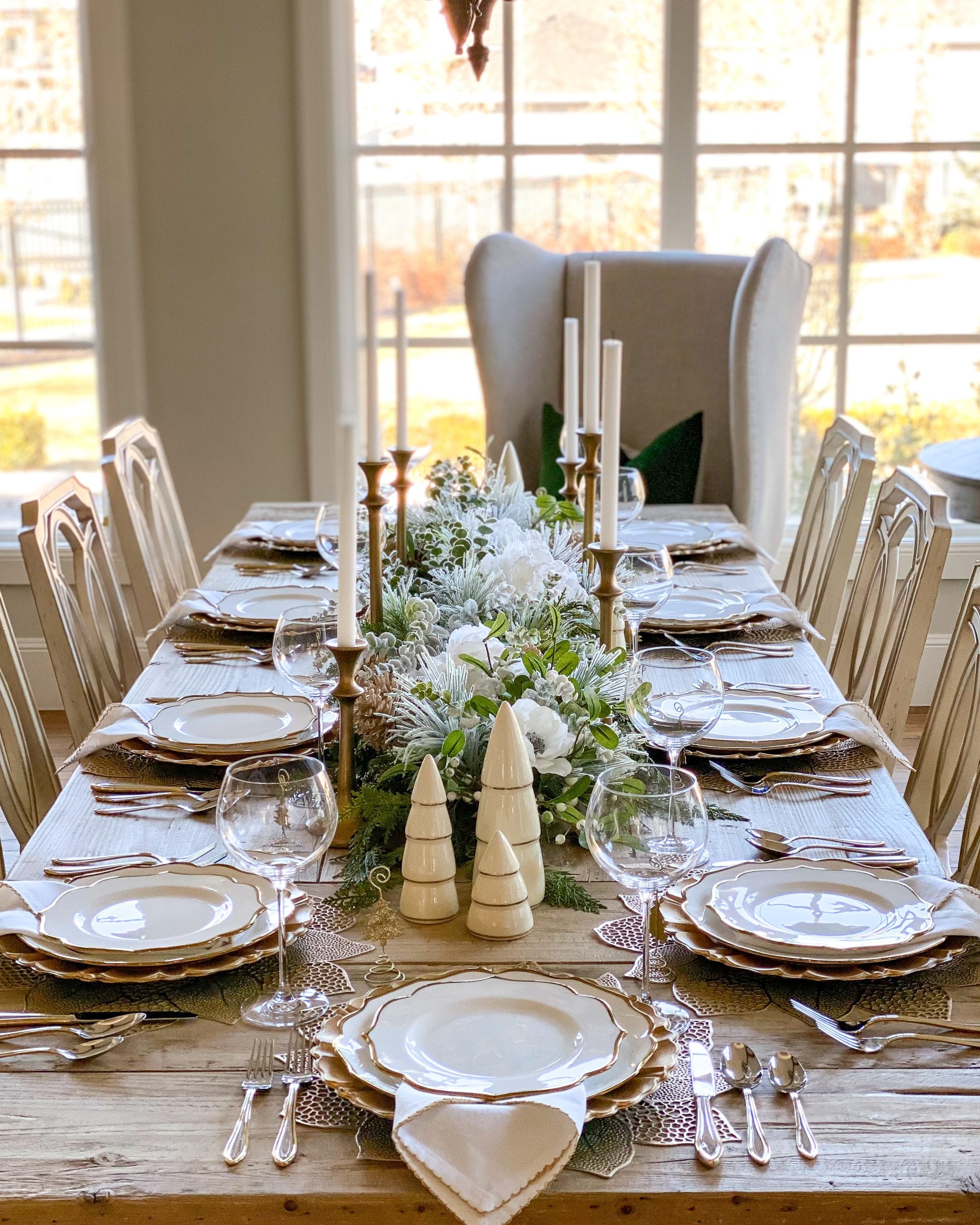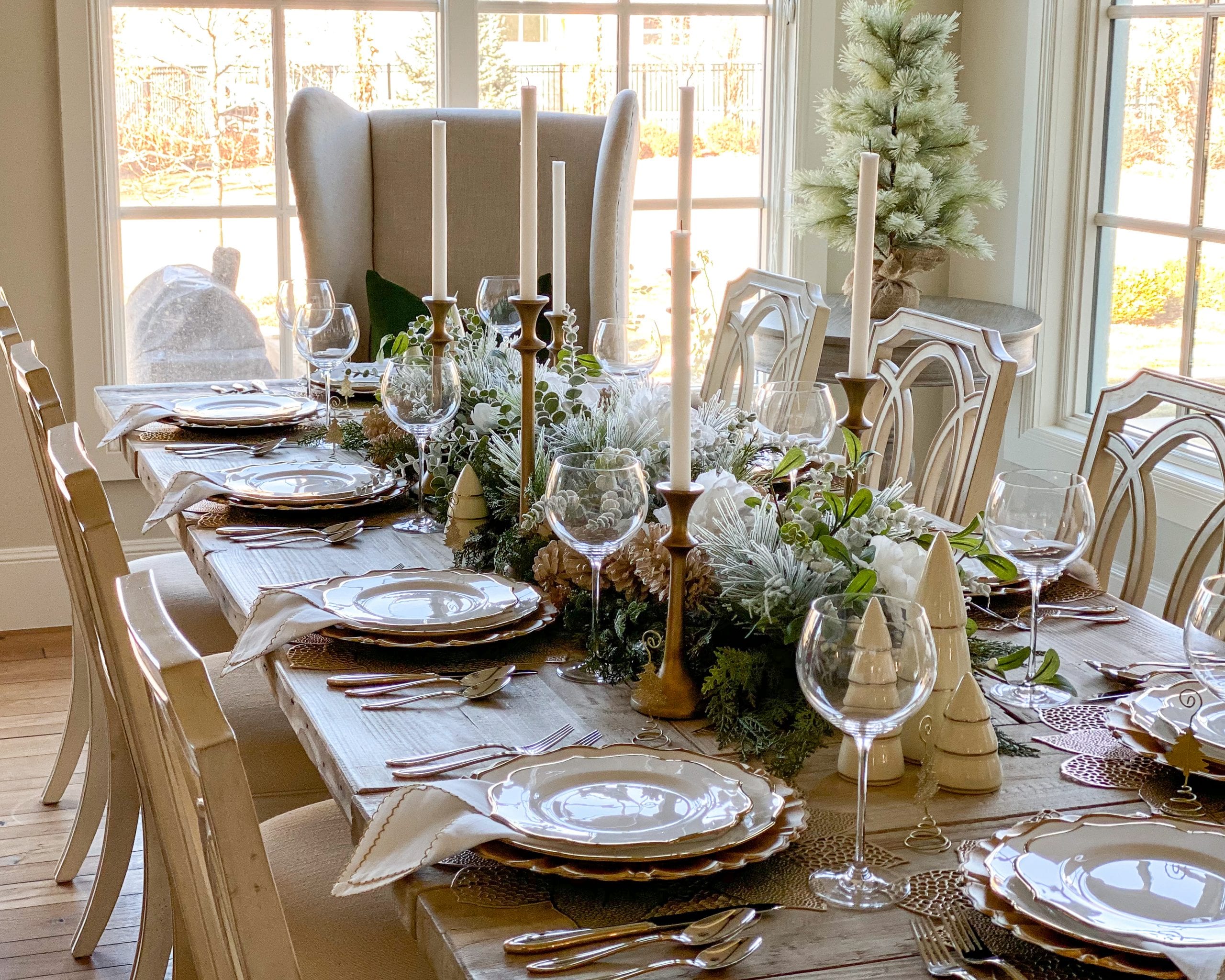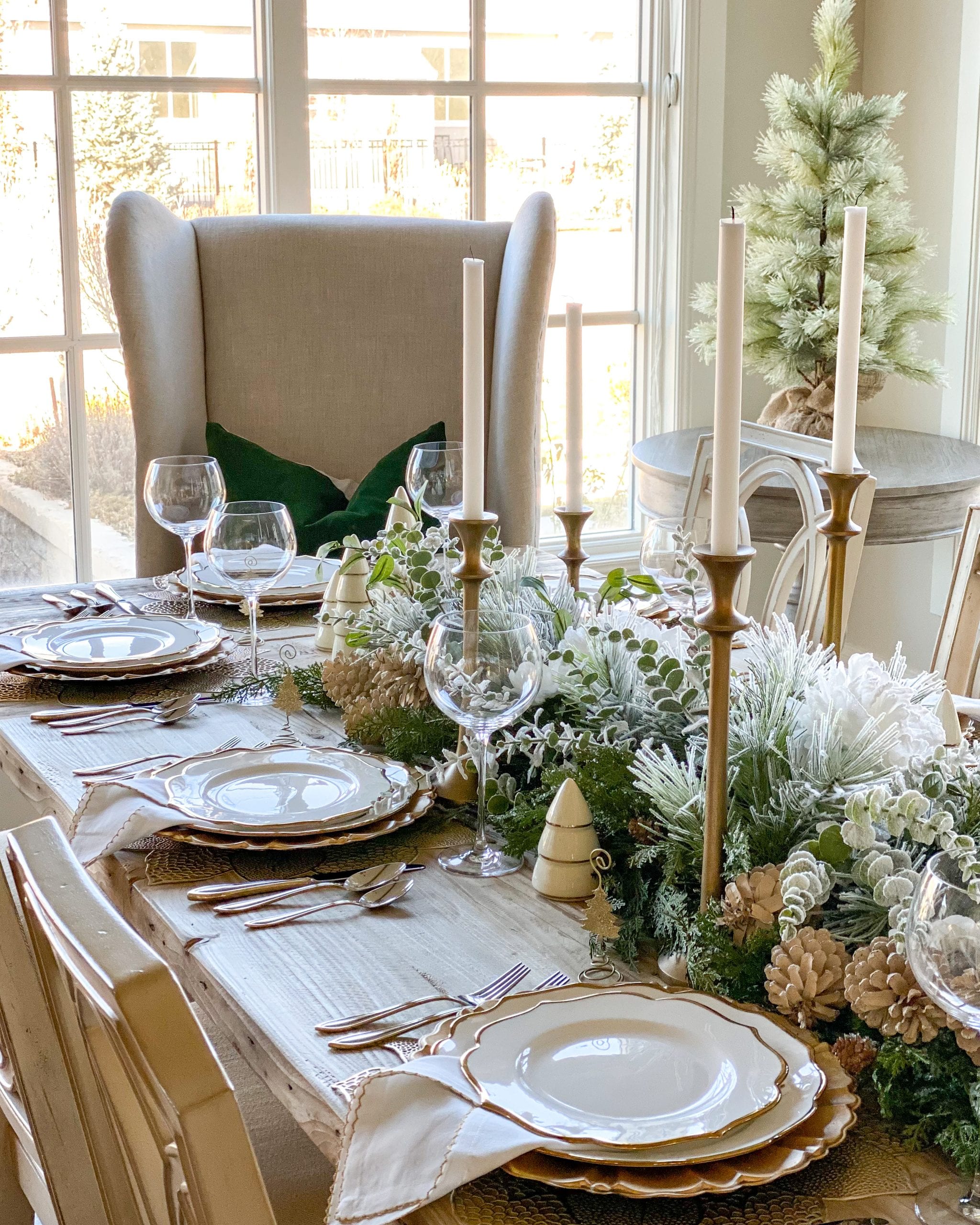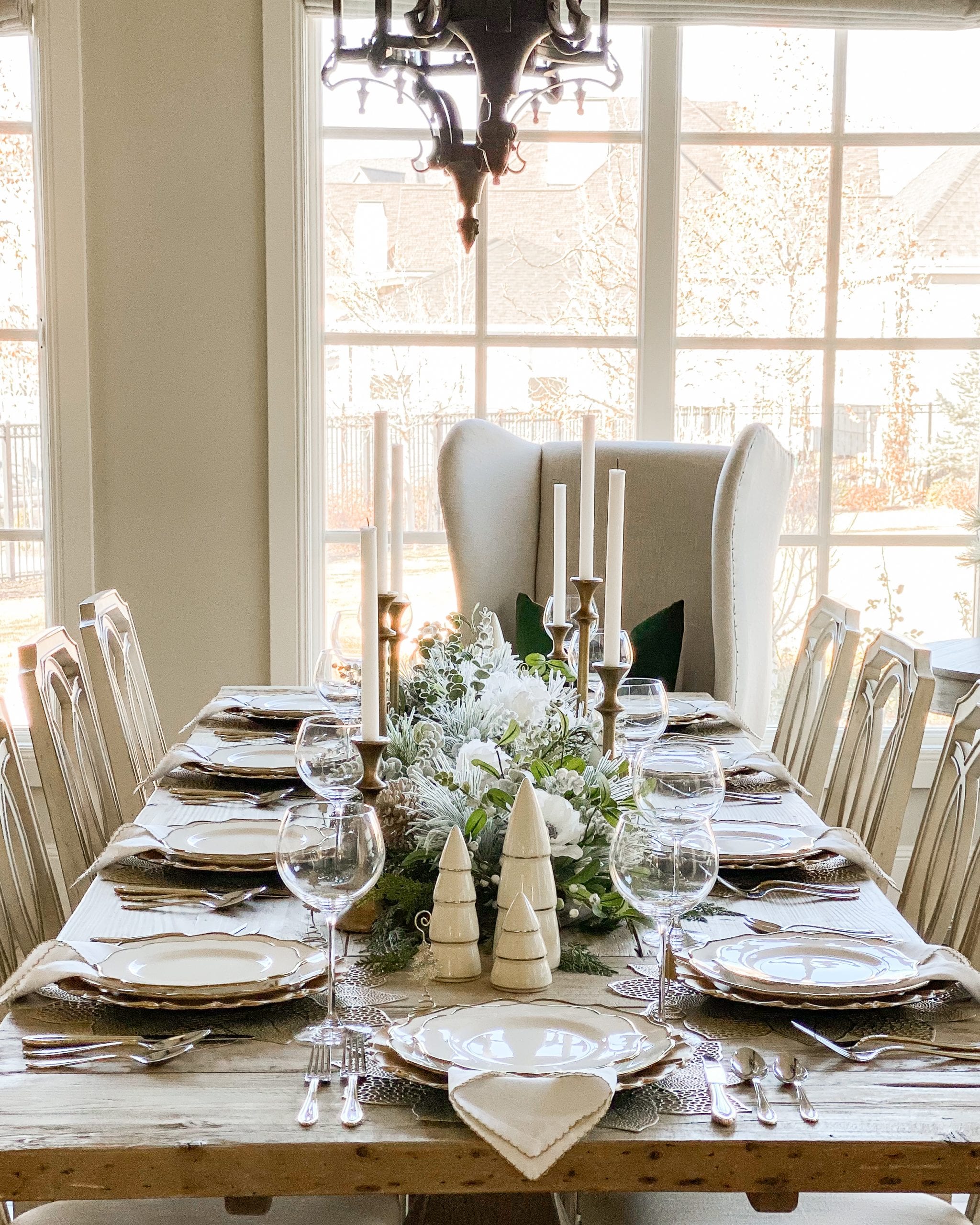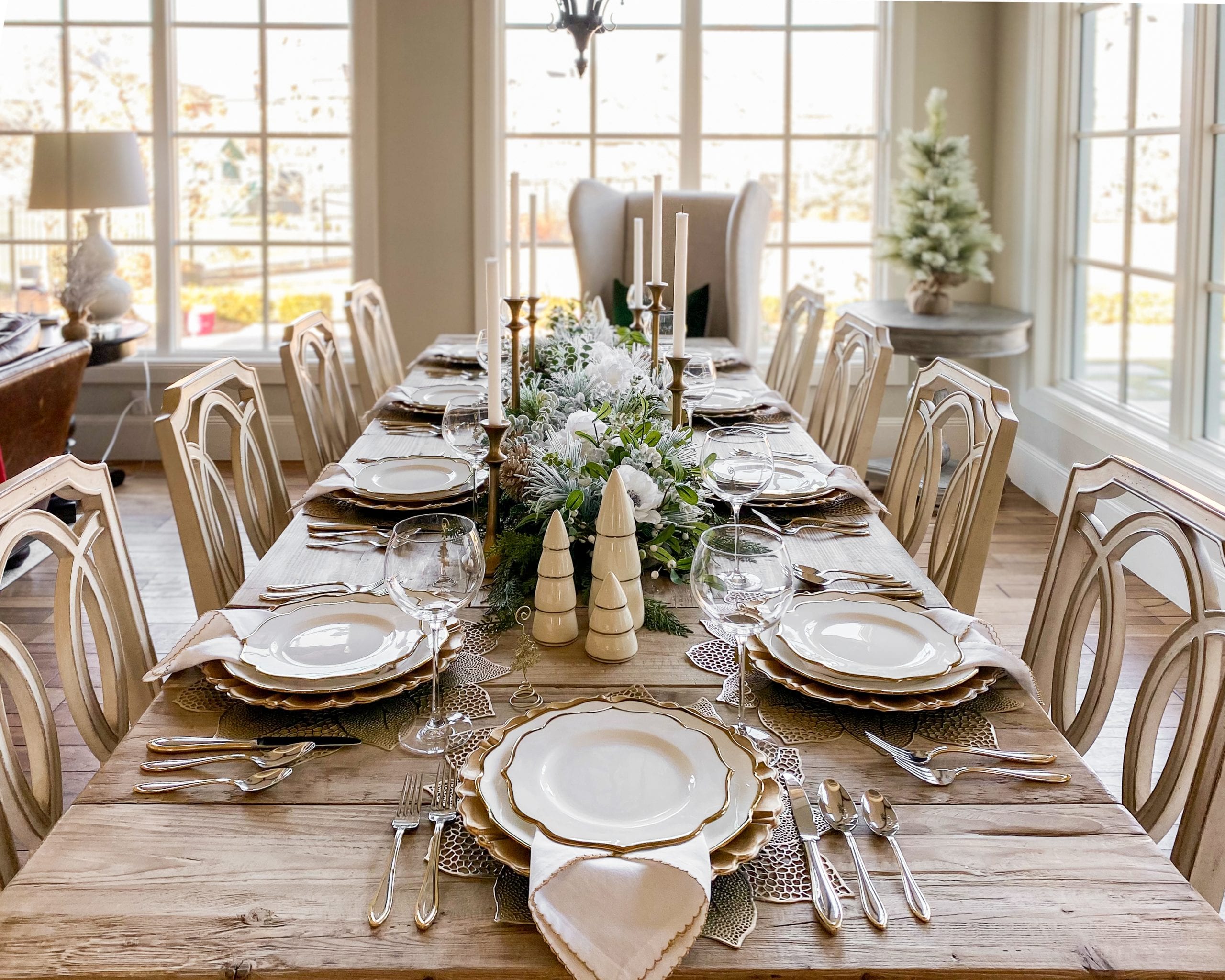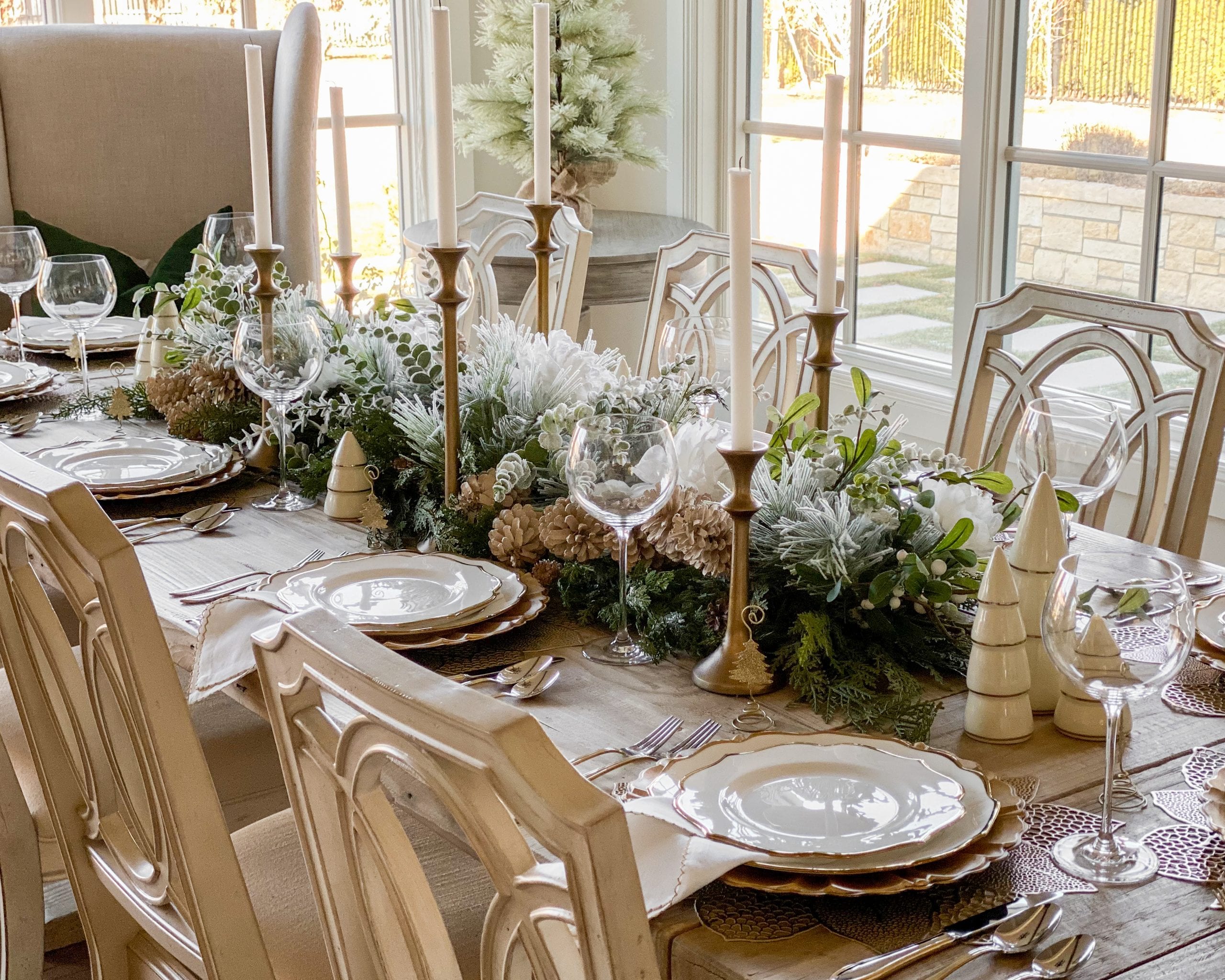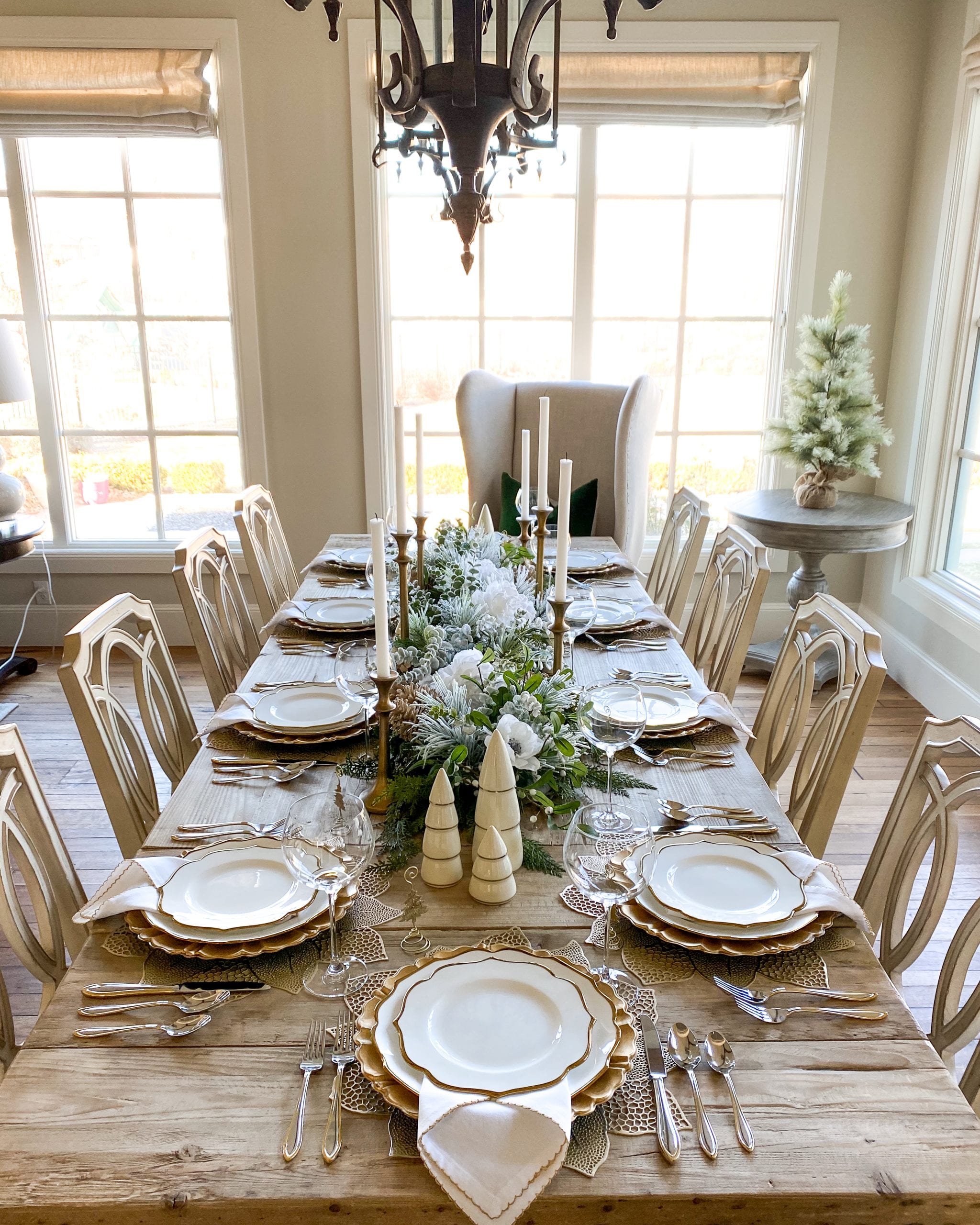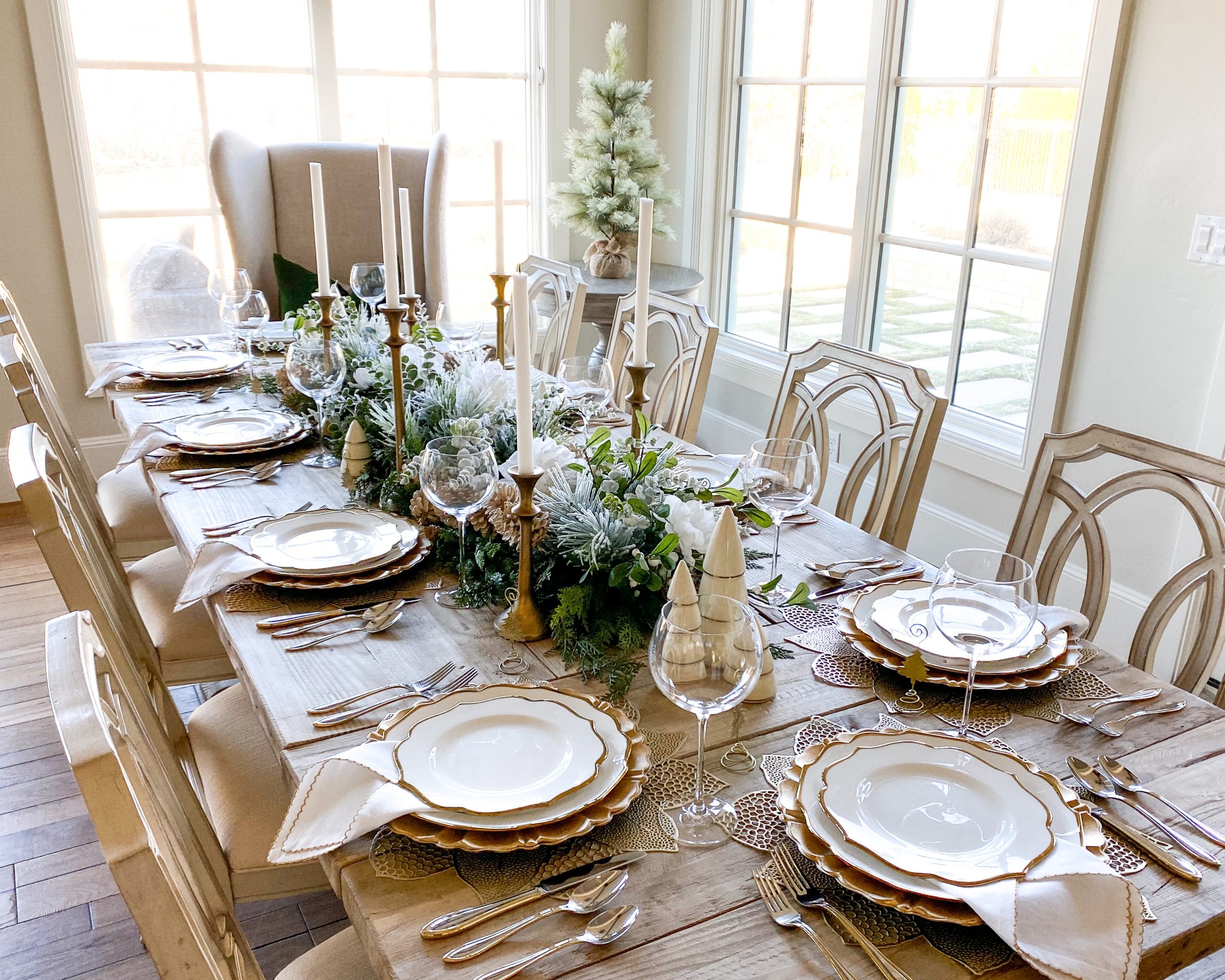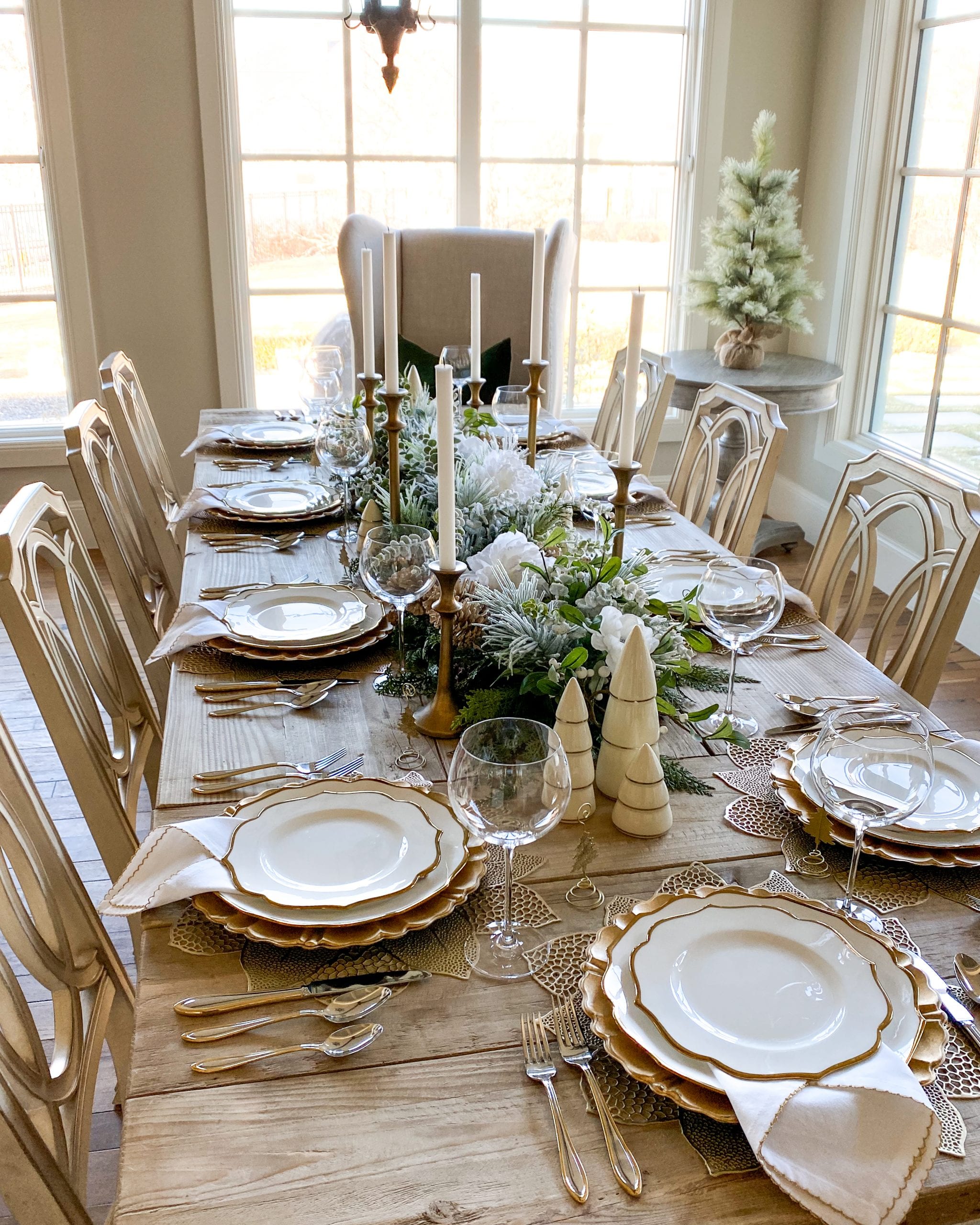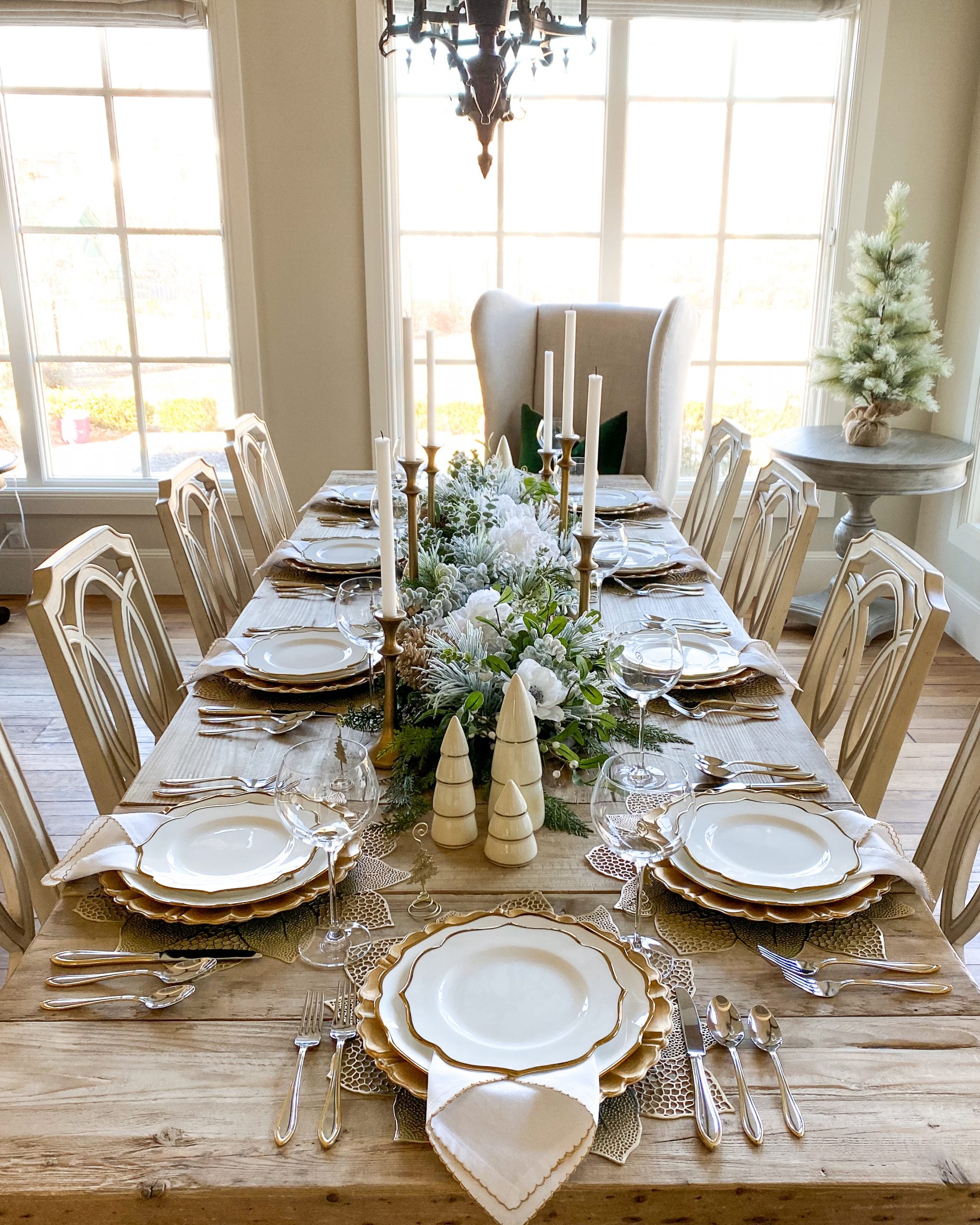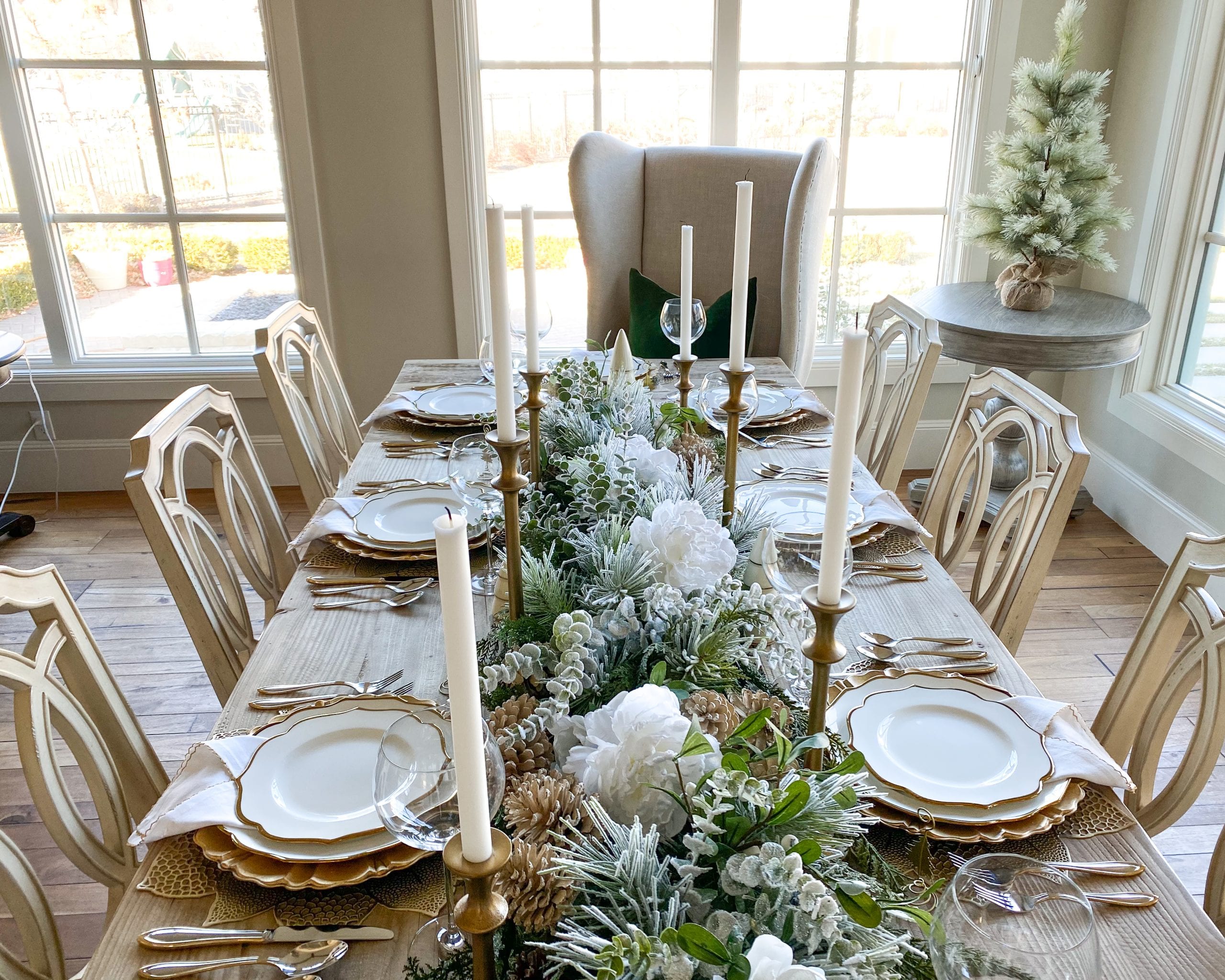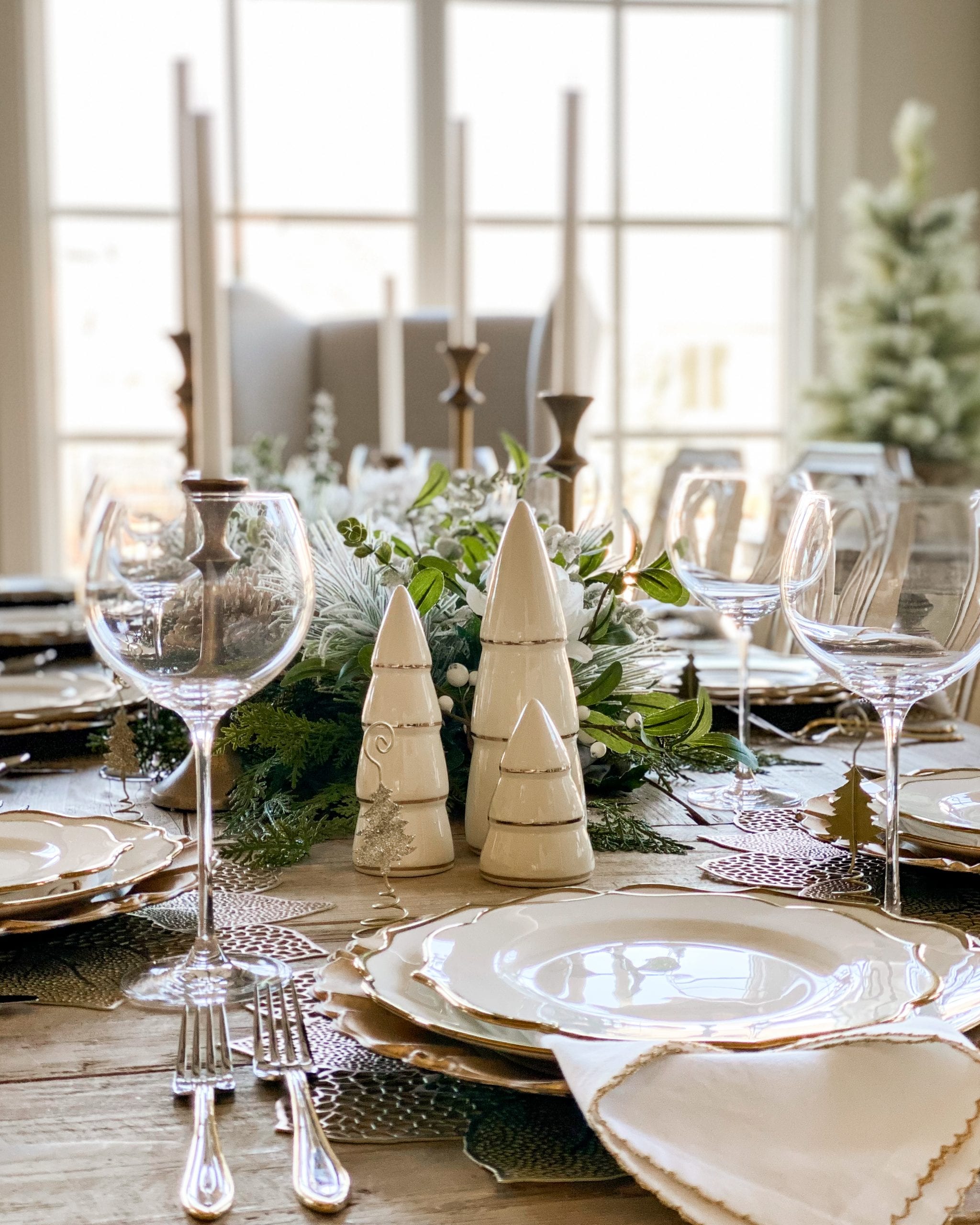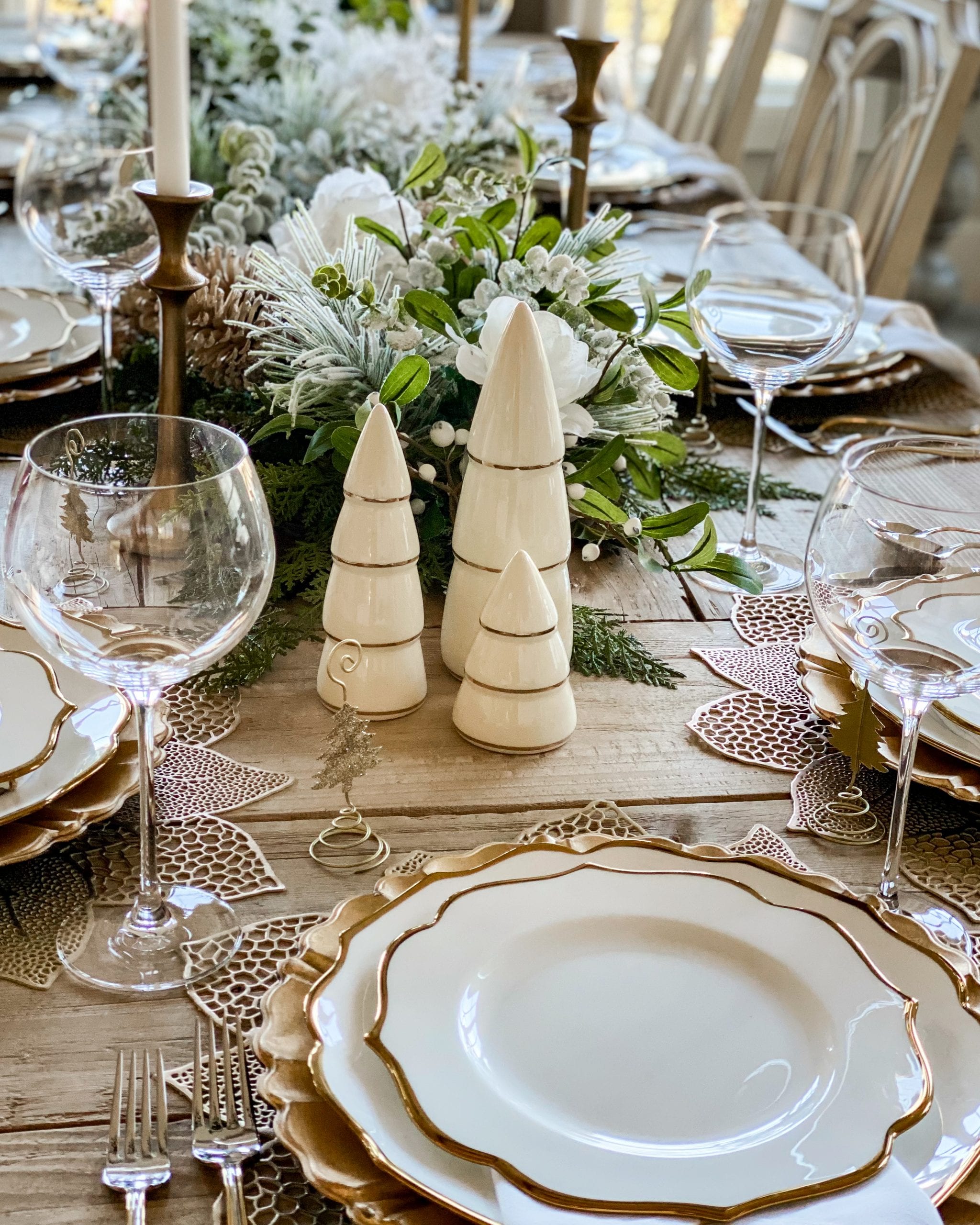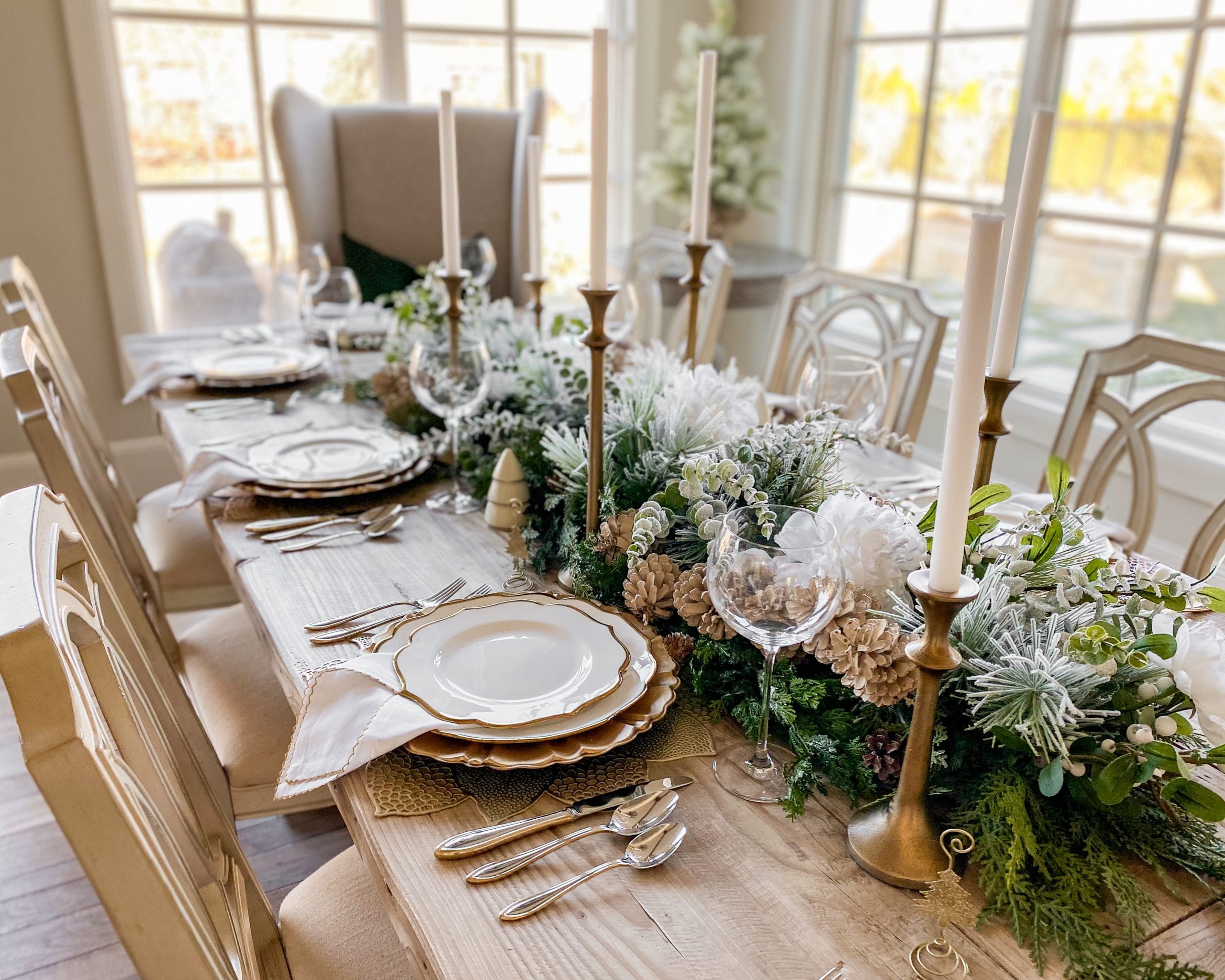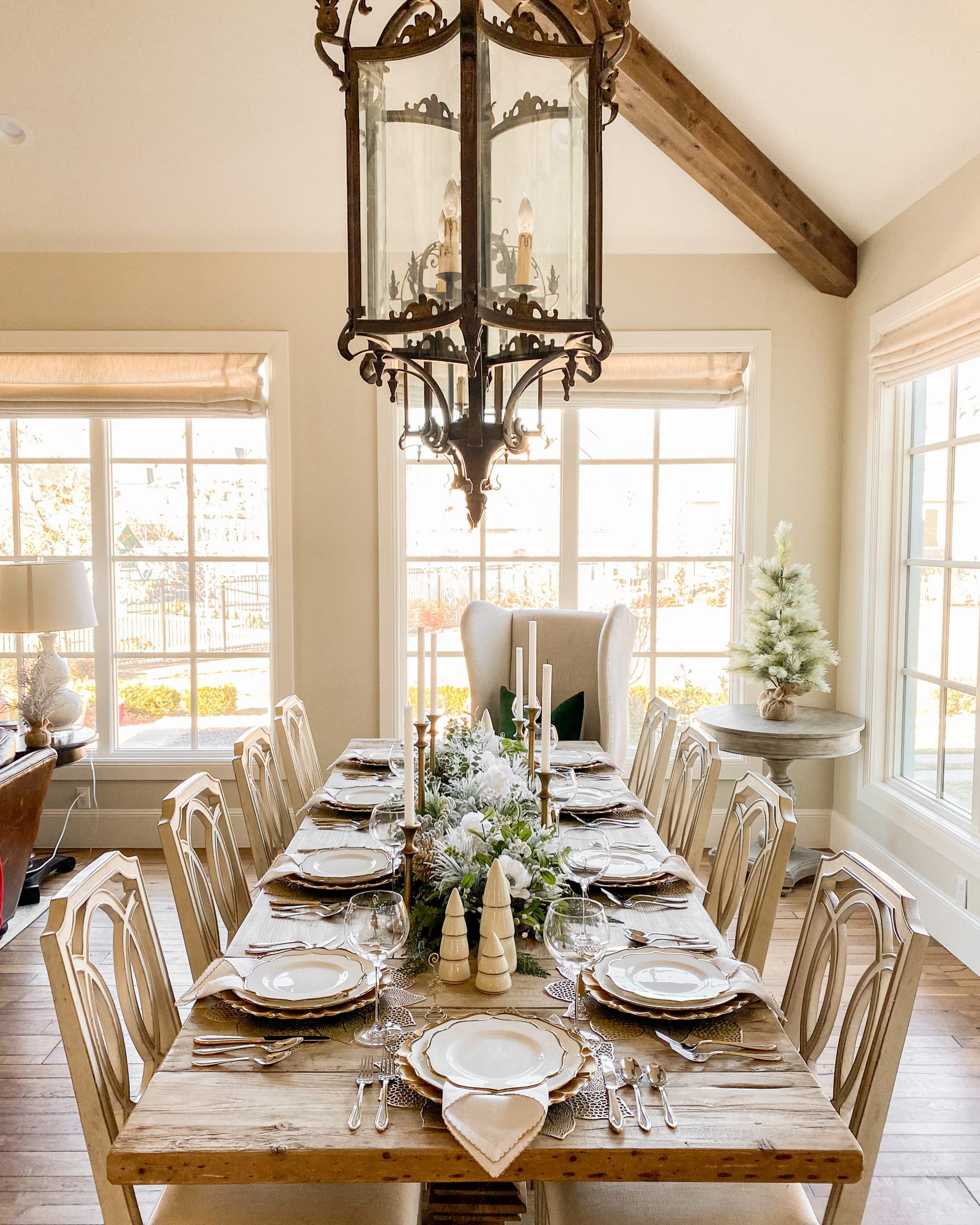 Thanks so much for stopping by and I hope this inspires your Christmas/Holiday tablescape!
Merry Christmas and Happy Hollidays!
xoxo,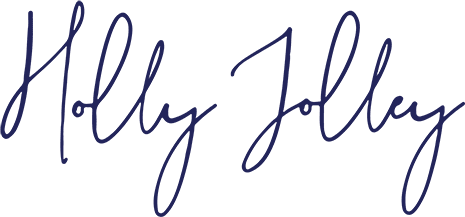 You can find all the sources here below. The gold scalloped charger is from Pier1 but I haven't seen it for awhile so it may be discontinued. Placemats are from hobby lobby.
I linked some other Lenox Wintery Trees below that would also be a great fit for a tablescape or in your winter decor.

SILVER AND GOLD CHRISTMAS TABLESCAPE