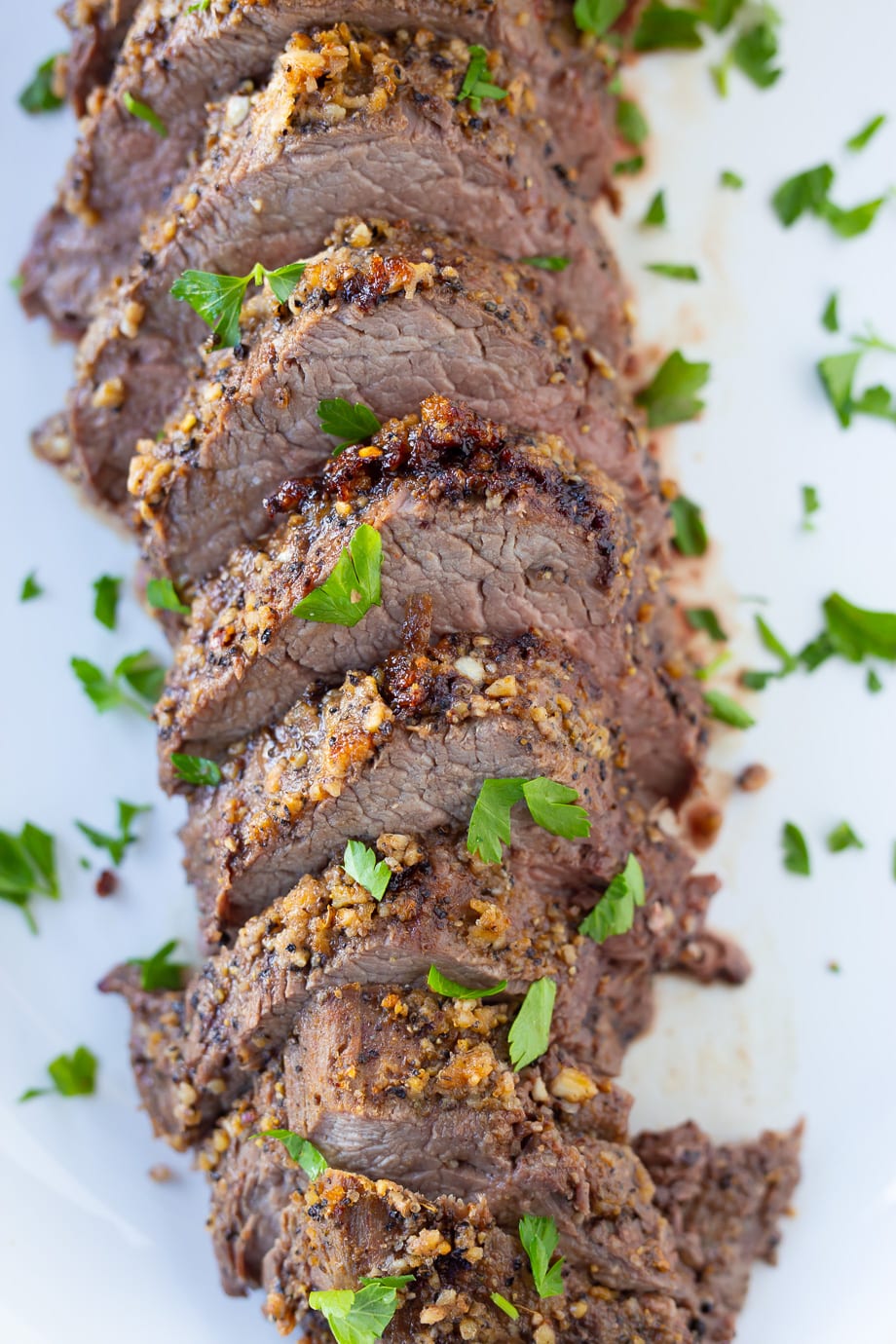 This Roasted Beef Tenderloin is so delicious and actually so easy to make. You just need a few tools to make this successfully. Make sure to read all the way through the post for the details so you don't miss an important step. I usually save this recipe for special occasions or the holidays but every now and then I will make it because it's so good! The tenderloin is the most tender cut of beef. This cut of meat is the filet mignon cut when grilling it as a steak. The tenderloin isn't super flavorful so the garlic crust gives it a nice flavor. There are many ways to give this roast more flavor and I've shared one way I like to do it here. I've shared a simple gravy recipe below but you can also dip it in butter! That option isn't very helpful if you're watching your waistline but it is quite good if you have some belt loops to spare! Keep scrolling for this simple beef tenderloin recipe!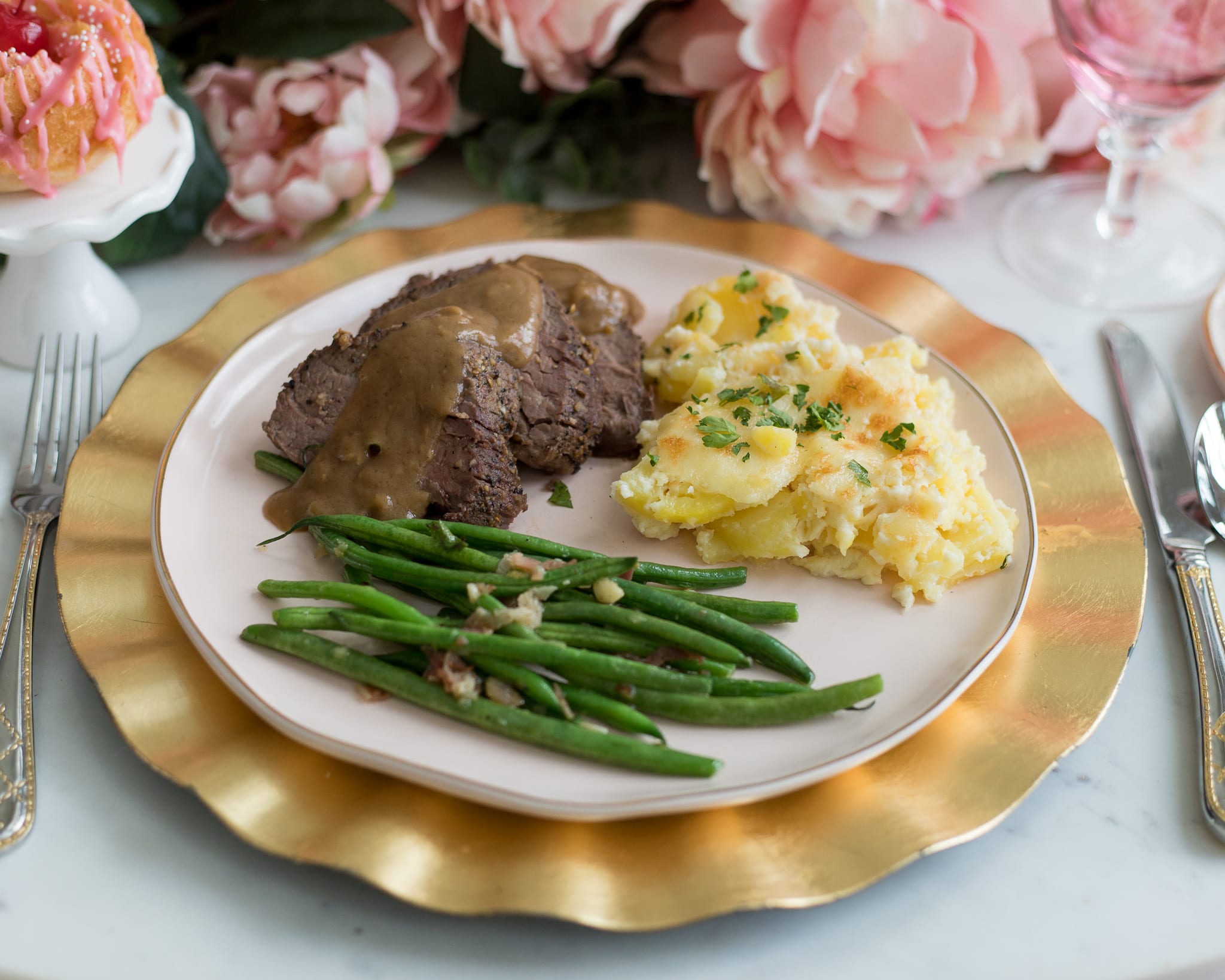 I made this for my husband for a Romantic Valentines Tablescape for Two dinner and he loved it!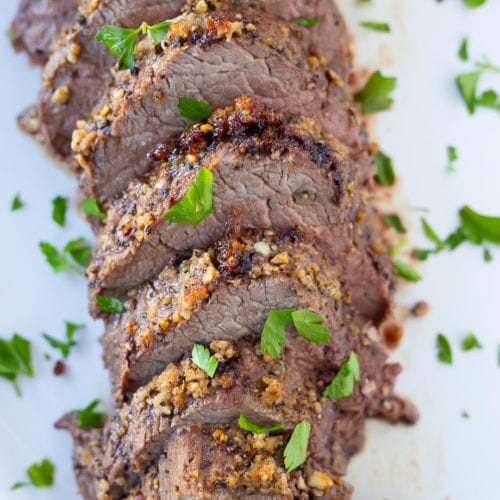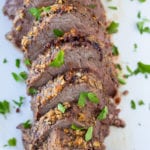 Roasted Beef Tenderloin
This Roasted Beef Tenderloin recipe is easy to make and doesn't take a lot of time. Everyone will think you're a gourmet chef when you bring this to the table. Pair this with my Scalloped Potatoes with Fontina Cheese Recipe (linked below) and you'll be the star of the show!
Total Time
1
hour
5
minutes
Ingredients
1/4

cup

olive oil

1/2

cup

beef base boullion

1/4

cup

chopped garlic

2

tbsp

salt

(to taste)

3

tsp

pepper

(to taste)

2

tbsp

seasoning salt

1

tbsp

onion salt

1/2

cup

Montreal Steak Seasoning
Instructions
Take the tenderloin out of the refrigerator about 30-45 minutes before you're going to put it in the oven. Use a cookie sheet or large cutting board to place the meat on. Pat the beef dry with paper towels. If one end of the tenderloin is smaller than the other, tuck the thinner end underneath and tie it up with with butchers twine. This helps to cook the roast more evenly. Heat the oven to 400ºF. Use a roasting pan with roasting rack. You will also want to prepare the tenderloin and remove the silver skin if it's still on there. You can ask the butcher to prepare it for you. (See Holly's Hints at the bottom of the post for more info)

Pour the olive oil over the beef and rub it on all sides with your hands. Then, take the beef base (I warm it up in the microwave for 30 second so it's easier to spread)and rub it on all sides of the meat.

Mix up the dry seasoning ingredients in a bowl and then add in the garlic and coat it in the seasonings. Then rub it all over the meat on both sides.

Insert a meat thermometer into the thickest part of the meat if you have one. This is a very important! Put the tenderloin in the oven uncovered and roast at 400º degrees. The cook time is approximately 50 minutes but can vary depending on the size of the tenderloin. Gage your cooking time by the thermometer and cook the meat according to your taste. When the meat thermometer reaches the preferred temperature, remove from the oven and set aside to rest for 15 minutes. (135º for medium rare, 145º for medium, 155º medium well and 165º for well done) The temperature of the meat will actually rise 5-8 degrees when it comes out of the oven.

Slice the beef tenderloin into slices and serve on a nice platter and garnish with parsley or herbs of your liking.

I will sometimes make a gravy out of the drippings if there are any. There is not a lot of fat on a tenderloin so there usually isn't a lot of drippings which are necessary to make gravy.

If you want to make gravy, make a simple roux from equal parts butter and equal parts flour. (1/2 cup flour to 1/2 cup butter) Cook in a sauce pan until bubbling. If you have any drippings add them into the roux while it's bubbling and stir. Add 4-5 cups of water and stir often until it begins to thicken. You might need to add in more water or even a cup of milk or half and half can be added if you prefer a more creamy gravy. Add salt if needed, taste before you add any seasoning with pepper to taste and 1-2 tbsp beef base. Stir until it's thickened and the consistency you prefer. I sometimes add in Kitchen Boquete which is a beef browning flavoring that enhances the beef flavor. It all depends on how much flavor you get from your meat drippings. The beef tenderloin has a salty, flavorful crust so you don't need the gravy but if you prefer it, go for it! I'm a gravy person so I always make it if I have drippings.
Recipe Notes
I've linked some of the seasonings I've used below.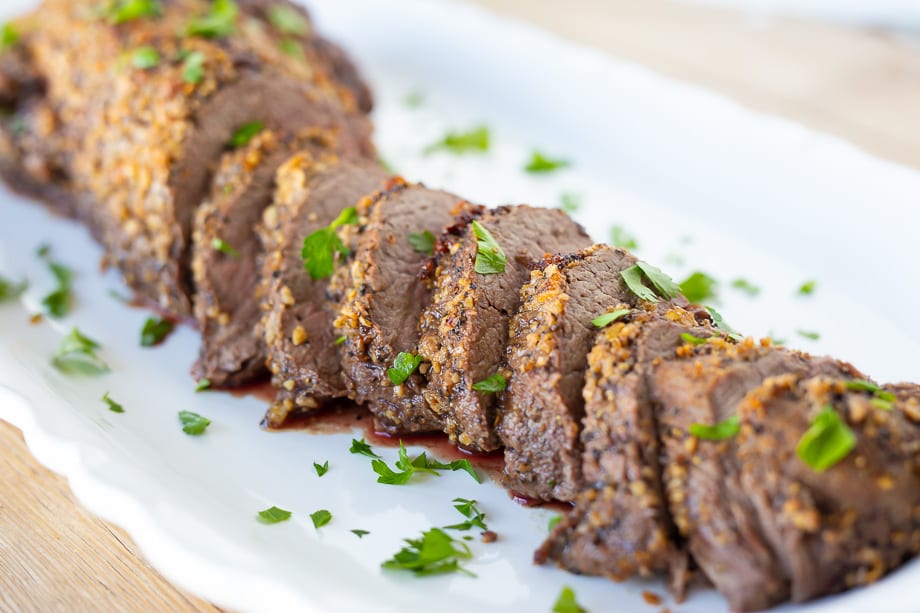 Holly's Helpful Tips:
For more information on how to prepare the tenderloin for roasting, I found this post was very helpful. Read about it here: How To Trim A Whole Beef Tenderloin. You can ask the butcher to do this for you if you prefer not to. I bought mine at Costco and the tenderloin was already prepped so I didn't have to do this step.
I served my tenderloin with my Scalloped Potatoes with Fontina Cheese and Sautéd Green Beans with Panchetta, Garlic, and Shallots.
I used a meat thermometer that goes into the oven and syncs with bluetooth to an app on your phone! Isn't technology great! I've linked it below. There are a few different options so look at each of the links to determine which one is the best for you.
Enjoy!!
Holly

PIN THIS FOR LATER: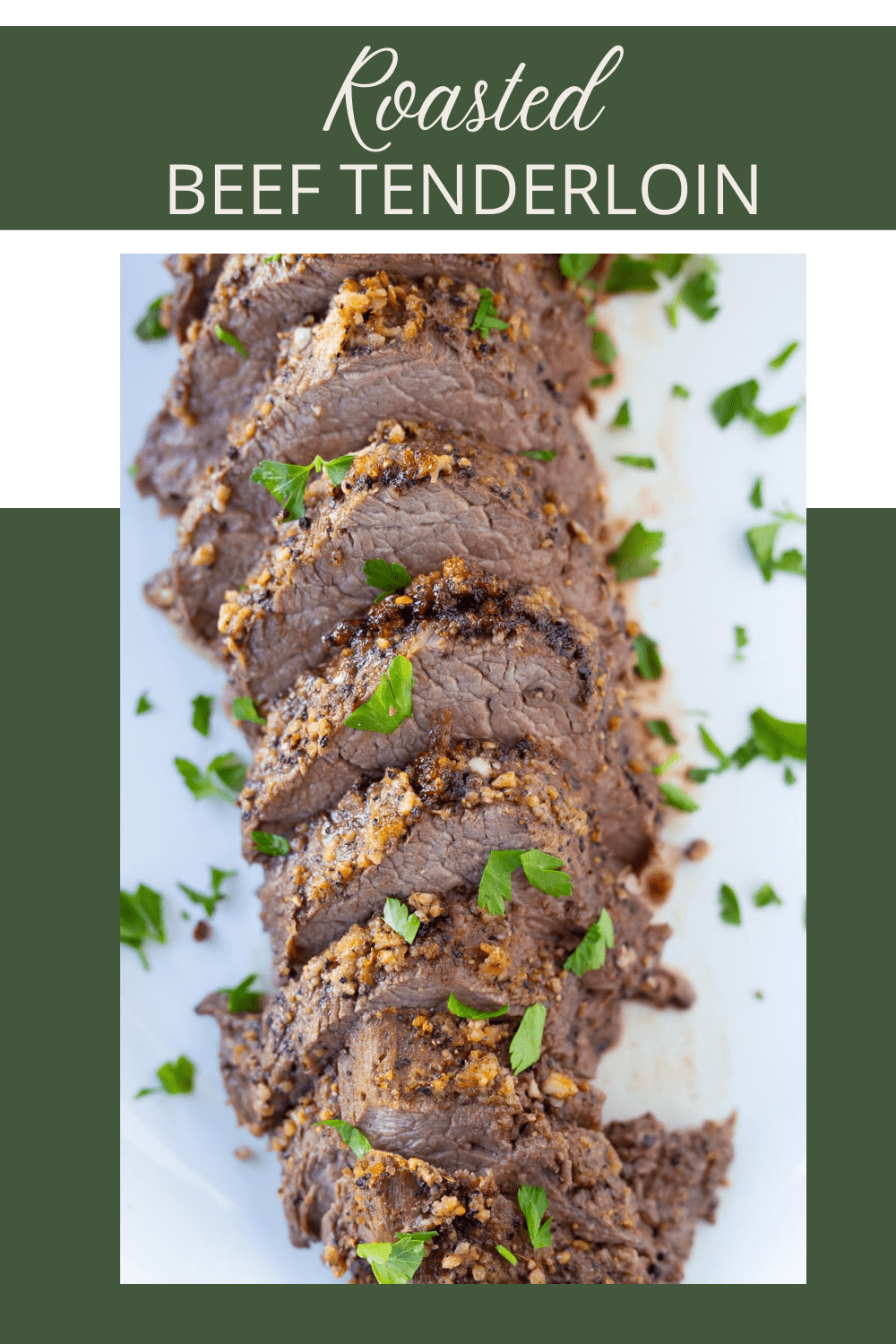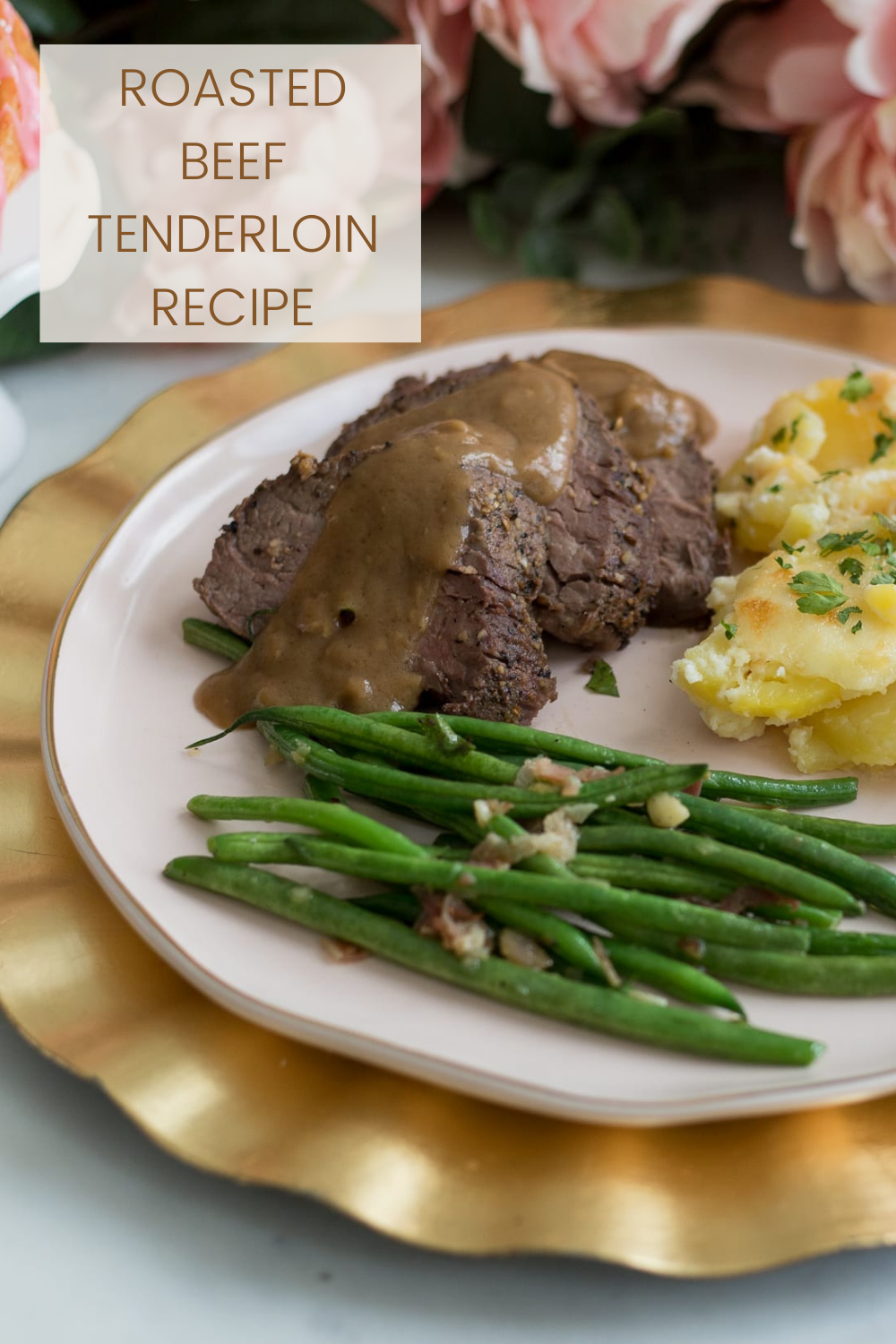 Simple beef tenderloin recipe