French Onion Pasta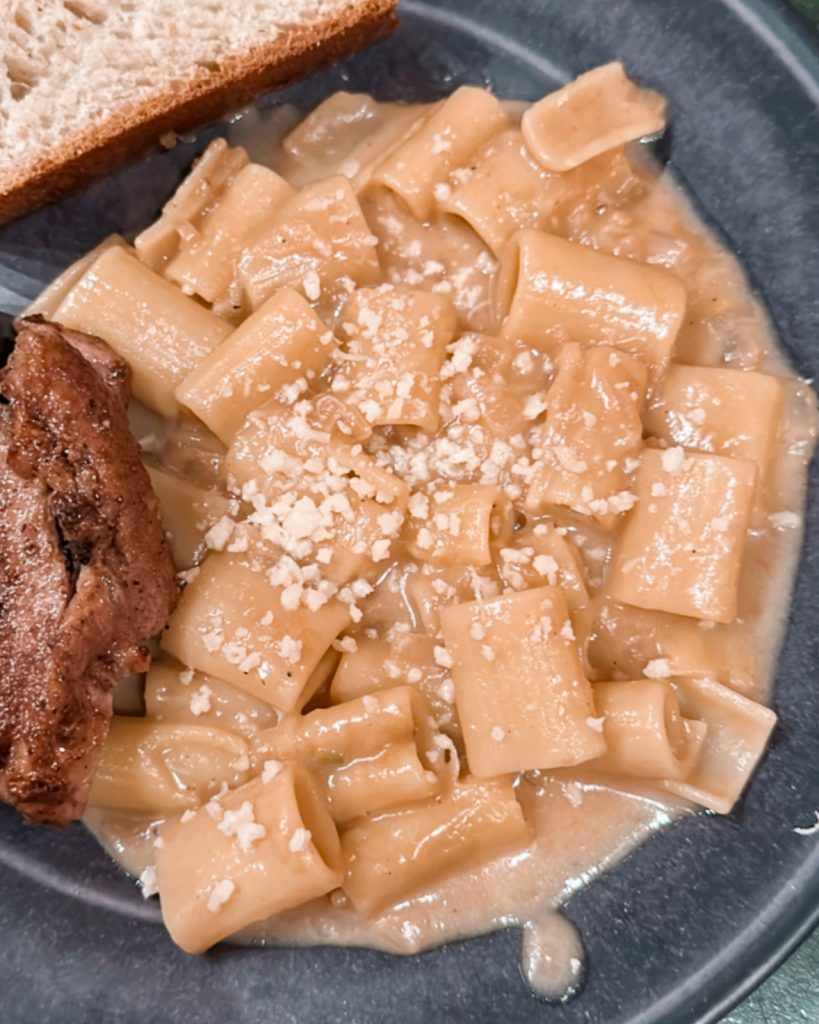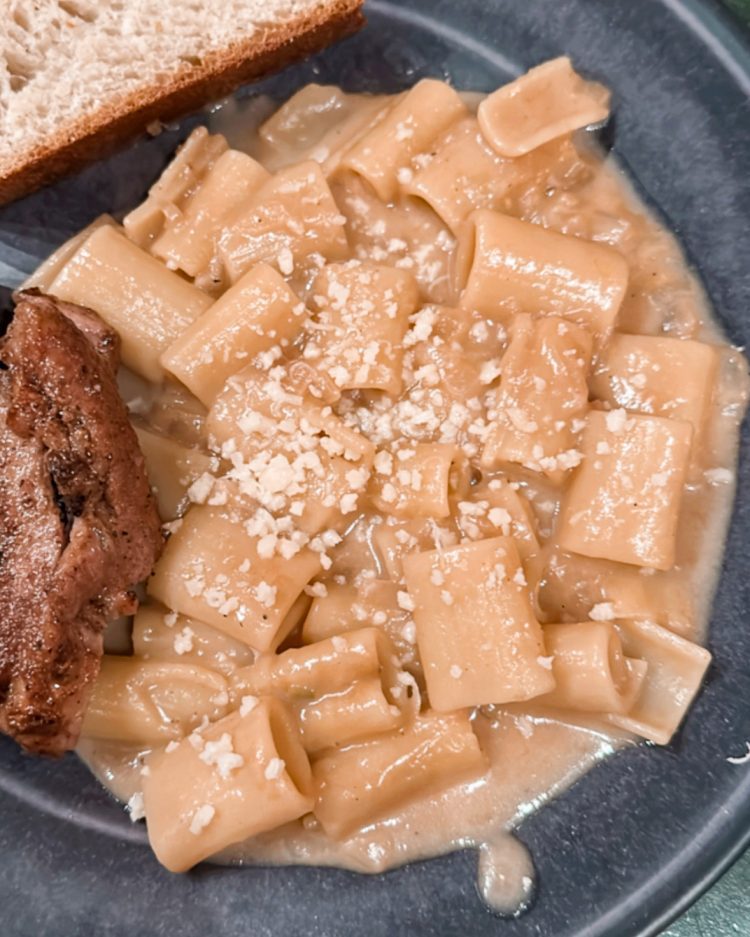 This French Onion Pasta is a one pot meal and super easy to make! It's the perfect comfort food that you can serve as a main dish or as a side dish. We often make this when we visit our cabin in the Montana mountains where we go to relax and unwind. We cook a lot when we are at our cabin as there are no restaurants nearby. The ingredients are simple and you can use any type of pasta you like! I'll share my favorites below!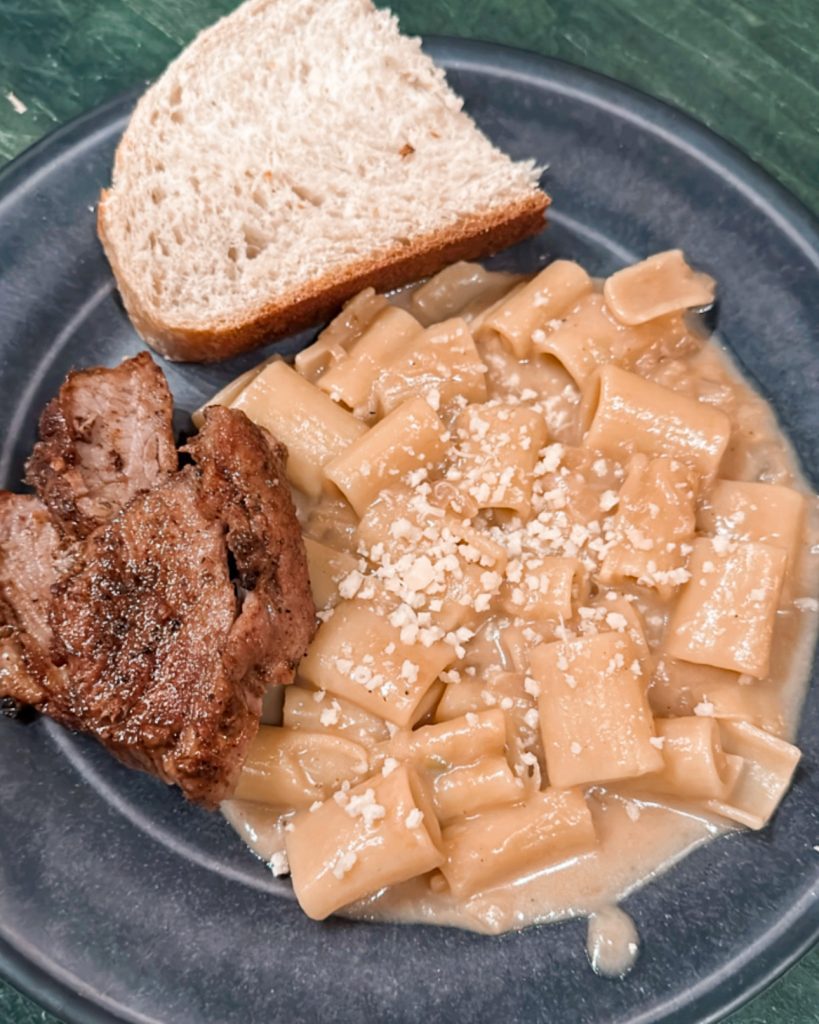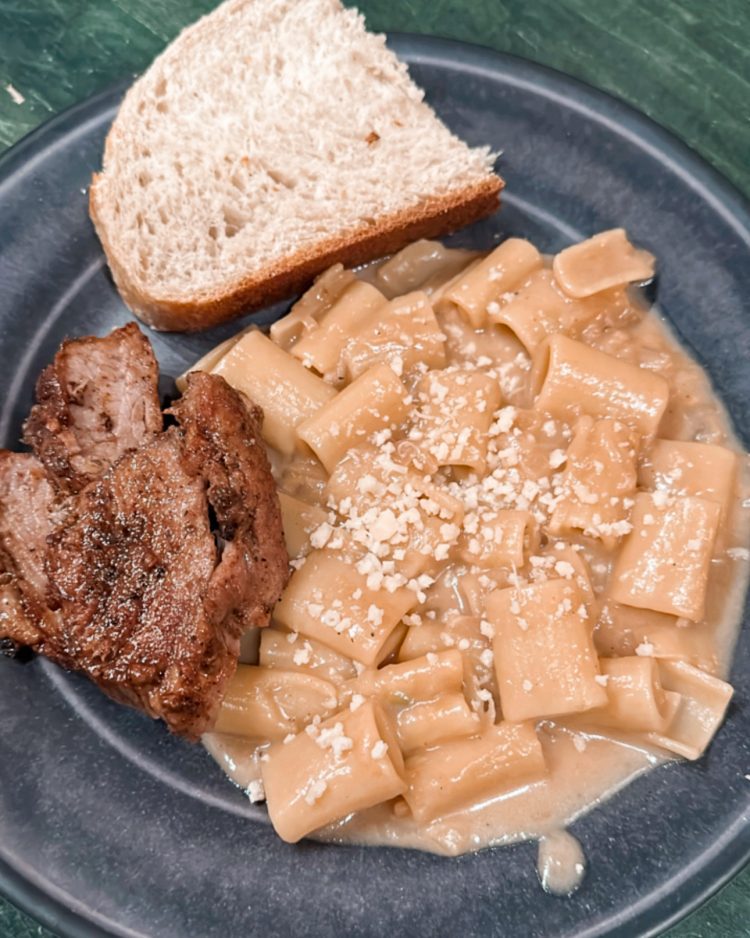 I shared this on my Instagram as a reel so I didn't take a lot of photos of the process, but you can see the video here if you like!
Type of Pasta to Use
When I made this pasta the first time I used this type of pasta called Gemelli. The pasta is intertwined together and the small crevices on the surface, created from the twisted shape of the pasta, means that gemelli can trap the sauce well. I loved the texture and taste of the gemelli pasta with the sauce in this recipe. I've also used bowtie pasta also called farfalle, and as you can see in this post, I used rigatoni to make it this time.
I liked the rigatoni with this french onion sauce and it did a great job of soaking up the sauce too. Because we were at our cabin, which is 40 miles away from the grocery store, I used what we had in the pantry to make this recipe. Overall, my favorite pasta to use with this recipe has been the Gemelli pasta but the bowtie (farfalle) and the rigatoni were also good! This is another reason why I like this recipe. You can literally use what you have on hand it's its always good, as well as easy!
Now for the Recipe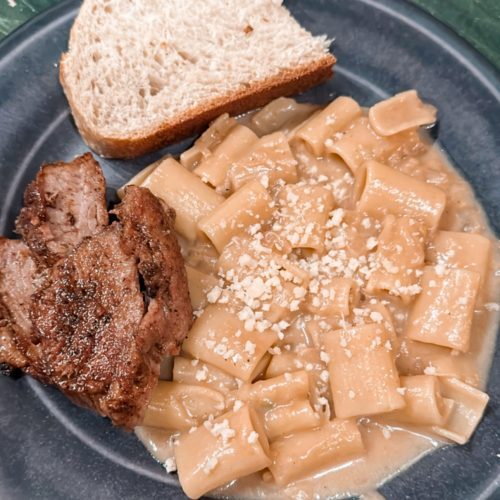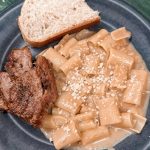 French Onion Pasta
This French Onion Pasta recipe is super easy to make and a one pot meal. It's perfect as a side dish or all on it's own as a main dish. You can use any type of pasta and it's comfort food at it's finest!
Ingredients
3

tbsp

butter

3

small

white onions sliced into small pieces

1

pkg

pasta (gemelli, rigatoni, farfalle)

2

32 oz

beef stock cartons

1

8 oz

bag of Parmesan cheese (Sartori is what I used)

½

cup

heavy whipping cream

1

tsp

salt

1

tsp

pepper

1

tsp

onion salt

1

tsp

seasoning salt (I used johnny's)
Instructions
Melt the butter in large pot or pan.

Slice up the 3 small white onions (or 2 large onions) and add them to the melted butter. Saute on medium to medium high heat until the onions are starting to caramelize. This can take 10-15 minutes. Stir occasionally.

Add in seasonings while onions are cooking and stir.

When onions are starting to turn brown and carmelize, deglaze the pan by adding in one box of the beef stock and scrape the brown bits off the bottom of the pan. Stir and bring to a low boil, then add in the pasta.

Let the pasta boil in the sauce on medium to medium high heat and gradually add in the second box of beef stock. Stir often to make sure pasta isn't sticking to the pan.

Cook until the pasta is done. The stock should be just barely covering the pasta at this point. Add in the heavy whipping cream and 3/4 of of the bag of grated Parmesan cheese. Stir. Taste the sauce at this point and if it needs more salt and pepper, add that in to taste if needed. The beef stock also has salt in it so don't over salt it until you've tasted it after it's all been added and simmered down some.

Let simmer for a few minutes until the parmesan cheese is melted into the sauce and it starts to thicken up a bit. Stir often to keep pasta from sticking to the bottom of the pan. If the sauce is too runny, keep simmering on low and add more parmesan cheese and stir into the sauce until melted. Turn off heat and let it set for a few minutes.

The sauce will continue to thicken as it sits. Serve up with grated parmesan cheese. (If for some reason you can't get the sauce to thicken, you can mix 2 tbsp of corn starch with 1/4 cup water in a separate container and add that into the sauce. Let simmer to thicken up the sauce and that should get it a bit thicker) (If you have the opposite problem and the sauce is too thick, add in more beef stock to thin out the sauce.)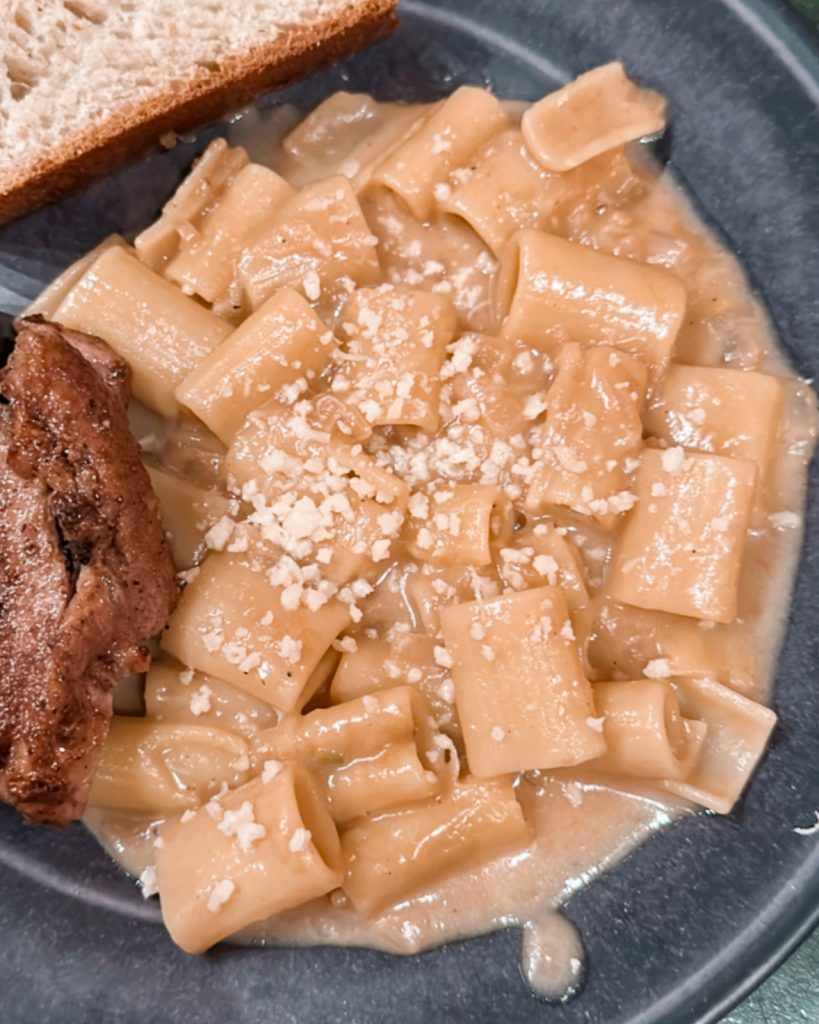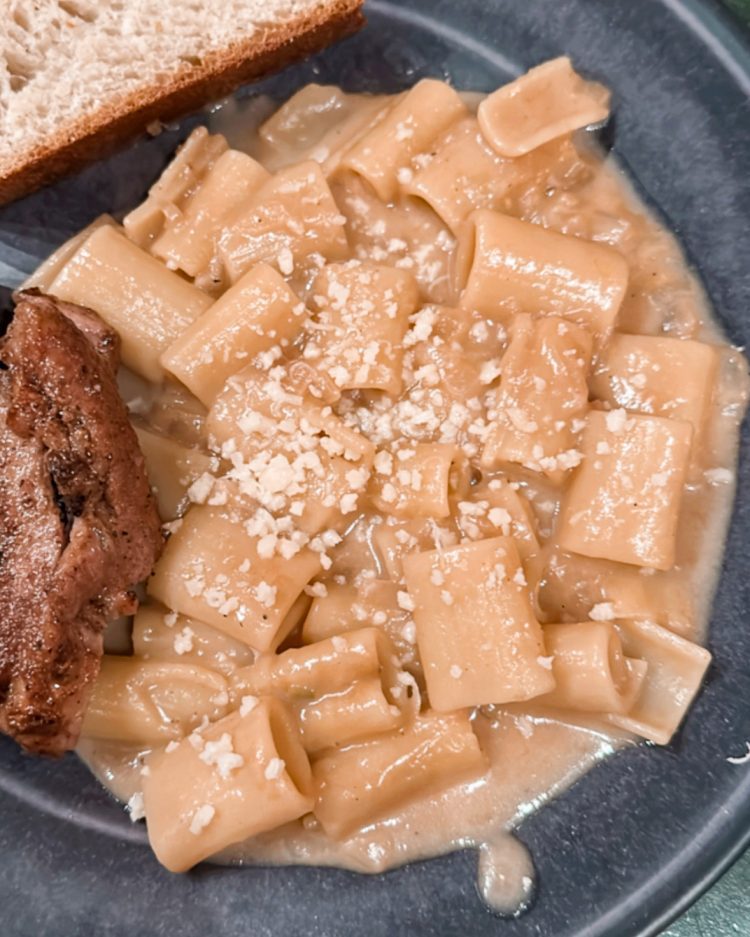 I hope you enjoy this easy French Onion Soup recipe! It's the perfect side dish or main dish!
Enjoy!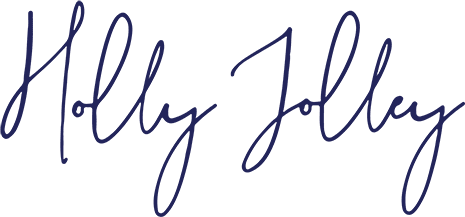 If you like this recipe, you'll want to check out these:
Homemade Chicken and Noodles over Mashed Potatoes