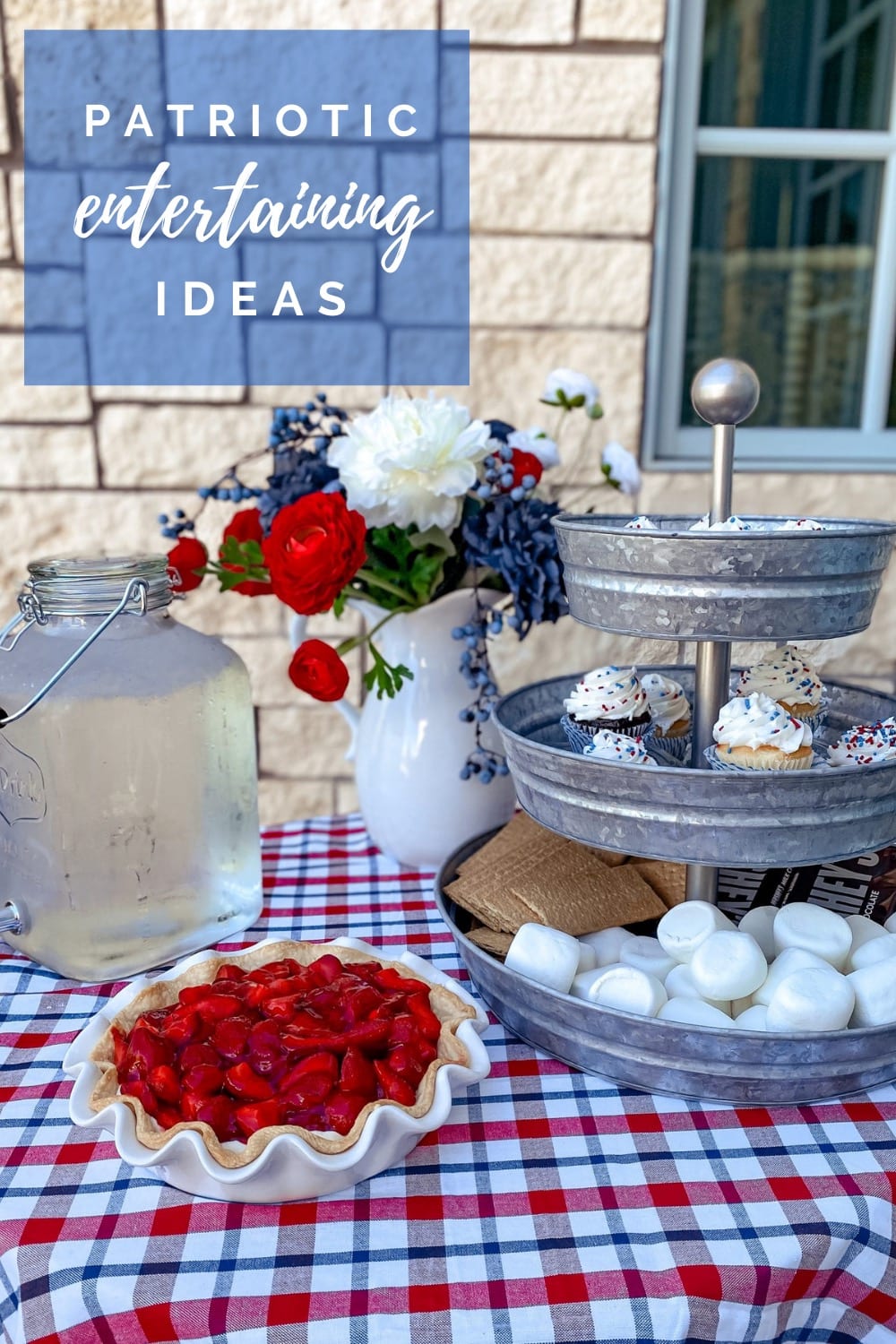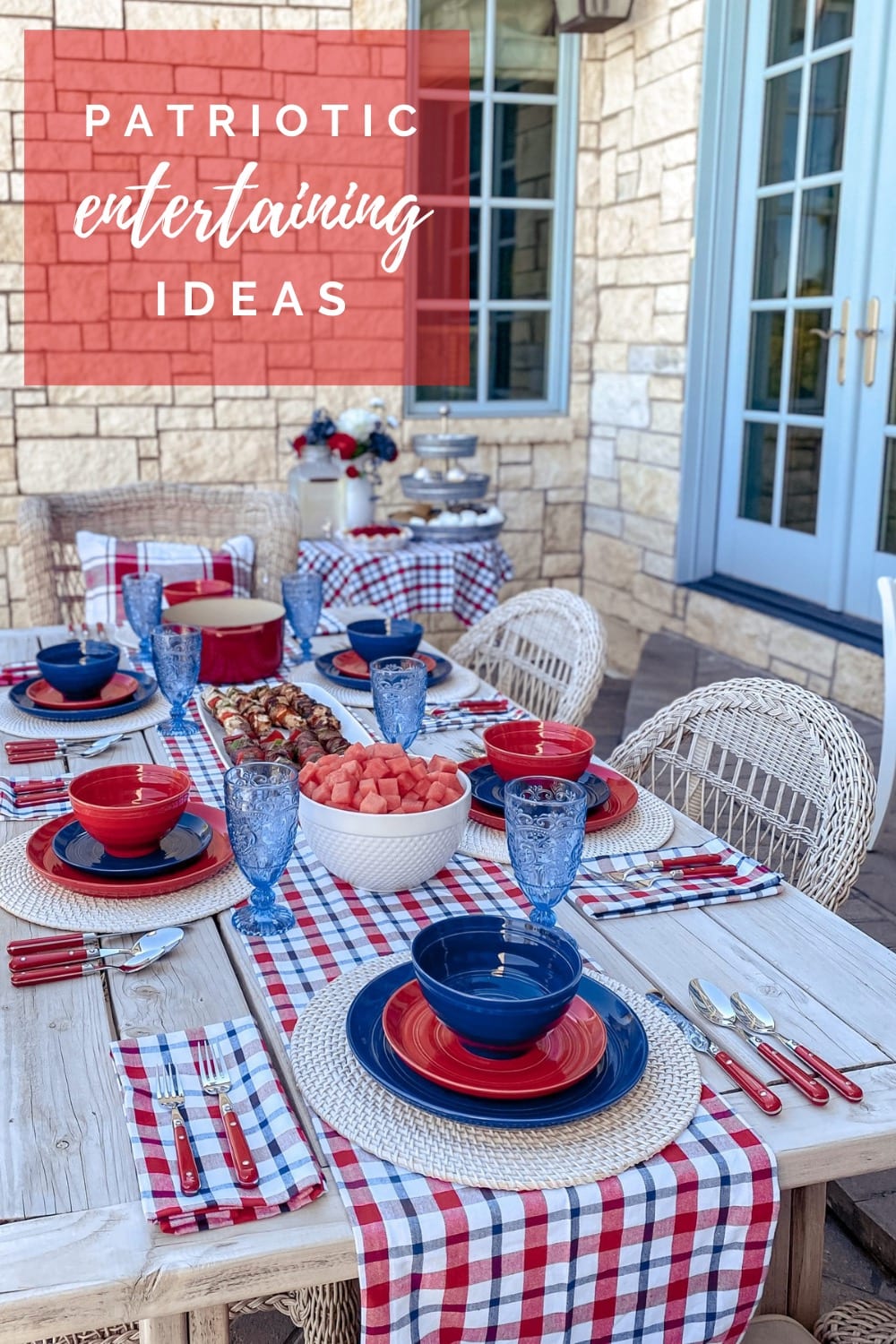 Check out these Patriotic Entertaining Ideas for your next Fourth of July or Memorial Day celebration with tablescapes, recipes, and more! Plus, all sources are listed at the bottom.
This post is sponsored by Walmart. All opinions and ideas are my own.

Disclaimer: This post does include affiliate links for your convenience. This is at NO additional cost to you but earns me a small commission. To read more, check out our disclosure policy.
Patriotic Entertaining Ideas
I look forward to the Fourth of July every year! I love so many things about this holiday. It's a great time to gather with family and friends and celebrate this great country we are blessed to live in. I've partnered with Walmart to share some Patriotic Entertaining Ideas and inspiration. Walmart Home has so many great items for summertime entertaining and everything you need to host the perfect gathering.
Keep scrolling down for all the details. I will link all the sources throughout the post and at the bottom.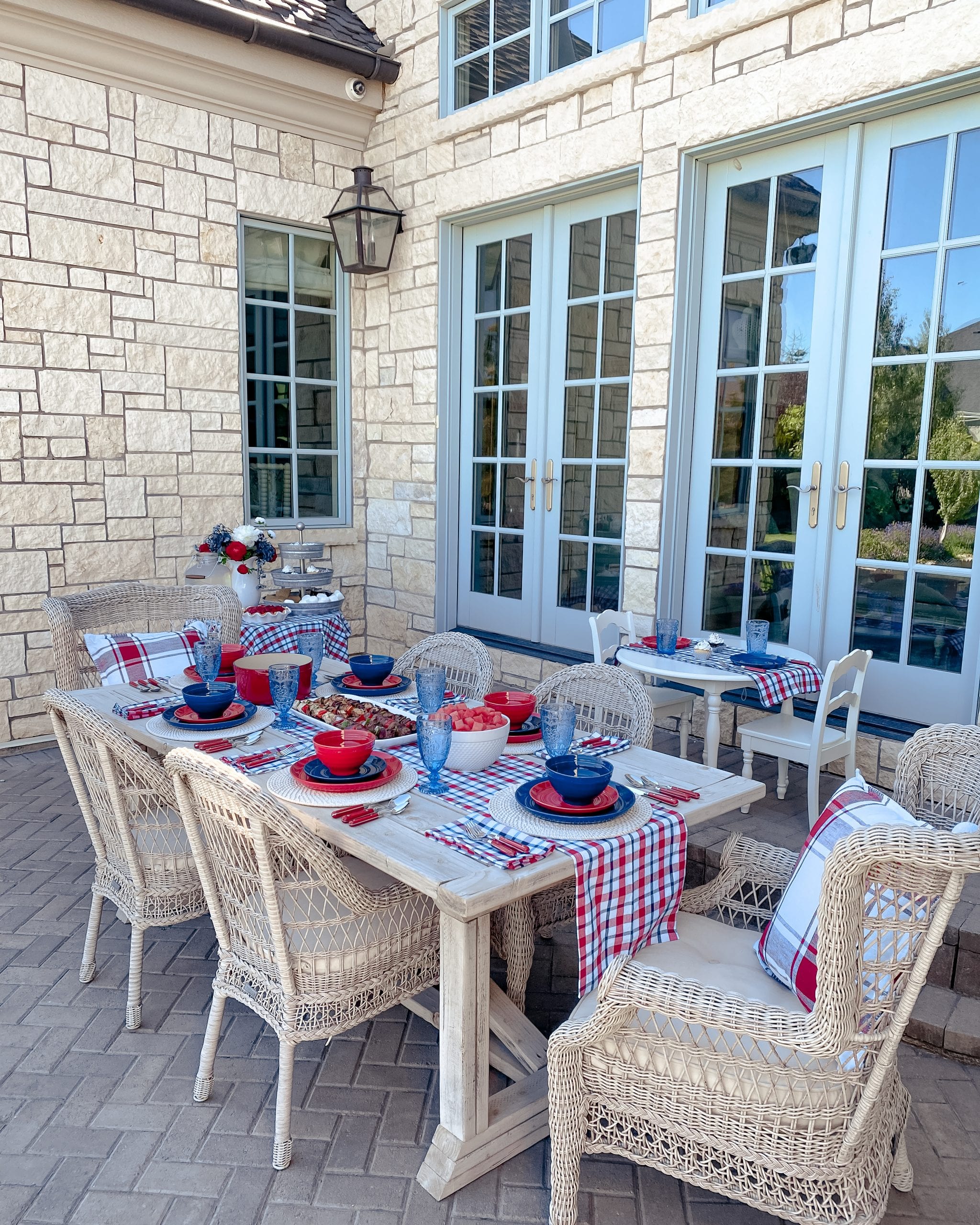 Outdoor Patriotic Tablescape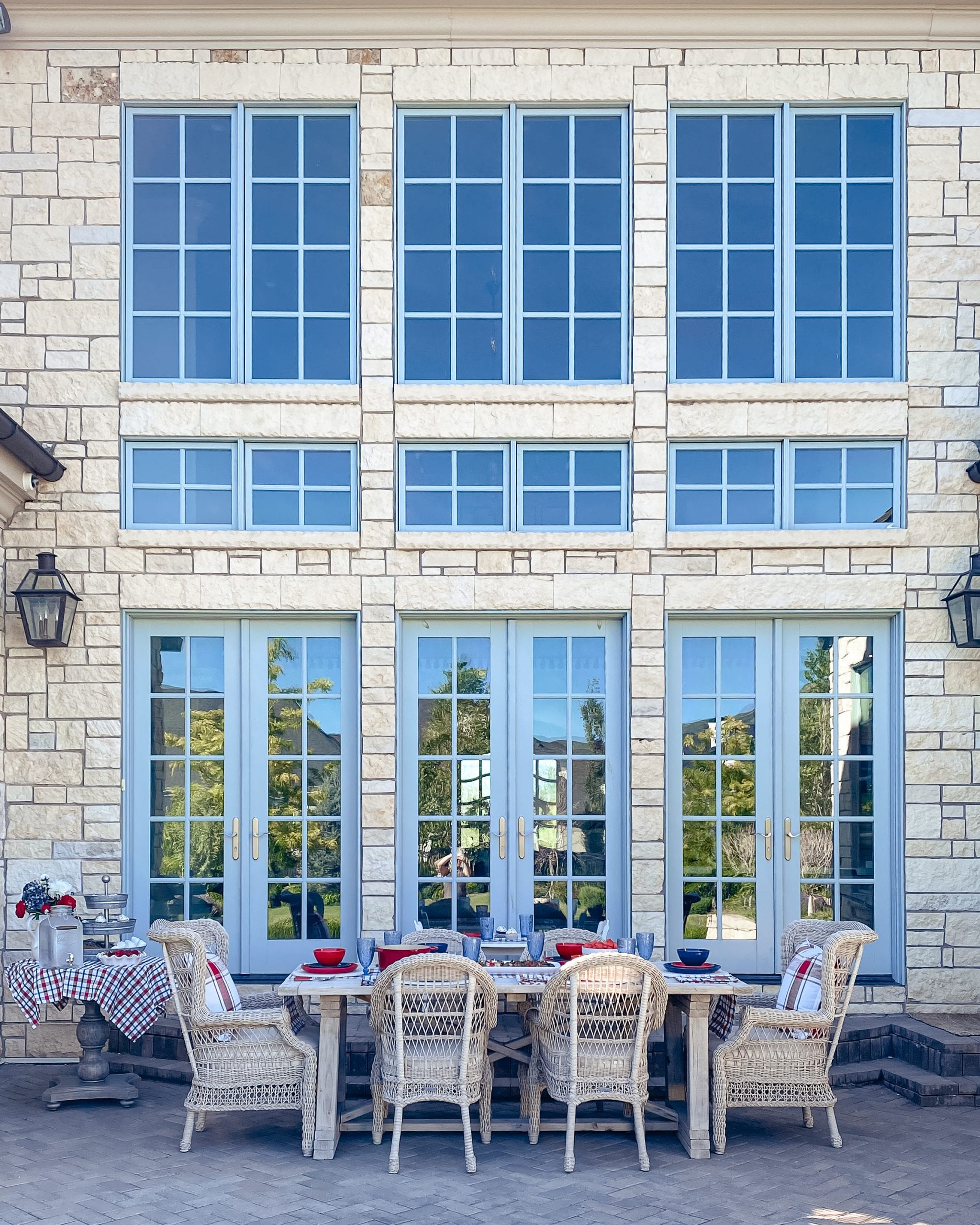 I created this patriotic themed tablescape on our back patio. It was so easy to do this with all the great things I found at Walmart. They have so many affordable and quality items for entertaining and hosting at home.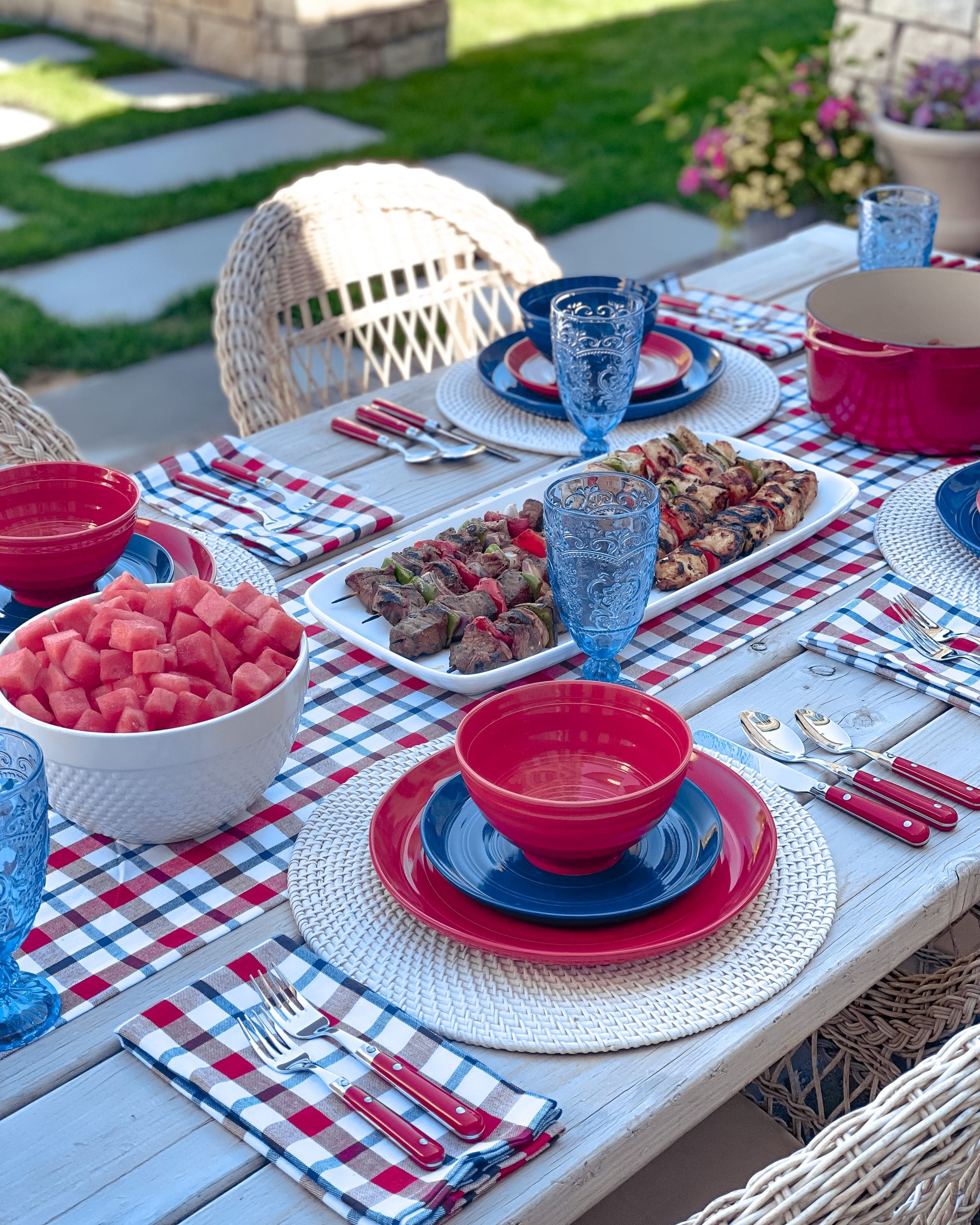 I mixed two sets of dishes of the same dishes in red and blue and alternated them so I had enough for all the place-settings. This is one way to make your dishes go farther. Mix and match sets so you have enough place-settings. Walmart has some of the prettiest dishes that are perfect for your patriotic celebrations.

Patriotic Place-Setting Ideas
I used a white rattan placemat and then layered the dinner plate, salad plate, and bowl on the top. I always choose what dishes to set the table with based on what I'm serving. The bowl works great for fruit or salad and the smaller plate is perfect for dessert. The larger dinner plate is perfect for the main dish and sides. You can do it however you like and there's no right or wrong way.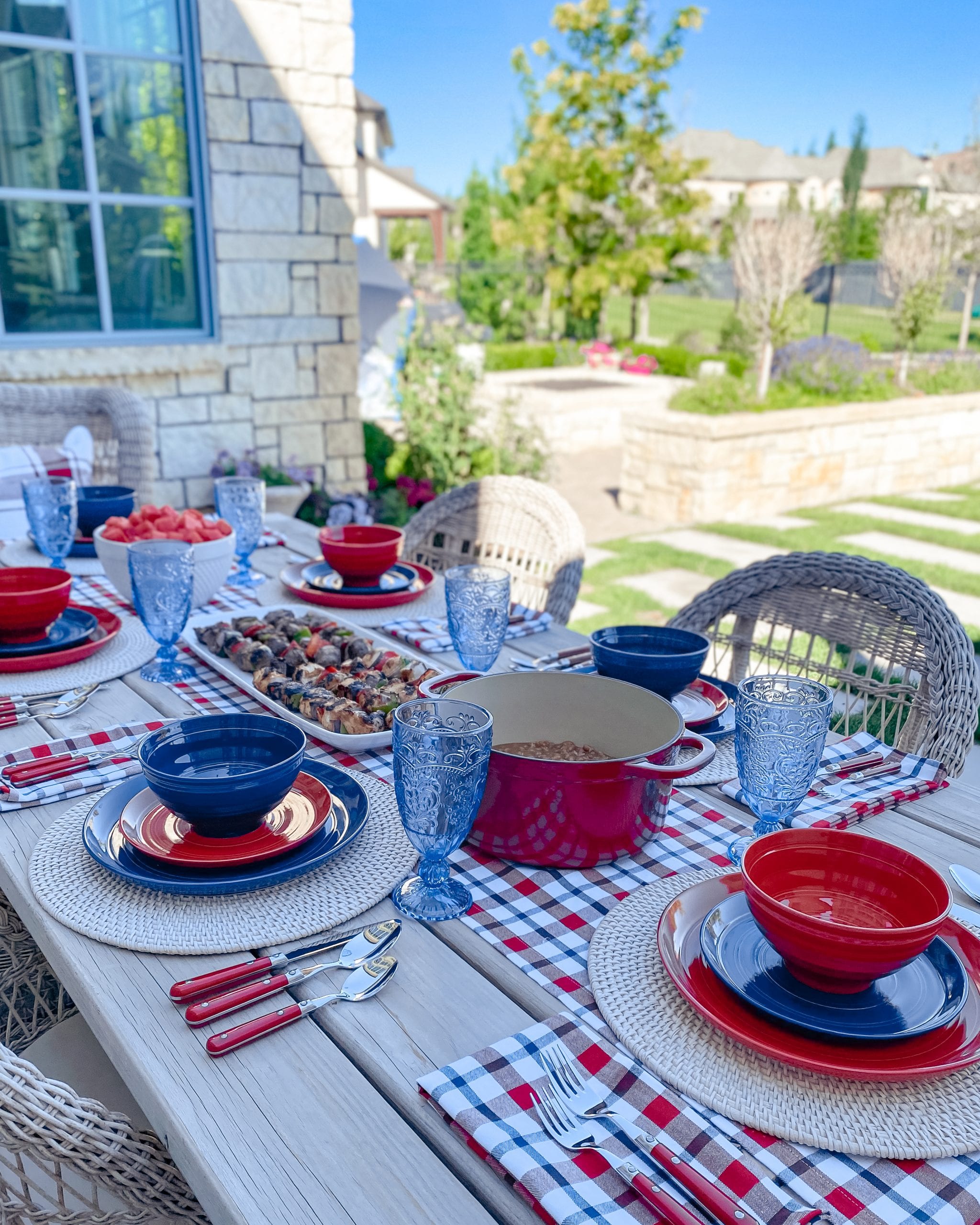 I found the table runner, napkins, and linens at Walmart and I love the patriotic colors and plaid pattern. It goes perfectly with the dishes and the the plaid napkins help balance out the bold red and blue shades in the dishes.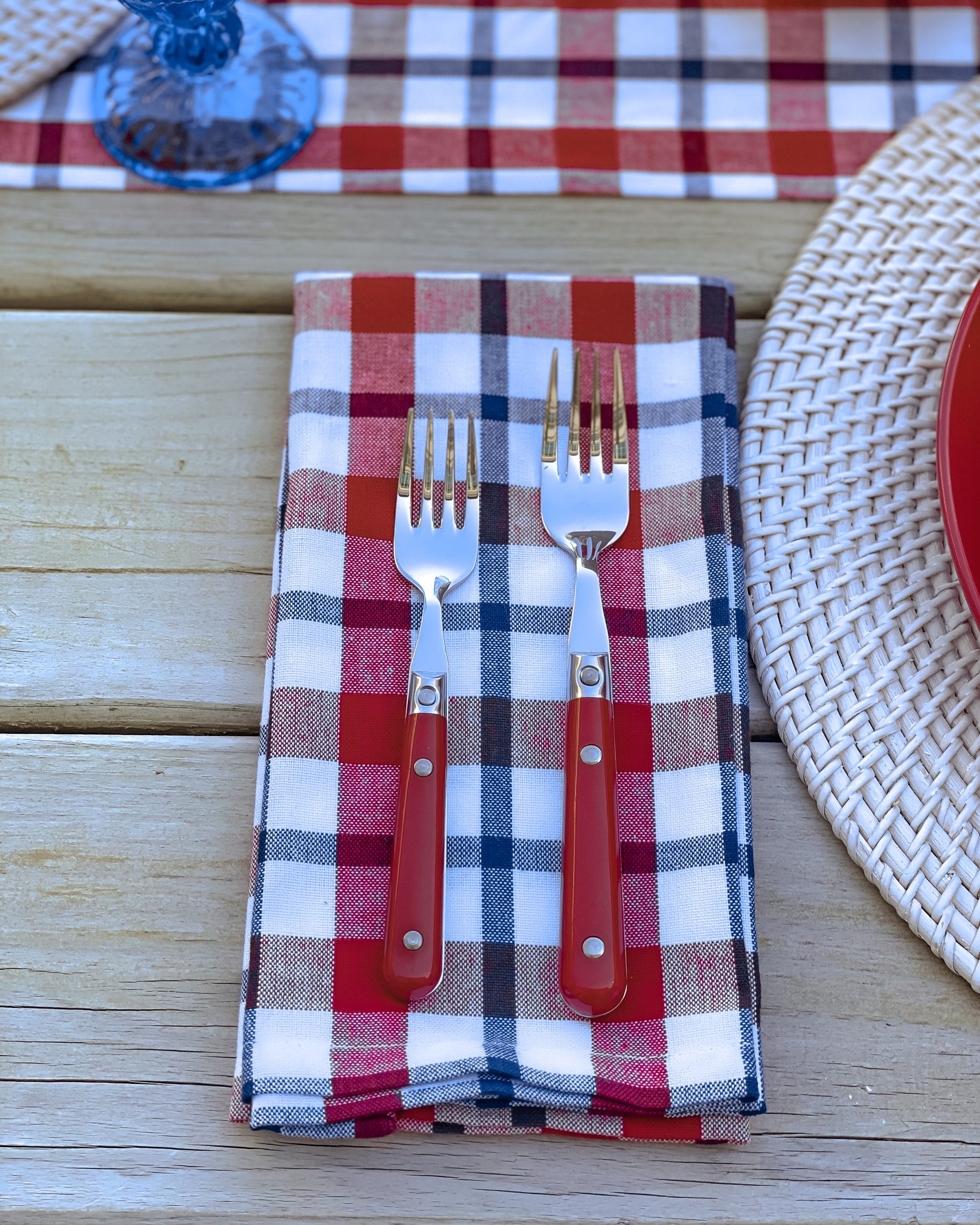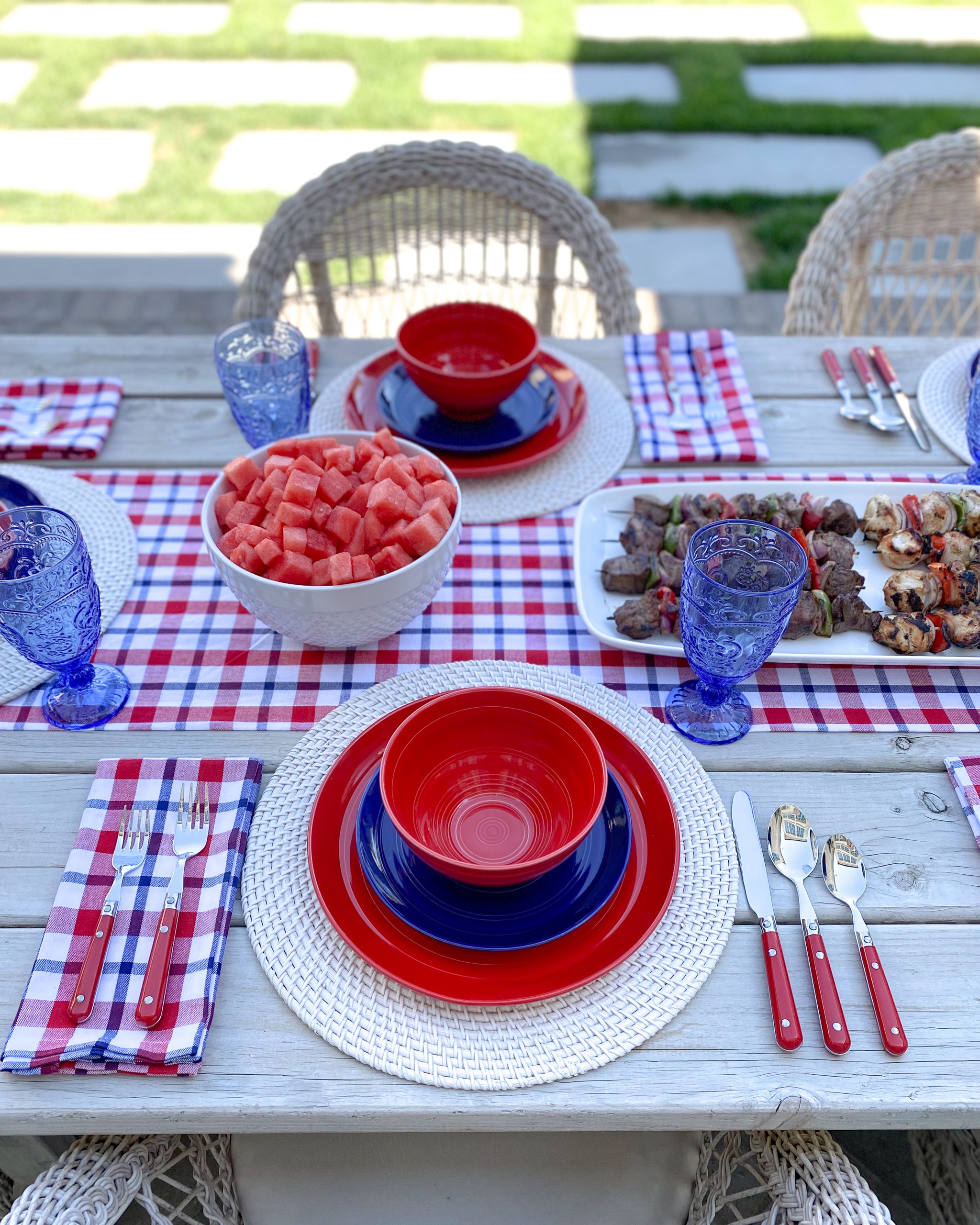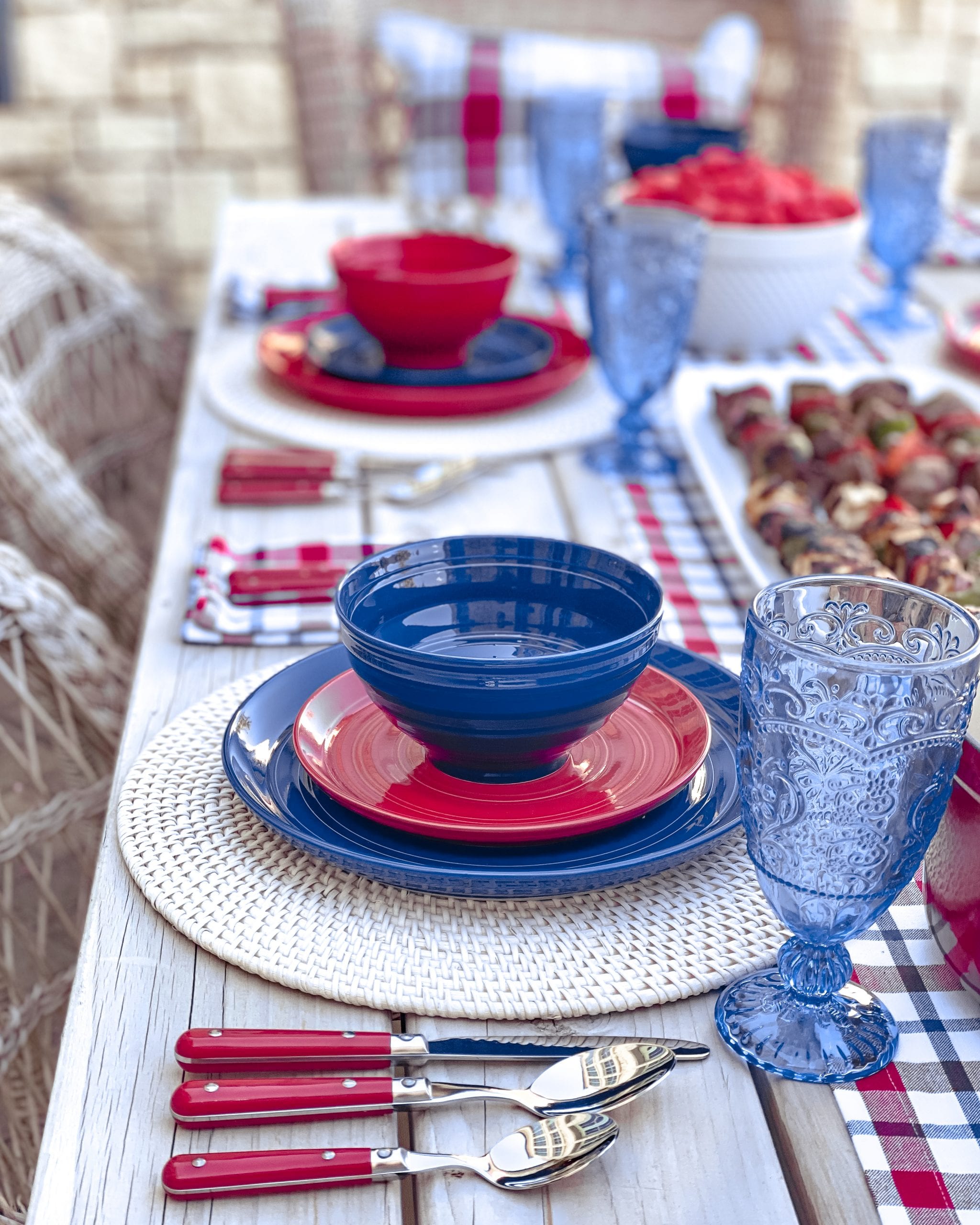 I also found the red handled flatware at Walmart. I was able to order everything online and it arrived in just a few days which was so helpful with my busy schedule. Walmart will ship direct to your home or you pick it up at the store.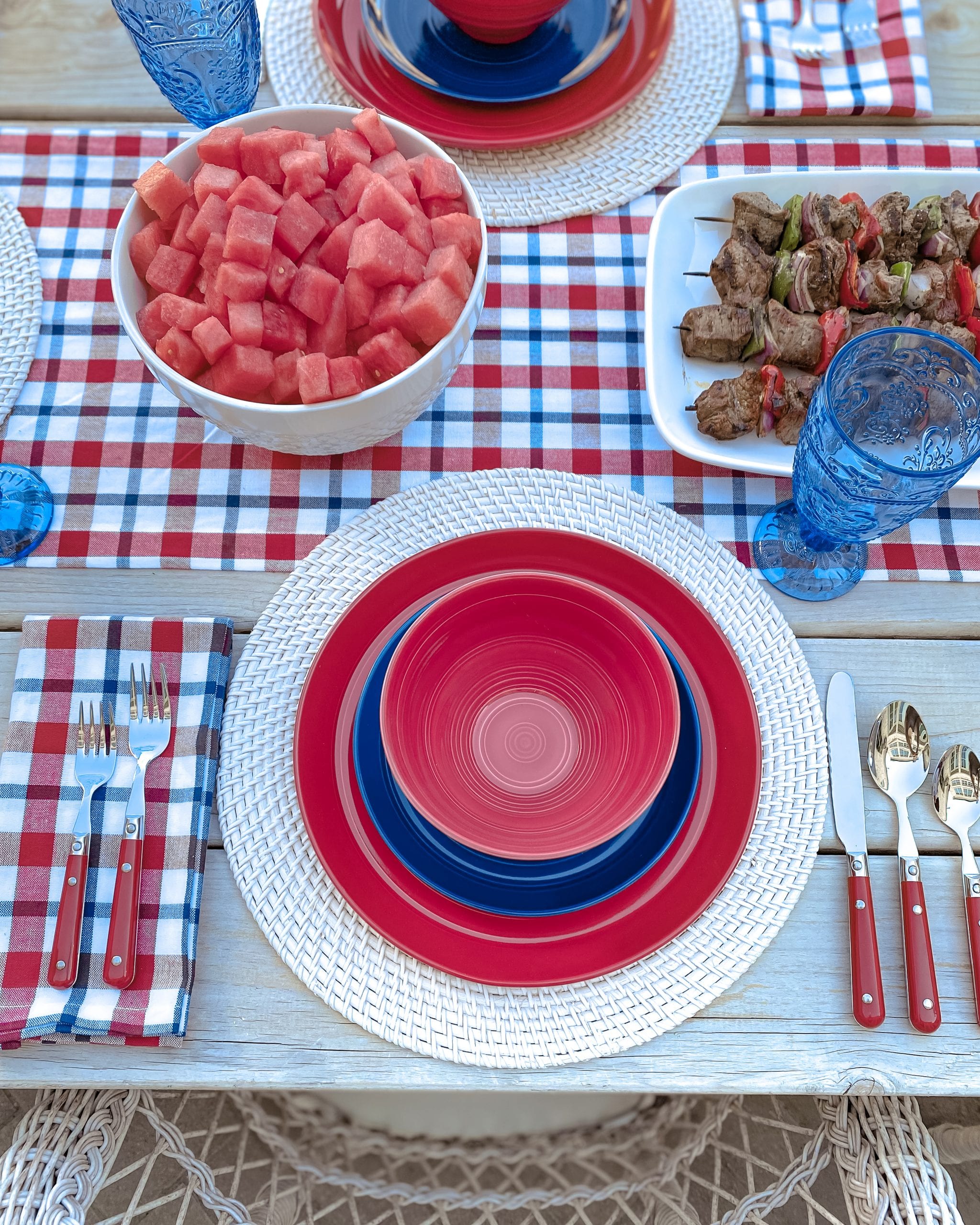 The Kids Table
Now that we have little grandchildren, I wanted to set up a kids table just for them. They were quite excited to have their own table.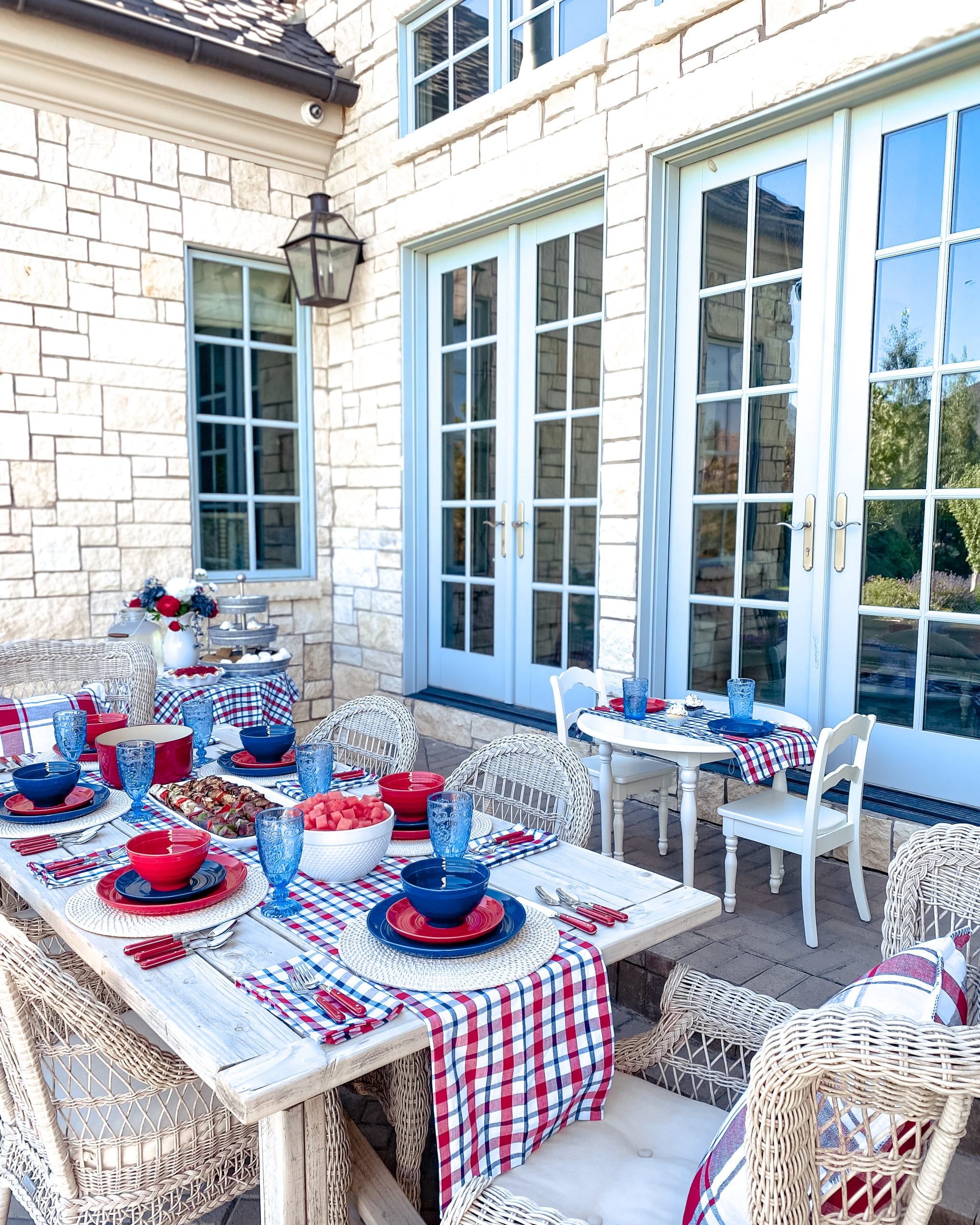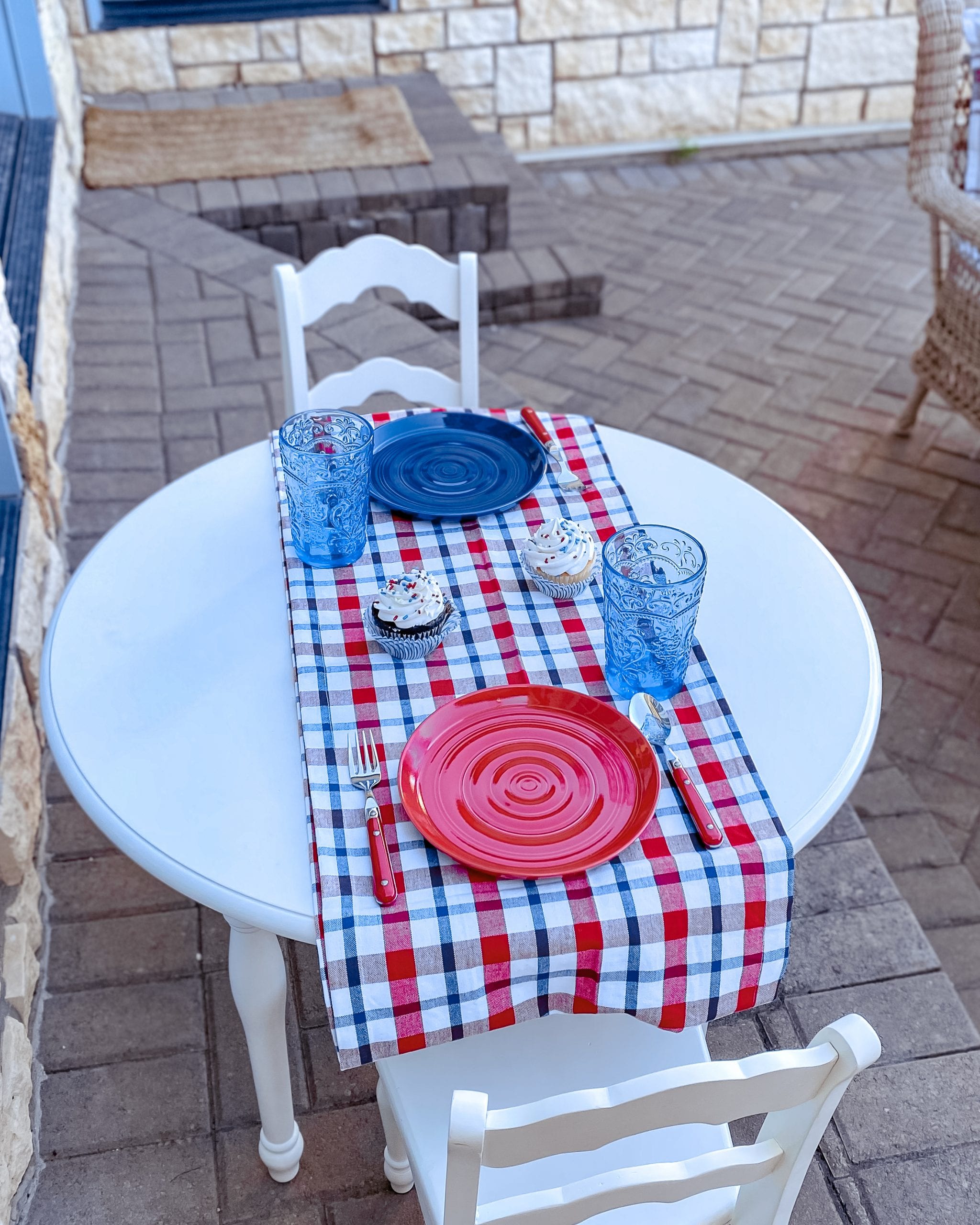 Isn't this so cute?!! Super simple to add this kids table. I used a table runner and folded it in half and then used some of the same dishes (smaller plates) for the kids.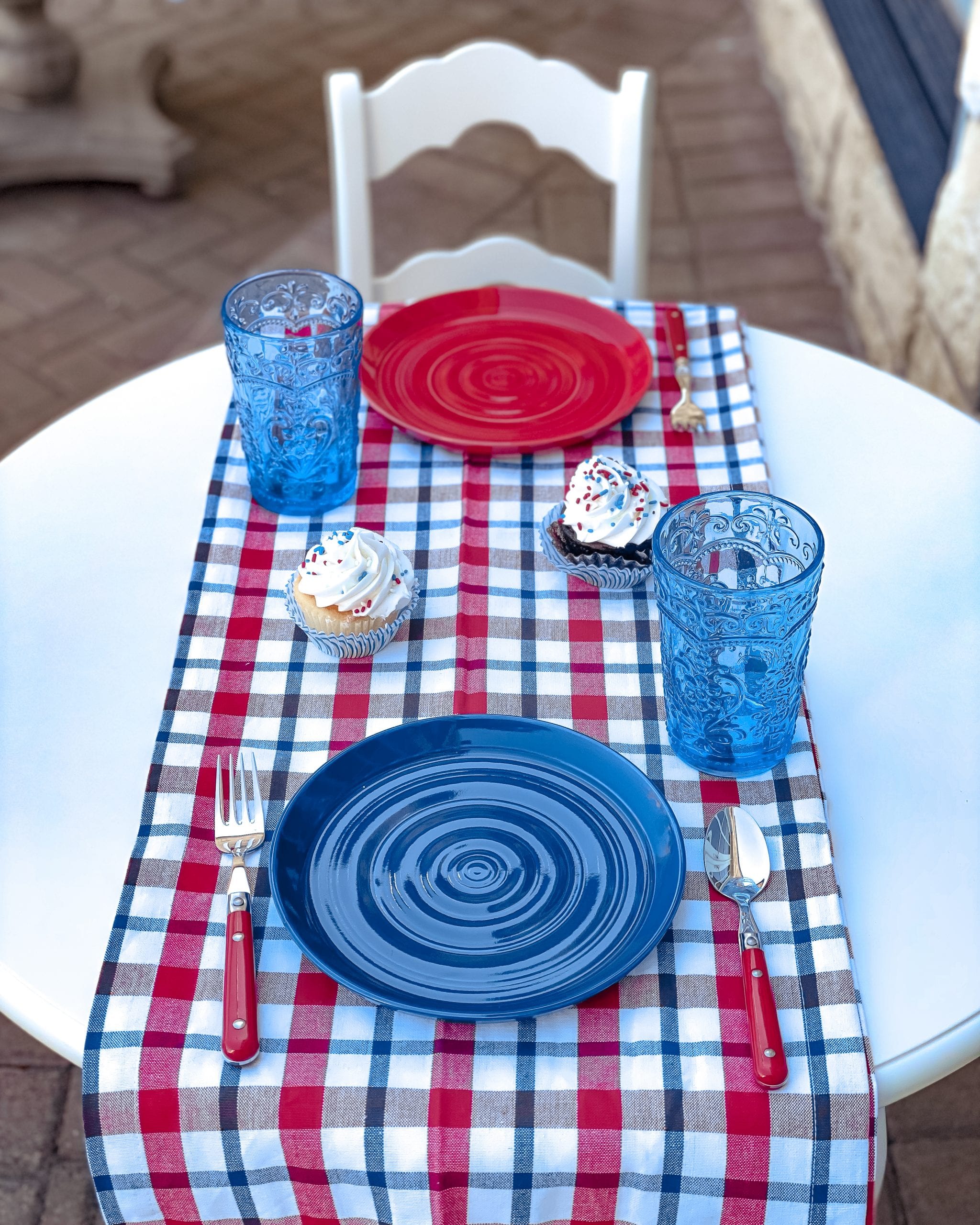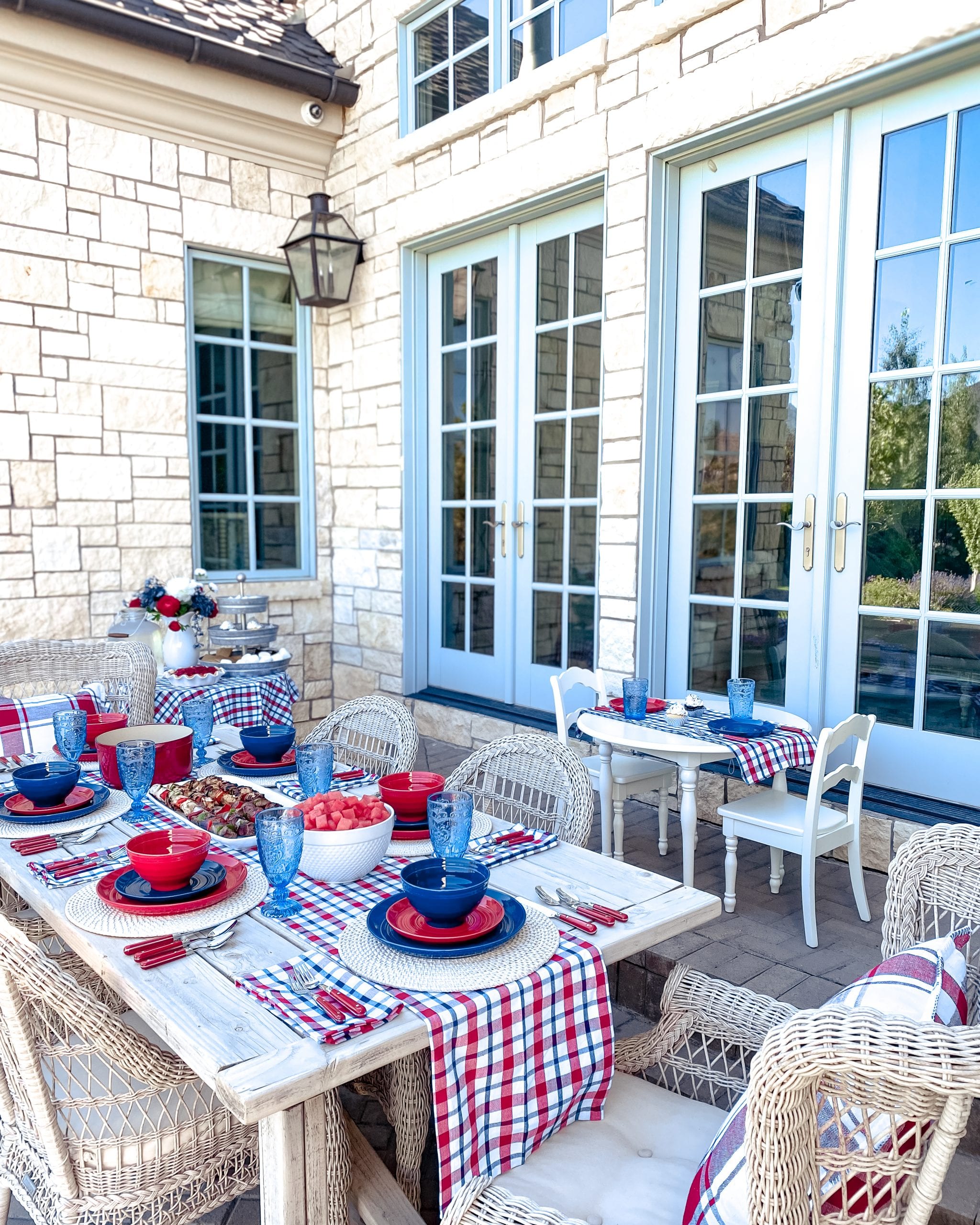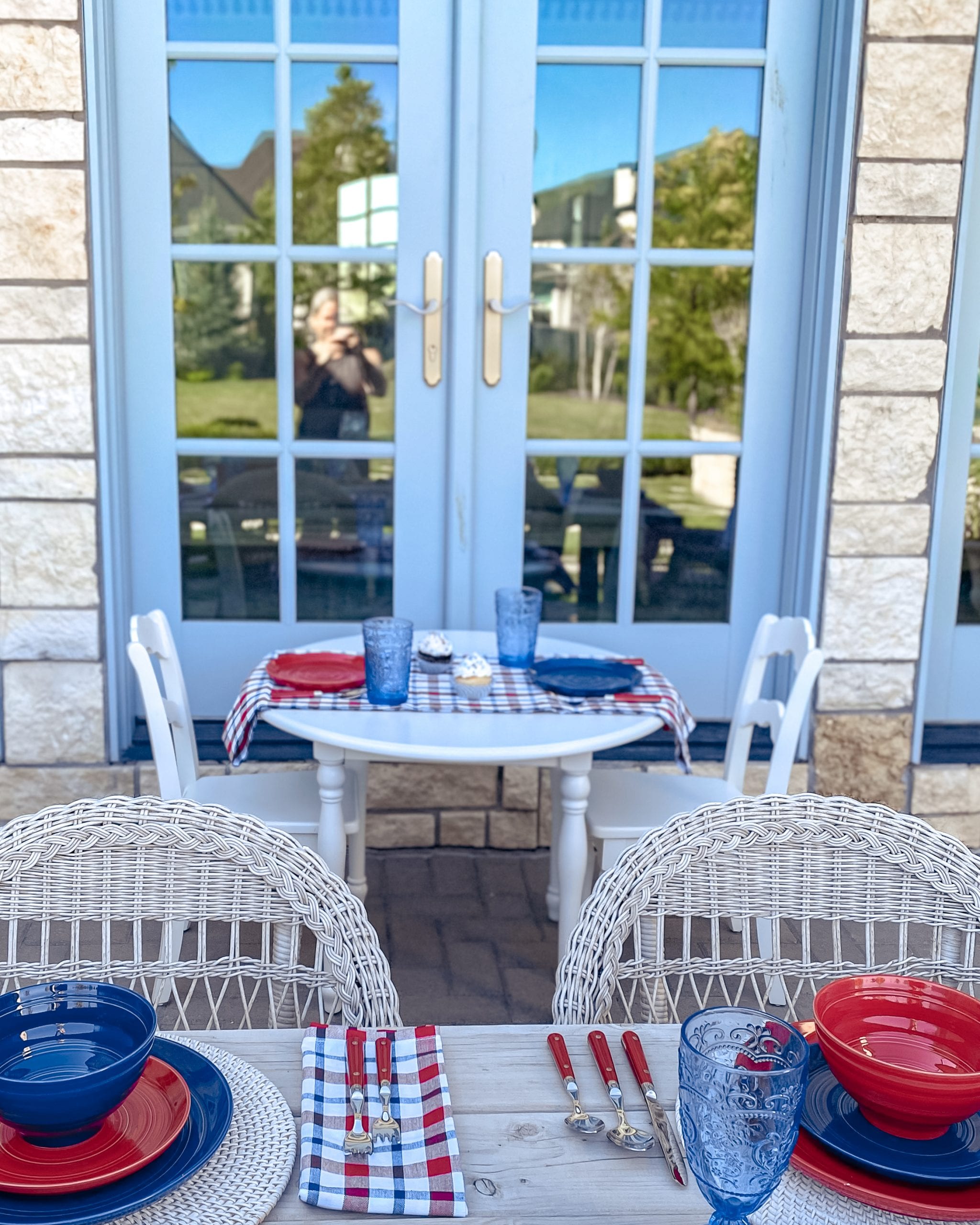 The Dessert Table
I set up a separate table over in the corner to put the dessert and drink dispenser on. The outdoor dining table was already full with serving dishes so I added the other table off to the side for the dessert and water dispenser. Since there wasn't room on the big table for a centerpiece, I used the food and serving dishes to fill the middle of the table and then I added a white pitcher filled with faux flowers and set that on the dessert table. I try to always have flowers somewhere when I set a table.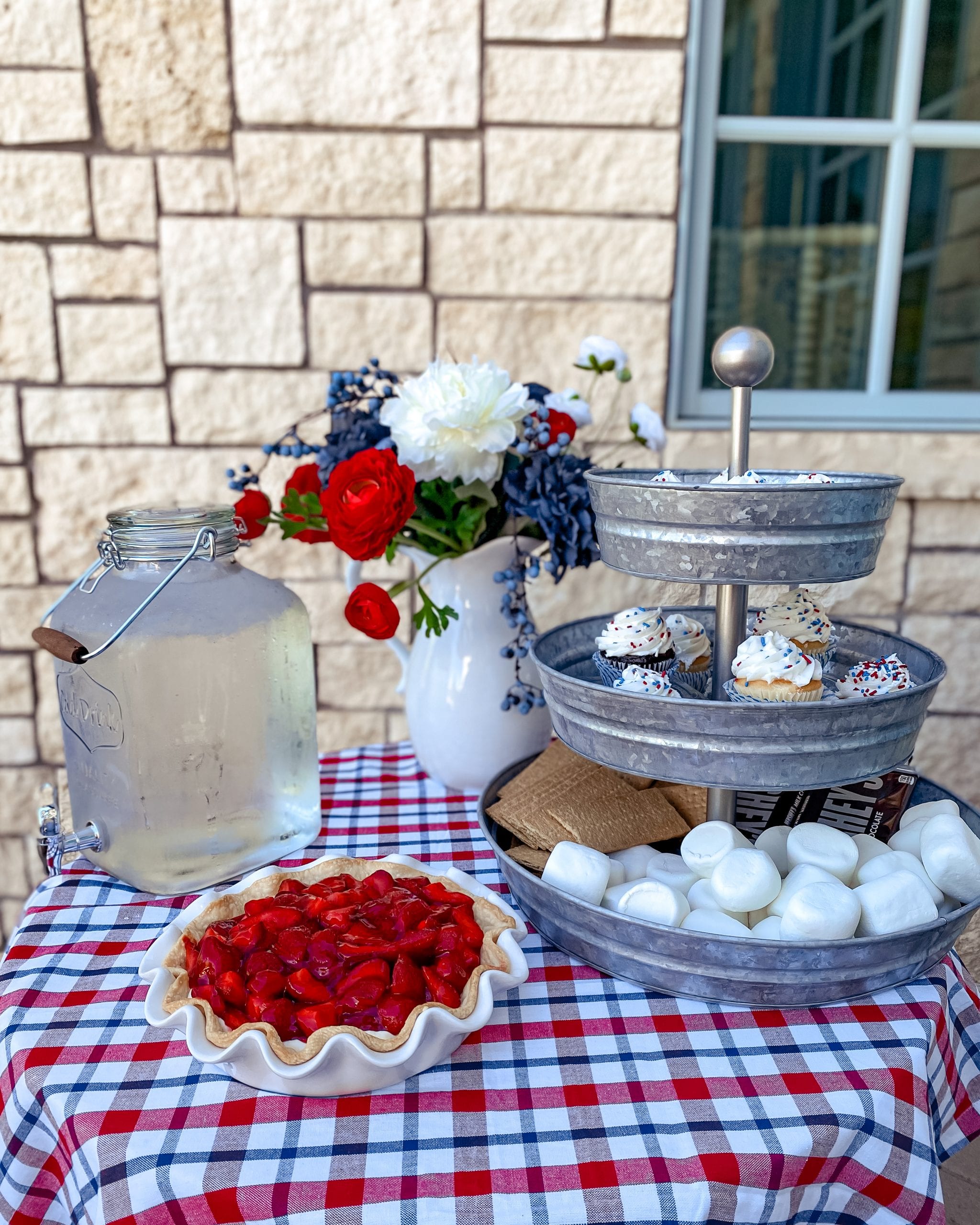 I made my homemade strawberry cream cheese pie, some cupcakes and a s'mores station. This tiered tray from Walmart was perfect for the s'mores and other treats!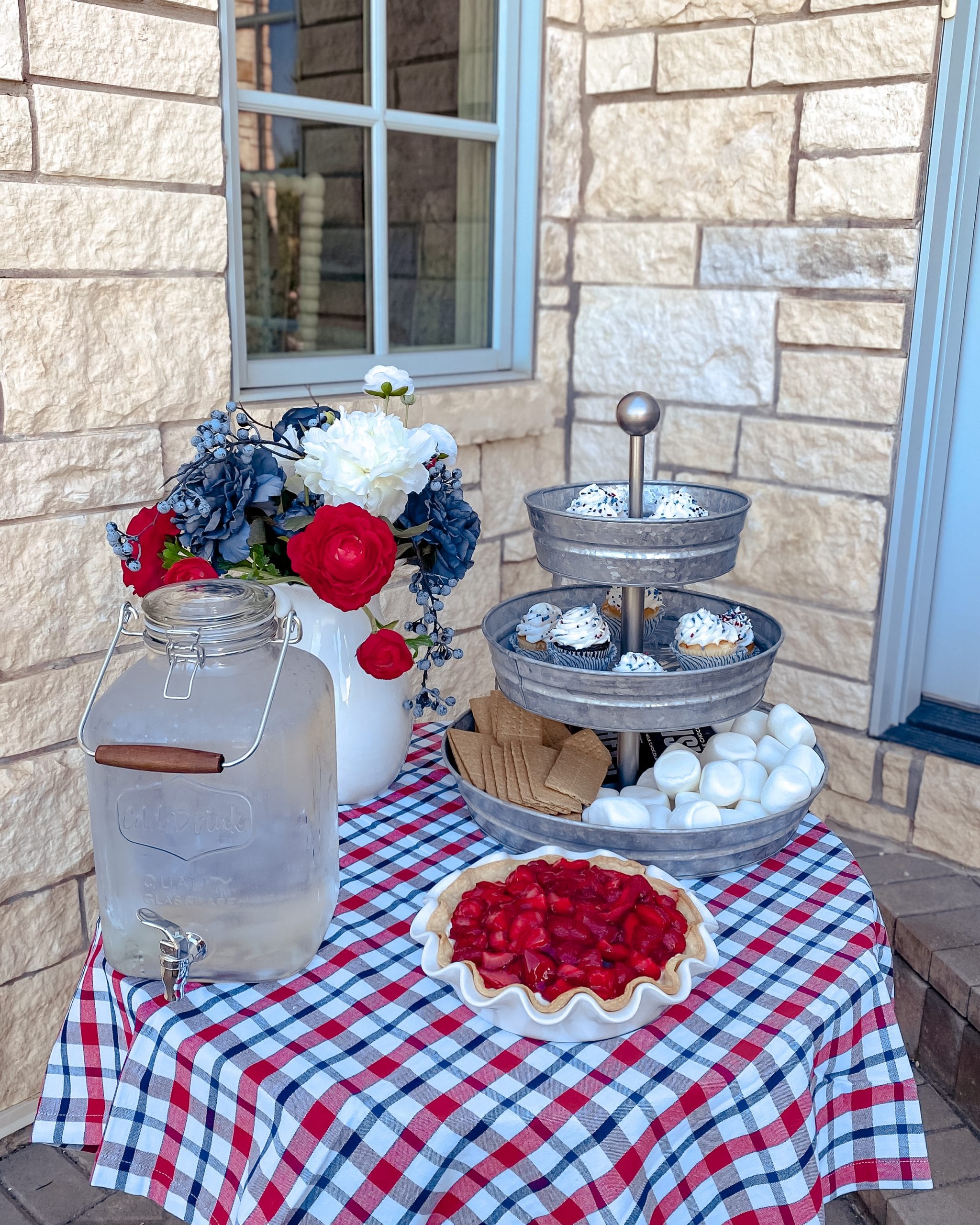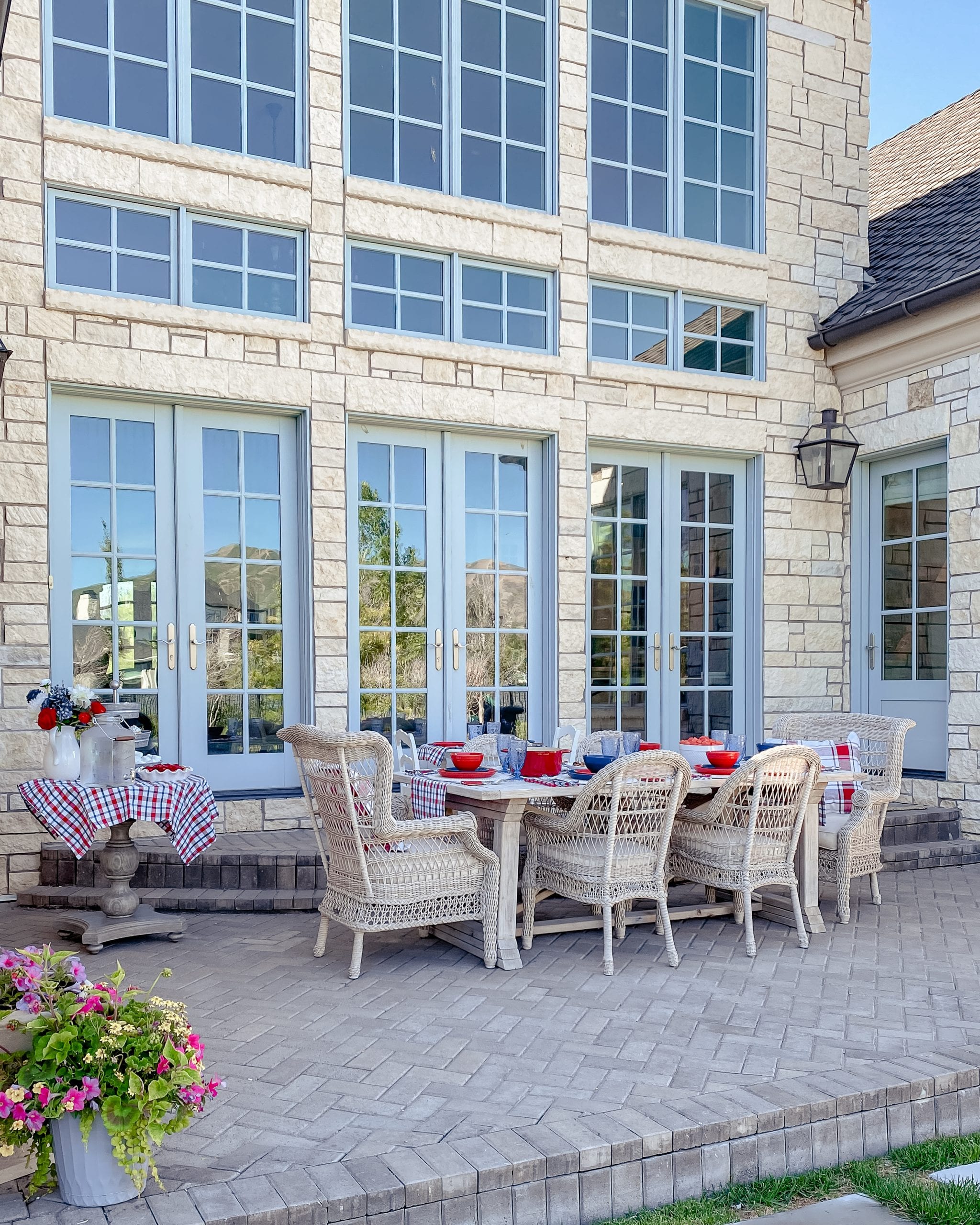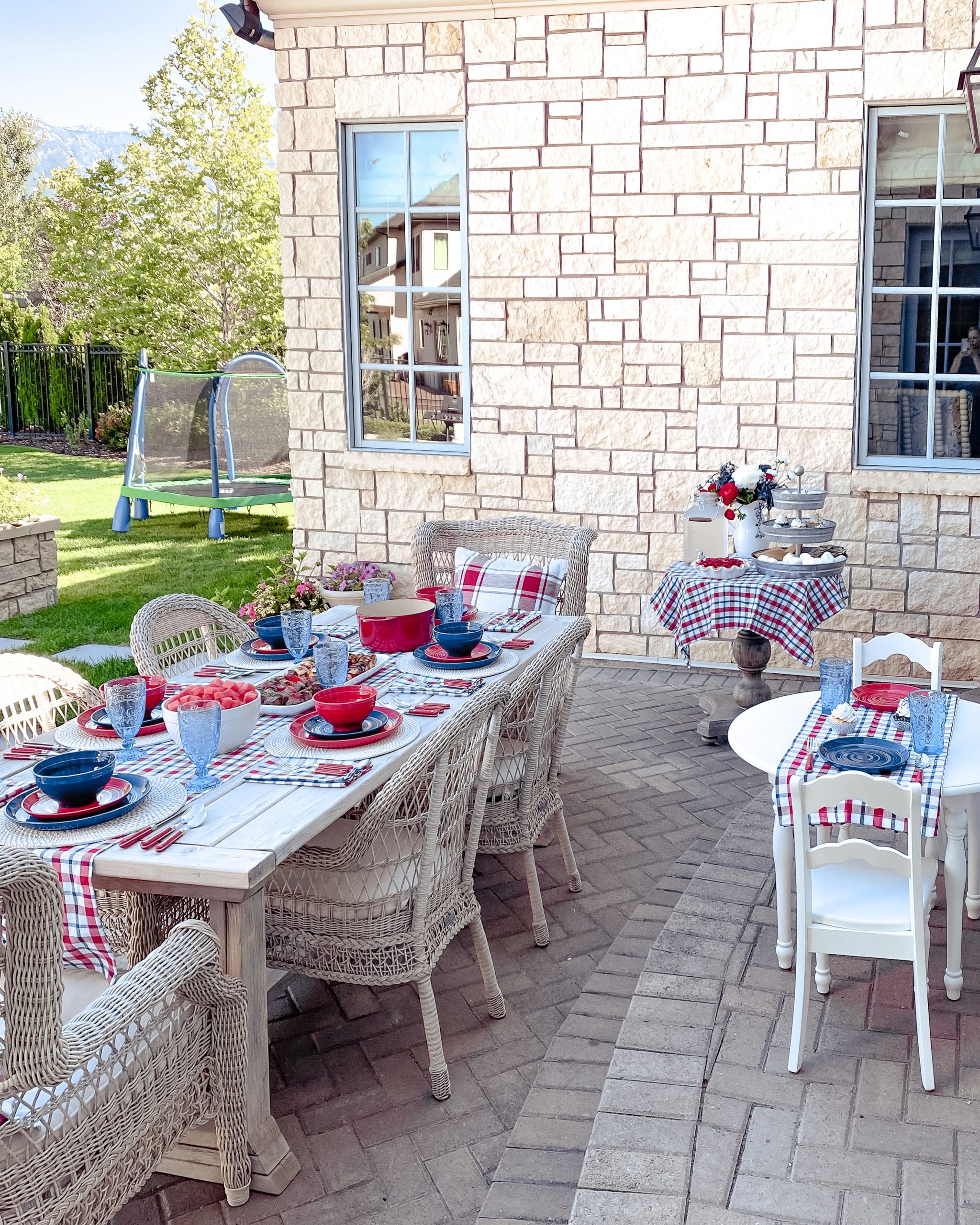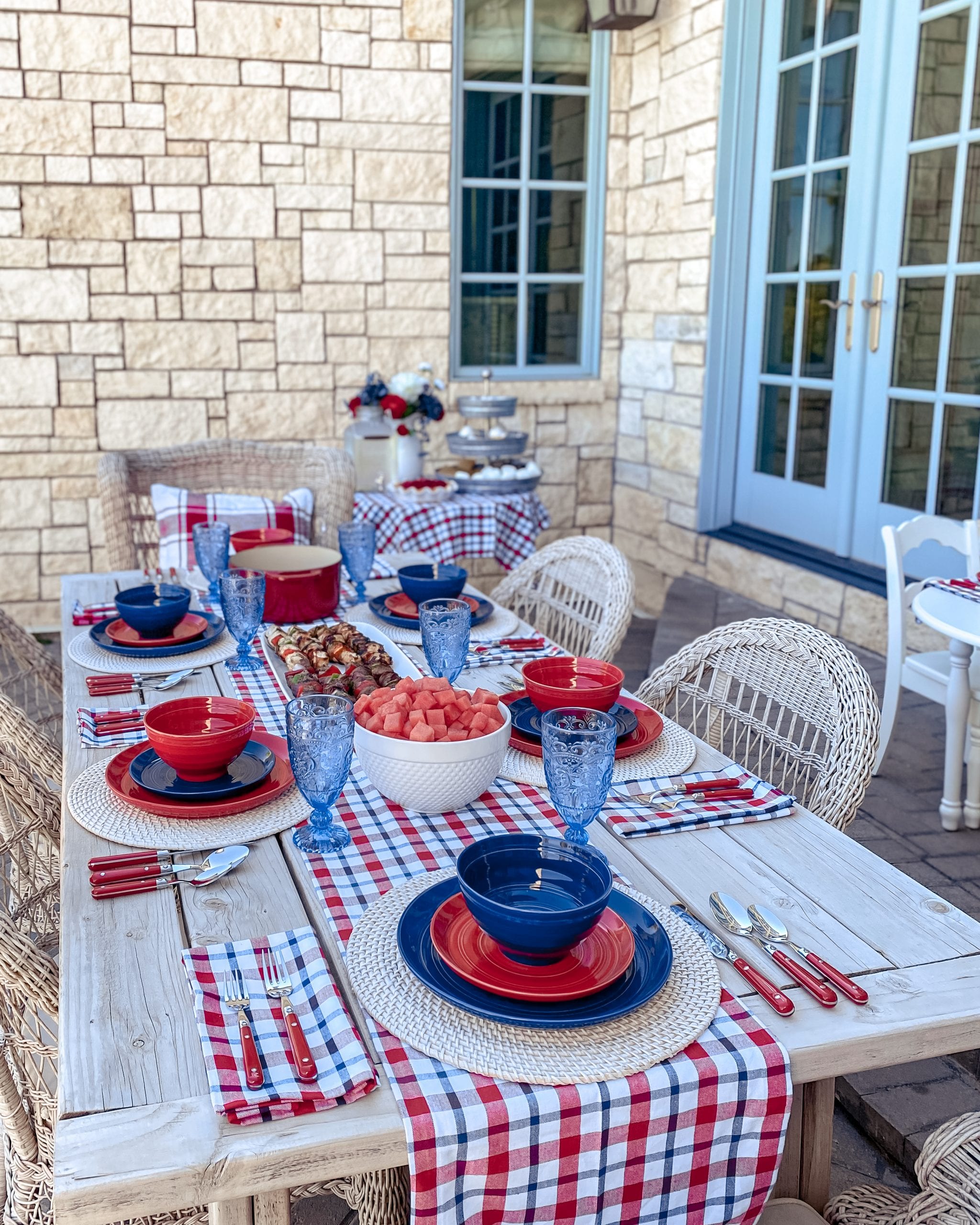 I loved everything about this patriotic tablescape I created using things I found at Walmart.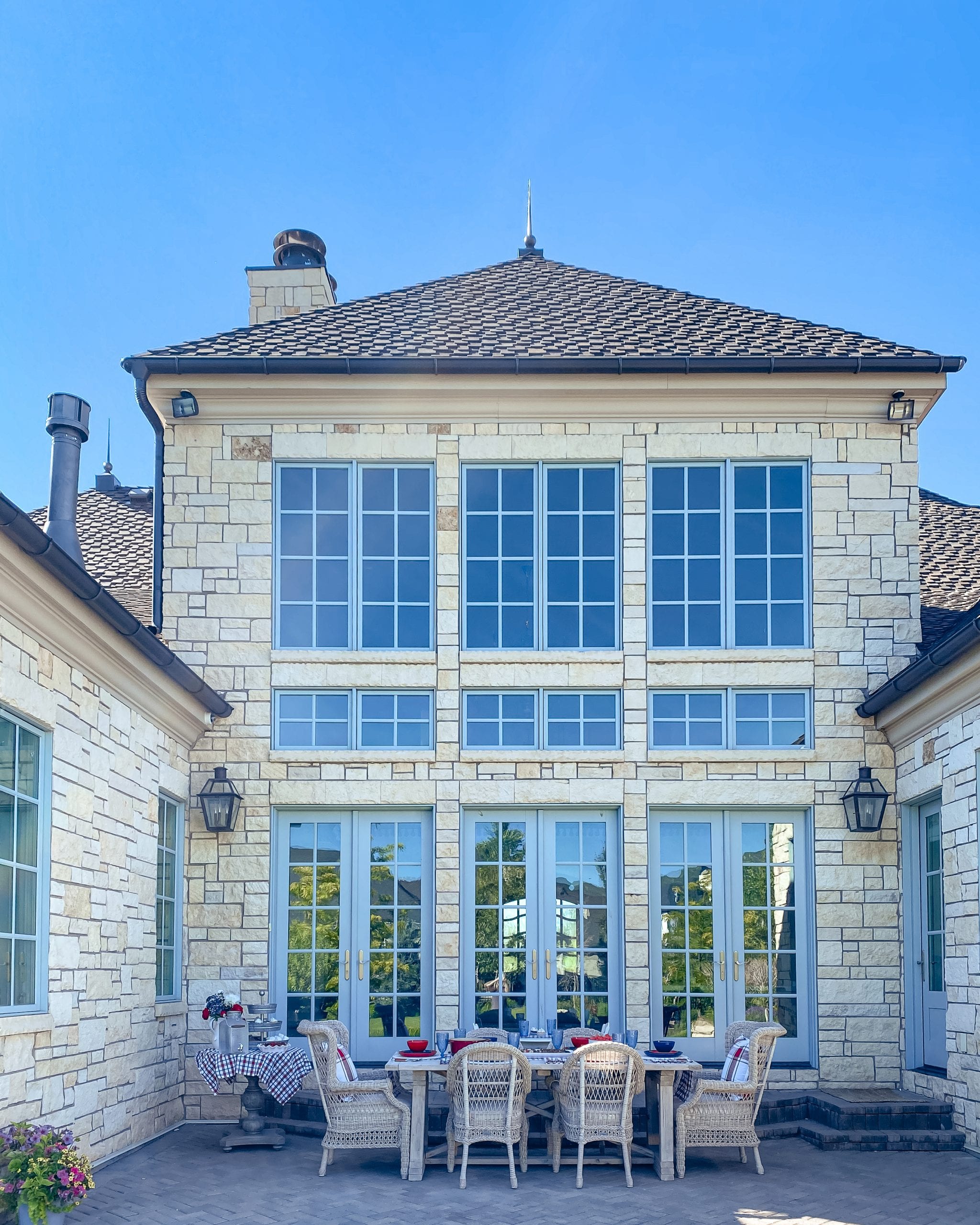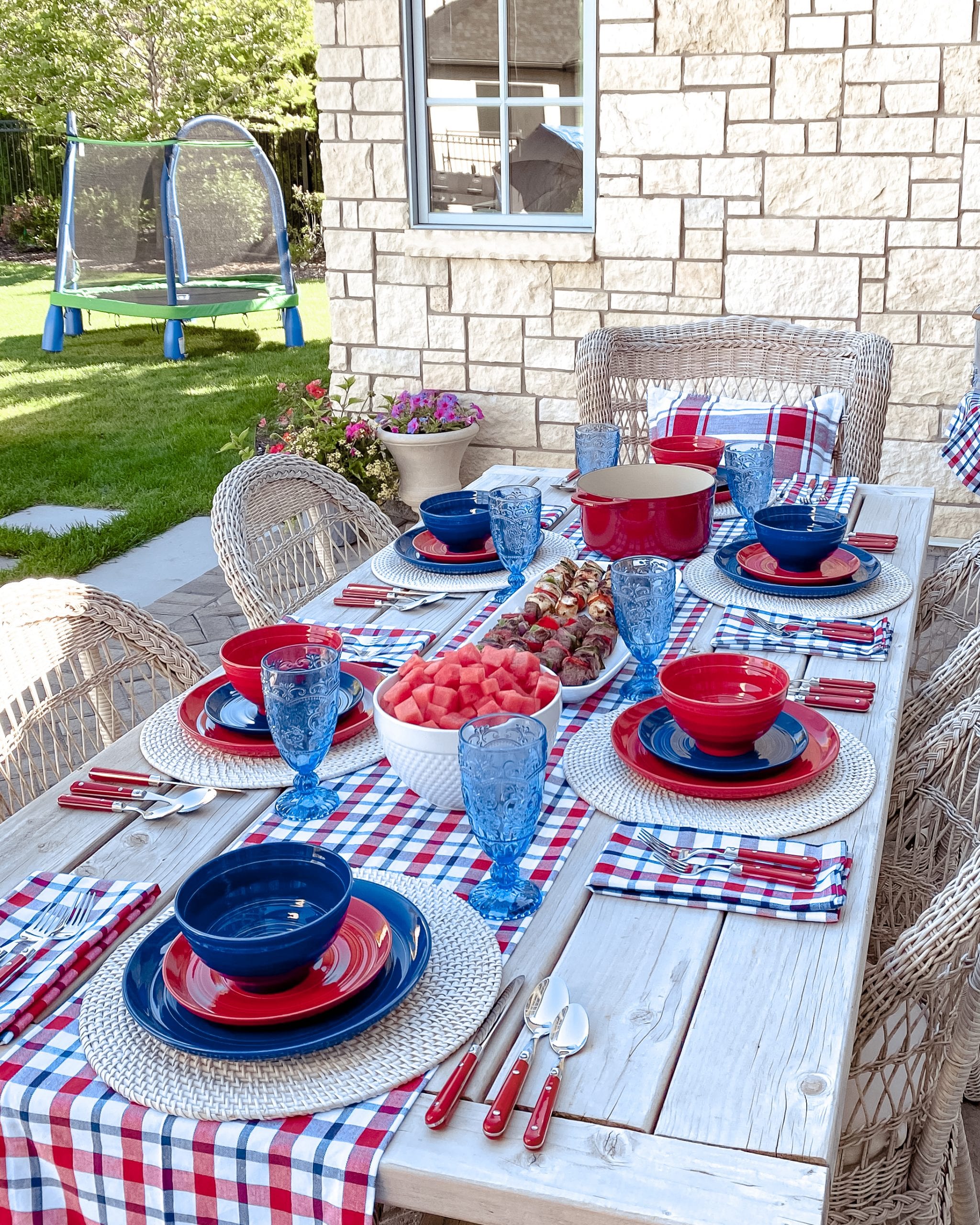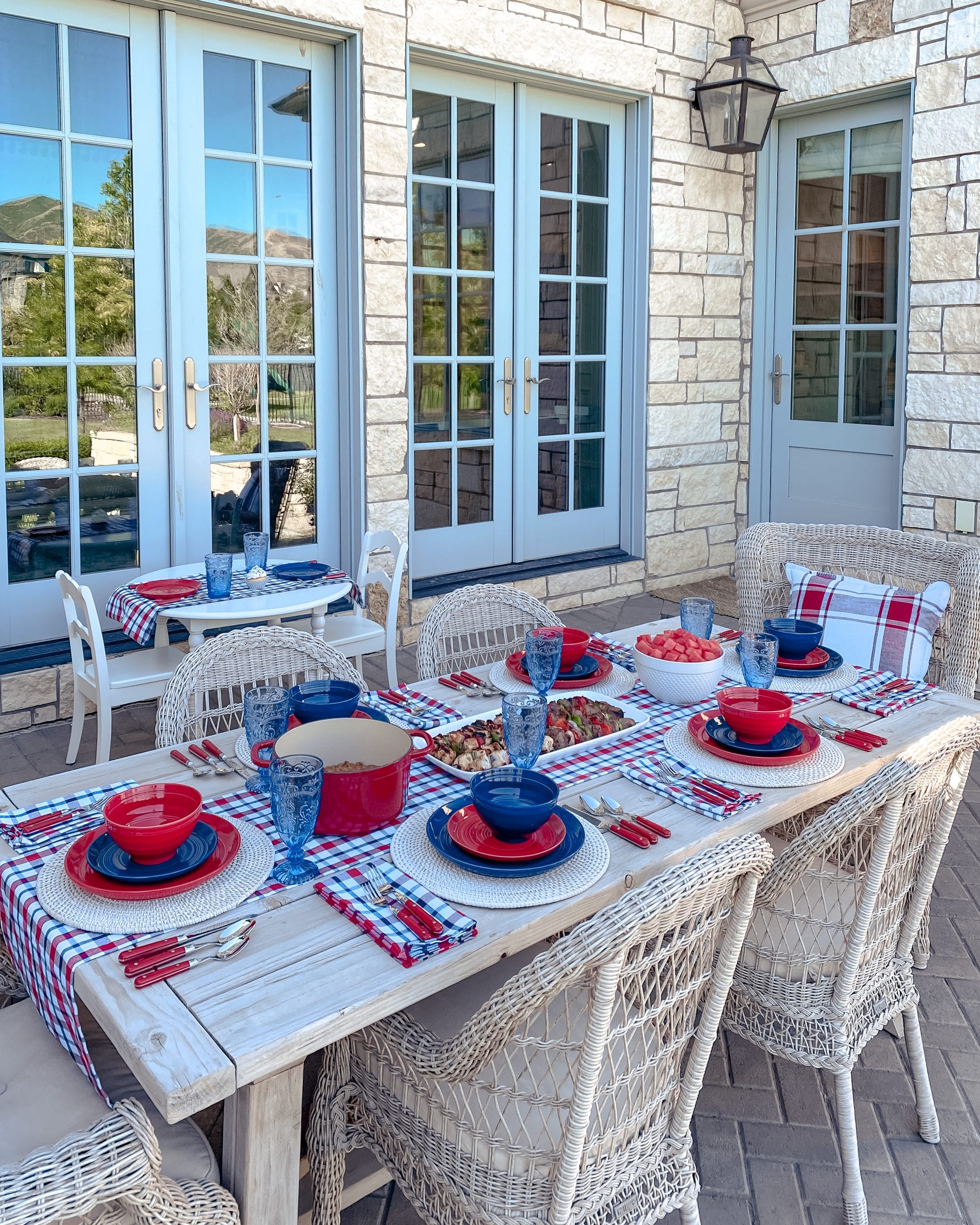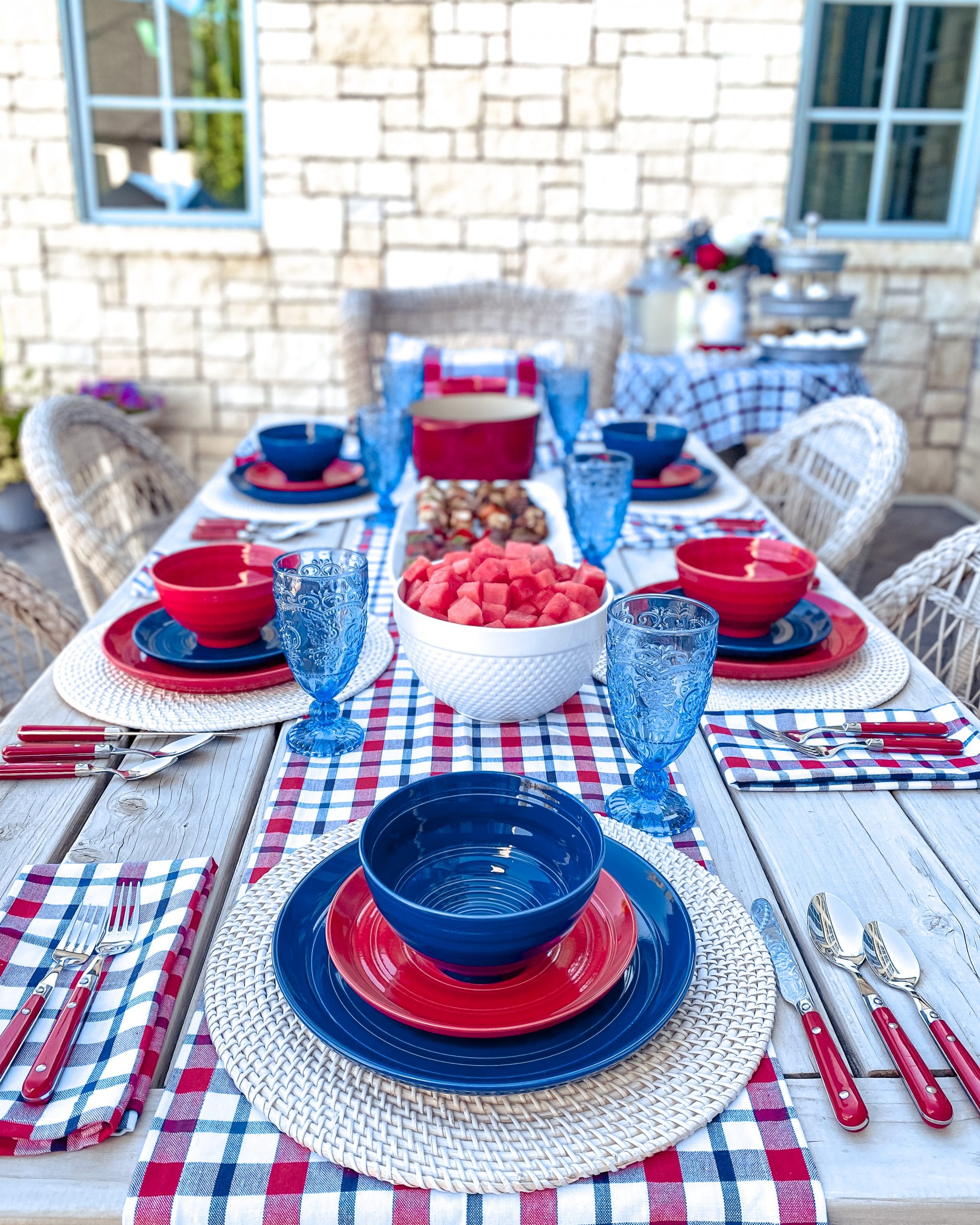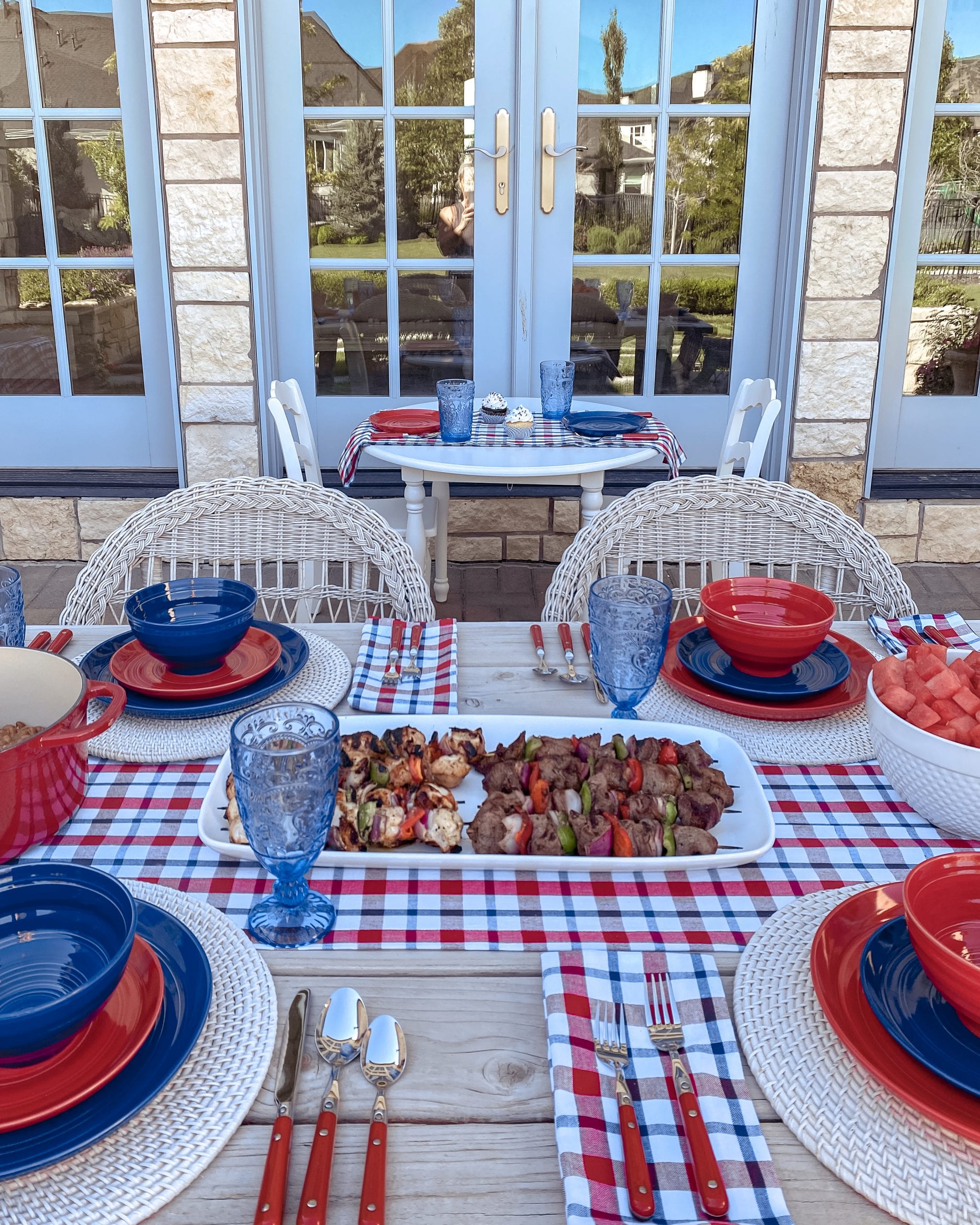 The Perfect Patriotic Menu
I made steak and chicken skewers with vegetables in-between the meat. I marinated them in olive oil and montreal steak and chicken seasoning and then grilled them on the BQQ. I cut up a watermelon and made my homemade baked beans. I really like the Lodge enamel cast iron pan that I baked the beans in. It goes into the over to bake and works great as a serving dish.
The strawberry cream cheese pie is linked above and to make the s'mores I had graham crackers, chocolate, and giant marshallows set out so everyone could make their own once we lit the fire pit.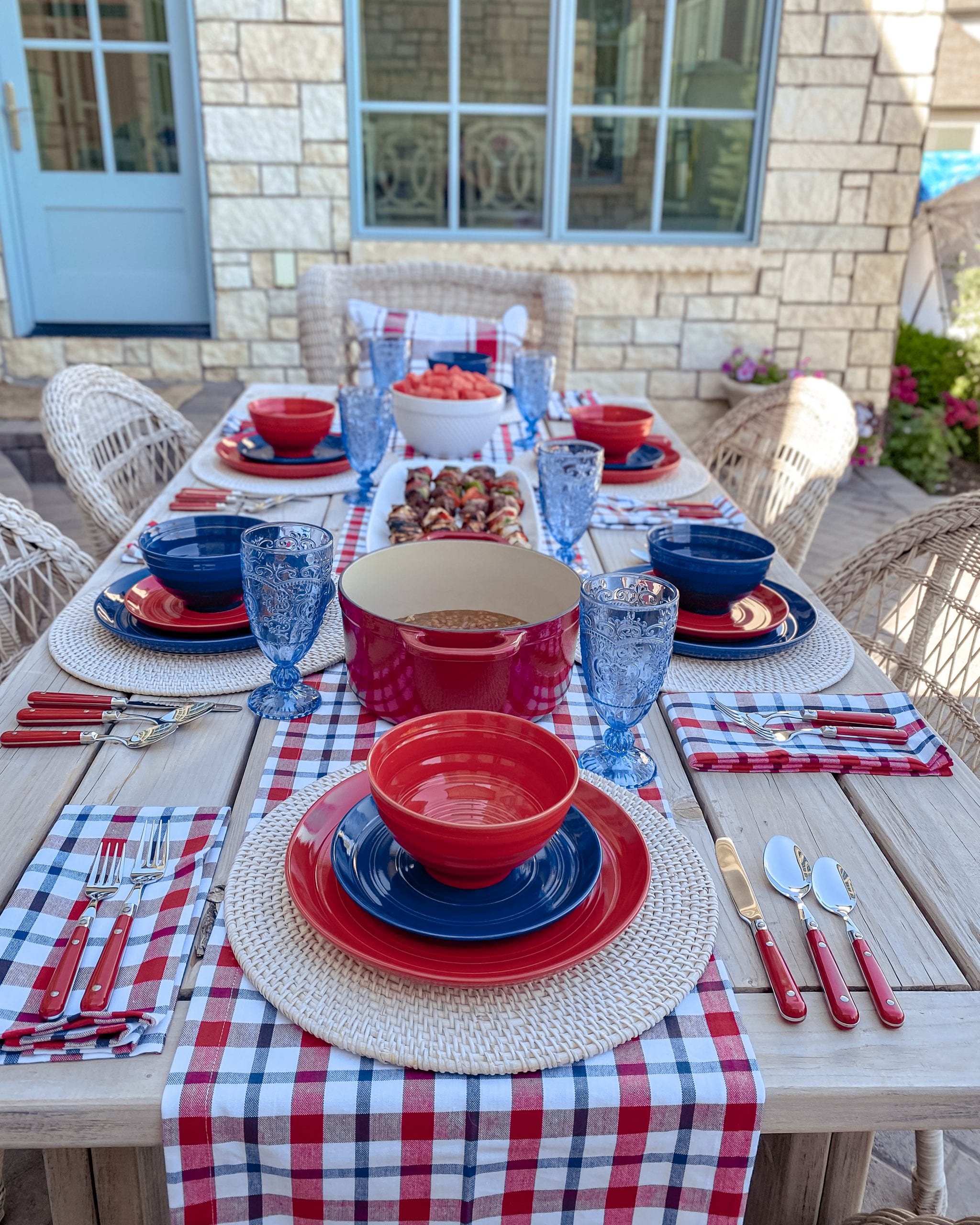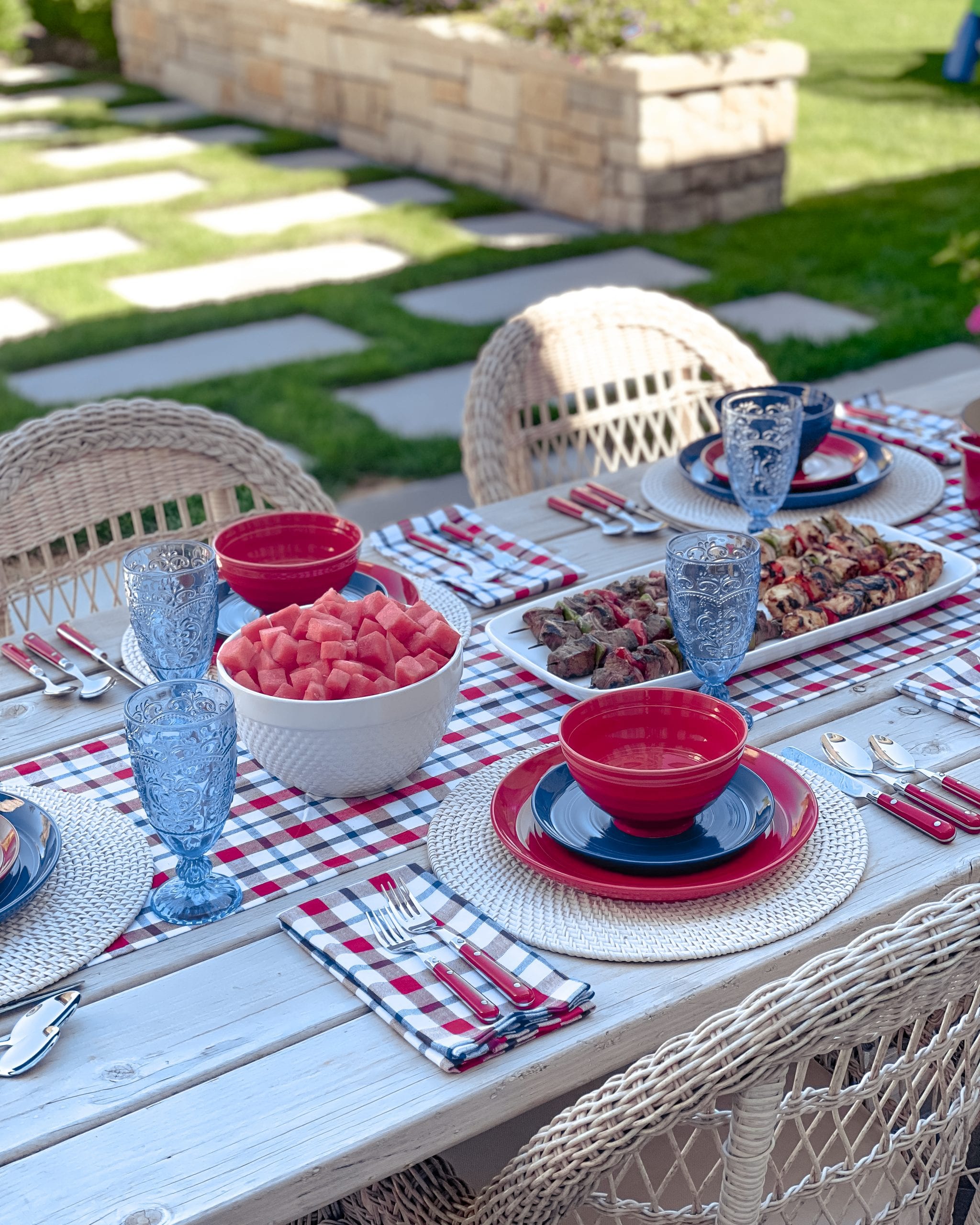 Thanks so much for stopping by! If you'd like to subscribe to my blog, head to my home page and scroll down for the subscribe section. You can also follow me on Instagram and Pinterest.
I hope you enjoyed this Patriotic Entertaining Ideas post. Happy Independence Day!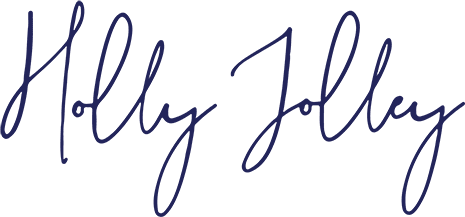 Sources Linked Below (and throughout the post. Eeryting linked above is the exact item in the photos. I've added in the same items as well as some other similar ones below. Everything is from Walmart Home.
Shop This Post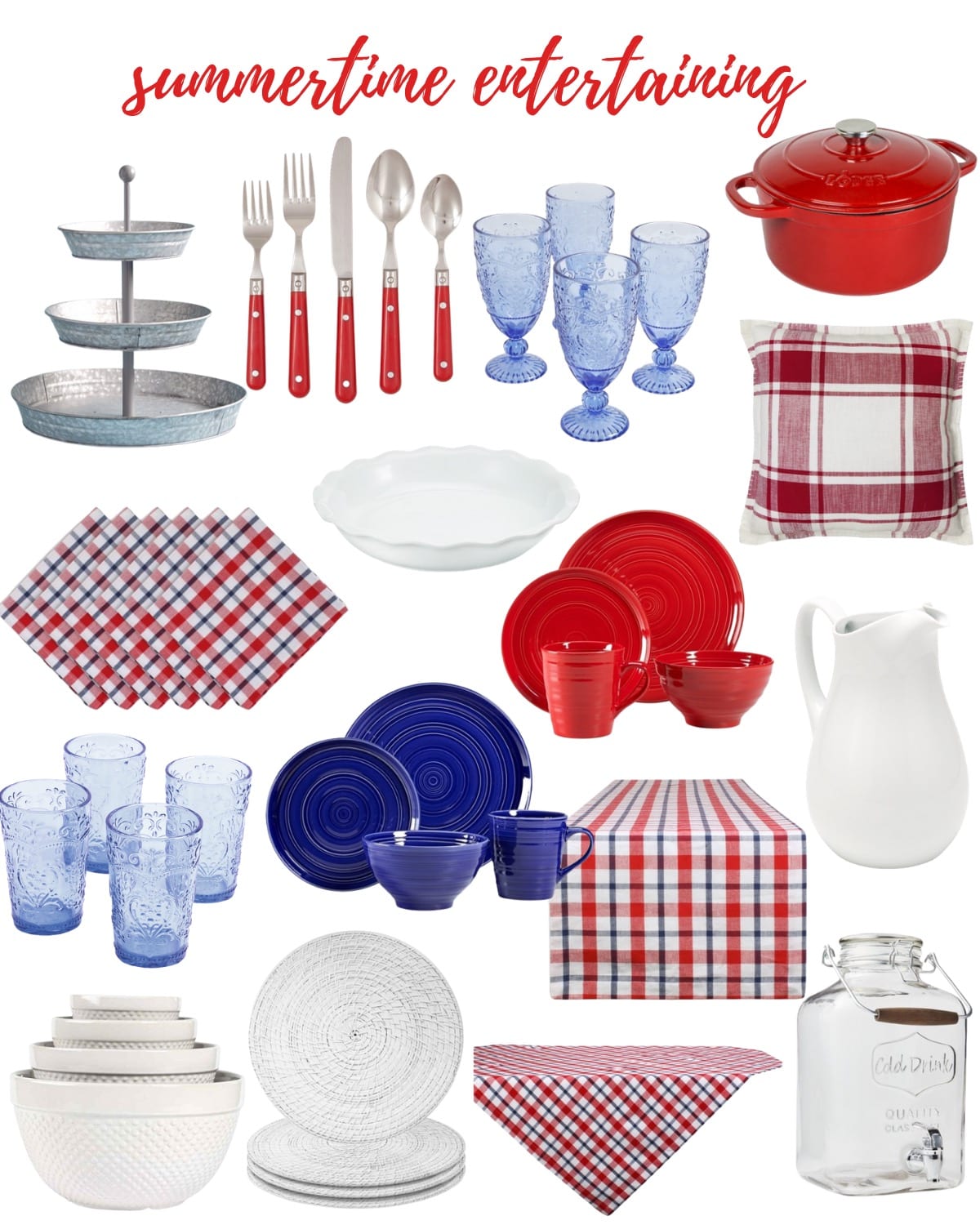 Pin This Post For Later: