Summertime Grilling With Martha Stewart
I've spent the past month working in our backyard and garden at our home in Washington and now that I've finished planting all the flowers, I thought it would be the perfect time to have an outdoor summer BBQ and enjoy this beautiful space surrounded by gorgeous evergreen trees.
(Sources are linked at the bottom of the post)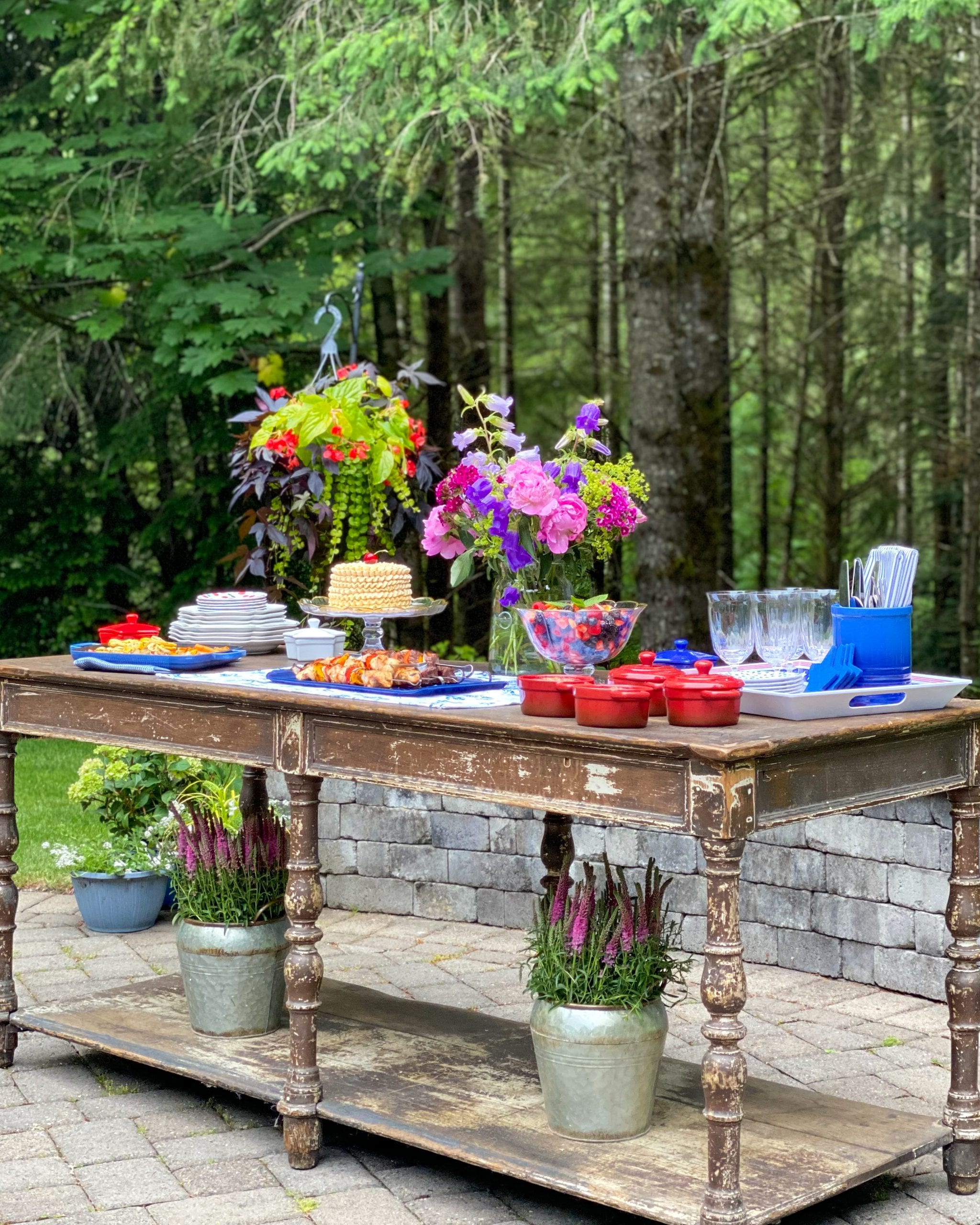 I like to serve buffet style when I'm hosting a dinner and I convinced my husband to help me haul this antique table that I recently purchased outside. With it being close to the Fourth of July, I decided to do a patriotic theme using items from the Martha Stewart Grilling Collection from Macys to create this look. I absolutely loved setting it all up and kicking off the start of summer with a family dinner in our backyard.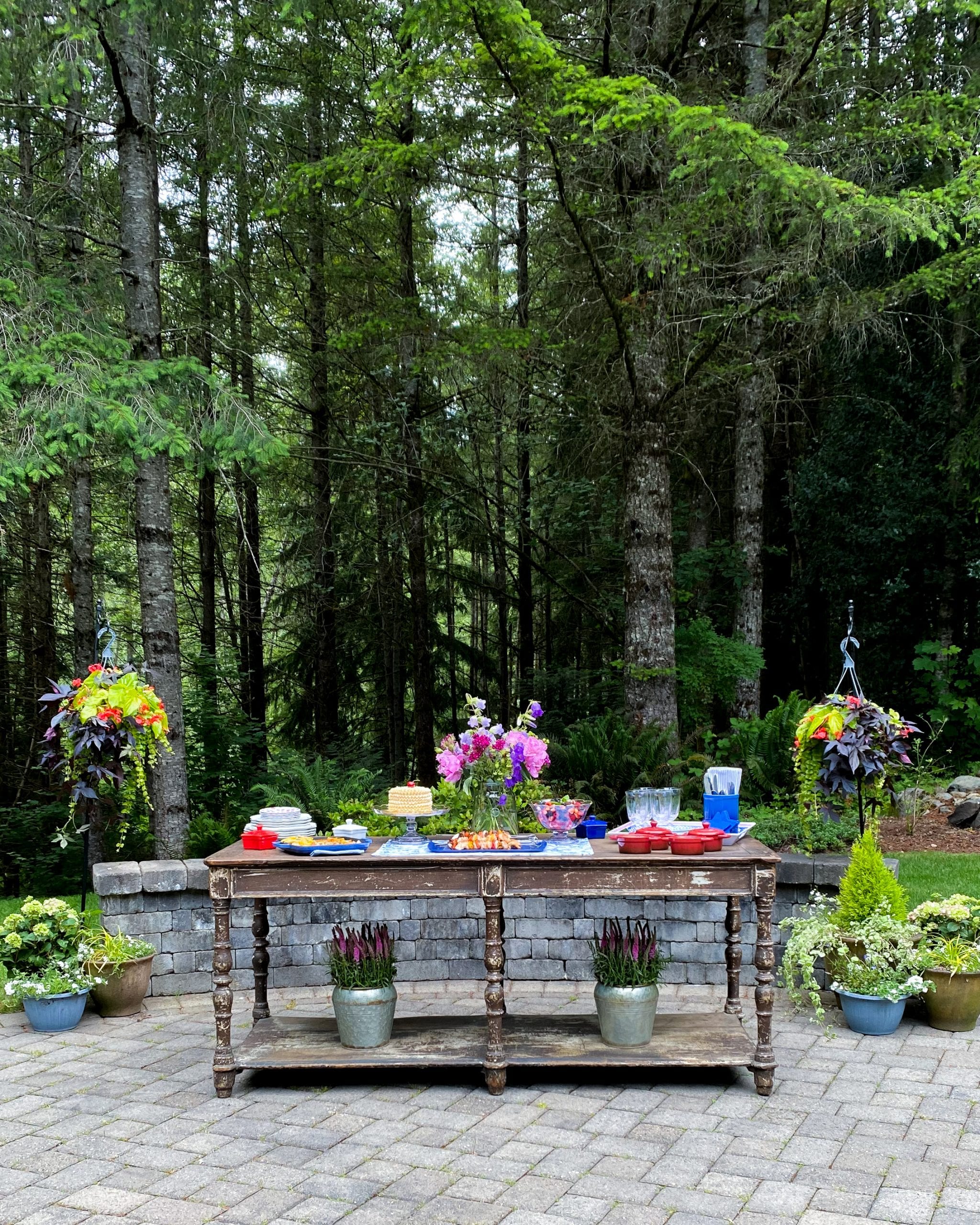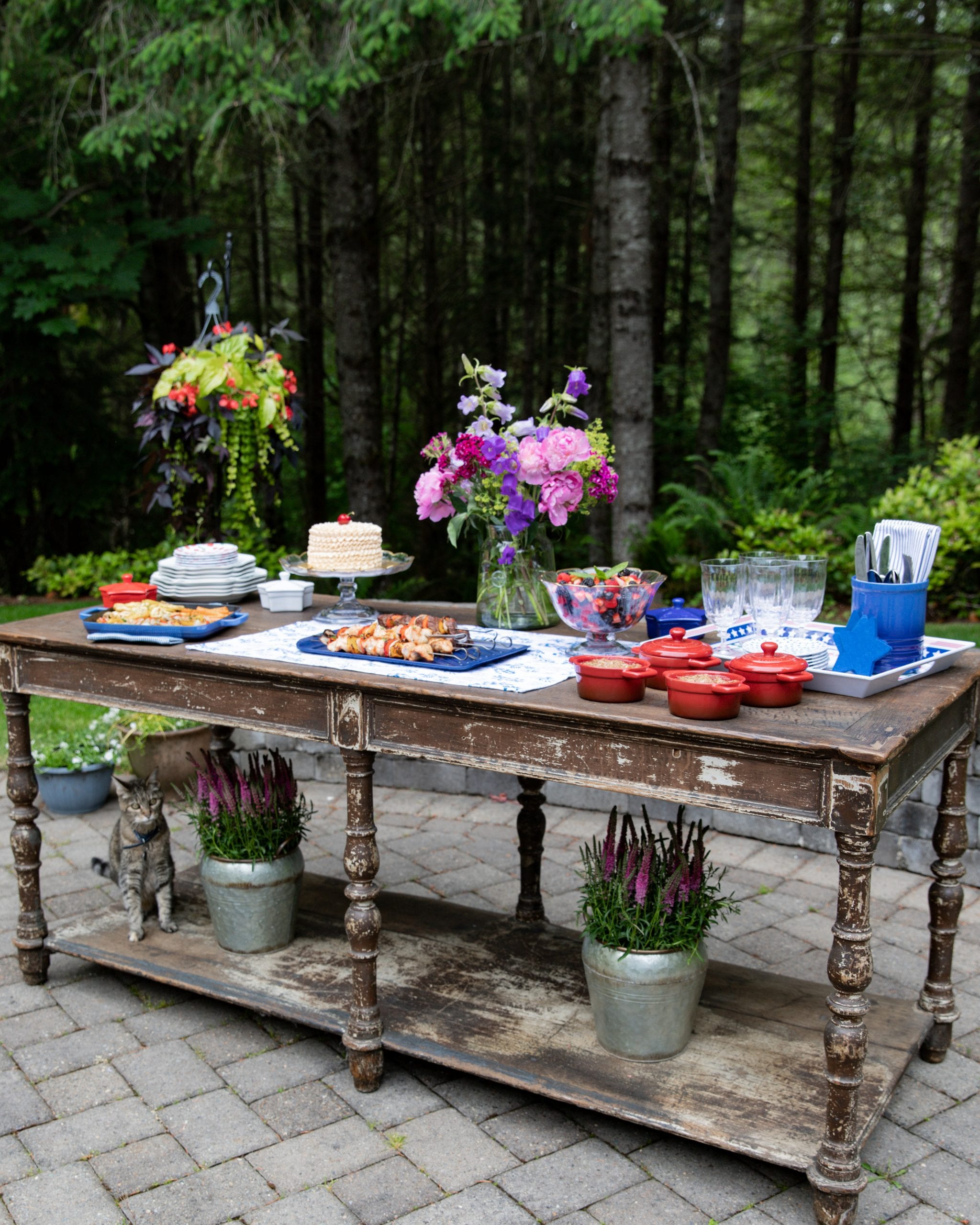 There are so many items in this collection that make summertime grilling and backyard BBQ's easy to pull off. One of my favorite items I used were the red cocottes. As soon as I saw them, I knew they would be perfect to make Martha Stewart's Sour Cherry Pistachio Crisp Recipe in. Not only are they decorative, but they are perfect for individual desserts.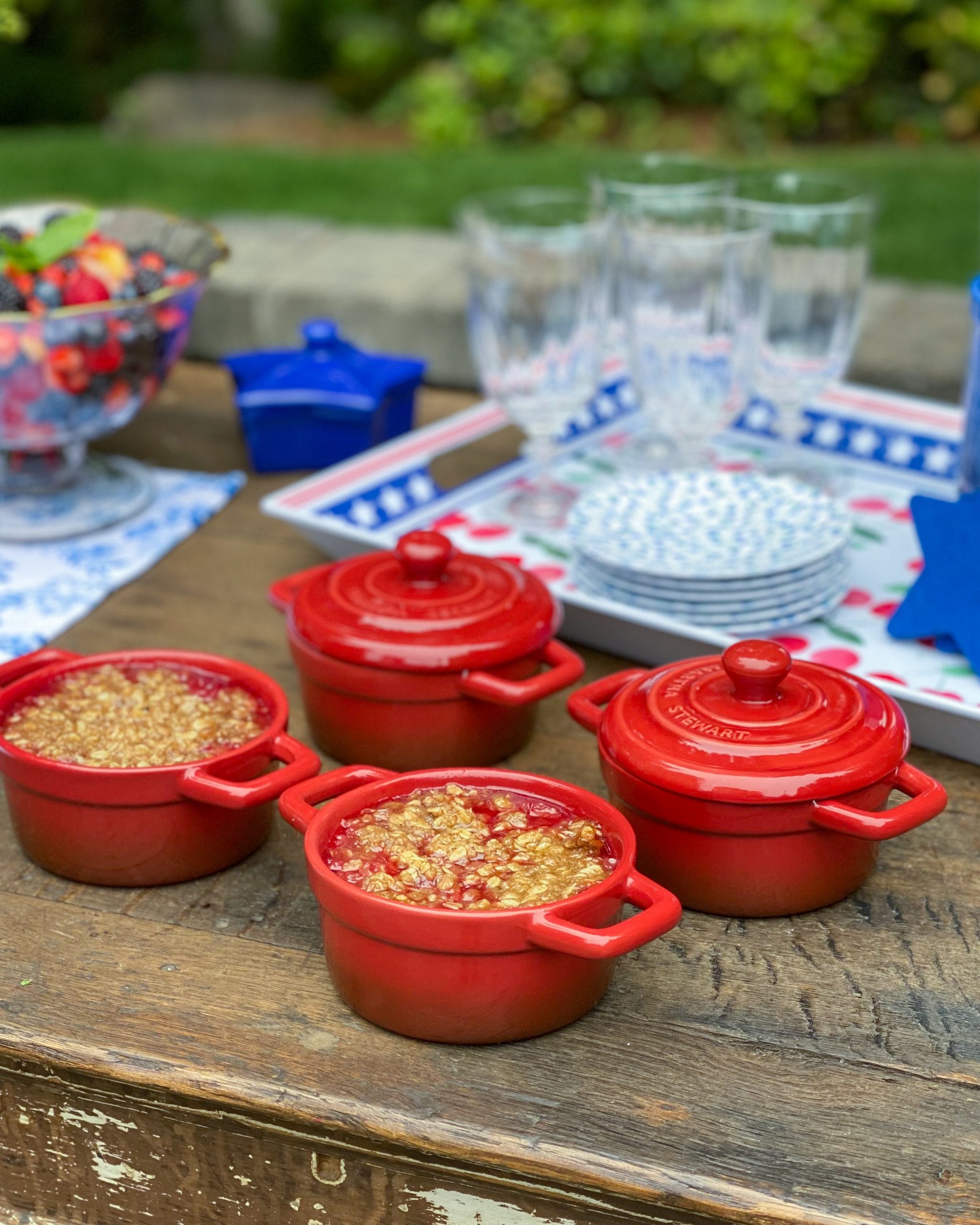 I also grilled some veggies on this enameled cast iron grill pan and the stainless steel skewers worked perfectly for my chicken and steak skewers.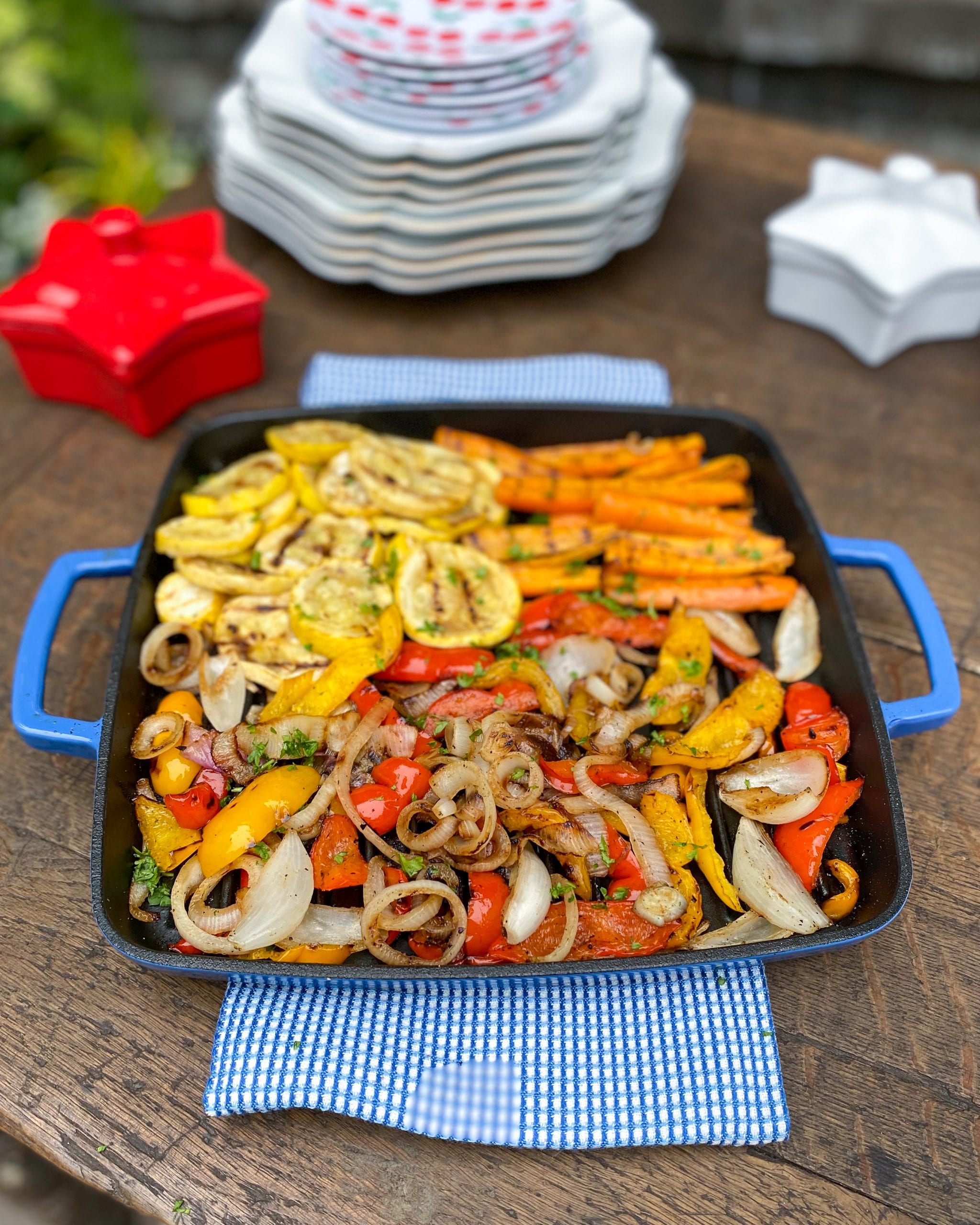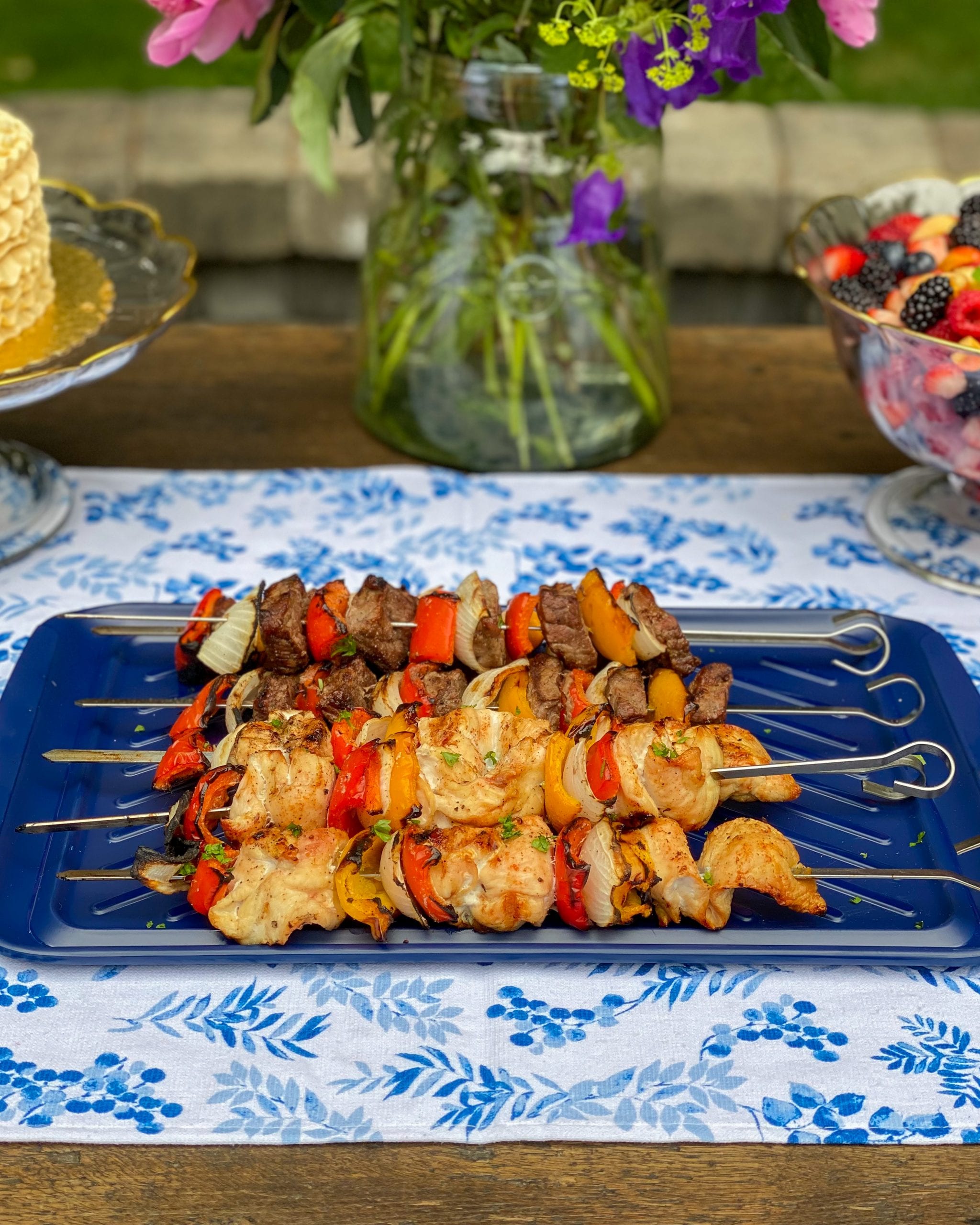 Planning the Menu
When planning a BBQ outdoor dinner, I like to use the grill and plan my menu around that. I kept this dinner quite simple and had lots of veggies, fruit, chicken, steak, and two desserts.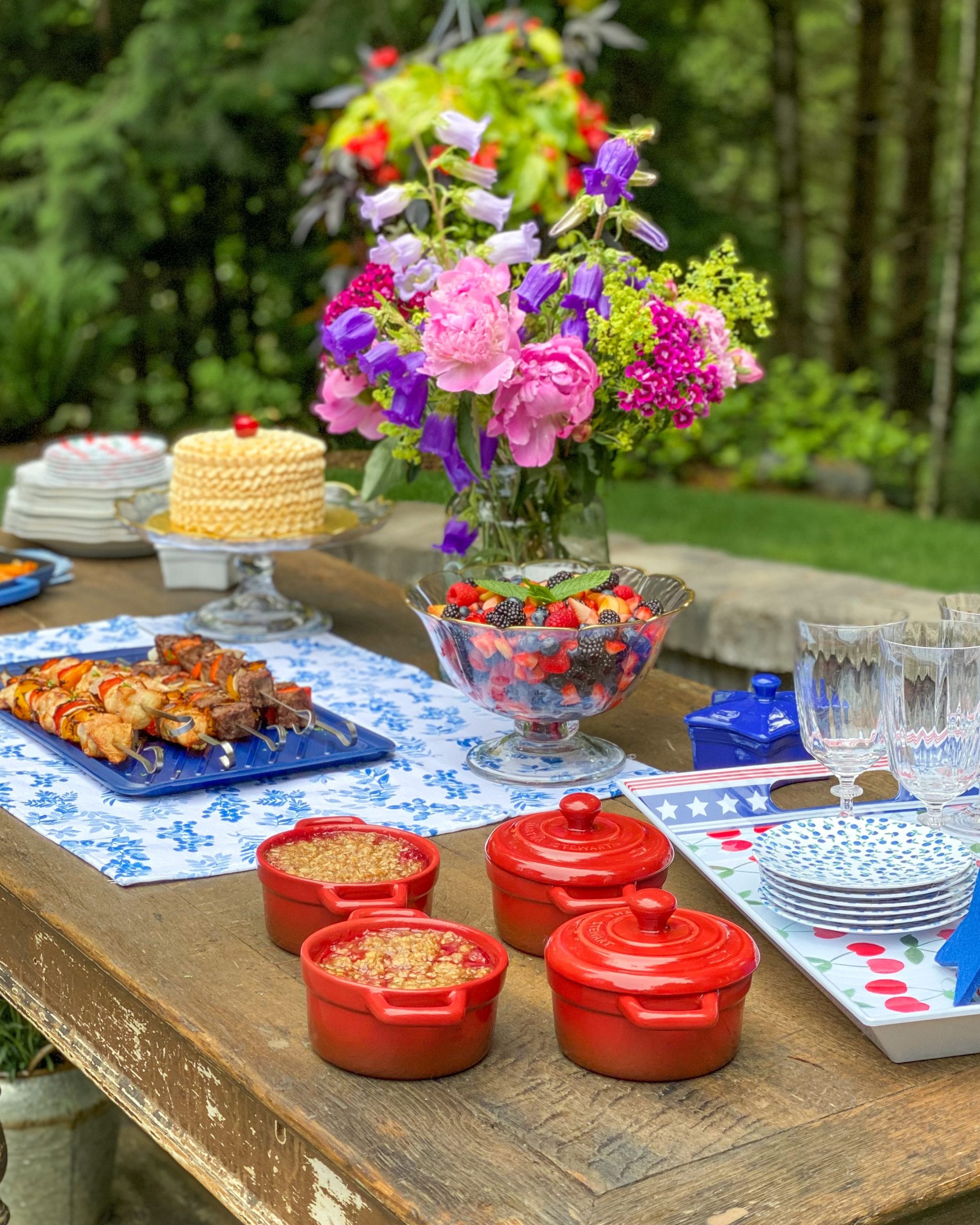 I wanted to do something different than burgers and hotdogs so I chose to make chicken and steak skewers with vegetables. I seasoned them with salt, pepper, garlic seasoning salt and they came out perfect!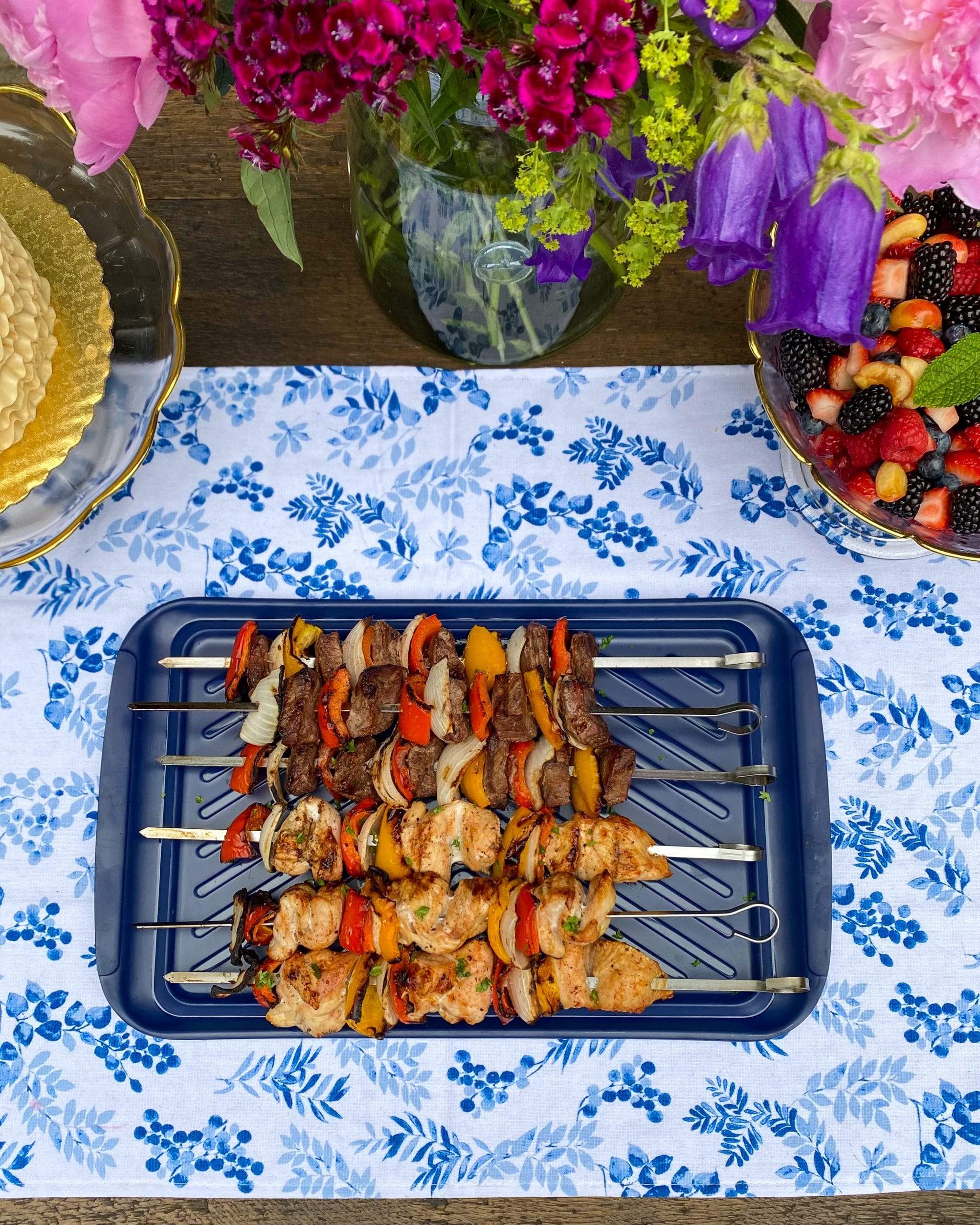 I grilled the skewers on the bbq grill and the veggies on this cask iron enameled grill pan on my stove. I brushed the veggies with olive oil and then seasoned them with salt, pepper, garlic salt, and Johnny's seasoning salt. (do this on both sides)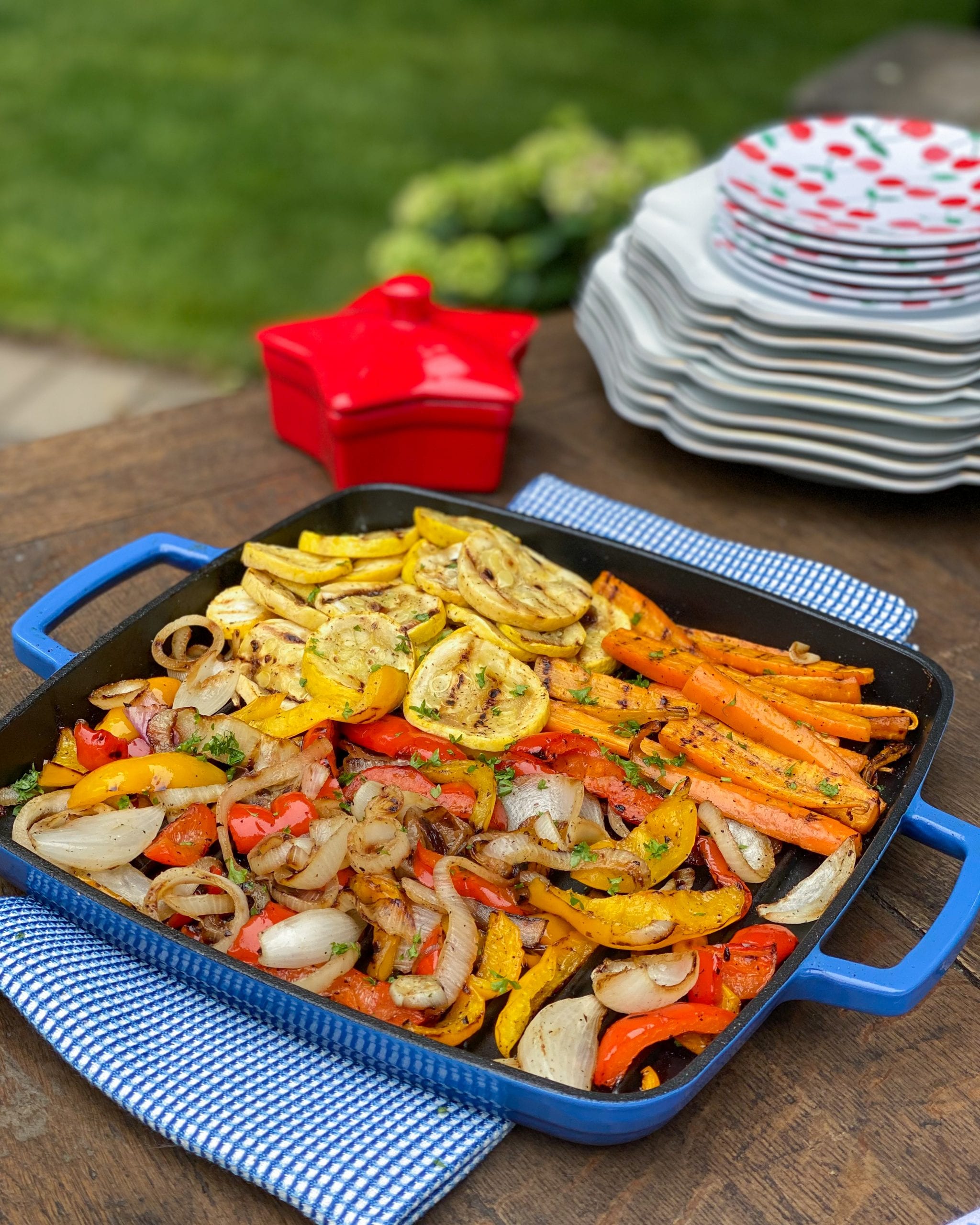 The cast iron grill pan stays hot for awhile which helps the food to stay warm. I put a dish towel underneath it to keep it from damaging my antique table.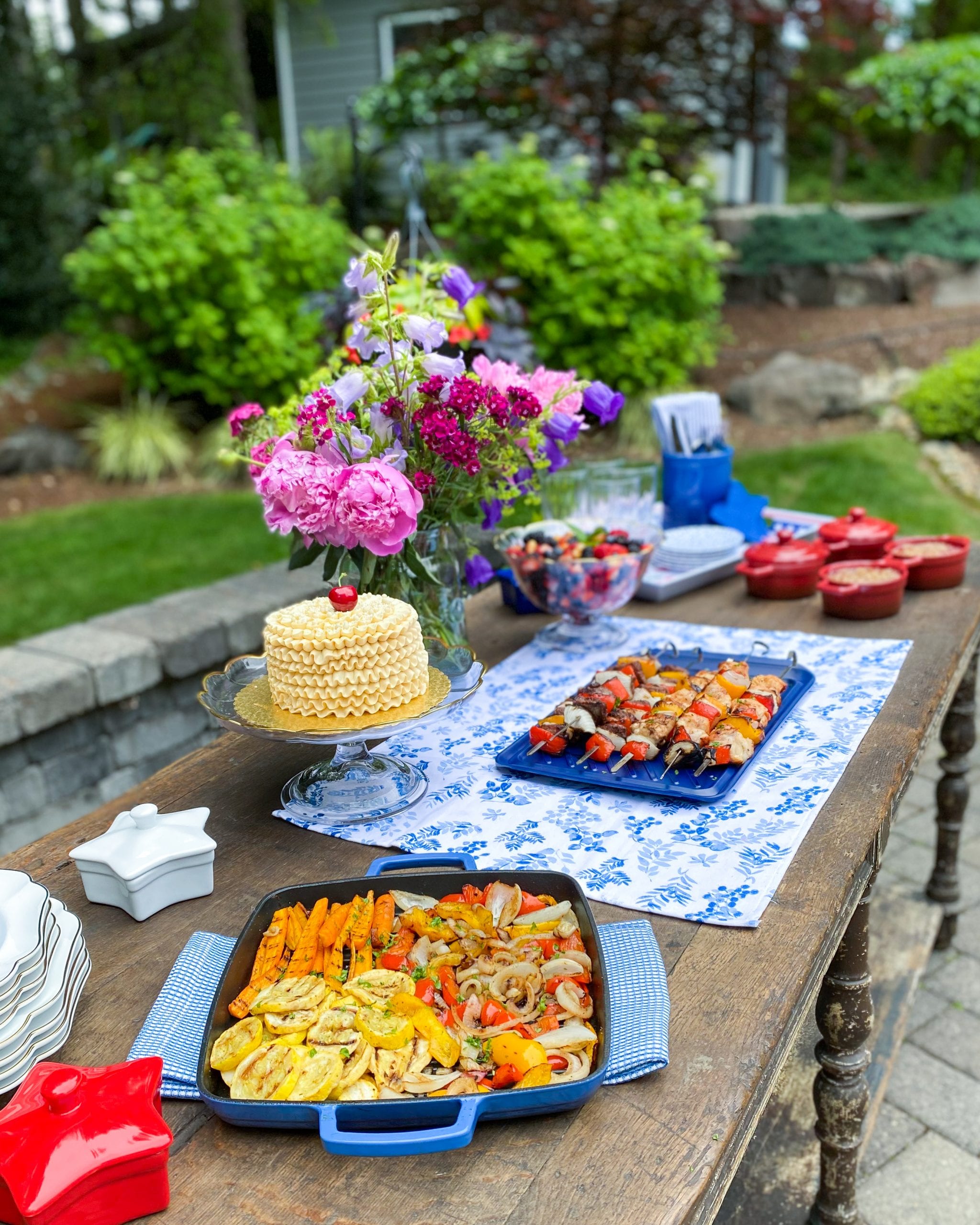 I made a fruit salad with rainier cherries, strawberries, raspberries, blueberries, and blackberries and served it in a clear glass bowl. I garnished it with mint leaves that I picked from my garden.
Its cherry season in Washington right now and so I chose to make a sour cherry pistachio crisp in the individual coquettes. I also made a chocolate cake since not everyone in my family likes cherries.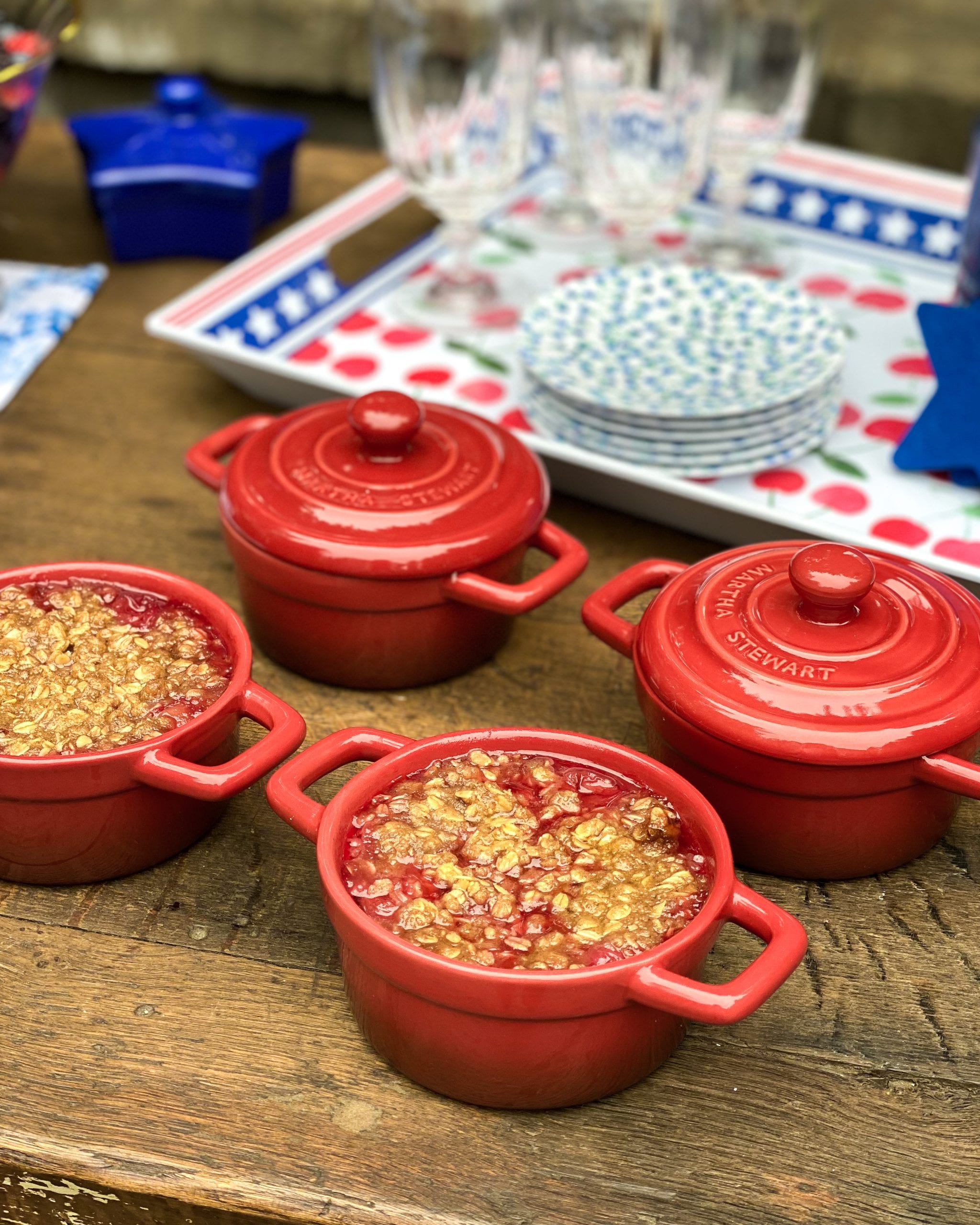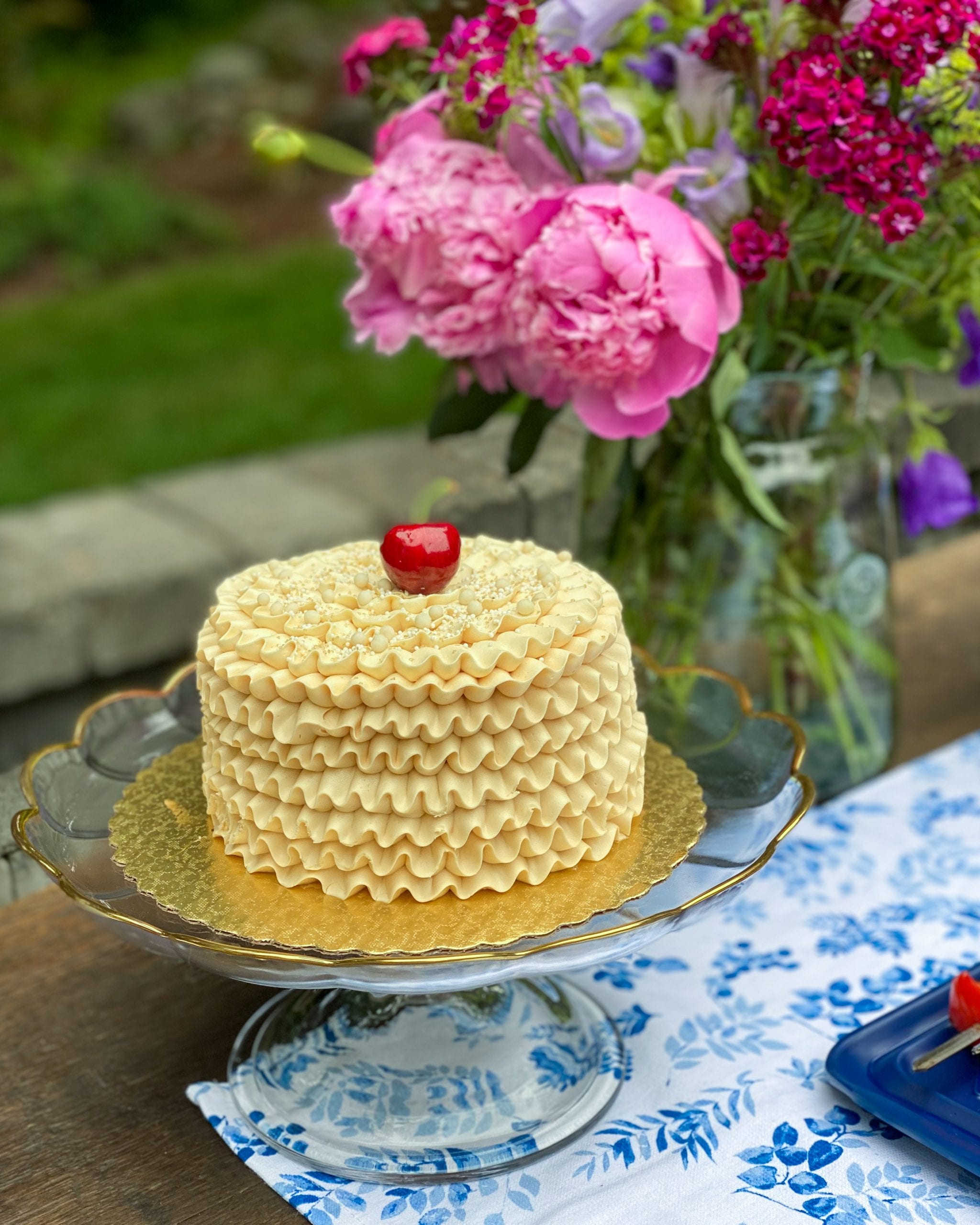 Table Decor
I alway like to dress my buffet or serving tables up and I kept this one quite simple. I picked flowers from my yard and garden and arranged them in a vase and then I used them in the center of table as a focal point.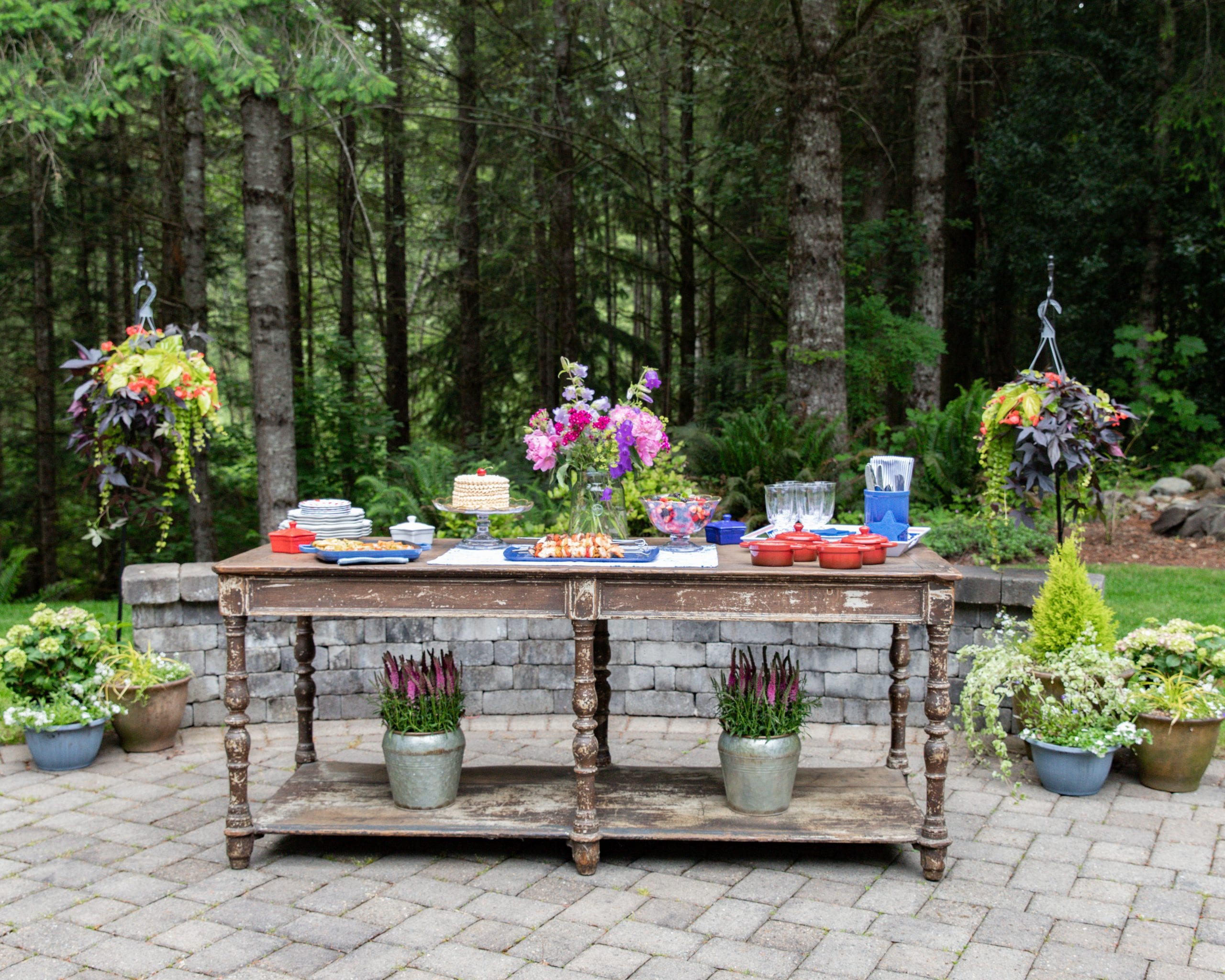 I used a large dish towel as a small table runner in the middle of the table too.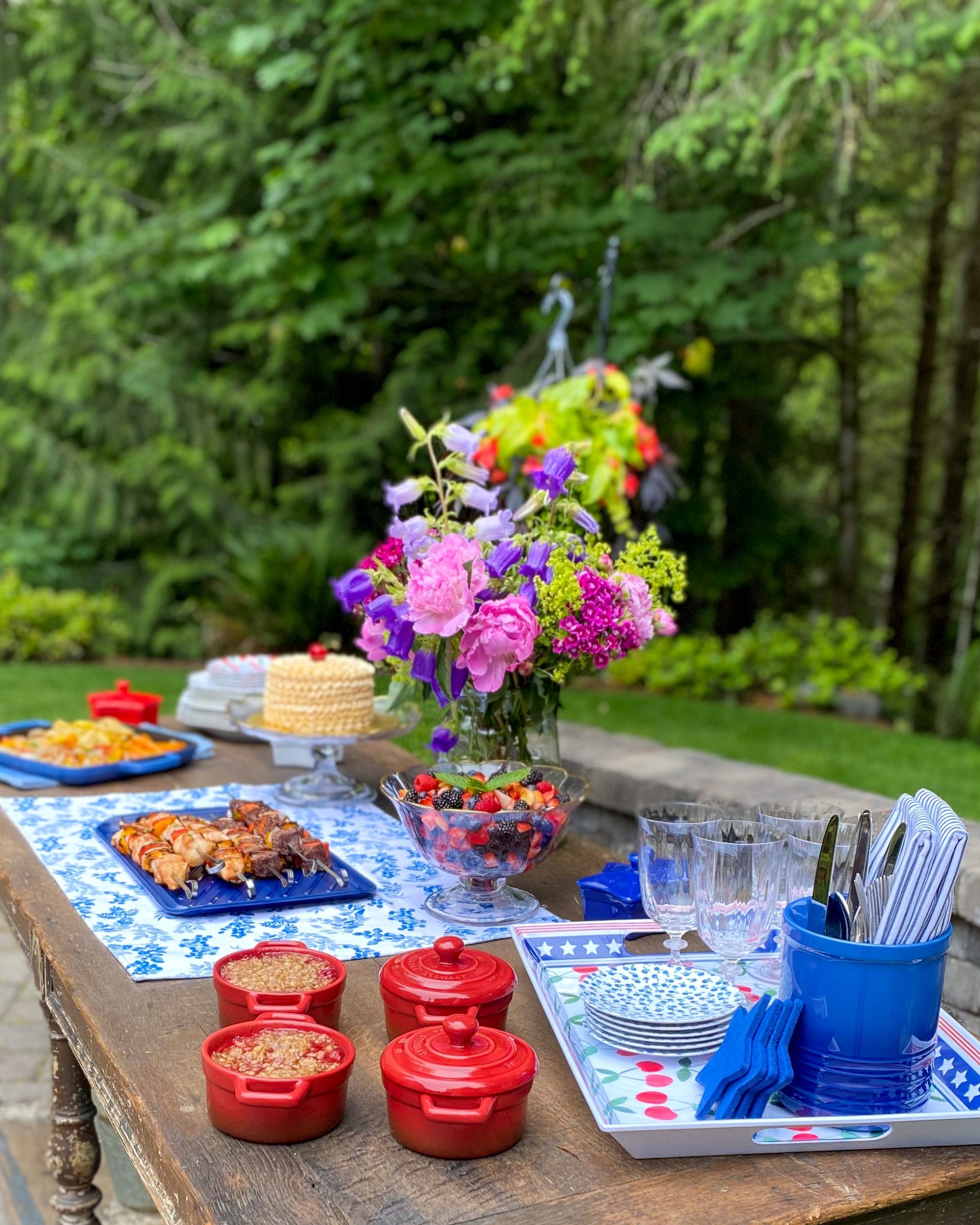 I also set out the plates, drinking glasses, flatware, and napkins on the serving table.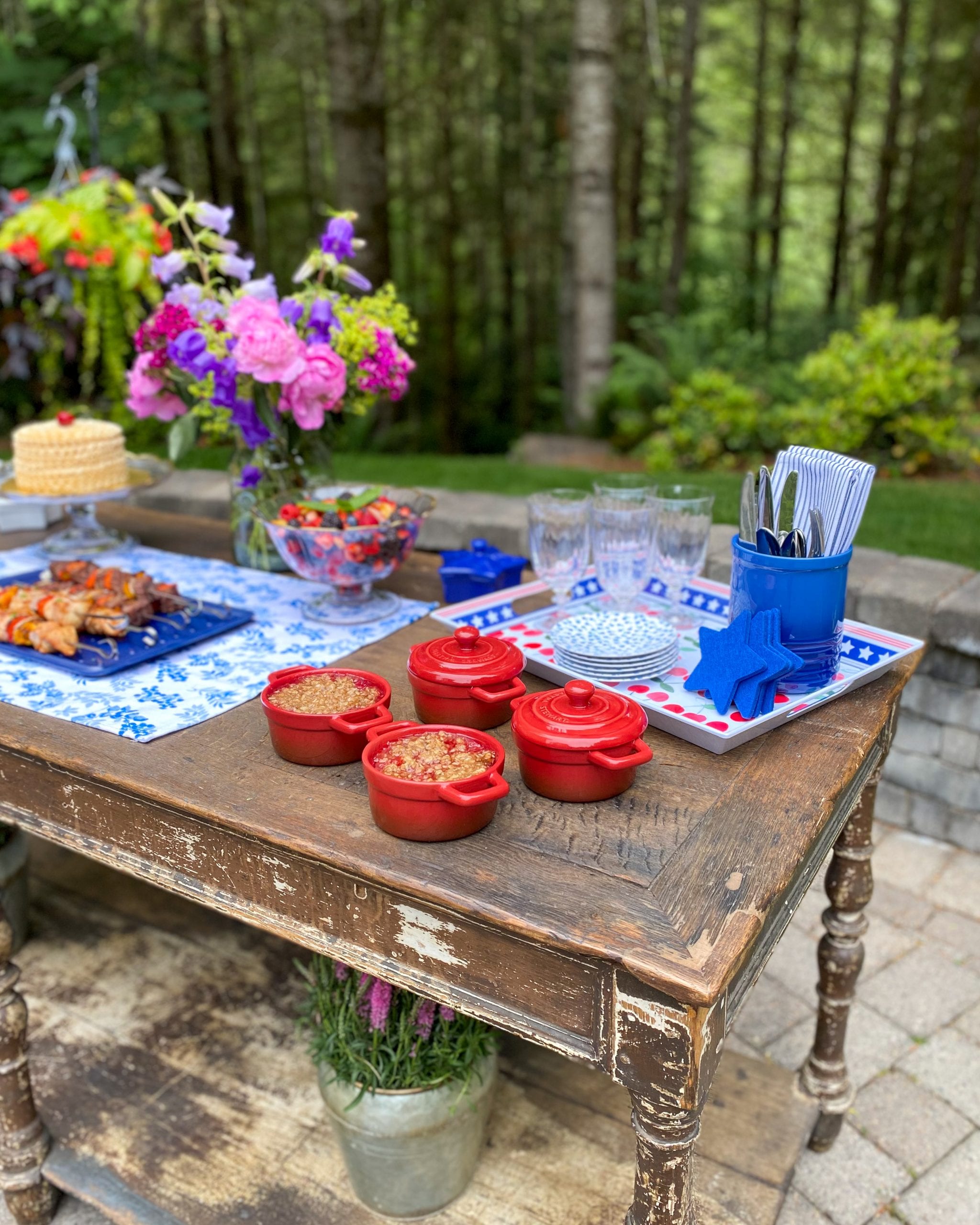 I used the flower pots and containers in my backyard to dress up the bottom of the table and the area surrounding the table.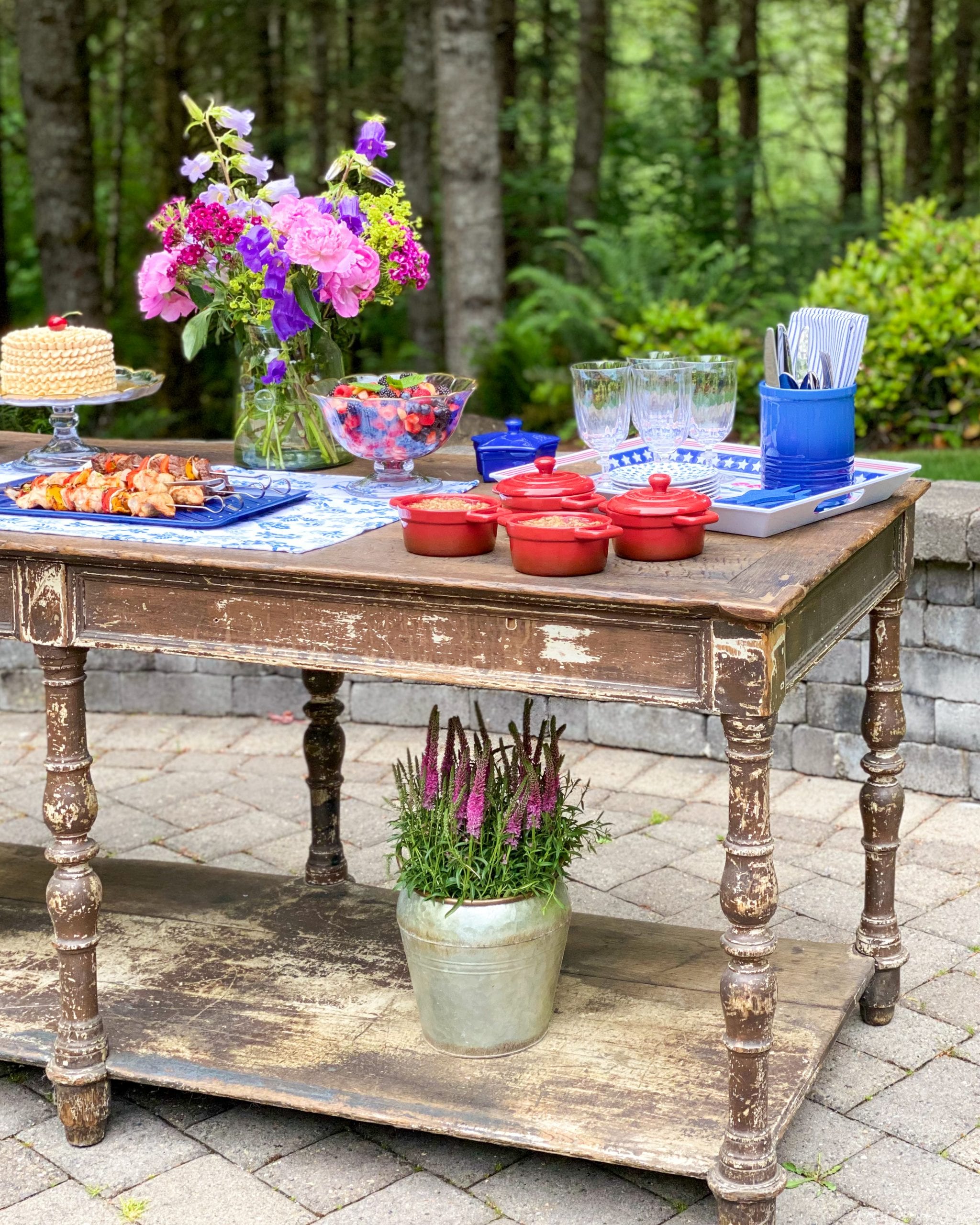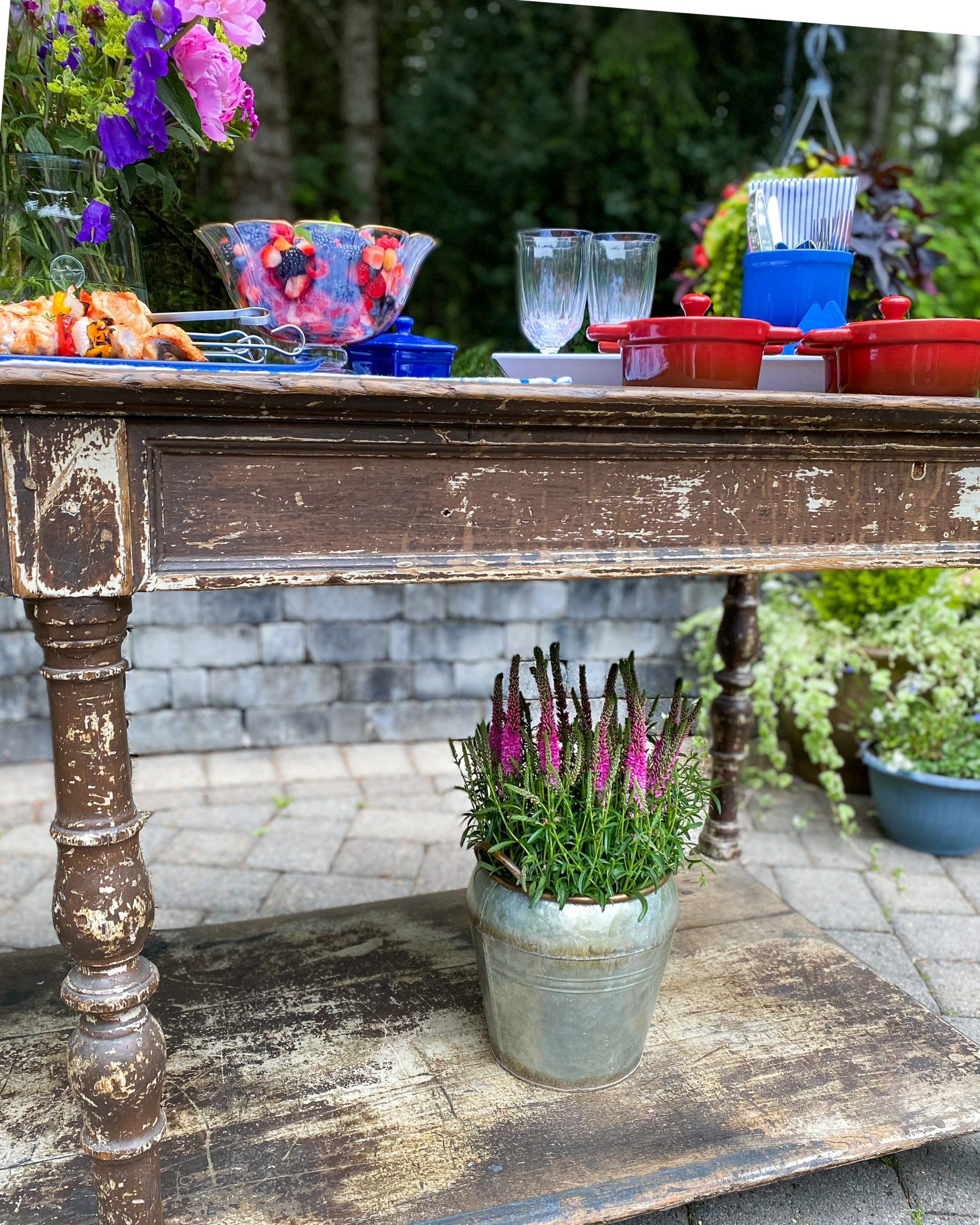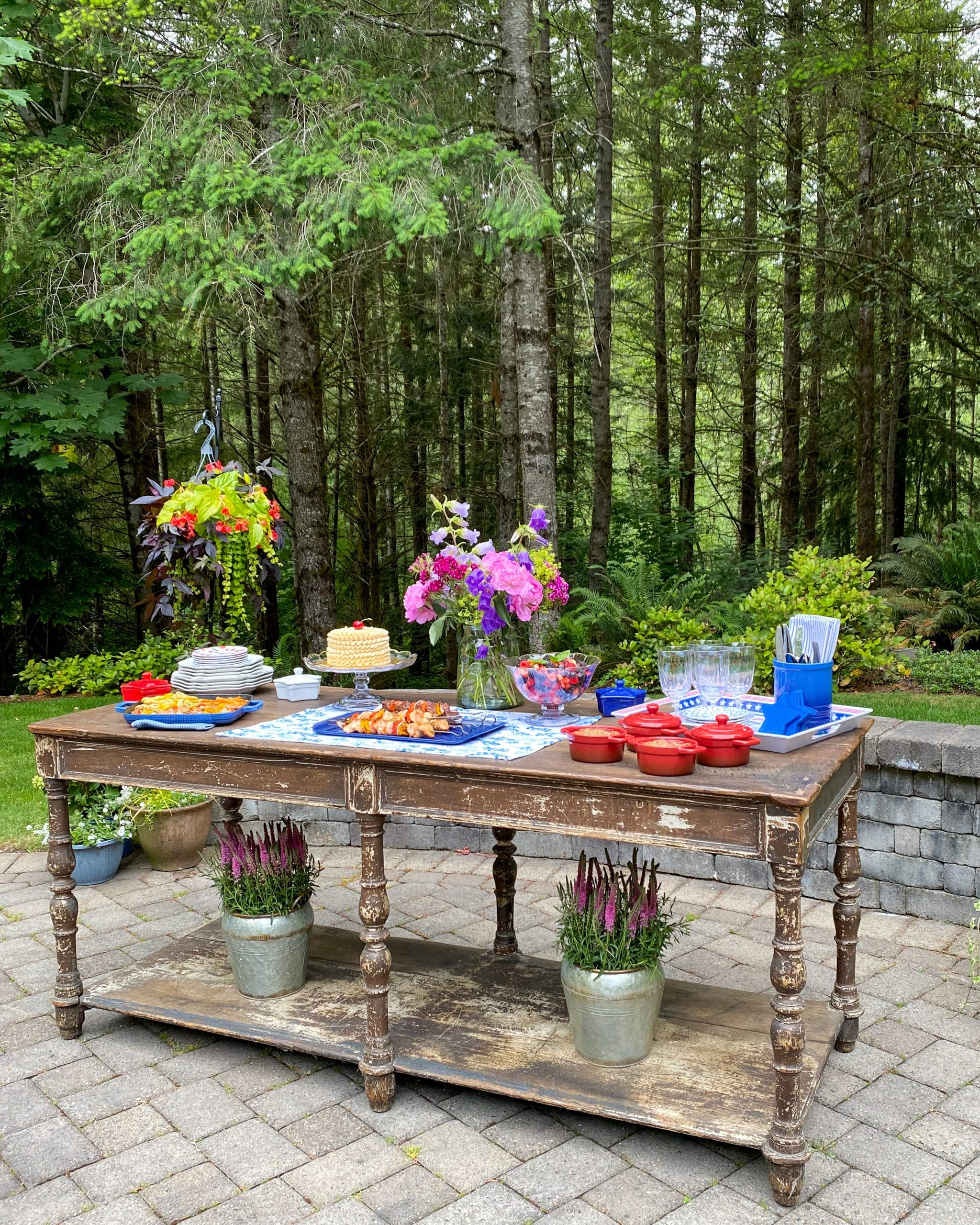 I love this outdoor space in our backyard and it's so much fun to set a pretty table to serve dinner on. I had a second table set up nearby that we ate on and I added some flowers in a vase to the end of the table.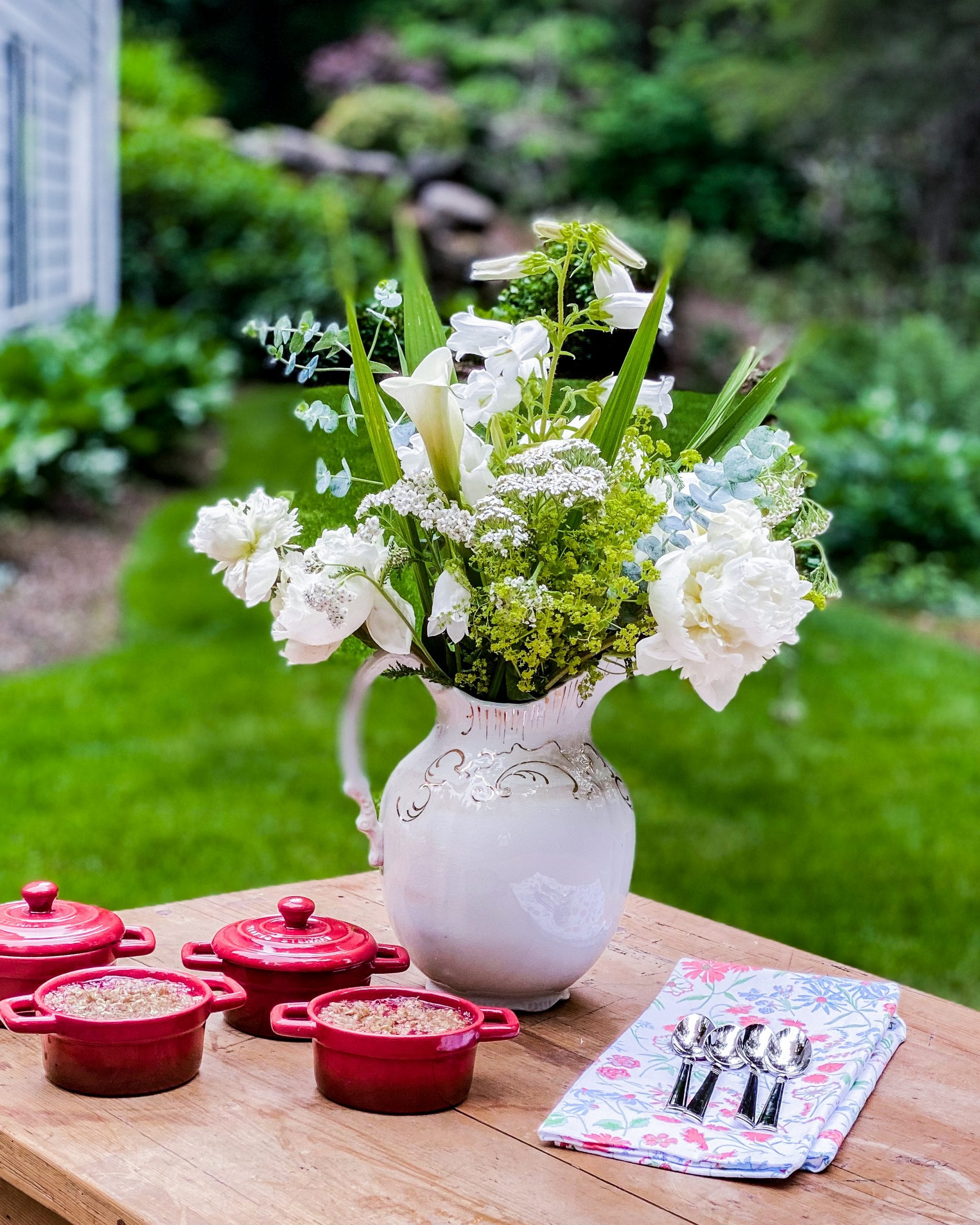 We had perfect weather for our outdoor summer bbq and I'm looking forward to doing it again soon!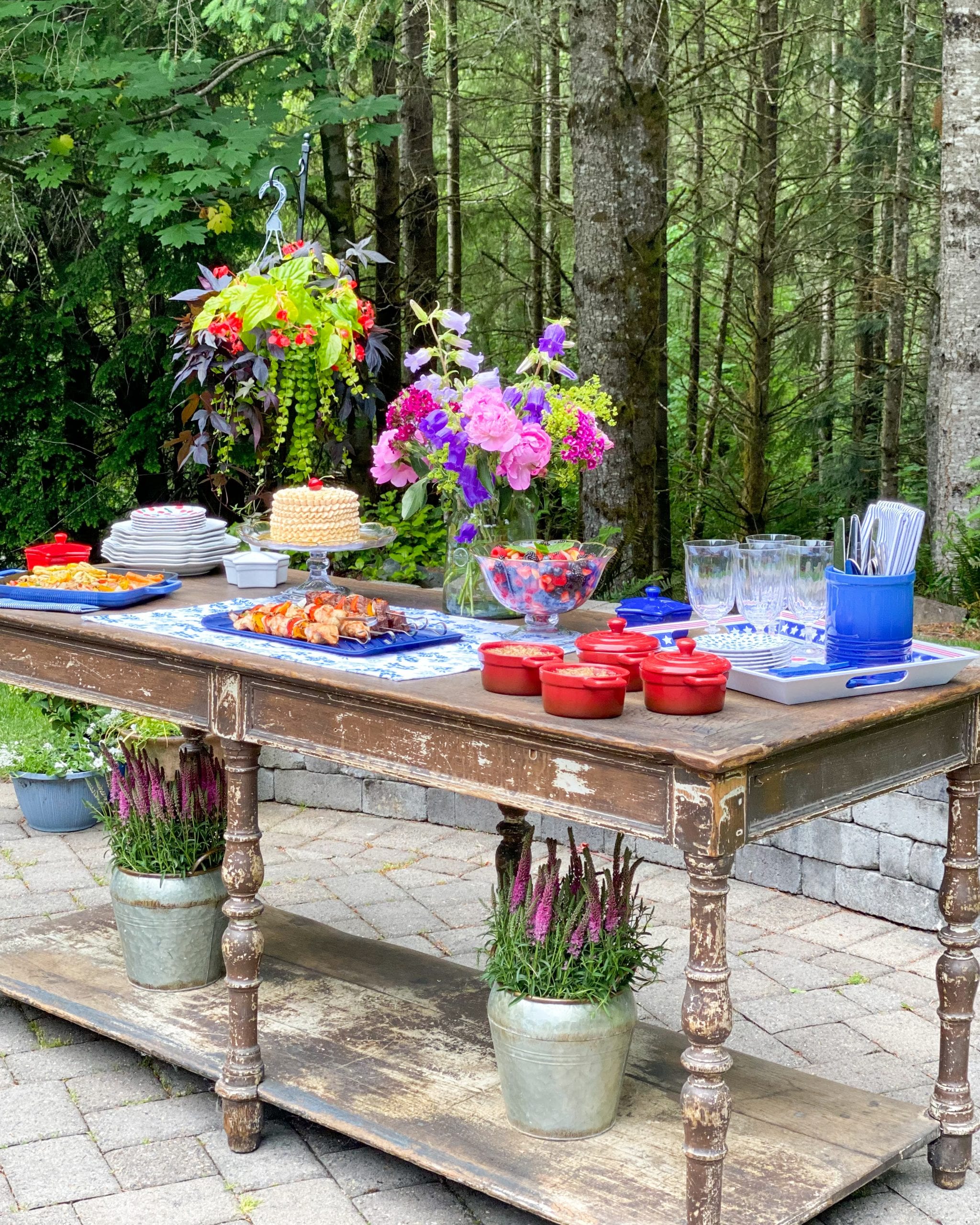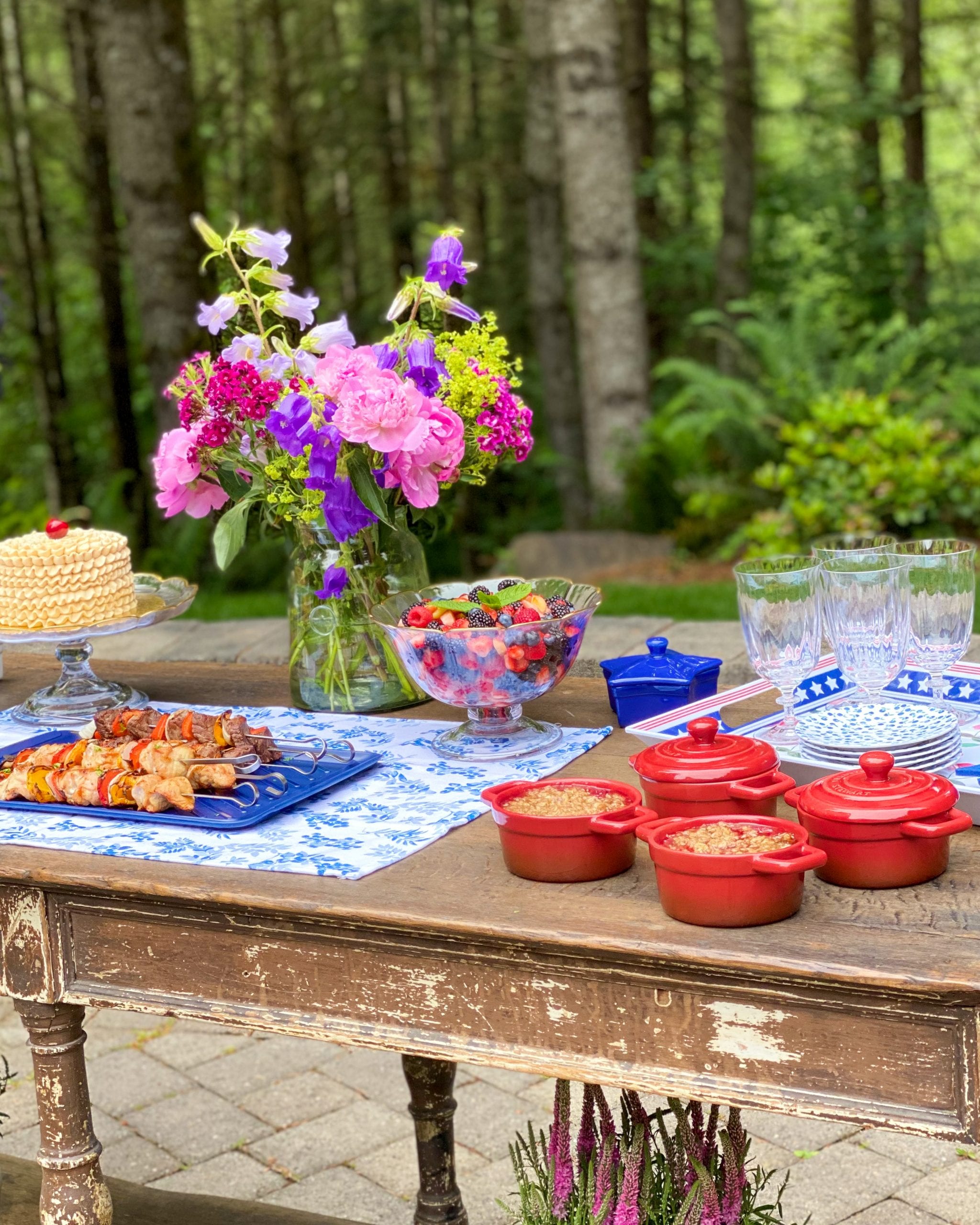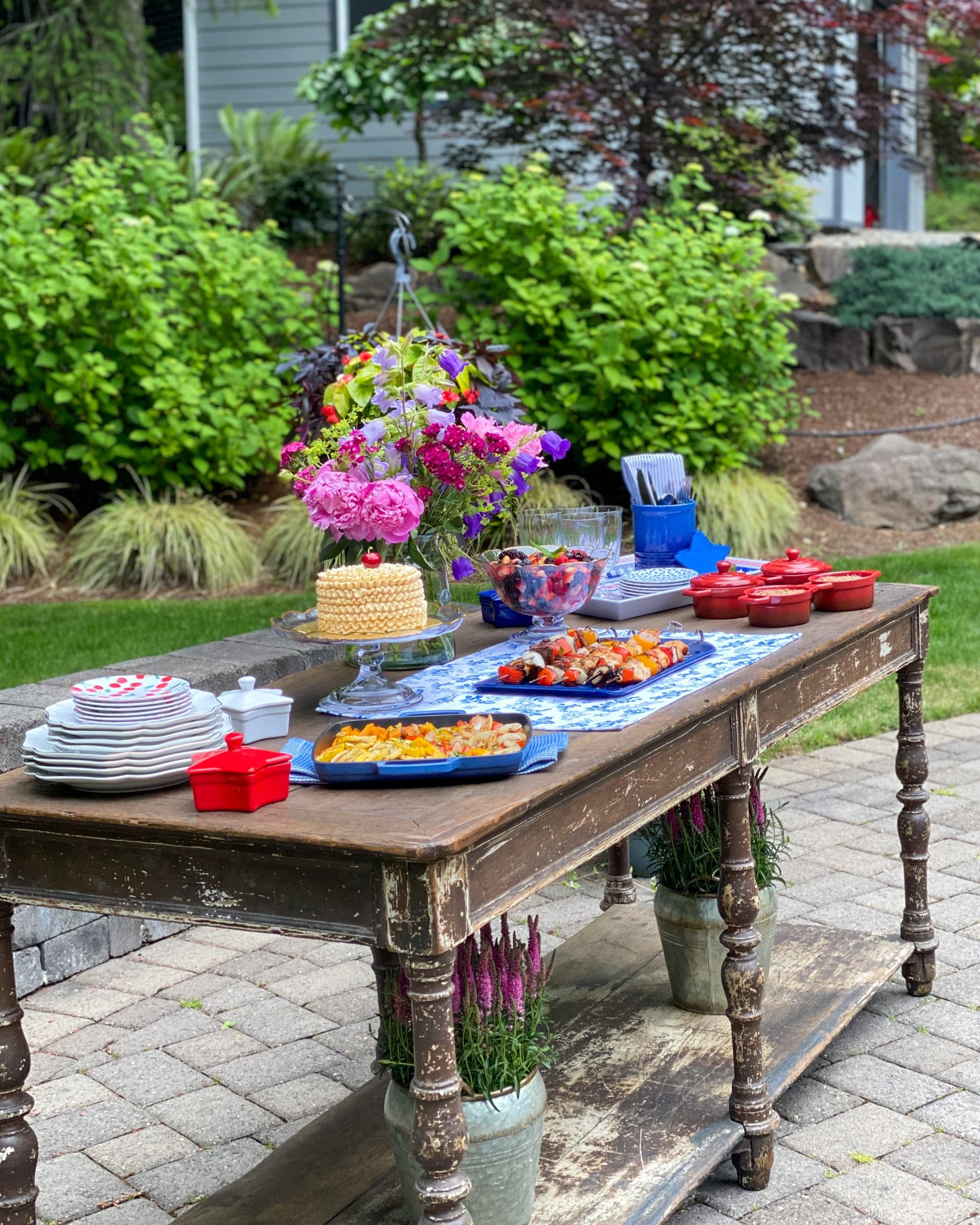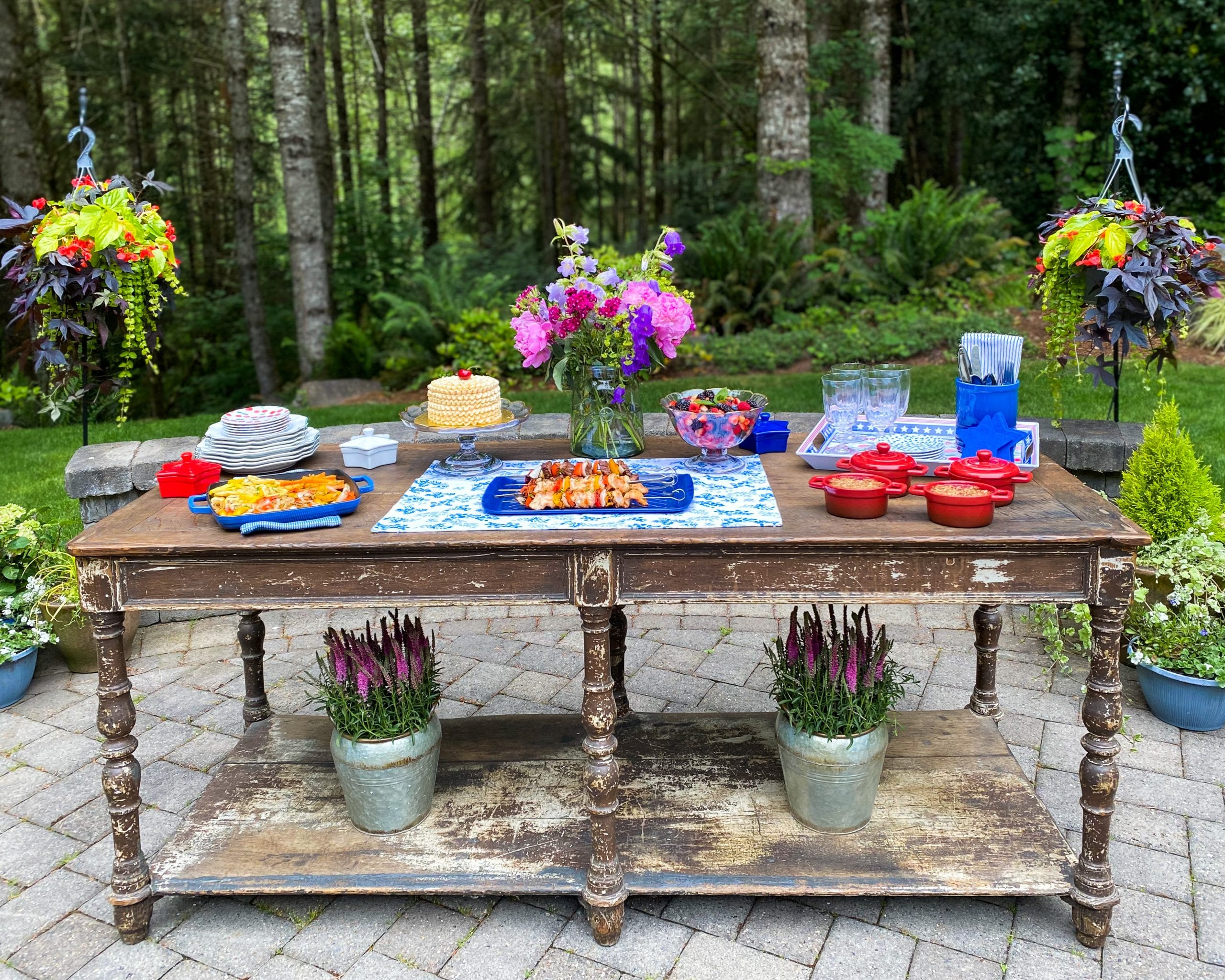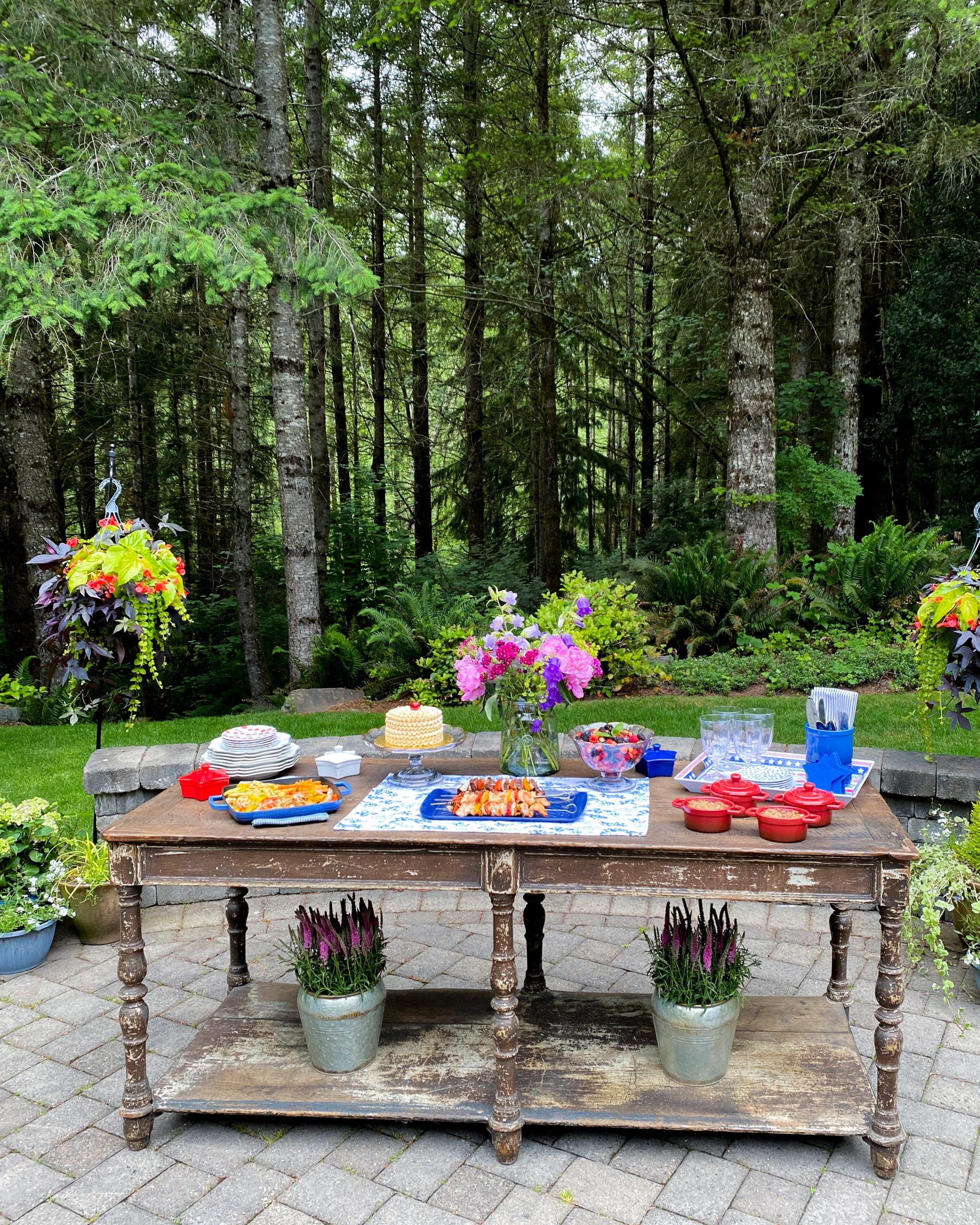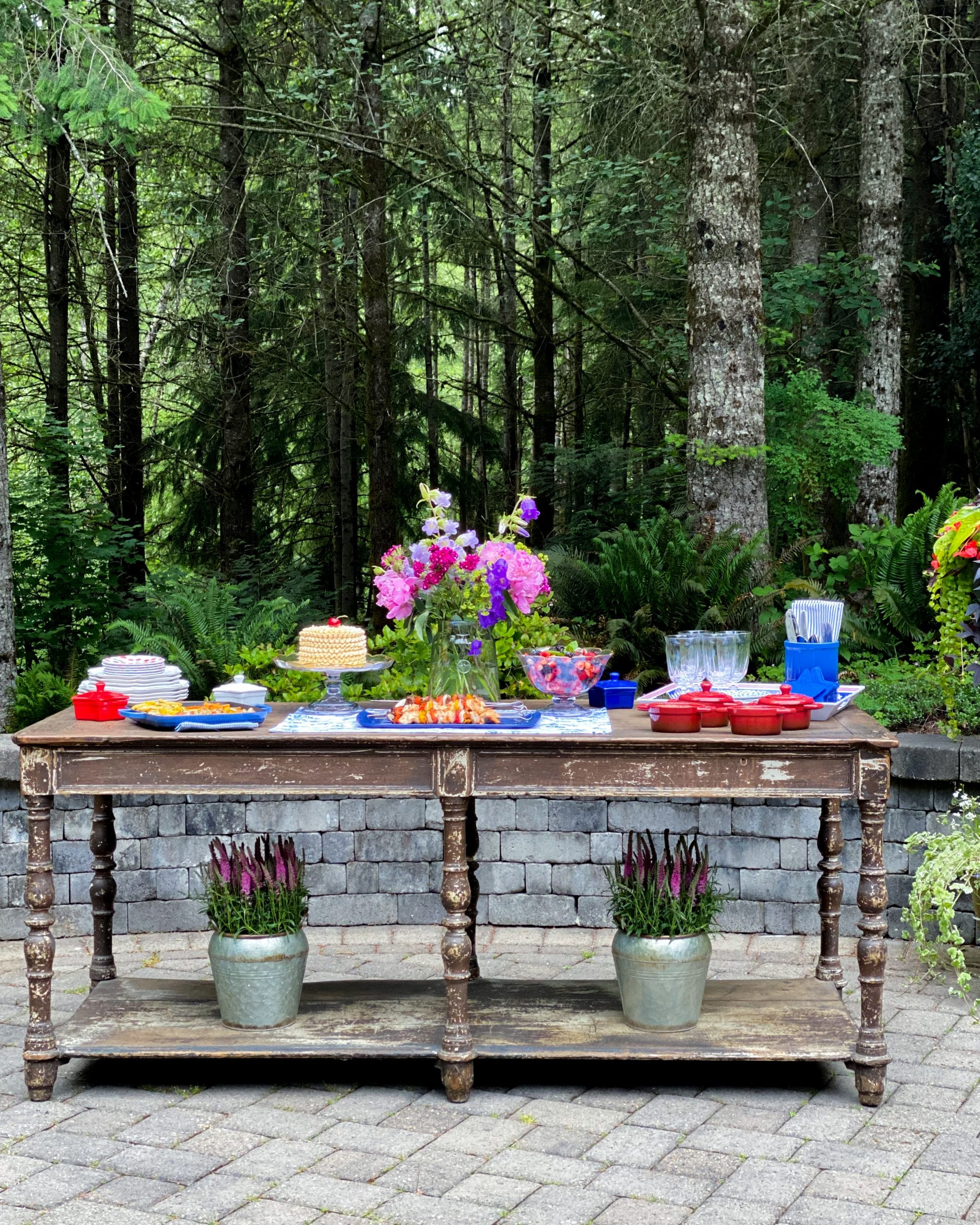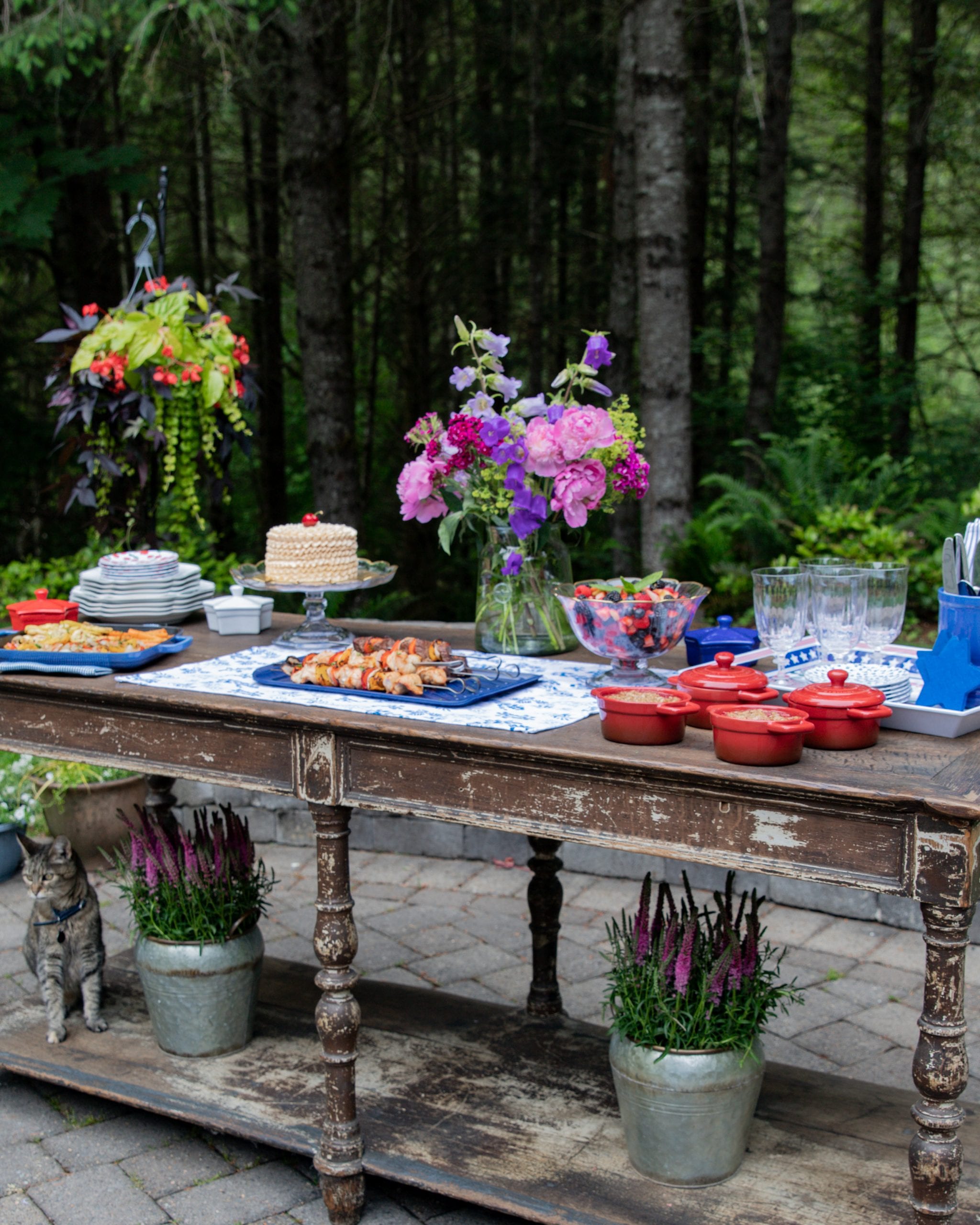 Lilo, our eighteen year old kitty likes to hang out in the backyard with us.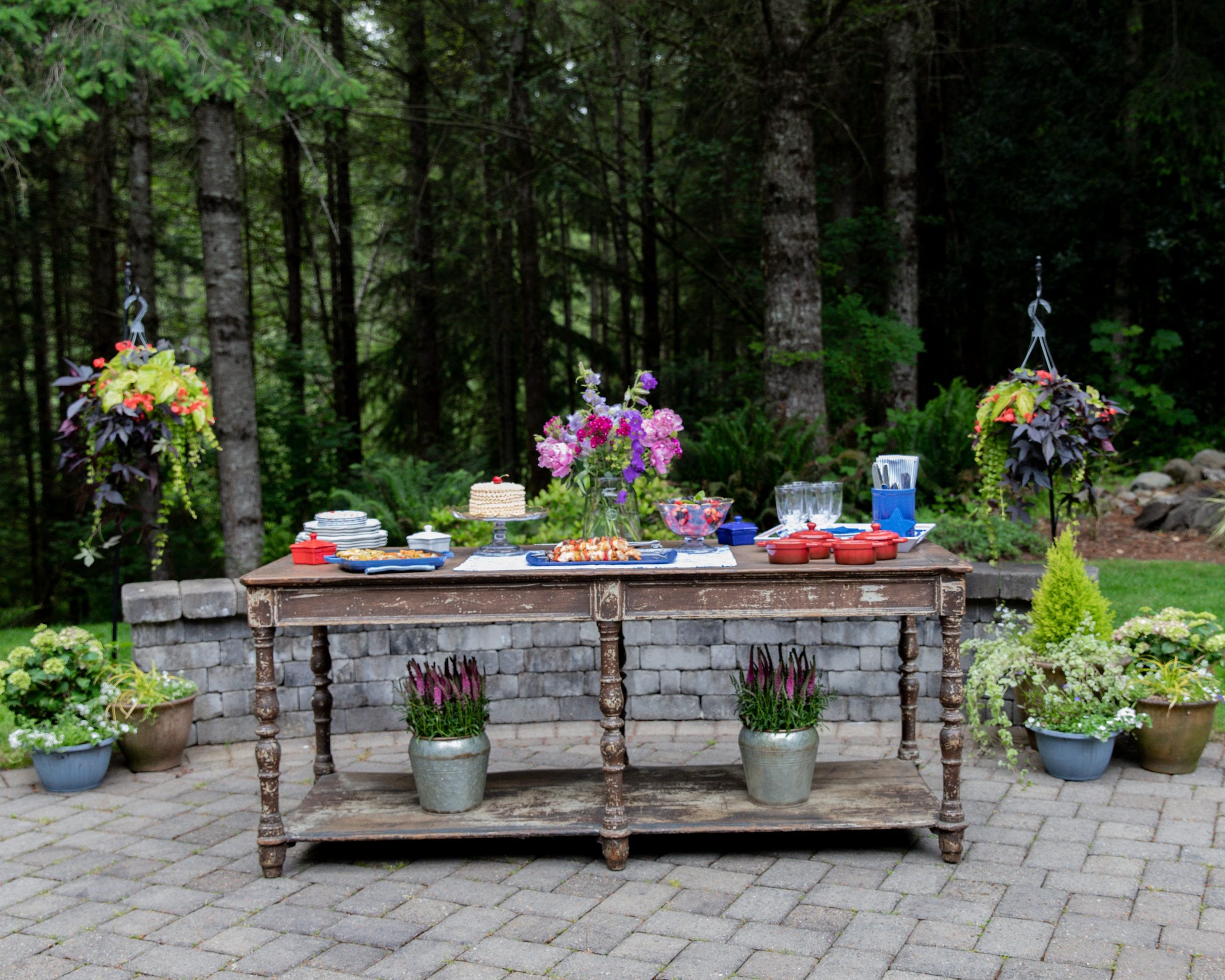 Thanks so much for stopping by! I hope this post inspires you to host a little backyard barbecue as we head into summer. I would love it if you subscribed to my blog and followed along with me on Instagram and Pinterest. Wishing you all a great summer!
xoxo,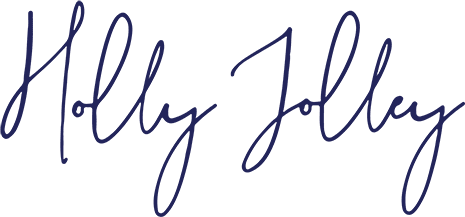 Sources are linked below:
This post contains affiliate links.

OUTDOOR SUMMER BBQ