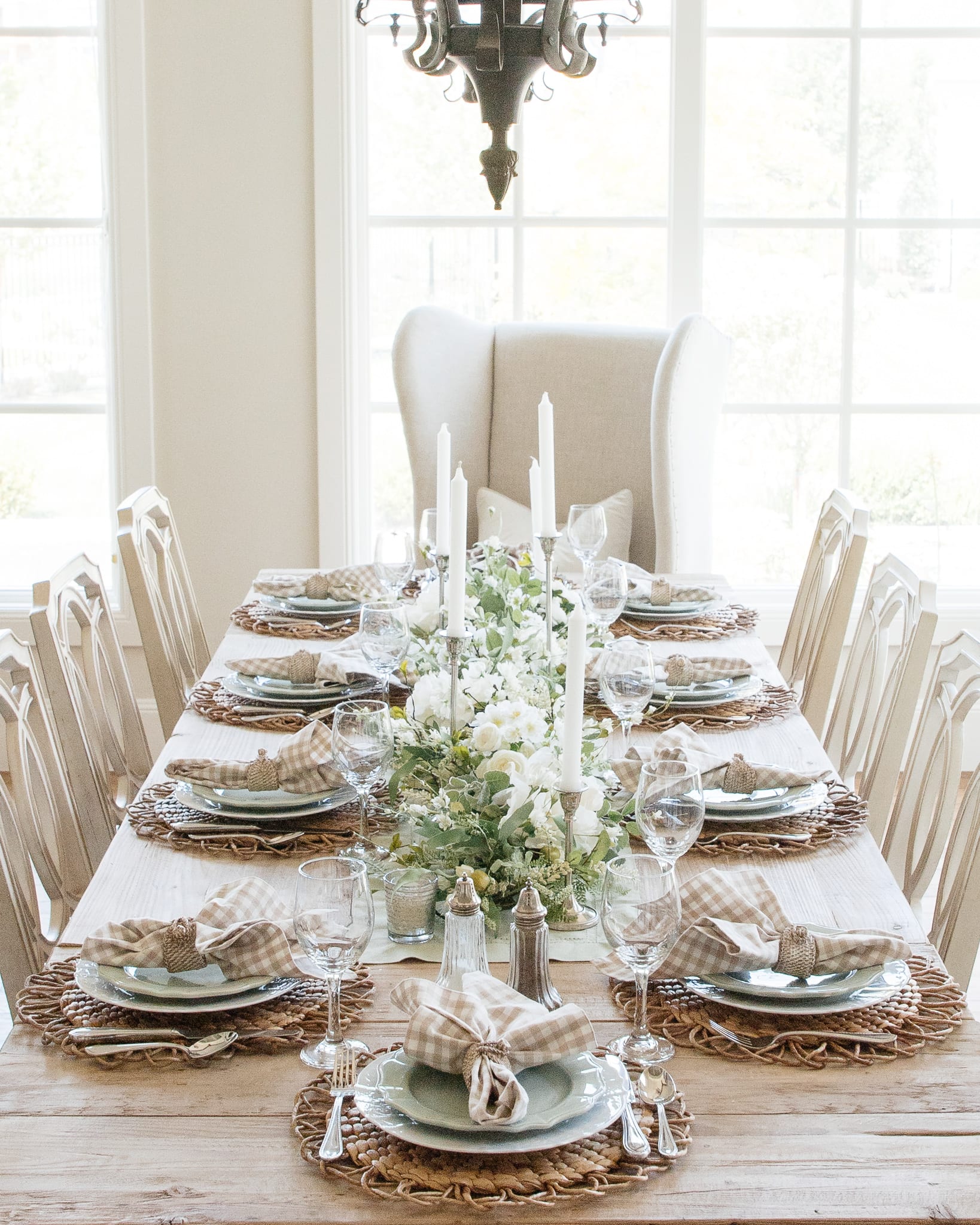 Here is the first installment for Holiday Hosting at Home blog hop! There are a handful of ladies that I've met that love to do the same things I do when it comes to hosting and entertaining. When we all spoke on the phone for the first time about teaming up to share our ideas, we all felt like we were speaking the same language! I think I may have found my soulmates! With that being said, I am so excited to introduce our new blog hop, Holiday Hosting at Home – Fall Home Decor and Tablescapes.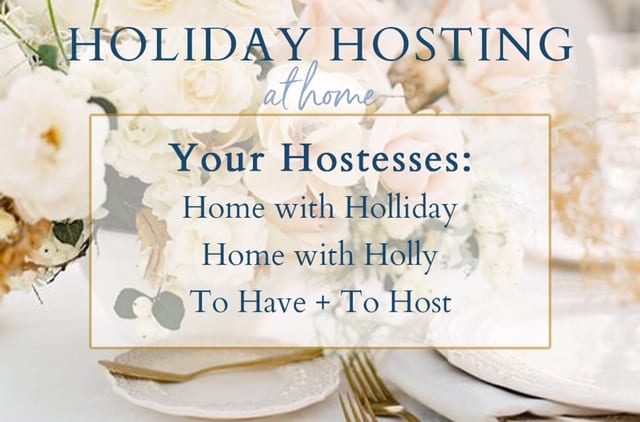 I've admired and gained inspiration from many different blog and instagram accounts over the years so when you actually get to connect with the real life people behind the blogs, it's really great!
These ladies love to create beautiful tablescapes and gather their friends and family as much as I do. We all love creating warm and beautiful spaces to gather those we love. It's was so fun coming up with ideas as to how we could share it all with you. I hope you'll enjoy the inspiration that we've each created.
Home with Holliday
Meet Home with Holliday. She also goes by Holly! We have much in common as well as our names! Holliday does a great job using neutrals and earth tones and brings the outdoors inside with these creative ways to style her home. Here are a two of her recent blog posts with some great fall tablescape and home decor ideas.
Holliday's fall tablescape has so many textures and colors but they all go well together. I love the pops of mauve that contrast nicely with the cream and brown colors she's mixed in. I love the added touch of the brown and silver pumpkins that tie it all together. I'd love to sit at this table for dinner! You can see more details by clicking here: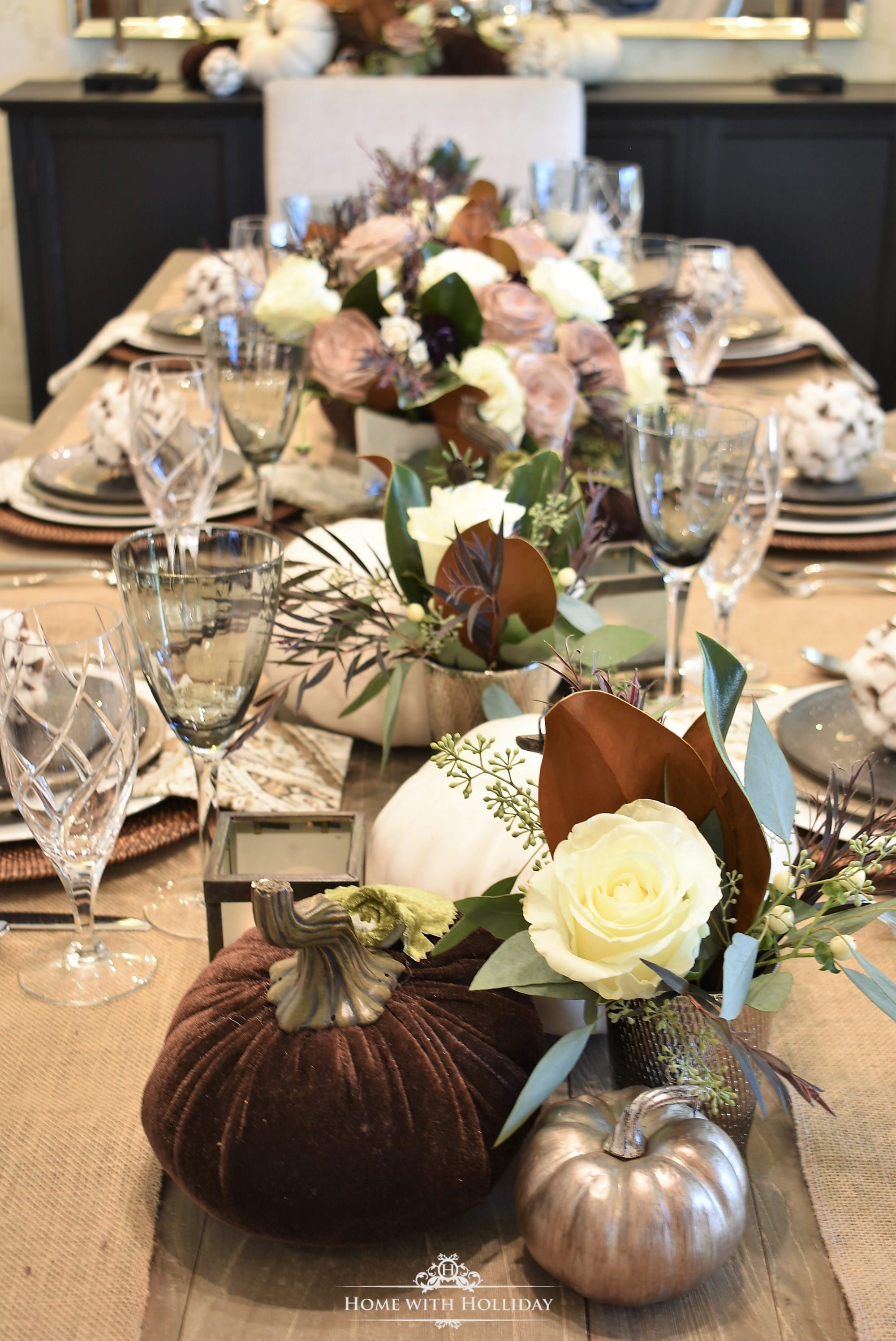 For her coffee table, Holliday used branches from her chokecherry tree and some pinecones. I am a big fan of using things you can find in your own yard or outdoor surroundings. The candles, velvet pumpkins, and the faux fur piece bring texture and color to the space. Holliday is so great at using different textures to make it interesting and unique. Using items from your own yard is creative and cost effective! To get more details click the link below.
Easy and Creative Fall Decor Ideas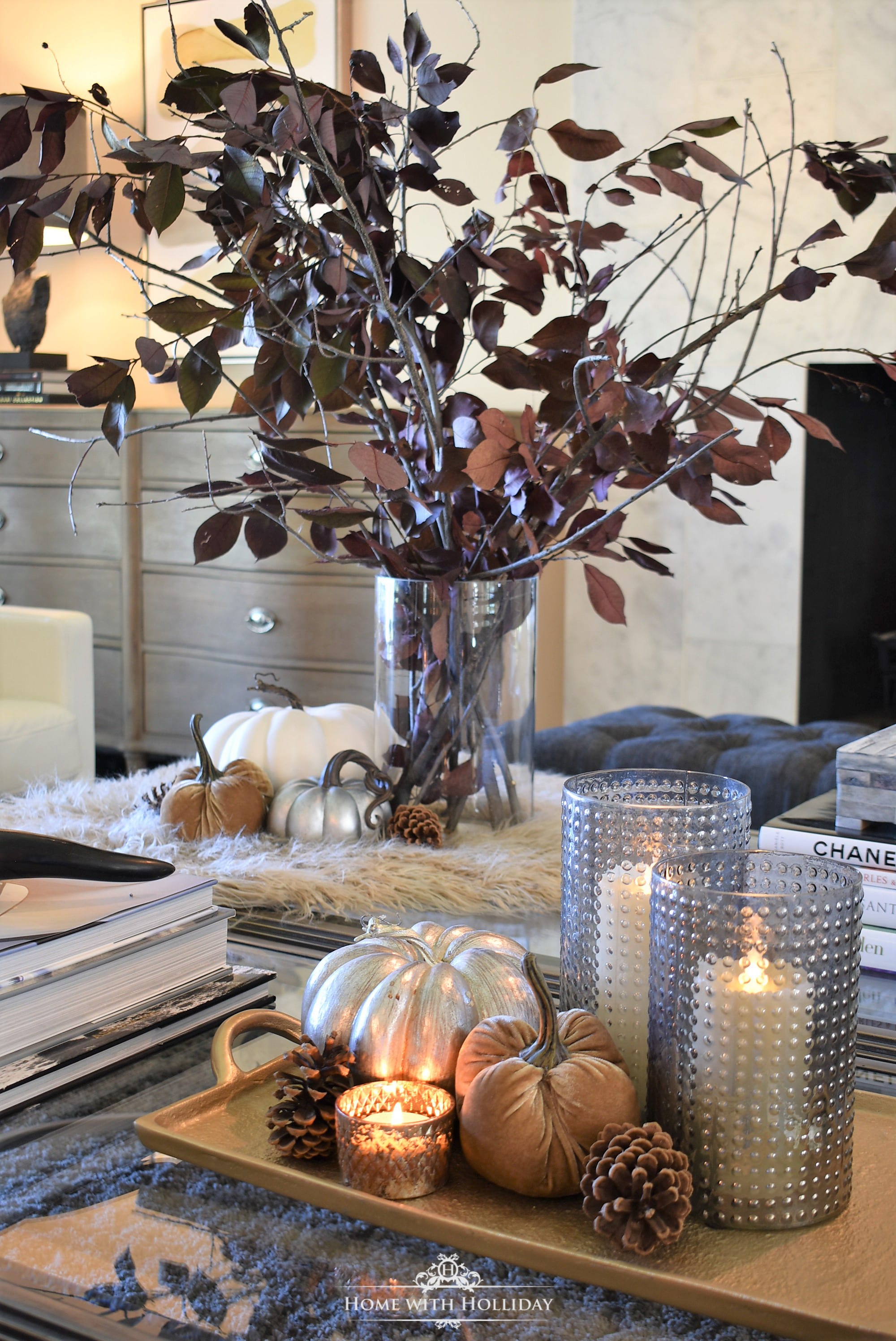 To Have + To Host
Now meet Lory! She is the creator of To Have to Host. She is also the owner of too many napkins! We figured out that we had that in common! Lory has an amazing sense of style and uses bright and beautiful color combinations to create the perfect supper table.
Here Lory created a harvest themed outdoor tablescape using traditional autumn decor. She used pumpkins, leaves, and fresh florals with jewel tones. The colors are spectacular! The dinnerware she chose is so pretty and pairs well with the other colors. I love how she brought the party outdoors!
Perfect Supper Harvest Supper Table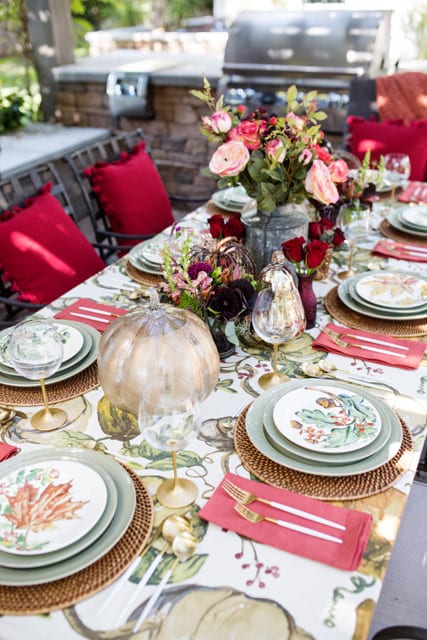 Here Lory used fresh produce and flowers to enhance her tablescape. She chose produce that had similar colors and in season. The different greens and pretty shades of purple are perfect together. Lory does a wonderful job showing you how to integrate fall produce into your table decor. To read more click here:
How to use Fall Produce for Table Decor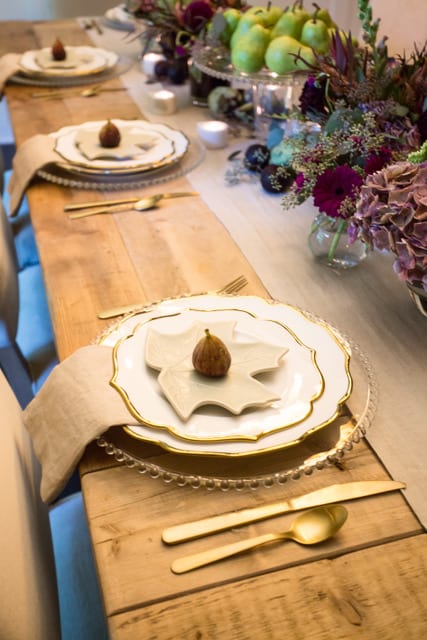 Home With Holly J
I created this Summer to Fall Transitional Tablescape with neutral colors that work well for both seasons. This could also be used into the winter months. The sage green and white dishes are complimented by the natural wood tones in the table and placemats. The gingham napkins add a more casual look. I hope you enjoy this beautiful table! There is also an outdoor table in the same colors scheme if you click here:
Sage Green and White Fall Transitional Tablescape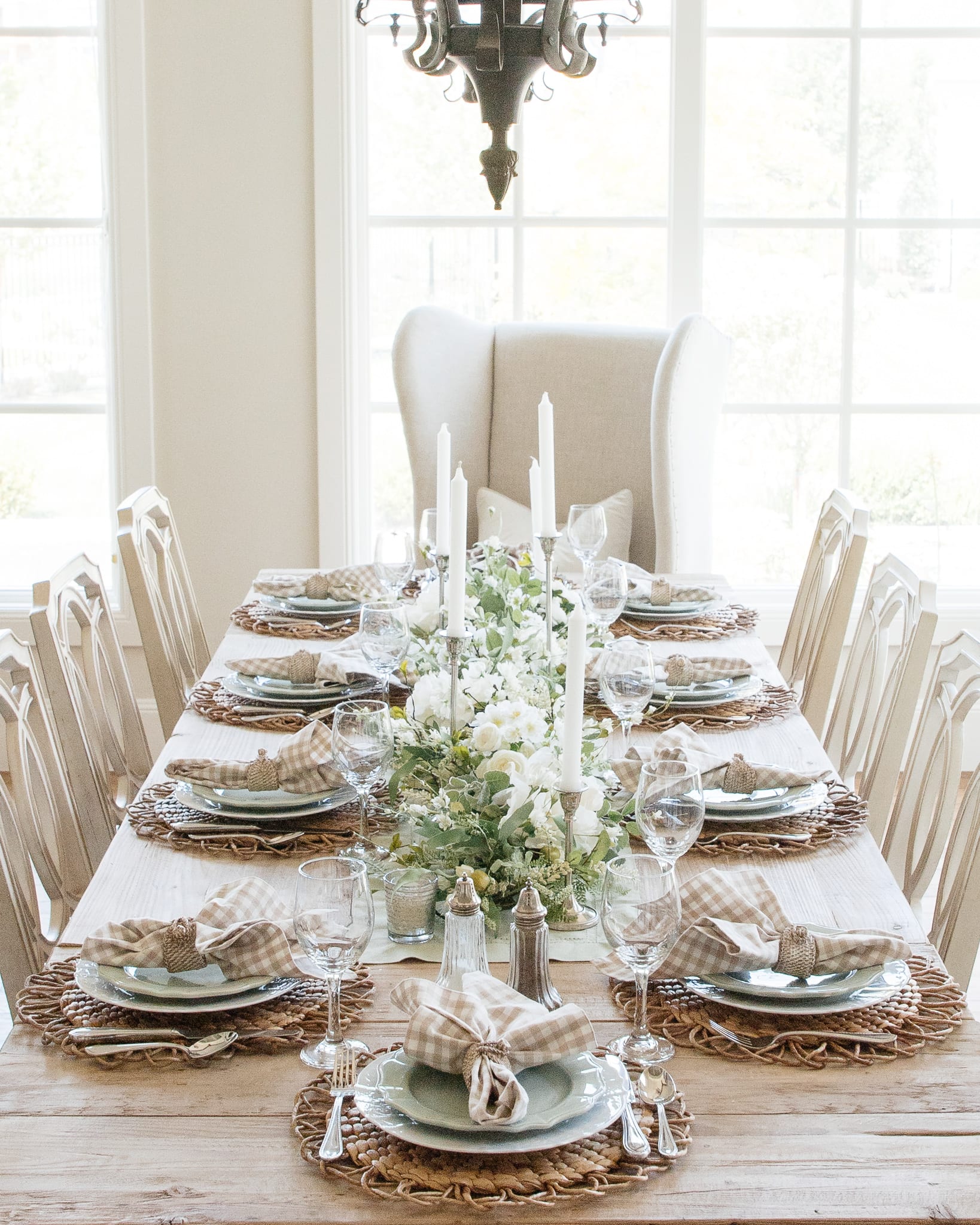 I had the opportunity to collaborate with some other talented ladies to create this outdoor tablescape. We used fresh flowers from my friend Amy Brown's farm (Laughing Goat Flower Farm) and I cooked some amazing food from her garden. My friend Tammy Meyers (First and Bloom) created the beautiful flowers to go with my french bistro themed tablescape. We used white flowers from Amy's flower farm to create the centerpiece and the photos were all taken by the talented Missy Palacol. We had an amazing time enjoying this beautiful table and enjoying one another's company. You can read more about this amazing collaboration here:
Outdoor Farm to Table Entertaining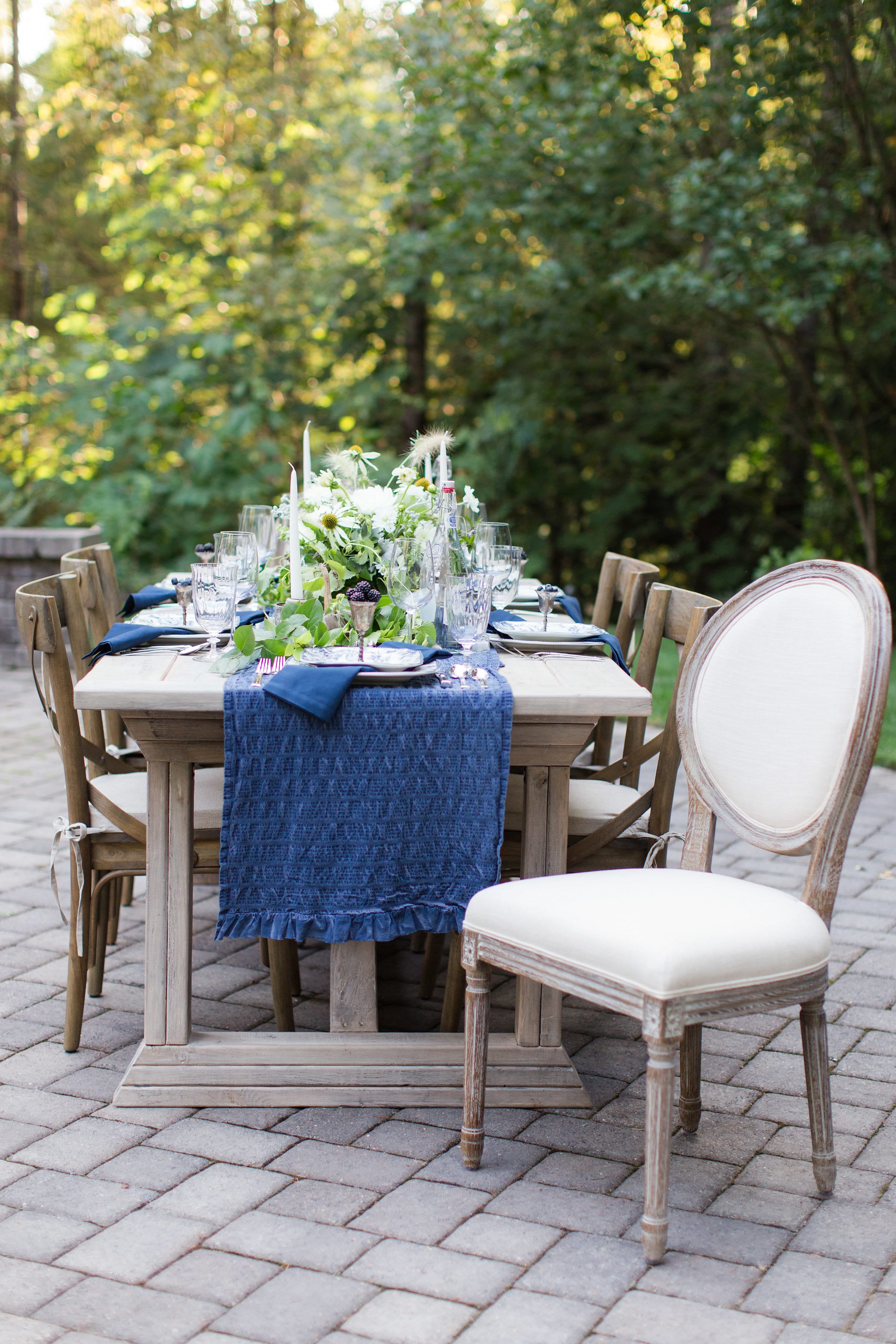 Thanks for visiting our first blog hop for Holiday Hosting at Home. The holidays are approaching, and we are very excited about sharing more tablescapes, entertaining, and decor ideas for you in the coming months. Please let us know if there is anything you are interested in seeing from us as we approach Thanksgiving and Christmas!
We would also love for you to come along to follow us and our individual journeys.
HOLIDAY HOSTING AT HOME