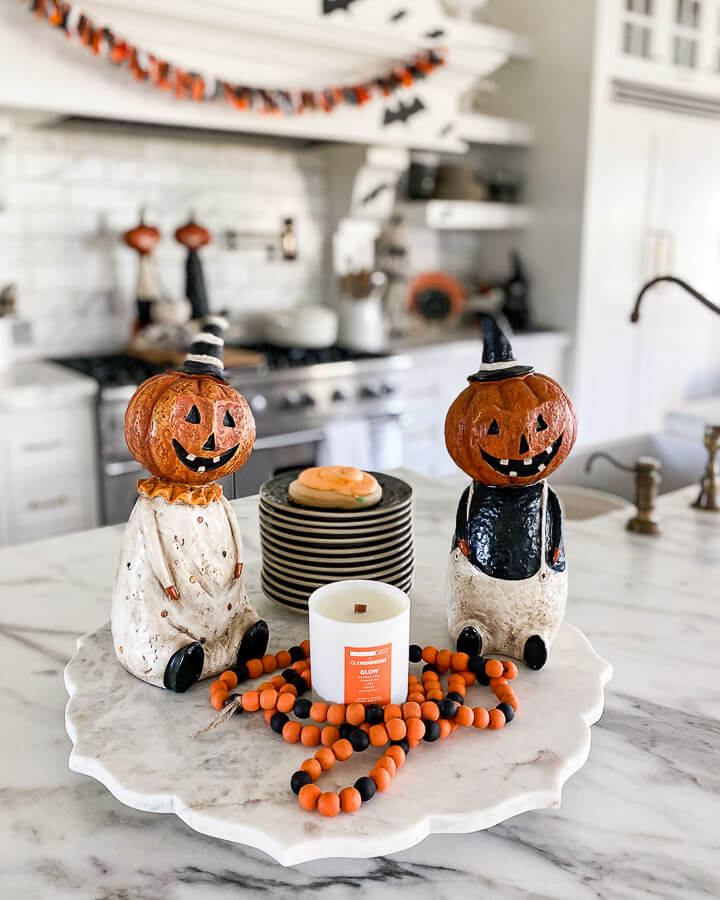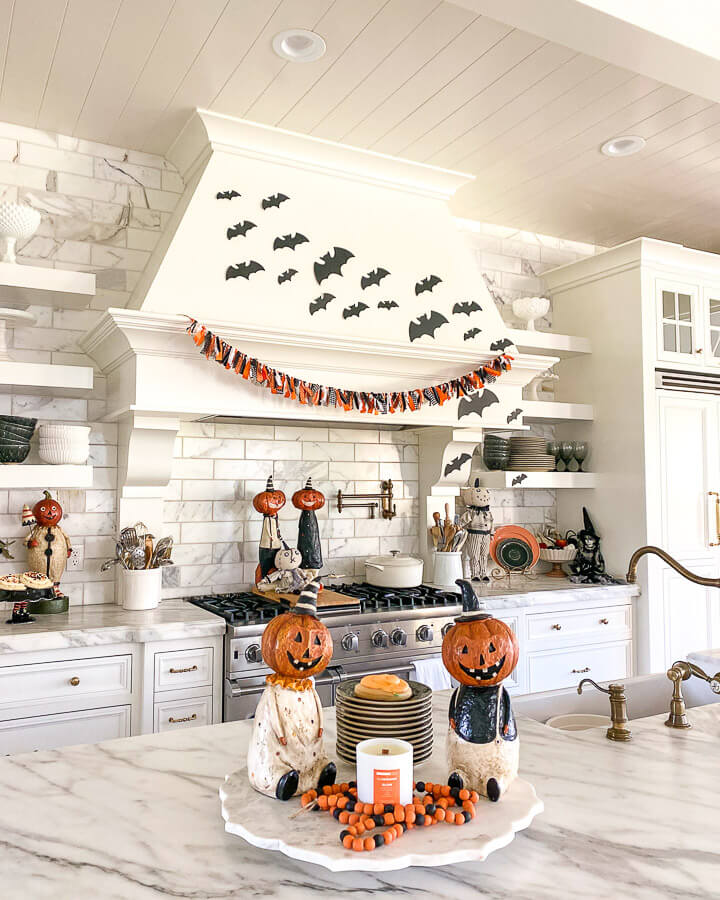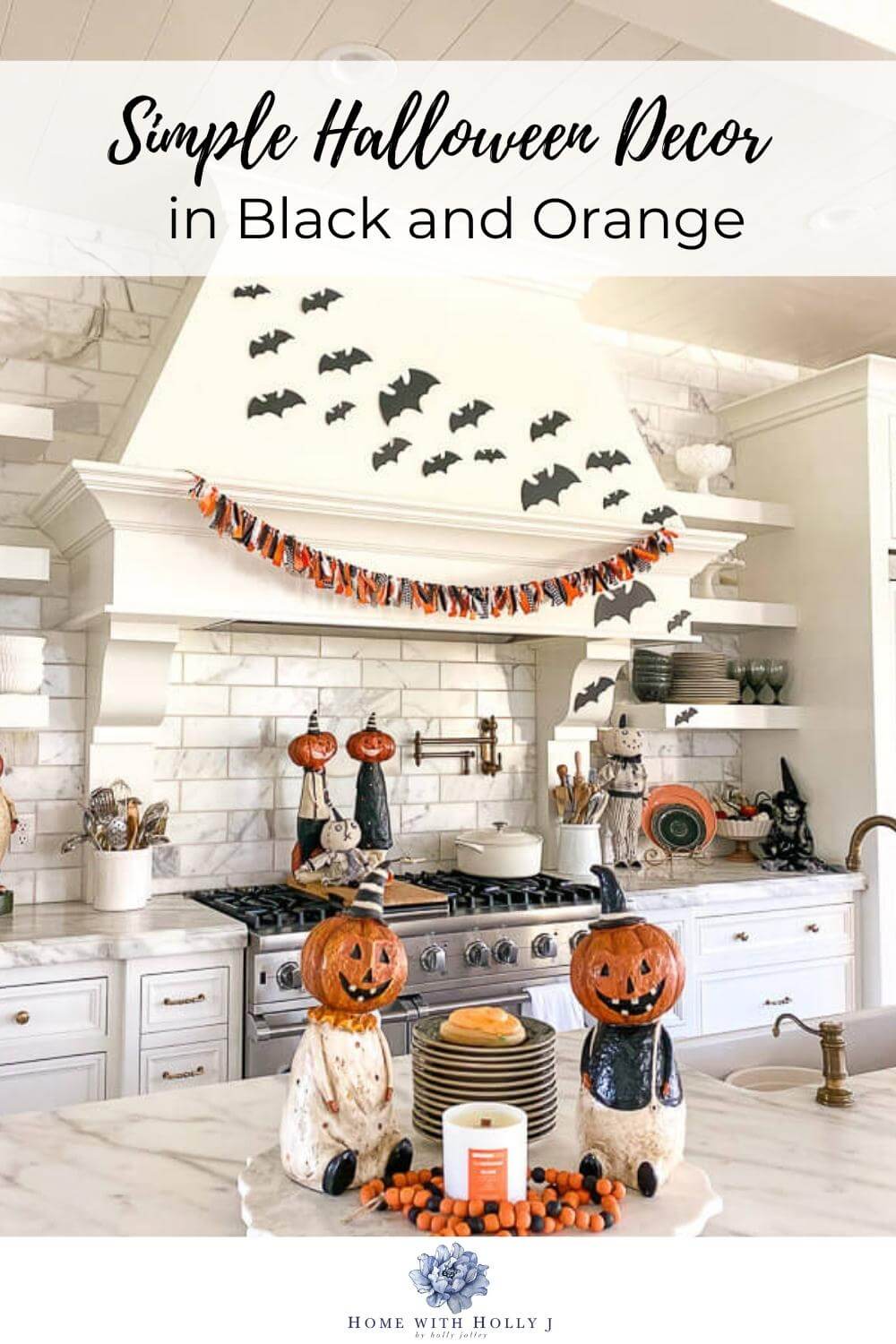 Looking for simple Halloween decor in traditional black and orange? Get inspired to add a little bit of spooky to your Halloween decor this year.
I like to keep my Halloween decor simple and this year I chose to do a traditional black and orange theme. I sprinkled in little touches of halloween decor throughout my kitchen and dining room and I love the simplicity of it while still making it feel festive!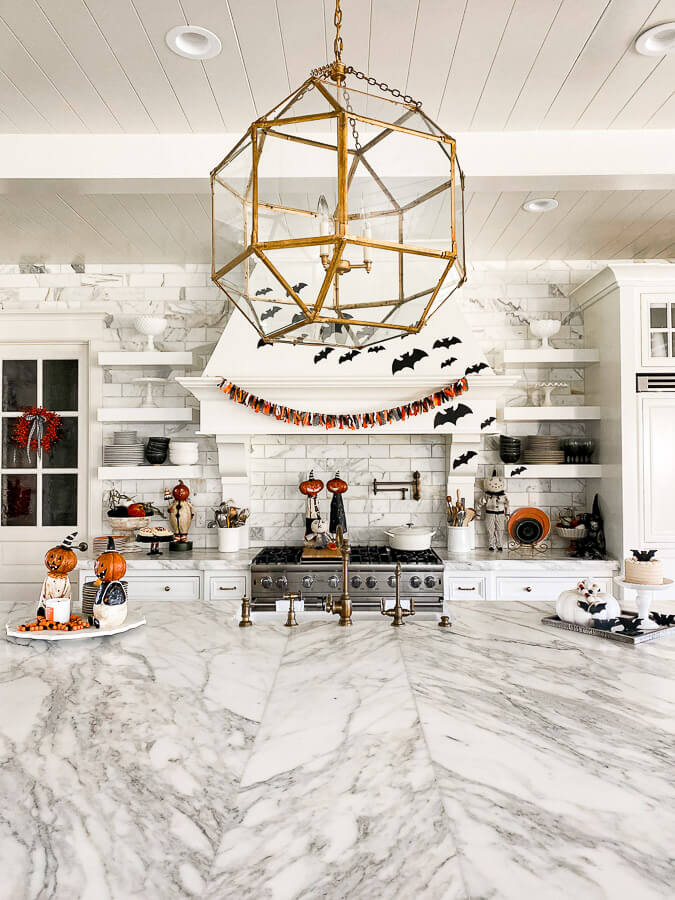 Keeping Halloween Decor Simple
I'm so glad I decided to add a little Halloween decor to the kitchen this year. I really loved using the black, white, and orange colors in my kitchen. I stopped doing Halloween decor when my kids got older but I really enjoyed decorating it this year. Guess I'll have to keep doing it from now on! I switched out all my dishes on the open shelves to black, orange, and white and do you see the charcoal colored goblets in the corner? Would you believe they are from the dollar store! Love it when I can score a good deal like that!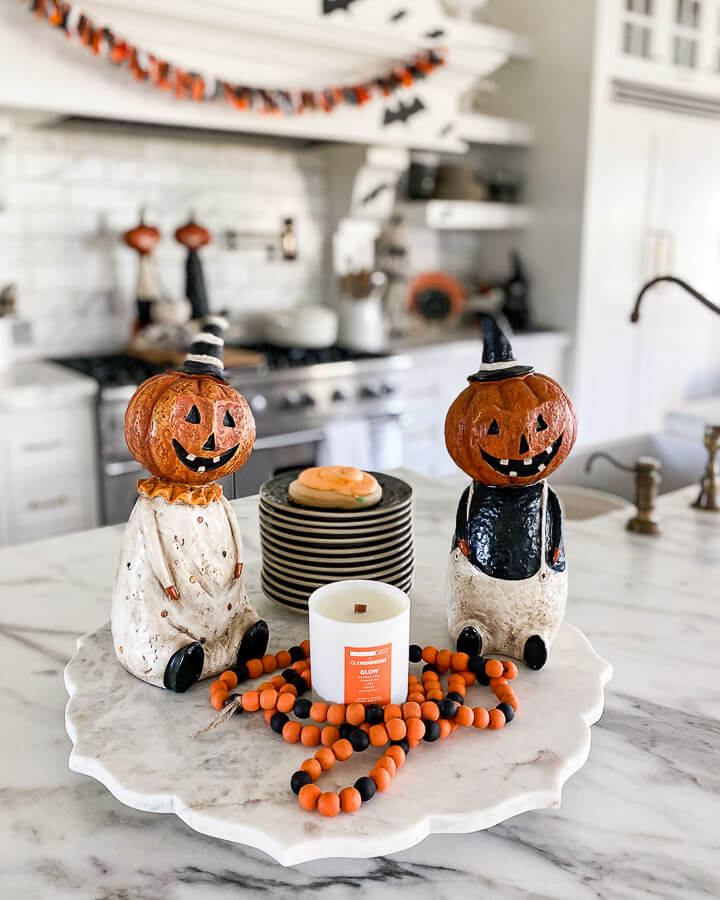 I also like adding decor to my kitchen island and my dining table. Check out my Black and Orange Halloween Tablescape here!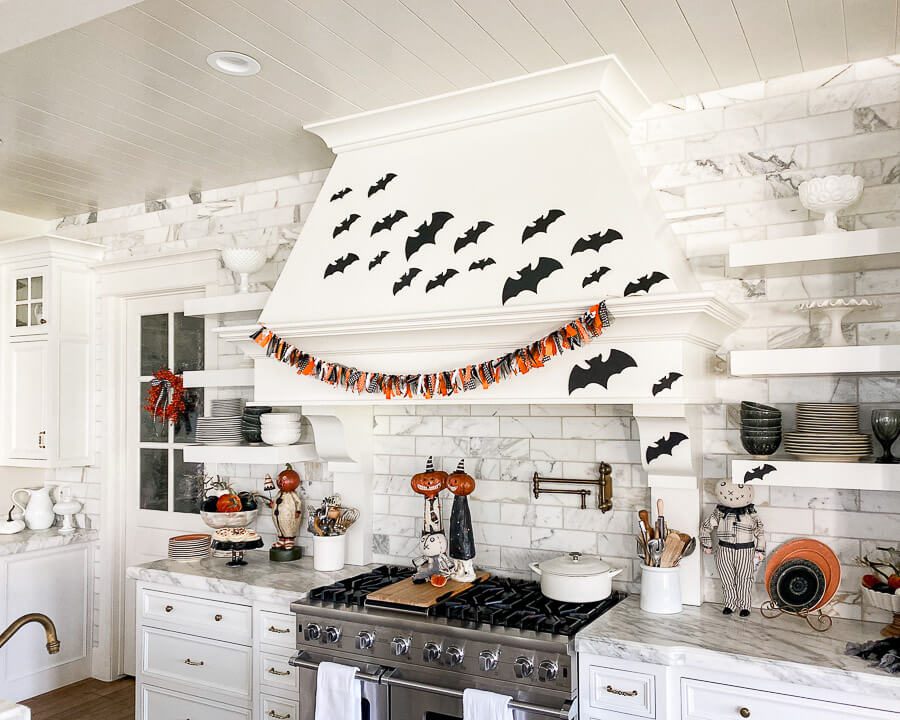 I added a ribbon banner across the bottom of my hood on my stove and then made some black bats on my cricket and stuck them up above on the hood. You could also put a halloween wreath in this space.
Plates are from Anthropolgie but may no longer be available. Pumpkin figurines and dolls were from various stores and no longer available but I've linked some similar ones below. Bats were made on a circuit. I found the black goblets at the dollar store but I've linked the same ones below.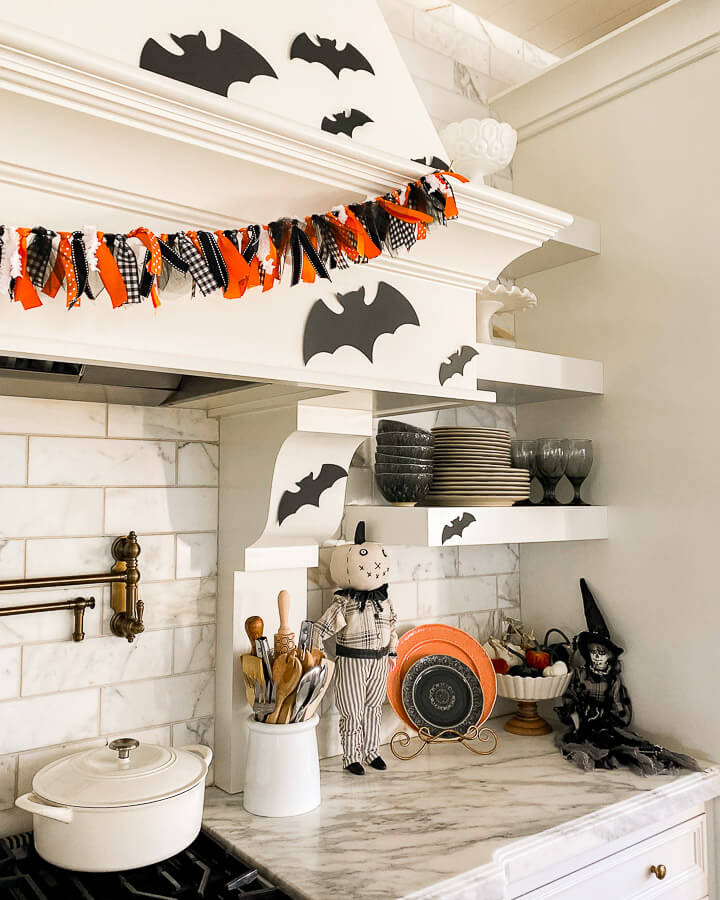 I also added some halloween figurines into the mix and velvet pumpkins in bowls and scattered around the kitchen. You can never have enough velvet pumpkins!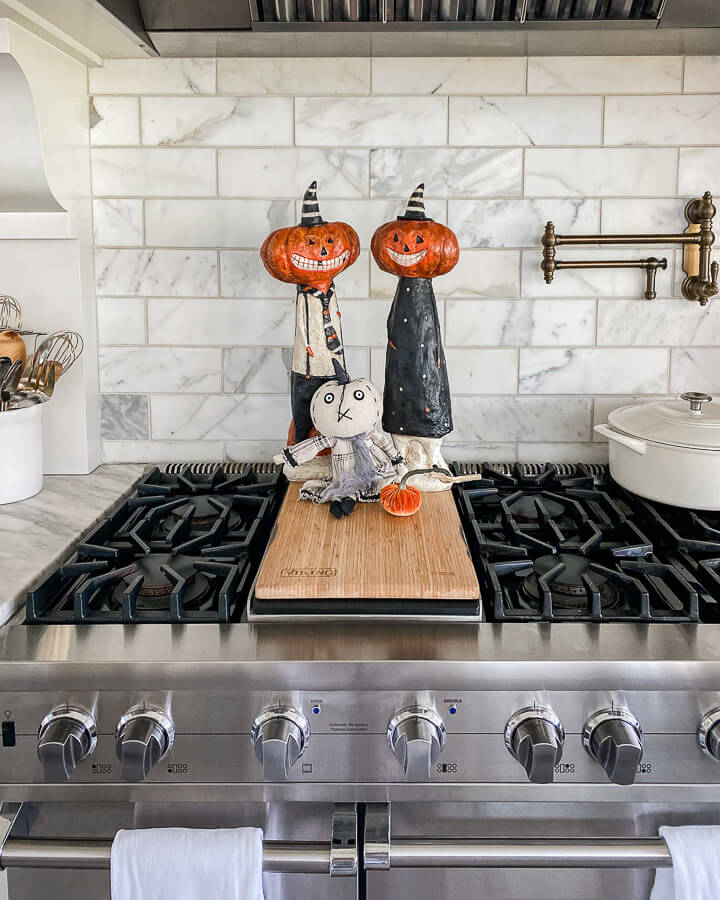 I always utilize the open shelving to display seasonal and holiday decor as well as dishes that match the theme of my decor. Loved adding the black, orange, and white dishes into the halloween decor. I also like to add cake stands with halloween treats like cookies or cupcakes for everyone to enjoy!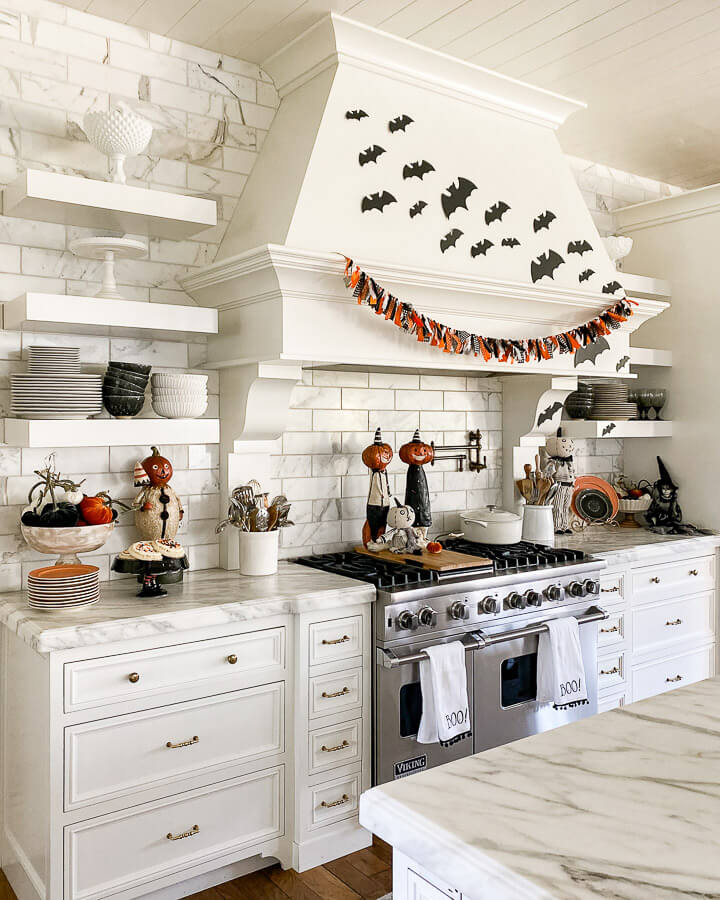 I've linked as many of the items or similar items below. Many of the figurines have been collected over the years so I'm not able to find links for them to share but most of them came from Safeway grocery stores and are from Debi Lily's collection that Safeway sells.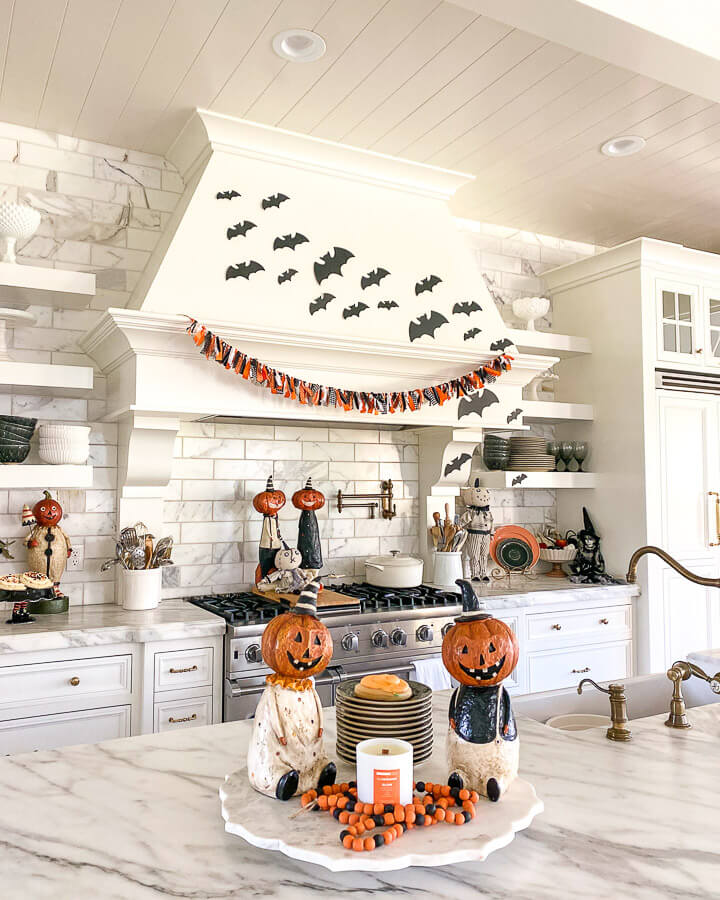 I hope you enjoyed seeing this simple halloween decor I added to my kitchen. You don't have to go all out to make it feel like Halloween! Keep it simple as a little goes a long way with these bold colors! Happy Halloween!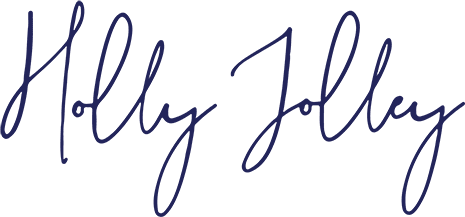 Shop the Look Below

Pin this Post for Later