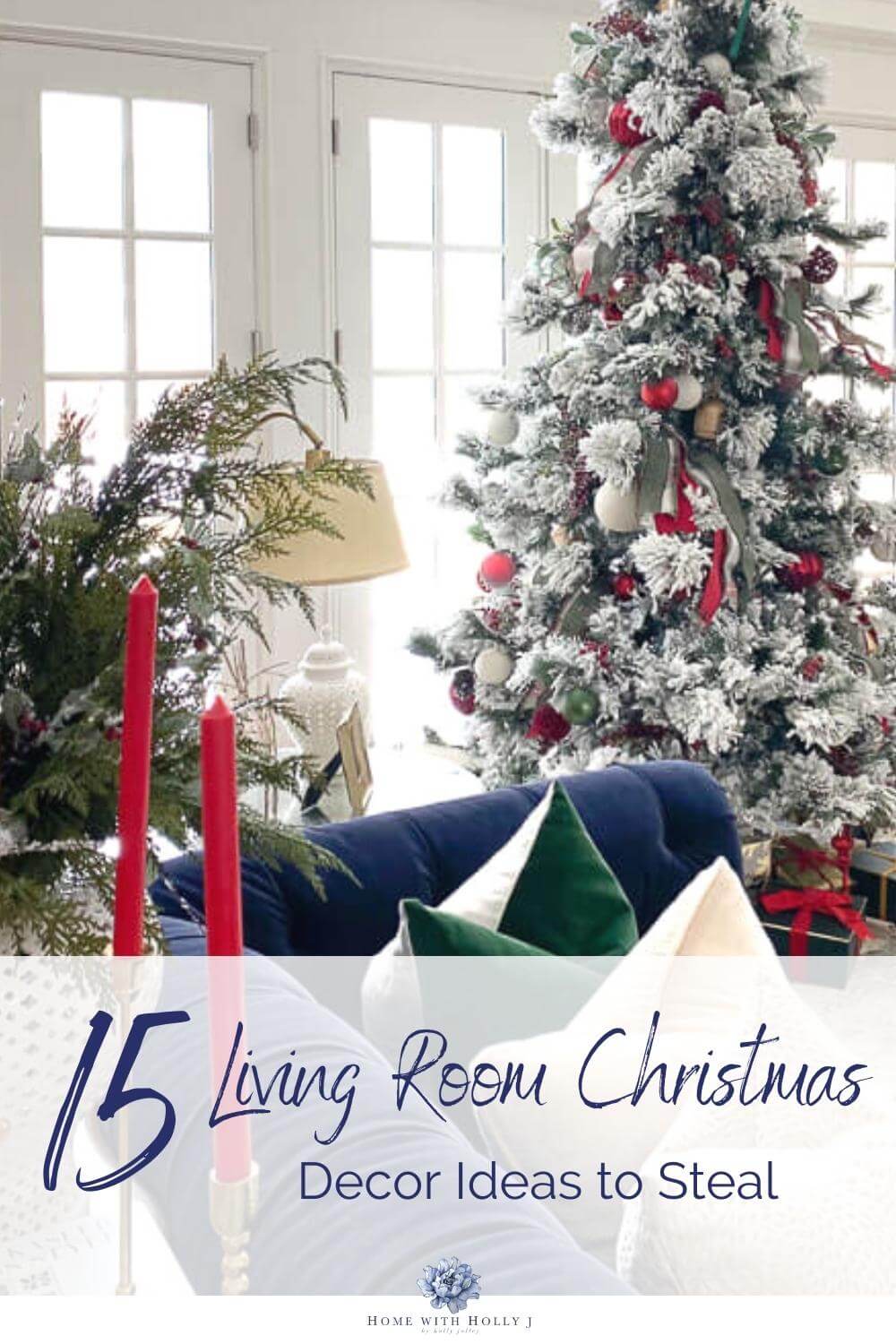 Want a fresh new take on the traditional red and green decor for your living room? Get inspired with my living room Christmas decor ideas in today's post.
Disclaimer: This post does include affiliate links for your convenience. This is at NO additional cost to you but earns me a small commission. To read more, check out our disclosure policy.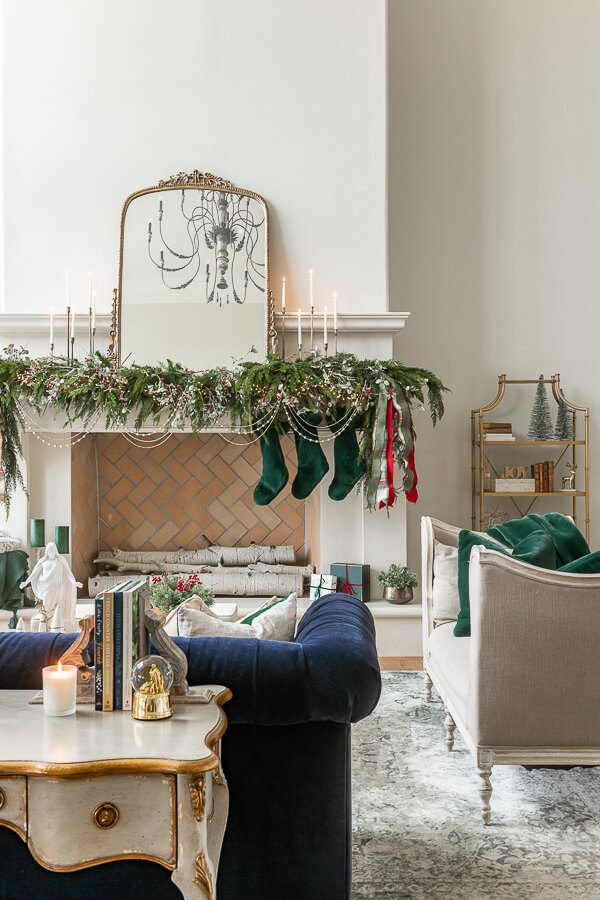 Christmas Tree Decor Ideas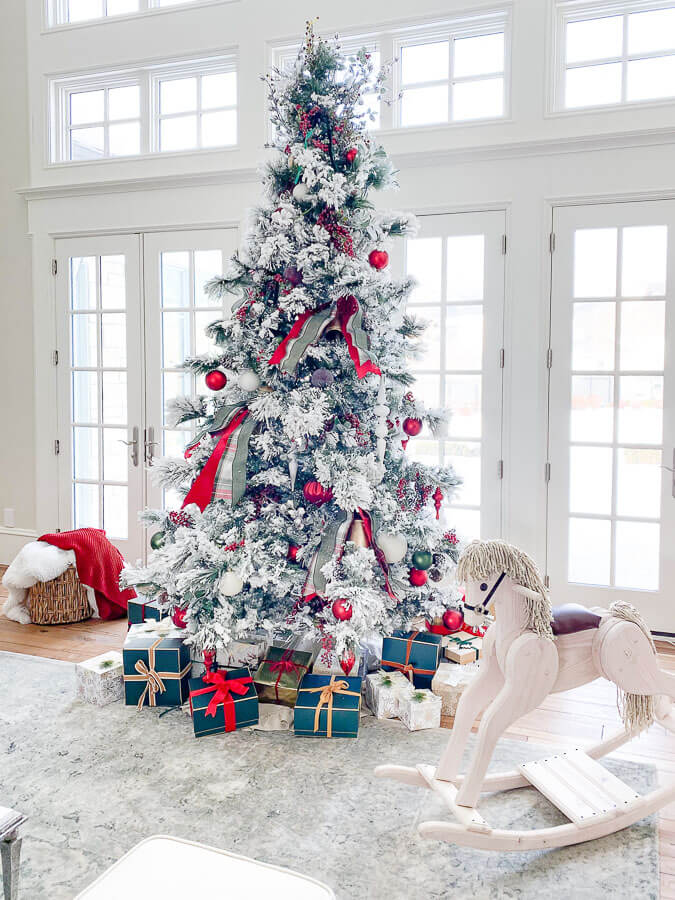 The Christmas tree is my favorite place to incorporate all the subtleties of the room's decor. Think of the tree as the focal point. There are so many tips for decorating a Christmas tree, but here are some of my favorite ideas when it comes to the living room Christmas tree.
1. Incorporate an unexpected, yet nostalgic element to the room alongside the tree.
A rocking horse brings in a vintage element and makes the tree area feel more cozy rather than just a stand alone.
2. Use wood bead garland on the tree.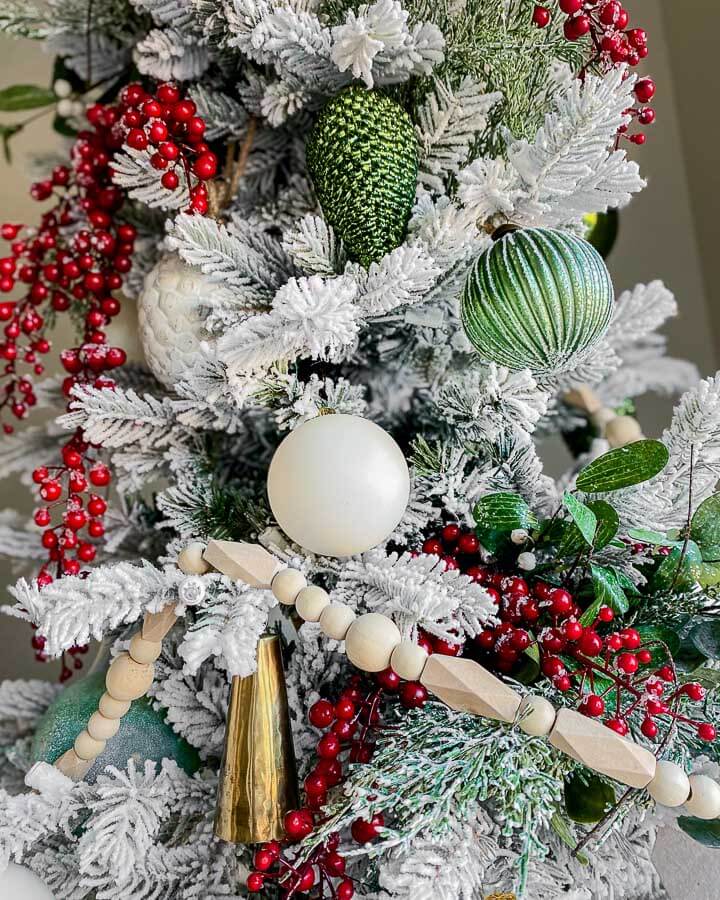 This wood bead garland is the perfect element to add to the tree in a way that doesn't detract from the overall beauty.
3. Use layers of ribbon with a gold sleigh bell.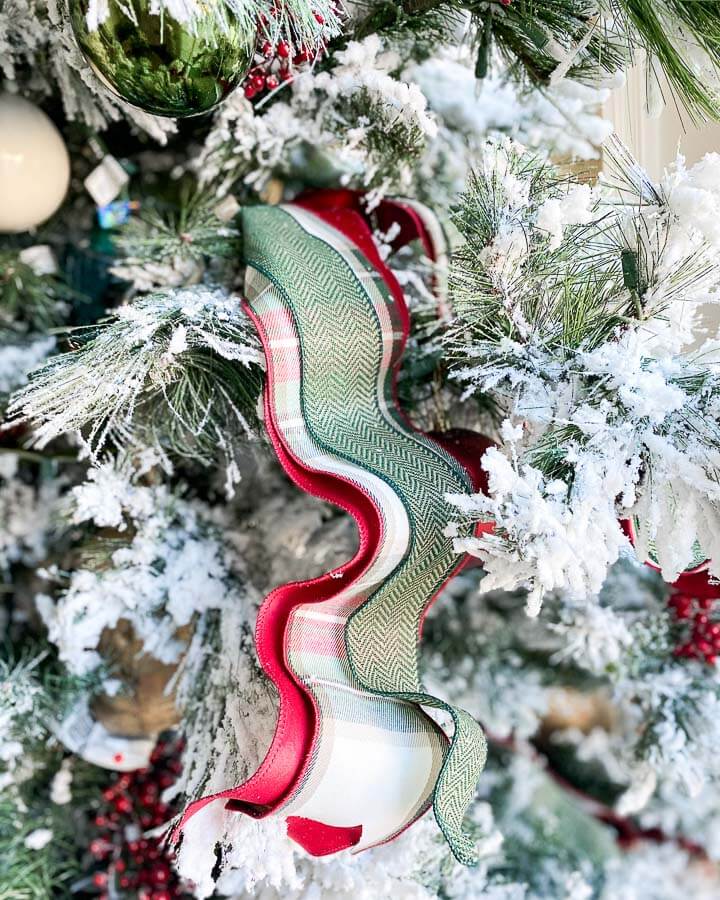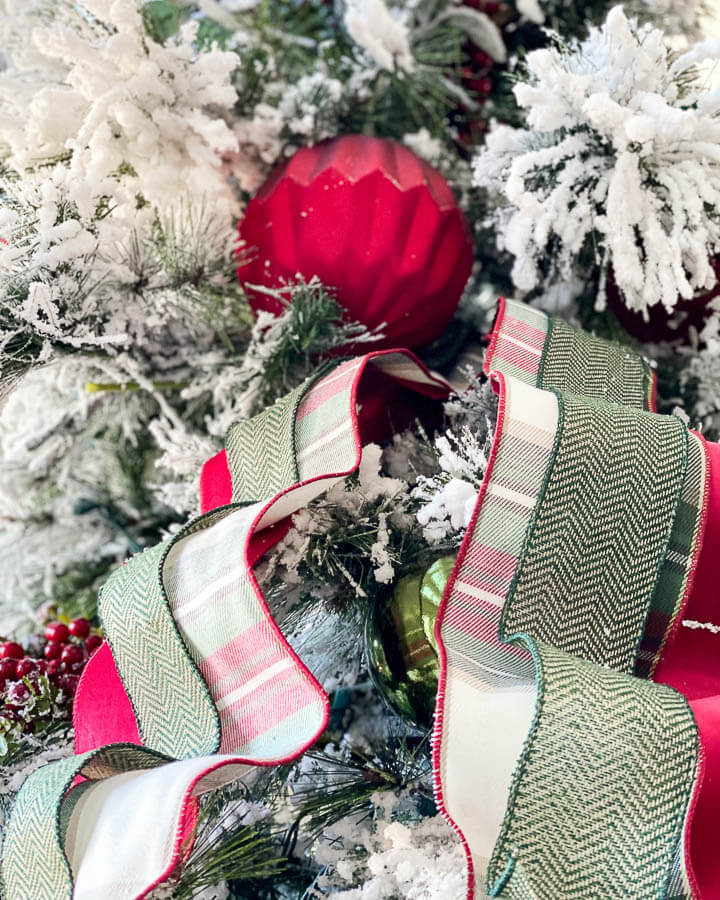 One of my favorite things to do with ribbon on the tree is to add it in layers. I take three types of ribbon and wire them together and then wire them into the tree.
4. Use frosted pip berry stems to add pops of red.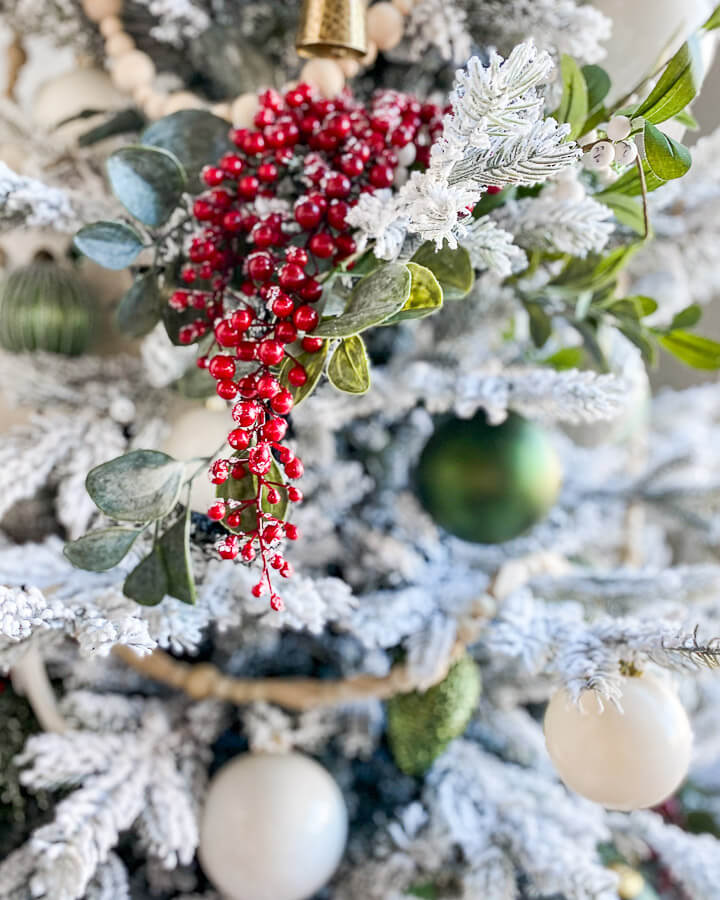 Berry stems are a great way to add a little pop of color without it coming off unnatural and the berries fill in any holes in the tree. I will sometimes layer a branch of greenery, an artificial flower, and a berry stem together and then tuck that into the tree.
5. Find ornaments with subtle color to compliment the neutrals.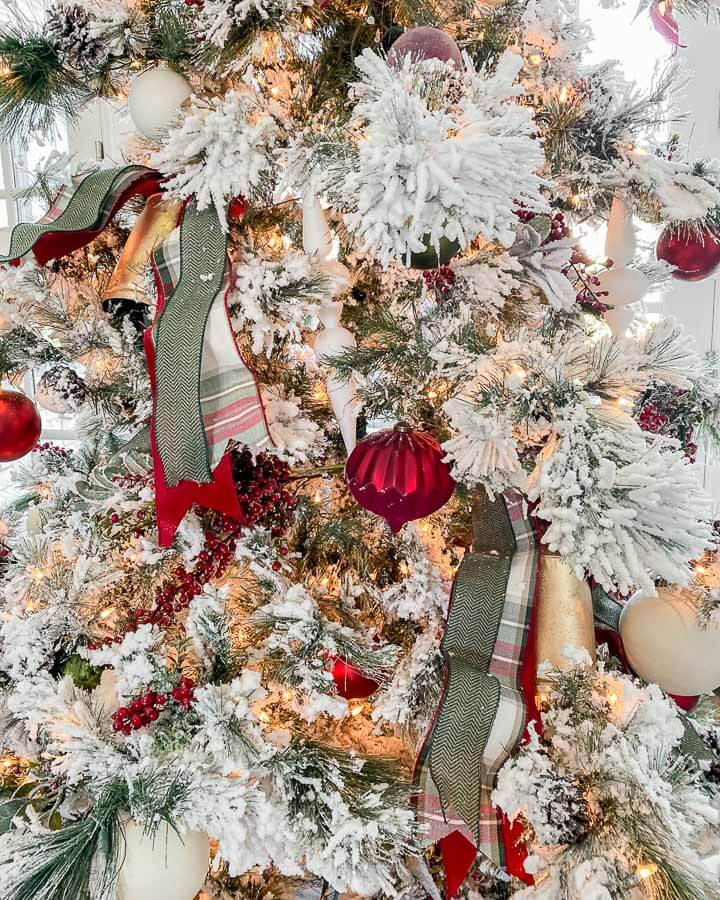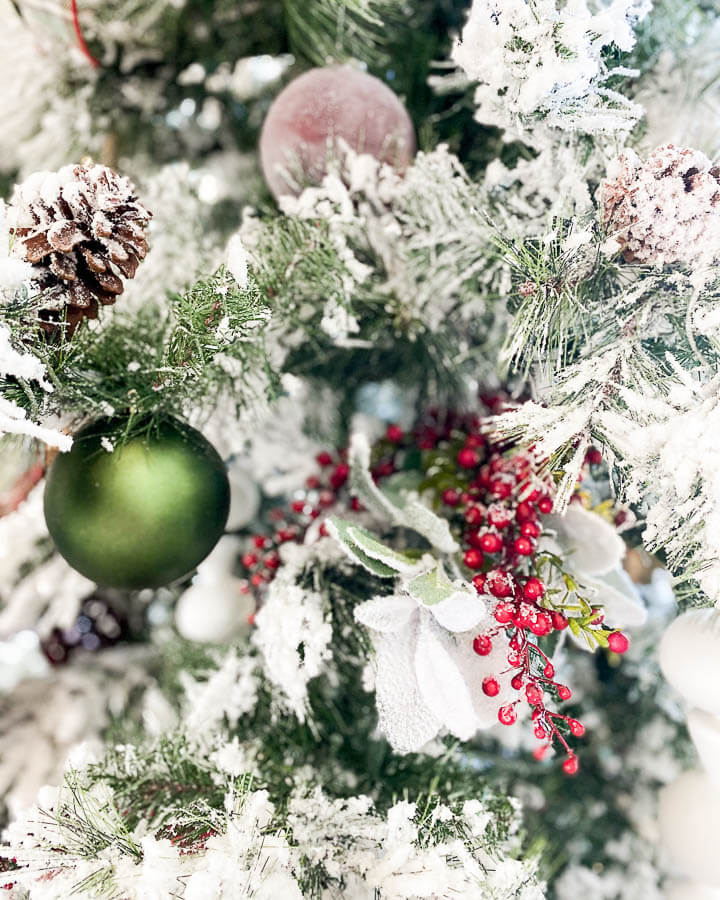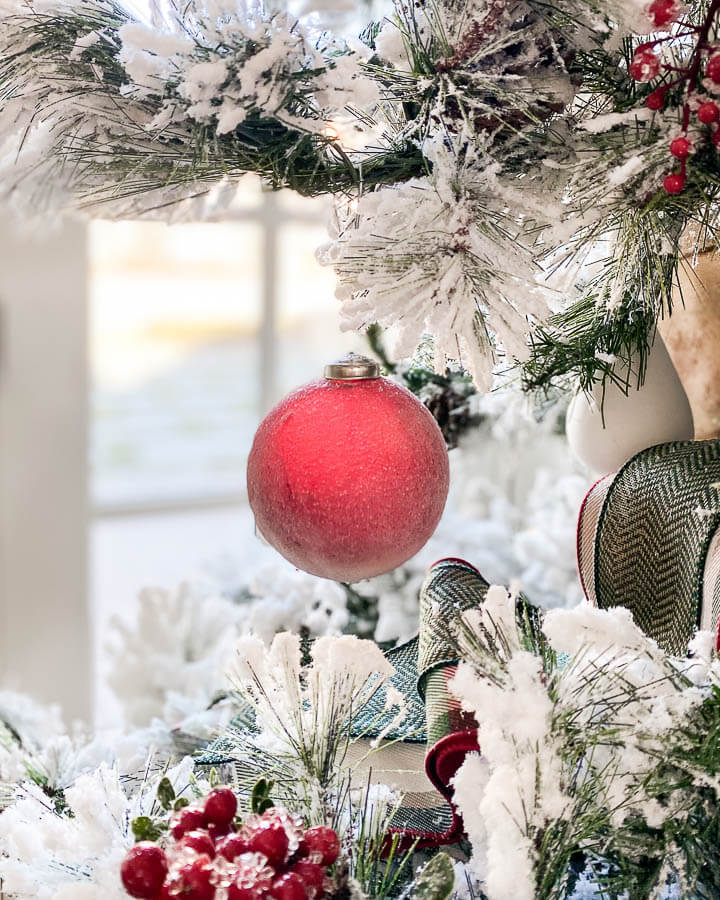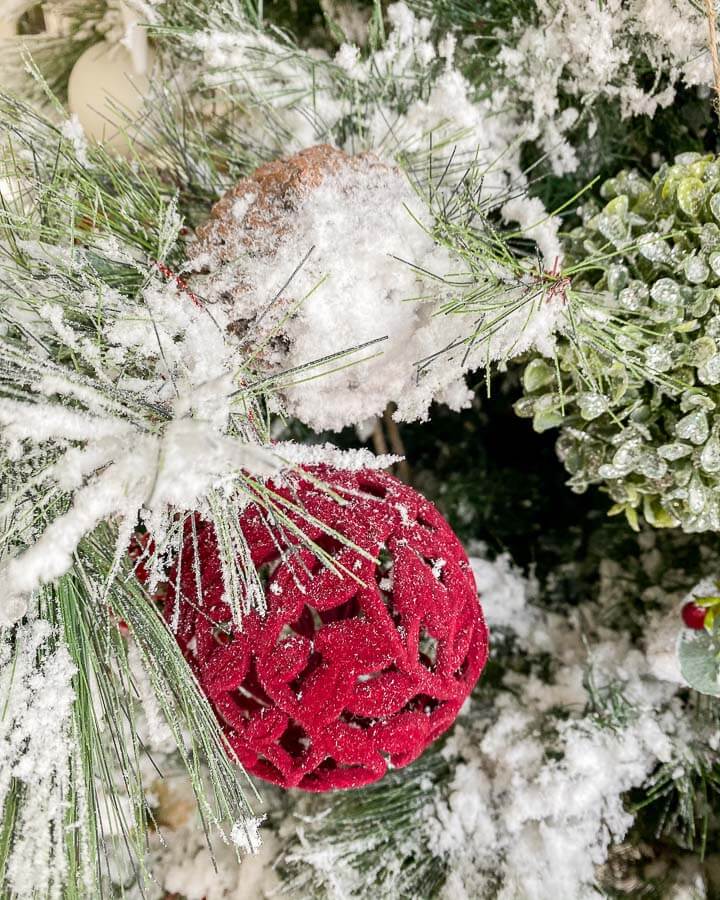 The ornaments add in pops of color throughout the tree. I vary the different types of ornaments and usually try to have at least 6 of each type to go on the tree. I also wire the ornaments onto the tree rather than let them hang off the branches. This is great for making sure they stay put and they look nicer this way too!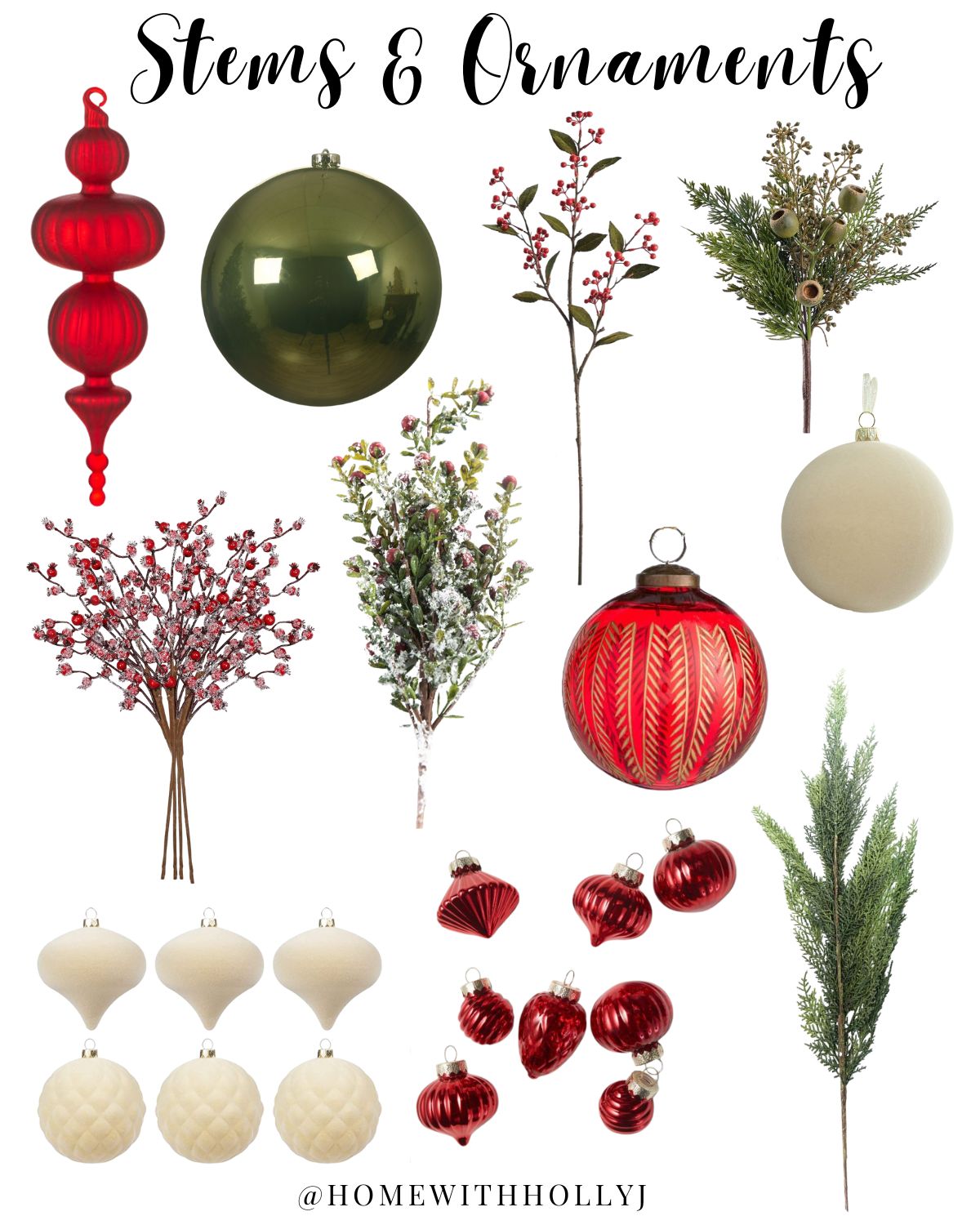 Fireplace and Mantle Christmas Decor Ideas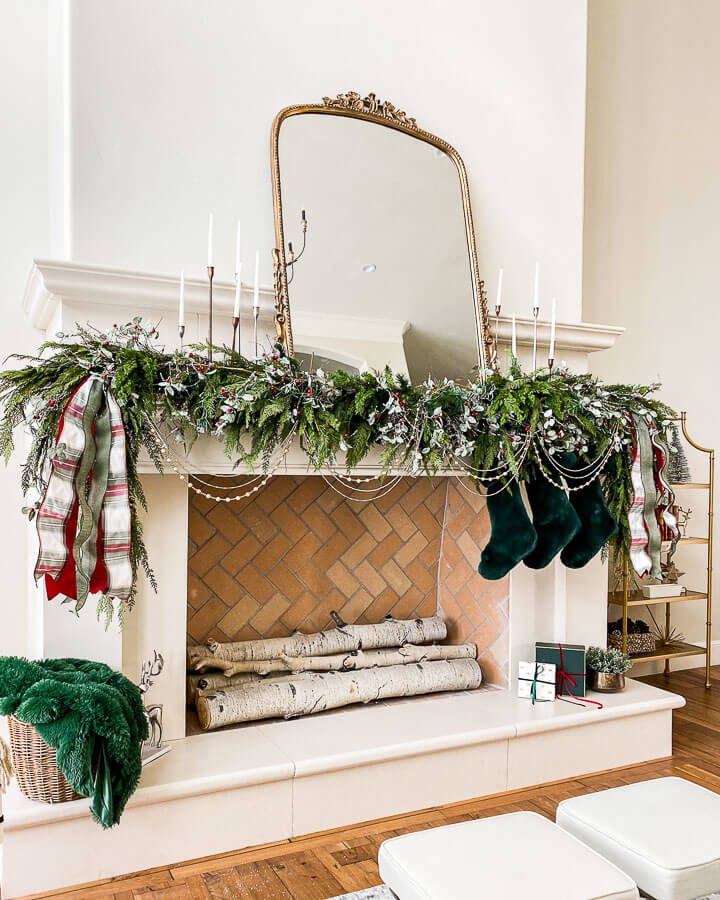 In any living room, the fireplace and mantle, whether it be real or faux, is a prime area to focus on for your holiday decorating. Here are a few of my favorite tips for decorating this spot for Christmas.
6. Repeat the same layers of ribbon from the tree on the mantle garland.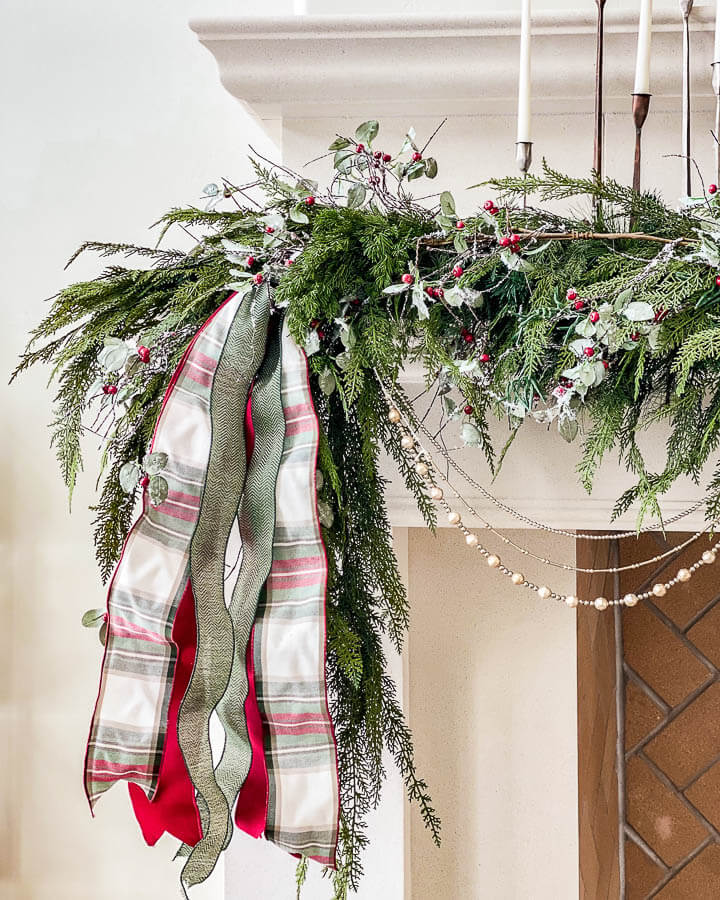 Even though we decorate in segments of the room, you want to make sure that the overall aesthetic and theme carries through to all the areas. Adding the same ribbon from the tree is a great way to do this. I also carry the same ribbon or one of the three ribbons over to the staircase garland.
7. Group your stockings on one side of the mantle.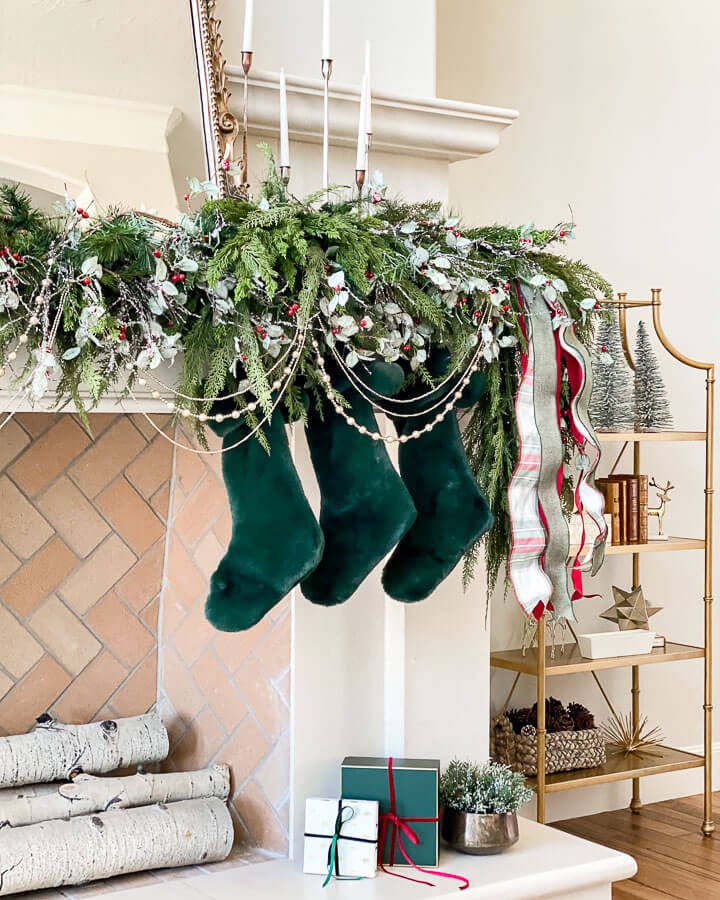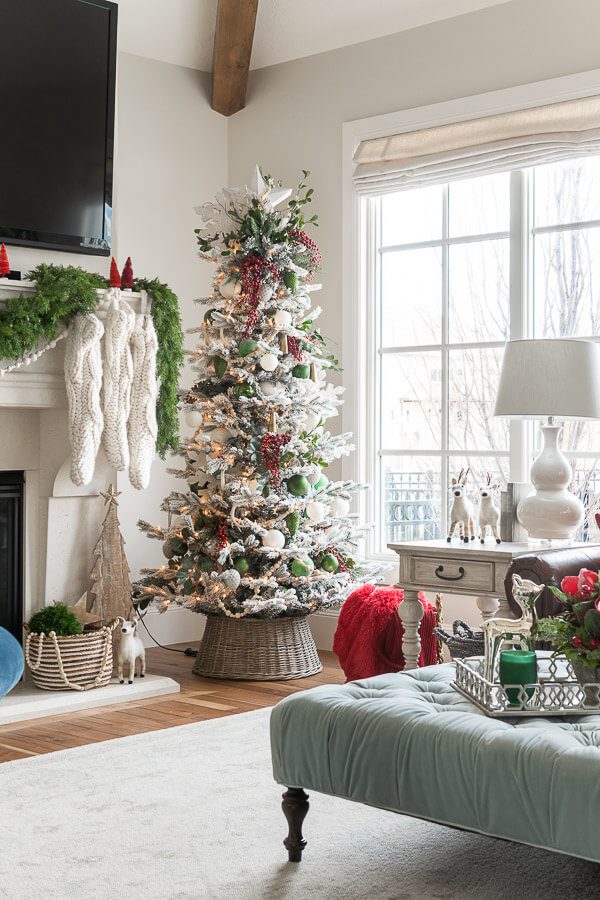 Stockings always look their best in groups of three on one side of the mantle.
8. Spruce up the garland with simple and elegant strings of beads.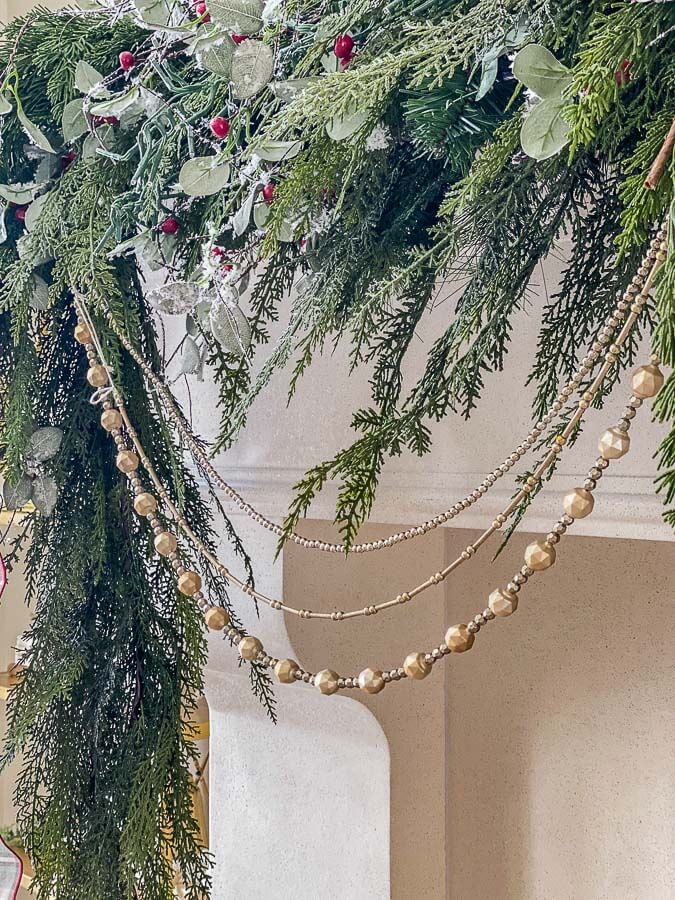 Bring in some subtle flash of metallic on the mantel to make it feel more full and warm.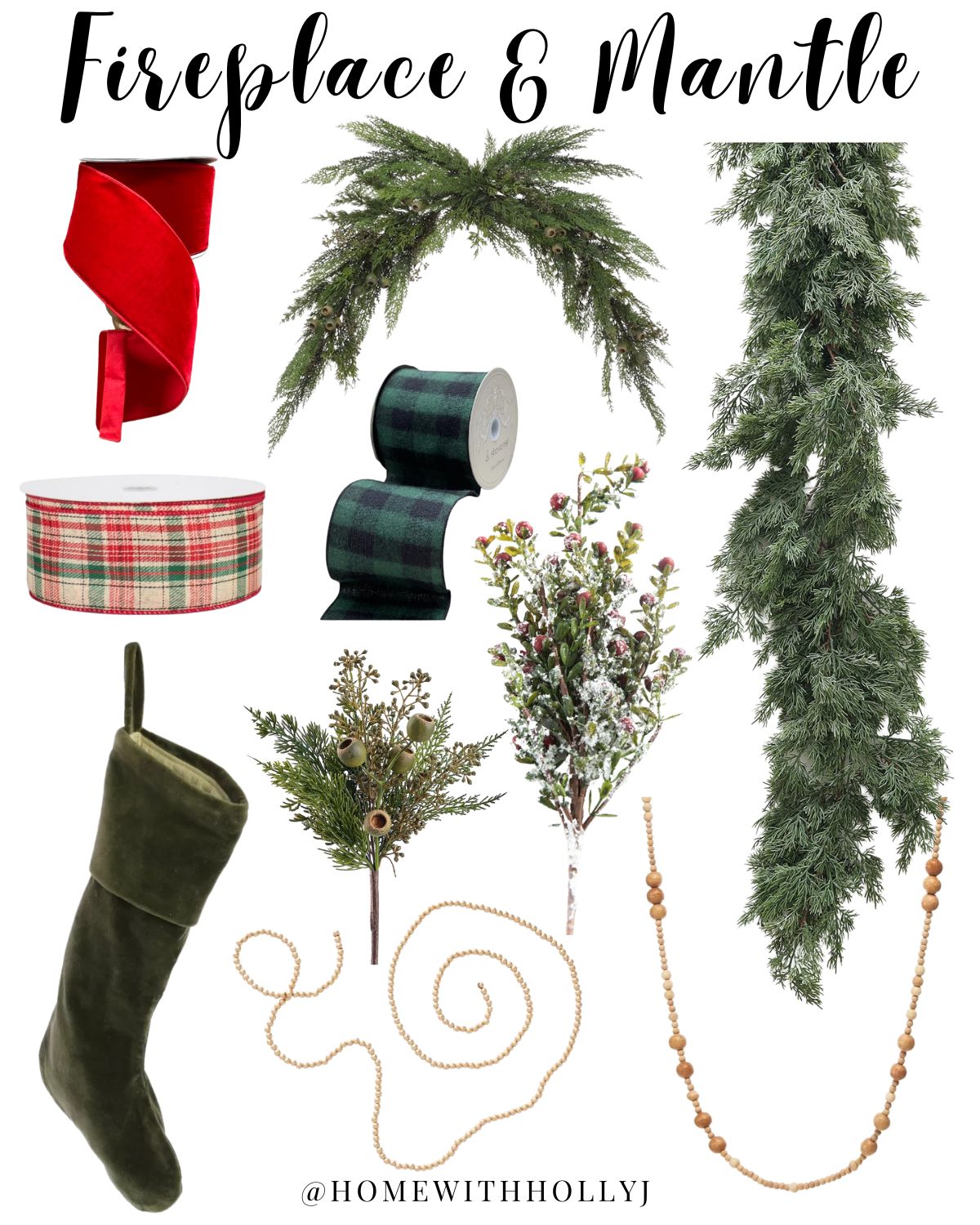 9. Add wrapped presents in your color scheme to the base of the hearth.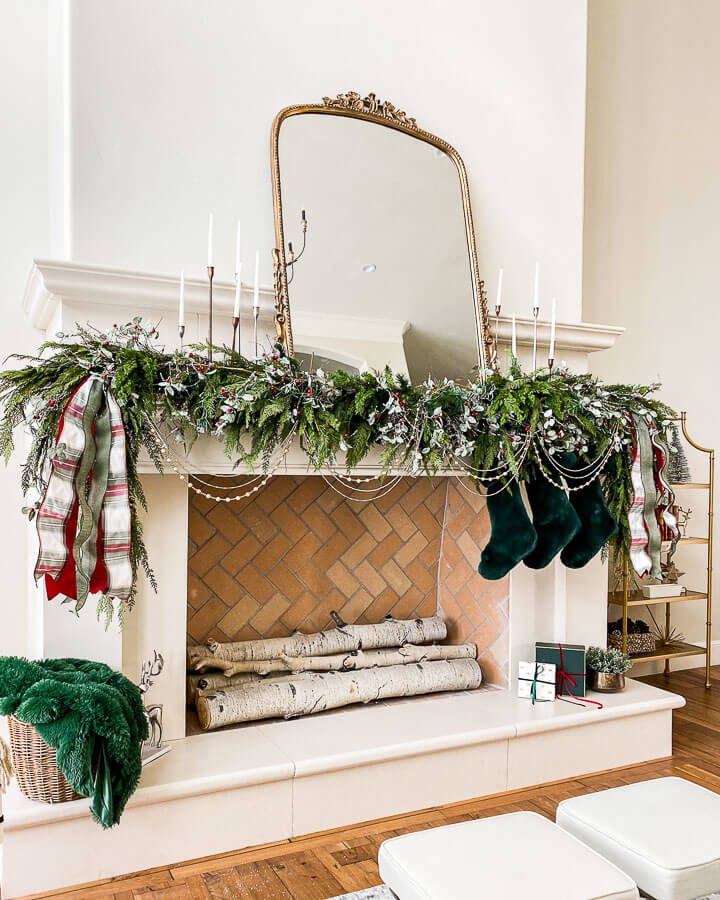 Don't forget to incorporate your gift boxes with your color scheme and use them as decor at the base of the fireplace.
Christmas Sofa Decorating Ideas
One of my favorite places to tie in the rooms decor is through the blankets and throw pillows on the sofa. Here are some of my tips for adding Christmas touches to the rest of the room.
10. Add a deep green or red velvet blanket draped over the arm.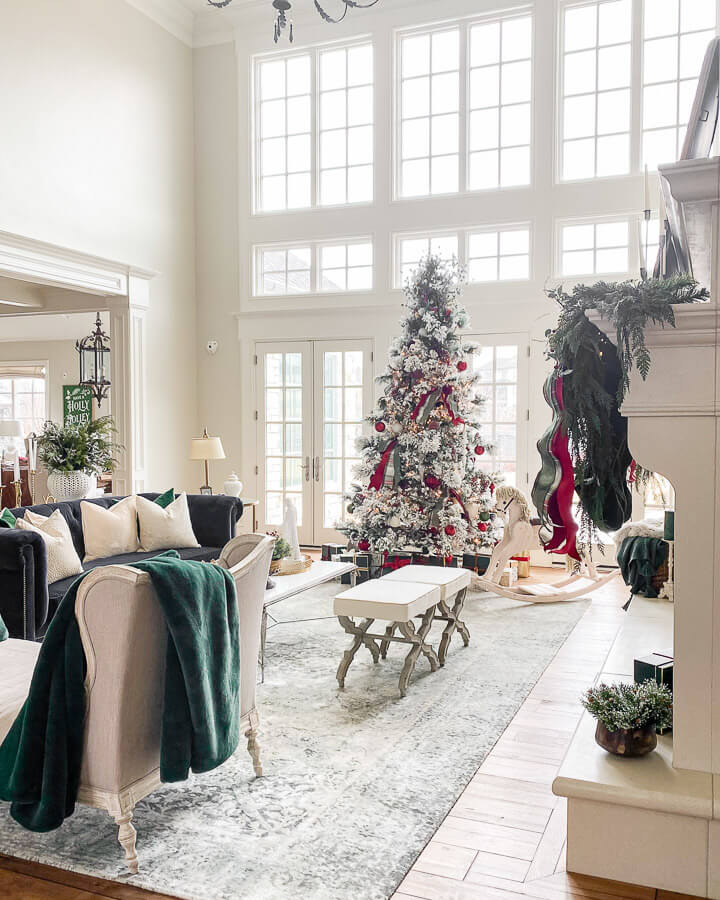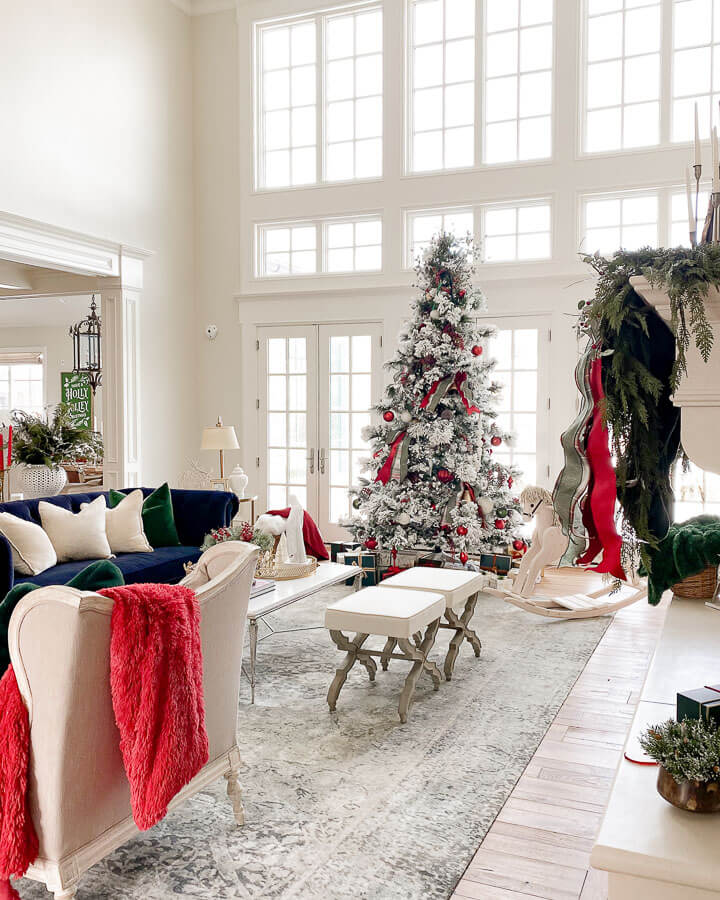 Who doesn't love a warm fuzzy blanket during the holiday season? Make sure they are readily available and choose colors that compliment your decor.
11. Add throw pillows to create warmth and add pops of color.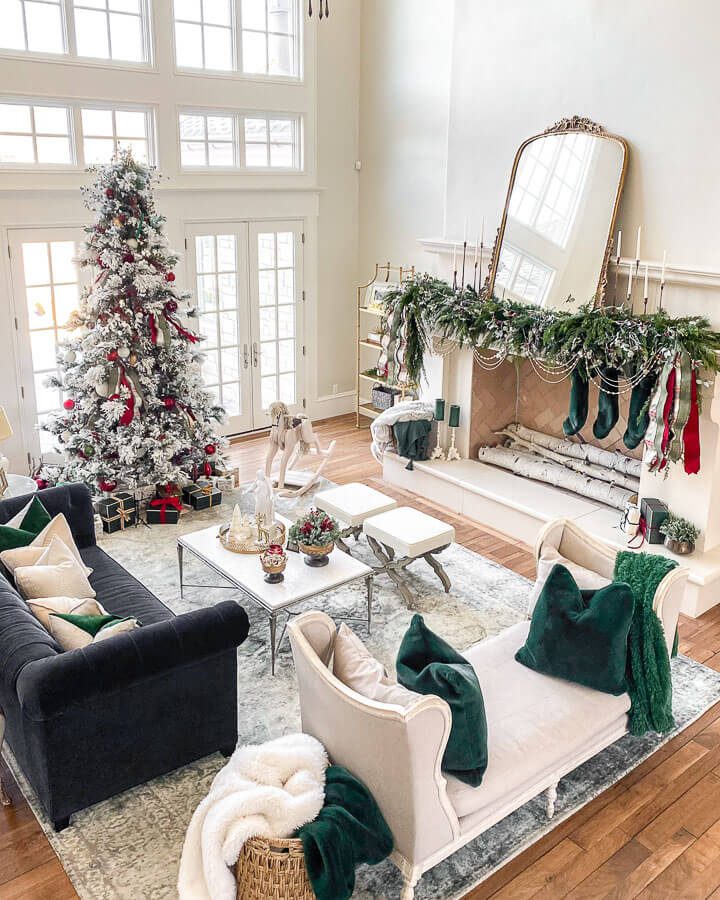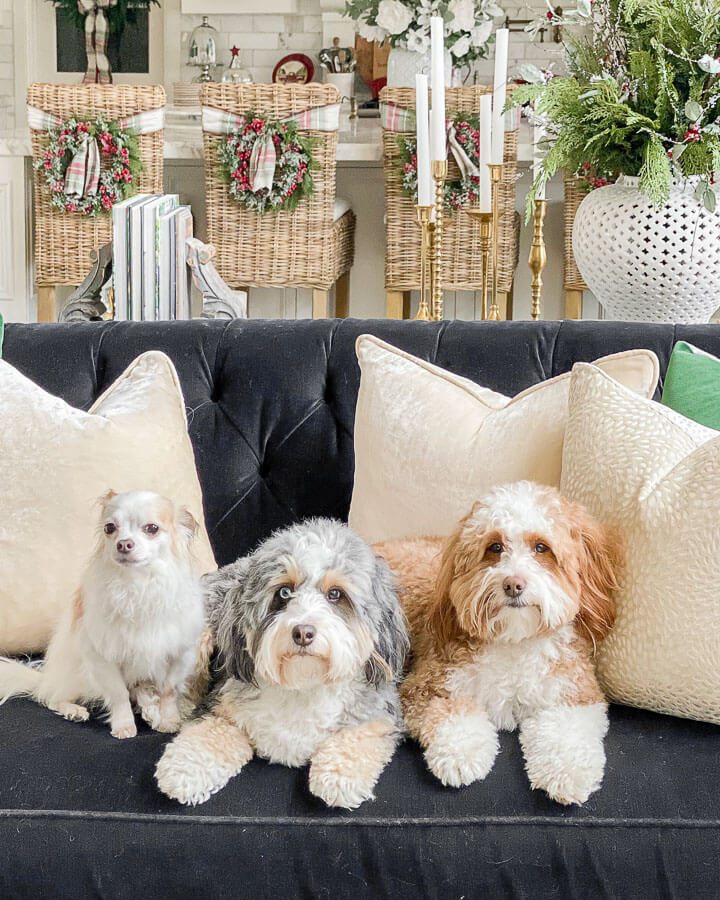 My favorite type of throw pillow to add to the mix for the holidays is anything soft, but velvet specifically.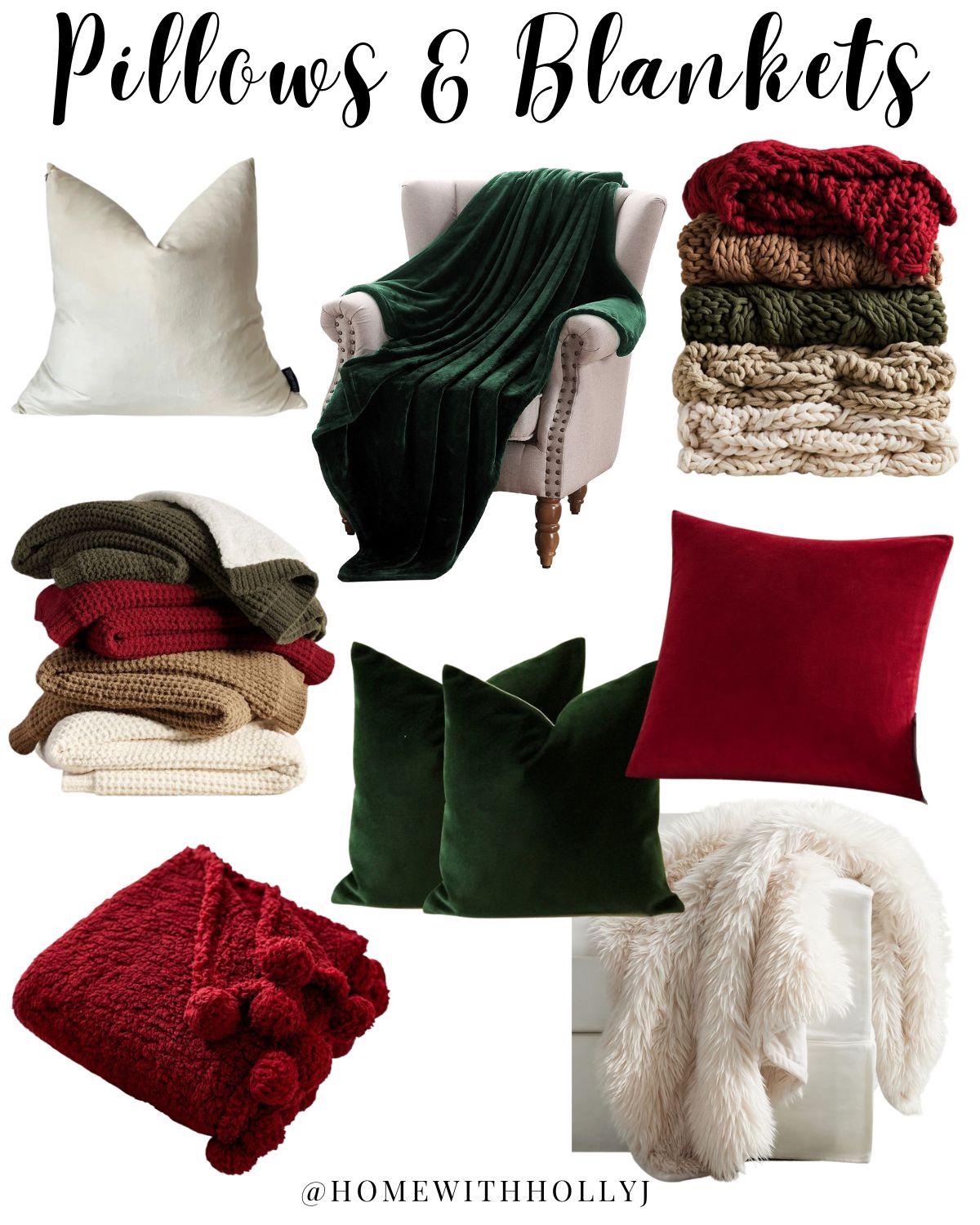 Coffee Table Christmas Decor Ideas
Don't forget to bring in some fun and functional elements to your coffee table too.
12. Group festive figurines in varying heights on top of a tray.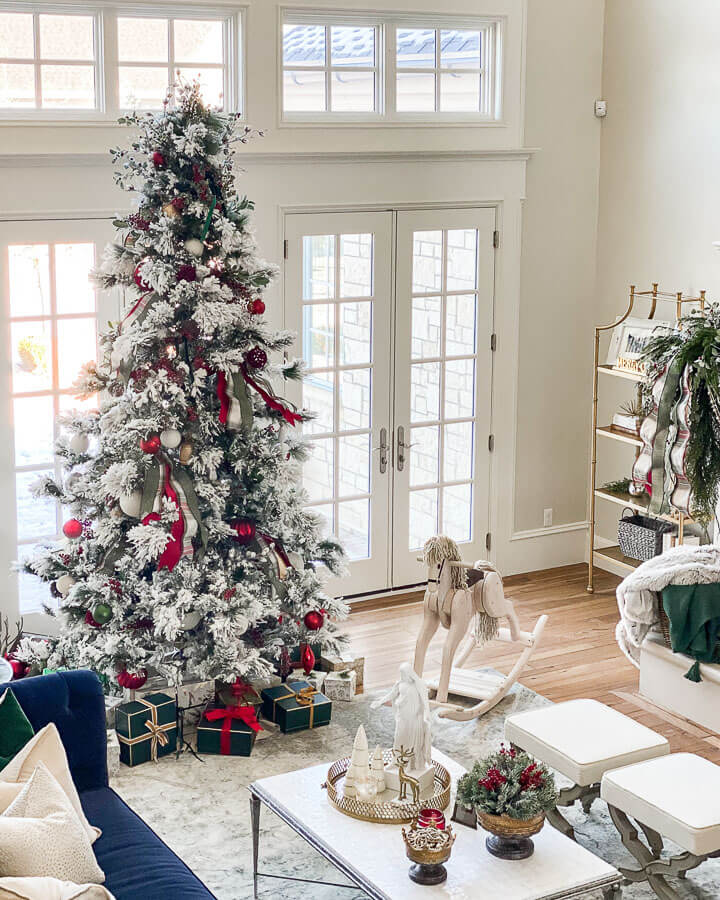 The key here is to vary the heights of each of the elements. If you are going to group a few small things together, ground those items with a tray. Also group decor items in groups of three or five. I always do things in odd numbers.
13. Add a short vase with evergreen clippings.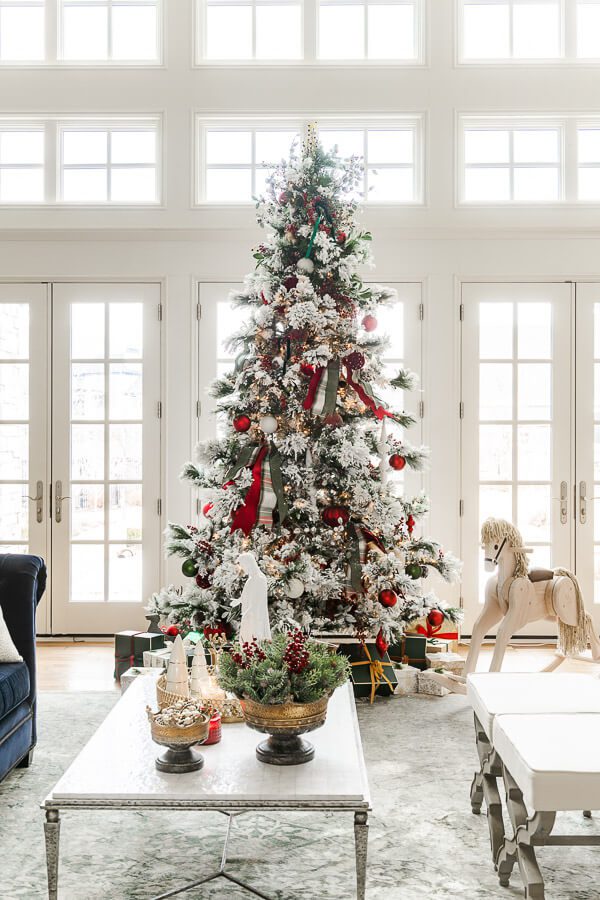 I always add some type of flower arrangement to the table or tray. Here I added some small frosted red berry picks to a compote bowl.
Console Table or Desk Christmas Decor Ideas
The console table or desk is the perfect spot to add candles, books, lamps, and anything else to cozy up the space. Here are some of my favorite tips for this space.
14. Incorporate colored taper candles with vintage gold candlesticks.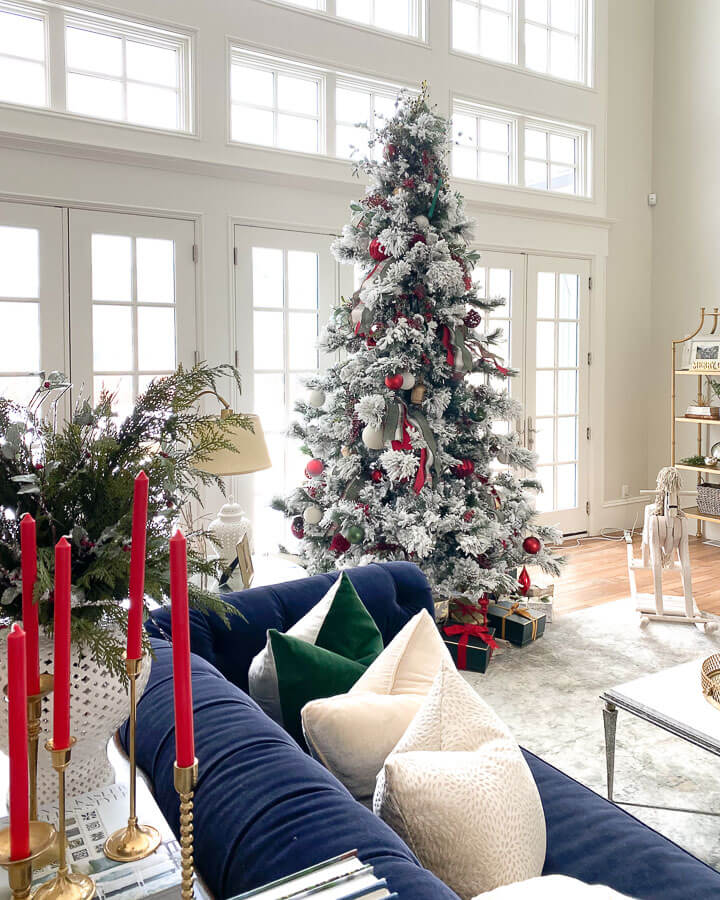 Adding candles and candlesticks are a great way to add decor to any space. I loved taper candles and you can do white or whatever color matches your decor. Here I did two different colors during the season.
15. Use your favorite Christmas books as decor.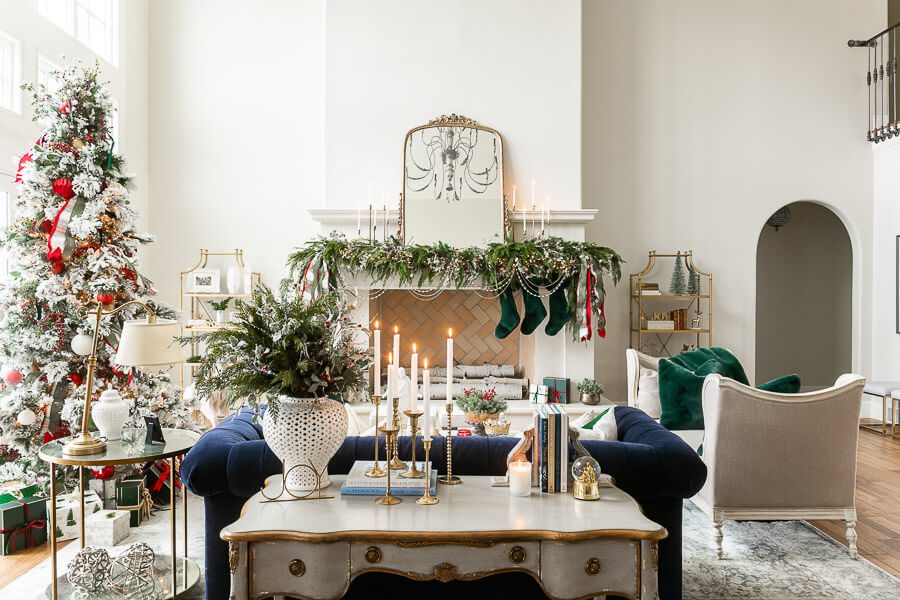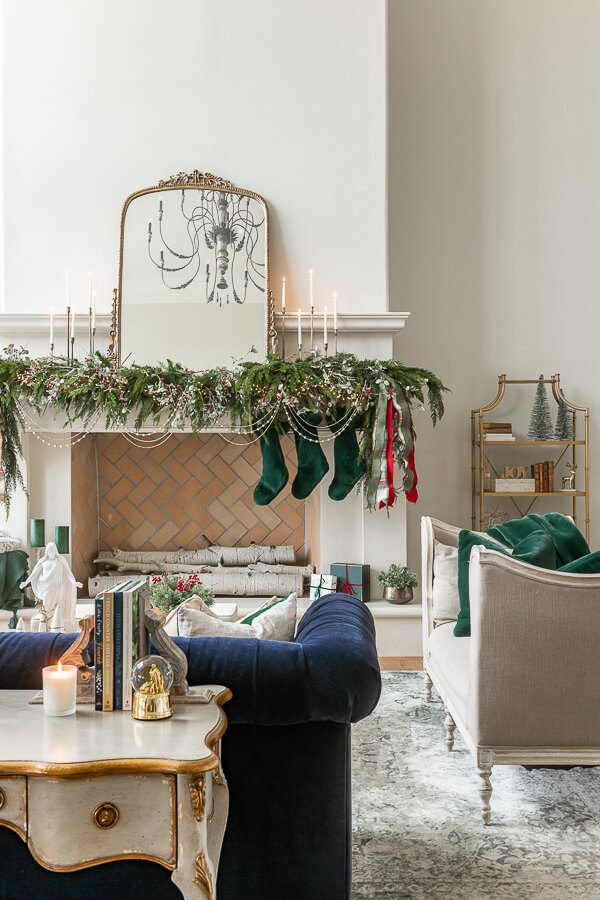 And as always, don't forget to bring in your favorite holiday books to warm up your decor and add height to the mix.
My home and Christmas decor was featured in American Farmhouse Style Magazine Holiday issue 2021. Here's a peak at more of my home all decked out for Christmas. A Blue Christmas Bedroom American Farmhouse Style Dec/Jan 2022
Thanks so much for stopping by! I hope you found some great ideas for decorating your home for the coming holiday season!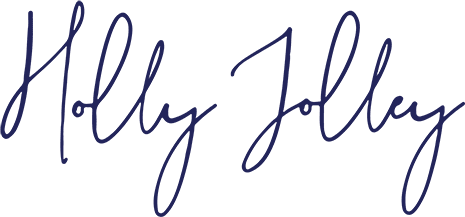 Shop the Look

Pin this Post for Later