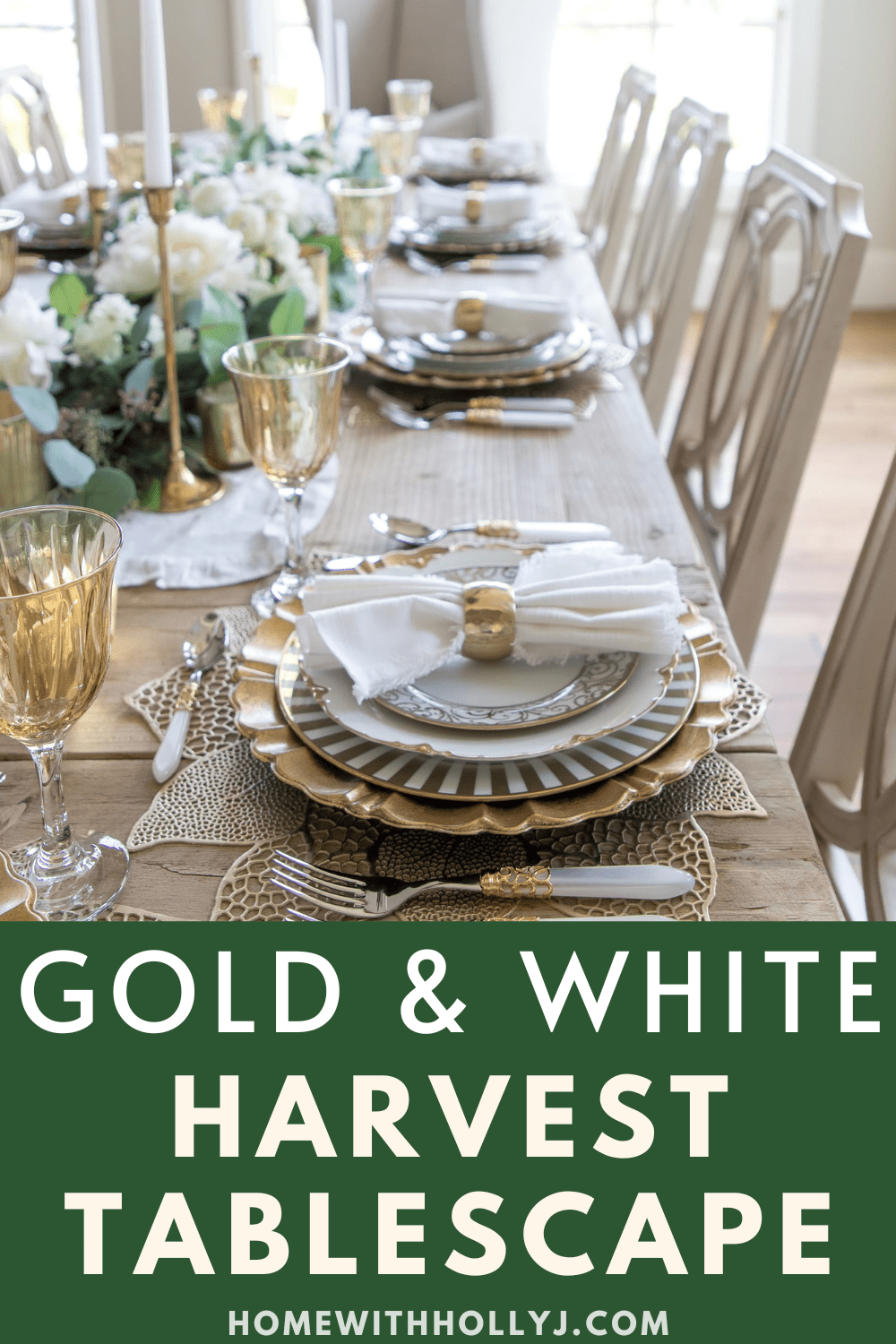 Sharing a beautiful fall tablescape idea featuring a gold and white table setting that can be used for fall, thanksgiving, or the holidays.
Disclaimer: This post does include affiliate links for your convenience. This is at NO additional cost to you but earns me a small commission. To read more, check out our disclosure policy.
Gold and White Harvest Tablescape
With Fall approaching and Thanksgiving not far off in the future, I wanted to share this elegant gold and white harvest tablescape. To create the place-settings I mixed some of my favorite vintage china with some newer china I recently purchased. Mixing old and new dinnerware is one of my favorite things to do when creating a beautiful fall tablescape! I'll link all the sources I can at the bottom of the post!
The Place-Setting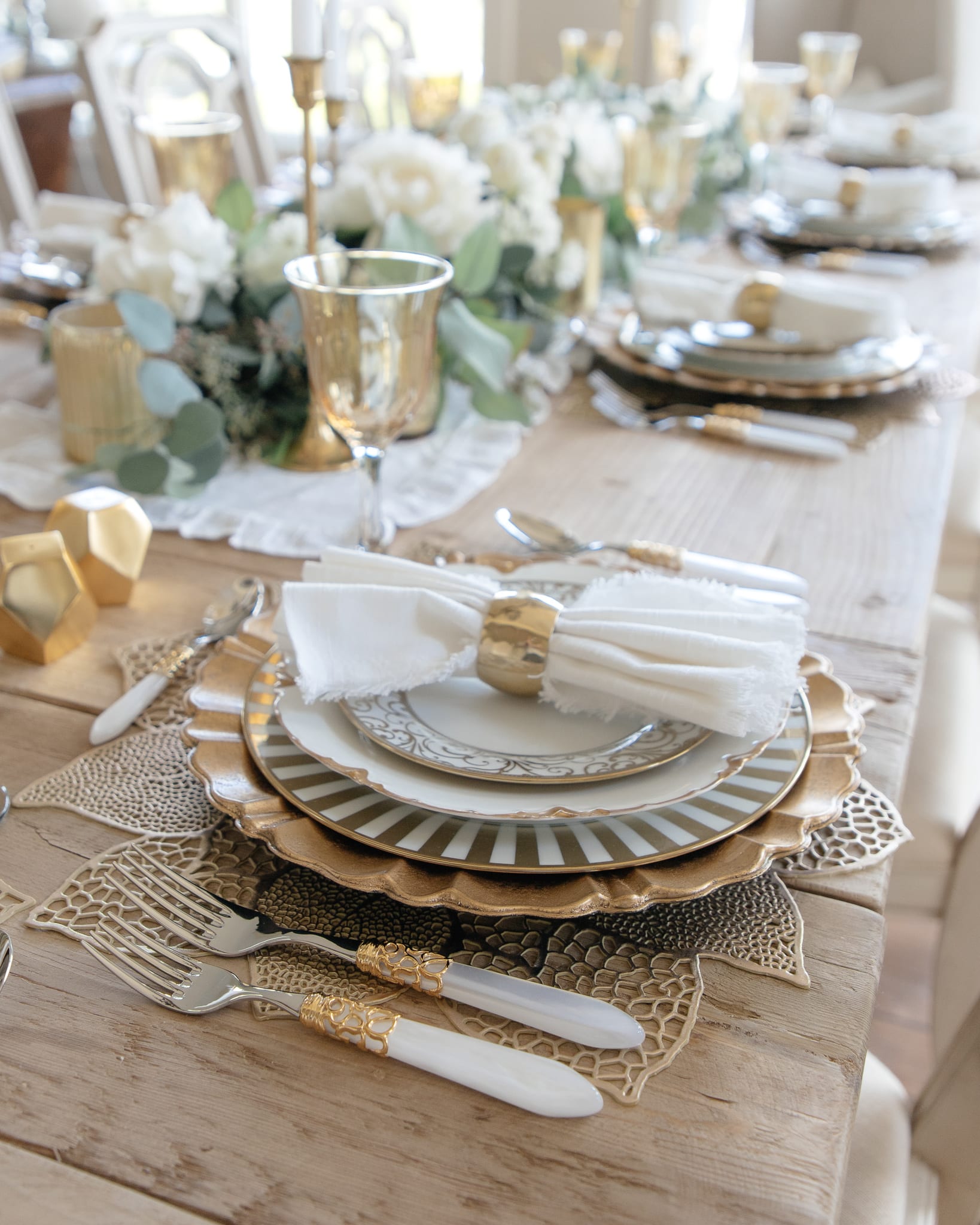 In this close up photo, you can see the detail of each of the layers. I started with a gold floral shaped placemat(hobby lobby), then a gold scalloped charger plate underneath the dinnerware.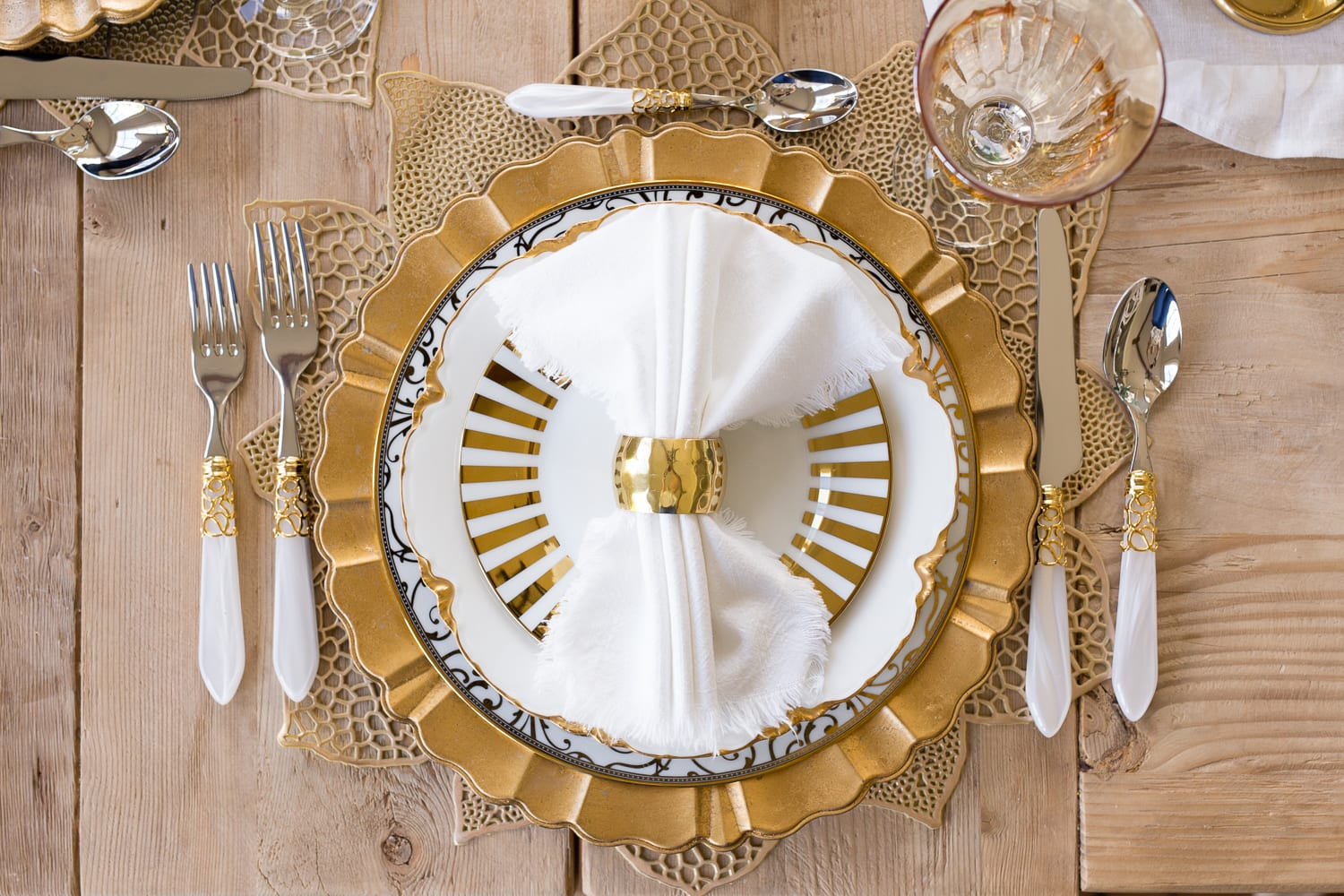 You can see the rest of the plate stack (that's what I like to call it) in these photos. The dinner plate, antique salad plate, and dessert plate on top.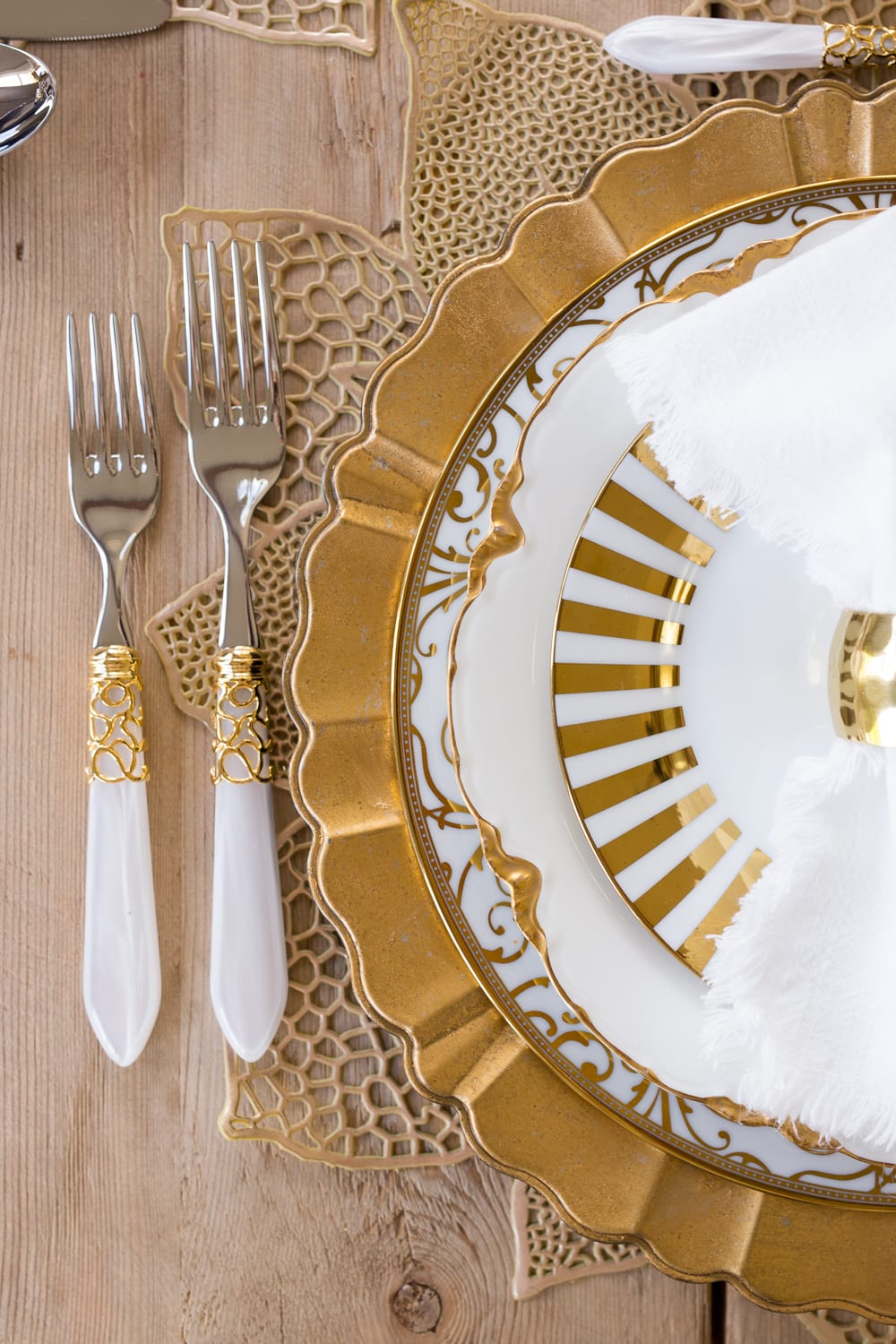 To finish off the place-setting, I used this beautiful flatware from Casa Bugati and amber-gold stemware from Homegoods and a white linen napkin and gold napkin ring.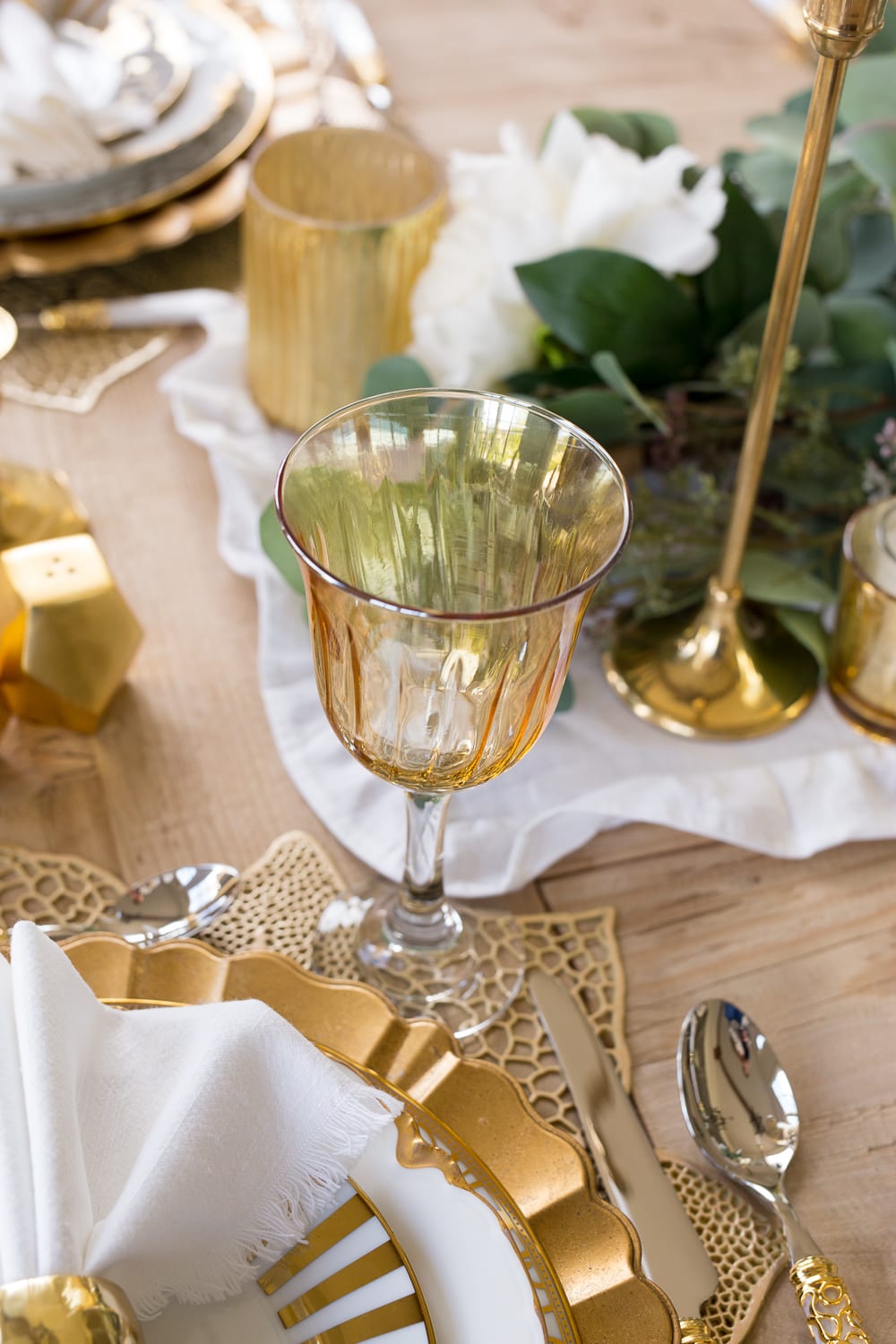 The Centerpiece
For this tablescape, I created a centerpiece garland using faux greenery and faux florals. I always start with a base of greenery and then add in flowers and other items to fill up the middle of the table.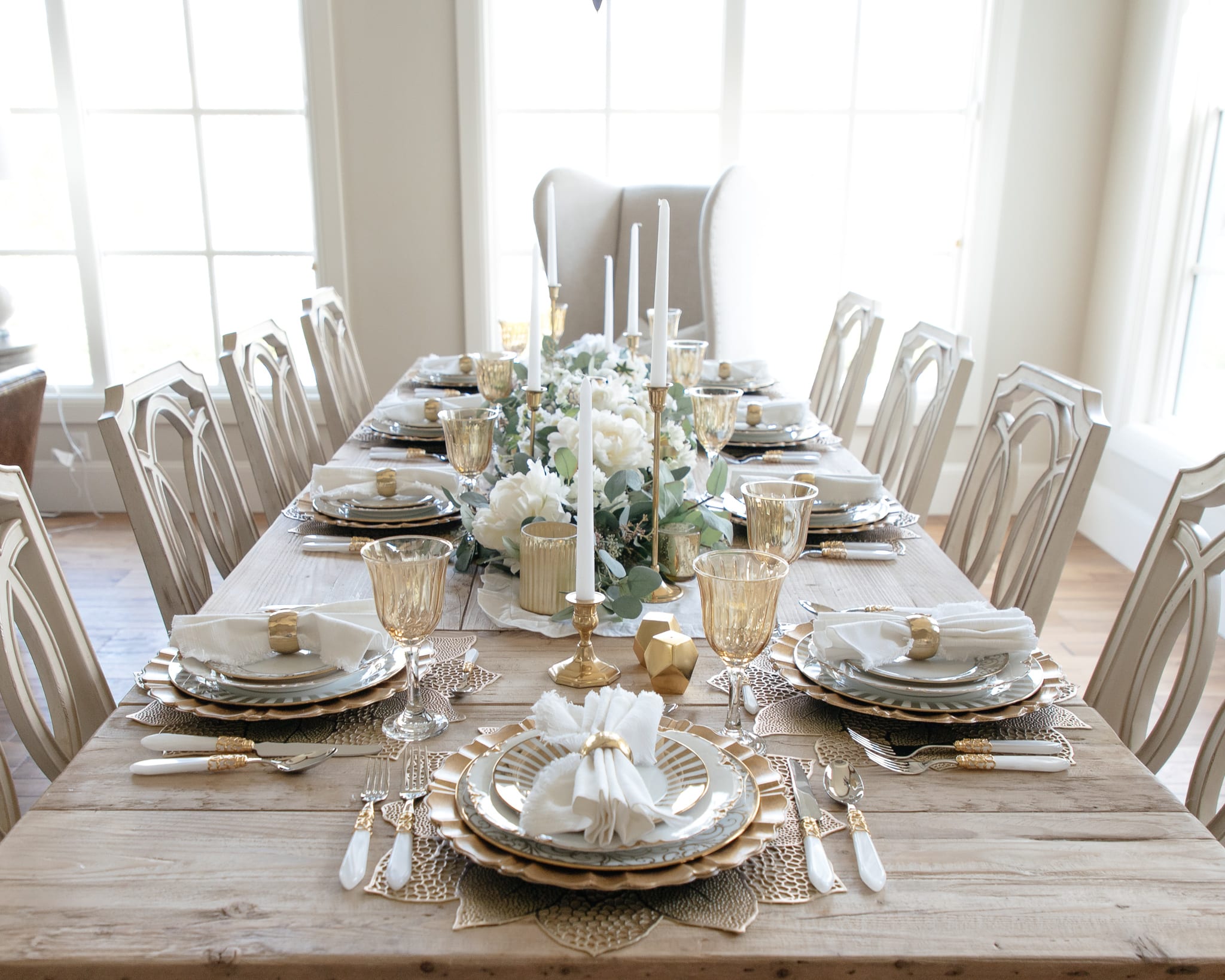 I used gold votive candles in and around the centerpiece and gold candlestick holders with white taper candles. I also had some little white pumpkins nestled into the garland. You could also add in some gold or white turkeys like I did here with silver turkeys and white turkey shaped salt and pepper shakers.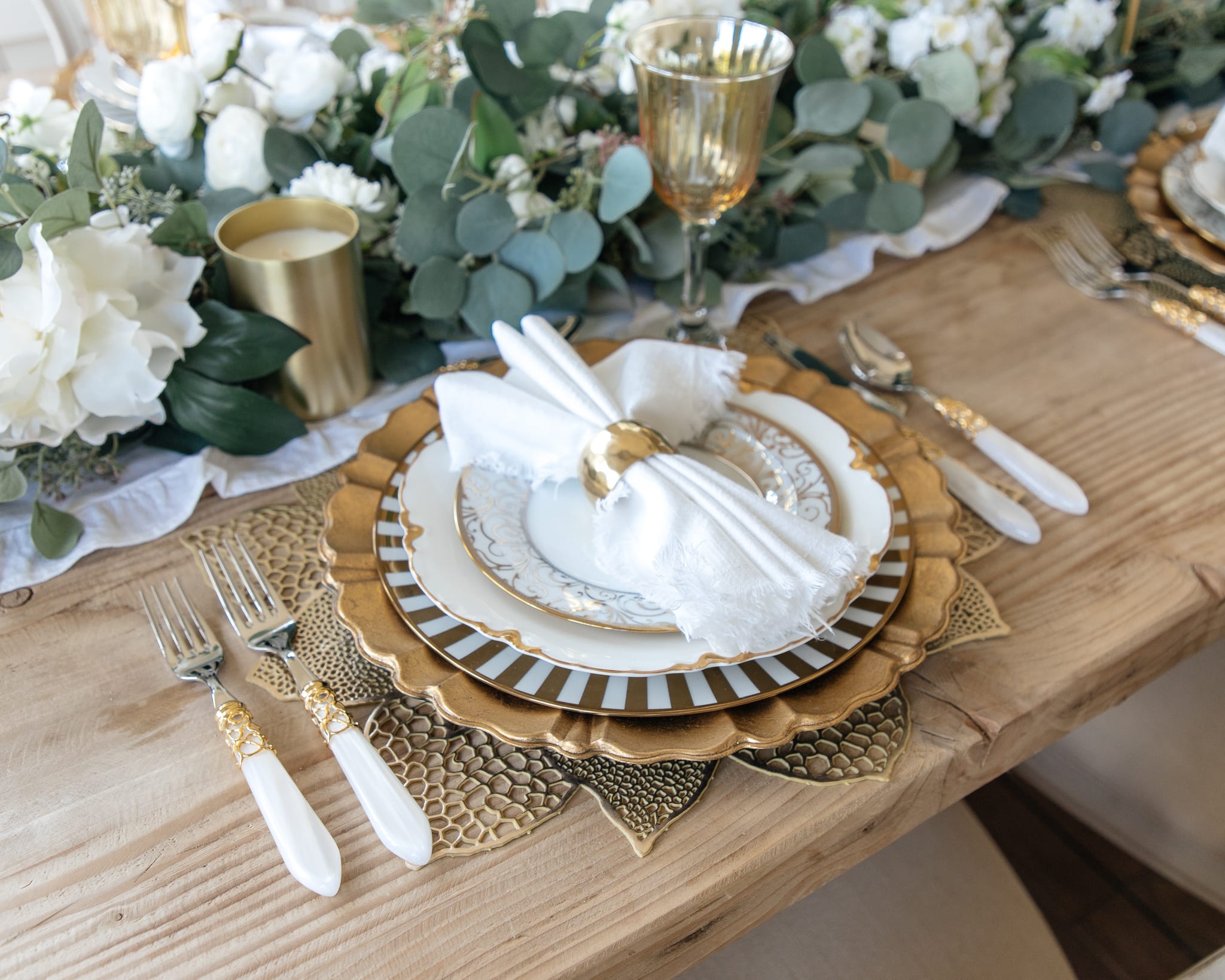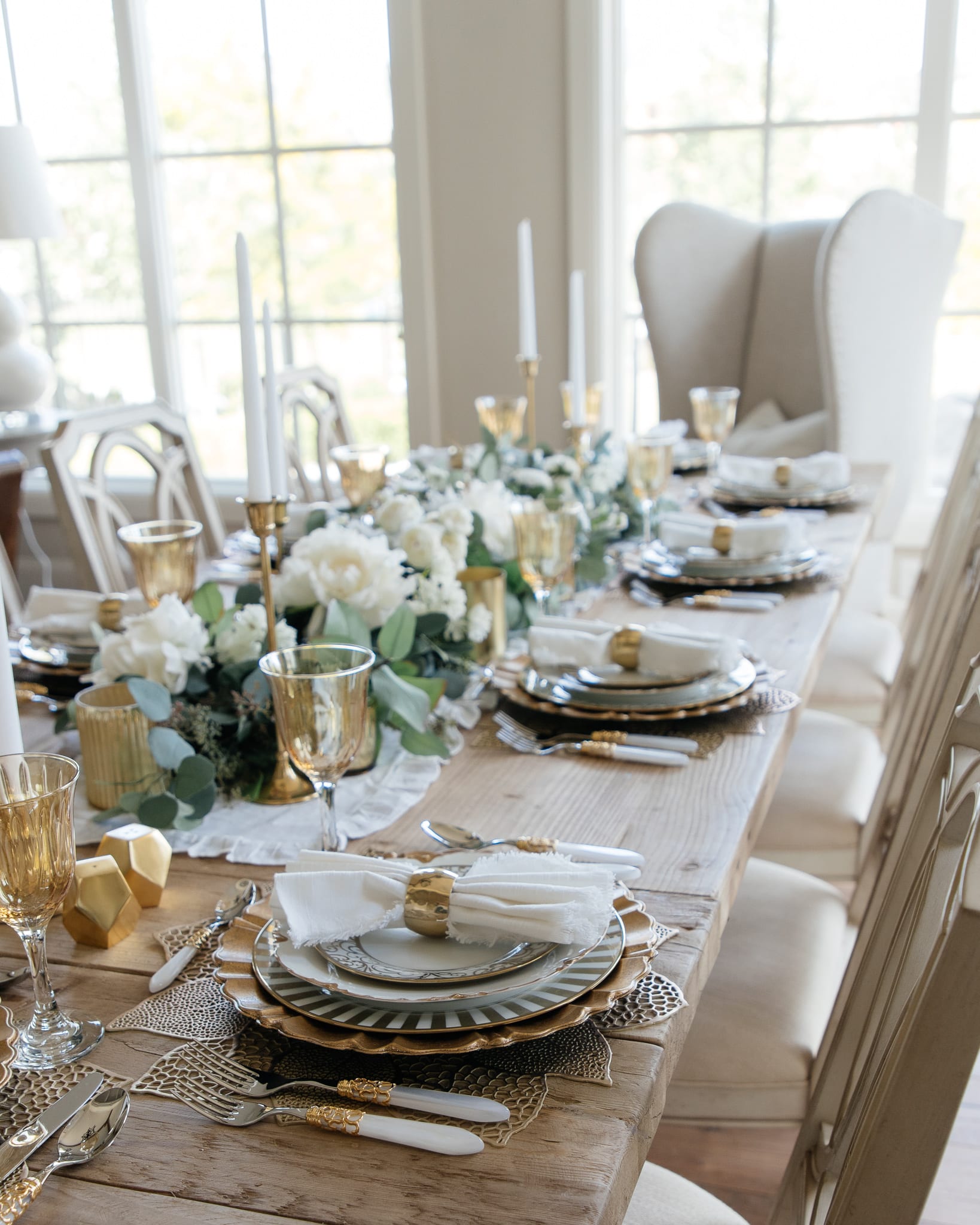 Where Do I Serve the Food?
This is one of my most asked questions! I typically like to dress my tables up and serve the food buffet style. The main reason being that my table is made of reclaimed wood and has no finish. Everything stains the table, including water! Serving the food buffet style on the island with marble counter tops helps keep the food spills ,which are inevitable to a minimum.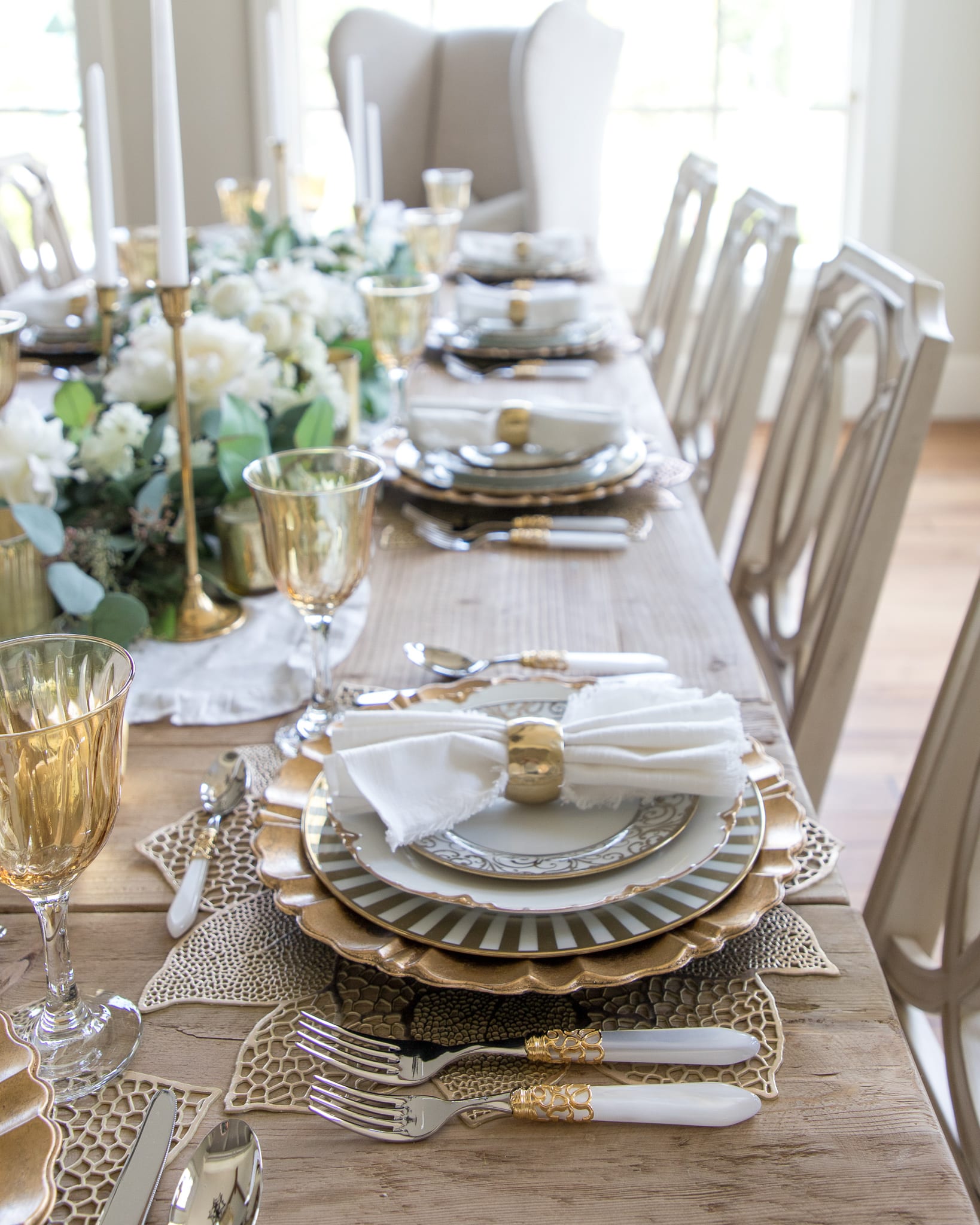 What do I with all the Plates?
I also get a lot of questions about what to do with all the plates! I just enjoy the look of the table styled this way and I will set a table like this and leave it like this for a week or more. It's not always practical though! I love dishes and I like to have them all set like this so I can enjoy them! I use all my dishes (100+ sets) and rotate them with the seasons.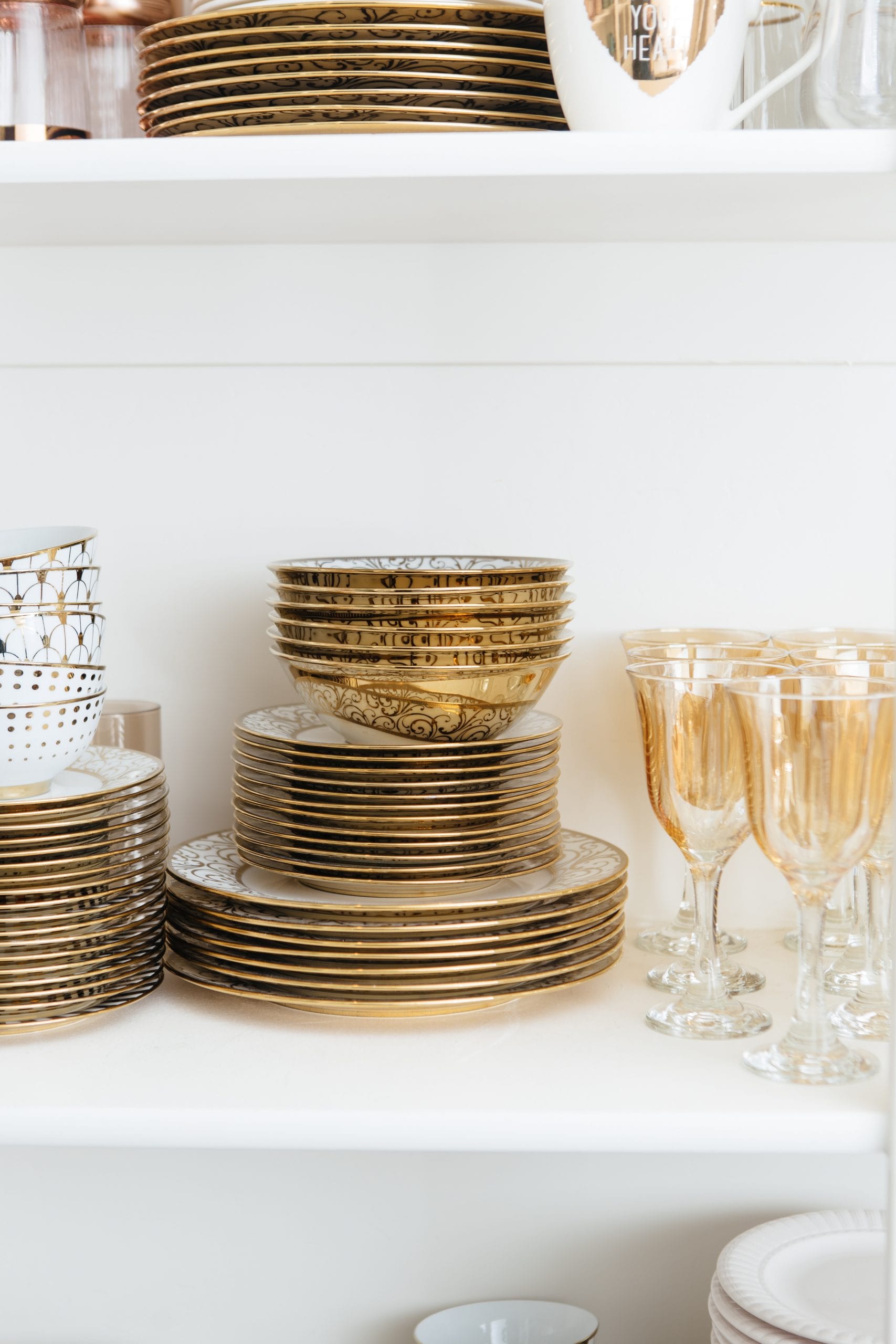 I have a large pantry where I store all my sets in color order.
When serving buffet style, I will unstack all the dishes right before dinner is served and set them by the buffet serving area on my island. As formal as this table looks, I'm not that formal when serving most of the time.
I love gold and white dishes and I've set so many tables over the years with this color palette and they are always beautiful no matter what season it is!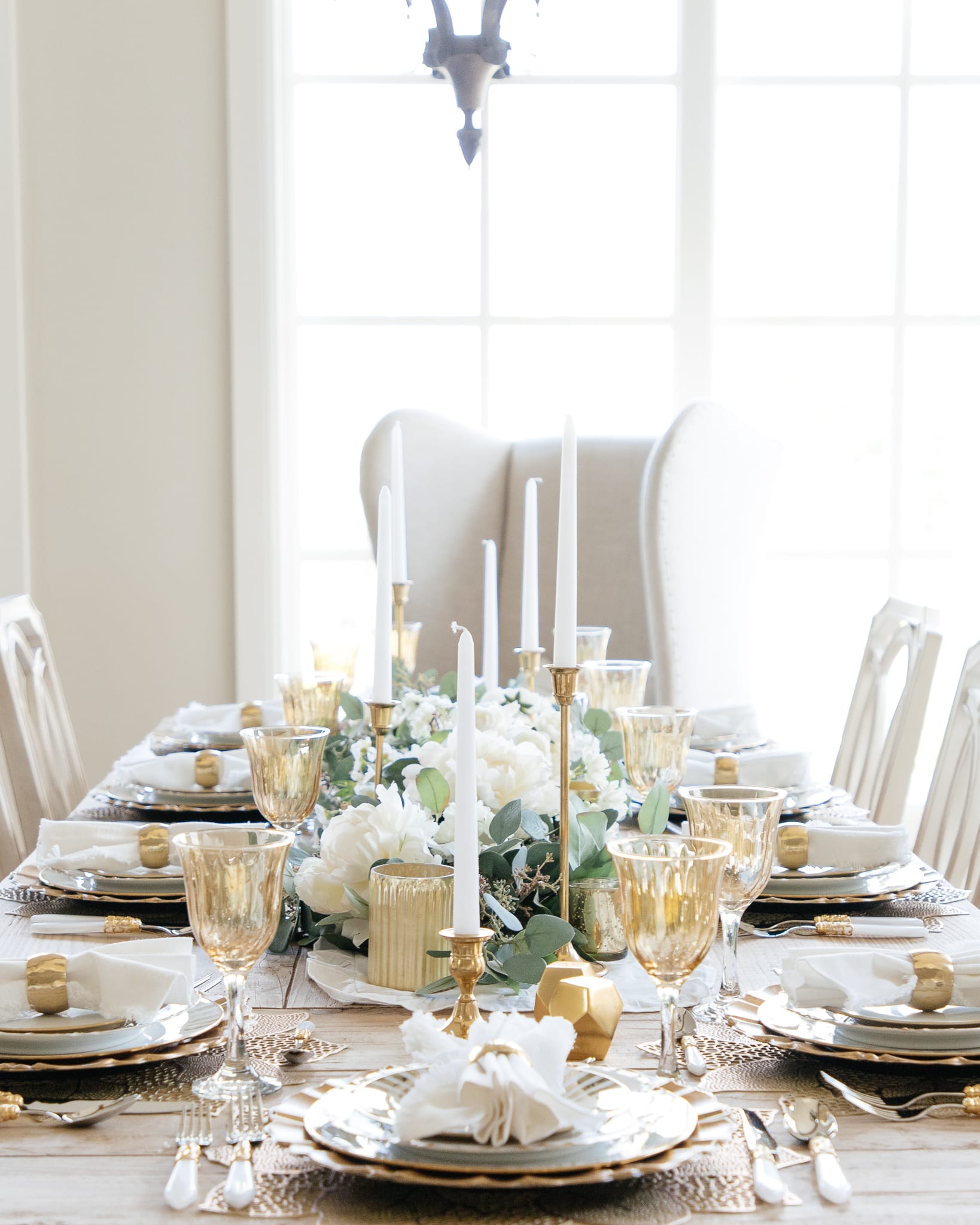 Mix and match what you already have and look for vintage dishes at thrift or antique stores to add to your collection. There are so many gold and white patterns from the past that mix beautifully with many modern china and dinnerware sets. Here is a Christmas tablescape with more of my gold and white dishes.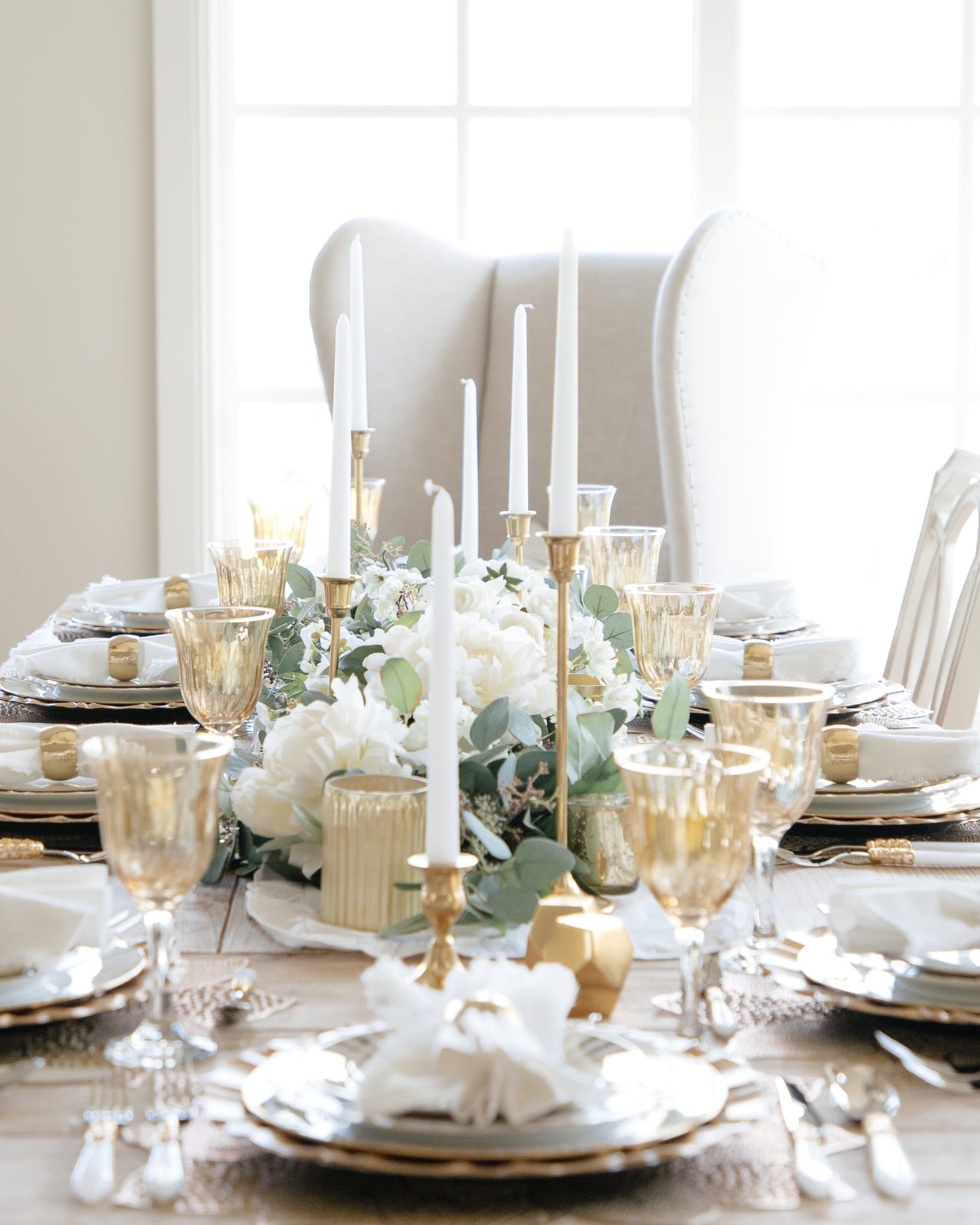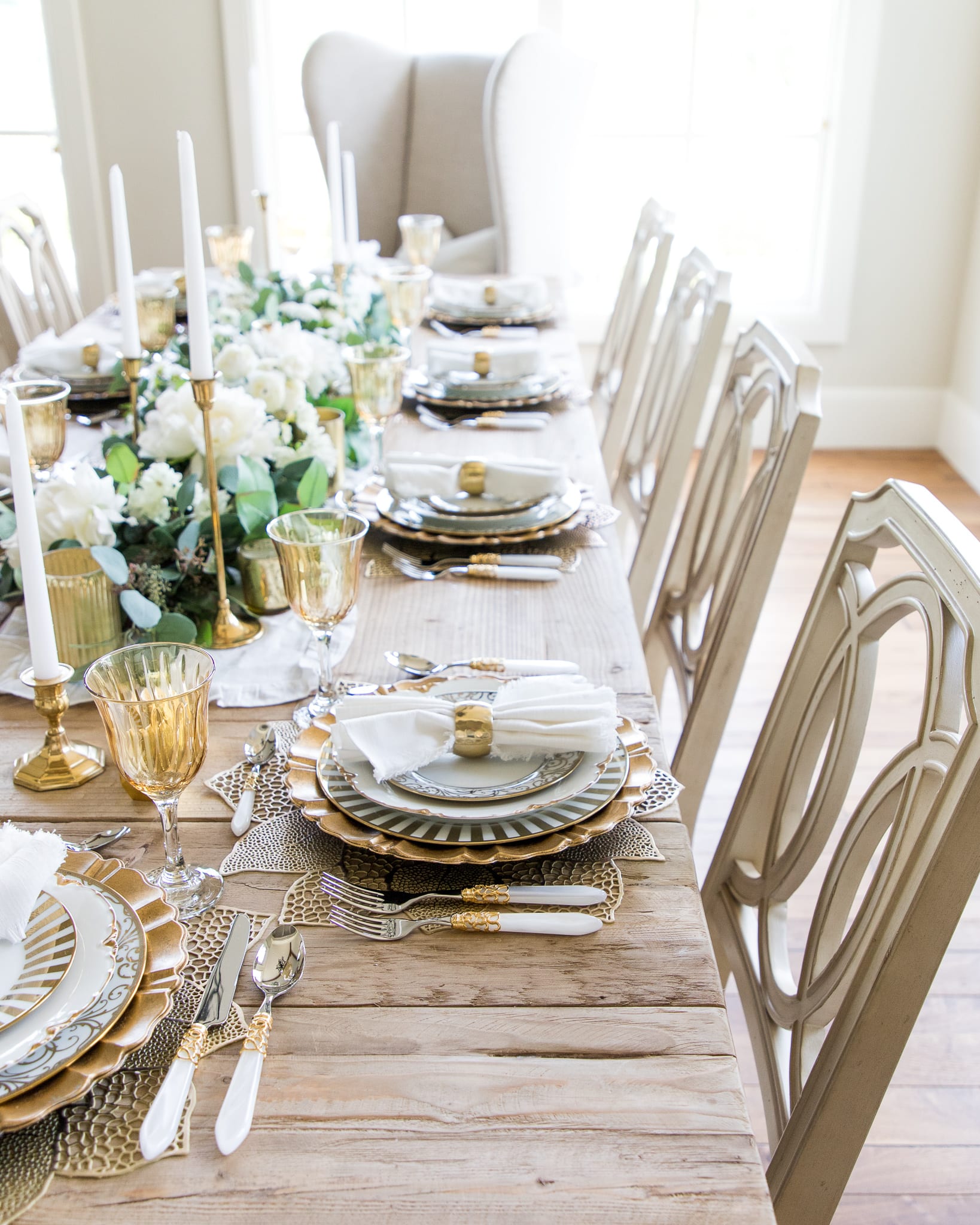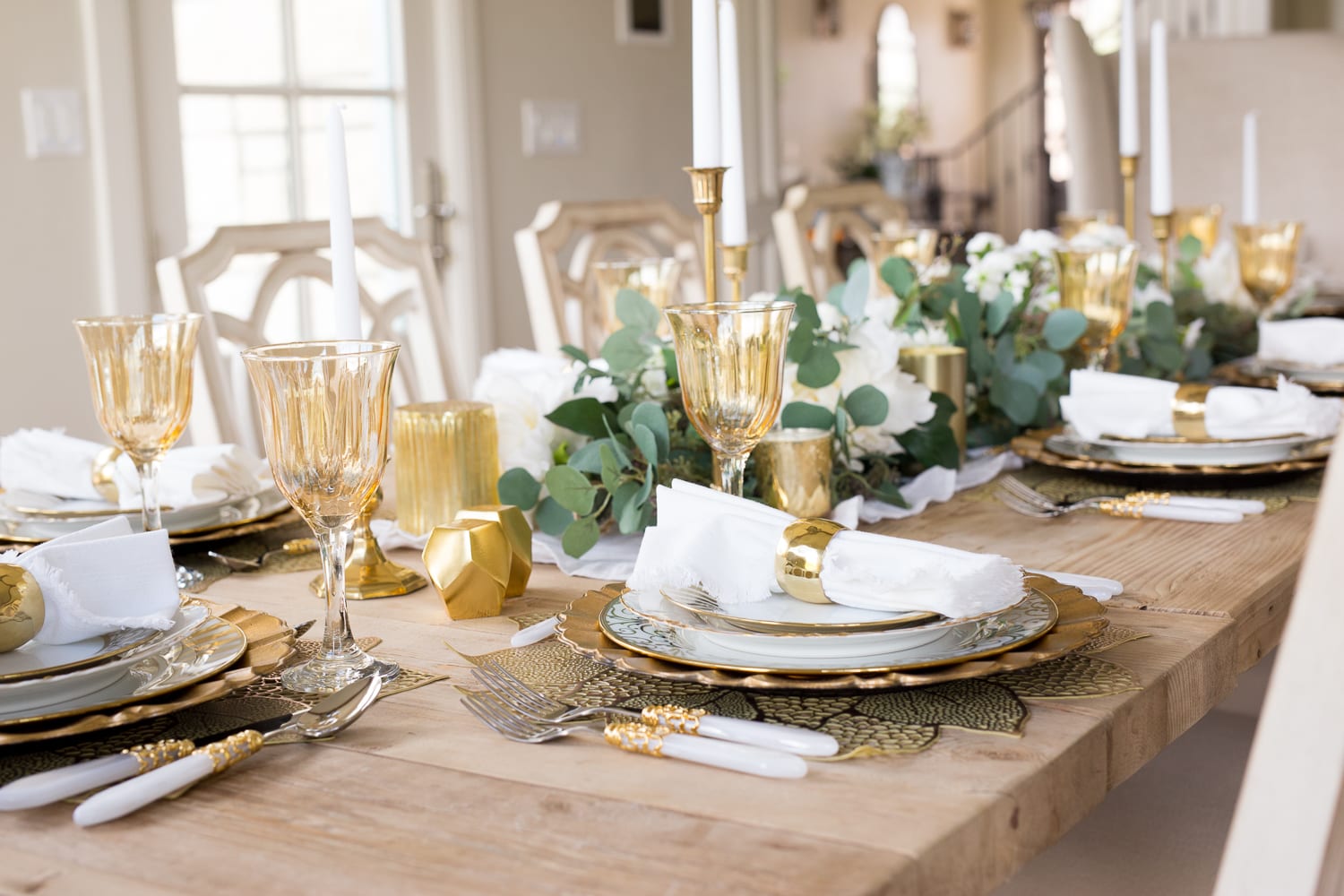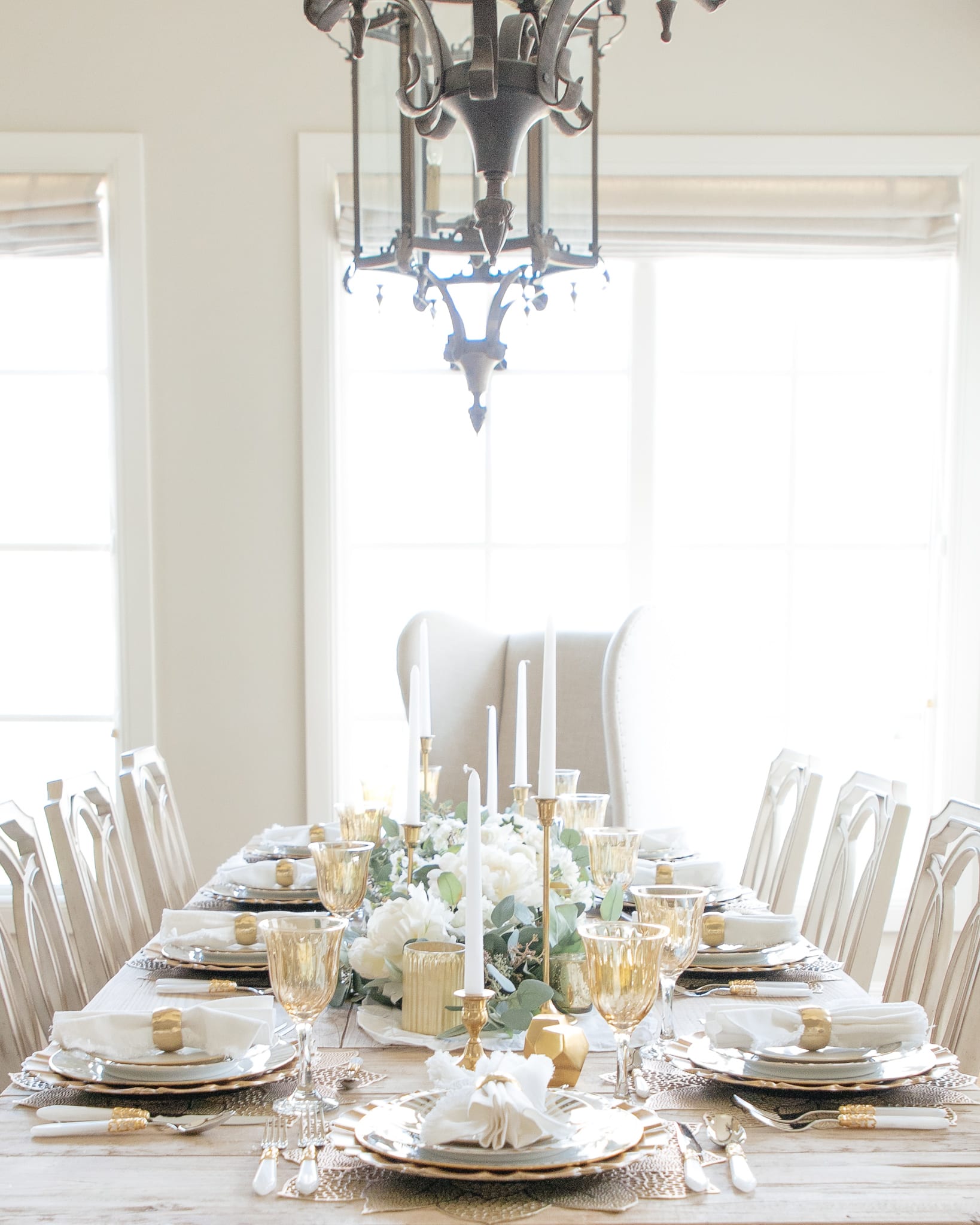 Thanks so much for stopping by! Please subscribe to my blog so you will never miss a post! You can also follow me on Pinterest and Instagram for more tips and inspiration on creating a warm and welcoming home.
xoxo,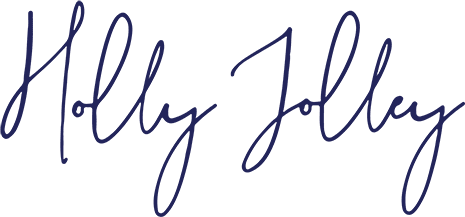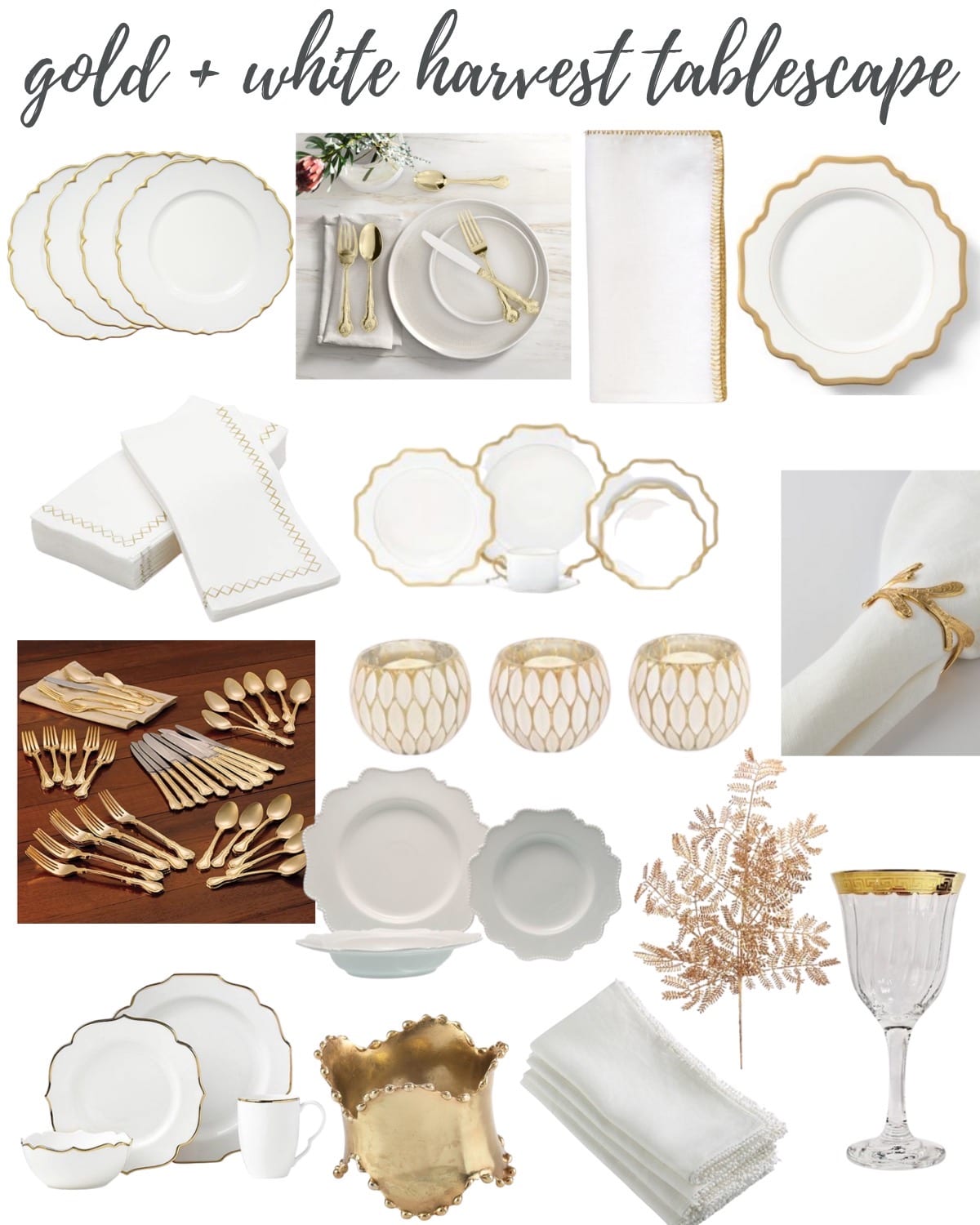 Tap each item below to shop. I've linked the items that I can find and that are still available. Affiliate links are used in this post.
All Sources Linked Below
Disclaimer: This post does include affiliate links for your convenience. This is at NO additional cost to you but earns me a small commission. To read more, check out our disclosure policy.

PIN THIS FOR LATER