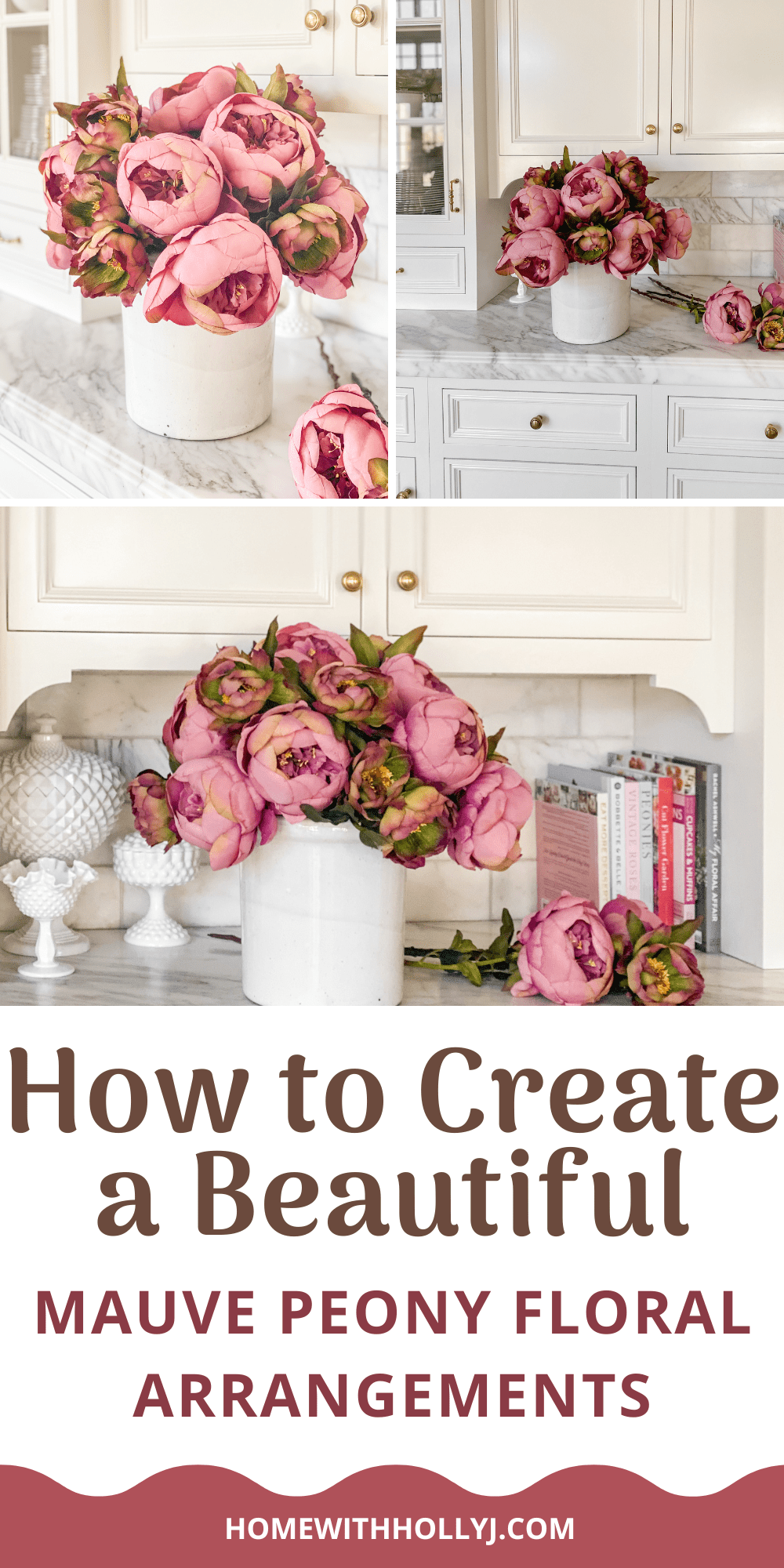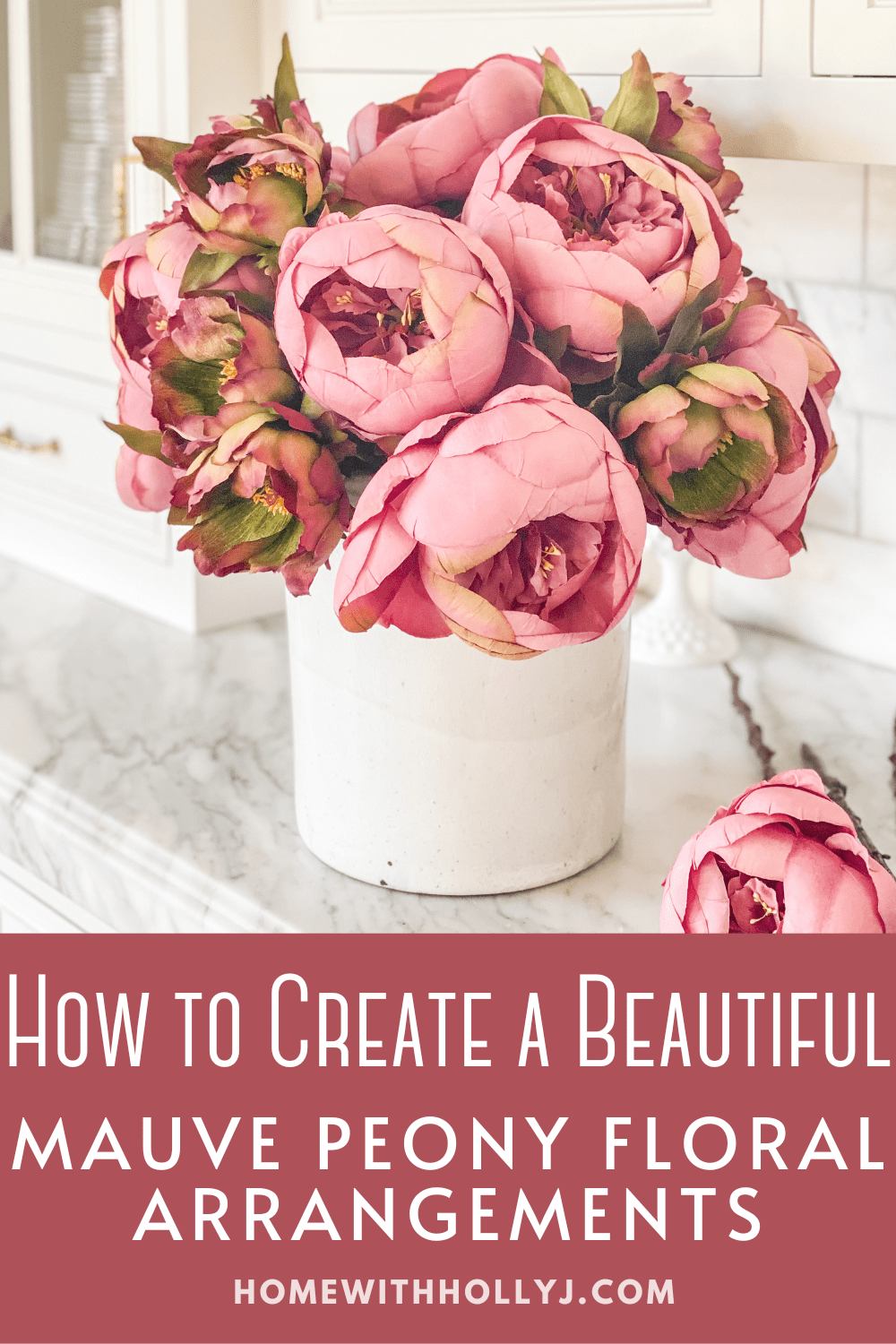 Learn how to make this Mauve Peony Flower Arrangement using faux flowers and create a beautiful and lasting spring floral arrangement with this step-by-step guide.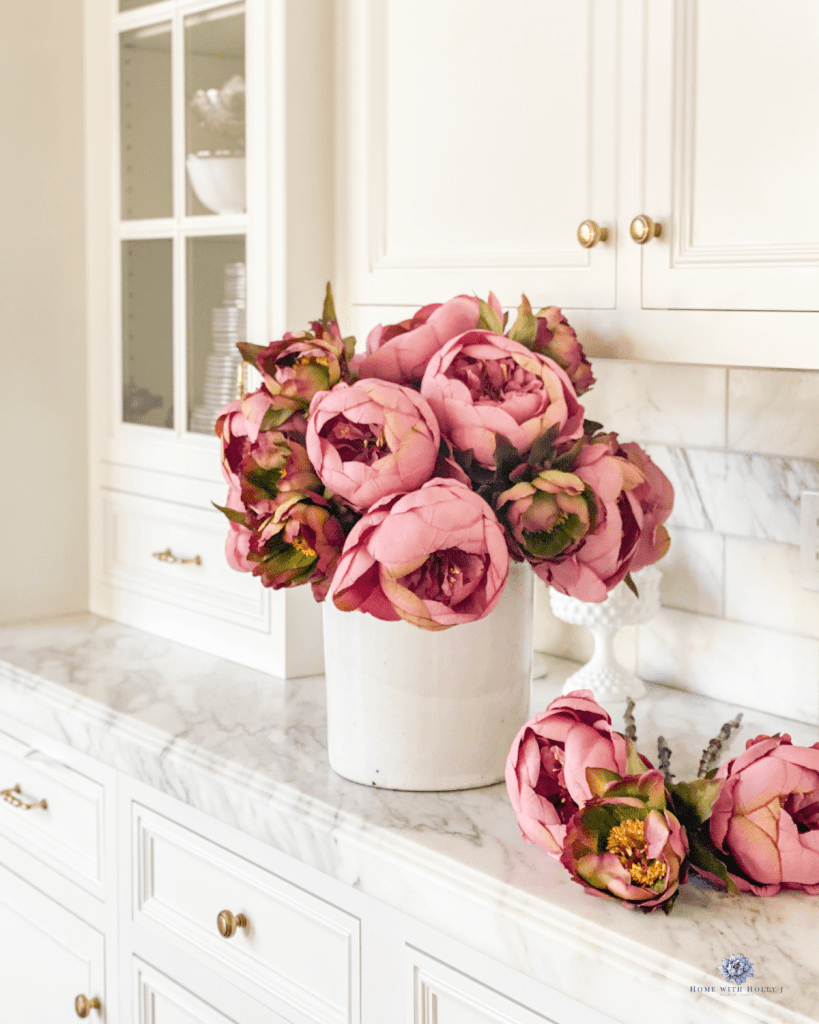 Mauve Peony Flower Arrangement
Today I'm going to share how I made this Mauve Peony Flower Arrangement with faux flowers to create this beautiful spring floral arrangement. There are some tips and tricks to using artificial flowers that will make your flower arrangements look great and I'll share the pros and cons of using artificial/faux flowers.
I will link all my favorites at the bottom and throughout the post. Just click on the images to shop the source.
Disclaimer: This post does include affiliate links for your convenience. This is at NO additional cost to you but earns me a small commission. To read more, check out our disclosure policy.
The Pros of Using Artificial Flowers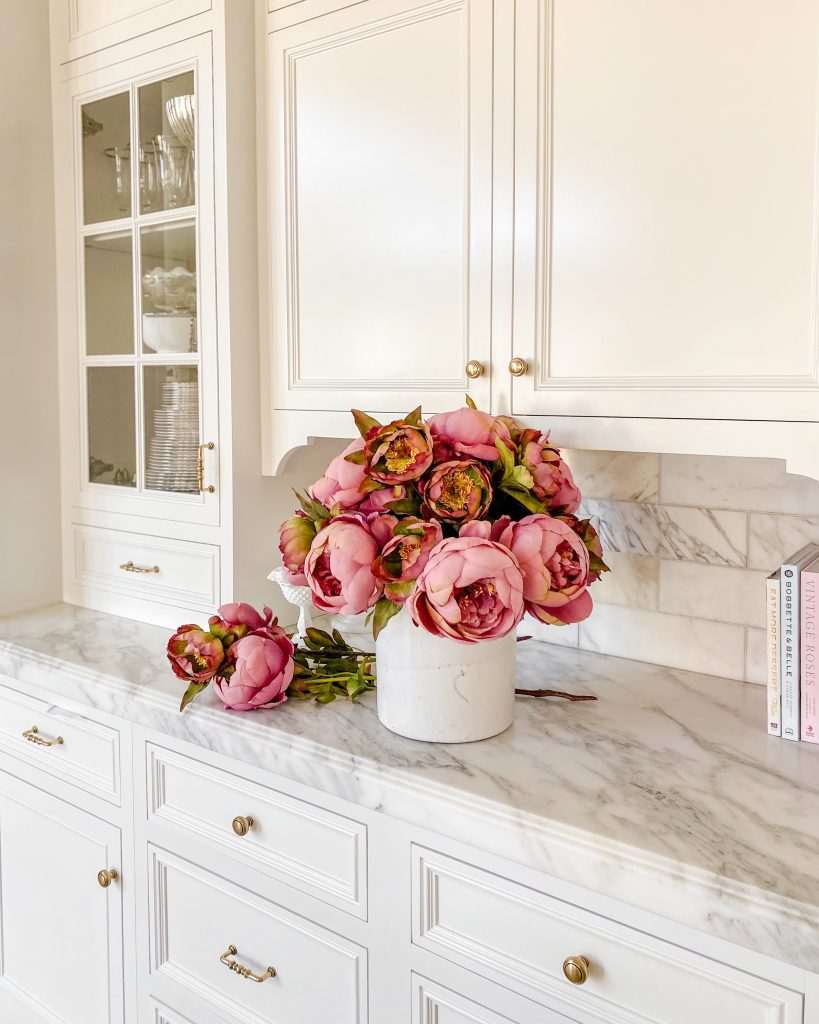 Faux Flowers last forever.
Faux flowers last forever if you take good care of them and store them properly. You never have to worry about them dying. You invest about the same amount of money or close to it, for real flowers but they are dead and gone in a week or less. Try using high end faux flowers next time and see how beautiful they are!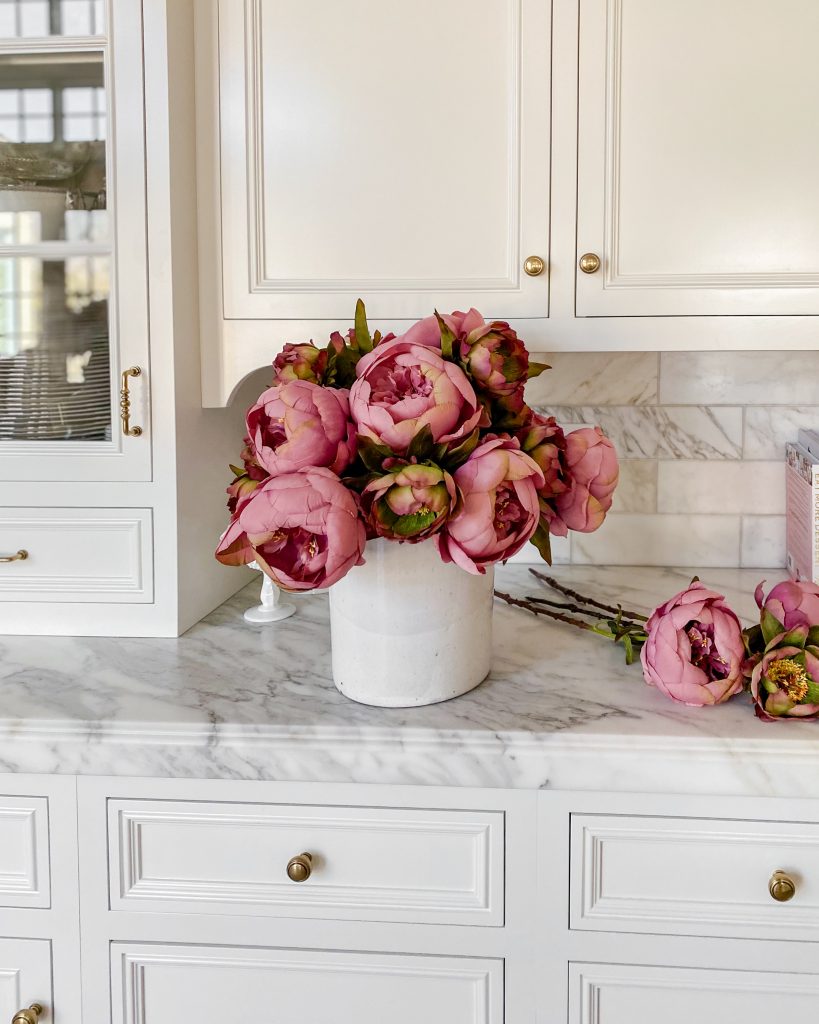 They are easy to bend and shape.
Artificial flowers are easy to bend and shape to fit your arrangement and they tend to stand up and stay where you place them, especially if they have a support system like a tape grid, chicken wire base, or floral foam. I'm not a huge fan of floral foam though as it's terrible for the planet! Try using a chicken wire base if you want another option.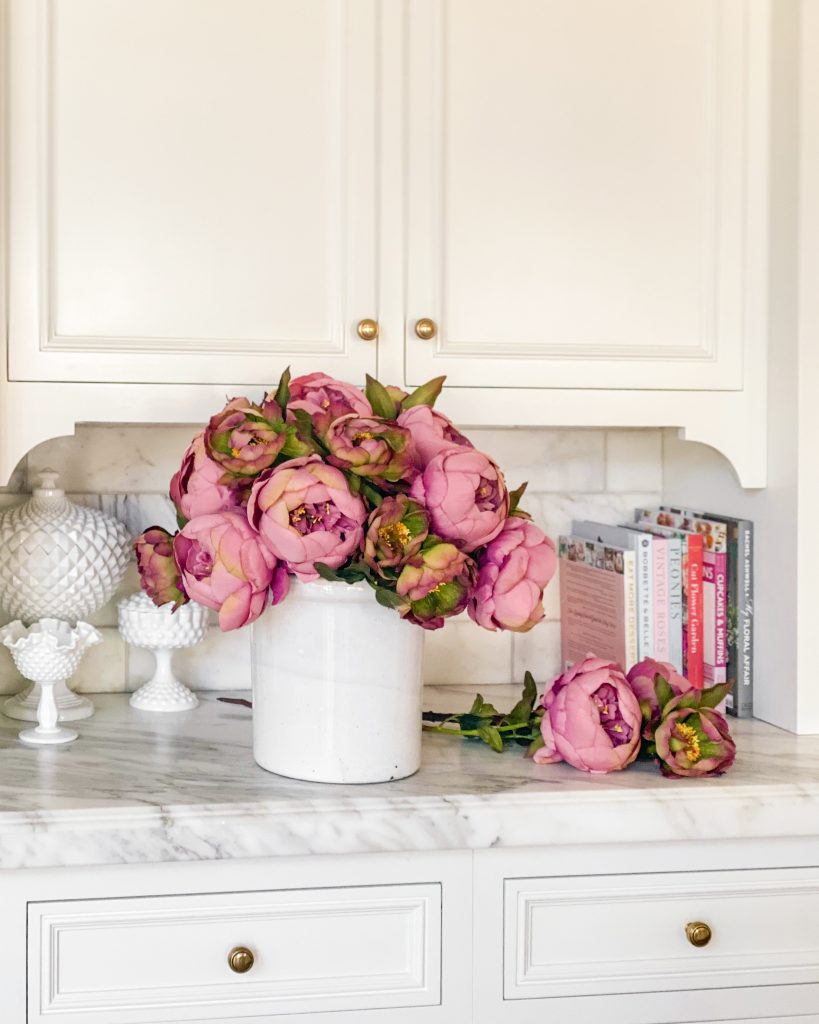 Faux flower quality is improving.
Another pro with using artificial or faux florals and greenery is that that the overall quality of flowers you can purchase now is amazing!
I typically only use the high-end type flowers, and people often ask me on my Instagram how I keep my flowers alive. Thats how nice they are! Many people think they are real!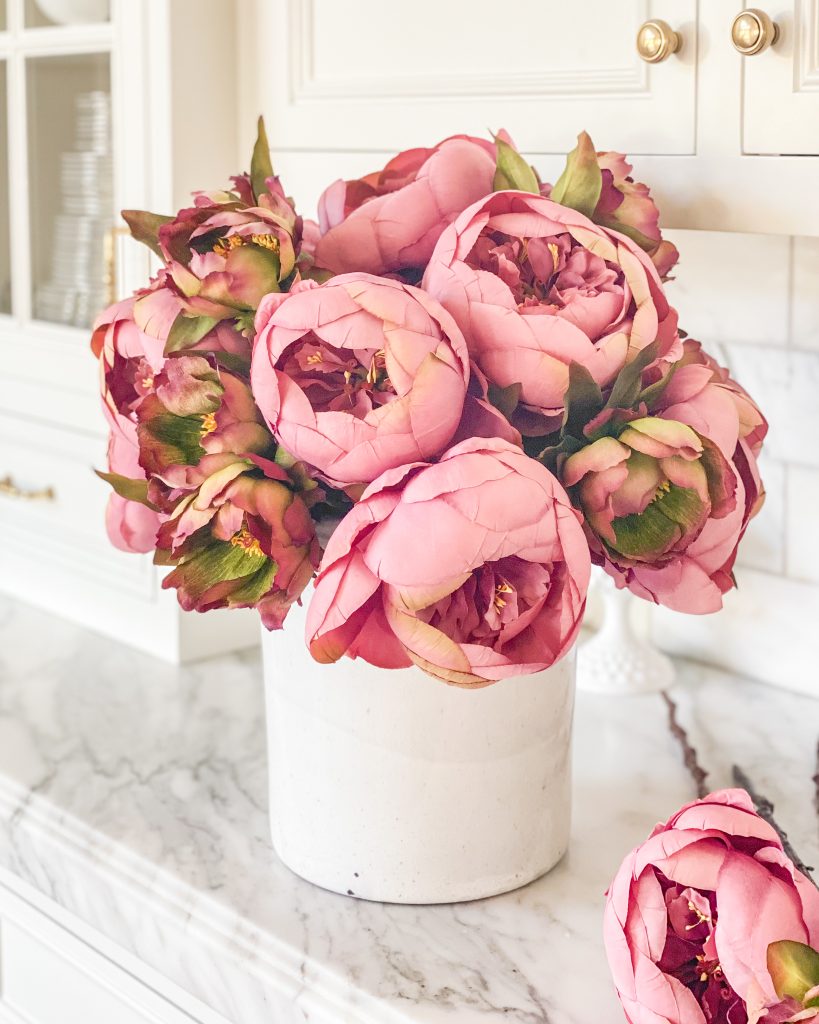 They are so beautiful that they look real.
There are a lot of "real touch" flowers on the market nowadays and the quality just keeps getting better! I've linked the ones I used here for this Mauve Peony Flower Arrangement at the bottom of the post.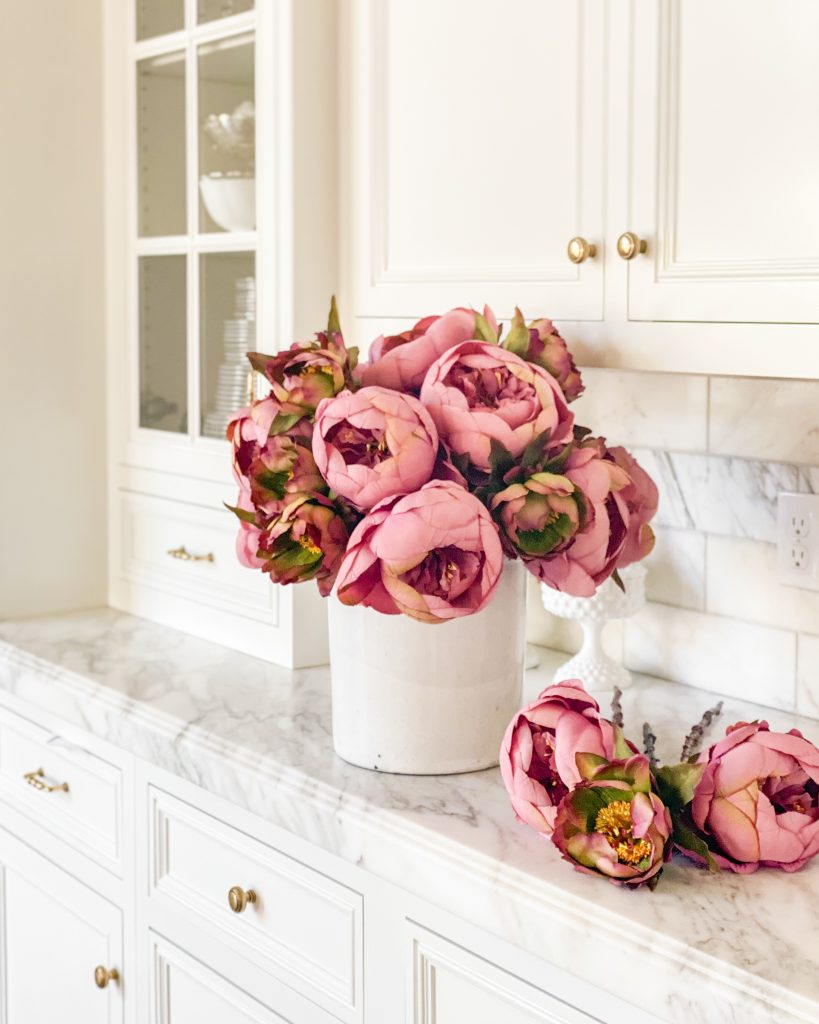 Artificial flowers are also much easier to come by when real flowers are out of season or hard to get.
Let's be honest, peonies are only in season for about 3-4 weeks in early summer and that's way to short!
I have so many beautiful peonies in all colors and sizes that I've found online and also have in my online shop EvolutionHomeDecor.com. I'll be adding many of my favorites in the shop soon so stay tuned. (as of posting this 5/3/23, we should be launching the shop in a matter of weeks so check back soon if the website isn't working yet)
The Cons of Using Artificial Flowers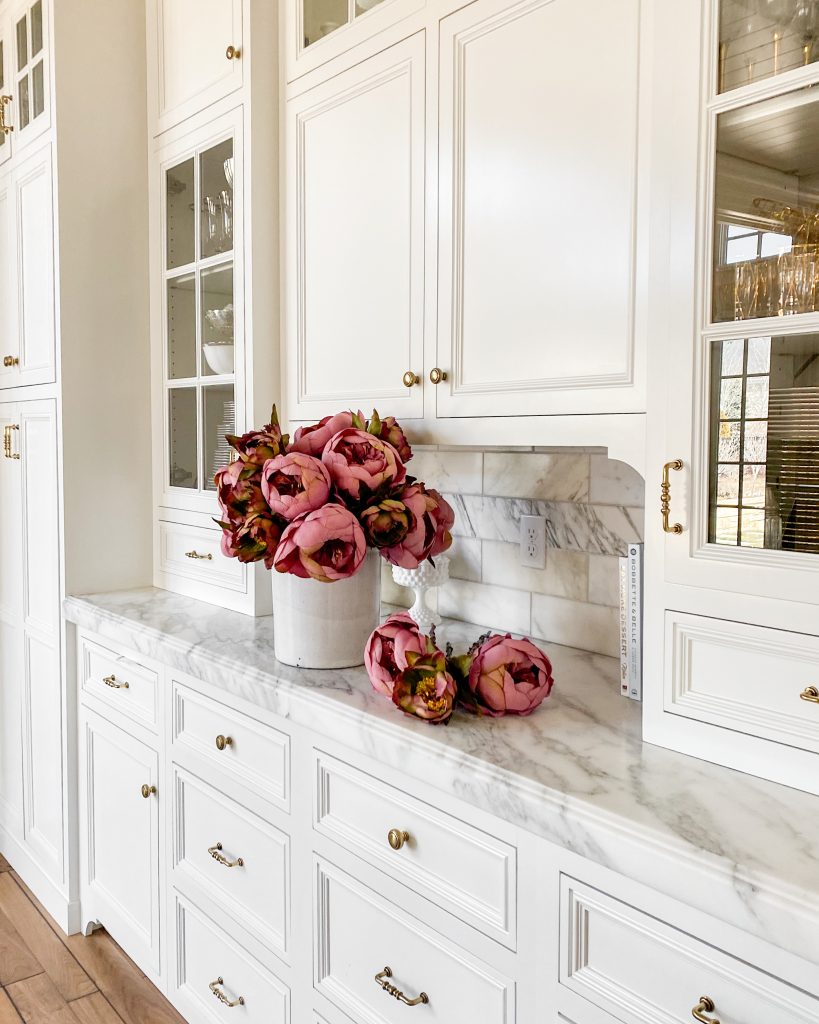 They don't have any smell.
I guess that could be a pro though if you have allergies!
They are not real and at the end of the day, fresh flowers are still my favorite to use but when they are not in season or hard to get, artificial flowers come in handy.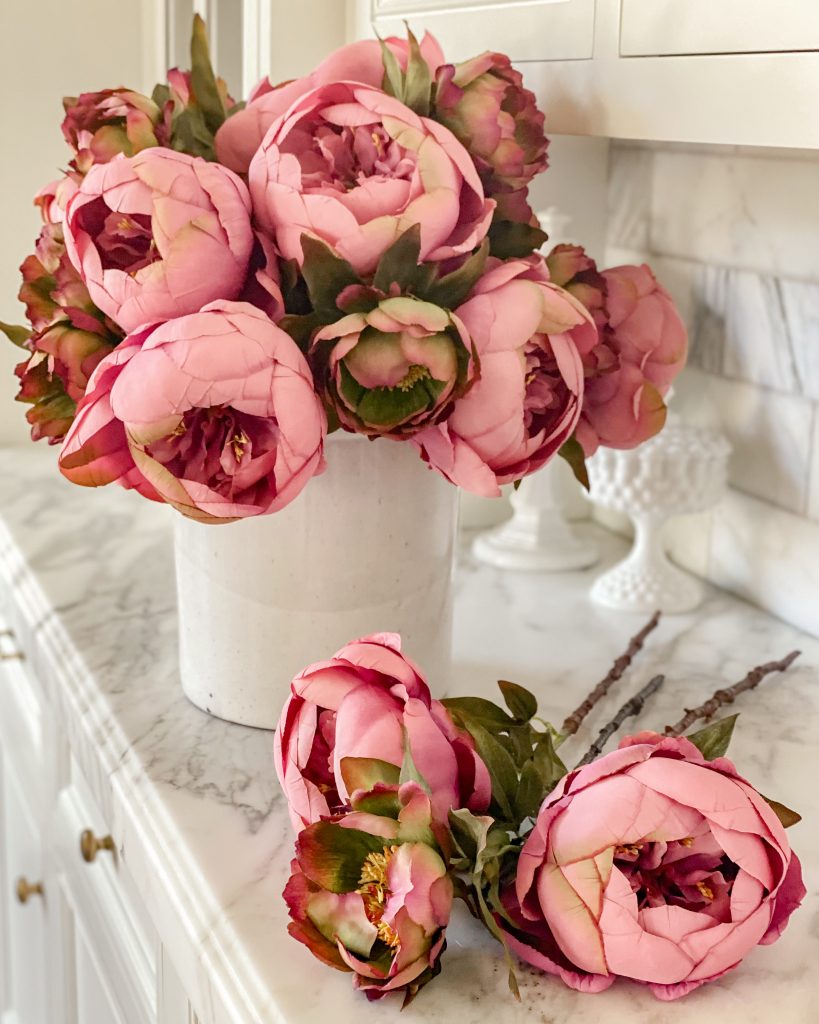 If you don't swap them out often or don't dust much, they do tend to get dusty.
I change flowers out often for the seasons so I don't have that problem and I store them in my basement when not in use and keep them in a dust free area. Give them a good shake if they are dusty.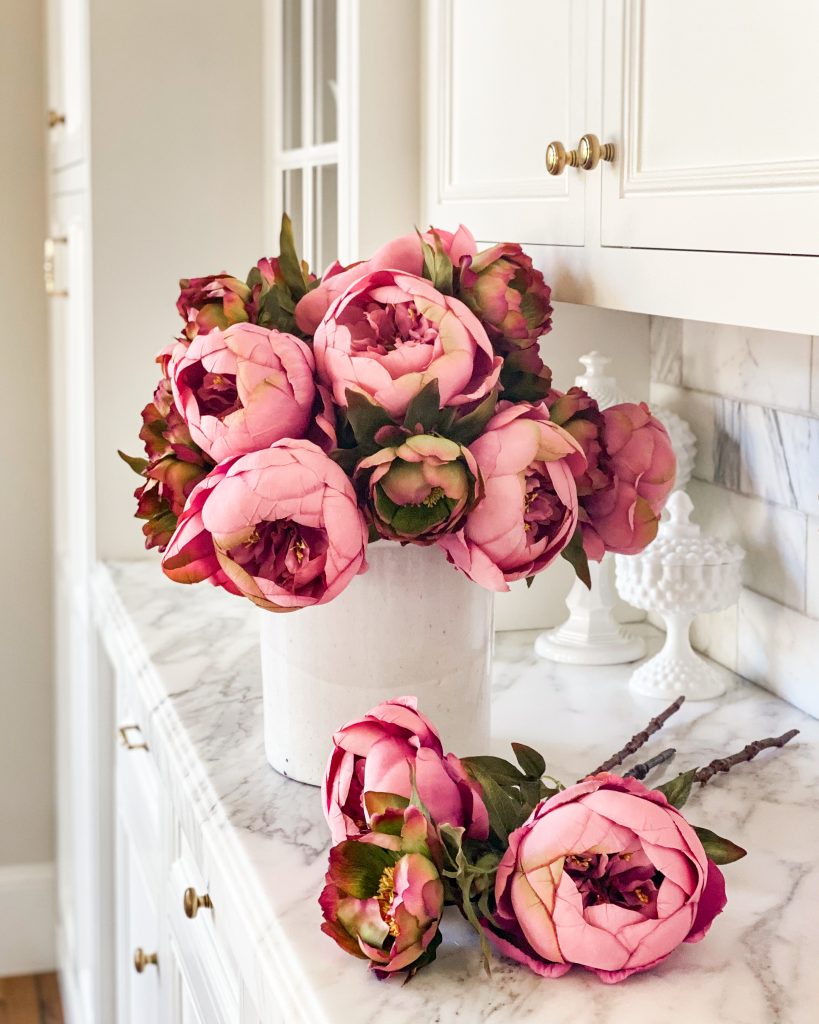 You have to store them somewhere in your home.
I am fortunate to have a basement in both my homes where I have ample storage space to keep all my flowers and seasonal home decor.
I prefer to store mine in french flower cans or buckets and I like to store similar colors and seasonal flowers together. I will also use large clear plastic garbage bags from Costco to put over the top of the flowers or greenery that I store in buckets or bins. This also helps keep them from getting dusty.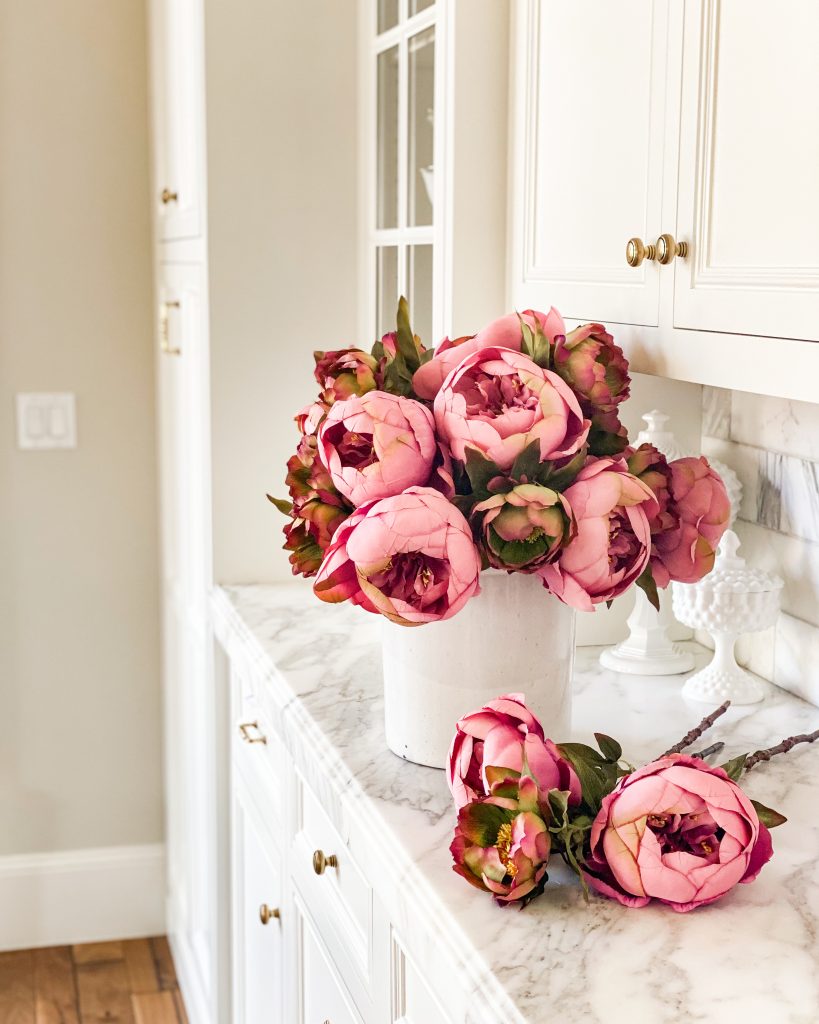 It's a little harder to create arrangements that look asymmetrical and how they would appear in nature.
I like to give each flower it's own space to breath and using real flowers allows for this to happen a little easier but if you use a proper support structure, you can achieve a beautiful look with the faux florals as well.
How to Arrange Faux Flowers
Now that we have covered some of the pros and cons of artificial flowers, let's talk about how to arrange them.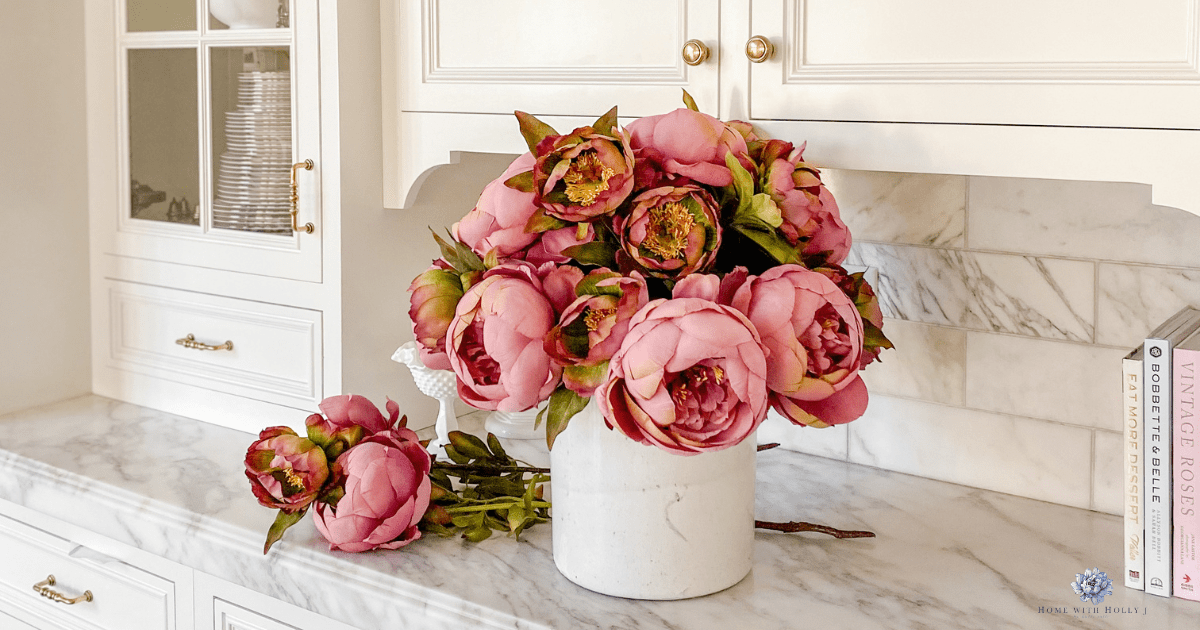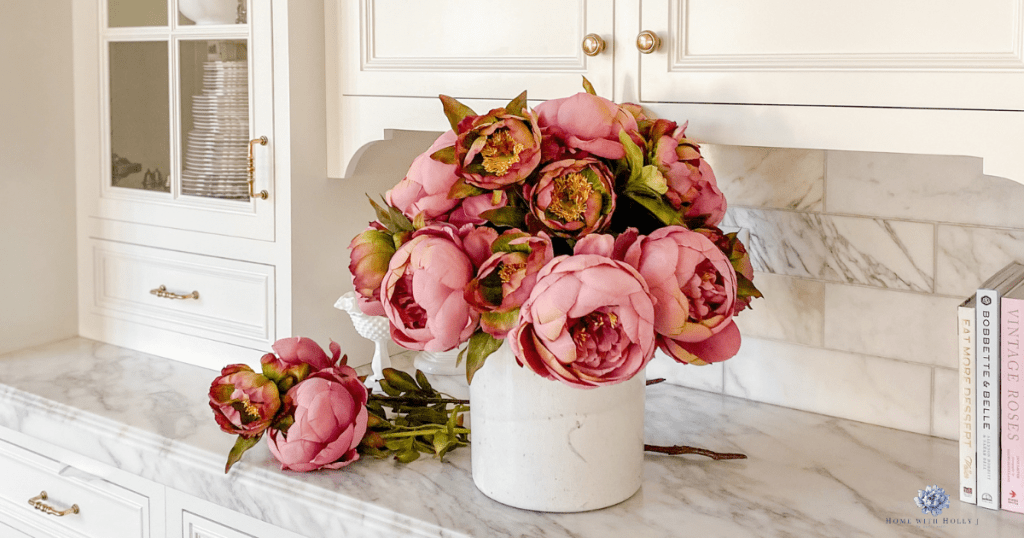 One of my favorite techniques is to use a grid.
There are many ways to do this and in this particular arrangement, I used a grid that came with another vase I bought years ago. It was the perfect size for the antique crock opening and I used floral tape to attach it to the crock.
The grid provides some support and a little structure for the flowers. In a wider mouthed jar, vase, or crock, as I've used here, this really comes in handy.

You can see how I made this Mauve Peony Flower Arrangement in this reel video I shared here on Instagram.
I used clear floral tape and placed a few pieces of tape across the top of the crock and then laid the metal floral grid on top of the tape and then taped that down so it wouldn't move.

I used a marble lazy susan to set the vase on and then I started arranging the flowers. This helps to see all sides of the arrangement. I learned this method years ago at a floral arranging workshop at my friend Dawn's All My Thyme Rose Farm.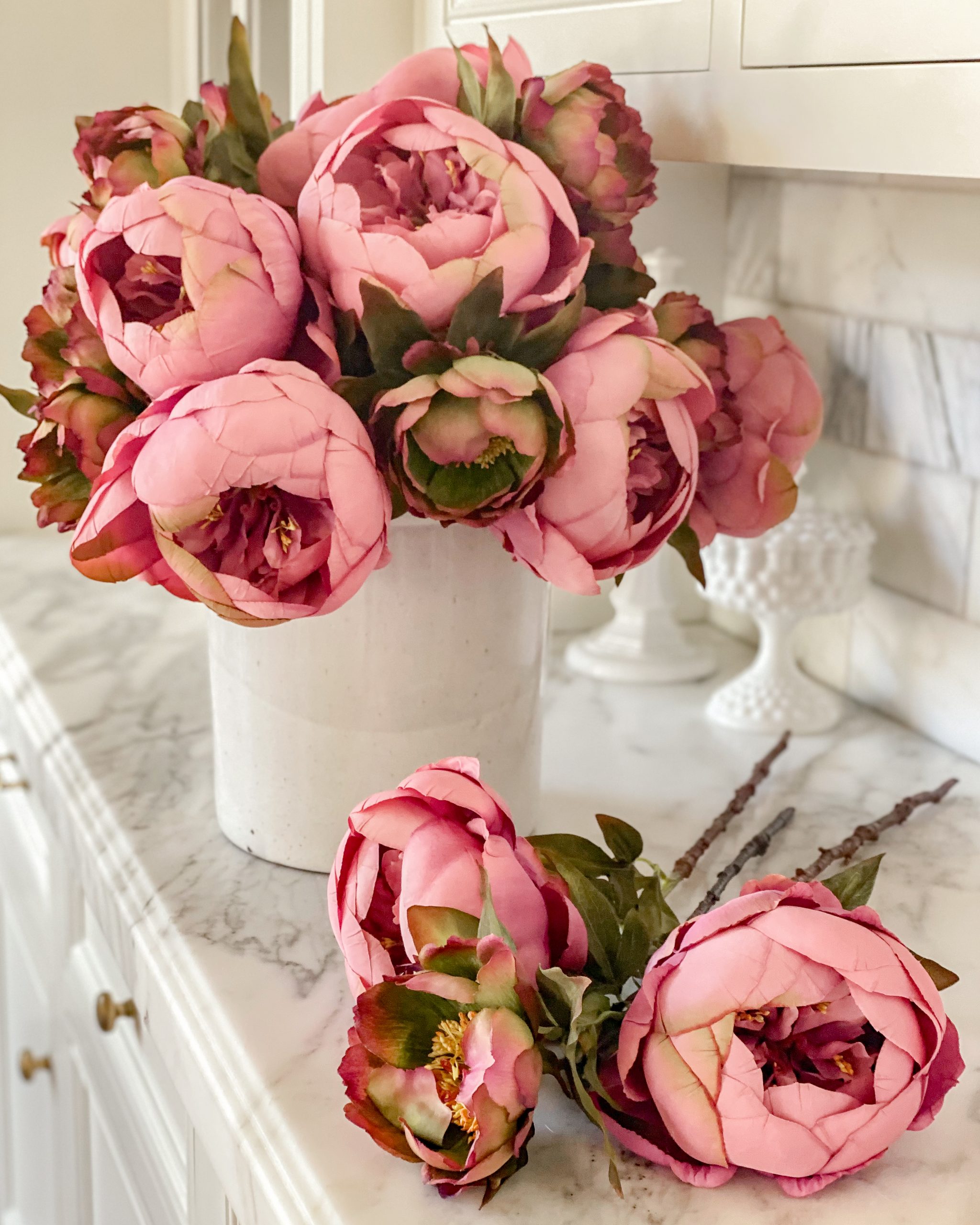 Start arranging your flowers.
Now that you have your tape grid or floral grid secure and a lazy susan, you can start arranging your flowers. I used two types of faux peonies. One was a dark mauve color and the other a similar color but with some contrast and a little smaller.

I love the simplicity of these colors and how they are similar but different.
I started adding a layer of the larger peonies then added in a layer of the smaller peonies. I used the the lazy susan to spin the vase around so I could see any holes or areas in the arrangement that looked sparse. I added both the large and small flowers in until it looked balanced and full. I was amazed at how many flowers I was able to fit into this crock!
I've shared as many of the sources as I could find in this next section but you can use any type of flower or color combo that you like. Just tap the photos of the individual sources to get to the link.
I hope you've enjoyed seeing how to create a faux or artificial peony flower arrangement!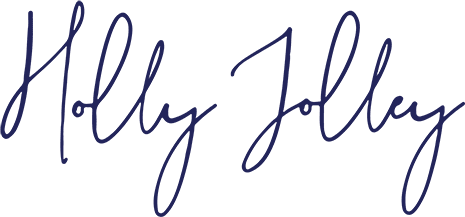 Shop the Look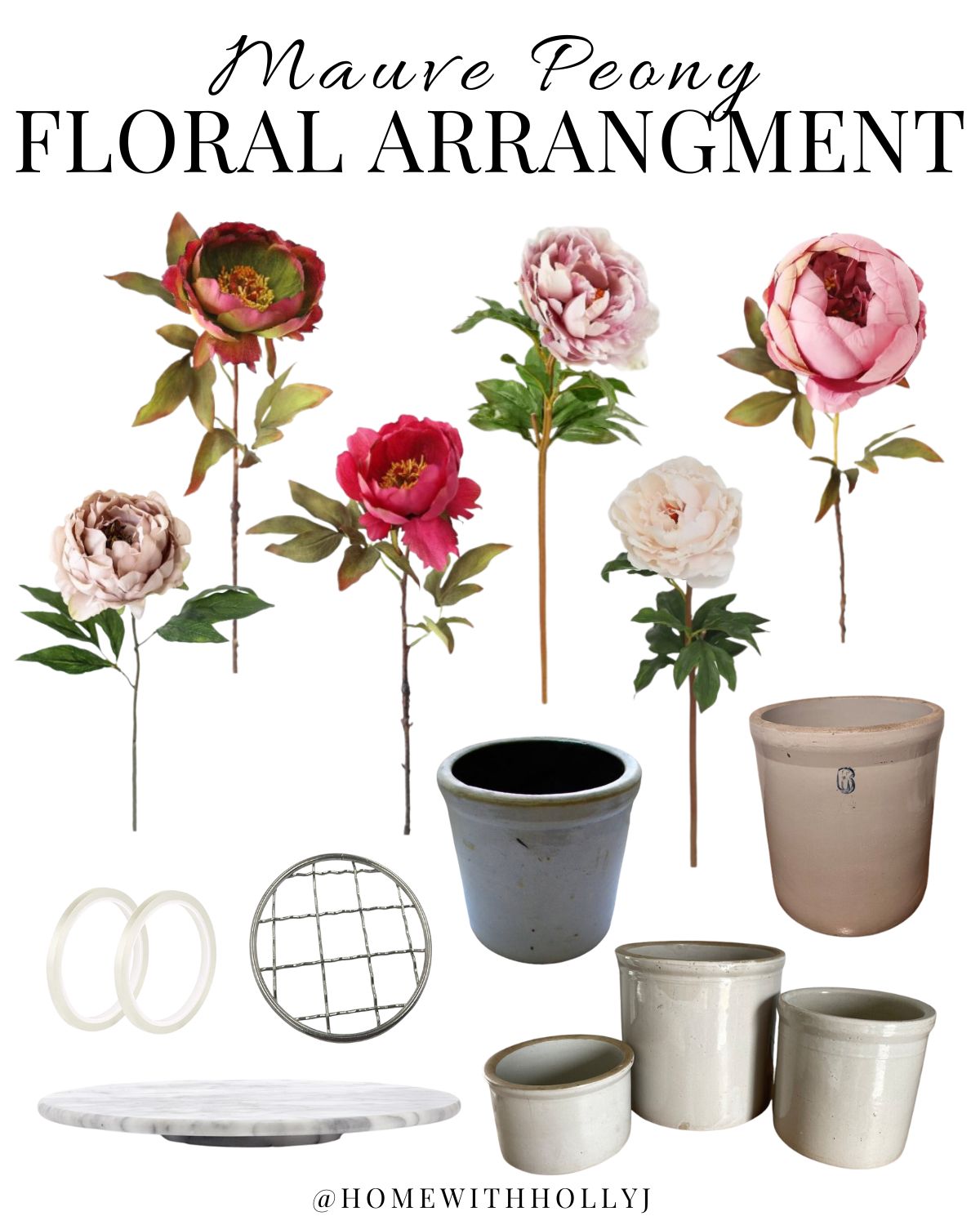 Here are some other flower arranging posts to check out!
Blue and Orange DIY Fall Centerpiece
Summer/Fall Sunflower Centerpiece
Blue and Yellow Summer/Fall DIY Floral Arrangement
Pin this Post for Later