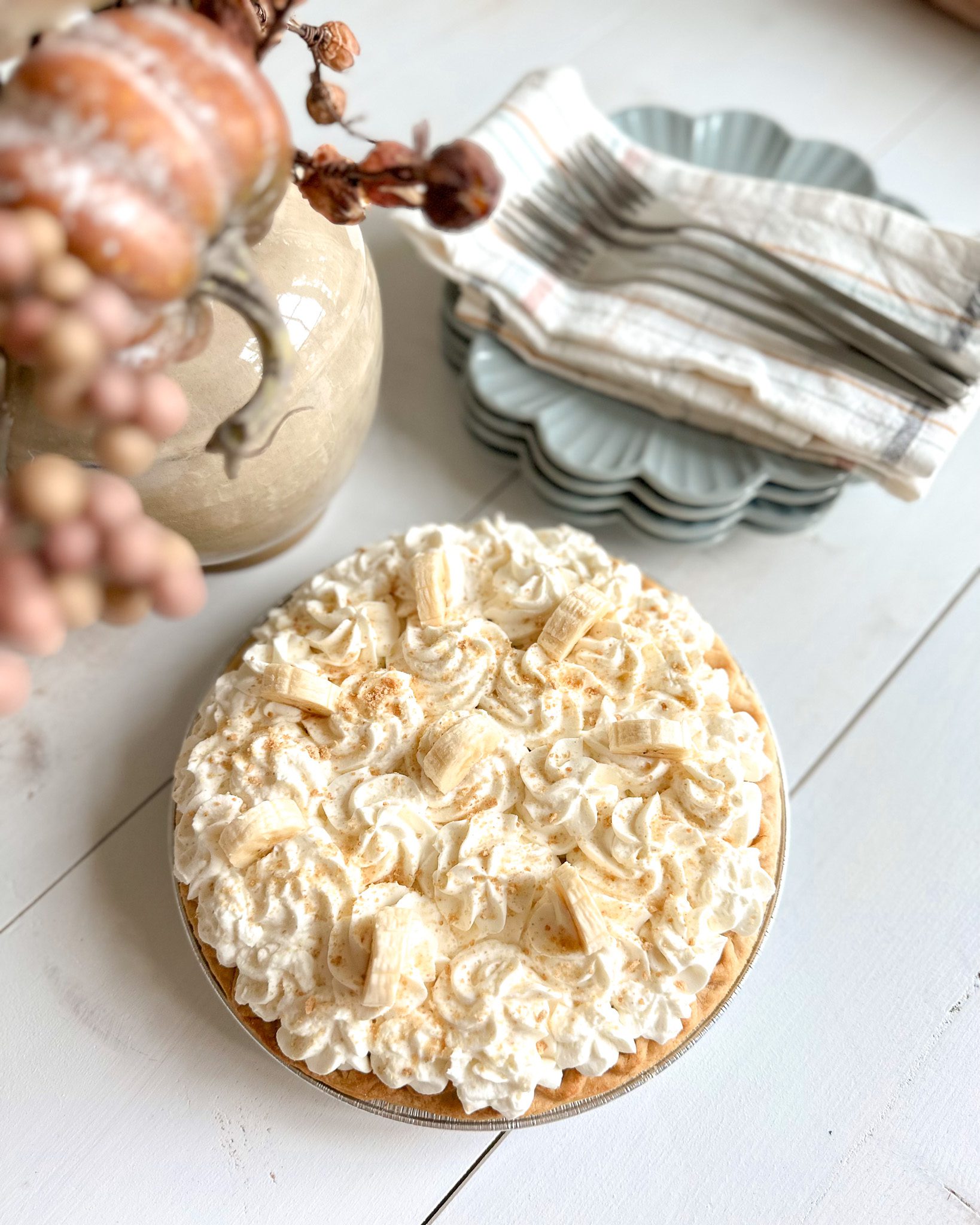 In today's post, learn how to make my homemade banana cream pie recipe. It's a family favorite and so easy to make.

It's almost Thanksgiving and time to share one of my favorite pie recipes! This homemade banana cream pie recipe is a family favorite and it's so easy to make. There is nothing better than a homemade pie during the holidays or any time of year.
The pie filling is your basic homemade vanilla pudding that is so much better than the store bought instant pudding mix.
You can also use store bought pie crust like I did here or you can make homemade pie crust too. I prefer homemade but if you don't have a lot of time, frozen or refrigerator pie crusts work great too.
The pie filling is easy to make and all you have to do is add in some bananas and top with homemade whipped cream and you have a yummy pie
Here's my homemade pie crust recipe if you want to try making your own pie crust.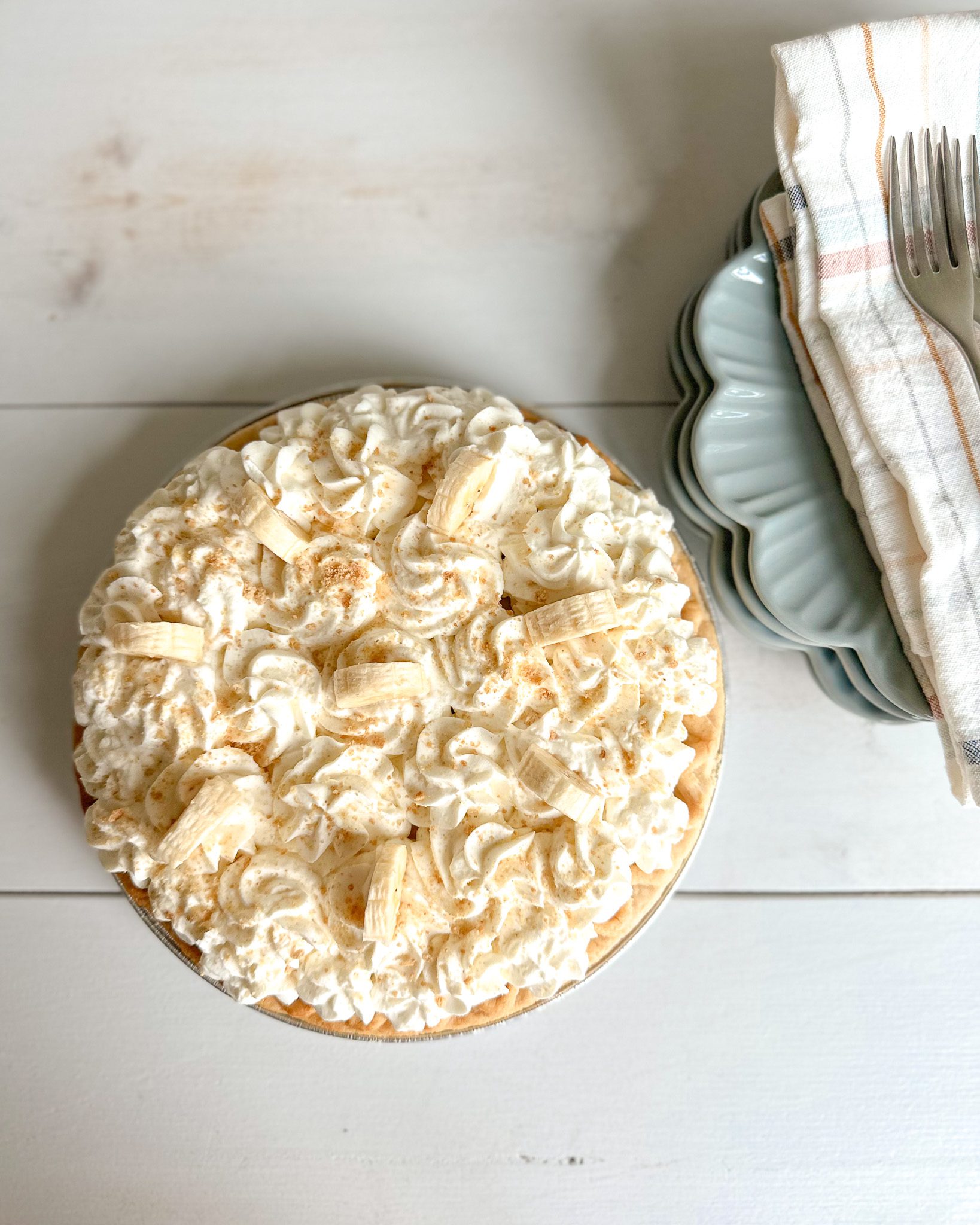 Use Quality Ingredients
It's important to use real dairy products that are high quality. One of my favorite brands is Darigold. I also use pasture raised, organic eggs. The yolks are so much darker and add a little extra color to your pudding than regular eggs and, they are better for you!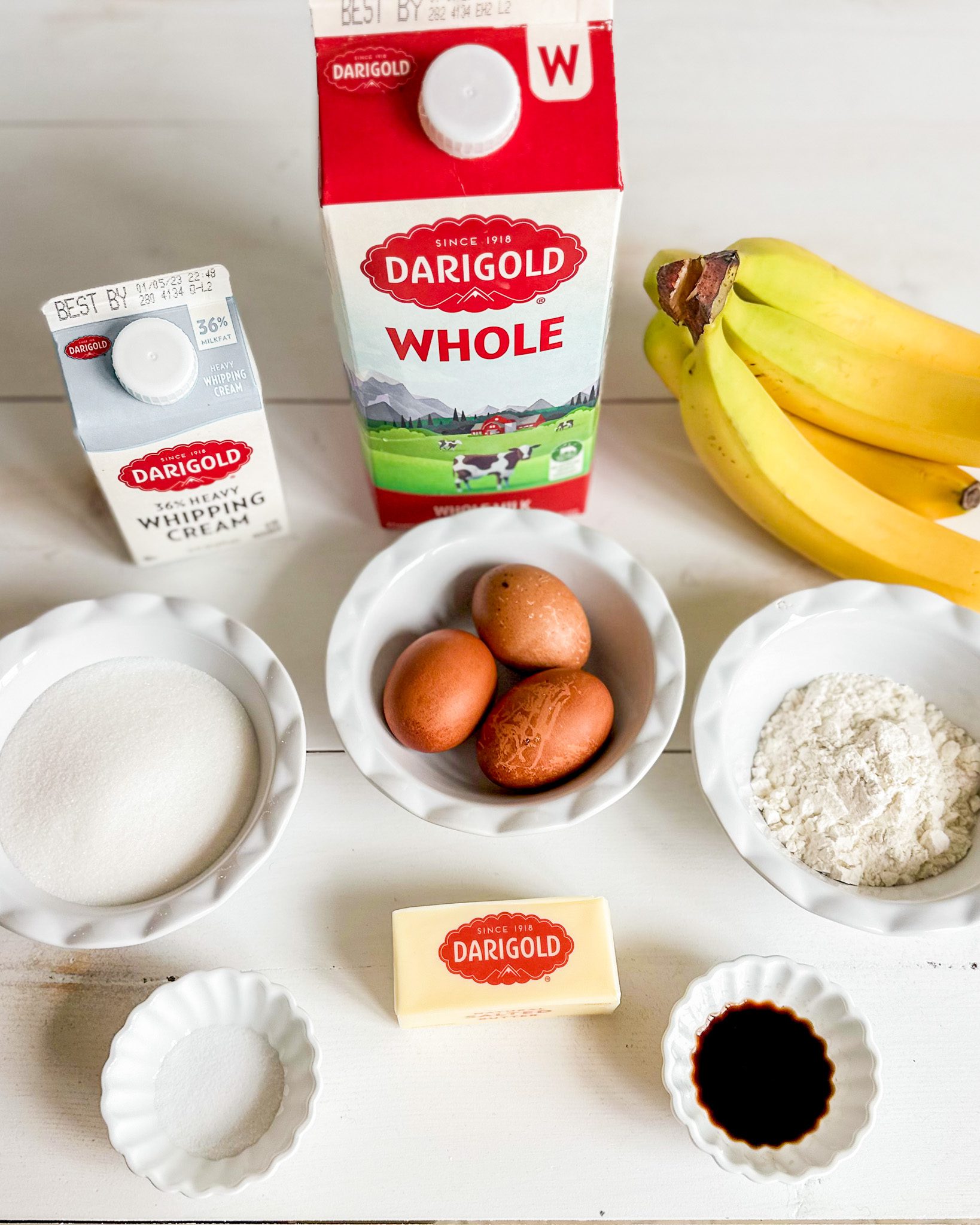 You're going to temper the eggs when you make the filling. If you add the eggs directly to the hot liquid when making the pudding, you will have scrambled eggs! This step is very important.
To temper eggs, whisk a little of the hot pudding mixture into the egg yolks in a separate bowl. It's important to whisk constantly and vigorously as the hot ingredient is added. By keeping the eggs moving constantly, you raise the temperature of the eggs gradually, keeping them from cooking.
You can see more of how to make this pie on my Instagram reel post here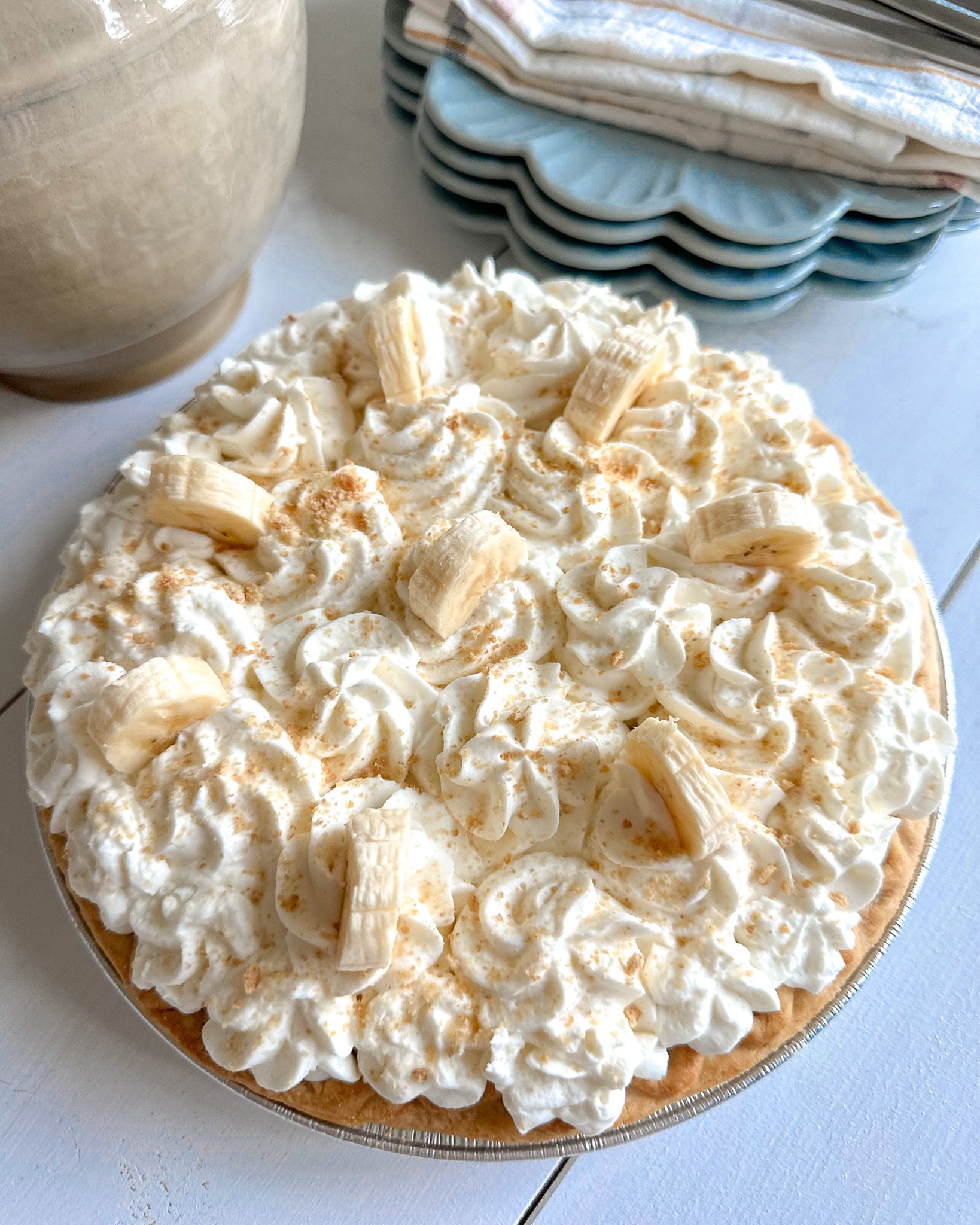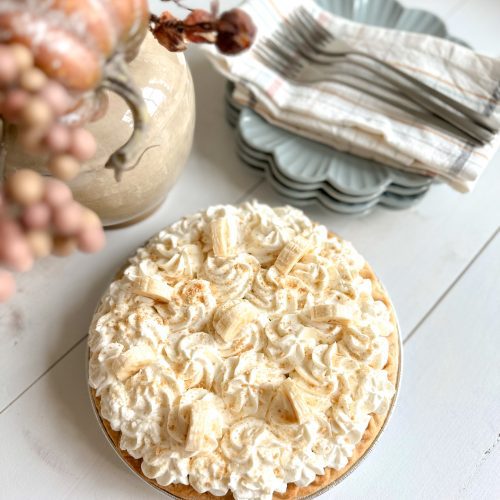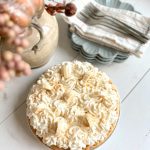 Homemade Banana Cream Pie Recipe
I'm sharing my favorite homemade banana cream pie recipe. It's made with real pudding and tastes amazing! This is the perfect banana cream pie recipe for the holiday season or any time of year.
Ingredients
3

ripe bananas

1/3

cup

white flour

3

egg yolks

¼

tsp

salt

¾

cup

white sugar

2

tbps

butter

1

tsp

vanilla

3

cups

whole milk

9"

pie crust (baked)
Instructions
Bake a 9" pie shell and have it cooled and ready.

In a medium sauce pan, scald the milk.

In another large sauce pan, combine the sugar, flour, and salt and stir with a whisk with no heat. Then add the scalded milk and whisk until well combined.

Cook the filling mixture over medium heat, stirring constantly until thickened. I use a whisk and a spatula to make sure nothings is sticking on the bottom of the pan. You do not want to scald the filling as it's thickening up.

Once it's thickened, turn the heat down to medium low and cook for two more minutes, stirring continuously.

In a small bowl separate the three egg yolks and slightly beat them. Whisk in a small amount of the hot pudding mixture into the bowl (about one cup) with the egg yolks. (This is called tempering, see Holly's Helpful Hints below for more details).

When tempered egg mixture is well combined, pour back into the sauce pan with the hot pudding mixture and stir. Cook for one minute longer.

Remove from heat and add in the butter and vanilla.

When pudding mixture has cooled off to lukewarm, slice the bananas into the bottom of the pie shell. Pour pie filling mixture into pie and cover the bananas. Put pie into the refrigerator.

I like to top mine with whipped cream. You can do this step when the pie is done and put in the refrigerator or you can whip the cream and add it to the top of the pie later or before serving. I piped my whipped cream onto the pie with a piping bag but you can also dollop the whipped cream onto the pie and spread it out.

Just before serving, I will add some bananas to the top and if desired, you can add some graham cracker crumbs to the top of the whipped cream.
When the cream comes together and has stiff peaks, it's done. If you want to make your whipped cream extra white, add one tiny drop of blue food coloring. That will make the cream whiter (the vanilla tends to make it a little less white).
I used a piping bag and added little dollops onto the pie but you can spread it onto the pie as well or just have the whipped cream in a bowl and let everyone add their own!
You can make it a day ahead and keep in the refrigerator or make the day of as it sets up quickly.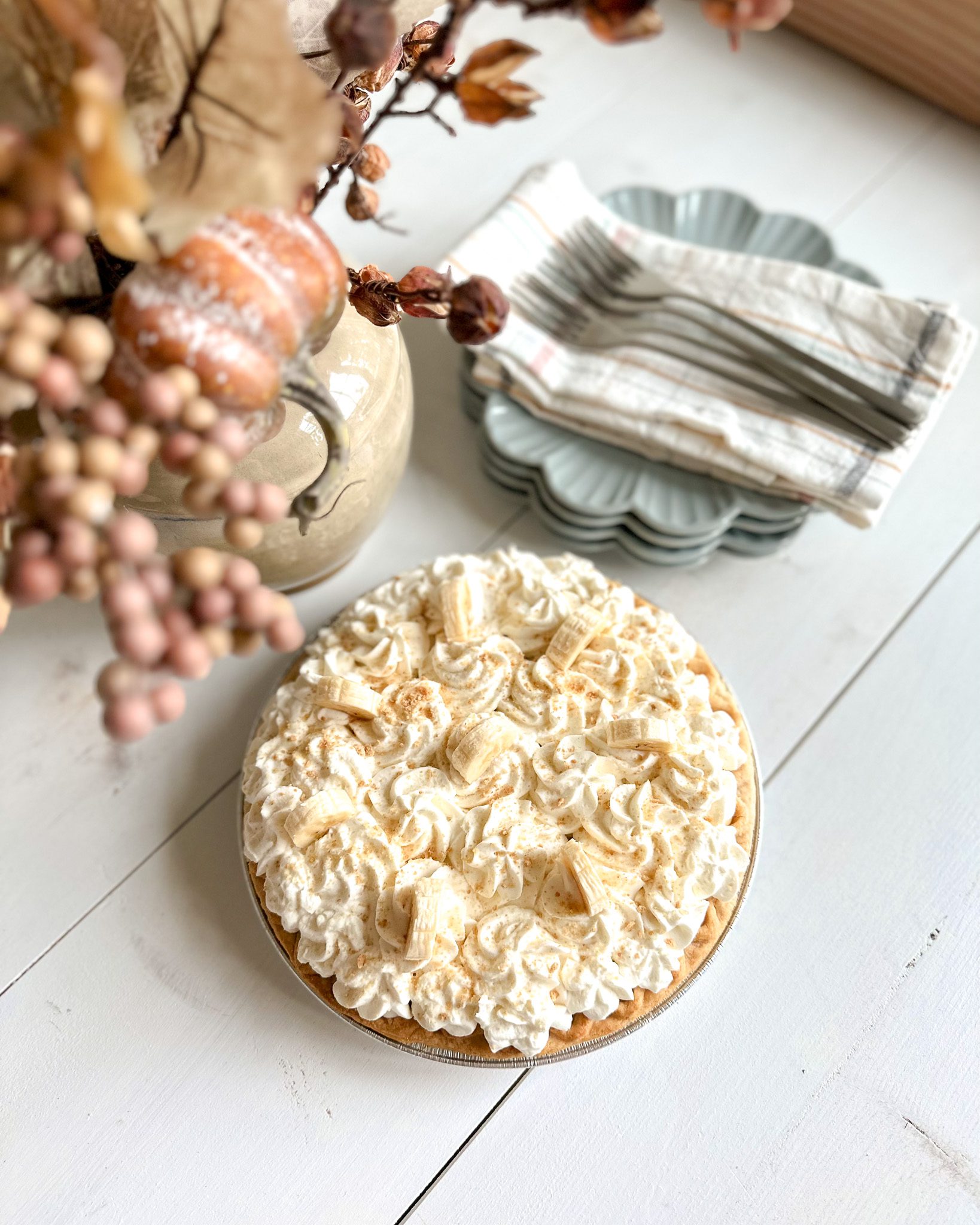 I hope you give my homemade banana cream pie recipe a try! It's a crowd pleaser and so yummy. You can make it a day ahead and keep in the refrigerator or make the day of as it sets up quickly.
Thanks so much for stopping by! Be sure the subscribe to my blog so you never miss a post or you can follow along with me on Instagram, Facebook, or Pinterest!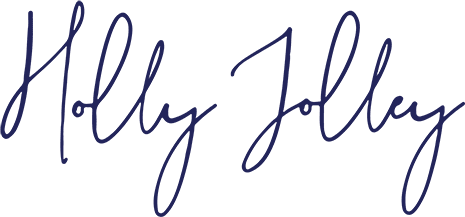 Pin this for later: