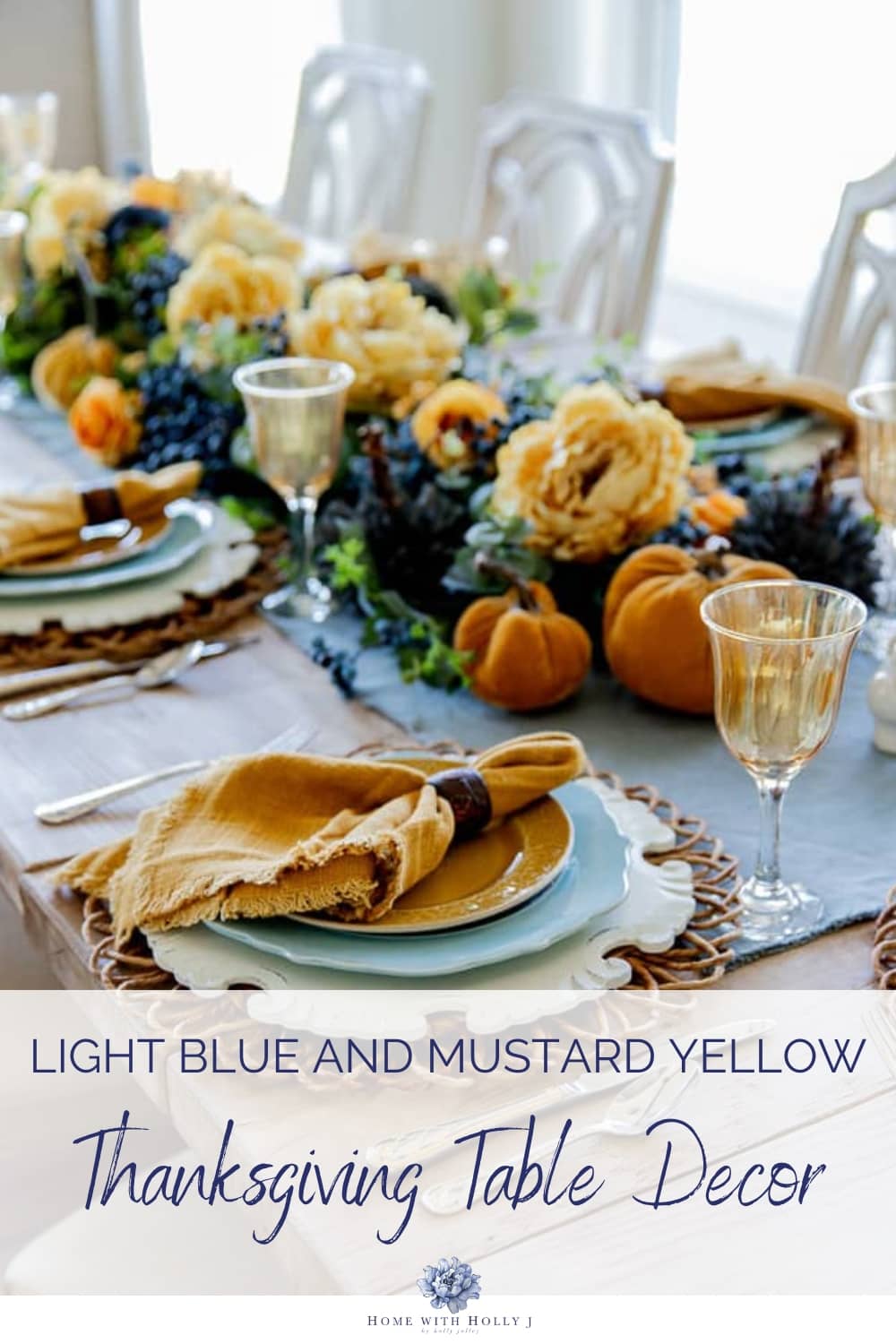 Looking for thanksgiving table decor that is both elegant and festive? Get inspired by my light blue and mustard yellow tablescape in today's post.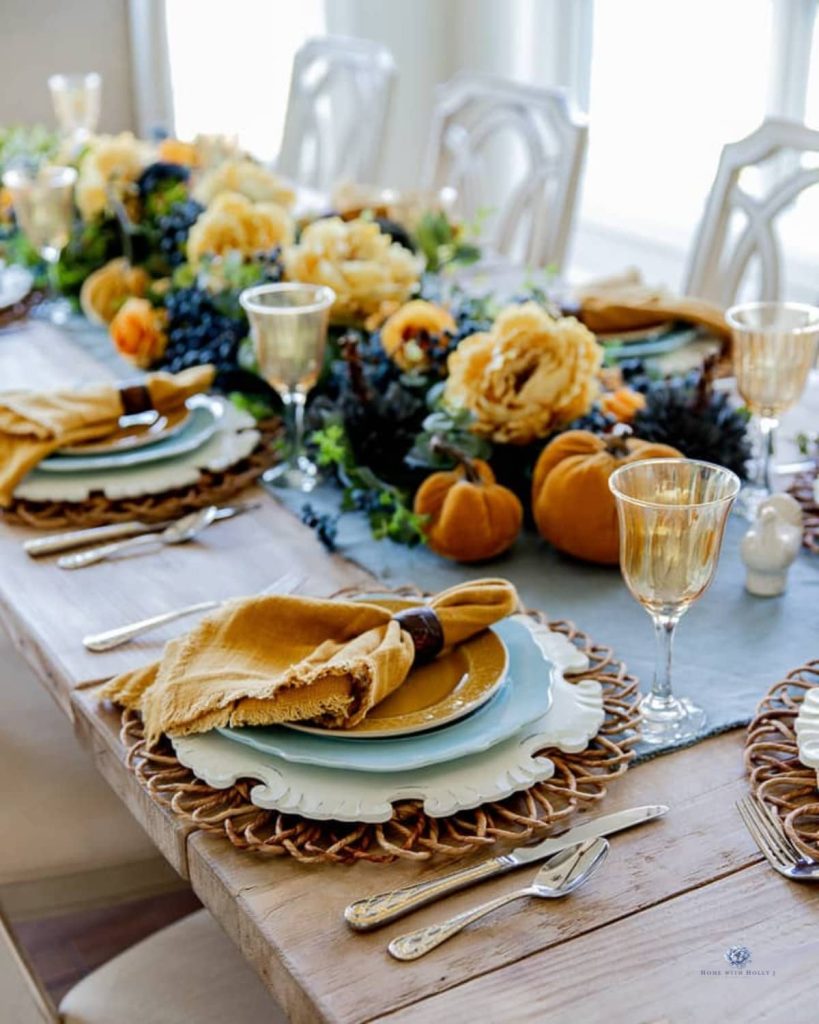 Table of contents
From the table runner to the place settings to the easy thanksgiving centerpiece, this thanksgiving day bring classic elegance to your dining table. With these tips to spark your creative idea this holiday season and create a festive feel for your thanksgiving meal.
The Thanksgiving Table Setting Plan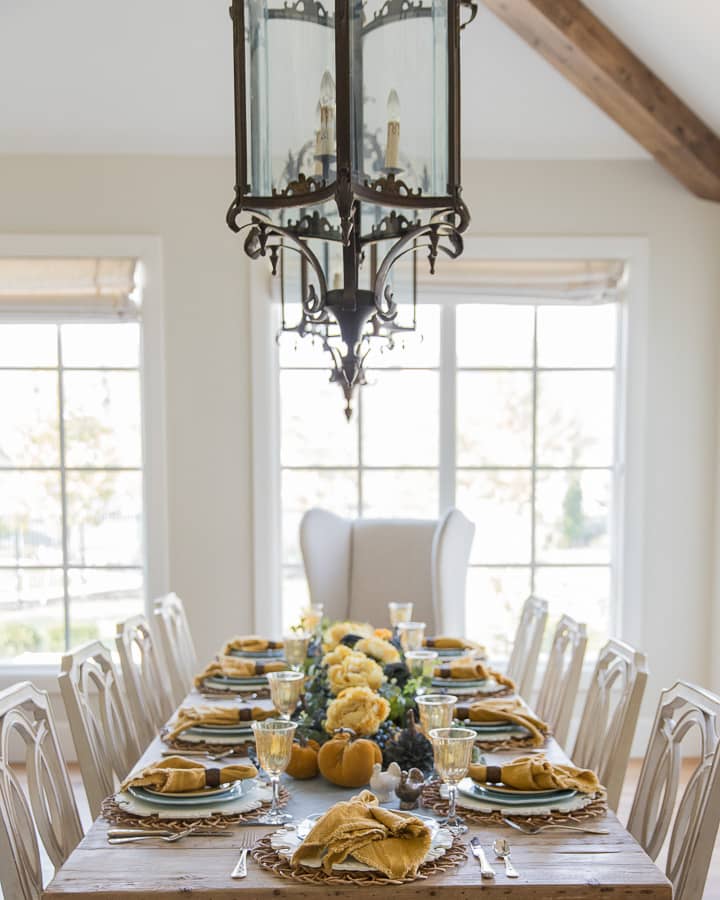 To make the most of your thanksgiving table decorations, start by considering your focal point. Then move on to the small details.
In a formal table, consider bringing in natural elements with eye-catching centerpieces.
Once you decide on what you'll do for the center of your table, consider how to incorporate your color scheme in a simple way for the rest of the table.
You could use earthy tones or white dishes or get creative with your holiday table decor and incorporate a new take on traditional thanksgiving colors like I did with my light blue and yellow mustard theme.
Using different color schemes for your fall tables will make this special occasion a great time for all to gather around.
The Centerpiece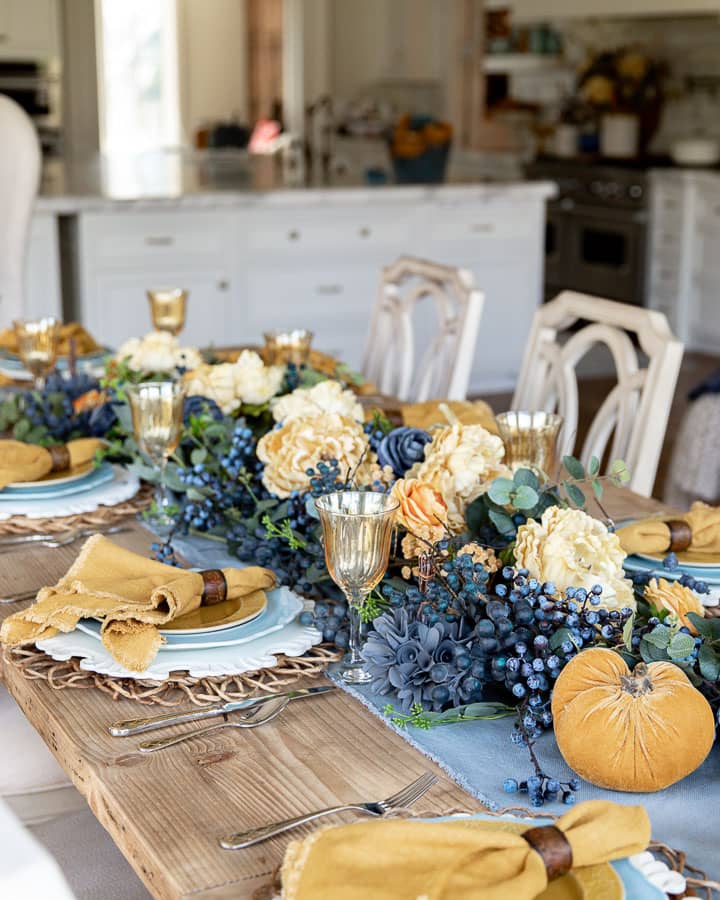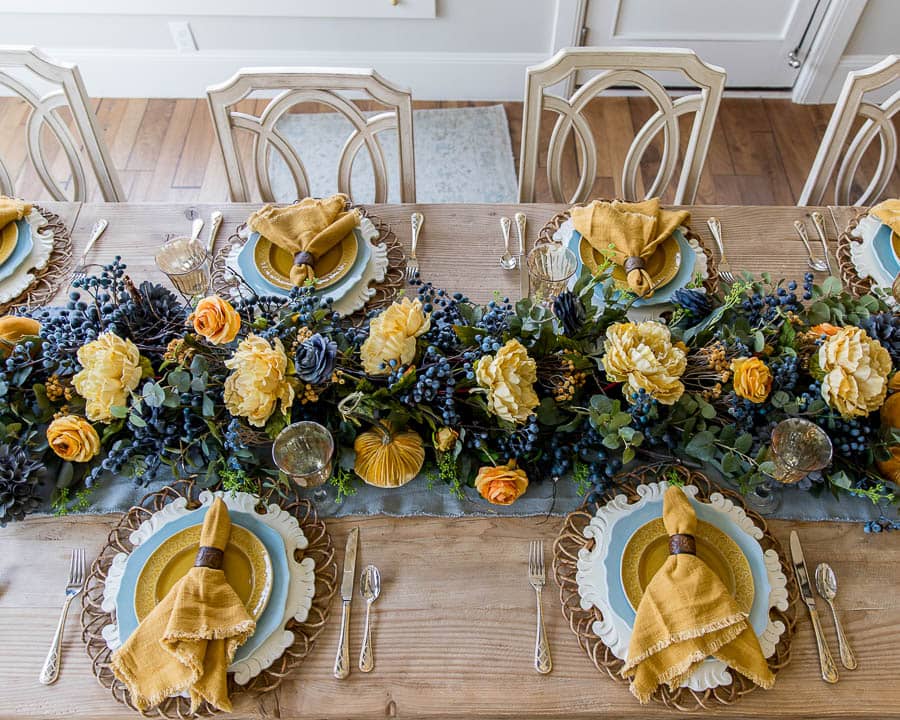 For your thanksgiving dinner table, bring in some fresh flowers or faux ones from the craft store and add a floral centerpiece to your dining room table.
Creating visual interest by mixing fall foliage and pine cones at the center of the table. For an easy diy thanksgiving centerpiece, start with light blue woven table linens for your runner.
Then I layered faux fall greenery garland then added in blueberry stems, mustard yellow peonies and ranunculus with blue wooden mini pumpkins that look like a pumpkin pinecone.
Mustard Yellow Peonies are from Hobby Lobby + Here + Here
The Place Settings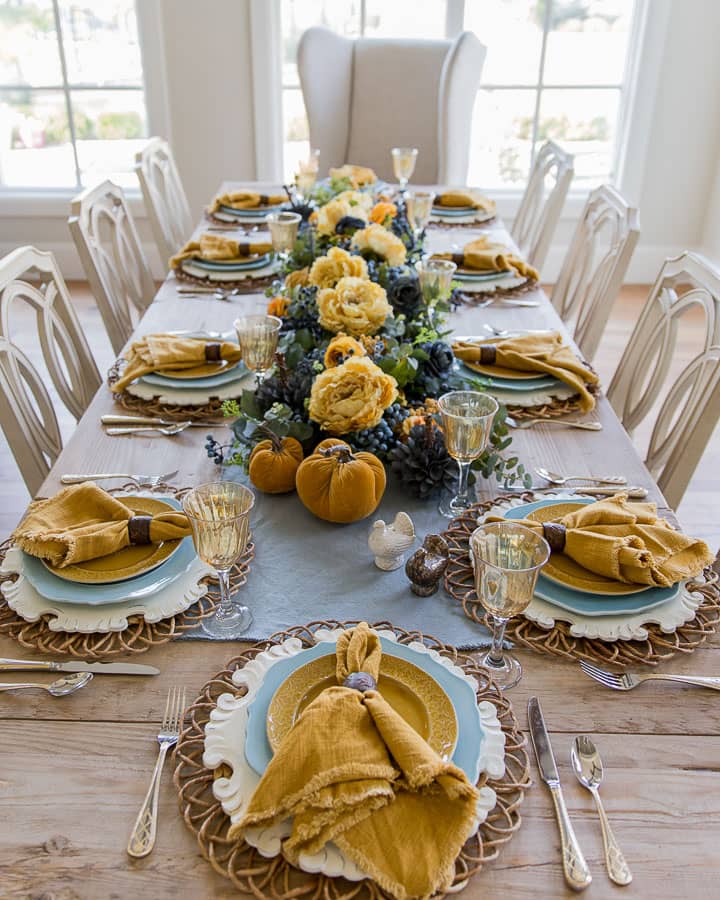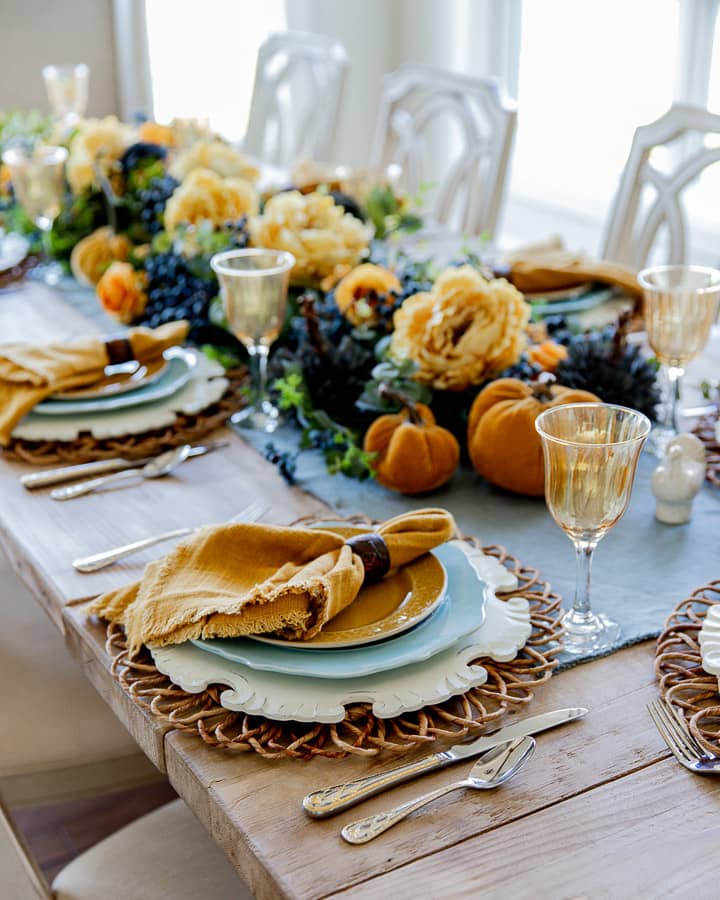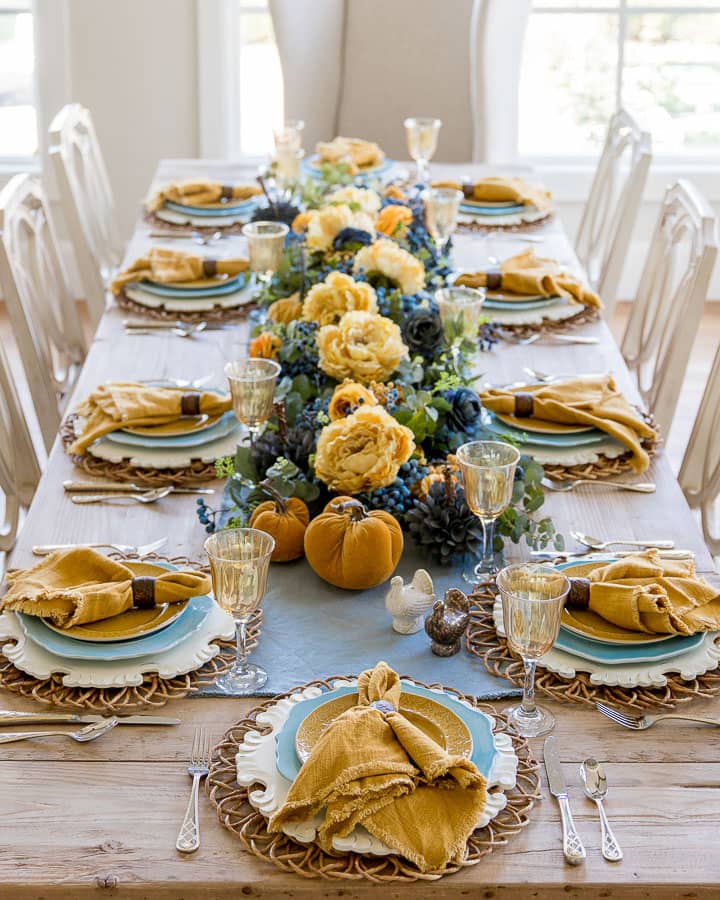 This elegant thanksgiving table setting brings a new take on fall colors with the light blue and mustard yellow color scheme.
To create your own beautiful setting, choose the color for your dinner plate and any other plates you need for your thanksgiving menu.
I used mustard yellow cloth napkins and a wooden napkin ring in this beautiful place setting. I also used a wood charger and rattan place mats to achieve this beautiful thanksgiving tablescape.

Adding Personal Style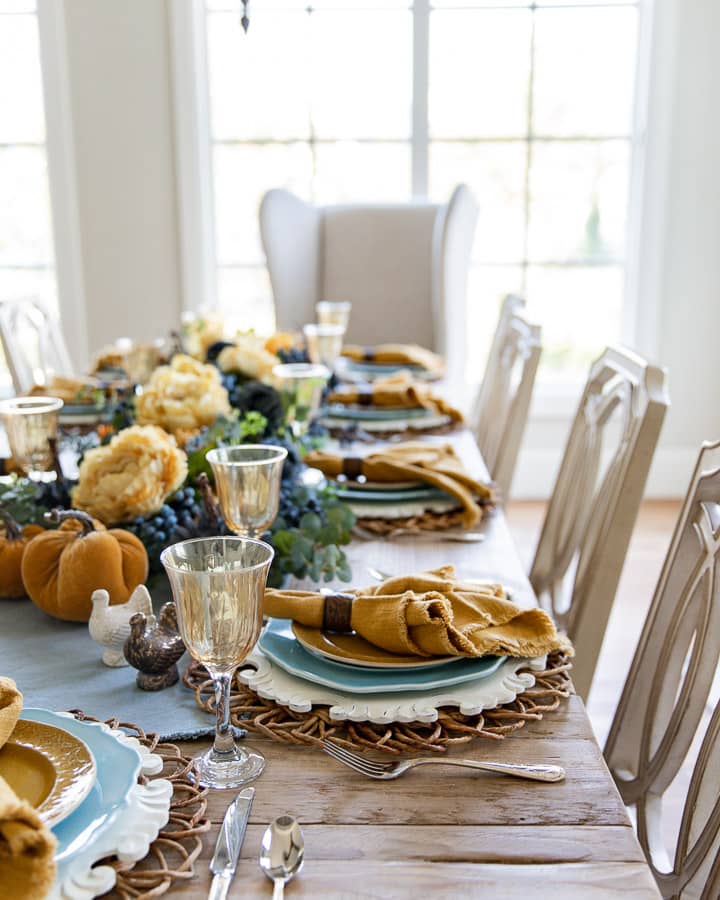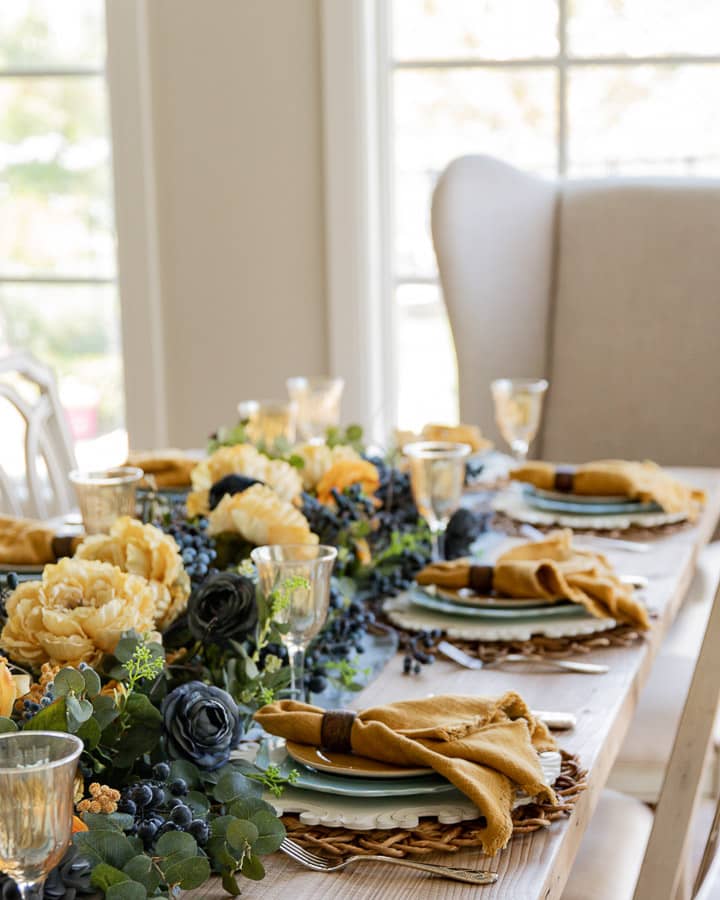 Last but not least, add some style with your own place cards, turkey salt and pepper shakers and gold stemware.
Now all that's left is to head to the grocery store to grab your pumpkin pie and all the other delicious food for the perfect thanksgiving meal.
Are you ready to create your perfect thanksgiving table decorations? Can't wait!
Thanks much for stopping by! Be sure to subscribe so you never miss a post! Sources are linked throughout the post and below. Just tap on the photos!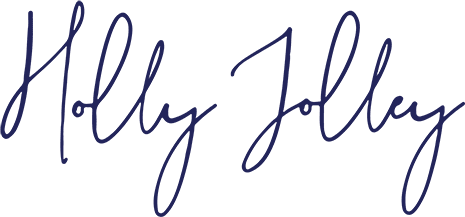 Disclaimer: This post does include affiliate links for your convenience. This is at NO additional cost to you but earns me a small commission. To read more, check out our disclosure policy.
Shop the Look
(Mustard colored flowers not linked below are linked above)

Pin this Post for Later