Home with Holly J's Home Decorated for Christmas
It's hard to believe that Christmas is almost here! My talented friends and I have been busy decking out our homes for the holidays, sharing recipes, and creating beautiful tablescapes to host our friends and family. We all love entertaining and hosting parties so we've put together another blog post for our "Holiday Hosting at Home" series. Today we are sharing what we've been doing over the past few weeks including some creative ideas for Christmas decor and tables. I also share a lasagna recipe that is a family favorite and great any time of the year.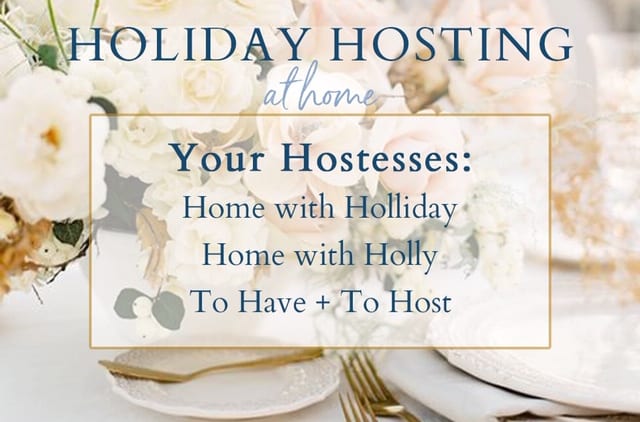 Here is what my friends have been sharing of their Christmas Table Settings and Christmas home decor for entertaining in your home for the season. If you would like to pin any of these images, please go to the original post linked below each image. You'll want to see their entire posts anyway because there is so much inspiration in each of these posts. I'm so inspired by their beautiful creations. We all love to create beautiful table settings and these different tablescapes we've created will hopefully inspire you to create your own festive holiday table!
Home with Holliday
Holliday created this beautiful Winter White Snowflake Christmas Table Setting for her neighborhood progressive dinner. She created a beautiful centerpiece out of fresh greens and added in hurricanes, silver sprays, winter white ornaments, and glittered white trees. Click here to see all the details. There's so much more to see in her post. I really love this table Holliday created and I think you'll love it too!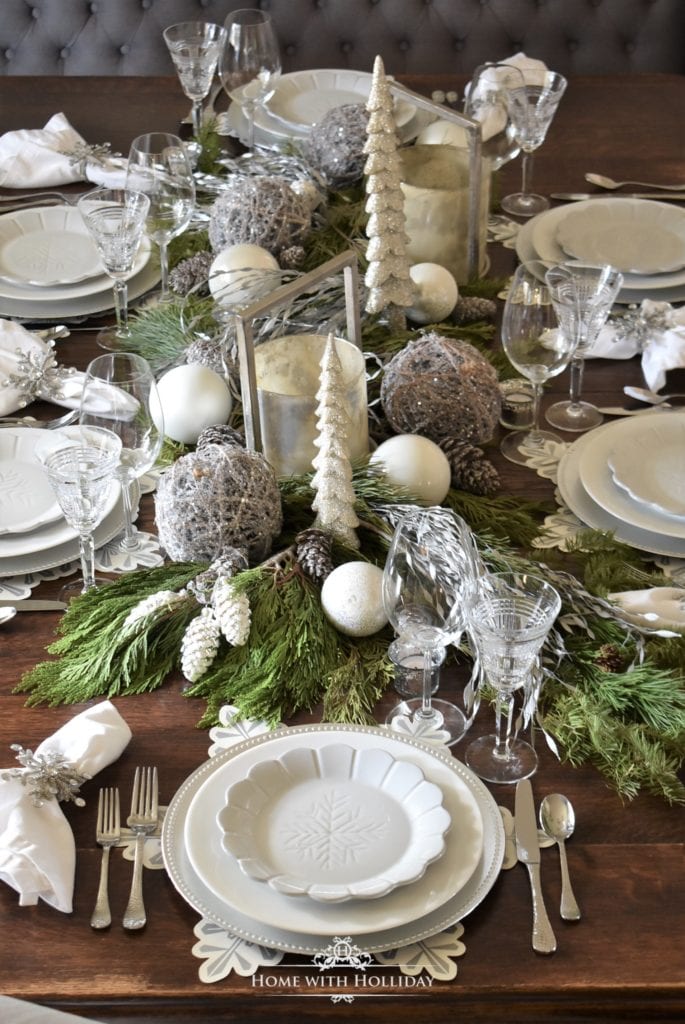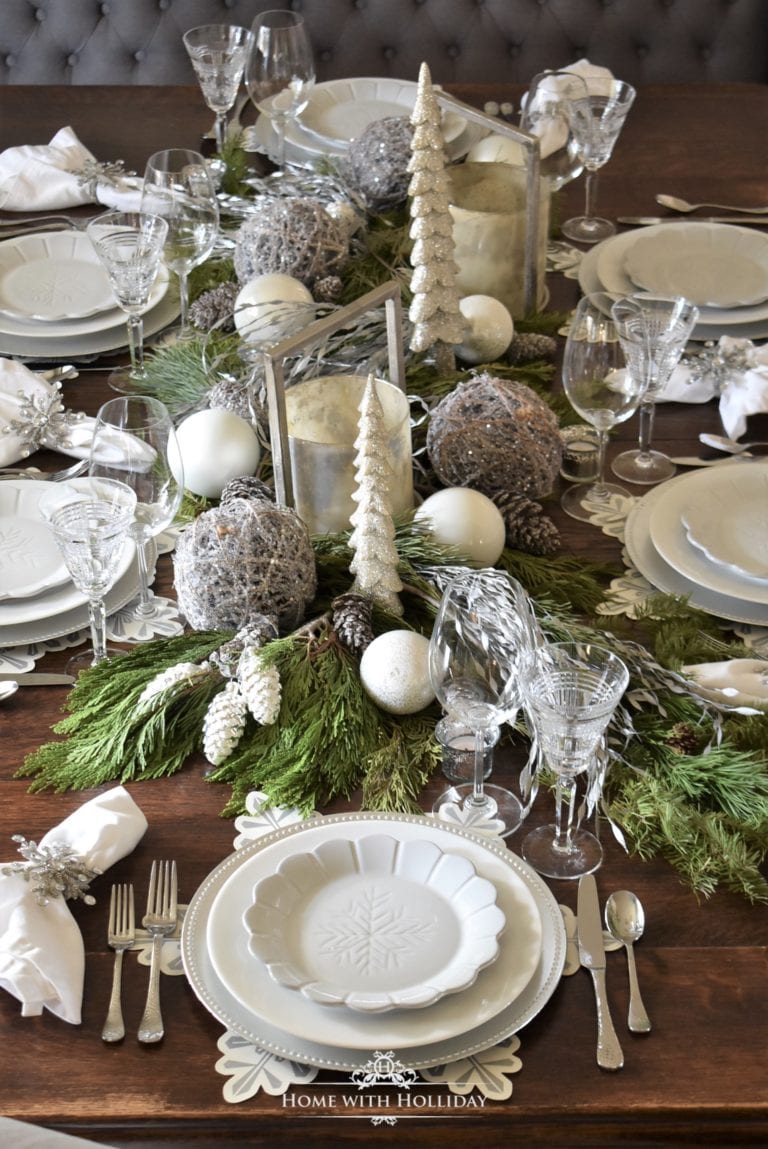 Next, Holliday created this second tablescape for another holiday party she was hosting and continued with the same snowflake-theme but mixed it up to coordinate with the mixed metallic color palette. This table setting is just as beautiful as the first one and I really like how she adds gold into the mix. Click here to see how Holliday created this festive holiday table. It's truly stunning!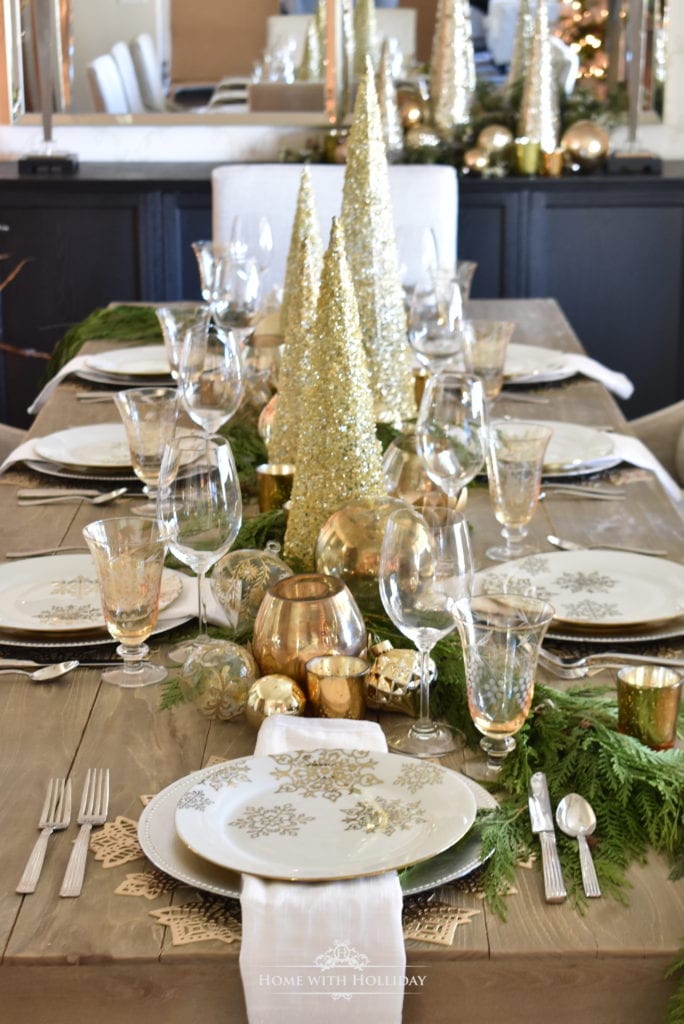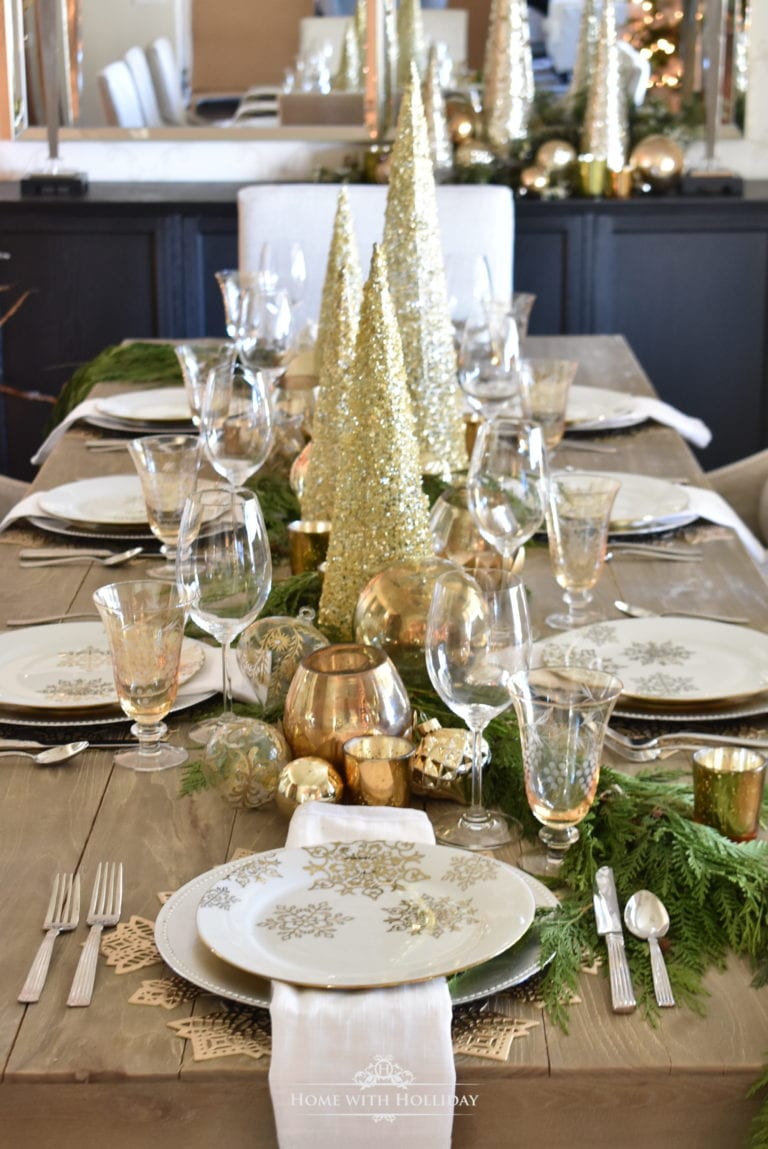 To Have to Host
Lory created two different holiday tables. The first was for her husbands office party. She shares how there is something appealing about the way people in Scandinavia decorate for the holidays. Her Nordic Christmas Table is elegantly minimalist, yet still festive. I am part Danish and Swedish so this table really speaks to me. She used fresh greenery, twigs, branches, and antler candlesticks for the centerpiece. She finishes it off with some silver mercury glass votive candles. This modern Scandinavian tablescape creates a nordic Christmas to remember. Click here for all the details.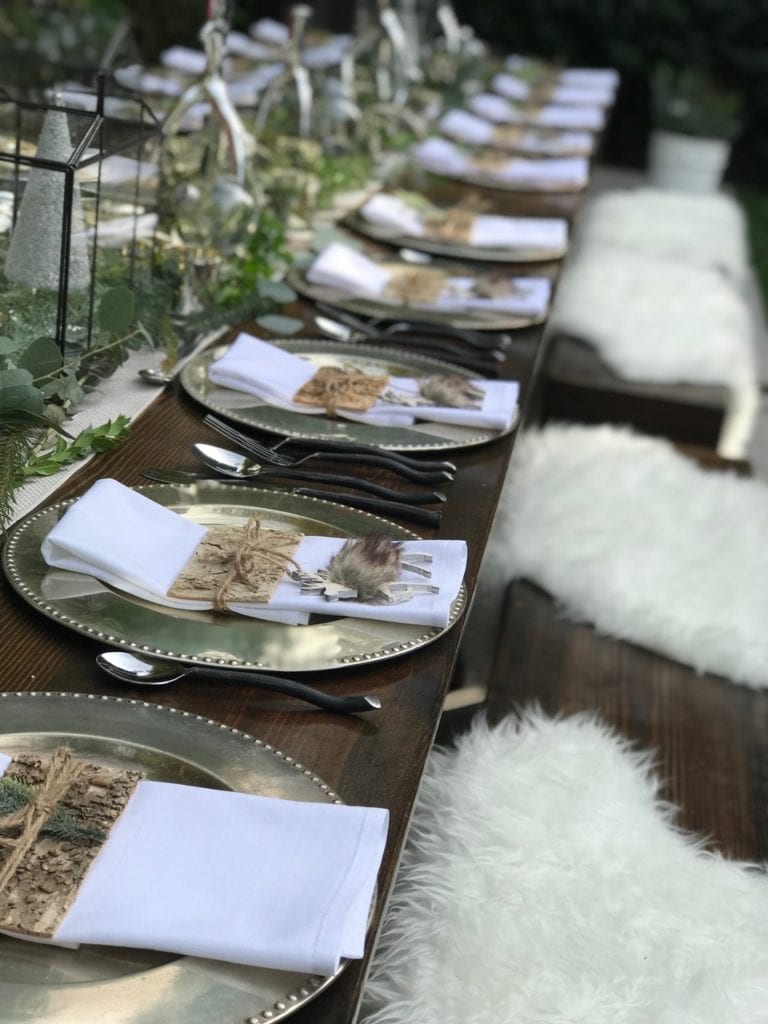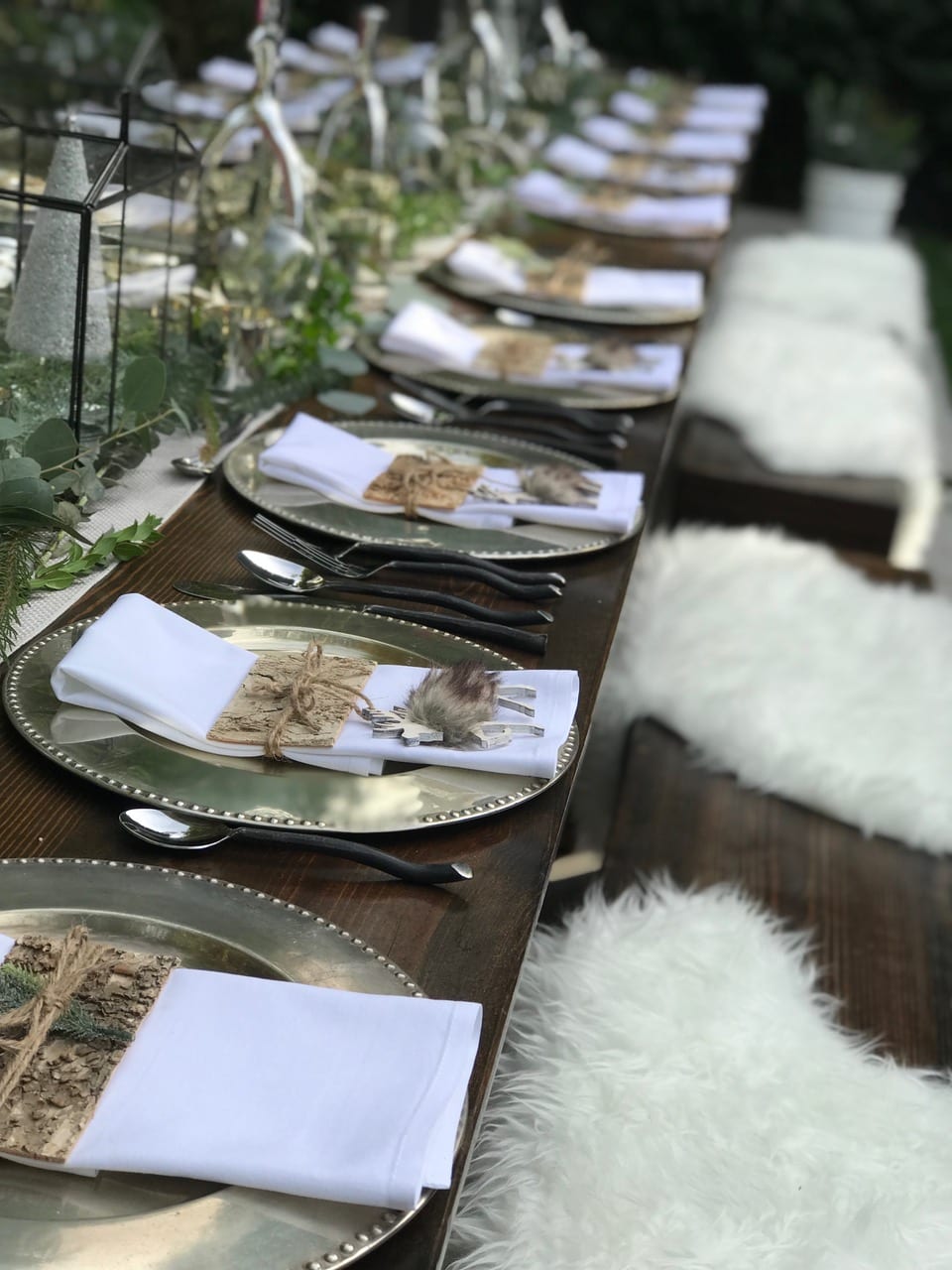 Next, Lory shares her White Winter Wonderland Bruch table that she created for a family gathering. She kept the decor neutral with lots of white and green making this a great tablescape of all season long. I am a big fan of creating something that can be used for an entire season. Lory is fortunate to live in Arizona where she can entertain outdoors all winter long. I love how she uses fresh greens, giant sugar pinecones, and white dinnerware. It's perfect mix of colors and textures. Click here to see the details of how Lory created this beautiful, elegant table.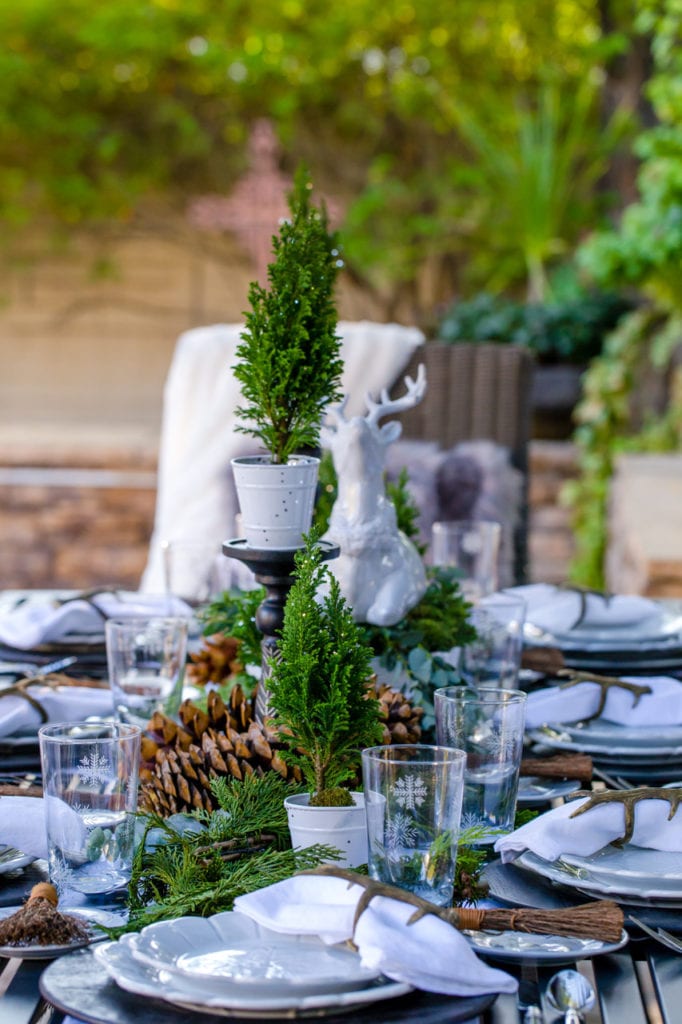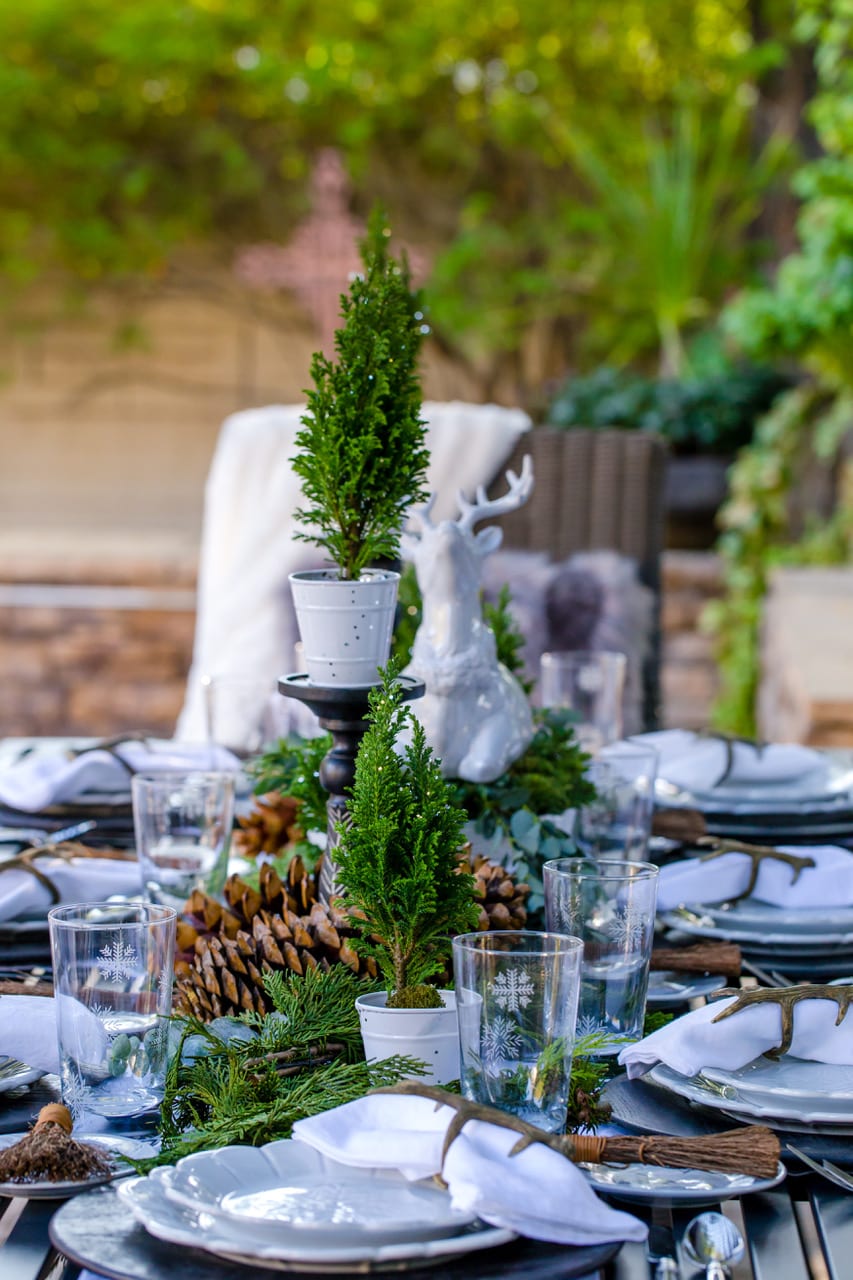 Home with Holly J
This past week I shared my Christmas Home Tour and how I decked out my Highland, Utah home for the holidays. I hosted a few parties including a progressive dinner and my first annual cookie exchange. See the details of both my indoor and outdoor decorations and my winter tablescape. My favorite addition this year was the outdoor obelisks that I placed inside my flower pots and filled them with pines cones and fresh greenery and attached a fresh wreath and ribbon to the top. Click here for all the details!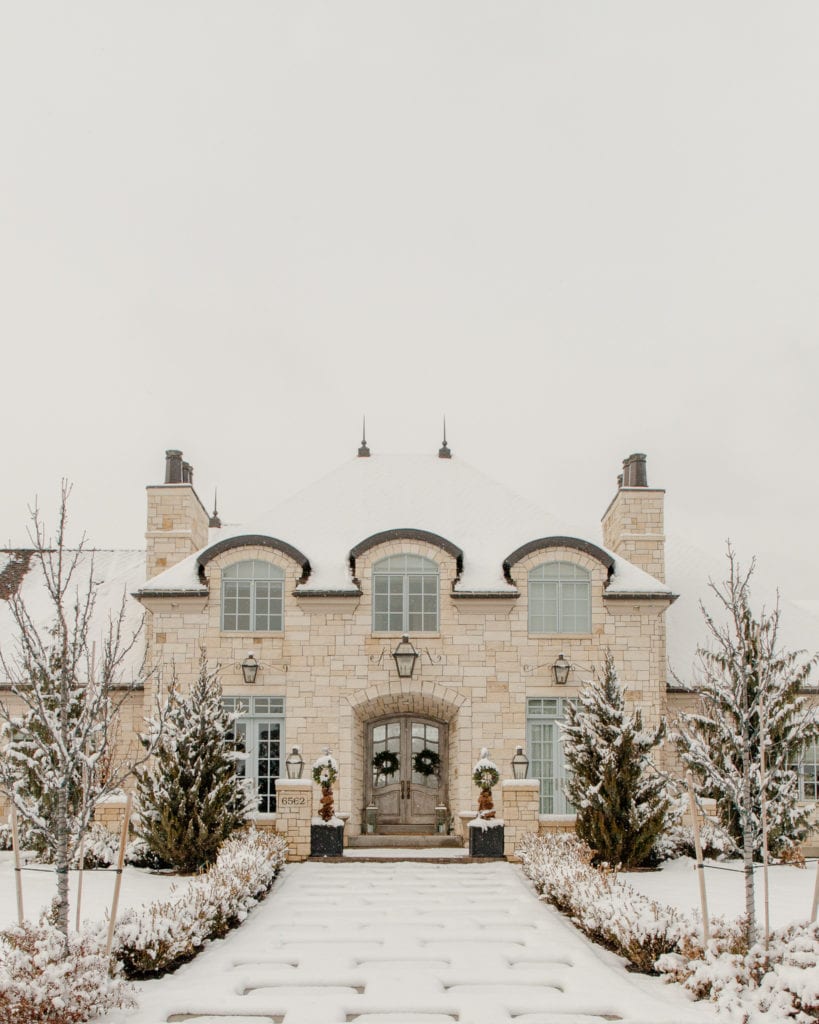 Next I shared one of my families favorite recipes. My homemade Lasagna made with an authentic italian bolognese sauce. This recipe is great anytime of year! Click here for this amazing recipe that will please any crowd. This recipe is great for entertaining a large group because it makes a large amount. Add in my simple tomato and cucumber salad and some french bread and you'll have an easy meal for any gathering. Click here for the recipe and details. (Tomato and Cucumber Salad recipe)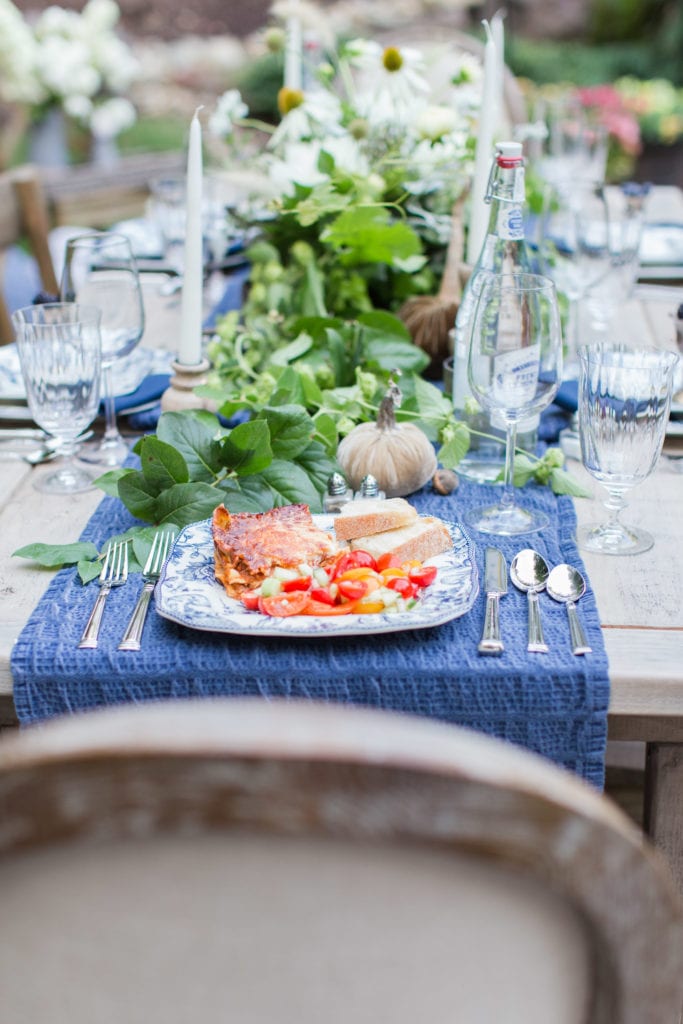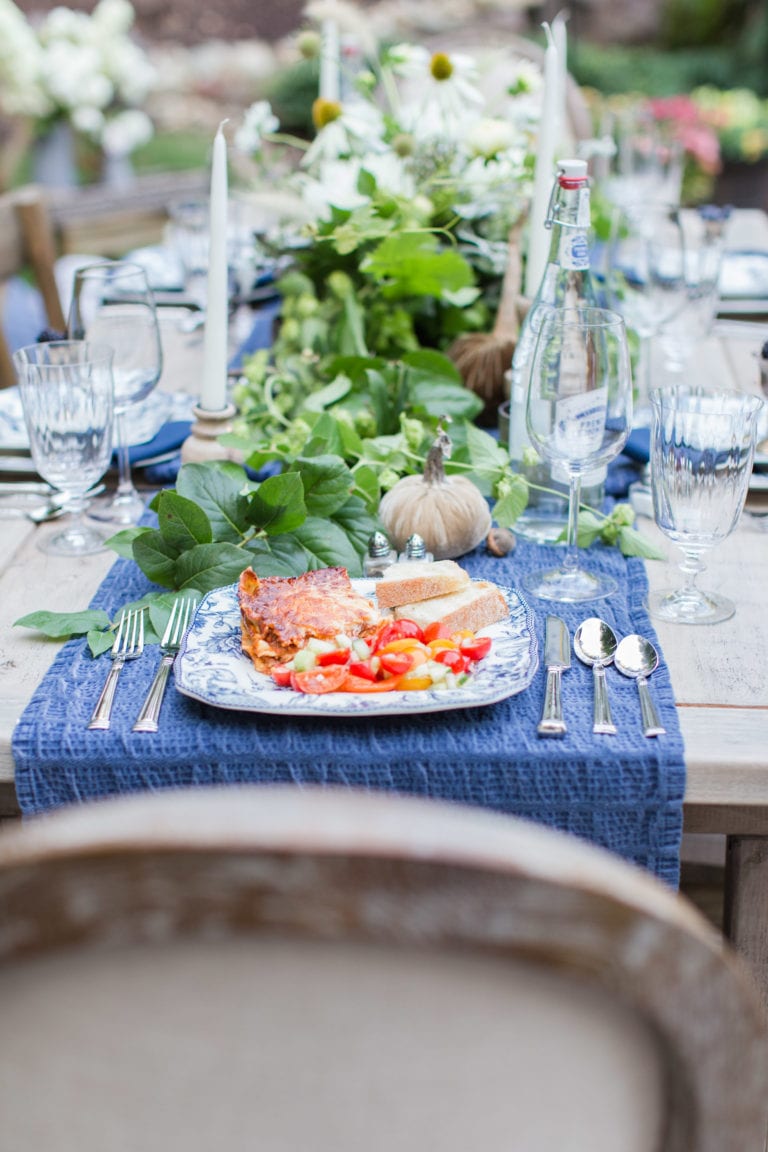 Thank you so much for stopping by our sixth blog hop; Holiday Hosting at Home with creative ideas for your Christmas tables, recipes, decor and so much more!
It's been a joy to share our entertaining and hosting ideas with you all this holiday season. Thank you for following along and giving us a place to share our passion of hosting and entertaining at home. Wishing you a Merry Christmas and Happy New Year. P.S. Have a Holly Jolley Christmas!
XOXO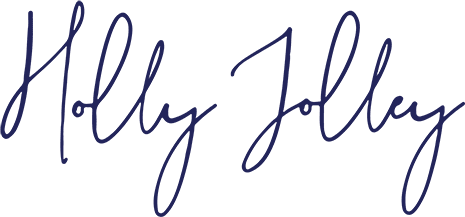 Instagram – Facebook – Pinterest – Twitter
Instagram – Facebook – Pinterest
Instagram – Facebook – Pinterest
Creative ideas for Christmas decor