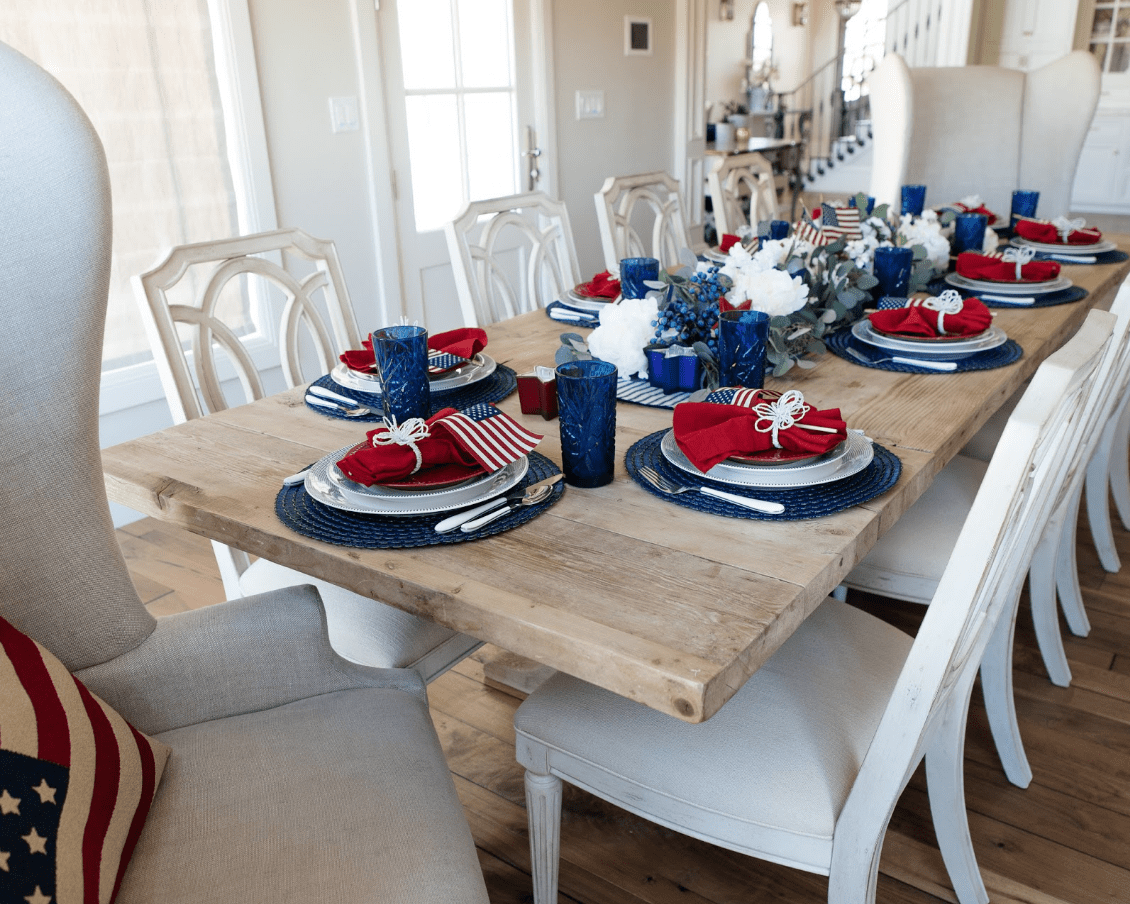 I love the Fourth of July! Celebrating this holiday has always been so fun and meaningful for me and my family. I also get an excuse to create a colorful tablescape and use my dishes in different ways! I have traveled the world playing and coaching soccer, and whenever I have been in other countries, I almost always choke up when our national anthem is played. I also have been able to observe how other people in various countries sing their national anthem at the top of their lungs with as much pride for their country as I have for mine. It's such a beautiful thing!
I'm that person who will always sing it when it's appropriate and my kids look at me weird and probably wish I'd just stand there with my hand on my heart. I am a stickler for putting the hand on the heart, hat off, and taking that time to show the respect to our flag and our country and the thousands of people who have sacrificed for our nation. I love my country and am grateful for the freedoms I have here in America!
In honor of our Independence Day, I created this little tablescape from mostly things I had on hand. You don't have to spend a lot of money to find little patriotic trinkets to put on the table! I found the star candles and flags in the dollar bins at Target and have seen them at the dollar store as well!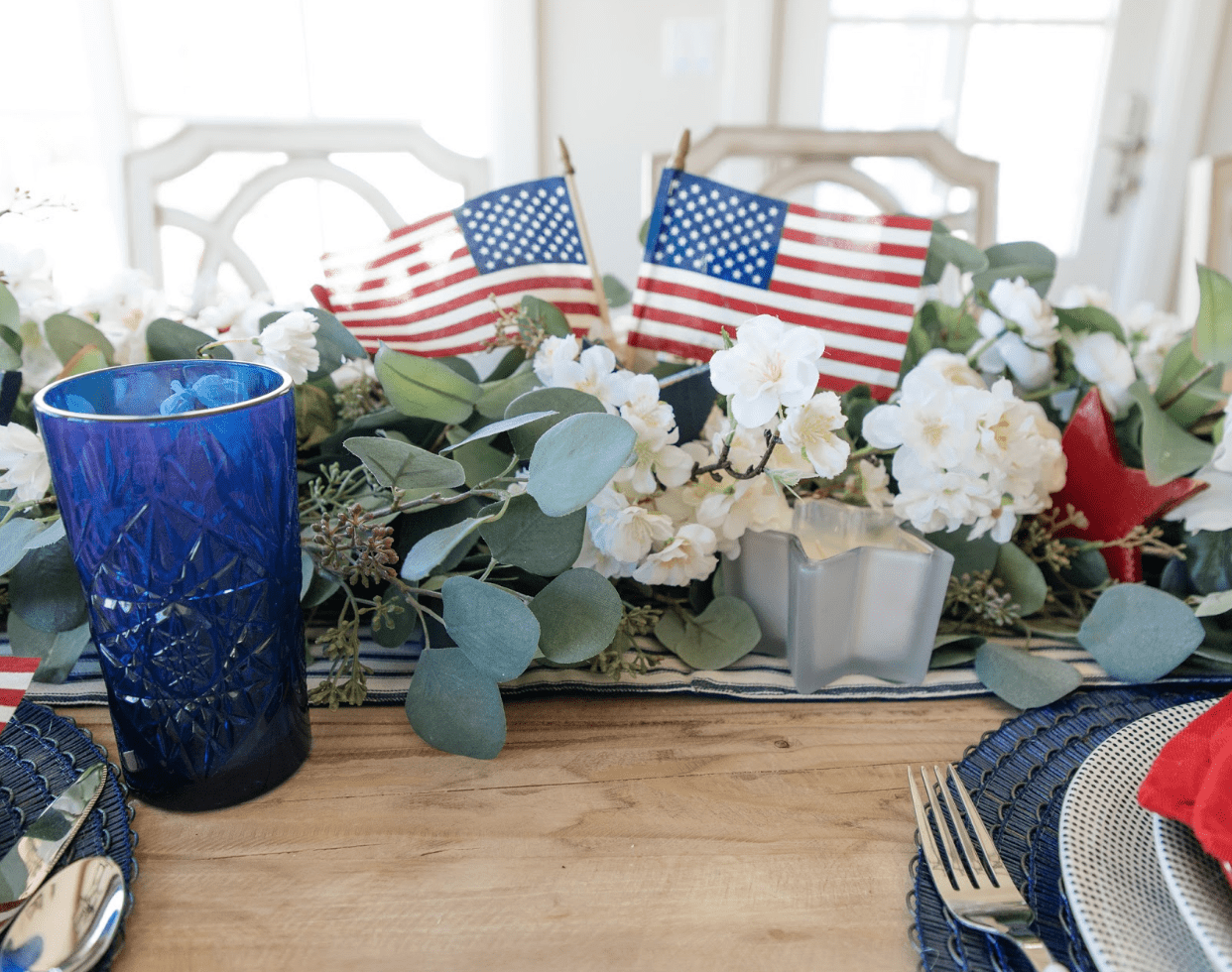 For the center swag I used faux eucalyptus as a base. I just layered individual stems on top of the table runner.  Then I added in a mix of faux white flowers stems and faux blueberries. I tuck them in until it looks balanced and then nestle in the candles and wooden stars.  To finish off the middle I added in two small flags.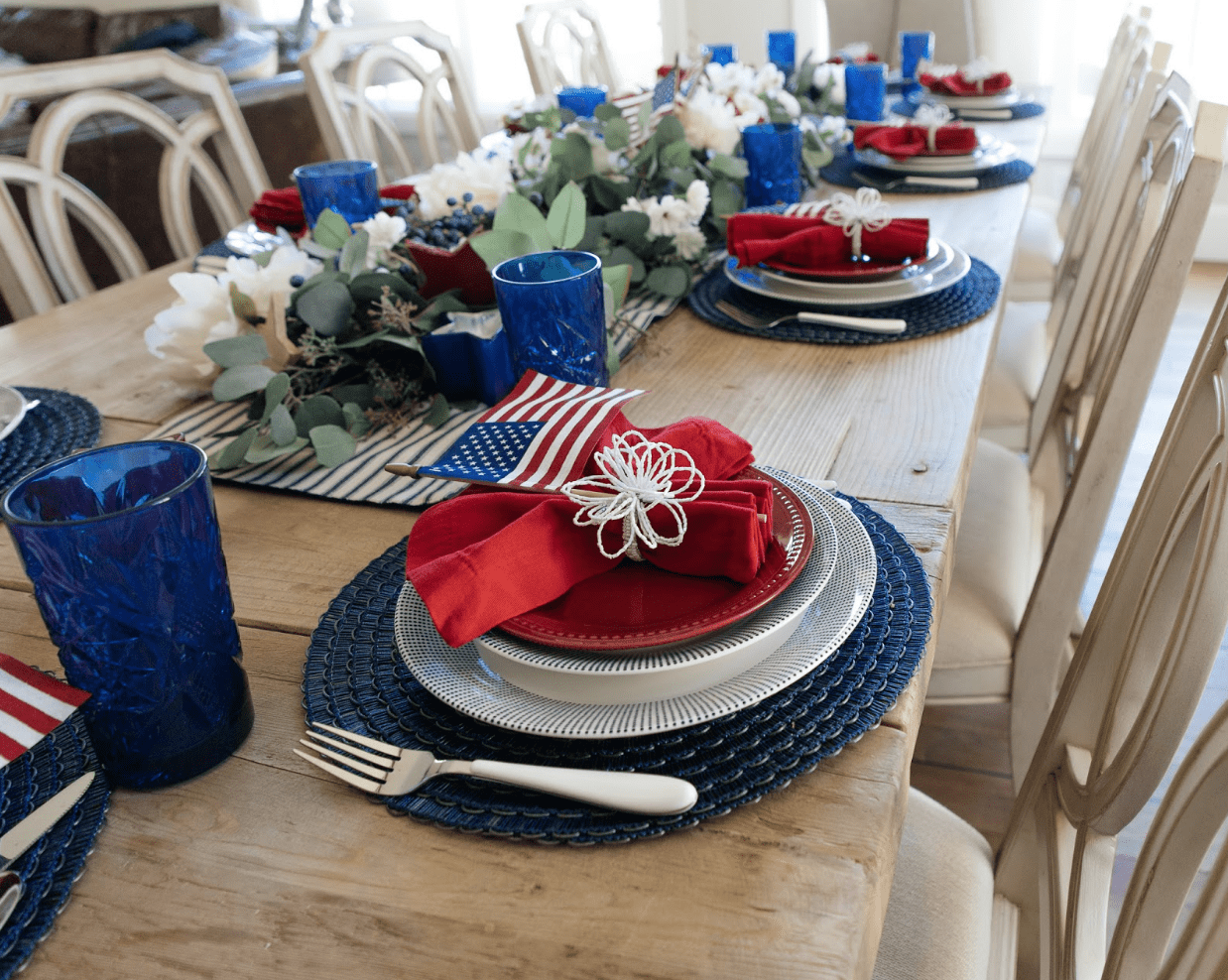 For the dishes, I had these pretty blue and white plates and then I found a pretty red salad plate to layer on top! I pulled out some cobalt blue tumblers and finished it off with a red cloth napkin and a white napkin ring.  My cute mom was in town and had the idea to slide the dollar store flags into the napkins, which added a nice patriotic finish!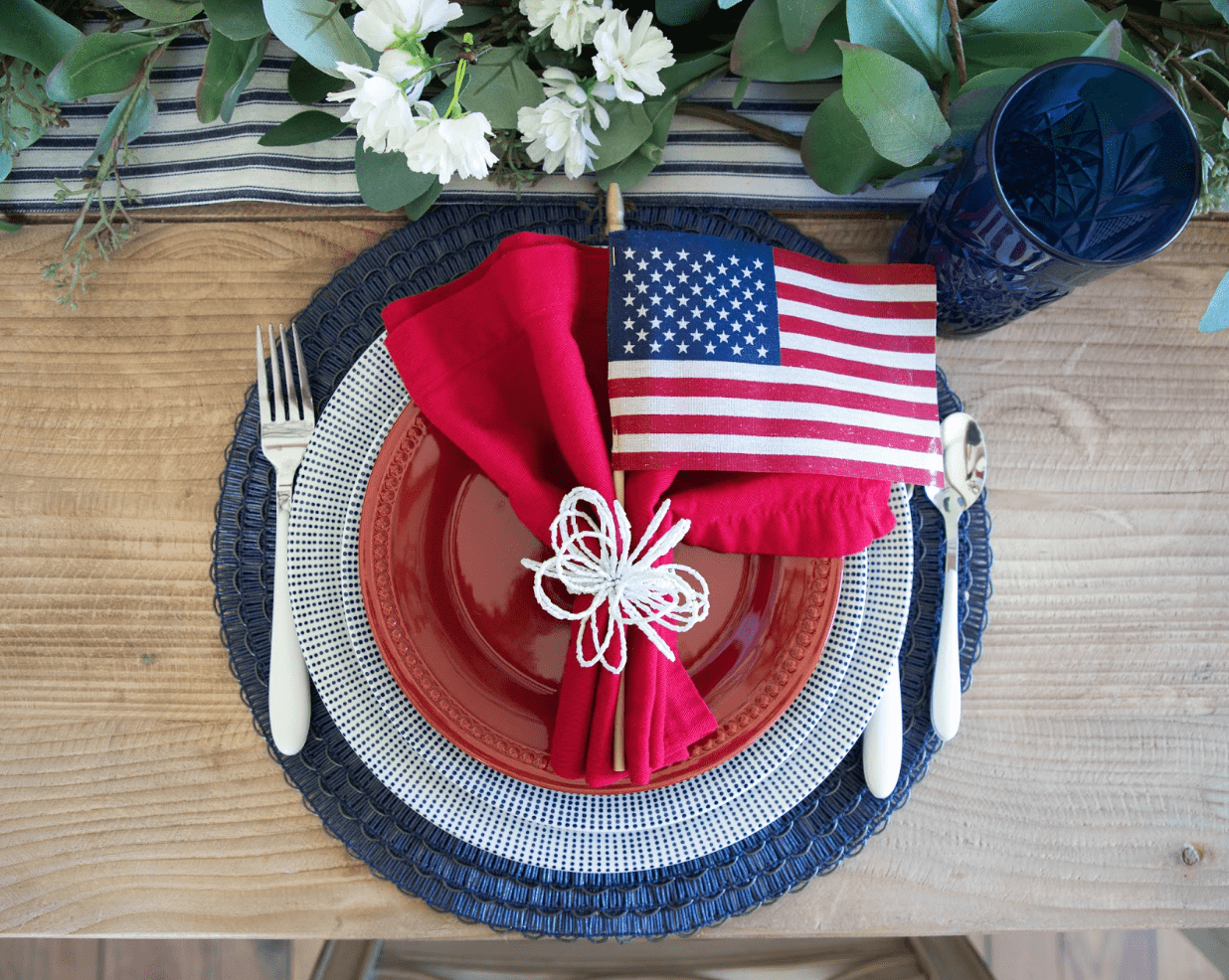 Holly's Helpful Tips
*Keep it simple. The colors with your plate settings will do most of the work
*Try to incorporate things that you already have in your home, like candles or other little trinkets like the stars
*Mix and match dish patterns to create the dimension and contrast.
*Incorporate your own style! If you are more feminine or traditional in your style, choose pieces that reflect it
*Use real or faux flowers to build your swag. The faux flowers can be nice, because you can reuse them over and over again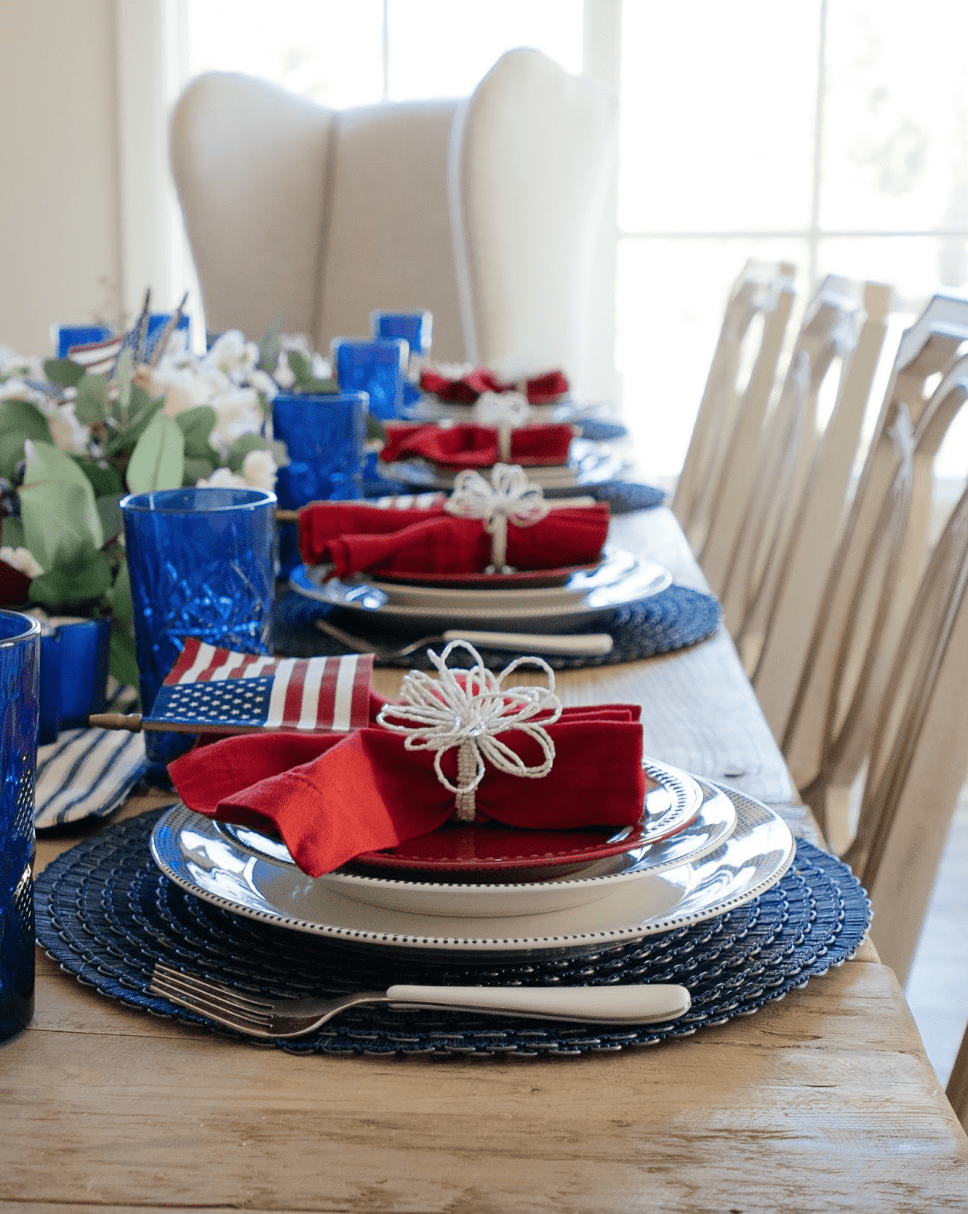 My niece, sister-in-law, and daughter helped me put it all together. One of my favorite parts of doing tablescapes is having my family work together with me and creating memories we will enjoy for years to come! My mom's love of dishes has passed on to me, and now I'm passing it down to my own daughter. It brings us all together, and photographing and sharing them preserve it for us!  I hope that someday my granddaughters will look back at my photos of these tablescapes and feel inspired to create too!